What Is IDX in Real Estate? A Beginner's Guide for New Realtors
A real estate Internet Data Exchange (IDX) is a data software that connects an agent's website to their local Multiple Listing Service (MLS) database. The IDX allows agents to display MLS listings on their own websites so that visitors can search for available properties within a selected area. These additional properties to view beyond your own exclusive listings will increase lead capture and traffic to your website. Read our guide to learn the benefits, costs, and providers you can use to optimize your website with IDX capabilities.
How IDX Works
The MLS database contains properties supplied by real estate brokers in exchange for a cooperating agent to introduce a potential buyer. The IDX gives real estate agents permission to display exclusive listings by other MLS participants. The IDX software creates a connection between the MLS database and your website and displays the listing information when queried by a search.
It allows the public to conduct a search of MLS data within their search areas. These listings on your website are updated every few hours depending on your IDX settings to pull in new information or remove listings as the MLS is updated.
Each MLS has different policies governing the listing information shared through IDX. If the listing is not exclusive to the agent, they can only use it for display purposes and cannot use it in their separate marketing campaigns. In addition, real estate agents can only alter information on their own listings to ensure that the listing information is correctly advertised by the exclusive agent. They also must refresh their listings at least every 12 hours on an automatic schedule to ensure listings are up to date.
Platforms like Placester help agents set up their IDX website while complying with MLS regulations. Agents can choose to build their own site through premade templates or outsource the creation to the Placester team. The platform allows agents to connect multiple IDX feeds if agents are members of more than one MLS. Additionally, the available integrations also help agents connect their website to a customer relationship manager (CRM) and provide marketing tools for increased lead generation.
History of IDX in Real Estate
Before IDX was created, most real estate listings were not online. Prospective clients had to heavily rely on their real estate agents to get information and access to available listings. The MLS did exist as an agent-facing database for listings, but the listings were not available to the public.
Therefore, if agents wanted listings on their website, they would have to create their own database and manually add and update the listings. This process became too time-consuming due to the constant change of availability.
In the early 2000s, technology started to change the way consumers accessed information, and the real estate community began to create online identities through the creation of websites. These changes required the National Association of Realtors (NAR) to make some policy changes and create an application that allowed for real estate agents to better serve their clients. The main policy change was allowing MLS participants to advertise each other's listing on their website, and the IDX was created.
Benefits of Using IDX for Your Real Estate Website
An IDX feed on your website creates a better experience for your clients and yourself. It allows agents and brokerages to fully market themselves online and provide your prospective clients with an innovative search function. It reduces the need to keep your own database of listings, and you'll have very little maintenance requirements to keep listings up to date.
1. Capture Real Estate Leads
Having an IDX helps real estate agents and brokerages capture more leads. As visitors see properties they're interested in on your website, they will be able to reach out to you to inquire and view the listings on your website, even if they are not exclusive to you or your brokerage.
Additionally, agents can create required lead capture forms that prospective clients must complete in order to gain access to view your listings. This will allow you to add clients to your database for continued follow-up and conversion opportunities. Agents can automate the follow-up process by implementing a CRM combined with automated email or text follow-up.
Client relationship management (CRM) systems like IXACT Contact can help with managing captured leads. It has automated email and newsletter marketing that is easy to set up with its prewritten monthly newsletter and hundreds of email templates. Agents can also add their own edits or send the content as is to save time on nurturing captured leads.
2. Up-to-date Listing Information
An IDX feed provides prospective clients with up-to-date and relevant information specific to listings in their search criteria. Since real estate agents are required to update the feed automatically within a short period of time, it encourages clients to return time and time again to check the most updated listing.
Real estate agents and brokerages will know who exactly is looking for a home and potentially need agent representation. The automated feed requires very little effort on the agent's side to keep the listings updated. Therefore, they can focus their time and effort on building deeper connections with their leads.
HubSpot is an all-in-one sales and marketing platform to help agents better interact with captured through an agent's IDX websites. The platform has an IDX integration to collect leads into one single database, and then it helps deploy email marketing and tracking tools to see which contacts are most likely to engage.
3. Collect Visitor Information
The searches conducted on your website will allow you to collect valuable information on your website visitors. You can leverage that information by choosing to deploy marketing in the top neighborhoods your website visitors are searching in or market listings within a specific price point.
The IDX search options also turn your website into a resource for visitors to return to and share listings with others⁠—helping you generate more website traffic. Agents can implement a social sharing option, enabling visitors to share on their social media from your webpage to increase your brand's reach.
Through platforms like Top Producer, real estate agents can obtain social media insights regarding their leads. It's one of the few CRMs to gather social media information like their bio, interests, and photo for leads in your database, so agents can make more meaningful connections. Read our Top Producer review to learn more about this real estate CRM software.
4. Visitor Engagement
Once a visitor is on your website, the IDX can be a useful tool to engage them and give clients a reason to stay on your website for a longer period of time so you can capture lead information. Having an IDX feed alone will provide an abundance of listings for your clients to search compared to competitors without the feed. Visitors can search within the areas they are interested in and choose the appropriate price points.
Real estate IDX websites built on Propertybase can provide a better search experience. The dynamic neighborhood search options allow prospective clients to search by school district or favorite neighborhoods. Additional functions, like an interactive map, can help clients visualize their prospective homes within an area and see where exactly it's located.
The ability for clients to select and save favorite properties under their personal profile can increase engagement and give them another reason to return to your site. Agents can deploy market and housing reports specifically for the areas they're saving to gain additional attention. Moreover, a direct call to action can help gather more lead information.
Challenges of IDX to Consider
Although the benefits outweigh the challenges of having an IDX listings feed, there are some things agents should be aware of when implementing the IDX into their website. The IDX provider you choose can create some limitations as to how reliable the data on your website is. You want to make sure you provide the best experience for prospective clients searching for homes on your site, so agents should combine the IDX with other tools to overcome the limitations.
1. Inability to Control Listings on the Website
Having the IDX feed will pull all information from the MLS into your website; agents are unable to cherry-pick which listings show up nor do they have the option to manually remove listings. For example, if there is a property on the feed that was entered incorrectly by the listing agent, there is no way for you to omit that from your site to reduce getting leads you can't service. Additionally, if listings have sold but have not been removed from the feed, they will continue to show up on your client's searches.
How to overcome this: Understanding your housing market can equip agents with the tools to know whether listings are incorrect or have sold. Agents can still take the useful information about the inquiry, such as neighborhood, price point, or layout, to continue the conversation with the lead and convert them to new listings that may have hit the market. This gives agents the opportunity to generate and convert the lead to other listings.
2. Need to Implement Additional Marketing Efforts
Agents should leverage real estate marketing strategies to attract visitors because having an IDX connection alone on your website will not draw prospective clients to your website. The IDX alone does not help with website search engine optimization (SEO).
How to overcome this: Platforms like Real Geeks can help you capture leads from your website through landing pages and increase engagement through email and text follow-up. The platform also tracks lead activity to help you see which leads are high-engaging to help you manage your time.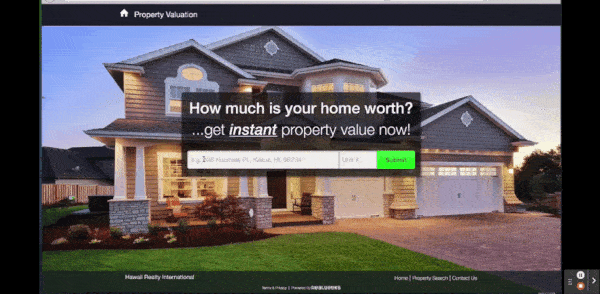 3. Must Have a Lead Organization System
Access to the listing information can remove you from a part of the process if you don't leverage other marketing tactics like automated follow-ups. Since the IDX will pull all listings from your MLS and you cannot limit the data to a target neighborhood, price point, or property type, agents will receive leads spanning across the entire region. The incoming leads are not parsed to show which incoming leads you should focus your time on.
How to overcome this: Implementing a customer relationship manager (CRM) with your IDX website will keep your leads organized and allow agents to manage more than just their lead contacts. The LionDesk CRM helps agents identify high-quality leads through email tracking by identifying which prospective leads are interested and engaging with your content.
The platform also has unlimited contact tagging to manage lead types and active clients. In addition, it has the ability to launch mass communication to phone, email, and text message, along with the capability to create and send direct mailers to help market your exclusive listings. Check out our LionDesk review to see how this CRM can help streamline lead management.
4. Need to Learn the Process of Lead Conversion
While the IDX feed is beneficial in engaging and capturing leads, you must learn the process of lead conversion to turn the lead into a closed deal. When converting leads, the best approach for real estate agents is to implement a system to nurture leads and continuously convey your value as a real estate agent. Keeping yourself top of mind will help clients become familiar with your services and increase their likelihood to reach out or move forward in the buying or selling process.
How to overcome this: The most effective way to nurture leads is to build connections and rapport via in-person, phone, digital, and direct mail communications. Creating scripts for internet leads will improve your conversion rates and build your client base. That way, you'll not only be generating leads through your sphere of influence and marketing efforts, but also be able to capitalize on the leads you are capturing.
Cost of IDX
Real estate professionals cannot just purchase the IDX software—they need to choose an IDX provider in conjunction with their website. The first and most expensive option is to build a website from scratch. You will have to obtain a website developer and designer to create a website on platforms like WordPress, and then have them implement an IDX plugin on your site to obtain the MLS information to display listings in real time.
The cost of the website developer and designer will be contingent on how intricate you want your website to be. To mitigate some of the website costs, agents can access website design services through platforms like Fiverr. Fiverr has a large selection of freelancers specializing in website design⁠—starting at $5⁠—to assist with various aspects of website creation, from design through development and user experience.
We've identified a few IDX plugins and costs below:
To learn more information on how to create an IDX website using WordPress, visit our article on how to easily build an IDX real estate website with WordPress.
IDX Website Providers
Another option for creating an IDX website is to choose a real estate website builder with a built-in IDX integration. These websites are easy to launch, and most provide preset templates that just require some drag and drop to create stunning, user-friendly website pages that are IDX-friendly.
The cost for IDX using a website builder is typically already built into their monthly or annual fees, so you don't have to pay extra for a plugin or website developer. We've listed some IDX website providers with pricing below:
For inspiration for your website, check out the best real estate agent websites and tips and start creating an optimized real estate website today.
Bottom Line
Agents should have an IDX feed on their website to help increase lead flow, eliminate the need to allocate resources to keep listings up to date, and encourage lead generation through their website. Combining your IDX with a CRM can ensure you maximize all lead opportunities through your website. Select the best website provider with IDX functions to help you create an efficient and user-friendly website to help you grow a successful real estate business.