An insurance deductible how much the policyholder pays before the insurance company starts to pay for a claim. When buying insurance, consider what you pay for premiums and what you will be responsible for in deductible during a claim. Increasing deductibles help keep insurance premiums down and allow you to afford more overall coverage.
Determining how your annual deductible affects both premium costs and your claims process is integral to having a good overall experience with your insurance carrier. To find an insurance company that can help you weigh deductibles and premium cost, be sure to check out our guide to the Best Small Business Insurance Companies.
What is an Insurance Deductible?
The deductible is the amount an insurance policyholder pays in a claim and is considered a shared cost between the insurance company and the insured. During a claim, the deductible is a critical component to keeping the claim's process moving forward. In most cases, the deductible must be satisfied before the insurance company starts covering the remaining claim value.
Depending on your insurance provider, there are times when deductibles are paid directly by policyholders and other times where the deductible is netted out of final proceeds of a claims check being issued. It is important to read the terms of your policy to fully understand how the deductible is applied to total policy limits. Most policies will not subtract the deductible from the total policy limits making the total insurance shared cost equaling the deductible plus the limits.
For example, if a business owner's policy (BOP) has business property limits of $25,000 with a $1,000 deductible, the total coverage is $26,000 even though the business owner pays $1,000.
An insurance policy's deductible will be one of several important things you look at while shopping for insurance, including the coverage limit and overall premium.
Insurance Deductible Elections
The annual deductible is part of the insurance policy's options and gives policyholders some control over their costs and coverage. Most insurance policies have tiers of deductible options that the policyholder chooses at the time of purchase. Increasing your shared cost lowers the premium.
Types of Insurance Deductibles
| Insurance Type | Common Deductible Tiers |
| --- | --- |
| Health Insurance | $0-$13,300* |
| Car Insurance | $0/$250/$500/$1,000/$2,000 |
| Home Insurance | $500/$1,000/$2,000/$5,000 or 1-3% of loss |
| General Liability Insurance | $0/$500/$1,000/$5,000/$10,000 |
| Business Owner's Policies | $0/$500/$1,000 |
| Workers' Compensation Insurance | $0/$500 |
*High deductible health insurance plans have both an individual deductible and family deductible. For a better understanding, please see the section on Health Insurance Deductibles.
Insurance Premium vs Deductible Costs
Insurance premiums have an inverse relationship to deductibles; the higher the deductible, the lower the premium. By saving on premiums, you will increase your portion of the shared-costs during a claim. However, this doesn't always mean that money will come out of your pocket. There are instances where deductibles are netted out of claim proceeds.
Here are examples of how the deductible paid differently in various claims:
At-fault car accident auto repair: Paid directly by the policyholder to the auto body shop before the vehicle is released back to you after all repairs have been made and insurance has paid its portion.
Theft of personal property: Withheld from the final check issued by the insurance company after the claim has been processed and the total value of lost items has been determined.
Replacement of burned-down home: Determined by the insurance company based on services rendered or payouts made. The policyholder may pay the deductible directly to the home restoration contractor or have the deductible withheld from personal property proceeds.
Emergency room medical costs: Owed at the time services are rendered or billed to the insured after the visit.
During a claim, it is important to work with your insurance adjuster to understand the process fully and when the deductible is due. You don't want delays in getting your car back or having your home fixed just because you aren't clear on when or how to pay the deductible. Learn how to file a claim properly to preserve your rights by reading our article on how to file an insurance claim.
The Premium vs Deductible Correlation
Premiums are lowered when annual deductibles are increased. The more a policyholder is willing to assume financial responsibility for a claim or loss, the less the insurance company expects to pay. This reduces the cost of administering smaller claims and makes carriers more efficient. Additionally, the insurance carrier assumes that if a policyholder has financial responsibility in a claim, they are more likely to take measures to prevent loss.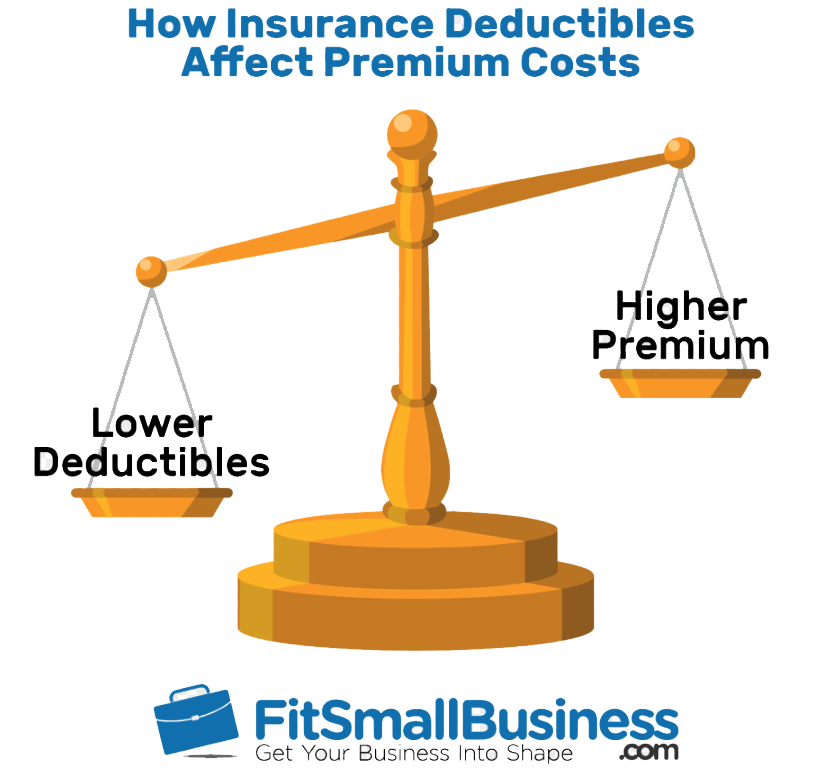 How Insurance Deductibles Affect Overall Insurance Cost
To understand how a deductible affects your insurance costs fully, you need to run the numbers with the insurance carrier from which you get quotes. Don't just look at the final dollar paid in premium. Consider the time value of that savings and how long it would take you to make that amount worthwhile.
Auto Insurance Deductible vs Premium Example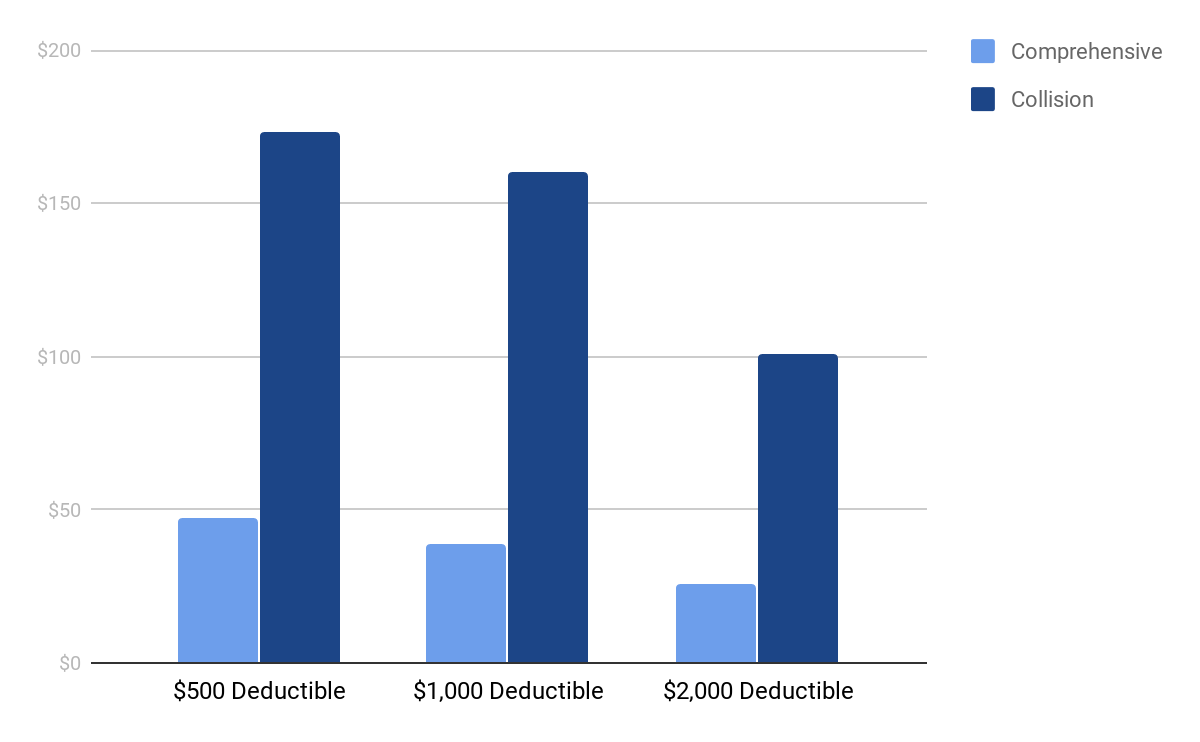 *Quote Data from Progressive for a 2016 Buick Encore
Auto insurance premiums are more directly affected by collision deductible choices than comprehensive deductibles. Policyholders don't need to match the collision and comprehensive deductible. For example, you could have a $500 collision deductible and a $100 comprehensive deductible. The chart above shows how your choices affect the monthly premium cost.
Home Insurance Deductible vs Premium Examples
Increasing the deductible in homeowners insurance policies creates a fairly linear reduction in premium costs. Homeowners should consider the difference and the potential cost of a claim. The monthly premium savings from a $500 deductible to a $2,500 deductible is $112. It would take 17 months for you to see the value of that savings; meaning if you had a claim in month 12, you would have only saved $1,344.
Older homes may be at risk of burst pipes or fires, which are very expensive claims. Consider this as you make the decision and assess potential losses. This is especially important for landlords or small business owners looking for commercial property insurance.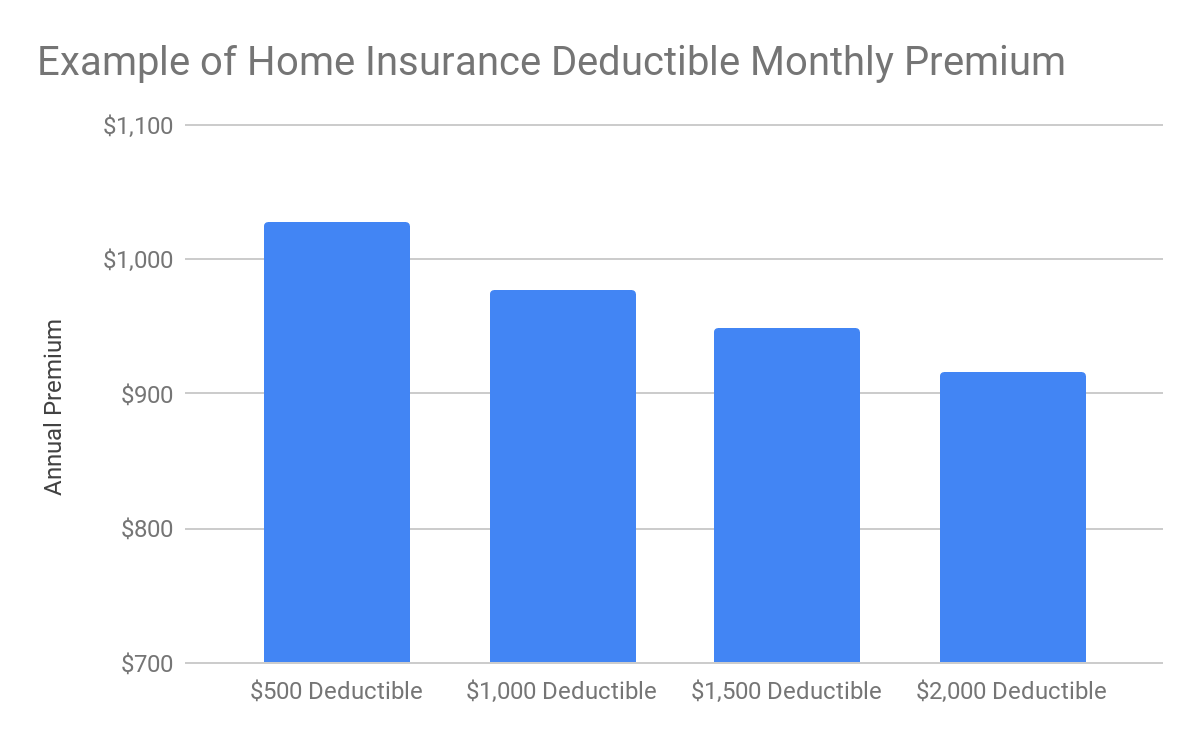 *Quote data from Progressive for a Los Angeles home valued at $223,000 replacement cost
Insurance Deductibles and Types of Insurance
Annual deductibles come into play in many common types of insurance for consumers and small business owners. Even though the concept is the same for all deductibles―it's the portion you pay before coverage pays―how deductibles work in each type of policy may vary.
Health Insurance Deductible
Health insurance deductibles are often confused or lumped in with health insurance copayments, but they are very different. The health insurance deductible is the annual aggregate out-of-pocket costs a policyholder pays before other parts of the insurance start to pay. Even after the deductible is paid, copayments may exist until the entire out-of-pocket total is met for the policy.
What makes things more confusing is that some health insurance plans require the entire deductible to be met before anything is paid by insurance. Other plans have specific copays for things like office visits, prescriptions, or emergency care that are added to the overall deductible paid but does cover some costs before the entire deductible is met.
Health Insurance Deductible vs Copay Example
Assume you purchase a high deductible health plan (HDHP) with a deductible of $6,000/$12,000 for your family of four. This means the per person deductible is $6,000 with $12,000 being the family limit. Some plans require one person to meet the first $6,000, with all other family members contributing to the $12,000 annual deductible. Deductibles reset January 1 every year.
Assume Dad falls off a ladder cleaning the gutters and breaks his leg, resulting in $7,500 in medical costs. His $6,000 individual deductible is met and the insurance kicks in to pay the remaining $1,500 subject to any copayment due. A week later, his son falls and gets a cut above his eye requiring stitches costing $2,800. There is now $8,800 paid toward meeting the $12,000 family deductible.
Family Health Insurance Deductible Example
| | | | | |
| --- | --- | --- | --- | --- |
| | Medical Expense | $6,000 Individual Deductible Balance | $12,000 Family Deductible balance | Insurance and Co-pay Kicks In |
| Dad | $7,500 | Met | $6,000 | $1,500 |
| Mom | $4,000 | $2,000 remaining | $2,000 | $0 |
| Son | $3,000 | $3,000 remaining | Met | $1,000 |
| Daughter | $1,000 | $5,000 remaining | Met | $1,000 |
Of course, there are still some caveats that affect this example. The insurance kicks in to start the copay portion of the policyholders' responsibility until the total out-of-pocket costs are met. Until the total out-of-pocket costs are met, the family is still responsible for some of any new medical expense.
Additionally, a policy can be deemed as having either an aggregate or embedded deductible. The aggregate deductible means the total family deductible must be met before insurance kicks in, essentially nullifying the personal individual deductible. The embedded deductible combines all expenses among all family members to meet the individual deductible sooner.
Car Insurance Deductible
There are three primary components to car insurance: the general liability, comprehensive, and collision coverages. General liability covers third-party car claims without a deductible. There is a deductible for comprehensive and collision claims for your car. Collision coverage repairs your car after an at-fault accident and comprehensive fixes or replaces your car after unforeseeable incidents such as theft, vandalism, or a tree falling on it.
For example, assume you purchase an insurance policy with $50,000/$100,000/$50,000 with a collision deductible of $500 and comprehensive of $250. You hit a car with three passengers; no deductible is owed for the injuries to the passengers or their car. You are at fault and will pay $500 to repair your car. The comprehensive deductible doesn't come into play in an at-fault accident.
Note: commercial auto insurance works the same way but usually has higher liability limits due to increased risk of business use.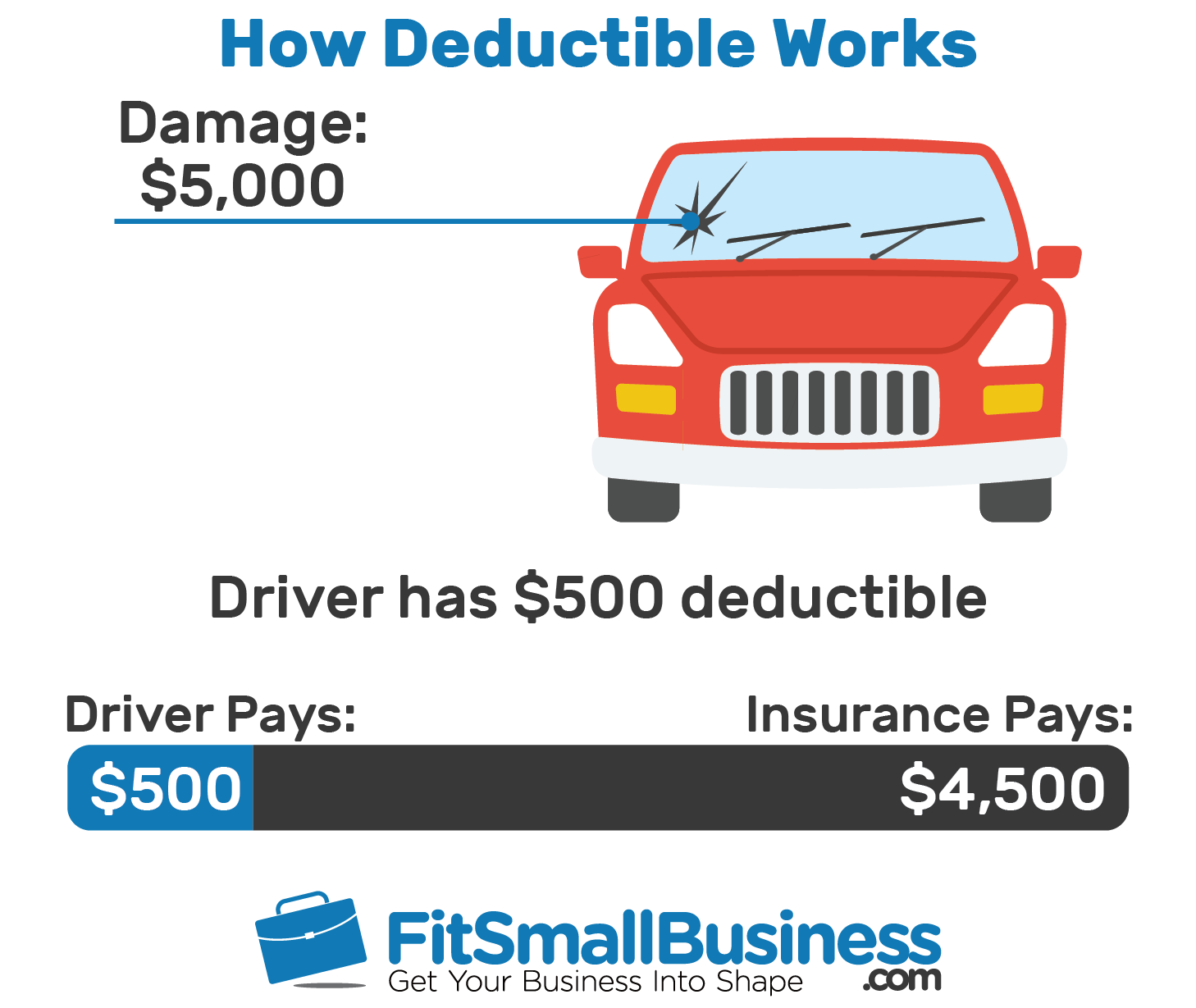 Home Insurance Deductible
The home insurance deductible applies to property damage, whether to actual structures on a property or its contents. It does not apply to general liability claims such as a dog biting a neighbor's child. Home insurance deductibles vary and can be a set dollar figure, such as $1,000, $2,500, or $10,000, but can also be a percentage of the replacement cost of the home.
For example, if the home's primary structure is insured with the replacement cost of $400,000 and the homeowners chooses a 1% deductible, the homeowner's obligation is $4,000 in the event of a claim. This value can change as the replacement cost could be adjusted annually at policy renewals based on inflation and changes in expected construction costs.
Personal Property Insurance Deductible (Contents or Business Property)
Personal property refers to the contents or business property found within a structure that may be lost or damaged in a claim. This insurance coverage protects against claims resulting from theft, fire, vandalism, or water damage. If contents are included in the main property policy, as they often are in home insurance or BOPs, then the deductible is the aggregate for both.
Let's use the above home policy with a 1% deductible of $4,000 as an example. If the policyholder suffered a fire resulting in $15,000 in structural damage and $9,000 in contents lost, the total out of pocket deductible cost is $4,000 for the policyholder. The insurance company will likely pay for the cost of repairs and could potentially issue a check for $5,000―less the $4,000 deductible―to cover the contents of the house.
Homeowners Disaster Deductibles
Natural disaster plans such as hurricane, flood, or earthquake policies often have high deductibles. An earthquake policy could have deductibles as high as 20% of the building's replacement cost. Discuss your options with your insurance agent to fully understand how to be protected during a claim.
General Liability Insurance Deductible
Deductibles for general liability vary widely from personal and commercial insurance policy types. General liability insurance covers third-party claims and lawsuits. Your auto and homeowners insurance deductibles do not apply to the general liability portion of your policy meaning if you hit someone's car or your dog bites a neighbor, your liability coverage pays up to the policy limits without any shared cost from you.
When it comes to commercial lines of insurance, business property is usually subject to the deductible, but third-party liability claims aren't. However, carriers do vary with this, and you may see policy options with $500 or $1,000 deductible for general or professional liability. Consult your insurance carrier to understand how your deductible applies in bundled policies, such as business owner's policies.
Workers' Compensation Deductible
Workers' compensation deductibles may or may not be applicable depending on the state your business or employees reside. Some states mandate that there should be no deductible on the workers' compensation policy while others allow insurance carriers to offer deductible options to offset costs. Workers' compensation claims falling below the deductible are billed from the insurance carrier back to the business.
Life Insurance Deductible
Life insurance claims don't require beneficiaries to pay a deductible to get the death benefits. Additionally, life insurance premiums are considered a personal expense and do not qualify for a tax deduction.
What Are Insurance Deductibles for Small Business Owners
Most small business owners require multiple insurance policies to protect their business interests properly. Managing deductibles plays a critical role in controlling insurance costs without sacrificing company protection. At their essence, deductibles are a form of self-insurance. Businesses are presented with various self-insurance options.
Increasing Self Insurance Options
There are three methods of self-insurance for small business owners:
No insurance: Maintains no insurance making the small business owner 100% liable for any claim, lawsuit, or potential violations of state law in the case of workers' compensation insurance.
Deductible policy options: Manages deductibles in standard policies by increasing deductibles, thus helping provide the business necessary protection against large claims.
Self-insured retention (SIR) policies: Reserved for large corporations with massive cash reserves and administrative ability to handle claims before a high deductible kicks in, often hundreds of thousands of dollars.
"Does it make sense to take a large deductible for your business? It depends on what kind of business you have. If you're an office business with a very low risk than a higher deductible is not going to save much, if any money. If, on the other hand, you have a construction or roofing business where the premiums are very expensive, then it does help reduce the cost of insurance, if you are willing to take on a higher deductible."
―John Espenschied, Owner, Insurance Brokers Group
Pros & Cons of a High Insurance Deductible
Consider these pros and cons when making a choice about increasing insurance deductibles:
Pros of a High Insurance Deductible
The pros of a high insurance deductible for your insurance policy include:
Reduces annual premium: Increased cash flow is retained for other items in a household or business budget.
Saves on long-term insurance costs: Put the premium savings into a safety net savings account that can be used to pay the higher out-of-pocket expenses if you do have a rare claim.
Allows for changes: Most insurance carriers allow you to change deductibles if circumstances change, although there may be restrictions on existing claims or imminent natural disasters.
Cons of a High Insurance Deductible
The cons of a high insurance deductible for your insurance policy include:
Requires money during claim: Policyholder must come up with deductible; otherwise returning to normal circumstances could be delayed.
Potential claim nonpayment: Claims falling under the deductible will lead to no coverage payment because the deductible is not yet met.
Policyholder frustration: An already-frustrating situation of a loss is further aggravated by pulling out your wallet and having to fork over more money.
Frequently Asked Questions (FAQs)
Insurance deductibles are complicated and confusing. While we have done our best to provide as clear of a guide as possible, we know you may still have questions.
Do you want a higher or lower deductible?
Higher deductibles reduce overall premium costs and vice versa. Whether a policyholder wants a higher or lower deductible depends on other factors such as the ability to pay the deductible in a claim. Some property deductible options can exceed $50,000 that the policyholder must have the financial resources to cover.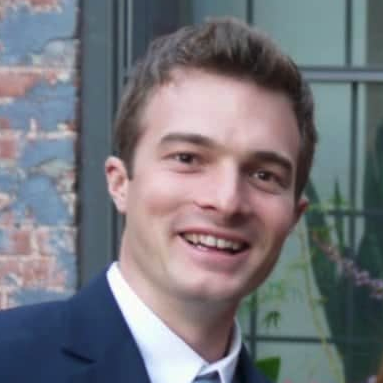 "A good rule of thumb is to go with the highest deductible you can afford. Specifically, the amount that would probably hurt your cash flow a bit but doesn't put your company in financial hardship. Over the long term, it's best to self-insure as much as possible while having a best in class risk prevention process. This will save small businesses the most amount of money long-term."
―R.J. Weiss, The Ways to Wealth
Why is there an insurance deductible?
Deductibles are elected by policyholders as the amount they will pay prior to insurance kicking in. Deductibles are designed to deter excessive high-cost claims where the insured has no skin in the game but offer flexibility for consumers to reduce potential deductibles―even dropping them to zero in some cases―by increasing premium.
How do you meet your deductible?
Deductibles are your financial obligation in claims. Medical insurance deductibles are an aggregate annual amount that is met by adding all visit's payments. Other insurance such as auto or property requires the full deductible is met for every occurrence. Deductibles are usually paid directly to service providers such as doctors or auto repair shops.
What is 'full coverage' in auto insurance?
"Full coverage" for auto insurance means different things. It could mean meeting the state's minimum liability coverage without any comprehensive or collision coverage. It could mean meeting an auto leasing company's requirements with both comprehensive and collision coverage. It is important to be clear on your objectives of full coverage to get the right policy.
What is a collision deductible waiver?
If the policyholder uses his own insurance to repair his car after a not-at-fault accident, he is technically still responsible for the deductible. A collision deductible waiver is given to car insurance owners after not-at-fault accidents where the policyholder is unable to get the claim paid by the at-fault party for whatever reason.
Bottom Line
The insurance deductible is the portion you pay when making a claim on your insurance policy. Your insurance deductible plays a role in the overall costs of insurance premiums and shared costs in a claim. Even though you can save money on monthly premiums by increasing the deductible on policies, factor in the amount you have to fork over if a claim comes up. Finding the right balance between savings and cash outlay helps policyholders get the best value for insurance over time.