Lead distribution software allows businesses to assign leads to sales representatives based on rules or specific criteria. It's best for businesses that need to assign leads quickly because the faster you reach out, the more likely they are to convert into customers. Lead distribution systems range from free to more than $100 per month.
While there is standalone lead distribution software, it's helpful to have a customer relationship management (CRM) tool with built-in lead routing. With Freshworks CRM, sales managers can create custom rules for an unlimited number of territories, which assign leads to sales reps automatically based on geographic location, product, experience, and more. Sign up for a free 21-day Freshworks CRM trial today.
How Lead Distribution Works
Lead distribution is how sales teams keep track of their leads when they come into the sales funnel and makes sure every lead gets answered. It takes the guesswork out of lead assignment and ensures leads are sent to the most appropriate sales reps so they can reach out quickly and close the deal.
If you're a solopreneur or a small business with only two or three sales reps, it can be simpler to distribute leads to sales reps manually. However, if you run a business that has sales reps in every region of the country, you don't want the sales manager to have to assign each lead that comes in manually. Lead distribution software can recognize the location of the lead automatically and assign it to the appropriate sales rep.
Even if you don't have reps across the country, but you have many leads and more than a few sales reps, it can save a significant amount of time to automate your lead distribution process. This is because an automated lead distribution process takes each sales rep's experience working with similar prospects, location, product knowledge, expertise, and current workload into account.
This can increase overall sales because every sales lead is different, and each sales rep has unique experiences and strengths that make them more capable of closing specific deals than others. It also simplifies the handoff between marketing and sales, so sales managers don't have to do it themselves personally.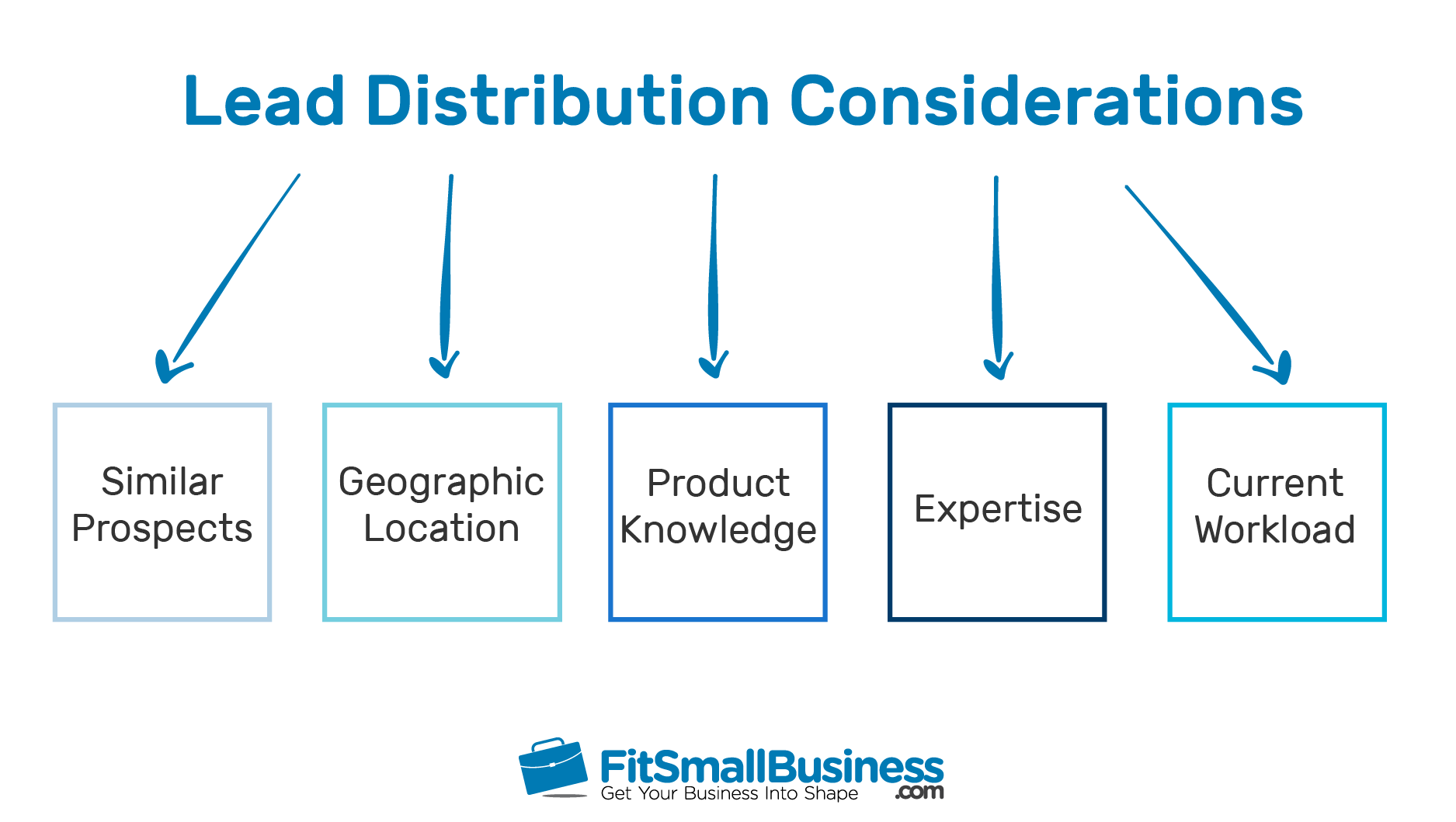 Who Lead Distribution Is Right For
According to Sherpa Marketing, sales reps are 400 times more likely to get leads to respond if they reach out within five minutes―rather than 10 minutes―after the prospect demonstrates an interest in your product or service. However, an automated lead distribution isn't necessary for every business, especially if you want complete control of your distribution process and have a team of just a few people, or if you're running the show on your own.
Typically, an automated lead distribution system is right for:
Sales managers who want leads to be assigned to sales reps automatically from the marketing funnel based on preselected criteria.
Remote sales teams who aren't able to meet and distribute leads to different sales reps in various locations and vast differences in time zones.
Teams who have a broad range of products or services that need to be immediately assigned to sales reps for quick follow up.
While automated lead distribution is usually most effective for remote teams' sales departments with more than a few sales reps, it can still be helpful for some very small sales teams. For example, if you don't have a sales manager, you may want an automated process so your two or three sales reps can focus on closing deals rather than figuring out who should be assigned to each lead.
Lead Distribution Software Features
When you're looking for lead distribution software, it's important to find one that meets your specific business needs and makes your sales team members more productive so that you don't waste time manually assigning leads to sales reps and spend more time reaching out.
Rules-based Lead Routing
When a prospect fills out a form on your website or calls your business, good lead distribution software will use your preselected routing rules to assign them to the most appropriate sales rep. You can choose from criteria such as geographic location, product expertise, individual performance, or round-robin assignments to match a lead with the sales rep most likely to close the deal.
Then, the lead will be offered to the sales rep that best fits the rules via an email, text message, or push notification. Robust lead distribution software gives the sales rep a certain amount of time to accept the lead. If they don't accept it, it can be offered to the next available rep so that someone can follow up immediately.
"We distribute significant leads―having revenue of $1 million and above―to the more-experienced sales rep. The less-experienced sales rep speaks to smaller businesses. That way, the lesser experienced sales rep learns and overcomes fear slowly and 'graduates' to handle more difficult leads."
—Karthik Subramanian, Content Marketer, Paperflite
Automated Feedback Capture
A feedback capture feature helps keep track of what happens to leads once a sales rep accepts them. Good lead distribution software will wait several minutes after the rep is alerted via push notification, text message, or email, then ask the sales rep to provide an update to sales leaders so that they can tweak the lead management strategy to optimize the sales process if needed.
The sales rep will fill out the feedback form and answer questions about the status of the lead, such as in progress or closed, and the value of the deal. Typically, the answers are recorded in a dashboard so sales managers can track leads within the software or send them directly to your CRM.
Reporting & Analytics
Comprehensive lead distribution software will also provide sales reporting and analytics capabilities to give you a clear view of how your sales reps are performing. You should be able to see the total number of leads, which leads each rep accepts and declines, and average response times.
When evaluating providers, look for software that gives you in-depth reports for each salesperson so that you can view the quality and quantity of deals each person is closing for each type of lead. This allows you to hone your sales training and define which types of leads are most appropriate for each sales rep.
Integrations
Some lead distribution software systems are powerful, but they stand on their own without connecting to any of the other software you use, such as your CRM. Consider looking for a CRM that integrates with your CRM so that you can see your data in one place. Some CRMs, such as Freshworks CRM even weave in their own native lead distribution features to streamline the lead assignment process.
Lead Distribution Software Costs
Lead distribution software costs vary by the company you choose. In general, you should expect a monthly cost of $25 to $100 per month, per team, depending on the number of leads you need to distribute every month. Some CRMs also offer lead assignment features for around $35 to $75 per user, per month.
Most lead distribution software is priced to be affordable for small business owners―some even let you pay per lead so you can pay as you go. Plus, lead distribution software can have a good return on investment (ROI) since it enables you to close leads faster by routing them to the right person quickly, which improves conversion rates.
Lead Distribution Software Providers
There is an array of lead distribution software providers for different types of small businesses. Some providers offer standalone lead generation solutions and some incorporated within a customer relationship management product to keep everything in one place.
We've evaluated five of the best lead distribution software providers for small businesses.
Since we last updated:
Freshworks CRM, formerly Freshsales, recently rebranded with a new name, new service plans, and access to Freshmarketer automation software. Forever-free plans are still available and include mobile apps, 24×5 support, live chat, and more.
Freshworks CRM is best for businesses that want lead distribution features that are incorporated into their CRM. You can create and manage unlimited territories right within your CRM and define a combination of rules to route them to the right sales rep without having to import them from a separate lead distribution system. Plans that include lead distribution features range from $25 to $79 per user, per month. Sign up for a free trial by visiting their website today.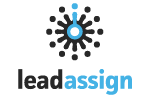 Lead Assign is best for businesses who want standalone lead routing software where leads often fill out forms on a website and need to be routed to the most appropriate sales rep quickly. When a prospect fills out a web form, Lead Assign uses your predefined custom rules to match the lead with a sales rep and alert the sales rep automatically. Plans start at $25 per 10 users, per month. Visit the Lead Assign website to learn more.

ClickPoint is lead distribution software for businesses that rely on calling leads after they are assigned to sales reps. Create lead distribution lists based on things like geographic area, choose calling times, and apply criteria and daily lead limits to each sales rep. When a sales rep logs in, the next available lead is presented, and they dial the lead within the software and can leave prerecorded voicemails. Pricing starts at $65, per user, per month. Sign up for a free trial.

While some lead distribution systems have rigid lead assignment rules that are difficult to update when sales teams or territories change, Tray.io offers visual workflows that are easy to tweak quickly, even for nontechnical users. The software also integrates with many CRMs such as Copper and Salesforce, so you can see everything in one place. Pricing starts at $595 per month for unlimited users.

Nextiva is a robust voice-over-internet-protocol (VoIP)—also known as a business phone system—that comes with a CRM with a rules engine for lead management. Pricing starts at $21.95 per user, per month with a prepaid 36-month agreement for five to 19 users. Pricing goes down as you add more users. Sign up for an account that offers a 30-day, money-back satisfaction guarantee.
Pros & Cons of Lead Distribution
Lead distribution software is helpful for sales teams who want to automate the process of assigning prospects to sales reps based on certain rules. However, it isn't for every small business, especially smaller teams who want to maintain manual control of assigning leads.
Pros of Lead Distribution
Automation: Automatically assigning leads to sales reps based on predefined rules, which saves time and allows sales managers to focus on coaching reps and helping close deals.
Deal conversion: Lead distribution software allows sales reps to receive leads instantly rather than waiting for someone to assign them, so they can reach out faster, which is proven to increase conversions.
Analytics: Lead distribution software usually comes with reporting features that make it simple to know which sales reps are performing well with each type of lead and which reps need help.
Cons of Lead Distribution
Setup: Defining custom rules can be cumbersome, especially for small teams or solopreneurs without technical knowledge.
Cost: Most lead distribution software comes with a price tag, and it may be unaffordable for smaller businesses on a tight budget.
Maintenance: Lead distribution software needs to be maintained by someone as things change in the sales process as sales reps leave and are new reps are hired, often creating extra work for sales managers.
Frequently Asked Questions (FAQs)
Why is lead distribution important for sales teams?
Routing leads to the most appropriate sales reps saves times, matches leads with the best person to close the deal and improves close rates.
What is a lead distribution system?
A lead distribution system involves software that uses predefined rules to distribute leads to the right salesperson based factors such as geographic location, expertise, product line, or experience.
Why should sales teams automate their lead distribution process?
Automating the lead distribution process helps sales teams reach out to leads quickly and saves time by making sure no leads fall through the cracks. It also gives back valuable time to sales leaders since they don't have to assign leads manually.
Bottom Line: Lead Distribution Systems & Software
Ultimately, lead distribution software helps sales teams quickly funnel leads to sales reps so they can reach out to prospects quickly and close more deals. Lead distribution software gives businesses the power to automate their lead assignment process, access meaningful data about performance and close rates, save time, and increase sales revenue.
It's helpful to use a CRM that has built-in lead distribution features so that you can manage leads in one single place. Freshworks CRM CRM offers plans that have lead scoring and distribution capabilities so that you know everything that's happening with each place right within your CRM. Sign up for a free trial today.