Market share is a measurement of the percentage of an overall customer base an individual business has captured. Calculating market share for your company involves dividing the total sales for your company during a given period by the total amount of sales for a market—usually expressed in dollars—telling you how much you control.
One of the most important factors in calculating market share is having a good grasp of metrics like your total sales. Using a customer relationship management (CRM) software tool like Pipedrive can help you track deals as they move through your sales pipeline and run reports on your total sales. Pipedrive begins at $12.50 per month, per user. Visit Pipedrive for more information.
How to Calculate Market Share
Calculating market share depends on knowing two pieces of information: the overall size of a given market (in sales), and the amount controlled by your business. Often the first value is based on an estimate since it can be difficult to know the total amount of sales of all of your competitors, while the latter is easier if you are keeping track of your numbers (which you should be).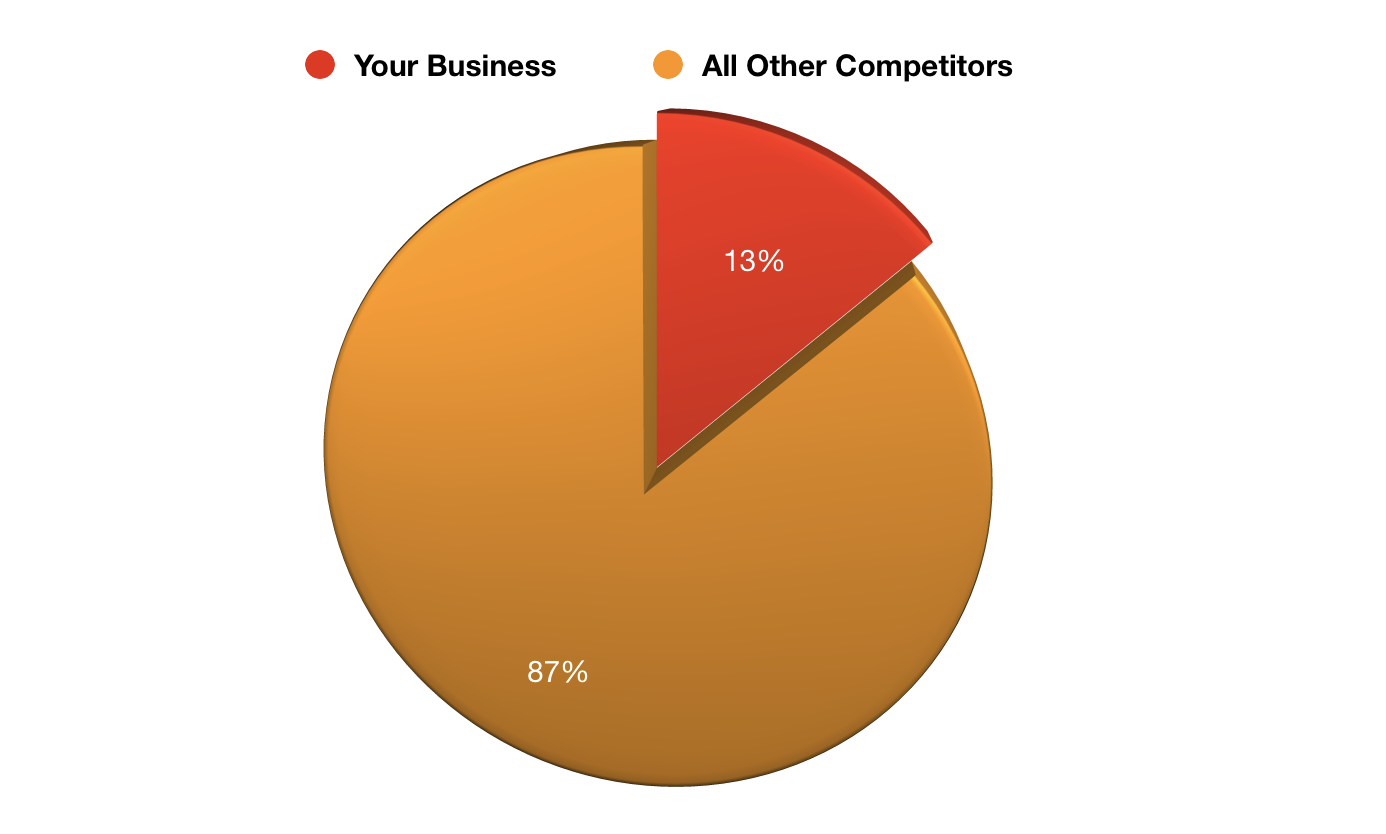 You'll want to be clear on how you define the overall market you are evaluating in terms of the share your company controls. It is usually the sum of similar companies that directly compete in an industry. For example, air travel might be a $300 billion market, but in determining the market share of a specific airline you'd want to limit your comparison to other airlines rather than include other air-travel related services.
On the other hand, if you wanted to know what the market share of a travel agent was, you wouldn't compare them with airlines since they represent a different segment of the market. You should also only compare the overall market your company is actually able to address. For instance, if you are a local hair salon and you target customers within 5 miles of your location, you wouldn't compare yourself to every other salon in the entire state.
Evaluating the market share of a business like a local hair salon or travel agency is probably easier than determining the share of a major international airline. However, you still need to take the time to evaluate the market you serve and estimate the overall value of sales in order to determine what business you are able to compete for.
Here's how to calculate your business' market share:
Formula to Calculate Market Share
The formula for calculating market share based on sales is straightforward and simple. Simply divide your company revenue into the total revenue for the market. To convert to a percentage, multiply by 100.
(Company A Revenue / Total Market Revenue) x 100 = Market Share (as a percentage of revenue)
For example, imagine your business is a local HVAC contractor, and your annual sales are $475,000. In your city, there are six other HVAC contractors of varying sizes, and together, the seven businesses (including yours) have combined sales of $3,645,000. In this scenario, the equation looks like this:
($475,000 / $3,645,000) x 100 = 13.03%
Alternative: Use Customers Instead of Revenue
There are some cases where you might measure market share by the number of customers. For example, in a highly transactional business like retail, you might count customer visits or transactions as an alternative to only measuring revenue. For practical purposes, this is usually reserved for larger industries where these figures are more readily available. As an example, we discussed airlines already, but often they measure market share by the number of passengers.
In fact, if you tried to determine which airline is the largest, the result would be different based on whether you looked at revenue or passengers. The equation for calculating market share this way is similar, simply substituting passengers (or customers) for revenue.
(Company A Customers / Total Market Customers) x 100 = Market Share (as a percentage of customers)
As a practical example, consider a wedding photographer whose studio photographs 57 weddings each year. That business is located in an area where there are 400 weddings a year, meaning that the formula would look like:
(57 / 400) x 100 = 14%
The difference between the two measurements can help you understand whether you are targeting the best customers for your business and make important decisions about how to build a more profitable company. At the same time, for most small businesses, measuring market share by revenue is far more likely to be helpful since it's almost impossible on a small scale to know the number of customers your competitors serve unless you plan to call and ask.
In some ways, understanding both can be a valuable comparison. For example, if the wedding photographer mentioned previously has a market share of 14% of all customers, but those are the highest value customers, her market share by revenue might be higher. On the other hand, if your revenue market share is low, but your customer market share is higher, you might be attracting customers that spend less than average for your market.
Tools You Can Use to Calculate Market Share
The most important tool you can use to calculate market share is, well, a calculator. Of course, you could build a complex spreadsheet filled with complicated data about all of your competitors, but honestly, once you know your numbers it's really a simple calculation. Then again, finding those numbers can be a real challenge.
Here are a few specific tools that can help:
Industry data: Information that provides a look at the overall state of your industry can help you determine the value of your market, which provides you with the information necessary to calculate market share.
Chamber of Commerce: Your local Chamber of Commerce or other business organization can provide you with helpful data with regard to the market you compete in.
Trade organizations: One of the most helpful tools is often a professional or trade organization that focuses on your specific industry. Often these organizations and groups conduct research and provide insight into the value of your market.
Accounting tools: Using bookkeeping tools like QuickBooks, or other accounting software can give you an accurate look at your total revenue, which is a necessary component to measuring market share.
Sales management tools: In addition to accounting software, sales management tools can help you get a good picture of how your sales efforts directly affect your overall revenue, which directly affects your market share.
Pro tip: Using a CRM like Pipedrive can make it easy to not only manage deals as they move through your sales process but also set and track performance goals that lead to greater overall revenue. This can provide you with valuable information about how your business is doing at closing deals and winning more customers, which leads to greater market share. Be sure to visit Pipedrive to start a 14-day free trial of any of its plans today.
Why Measuring Market Share Matters To Your Business
In general, the more information you have about your business, the better. And, while not all information is created equal, market share is a measurement that can help you evaluate where you stand in relation to the market you compete in. That's important as you make decisions about reaching new customers as well as evaluating whether your current strategy is resulting in the most profitable customers for your business.
Here are a few reasons why market share matters to your business:
Set Goals For Your Business
Market share can be a helpful goal for your business since it allows you to compare your performance against that of your competitors and the overall market you compete in. In theory, I suppose every business wants to own its entire market, though it's probably more realistic (and reasonable) to create a goal that helps guide your next steps.
Knowing that there are 10 competitors in your market gives you a baseline goal. If all 10 competitors have equal market share that would mean 10% would be "average." While not every competitor is likely to have an equal share, it at least gives you a goal that you can focus your efforts on achieving.
Understand Your Competition
Looking at market share as a measurement helps give you a picture of where your business fits into the overall competitive landscape. Knowing how you compare to the businesses your customers may be considering can give you an edge as you build long-term relationships. For example, if you know that a competitor has a much larger market share than you, you might look at specific ways you can provide a compelling alternative to their product or service.
Measure Change Over Time
The most common use of market share is as a metric for comparing the growth of a business. By creating a baseline of your market share at a given time, you can evaluate how your business has grown or changed over time. An increase in market share represents a positive trend in comparison with your competitors, while a decrease might indicate changing circumstances in your market, new competitors, or slowed growth.
Who Should Calculate Market Share
Despite the benefits, most small businesses don't calculate market share at all. To be honest, that's OK because while market share can be a valuable tool, it requires information that isn't always easily accessible for your market. That said, there are some examples of when a business should consider evaluating its market share.
Businesses that are expanding rapidly: If your business is growing fast, it can be helpful to measure where you stack up against your competition. This is especially true as you evaluate the overall value of your customers to make sure your growth is healthy.
Business owners looking to sell their business: If you are considering selling your small business, knowing how you compare to your competition, and what portion of the market you control are important pieces of information that a purchaser will want to know.
Companies looking to acquire a competitor: In the same way, a company looking to acquire a competitor will benefit from understanding how it will help them better control a larger portion of the market.
Businesses that have a very small number of competitors: If you compete in a market where there are few competitors, it can be especially helpful to understand how you compare since your efforts are focused on gaining customers from a relatively small pool of alternatives.
Frequently Asked Questions (FAQs)
Why might a growing business lose market share?
Even if your business is growing quickly, if you compete in a market that is also growing faster, your growth rate may not keep up, which results in a lower market share. Likewise, when a new competitor enters the market and attracts new customers, your overall share will be reduced, even if you're still growing.
What is the most effective way to grow market share?
Growing market share means one of two things: either gaining customers that currently use a competitor or finding customers who currently are not a part of your market (aren't using any company). Depending on the type of business you run, either can be a valuable option. However, if your business as a very clear unique selling proposition, you may find that you are able to easily convert customers that are unhappy with their current solution.
Is having a high market share good?
Most businesses want to grow, so gaining market share is usually considered a good thing. There are disadvantages though, especially when you have such a dominant position that it becomes difficult to sustain the same rate of growth you experienced earlier in your business life cycle.
Market Share: Bottom Line
Market share is a valuable metric to help you evaluate where your business stands in comparison to its competition and your overall market. Understanding how and why to calculate market share can give you valuable information that you can use as you set goals and grow a more profitable business.
Pipedrive allows you to set and track performance goals that help you increase your market share. With simple-to-use contact and deal management tools, as well as a highly intuitive sales pipeline, Pipedrive makes it easy to manage and grow your sales efforts. Paid plans start at $12.50 per month, per user. Visit Pipedrive for more information or to start a 14-day free trial.