The Net Promoter Score (NPS) is a customer loyalty metric that businesses use to gauge how their customers feel about them. Companies with high a NPS are more likely to achieve long-term profitable growth. The survey consists of one simple question: How likely is it that you would recommend the company to a friend?
The answers are based on a 0-10 scale. A Net Promoter Score ranges between -100 and 100, with -100 being the worst and 100 being the best.
How to Calculate Net Promoter Score
Based on your customer's rating from 1 to 10, you first need to classify people into one of the following groups: promoters, passives, or detractors.
Promoters (users who rate 9-10): Best described as your brand ambassadors and are very enthusiastic about your company.
Passives (users who rate 7-8): Best described as people who feel neutral about your company and most likely won't tarnish your brand's reputation.
Detractors (users who rate 0-6): Best described as dissatisfied customers who may damage your brand through negative word of mouth.
Once you have classified your customers into the respective groups, you can now calculate your company's Net Promoter Score using the percent of promoters and detractors. Passives are not used to calculate the score.
Here's how to calculate NPS:
Company NPS = (% Promoters – % Detractors) x 100
For example, if you conducted the survey and 70% rated 9 or 10, and 10% rate 1-6, your score would be (70% – 10%) x 100 = 60. An NPS of 60 is a very good score as the majority of your customers are promoters.
How To Determine If A NPS Is Good
Generally, any NPS over 30 is considered good, over 50 is great, and over 70 is world-class. A negative Net Promoter Score is considered bad.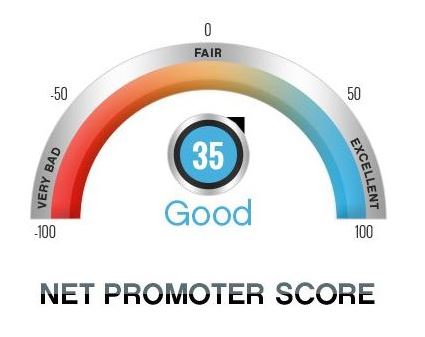 Before you set your sights on getting an NPS of 70, you should consider your industry, product offerings, and price positioning. Every industry is unique, and there is really no single formula that can determine what a "good" score is.
So how do you determine if your NPS is relatively good in your industry? Here are the NPS scores across different industries from the Net Promoter Score Benchmark Study.
| Industry | Average NPS |
| --- | --- |
| Auto dealers | 48 |
| Software | 41 |
| Appliances | 40 |
| Insurance Carriers | 37 |
| Retailers | 35 |
| Credit Cards | 30 |
| Health Plans | 26 |
| Internet Service Providers | 16 |
If you don't have industry scores available, then send out your first NPS survey and treat the initial set of results as your baseline for improvement. Then you can compare your company NPS over time to monitor changes.
Why Calculating Your NPS Is Important
NPS provides you with invaluable insights about the general health of your customer base. Tracking your NPS will help you effectively measure customer loyalty and satisfaction, so that you can work on ways to improve them. This is why hundreds of Fortune 500 companies have regularly incorporated NPS surveys into their business.
Aside from getting actionable customer feedback, NPS also helps reduce customer churn rate (when a customer ceases his or her relationship with a company). According to a study by Bain and Company, 'promoters' generally have longer, more profitable relationships with companies. So knowing which customers will churn less will help you focus on creating amazing customer experiences to convert those 'passives' and 'detractors' into 'promoters'.
A Word of Caution About NPS
However, fixating on NPS score is a mistake many companies, small and large, make. While the score is generally a useful metric to track, you should not treat customers as a number. No matter what your score is, when a customer takes the time to provide you with some feedback, it's a golden opportunity to deepen your connection with them. Customer loyalty is not earned with plain numbers. You need to create authentic relationships with customers after the survey. If you don't engage your customers strategically based on their and feedback, then your NPS score won't bring any positive impact to your bottom-line metrics.
Measure your NPS score, grab the opportunity to open conversations with customers, improve your business, products, and services, and ultimately see your satisfaction score grow.
Bottom Line
Many businesses use Net Promoter Score as a solution to gauge customer loyalty and satisfaction. However, this data is only useful if and when you act on it. Beyond learning your NPS score, you must understand what exactly is driving the score. Also, don't just focus on fixing the detractors. Engage in uplifting discussions with promoters as well. The NPS is much more than just a number. If you use it properly, it can help address customer concerns, improve processes and fuel innovation.