What Is Shopify & How Does It Work?
Shopify is a top-rated ecommerce solution that offers online store, dropshipping, social media selling, and point-of-sale (POS) solutions for brick-and-mortar stores. It is scalable and easy to use for businesses of all sizes and has its own payment processing service. With additional features like express checkout with Shop Pay and installment plans with Shop Pay Installments, it is a flexible solution that's great for multichannel sellers.
Its plans and tools are centered around creating an online store—and everything else flows from there. Once you create your store, it will be easy to add other elements, like social selling and an in-store POS system.
Should You Use Shopify?
Shopify is one of our top choices for the best ecommerce platforms and leading point-of-sale systems. Businesses selling primarily online benefit the most from its excellent webstore creation tools, dropshipping integrations, and shipping discounts. It also has social selling and in-store POS components. Try it free for 14 days.
Shopify's Products: The Best Ecommerce Tools for Small Businesses
Shopify is one of the first ecommerce tools on the market and has been highly popular and well regarded for its ease of use and vast number of integrations. Over the years, it has expanded its native capabilities into payment processing and in-store sales while still making it easy to create and run an online store. Its pricing is highly competitive, and the shipping discounts are first-rate.
The platform also makes the consumer-side of using a Shopify store easy. It has apps to shop any Shopify store from a smartphone, an express checkout, installment plans, and more. And it continues to add functions to improve the sales experience for shoppers, from express checkouts to social chat tools. This means greater client satisfaction, which improves conversion, and more opportunities to reach out to new or returning customers to increase sales. Additionally, Shopify recently opened an international marketplace to take your store global.
User-friendly Online Store Builder
Shopify has one of the best online store builders on the market. All of its 70+ themes are mobile-friendly, so you don't need to worry about how they look on a smartphone. They're easy to customize with a WYSIWYG editor—or you can dig into the HTML/CSS if you need special customization. Shopify also offers SEO-friendly features (like easy-to-create headings and meta tags) and an automatic redirect system when you change a URL (so you can avoid 404 errors).
The provider has extensive product catalog features. You can create variations with their own price, SKU, weight, and inventory. The platform also lets you organize products not only by category but by season, sale, and more. If you have digital products, Shopify lets customers download them right from the store. You can create multiple images, even in 3D, or add a video. Shopify can handle subscription products, too—and it gives you unlimited bandwidth for smooth scrolling.
Shopping carts come with a free SSL certificate to ensure security. Shopify is PCI Level 1 compliant, and it automatically updates the software so you not only get the latest features but the best security. It can process hundreds of payment gateways, from bitcoin to credit cards. Its abandoned cart recovery feature makes it easy to follow up with customers who walk away from a sale, increasing your conversion.
While Shopify does not have a native loyalty program, it does let you set up customer profiles and accounts. Its analytics can help you track trends, see individual purchase history, and more. You can offer discounts, create gift cards, and encourage product reviews. You can also set up customer groups, which can help with email marketing.
Shop App
Once you have your Shopify online store created, you can choose to make it part of Shopify's Shop app, which is a mobile shopping channel that holds participating Shopify stores. While it lets customers search for products or local stores and get notified about new or trending products they might be interested in, the biggest customer perk of the Shop app is the ability to track purchases and shipping. Shoppers can also take advantage of express checkout, which improves customer satisfaction.
Sales Button
Shopify lets you create sales buttons that go beyond Buy Now. You can embed product cards into any type of website, complete with a shopping cart. The platform's JavaScript Buy SDK means you can also create custom online stores for any platform, even mobile apps.
Seamless Dropshipping
If you're looking to start a dropshipping business—or already have one but want to expand your offerings—Shopify is a great choice. It integrates with 325 dropshipping companies.
Shopify offers education and tools to help with dropshipping. It has guides, webinars, and even product review videos on its YouTube channel.
Industry-leading Social Selling
It's been predicted that by the end of 2022, the number of social buyers will exceed 94 million in the US alone, with nearly 30% of social media users already having purchased from a networking site. If you are not using social media for marketing, then you are missing a vital component of online sales.
Fortunately, Shopify makes it easy, as it lets you sell products on various networking sites. It also has extensive direct partnerships with Facebook, Instagram, TikTok, and other platforms to allow easy in-app shopping, catalog management, and order syncing.
Shopify Inbox
Shopify Inbox lets you chat with customers and sell through chat, social media, and saved responses directly from your dashboard. You can make automated messages, create FAQs, send automated order updates, share discount codes, and identify conversations that are likely to lead to a sale. It also provides analytics to give you greater insights. Shopify says that 70% of Shopify Inbox conversations are with customers making a purchasing decision, so it's a great tool to help convert interest into sales.
International Sales
Shopify already works in over 150 countries around the world. Now, it is moving to make it easier to sell in the global market. Shopify Markets (coming soon) will let you sell in over 133 local currencies and 20 languages. You can sell internationally and provide local payment options with Shopify Payments. You'll also be able to set up custom domains, manage how you sell from market to market, and set smart settings to optimize operations based on changing conditions.
Shopify users with Advanced and Plus plans will be able to estimate and collect duty and import taxes, set custom pricing, customize catalogs and storefronts for different markets, and even manage fulfillment locations. There are additional transaction fees involved.
Intuitive POS System
Shopify's POS system, which functions offline, works with smart tiles that correspond to tools, apps, and products. They are easy to add and arrange, and some will gray out until they can be used, such as after a product has been added to checkout. You can handle transactions in any currency supported by Shopify, create custom discounts, calculate taxes, and more.
You can add customer information, use tags to put customers in categories, make special notes on orders, send or text receipts. You need a third-party app for loyalty programs, but you can create exclusive events, discounts, and emails.
With Shopify Pro, you can handle exchanges, save carts, make custom receipts, set staff roles and permissions, and track sales by staff member. It also has advanced inventory management like sale item suggestions, inventory analysis, demand forecasting, and inventory counts.
Shopify's POS is fully integrated with the online store so you can track inventory, sales, and more all from a single back office platform. With Shopify's Pro plan, you can arrange for purchase online/pick up in store or buy in-store/ship to customer or deliver locally.
Shopify POS Hardware
Shopify works on iOS systems, uses tablets, and has bundles with stands and card readers. These come with a one-year warranty (two years, if you are on the Pro plan). You can purchase a card reader separately if you prefer to use a smartphone.
If the internet is down, you can continue to accept cash payments. In addition to the stands and readers, it has hardware like barcode scanners, or you can use your smartphone or tablet as a scanner.
Flat-rate Payment Processing
Shopify has its own payment processing, similar to Square. Shopify Payments offers flat-rate payment processing of credit cards and online wallets like Apple Pay and Google Pay. Shopify charges different rates for in-person and online/keyed-in transactions, and all rates depend on the plan you have as well; the higher your plan, the cheaper your rate.
Shopify will allow you to use other merchant accounts for payment processing. However, it charges a 0.5% to 2% transaction fee for third-party payment processing. Therefore, while you may find a cheaper rate with other payment processors, the transaction fees may make Shopify Payments more cost-effective overall.
Shop Pay
Another advantage to using Shopify Payments is that you can accept Shop Pay, which is Shopify's express checkout. Customers can sign up for Shop Pay, input their payment information once, and use it again at any Shopify store accepting Shop Pay. Customers benefit from express checkout and secure storage of their payment information plus their preferences for shipping.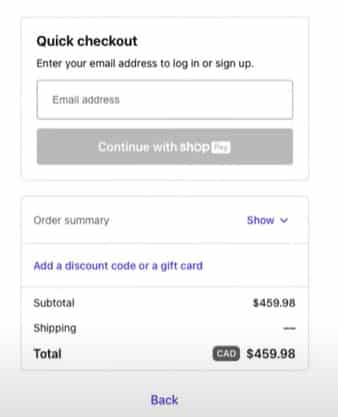 As a merchant, it means you don't need to store a customer's information, which makes for faster and easier checkout. Shopify found that integrating Shop Pay results in a 1.7 times higher conversion rate.
Shop Pay Installments
If you have Shop Pay installed, you can also elect to allow customers to pay for their purchases in four installments taken every two weeks through Shop Pay. While this lets them spread out payments for purchases, you are still paid the entire amount at the time of purchase. This buy now, pay later (BNPL) program works for purchases between $50 and $3,000. Shop Pay Installment transaction fees are higher than Shopify Payments, however.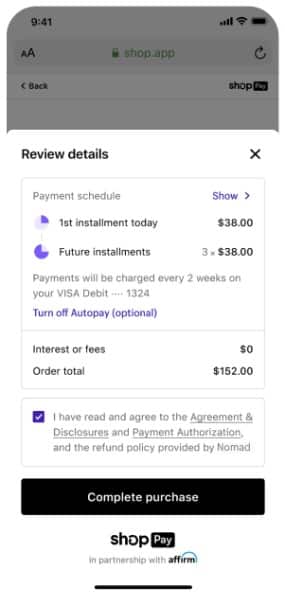 Email Marketing
Shopify allows you to send 2,500 free emails each month. You can create branded campaigns, with Shopify pulling elements directly from your store to make it even easier. It has basic analytics for emails sent, conversion rates, and purchases to help you improve with each campaign.
Top-notch Support
Shopify provides support by phone, chat, and email. It also has a comprehensive library of help articles and offers webinars and resources for other aspects of selling beyond running your Shopify tools. There are discussion forums for marketing, accounting, and other business topics, and if you need expert help, it has Shopify-approved designers, developers, and marketers who you can hire for tasks or advice.
Bottom Line
If you are ready to start a retail business and are looking for software that makes setting up an online store easy, Shopify is an excellent choice. Originally designed for creating an attractive and easy-to-use online store, it's expanded into all levels of multichannel selling, from social selling to brick-and-mortar store sales. With the addition of the Shop app and Shop Pay, it's easier than ever for customers to find you and to have a great checkout experience. Sign up for Shopify and get started.