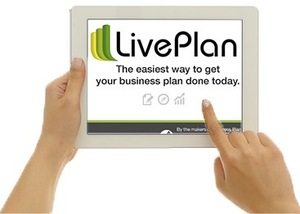 If you guessed Tim Berry, you would be wrong! Tim Berry is the founder of Palo Alto Software, the company behind the very popular LivePlan business plan service and Bplans website. However, Tim installed Sabrina Parsons, his daughter, as the CEO of Palo Alto Software in 2007. When he installed a new CEO,  he gave 3 mandates to his daughter, "Run the company profitably, run the company to have positive cash-flow, and don't take on debt."  Tim Berry is a shareholder in the company and serves as President, a goodwill ambassador for the company.
In 2007, his daughter, Sabrina Parson took control of the company. Sabrina had been with the company since 2003, and had several business successes before joining the family business. She was part of the team that built Epinions.com. Since taking charge, Sabrina has dealt with the financial recession, and completely changed the company's product offering. When she took over the company did not have an online business plan product. Today, LivePlan (their online business plan offering), accounts for 90% of the firm's revenues.
The following interview is based on my notes and does not represent Sabrina Parson's exact words.
Do you have any advice on taking over a business from a family member?
We did not have a one year transition period between the announcement of my becoming CEO and officially taking the reigns, as recommended by many articles on family business succession. At the time that I was made CEO I had been in the business for several years, and had many discussions with my father about what I planned to do with the business. He knew that I wanted to succeed him. The actual transition took place over one day. He made the decision and the next day we announced that I was the CEO of the company. I think that I would have found it very frustrating being the designated CEO, without having the power to set strategy and make changes. Our quick transition made it easier for Tim to jump into the role as advisor, and Chairman, and for me to truly be perceived as the leader from the employee's point of view.
When you transitioned, your dad told you that he expected the business to be run profitably and cash flow positive. Can you talk about the difference?
There is a major difference. One startling stat that I have heard is that two / thirds of small businesses that go under are actually profitable. They are not cash-flow positive, which is what forces them to close.  One of the biggest mistakes that I see when people are creating business plans is that they do P/L projections, but not cash flow projections.
Employees, landlords, and vendors are paid in cash, not in profits. Unfortunately, cash and profits are not the same. For example, a company may have to re-invest a good chunk of its profits into inventory.  While inventory is an asset, it is not cash, and often cannot be sold quickly.  So a company can be profitable and cash-poor. For B-to-B businesses, this often occurs when money has to be spent upfront, but invoices are paid 30 or 60 days after a sale is made. Ironically, this problem tends to become worse when a company is growing, because there is a need for more inventory and contracts get bigger.
From a conceptual point of view, how is LivePlan different from Palo Alto's earlier products?
For many years our focus was on providing software that helped startups and small business owners write business plans.  Our product still does a great job of business plan creation. However, we have broadened our focus to help entrepreneurs better understand and manage their business. Business planning is not a one-time event but a continual process which requires tweaking.
LivePlan includes a dashboard, called the LivePlan Scoreboard which enables entrepreneurs to compare their forecasts against the actual performance of their business. This can be done through manually  or through an automatic integration with Quickbooks (both Online and Desktop versions) as well Xero. Around half the users of Liveplan are using this product in this way.
What time periods do you recommend looking at for comparison?
I recommend that entrepreneurs check their KPI's once per month. I would compare the monthly numbers to the same period a year ago, the previous month, and the projections for those time periods. Most entrepreneurs are very interested in how they did versus the previous month. However, this is not going to be a great comparison for high seasonal businesses. For example, a bike shop that specializes in kids bikes might do very well in December. Comparing November to December may be very encouraging. However, a better comparison might be comparing to last December, because of how much seasonality impacts the business.
It's not just about looking at the actual numbers, but the projections. If the actual numbers and projections are very different the business owner should ask themselves why the model was wrong. Did they do something different than they did in the past, or was the model overly  optimistic / pessimistic?
For financial projections, how long should the business plan look forward?
The business plan should generally project between 3 to 5 years forward. If the purpose of the business plan is to get a bank loan, the bank may want you to show projections of 5. If you are trying to raise venture capital, the venture capitalists may only want to see projections for 3 years. In general, I would say that 1- 3 years of monthly financial projections, and 3 to 5 years of annual financial projections is a good range.
Sabrina Parsons, CEO
Sabrina Parsons is CEO of Palo Alto Software, the company behind the best-selling business management software, LivePlan. Palo Alto Software is dedicated to serving the needs of entrepreneurs and small-business owners, and offers an entire suite of software and tools to help startups plan, manage, market, and grow their business. Sabrina has overseen the transformation of Palo Alto Software from a desktop software company to a cloud-based software company.