Why Use a CRM? (+ the Hidden Cost of Not Having One)
This article is part of a larger series on CRM.
Customer relationship management (CRM) software provides tools to improve data organization, communication, collaboration, and productivity, especially in sales and customer service operations. The hidden cost of not having a CRM is in the time your business spends manually completing tasks that could be automated, producing reports, nurturing leads, repeating information, and searching for customer data, all of which results in a financial cost.
Below are the top six reasons that answer the ultimate question: Why use a CRM system?
1. Improved Data Organization
CRM software effectively acts as a large-scale information system that stores and organizes identifying data (such as contact information of a lead) as well as descriptive data (like a lead's job title and industry). In fact, a CRM trend study found that 94% of users list contact management as their most-requested feature in a CRM, followed by 88% who want the ability to track interactions with those contacts.
Storing and organizing contact information allows your business to easily search for various lead or account records as needed. Zoho CRM, for example, includes a search bar within its CRM system to enable users to search for records.
Beyond organizing customer and prospect data, CRM systems interpret data through built-in data analytics and reporting capabilities. This gives your business important insights such as common customer buying behaviors, which products sell the best (or which aren't selling well), areas where your sales process needs improvement, and even predictions for sales revenues.
Interpreted data is provided to you and your team in reports or displayed as part of your CRM dashboard. For example, the Salesforce Einstein analytics tool analyzes data based on various metrics, such as opportunities won by stage or product line, and then reports it on the CRM's sales performance dashboard. Your business can use this information to do things like make better management decisions, identify process improvements, coach sales reps, and set goals.
The Hidden Cost of Not Using a CRM to Organize Data
The cost of not using a CRM to organize data is the chaos it creates. When your data is scattered across multiple, less sophisticated storage channels like spreadsheets or even paper files, finding important information is more difficult and time-consuming. It also prevents your business from being able to easily and quickly interpret data because information is decentralized and may require extensive manual input, calculations, and report generation.
2. Streamlined Customer Communication
Most CRM software comes with tools for communicating with customers and managing customer service operations. With the main goal of retaining customers through high-quality service and an enhanced customer experience, one of the best answers to the question "Why use a CRM?" is that it can improve your customer retention rate by as much as 27%.
For both outbound and inbound customer communication, a CRM enables your business to handle customer support and engagement more effectively and efficiently. This is done through built-in tools or third-party integrations for email, telephone, live chat, and even social media channels.
CRMs like Zoho CRM integrate with social media platforms like Twitter, Facebook, and LinkedIn to publish content and communicate with customers. Users can even monitor brand mentions on social media in order to reply to comments. These monitoring features are important due to the fact that social listening is now ranked the number one tactic used by professional marketers.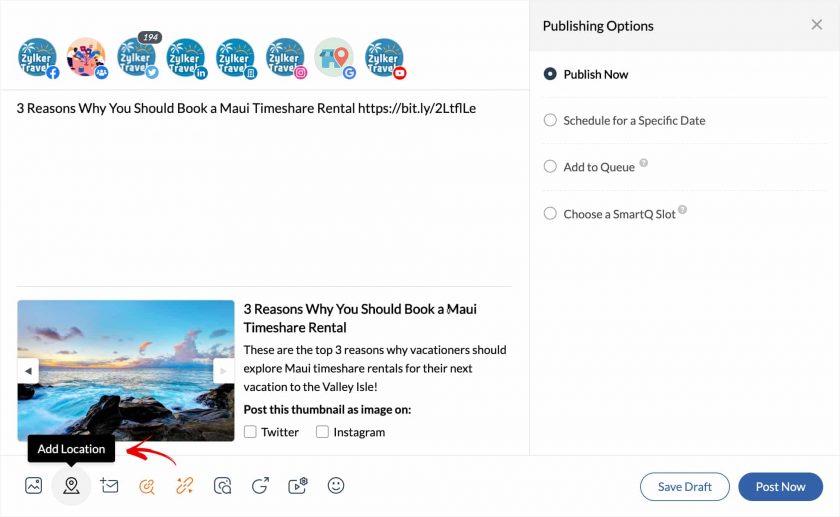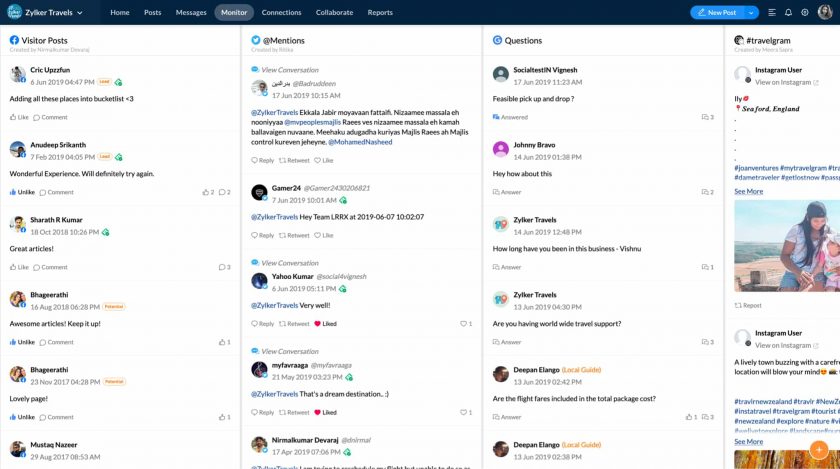 Another way to communicate with customers is by sending email newsletters on a regular basis. Some CRMs, like HubSpot, have built-in email newsletter templates, design tools, and deployment functionality. In addition to general audience interest topics and promotions, your business can email company updates to your customers announcing personnel changes, product or service updates, or company milestones.
When it comes to managing service operations, it's essential to have a centralized system for managing requests that also allows for multiple communication channel options for customers. Surveys show that 66% of customers typically resolve issues over the phone, 49% of customers resolve issues over email, and 28% resolve issues using online forms, and 28% of customers also typically resolve issues using live messaging.
Luckily, many CRM platforms have built-in service ticket management features to make it easier to manage customer requests on all channels. Bitrix24, for example, uses a queue-based ticketing system that collects inbound customer requests. Service reps then select which customers to assist next and on which communication channel.
The Hidden Cost of Not Using a CRM for Customer Communication
The cost of not using a CRM solution to engage customers and manage customer support is more time-consuming communication as well as poor customer service, leading to customers switching brand preferences. These consequences can be prevented through a centralized CRM system that allows access to the various communication channels, the case management queue, and the service ticket management tools.
Not having a CRM makes it more difficult to convey information and provide support to customers, making them feel unappreciated and less likely to continue doing business with your company, negatively impacting customer retention and increasing customer churn. Across U.S. industries, an estimated $75 billion is the total hidden cost of customers feeling unheard.
3. Automated Lead Follow-up
Not only can a CRM help your business communicate with current customers, it can also help your business engage potential customers and leads at every stage of the buying journey. Most CRMs have powerful lead nurturing features, like drip email campaigns and power call dialing tools to help you develop and reinforce relationships with prospective clients. Learn more about the best CRMs for email marketing.
A drip campaign involves sending automated emails to leads, often based on information about the lead and which may include online behaviors such as clicking a link, filling out a form, or visiting a specific web page. This email strategy uses a form of audience segmentation that leads to better campaign performance. In fact, 30% of marketers use audience segmentation to improve their email engagement rates.
If a lead is navigating your website and clicks on a specific page multiple times (or even just once), your CRM can automatically send one or a series of several emails to that lead based on that behavior. These emails are designed to get them to take the next step in the buying process, such as booking a demo or sales presentation.
Drip campaign emails are more personalized because there is a lead-specific trigger that sends them. Pipedrive, for example, allows users to set an action (such as a lead automatically receiving newsletters as a subscriber) after a specific trigger (such as someone becoming a lead after sending the business an email).
A traditional method of nurturing leads is direct calling. No matter where a lead is in the sales pipeline, direct calling can be used by sales agents to check in with leads. Reps can remind leads about your business and see whether the time is right for them to purchase from your business, set up a demo or sales pitch, or whether more lead nurturing is called for.
Many CRMs have power dialer tools. These tools compile a list of lead contacts sorted in the specific order desired by a sales representative, in which click-to-call (and sometimes auto-dialing) can be used to make a high volume of outbound calls. Explore the best CRMs with call center features for sales teams.
Power dialing tools can increase the number of calls placed in a period of time by 5x the amount of standard dialing. Freshdesk Contact Center can do this by having hundreds of contacts in the queue ready for one-touch dialing.
Leads don't necessarily have to be potential customers—they could be potential partners, suppliers, or job candidates who require nurturing. For example, recruiting firms and staffing agencies can use Zoho's native Zoho Recruit software as a CRM for organizing and managing job candidate leads.
The Hidden Cost of Not Using a CRM to Automate Follow-up
The cost of not using a CRM to communicate with leads is lower engagement and fewer conversions due to the time lost doing mundane tasks. Fewer conversions also lead to lost revenue since leads aren't being moved through the sales funnel as quickly.
For example, if you aren't using automated drip campaigns based on buying signals, you must manually watch for behavioral triggers and send lead nurturing emails one at a time. When lead prospecting by phone, your sales teams will lose tons of time manually finding contacts and dialing to make outbound calls. This slows down the process of getting leads and prospects through the sales funnel to closed business.
4. More Efficient Sales Process Management
A CRM is an excellent tool for visualizing and managing your sales process. When leads and opportunities are added into your CRM, you then have the ability to track which stage they are at on the sales pipeline. Your sales team can use these features to monitor and maintain progress and to determine which leads to focus on based on the likelihood of deal closure.
Kanban-style is a popular visualization format used by CRMs to track the sales pipeline. Each lead is shown in a box that can be dragged and dropped to sales process stages, making it easy to see where the lead is in the sales process or move them to a different phase. Salesforce is an excellent example of a sales pipeline visualization using a Kanban visual style.
As part of managing the sales process, a technique known as lead scoring is used to identify the best leads and opportunities using a score. This score can be used to identify which leads are ready or most likely to convert. Your CRM can even be configured to automatically update lead scores based on triggers such as emails opened, website pages clicked on, or engagement history with the lead.
The Hidden Cost of Not Using a CRM for Sales Management
The ultimate cost of not using a CRM for managing the sales process is lost revenue. By not tracking where each lead is in the pipeline or scoring them, your sales teams won't be able to easily prioritize their next sales tasks.
Plus, without CRM tools for sales management, your business can't automate and personalize lead nurturing workflows designed to move prospects to the next stage of the sales process. This results in lost time trying to nurture leads who have little chance of purchasing from your business, and missed revenue from failing to convert leads that would have purchased from your business if properly nurtured.
5. Boosted Team Collaboration
A CRM serves as an internal communication tool for teams to talk with one another, incentivize productivity, monitor agent progress, and hold team members accountable. CRMs also assist in managing team projects and their associated tasks through third-party integrations, or in some cases, as with Bitrix24, a built-in project management system.
Communication among team members within a CRM can be achieved through built-in tools or by integrating with popular instant messaging software, such as Slack. Pipedrive takes Slack integration to another level, not only allowing teams to chat with one another on Slack within the Pipedrive system, but also sending automated updates with its deal bot to notify users of overdue deal-related tasks.
Leveraging integrations with popular communication and productivity tools are among the best practices for using a CRM system. For more information about ways to optimize your CRM experience, check out our article on CRM best practices for small businesses.
One way to hold sales representatives accountable is by using your CRM's lead assignment tools. This automates lead assignment to specific team members based on triggers such as lead source, potential deal size, region, industry, and more. Lead assignment is an important step for tracking leads. For more information, check out our article on how to organize and track leads in seven steps.
Lead assignment not only allows teams to hold each other accountable, but also ensures the best reps are handling opportunities within their wheelhouse for a better chance of closing the deal. It also encourages reps to follow up with leads in a timely manner, which could be the difference between winning and losing business considering 50% of sales go to the vendor that simply responds first.
The Hidden Cost of Not Using a CRM for Team Collaboration
The cost of not using a CRM to facilitate team collaboration results in unfinished tasks, missed sales opportunities, and potentially a company culture that does not hold employees accountable. A CRM makes it easier for your team to work together using integrated collaboration tools like Slack in conjunction with your CRM system.
6. Overall Improved Productivity
Each of the previously mentioned reasons to invest in a CRM stems from the fact that CRM software increases productivity and positively impacts business revenue within each of these areas. Rather than manually analyzing data, sending emails, or visualizing the sales pipeline, CRM workflow automation can do these tasks for you with built-in tools or integrations with workflow automation software.
A success story of how a CRM helped improve productivity is found with Wells Fargo, which saw terrific results after investing in a CRM system. Estimated productivity of their developers increased by 20%, and over 5,600,000 hours of extra work had been saved as a result of the investment.
You can create online web forms using your CRM system or through third-party platform (such as Mailchimp) that feeds data collected directly into your CRM. Your web forms collect lead information like name, organization, phone number, email address, interests, and when they expect to purchase—and that data is automatically added as a record in the CRM database.
This prevents sales reps from spending time manually entering records and keeps them free to focus on selling and prospecting. Zoho CRM even combines record entry automation from online forms with lead assignment automation. When someone fills out an online form you created in Zoho, a new record is created in the CRM and the lead is automatically assigned to a sales rep, saving your team valuable time.
Zoho can also then use workflow rules to automatically add the lead to a drip campaign. Accurate lead scores can then be assigned depending on emails opened, links clicked, or forms filled. All of this was able to be completed automatically through workflow rule triggers and offers a better chance of closing the sale.
Marketing automation also increases productivity by allowing users to avoid spending time on repetitive tasks like copying and pasting emails to send on a mass scale. CRMs like HubSpot have an intuitive interface for creating automated marketing workflows in the form of drip email campaigns. Drip campaigns trigger buying signals and alert sales reps to follow up with leads, putting more sales-ready leads at the end of the sales funnel for higher conversions.
One of today's most apparent CRM trends is the use of artificial intelligence (AI) to boost productivity. HubSpot allows businesses to embed a CRM-connected AI chatbot on their website to auto-answer questions sent from site visitors. By answering basic or commonly asked questions via chatbot, this feature frees up your customer support reps to deal with more complex cases.
CRMs also use AI to automate the sales coaching typically provided by a manager by automatically offering insights to sales reps about sales activities and the pipeline. Pipedrive does this through their AI Sales Assistant feature that messages reps in real time, sharing trends it finds or tips to improve their sales performance.
With its CRM capabilities, AI is becoming the productivity equivalent of one or many employees. AI has the ability to increase operational productivity by over 40% and total business profitability by an average of 38%.
The Hidden Cost of Not Using a CRM to Improve Productivity
The cost of not using a CRM to increase productivity is lost time, revenue, and inability to compete. Without a system to automate workflows, your business takes longer to fulfill sales cycles by manually completing repetitive tasks. Also, without CRM AI capabilities, your business risks falling behind competitors that are investing in an AI tool for advanced insights and service automation.
Bottom Line
The business costs of not using a CRM are represented in lost time, lost revenue, and a less productive workforce. The return on investment (ROI) for CRMs is substantial, and the growth rate is constantly going up. Based on Nucleus Research's estimated ROI of $8.71 for every dollar spent in 2011, today's ROI for businesses with a CRM is over $30 for every dollar spent.