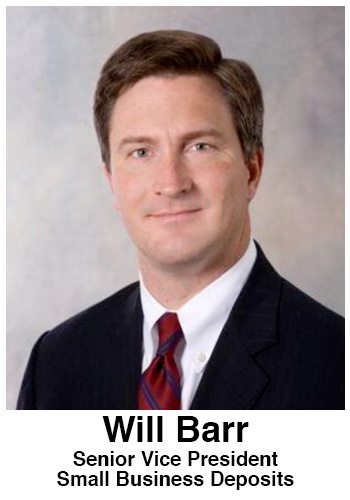 Bank Of America defines small businesses as companies with less than $5 million dollars in annual revenues. They serve approximately 3 million small business customers that have around $80 billion dollars of deposits with Bank Of America.
Fit Small Business is a satisfied Bank of America client. We have our business checking and saving accounts with Bank Of America. When I mentioned this to Will Barr, Bank Of America's Small Business Deposits Executive, he thanked me for my business. The following Q and A is based on my interview with Will Barr. The content below is based on my notes and is not an exact transcript of our conversation.
Before we dive into the details on this topic, we also suggest you check out QuickBooks, our recommended accounting software. Visit QuickBooks to learn more.
What regular events tend to cause small businesses have their largest outflow of funds?
The biggest drivers of cash outflows are payroll, tax payments, and buying inventory or supplies for seasonal businesses. Small Business tend to pay employees weekly or semi-weekly. In the case of weekly payments, we see balances drop on Fridays when payroll payments tend to be made.
Paying taxes, which can occur quarterly, trigger large outflows. Many small businesses pay estimated taxes quarterly on the 15th of the month following the end of quarter; January 15th, April 15, July 15th and October 15th. When they pay the estimated taxes, we often see them sending payroll withholdings to the tax authorities.
Lastly, some businesses have seasonal account activity. For example, retailers will often need to draw on funds to stock up on inventory in October to prepare for the holiday seasons.
Do payroll tax withholdings cause problems for small businesses?
Yes, there are potential problems when businesses mix their operating funds with payroll withholdings or sales tax collections. When the funds are mixed together , it may look like the business has more cash available for expenditure than it actually does. Our Business Advantage product includes two business checking accounts, which allows businesses to easily separate operating funds from these obligations.
What tips do you have for small businesses that want to avoid being low on cash?
Most importantly, have a plan which includes preparing for difficult situations where revenues may be much lower than normal and/or costs much higher. One aspect of the planning process should be to define what financial obligations are fixed, which can be delayed, and which can be eliminated. In other words, in the event of downturn, what portion of a firm's expenses can be eliminated or delayed. Another aspect of planning, is understanding available sources of funding such as  lines of credit and credit cards which a company can use to access additional cash.  After gathering this information, a company can make more intelligent decisions about how to handle their cash and whether or not new sources of funding can help their cash flow issues.
Also, I strongly encourage firms to start building relationships with their bankers, suppliers, and vendors early on, when their business is doing well. For example, you want to have a line of credit in place well before you need the funds. The stronger the financial position of the firm, the more likely it is to receive a line of credit or qualify for other lending products. Also, getting lines of credit and more payment flexibility may take time to arrange, which is a big problem and may mean no money during a crisis situation.
Can you suggest ways that small business can save time on their business banking?
Yes, small business can save both time and money by minimizing the amount of their physical transactions. By encouraging payments by credit card or electronic transfer, small business can save lots of extra time they would have spent counting cash, depositing cash, and stocking change. Reducing cash transactions can result in less time on administrative tasks and fewer trips to the bank as well. Additional benefits include lower banking fees, as processing large amounts of cash can be expensive.
Small businesses can also save trips to the bank by taking advantage of technology that allows them to deposit checks remotely. Bank Of America has two ways which small businesses can make check deposits away from their branch. The first, is through our mobile banking application, which allows the user to snap pictures of their check for an automatic deposit. This is great solution for business that do up to 20 checks per month. For more than 20 checks, the remote deposit online application may be a better fit. Customers can scan multiple checks at once from their computer.
Lastly, I would like to mention that Bank Of America has invested heavily in technology that allows small business owners to delegate tasks to employees, without giving up control of the account. For example, business owners can give certain employees the right to access account statements without being able to make withdrawals or transfers.
Will Barr – Senior Vice President, Small Business Deposits Executive
Will Barr is Bank of America's Small Business Deposits Executive. He is responsible for the management of small business checking, savings, payments and business services products. His team manages more than 2.5 million customer relationships, $80 billion in deposit balances and $1.5 billion in annual revenue. Prior to his current role, he served as Bank of America's Debit Executive.