Wix is an industry-leading website builder known for its intuitive drag-and-drop editor that is feature-packed with tons of tools and capabilities online stores need. It's quickly becoming a direct Shopify competitor and in many ways, it surpasses the competition. It's not only one of the most beginner-friendly site builders on the market, but it also offers affordable ecommerce plans, and does not charge added transaction fees. Stick around to learn more about Wix eCommerce.
Wix for Ecommerce
PROS

CONS

Intuitive site and online store builder
Can't use Apple Pay and Google Pay
Affordable pricing (and no extra payment processing fees)
Lacks real-time shipping with UPS or FedEx
Selling via Facebook, Instagram, Amazon, and eBay
No low-stock or out-of-stock notifications
Not sure Wix is right for your online store? Here are the best Wix alternatives:
Squarespace: Offers award-winning designs that are more modern than Wix's options and perfect for artists to showcase products.
Weebly/Square: Better for budget-strapped businesses looking for the most affordable ecommerce plans.
Shopify: Supports multiple and large ecommerce businesses, making it a better choice than Wix for scaling your business
There's a solution for every type of ecommerce business. Find yours with this guide on the best ecommerce platforms.
Wix eCommerce Pricing
Wix eCommerce plans are packed with value, and overall more affordable than Shopify—you can sell an unlimited number of physical or digital products with the lowest priced plan at $23 per month. Sell event tickets, services, take online orders for food, and sell on social media platforms at this level. To sell subscriptions, or for dropshipping or marketplaces sales, you'll have to upgrade to Business Unlimited at $27 per month, or Business VIP at $49 per month.
Pricing & Features
| | Business Basic | Business Unlimited | Business VIP |
| --- | --- | --- | --- |
| Starting Price for eCommerce-enabled Plans* | $23 / month | $27 / month | $49 / month |
| Transaction Fees | 2.9% + 30 cents per transaction | 2.9% + 30 cents per transaction | 2.9% + 30 cents per transaction |
| Physical Products | ✔ | ✔ | ✔ |
| Digital Products | ✔ | ✔ | ✔ |
| Online Food Orders | ✔ | ✔ | ✔ |
| Event Tickets | ✔ | ✔ | ✔ |
| Services | ✔ | ✔ | ✔ |
| Social Media (Facebook, Instagram) | ✔ | ✔ | ✔ |
| Subscriptions | N/A | ✔ | ✔ |
| Dropshipping (Modalyst, AliExpress, Sprocket) | N/A | ✔ | ✔ |
| Marketplaces (Amazon, eBay) | N/A | ✔ | ✔ |
| | | | |
*Cost per month based on annual plan
Wix eCommerce Ease of Use & Design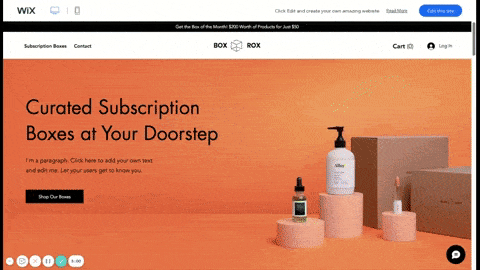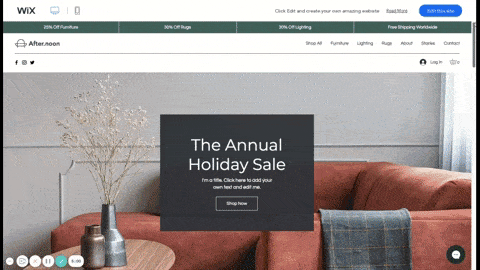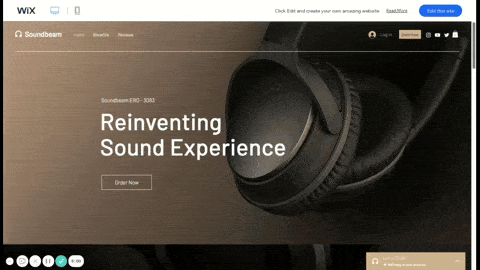 The best thing about Wix is its templates and intuitive drag-and-drop site editor. Unlike other content management systems (CMS), such as Shopify or WordPress, all of the Wix templates are available for free, so there will never be an unexpected cost to get the template you love. Additionally, there are dozens of prebuilt ecommerce templates, and you can add an online store to any of the Wix templates, giving users a ton of options.
The Wix editor makes it easy for you to put an element anywhere you want on any page. All of your design tools are available in the left menu. When you need to change content or an image, just double-click on it in the editor and add what you want.
How to Build an Online Store on Wix in 5 Steps
Creating an online store with Wix eCommerce is hardly any different from creating a standard business website with Wix. For example, you'll still start by choosing a template, adding pages, and customizing the look and navigation of your site. Then, to sell online, you'll need to add your products, update product settings (e.g., inventory levels, shipping fees, and so on), and then you'll click the "publish" button, which will direct you to choose a plan and connect your own domain.
Here's how to build your Wix online store in as little as 5 steps:
1. Sign Up for a Free Wix Account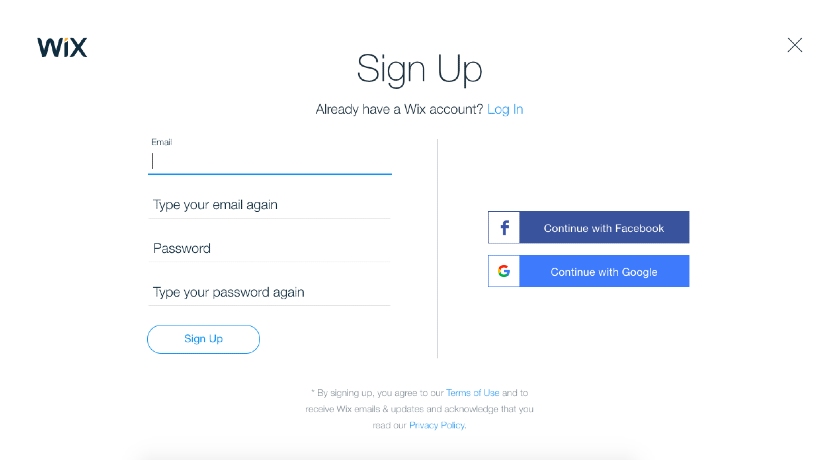 Signing up for a Wix account is free, and you only need to provide an email address to get started. After you create your account, you'll tell Wix what type of business you have, such as design services, toy store, or custom T-shirt shop. Next you'll choose the type of site you're creating, and in this case, it's an online store. Then Wix gives you a choice to use the Wix ADI to create a site for you, or choose a template and start editing.
Wix ADI is artificial design intelligence, or a form of machine learning for website and online store design. You answer a few questions, and the Wix ADI chooses a template based on your likes. It then fills it in with pages, elements, and even stock photos that make sense for your business. Afterward, you can edit your site to change whatever you want.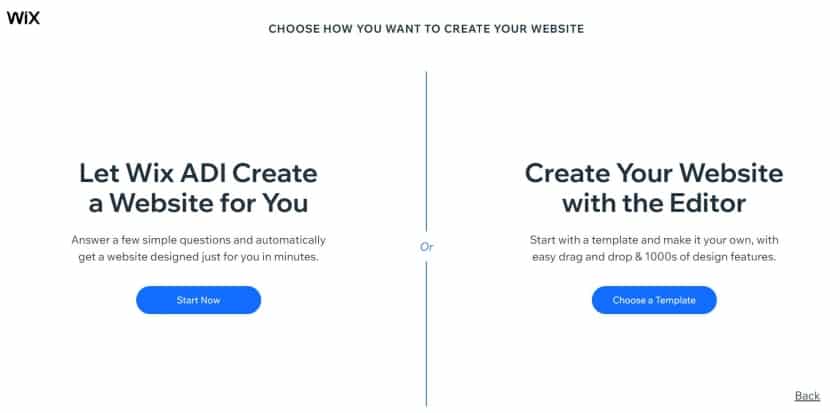 Pro tip: Wix provides an easy-to-use website editor, domain names, and hosting in an all-in-one package—but it isn't the only one. The best website builders can do everything Wix can do, but there may be one that better meets your specific needs.
2. Choose an Online Store Template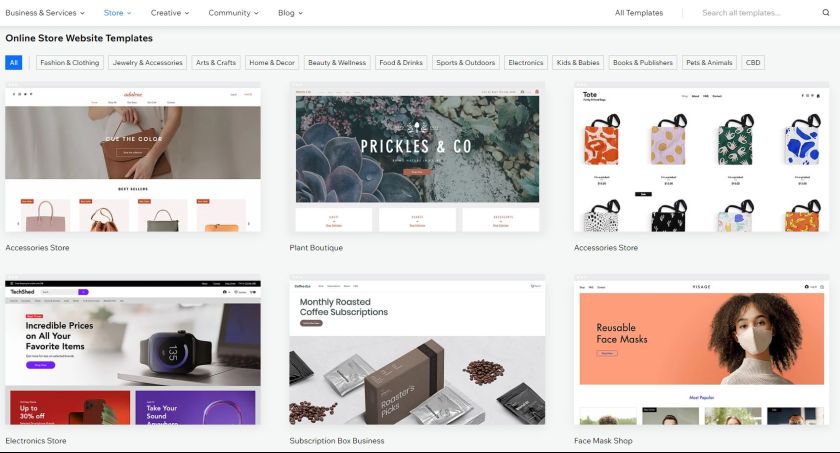 If you skip the Wix ADI and dive right into editing a template, you need to answer a couple more questions, including "What kind of website do you need?" Choose "online store" for ecommerce templates. Wix offers more than 100 free online store templates. You can narrow your choices by choosing a category of templates, such as arts and crafts, sports and outdoors, or electronics.
If you're not sure whether an online store is right for you, feel free to start by creating a business website. You can always add on ecommerce features later.
Pro tip: Choose your template carefully. Currently, Wix doesn't let you switch templates, so if you decide the design you picked isn't working out, you'll have to start all over. The good news is that Wix allows you to create as many sites as you'd like, so you can try out a few different templates to see which you like best before you publish.
3. Add Pages & Customize Your Template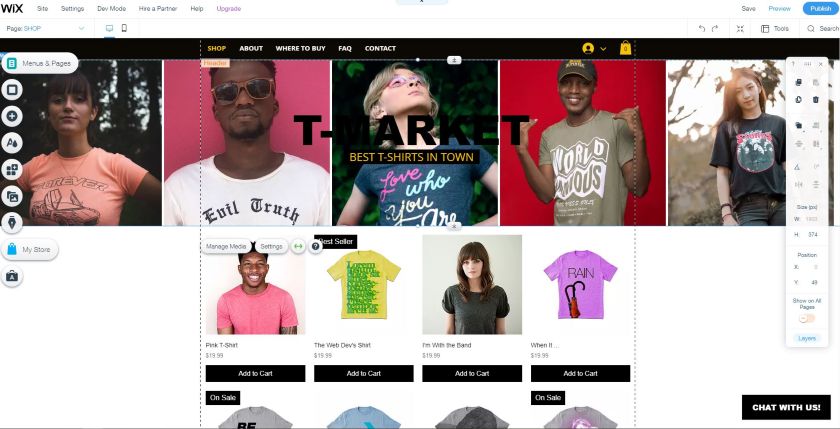 The Wix editor is a true drag-and-drop editor. So, if you want to add a button, for example, go to the left menu and choose Add > Button, click and hold on the button you want, and then drag it onto the page. You can place elements wherever you want on a page.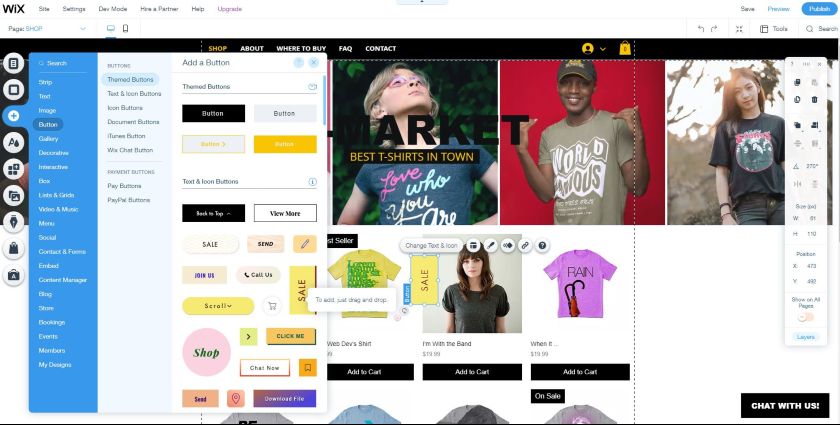 Use the left menu to add, remove, or reorder pages, manage your store, and add apps. Be sure to customize specific pages with your business' information, including:
Header
Footer
About and Contact pages
Navigation menu
Home page
4. Add Products & Customize Online Store Settings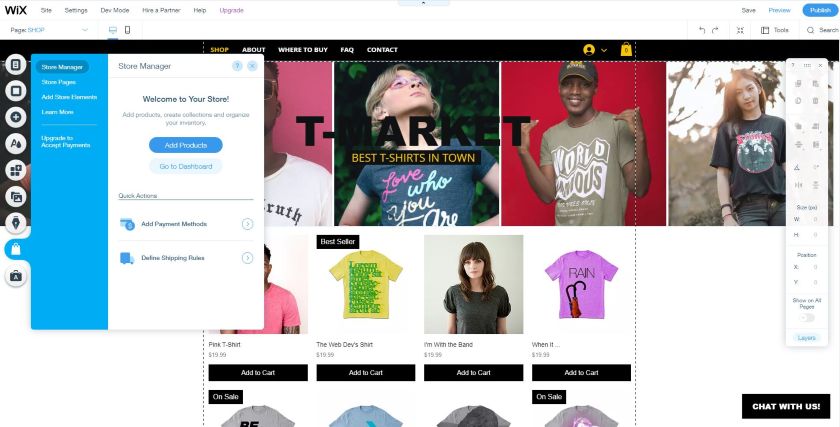 Now it's time to add your products. There are a couple ways you can do this. If you're just getting started, you can add products one at a time. However, you may have thousands of products you're already selling. You can add multiple products at once to your Wix eCommerce store by using the Wix CSV template.
If you want to create a dropshipping business, you can add marketplace apps right from the My Store section. Wix lets you find products to sell through Modalyst, Sprocket, and AliExpress. You'll also want to set up Wix Payments or a third-party payment processor and PayPal so you can accept payments.
5. Publish Your Online Store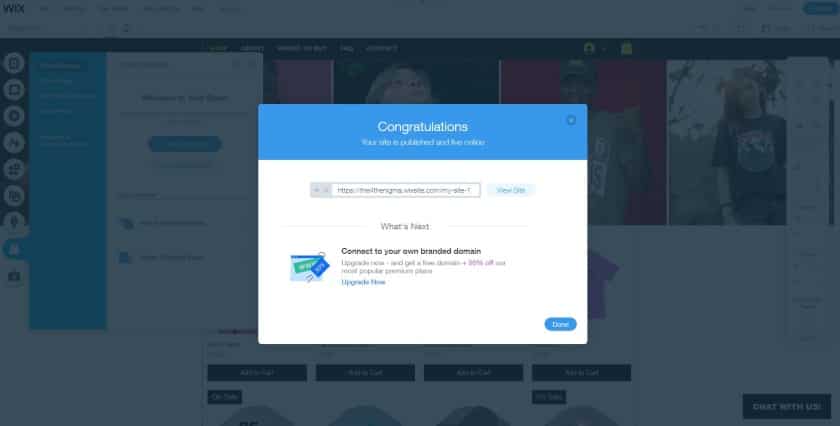 Once you're happy with the look of your site, your products are in place, and you've adjusted all the settings to accept payments, it's time to launch your online store. Click on Publish at the top right of the Wix editor. It'll take a few seconds, and then your site will be live. Of course, your site is on a Wix subdomain, so now you'll want to connect your custom domain and choose the Wix eCommerce plan that makes sense for you.
Frequently Asked Questions (FAQs)
Which is better for ecommerce: Wix or Shopify?
Both Wix and Shopify are excellent choices for an ecommerce business. Wix is more affordable than Shopify, and it's much easier to use. It's a great choice for any small business that needs an online store. Shopify gives you access to more apps and dropshipping wholesalers, and it's a better choice for larger businesses. Learn more about how to create a Shopify store.
Can you create a dropshipping store with Wix?
Yes, you can create a dropping store with Wix. When you're ready to add products to your site, you can connect to a dropshipping supplier and find products to sell. You can choose from several suppliers, including Modalyst, Sprocket, and AliExpress. Read a guide on how dropshipping works.
How do you set up a Shopify Facebook store?
One of the most affordable ways to create an online store is to choose the Shopify Lite plan for $9 per month and sell on Facebook. Open a Shopify account, choose and customize your theme, and then connect to your Facebook page and store. The biggest limitation you'll have going this route is that you'll only be able to sell through a Facebook shop. Here's a step-by-step guide to opening a Facebook store using Shopify.
Bottom Line
Small businesses just starting out or brick-and-mortar shops that want to expand to an online store would do well with Wix eCommerce. All of Wix's plans are affordable, and each plan includes powerful ecommerce features and free design templates, plus it's super-easy to use. Start building your online store with Wix and start reaping the benefits of its many ecommerce features that will help you not only sell online, but sell more online. Get started today.
You Might Also Like…