Wix and Squarespace dominate the all-in-one site builder space, and though the two appear nearly identical, they're not without their differences. So we compared Wix vs Squarespace head-to-head to help you decide which is best for you—if either. In short, Wix is easier to use and provides far more design freedom, whereas Squarespace's award-winning templates and limited design flexibility can actually help beginners avoid over-customizing a site, ensuring a DIY website doesn't look homemade.
Not sure either sounds quite right for you? The good news is that there are plenty of others to choose from, so find the perfect solution for your unique business needs by checking out the best overall website builders.
Wix vs Squarespace Key Differences at a Glance
Expert Score

4.6 out of 5 stars

4.1 out of 5 stars

Starting Price

$12 per month

$14 per month

Ecommerce Plans

Sell online for $18 per month

Sell online for $23 per month

Ease of Use

Beginner-intermediate

Beginner

Design

110 prebuilt templates

800+ prebuilt templates

Built-in Appointment Booking System

No

(available as an add-on for an extra $15 per month)

✓

Sell Gift Cards

✓

(with the Business Plan, $18 per month)

No

Accept Recurring Payments (e.g., Subscriptions)

✓

(with the Commerce Plan, $40 per month)

✓

(with the Business Unlimited Plan, $27 per month)

Membership Site

✓

(via Member Areas for an additional $10 per month)

✓
How We Evaluated Squarespace vs Wix
Upon first glance, Squarespace and Wix seem nearly identical and the two are very nuanced in terms of pricing and features. If you haven't used either site builder before, it can be a tough decision as to which is right for you. So we put them to the test and compared the providers head-on—across a number of evaluation criteria—to help you determine which is the best site builder for you.
Click the tabs below for more information on each evaluation criteria:
25% of Overall Score
Site builders make it more affordable than ever to get your own professional website. So we analyzed which provider is more competitively-priced for the features most businesses need. To do this, we not only compared entry-level plans to determine which is cheaper, but also the plans required to do things such as sell online, accept recurring payments, and build a membership site.
25% of Overall Score
It's not just affordability that makes a site builder great, but its value for the price. Both come packed with a lengthy list of features and extras, and yet what these features will cost you will vary by provider. We considered everything from storage and bandwidth to freebies like a free domain, a free SSL, SEO tools, and built-in analytics, as well as more specific features and capabilities, such as the ability to process payments online, book appointments, sell gift cards, and more.
10% of Overall Score
Every business will have its own set of unique needs related to its industry. We considered the capabilities of each platform to see which best meets the needs of businesses whether they're restaurants, photographers, dental practices, selling services or products online, or the next tech star.
25% of Overall Score
Drag-and-drop website builders were designed to make building a site code-free and headache-free. We put each provider's editing interface to the test to determine which is really more intuitive and user-friendly. We also considered which requires a shorter learning curve, and the quality of its templates.
5% of Overall Score
In an ideal world, you'll never need the help of support, but should you find yourself in need, great support is vital. We looked at the availability of customer support available from each provider, including its support channels (i.e., phone, live chat, email) and the hours in which support is available to determine which is better.
10% of Overall Score
Sometimes you simply need to have spent a lot of time using each platform to know which is really the best. So we included our own expert opinion given our first-hand experience using Squarespace and Wix. We factored in our thoughts on value for the price, quality of features, ease of use, and popularity.
*Percentages of overall score
Let's take a closer look at Wix vs Squarespace:
Best for Price: Squarespace
| | |
| --- | --- |
| | |
| Pricing starts at $14 per month but quickly increases, depending on if you're selling online what features you need | It's cheaper and a better value with plans starting at $12 per month with unlimited storage and bandwidth |
Squarespace is slightly more affordable for low and mid-priced plans, but more importantly, the builder offers a better value. For just $12 per month, you get unlimited storage and bandwidth, whereas with Wix, professional-use plans start at $14 per month and give you just 20GB of storage space.
Where pricing gets tricky is if you're looking to accept payment online or for additional features. For example, you can accept online payments with Squarespace for just $18 per month, compared to Wix at $23 per month. However, once you're looking for more advanced selling features, such as abandoned cart recovery and recurring payments, Squarespace gets way more expensive than Wix.
If you're looking for the cheapest option available, you're going to have to look beyond Wix and Squarespace. The overall cheapest site builder for professional use is Bluehost with plans as low as $2.95 per month, and the cheapest option for building an online store is Weebly's at just $6 per month. For more info, check out the cheapest website builders.
Winner: Squarespace wins here for offering more value for the cost (plus, it's a bit more transparent about its pricing and plans), but it was a close race (Wix's pricing is comparable).
Most User-friendly: Wix
| | |
| --- | --- |
| | |
| More intuitive site editor, making it easier for beginners | Templates are far more built out, requiring fewer customizations |
Ease of use can be a subjective topic. However, if you're new to website design and site builders, you're likely going to find Wix to be more user-friendly than Squarespace. Both of them make it easy to edit text and images, but they do so in different ways. With Squarespace, you'll click on buttons and use menus to make changes. With Wix, you'll rely on drag-and-drop and pop-up menus to design.
Building a Site With Wix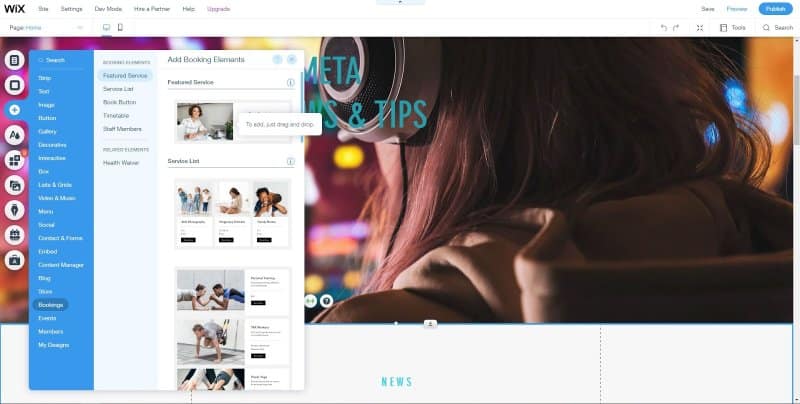 Just like most website builders, Wix starts you off with a template of your choice (unless you opt for an artificial intelligence (AI)-assisted site build). Editing text and images through the Wix editor is as simple as double-clicking what you want to change. Then you can upload your own image (or use stock images that Wix provides), add your own text, and make the site uniquely yours.
If you need more sections, just click on the plus sign on the left menu and choose the element you want. Most elements offer different layouts, which you can choose in the menu or after you've added it to the page. To add an element, you just drag and drop it where you'd like. It's an easy-to-use editor, but having the freedom to put an element anywhere on a page, it's possible to clutter your page easily if you don't have design experience.
Get a walk-through on how to create a website with Wix.
Building a Site With Squarespace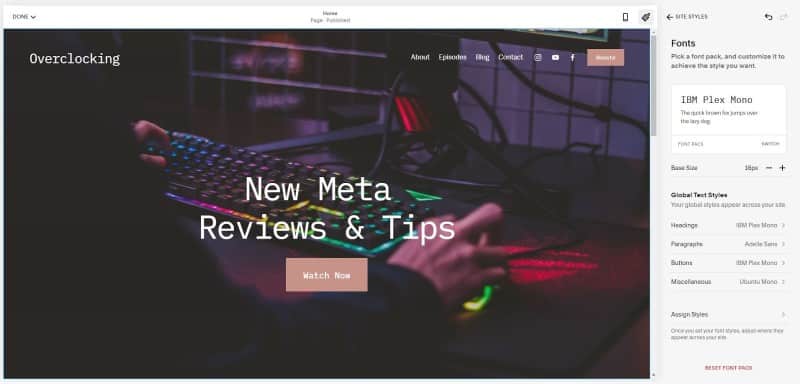 Designing a website with Squarespace starts with choosing a template. Once you find one you like, you can fill in some specific details about your business, and then get started editing. Most of the time, you can click on what you want to edit, but not for all elements. For example, if you want to change what's on your navigation menu (usually at the top of a website), you can't simply click on it to edit. You'll click on the header and a pop-up brings up options to edit, including site title, logo, elements, and colors.
Squarespace is less intuitive to use compared to Wix. You can't change a font while you're typing on a page. You have to save your template changes, go to Design > Site Styles > Fonts, and then choose a font pack you prefer. If you want to customize the fonts for your site, you can do that by selecting the text style. For the most part, Squarespace tries to keep your design balanced (hence font packs), so no matter how you change your design, it will always look professional.
Learn more about how to build a website using Squarespace.
Winner: Wix wins here because the editor is intuitive to use, making it easy for anyone to design a website.
Best for Design & Templates: Squarespace
| | |
| --- | --- |
| | |
| 800+ templates to choose from, but many are old and dated-looking | 110 award-winning template designs to choose from |
The biggest differences in design between Wix vs Squarespace are that Squarespace's designs are cleaner, more modern, and objectively designed better, and you can easily change templates with Squarespace and not lose your content. If you change your mind about your template choice with Wix, you lose all your work and have to start over. Squarespace offers fewer templates with just more than 200 options (if you include templates from the older editor), and Wix offers more than 800 total.
Wix Template Examples
Wix's designs are hit or miss—some rival the quality of Squarespace's templates, while others seem outdated.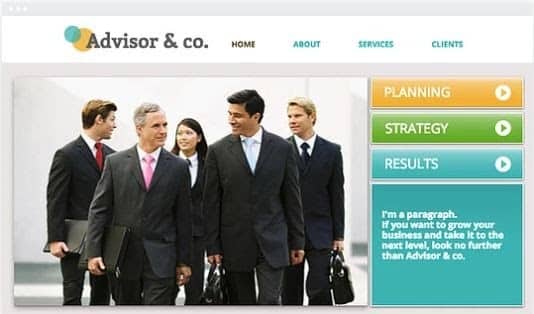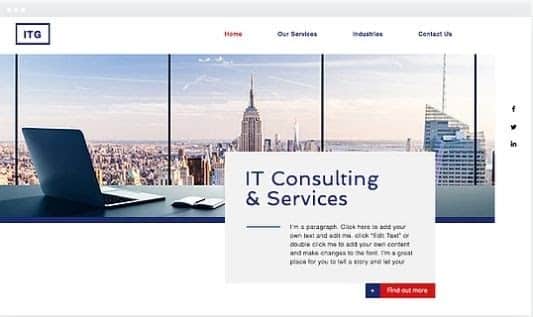 Squarespace Template Examples
Squarespace's designs are consistent in quality—even the older designs—providing white space, thoughtful font packs, and balance.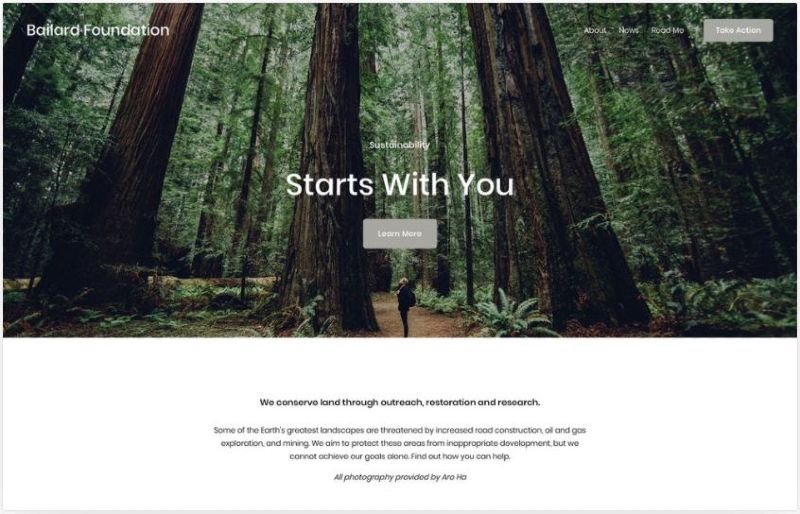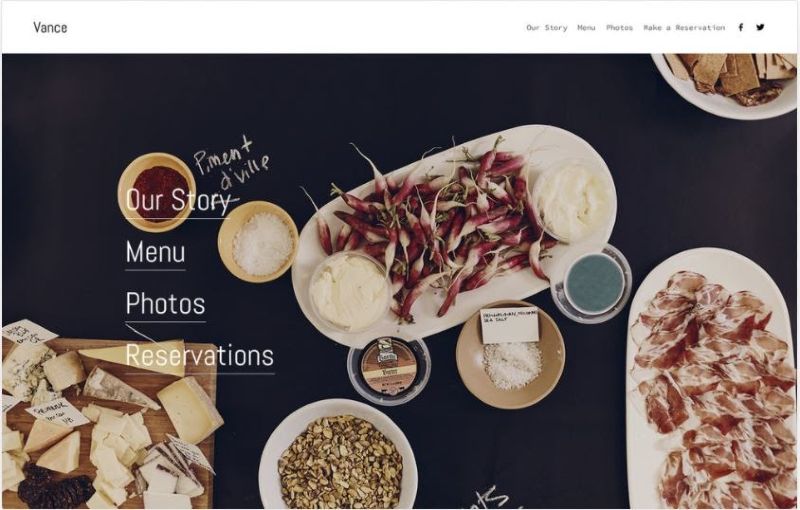 Winner: Squarespace is the clear winner based on the quality of templates alone (it helps that you can easily switch templates and not lose your content too).
Best for Selling Online: Tied
Best For

Selling services

Selling products

Starting Price to Sell Online

$23 per month

$18 per month

Things to Know

Far cheaper for selling subscriptions
Appointment booking system available with all plans
Cannot sell gift cards
Cheaper for more advanced selling tools and features

More dropshipping integrations
More built-in marketing tools to help you sell across channels
Cheaper for introductory selling tools and features
Selling online is easy with either Wix or Squarespace, but what you're selling and how you're selling is where the two differ. In short, Wix is better for selling services online given its built-in appointment booking system, which is available with all plans. Squarespace is better for selling products online as its plan that enables online payment processing is cheaper, and with unlimited storage, you have all the space you need to build out your product library.
Digging deeper, you'll find that pricing varies greatly depending on the features and capabilities you need. For example, if you're looking to sell on social channels, such as Facebook and Instagram, Wix is a better value at $23 per month, whereas to get this feature on Squarespace, you'll need to spend $26 per month. Then consider features, such as abandoned cart recovery—with Wix, it's included in the $23 per month plan, but with Squarespace, you'll need its highest-tier plan at $40 per month.
One area of eCommerce that both Wix and Squarespace are lacking is in their dropshipping integrations. So, if you're looking to set up a dropshipping business and want the ease of use of a site builder, opt instead for Shopify.
Winner: It's a toss-up. Wix offers better plans for selling services and more feature-packed mid-level plans, whereas Squarespace is cheaper for its entry-level plans, but pricing quickly increases well above Wix for advanced ecommerce features.
Best for Service-based Businesses: Wix
| | |
| --- | --- |
| | |
| Wix offers lots of its built-in tools that service providers need | 110 award-winning template designs to choose from |
What does an events website, a salon website, and a site for a medical office have in common? The need for a specific set of tools so your clients or customers can book appointments, buy tickets, sign up for classes, and get in touch with you. Wix and Squarespace do a great job of catering to service-based businesses, but they do so a little differently.
Wix offers a handful of features and apps so you can accept recurring payments, display events on a calendar, email clients, and allow customers to order food online or make reservations at a restaurant. These tools are native or proprietary to Wix, so it's a great all-in-one option. However, not all of them work as intended, or still need a bit more tweaking by the developers.
Squarespace can do all the same as Wix, but often a feature or tool is available because of a third-party app, such as OpenTable for reservations and ChowNow for online ordering. The good news is that these third-party apps are usually full-featured and have fewer issues compared to Wix's native apps. It's worth noting that not all apps are free with Wix or Squarespace, so expect your monthly cost to increase with these extra features.
| | | |
| --- | --- | --- |
| | | |
| Accept Recurring Payments | ✓ | ✓ |
| Booking System | ✓ | ✓ |
| Calendar Sync | ✓ | ✓ |
| Email Marketing Tools | ✓ | ✓ |
| Live Chat | ✓ | ✓ |
| Maps | ✓ | ✓ |
| Online Ordering | ✓ | ✓ |
| Reservation System | ✓ | ✓ |
Building a website for the foodservice industry? Check out the best site builders for restaurants.
Winner: Wix because it offers more built-in features with lower-priced plans. However, what's even better than Wix for those in the service industry looking to accept online appointments and bookings is GoDaddy, which is also cheaper with plans starting as low as $6.99 per month.
Best Support: Tied
| | |
| --- | --- |
| | |
| Wix offers a callback phone support service | Squarespace offers live chat help on its website |
For the most part, Wix and Squarespace offer similar customer support in that both have forums for customers, tutorials, step-by-step guides, robust knowledge bases, and videos. Where the two differ is when you need to speak to an actual person for help. Wix offers a callback service, so you can get phone support. It's available from 5 a.m. to 5 p.m. Pacific Time on weekdays. Squarespace offers live chat support, so you can get in touch through its website. Hours for live chat are from 4 a.m. to 8 p.m. Eastern Time on weekdays.
Winner: Tied. Wix offers phone support, whereas Squarespace offers live chat support. Quality of support is great from both, so this one just comes down to preference: phone or live chat.
Best Alternatives to Wix & Squarespace
Wix and Squarespace are excellent site builders that make it easy for you to create a professional website or online store. However, you may want something that offers more creative freedom or a niche site builder for something more specific.
Consider these alternatives to Wix and Squarespace:
There's a lot of competition in the world of site building, which means you have a lot of choices. A great place to continue your research would be with our guide on the best website builders.
Frequently Asked Questions (FAQs)
Is Wix good for SEO?
Wix, Squarespace, and other website builders have a bad reputation when it comes to search engine optimization (SEO) because they may add more code to pages than needed. However, site builders have improved SEO recently, such as by letting you change URL slugs—it's always better to have a keyword as a page name, rather than a string of random numbers and letters. Learn more about all SEO features Wix offers and see how it stacks up in the best website builders for SEO.
Which website builder is best for photographers?
Photographers typically have large galleries to share on their websites, so they're going to want to find a site builder that offers unlimited storage. Great design is also important, so a builder with striking templates would also benefit a photographer. Squarespace is an obvious contender, but there are other options that might surprise you. Find out more about the best website builders for photographers.
Is WordPress better than Wix?
WordPress is an open source CMS that is free to use, but it requires a bit of technical know-how. It allows for a lot of design freedom, and there are thousands of apps you can use to add functionality. Wix is more of an all-in-one site builder that's easy for beginners to use at the expense of creative freedom. Which is better? It comes down to preference, so read the head-to-head comparison on Wix vs WordPress and find out which is best for you.
Bottom Line
So, which is better: Wix or Squarespace? That depends on what you're looking to do with your small business website. If you're still on the fence, try Squarespace. It's more affordable and though it requires a bit more of a learning curve, you get the peace of mind that it will turn out looking like a professional built it. It's free to get started with Squarespace and even once you upgrade to a premium plan, you get a 14-day free trial.
You Might Also Like…