For those considering taking their blog posts to the next level, WooCommerce pricing is free for the plug-in and turns any WordPress site into an online store. WooCommerce costs nothing to install on your WordPress site but has other associated costs depending on your startup and ongoing needs.
The best way to get started is to run your store with a dedicated WooCommerce and WordPress hosting provider like Bluehost. You get a free domain name, email address, automatic WooCommerce installation, a free 2-hour set up call, and more, all starting at just $6.95 per month. Click here to compare plans.
WordPress Hosting Costs With WooCommerce
Basic Site
Mid-Range Site
Advanced Site
$6.95/month
$8.95/month
$12.95/month
Free
Free
Free

Logo & Store Theme One-time Costs

$0 DIY logo and a free store theme

$5

Fiverr

professional logo and a free store theme

$200

Fiverr

professional logo and a paid store theme

Credit Card Processing& Shipping Fees
Based on sales volume and services used
Based on sales volume and services used

Based on sales volume and services used

Marketing - Email, Social Media & Ads

$0 using free options and no paid ads
From $10/month for paid email services
From $50/month for paid email, SEO services and ads
$0 no added paid features
From $5/month for one or more specialty plug-ins

From $15/month for features like membership management
If you're still on the fence about WordPress and WooCommerce and want a more out-of-the-box ecommerce solution, check out BigCommerce. It's a beginner-friendly website builder and ecommerce platform that give businesses everything needed to set up an online store. BigCommerce offers robust inventory, order, and store management tools plus seamless multichannel sales integrations with Amazon, eBay, Facebook, and more. Try it free for 15 days.
An Overview of WooCommerce Pricing & Related Costs
There are four main factors involved in setting up a WooCommerce store, and each has its own set of related costs. We explore these in detail below, but here's a quick overview:
WordPress foundation: You'll need WordPress hosting, which starts at $6.95, then you can have optional costs for a paid theme (design) and professional logo
eCommerce capabilities: WooCommerce adds ecommerce capabilities for free, but accepting credit card payments and shipping orders both have associated costs, which are based on the services you use and your sales volume
Marketing features: Adding email, social media and SEO marketing features can cost little to nothing, but extending these services comes with monthly or annual costs.
Expanded functionality: Adding functionality like integrated retail point-of-sale (POS) or order management system and store locator, discount pricing or membership management plug-ins all come with added costs
"A startup should always be as bootstrap as possible. We started on Bluehost with a free store theme. Free themes are somewhat limited, but they're a great way to make your site look amazing and get started for free. WooCommerce is free and many developers have made their own free versions of WooCommerce's useful plug-ins. Of course, paid WooCommerce extensions are more robust, but if you're going for free, these will get you very far! Organic social media advertising is free too, and this is where the blog features of your WordPress site can help you grow on a tight budget." — Jennifer "Aurora Moone" McDonald, Plentiful Earth
So, your WooCommerce pricing really depends on what you need from your online store now and as you grow. Let's take a closer look at each of these four factors.
The WordPress Foundation for Your WooCommerce Store
The first factor in WooCommerce pricing is the cost of the platform you need to run WooCommerce and that is a WordPress website. There are four costs you'll need to consider for your WordPress site:
WordPress hosting for WooCommerce: Starts at $6.95 per month with Bluehost. This is where your website and WooCommerce store "lives" on the Internet.
Domain name: Free with WordPress hosting to around $12.95 per year. This is your store's online address, such as www.YourStoreName.com.
A WordPress theme: Free to around $195 per year. This drives the overall design of both your website and WooCommerce store.
A logo: From $5 at Fiverr. A professional logo enhances your brand and shows site visitors you're a serious seller.
Here's a closer look at how these elements create the foundation for your WooCommerce store and the costs involved.
1. WordPress Hosting for WooCommerce
Pricing: from $6.95 per month with our preferred provider, Bluehost
A WordPress hosting package designed for WooCommerce is the fastest and easiest way to get your WooCommerce store up and running. Bluehost, our recommended provider, offers a WordPress for WooCommerce package that starts at just $6.95 per month. It gives you several necessary ecommerce features out of the box, including:
Pre-installed WooCommerce plug-in: With WooCommerce hosting, your setup is quick and easy since it comes with WooCommerce already built-in
An SSL certificate: A secure sockets layer (SSL) is a must-have protocol for ecommerce stores and, purchased separately, these have fees starting around $49 per year
Unlimited bandwidth: Your site won't slow due to bandwidth limits
Phone support: Got a question or site issue? Calls are answered 24/7
Free domain name: You don't have to purchase your website address separately, which is a savings of $9.95 per year or more, and it's automatically connected to your WordPress/WooCommerce site with no redirects needed
Monitored 24/7: Managed WordPress hosting is closely monitored for you to ensure uptime and security; you can add a daily site backup and added security with Bluehost's PRO WooCommerce package, which is $12.95 per month
Of course, you can add WooCommerce to a standard WordPress hosting package, but you'll have to locate and install the WooCommerce plug-in yourself, purchase (in some cases) and install an SSL certificate and domain name yourself — and remember to renew them annually. The WooCommerce-ready package from Bluehost cuts out these setup headaches and added costs so you can concentrate on growing your WooCommerce business.
2. Domain Name
Price Range: Free with WordPress for WooCommerce hosting or around $12.95 per year
Your domain name is your online store's address on the Internet. Domain names are registered through an accredited domain registrar, such as Bluehost, GoDaddy, Google and many others. Most hosting services, like Bluehost's WordPress for WooCommerce hosting, include a free domain with your hosting package.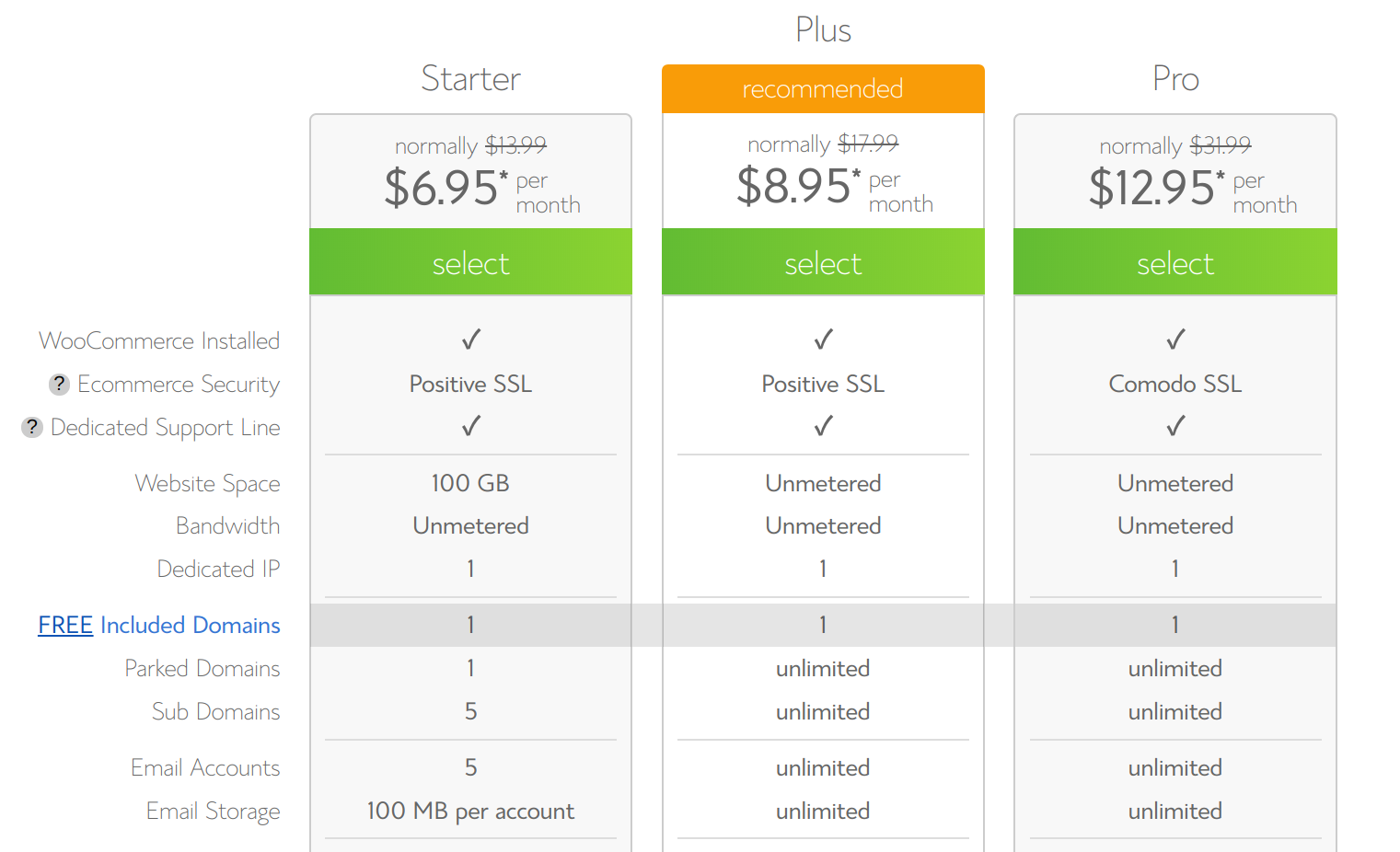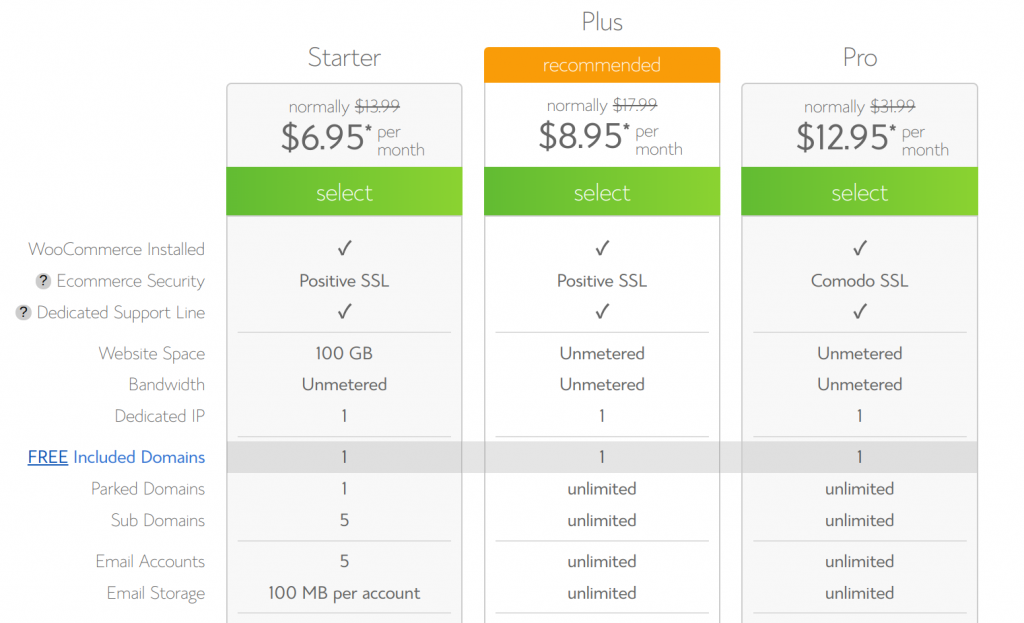 WordPress for WooCommerce hosting includes a free domain name registration.
You can also register your domain separately. If you go that route, expect to spend about $12.95 per year or less if you prepay a year or more in advance. Our domain name guide explains the process of handling domain registration yourself.
3. A WordPress Theme
Price Range: Free to $195 one-time or per year (for extended updates)
WordPress themes are one of the greatest perks of launching your online store with WooCommerce on WordPress. A theme drives the entire look and feel of your website and WooCommerce store. Most WordPress themes work with WooCommerce, but those labeled "WooCommerce compatible" give you more control over WooCommerce-specific elements like item page layout.
WooCommerce offers users a free Storefront theme, shown below. This sleek, simple store theme is a great starting point for sellers on a shoestring budget: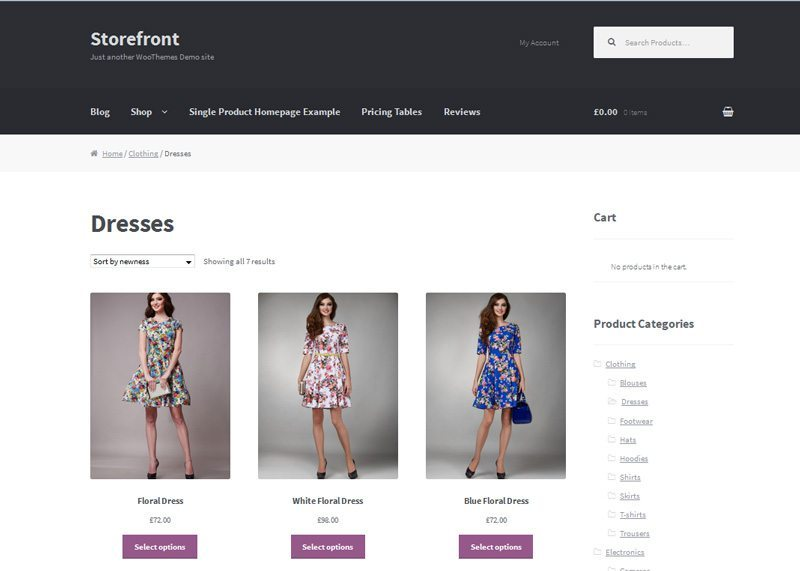 The free WooCommerce Storefront theme is a good budget-friendly starting point.
Alternatively, you can choose from many other themes. WooCommerce sells customized themes based on Storefront for as little as $35. Others theme providers, like Elegant Themes, offer themes with virtually limitless possibilities. Divi, which was used to create the site below, costs around $89 per year, or you can purchase lifetime access for a one-time payment of $249.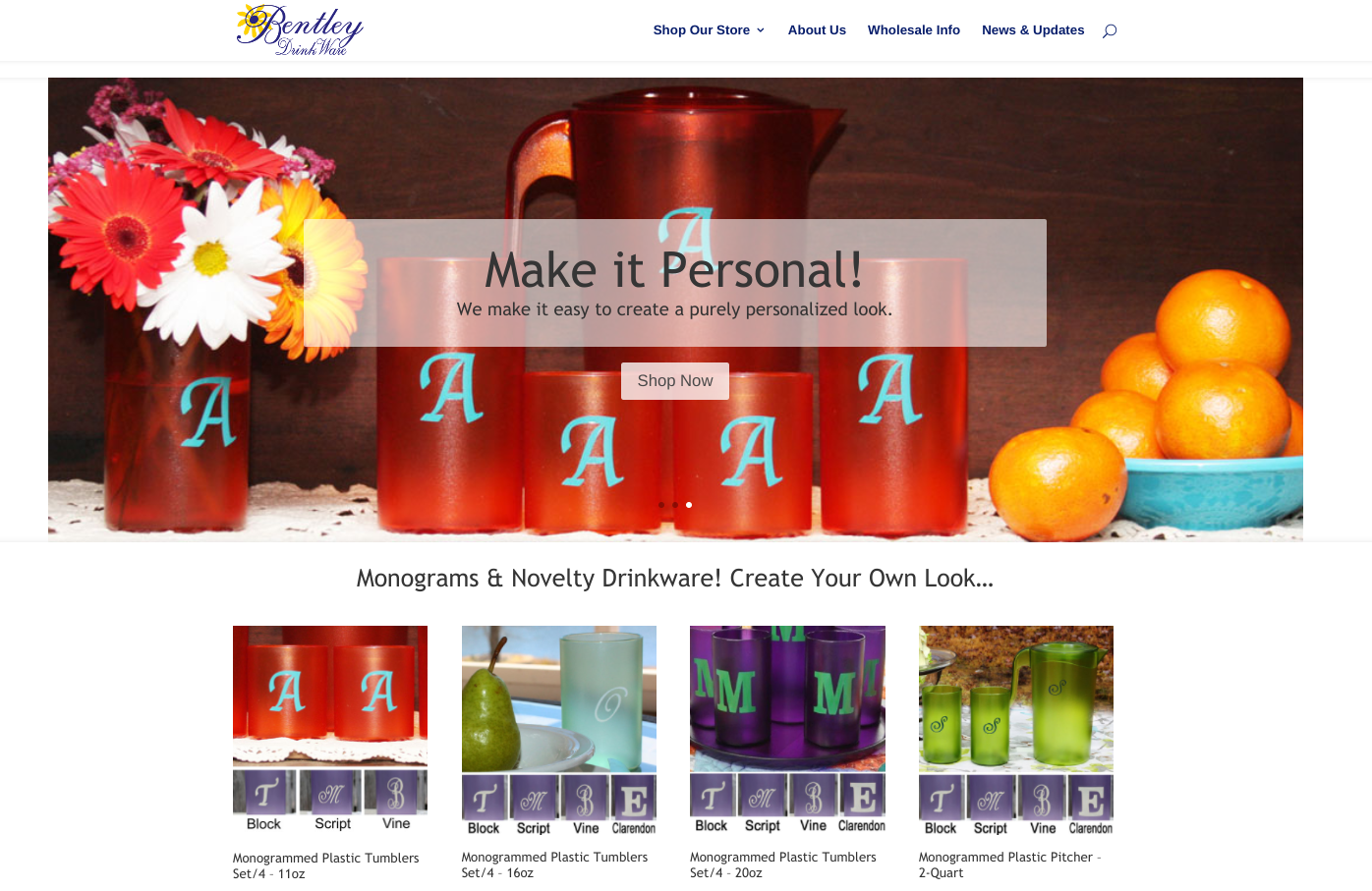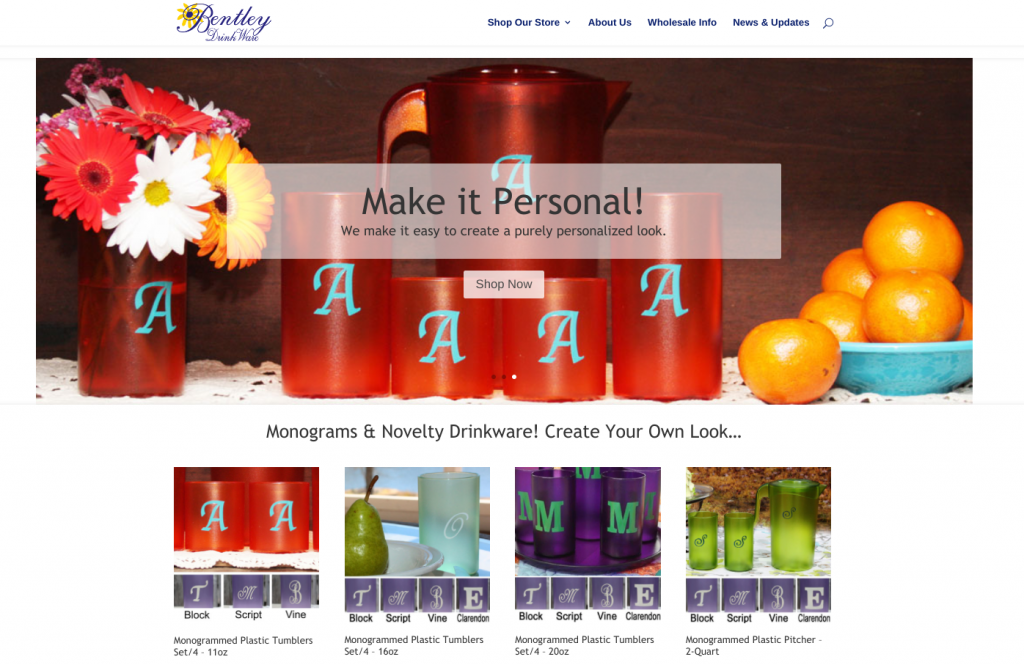 Shop for the perfect free or paid WordPress theme for WooCommerce with WooCommerce, Elegant Themes, My Theme Shop and the Envato Theme Market.
4. A Professional Logo
Price Range: From $5 at Fiverr
If graphic design isn't your forte, let the logo design pros at Fiverr create a professional look for your WooCommerce store. You can browse through Fiverr's freelancers, check out their past work, then select the look, level of complexity and price that you want to pay for your logo. Fiverr's prices start at $5 for a basic logo, and there are several freelancers offering services at that price.
Alternatively, you can pay $35, $50 or more for increasingly complex, customized logo designs. The takeaway here is you can launch your
WooCommerce
store with a crisp, professional logo from day one without prohibitive costs. With logos starting at just $5 from freelancers on Fiverr, there's no reason not to do this right from the start.
Total Cost for Your WordPress Foundation
To set up the WordPress foundation for your WooCommerce store, you're looking at the following:
WooCommerce Pricing for Your eCommerce Basics
Once your WordPress foundation is in place, it's time to add three elements to enable ecommerce sales. These are:
WooCommerce plug-in: Free; WooCommerce adds product listings, customer tracking and online ordering to your WordPress site
Payment processing: Free to connect; fees charged per transaction; a payment processor lets your customers pay by credit card, PayPal or cash transfer
Shipping services: Free to $25 per month or more, plus shipment fees; integrations to shipping services let you compare carrier rates and print shipping labels
Here's a closer look at each of these ecommerce must-have features and how they affect your overall WooCommerce pricing.
1. WooCommerce Plug-in
Price Range: Free
WooCommerce packs a lot of functionality into its free ecommerce plug-in. For many sellers, the basic selling features are all you need to sell physical goods, downloadable products and even services. With the basic WooCommerce store plug-in you can:
Create a complete storefront website or adds a store section to a WordPress blog
Create unlimited product pages for items you sell
Track and display customer reviews for products
List product variations like size and color
Track inventory for products and note out of stock items
List standard product prices, sales prices or list added costs to variations
Create product categories and sort products into one or more categories
Manage products, orders and customers in your WordPress dashboard
Accept unlimited orders from unlimited customers
Collect and track sales taxes
Add shipping fees, allow free shipping or add actual shipping charges to orders
Create and track coupons
Much more
If you need more than the basics, you can add WooCommerce extensions or third-party plug-ins. Some are free and others add costs to your overall WooCommerce pricing. We cover these options in a later section.
2. Payment Processing
Price Range: Free to connect, fees charged per transaction
WooCommerce doesn't handle payment processing for you. You must connect a payment processing provider to accept payments through WooCommerce. Most payment providers integrate with WooCommerce using a free plug-in but all charge sellers fees on every transaction. Some payment processors charge monthly fees as well. You need to consider these costs in your overall WooCommerce pricing.
Here's a look at the online credit card processing fees of top-rated payment processors:
Provider

Plugin Cost

Transaction fees

Account Fees

Free

2.9% + 30 cents per transaction

None, plus you get

Square POS

inventory management that connects with WooCommerce - all for free

Free

2.9% + 30 cents per transaction

Free

2.9% + 30 cents per transaction

None

$79
These are just a few of the many payment processors you can use with WooCommerce. Our guide to accepting credit cards covers the process and more provider options in detail.
3. Shipping Services
Price Range: Free to $25 per month or more, plus shipment fees
Direct connections to USPS and Canada Post are included in your free WooCommerce pricing. With this free service, called WooCommerce Shipping, you can print your shipping labels directly from your WooCommerce dashboard, which is a very handy feature. Of course, you do pay the shipping fees on orders, but the integration of USPS and Canada Post shipping feature is free and built-in to your WooCommerce platform.
However, if you want to ship via other carriers, like UPS, FedEx or DHL, you need to add shipping service plug-ins. There are many options here, and these cover a range of costs. You can add carrier-specific plug-ins to ship via just UPS or another carrier. However, many online sellers find that shipping comparison software is the most convenient and cost-effective solution.
Here is a rundown of some top shipping plug-ins and the costs to consider in your overall WooCommerce pricing:
Total Cost for the WooCommerce Basics:
To add WooCommerce to your WordPress site and add must-have functionalities like credit card processing and shipping, you're looking at:
Startup costs from $0 for WooCommerce, credit card and shipping plug-ins
Ongoing costs include credit card processing and shipping fees on a per order basis
"It really does depend on what type of WooCommerce website you are trying to make. We have a project that sells tickets on a charity bus. The tickets are sold through WooCommerce with a PayPal payment gateway. We used both a free version of the ticket utility and the free version of the PayPal payment gateway to run this site." — Simon Ponder, SEO Outreach Manager, Image Freedom
WooCommerce Pricing for Marketing Features
Marketing features like email marketing and social media posts aren't built into WooCommerce but are easily added with — once again — plug-ins. WooCommerce marketing plug-ins offer an array of outreach possibilities that you can explore as you grow, but there are three must-have features to include in your startup WooCommerce pricing:
Email marketing: Free to connect, and monthly fees range from $0 to $25 per month or more based on your email volume
Social media plug-ins: Free for basic features while pro or premium versions carry one-time or annual fees
Search engine optimization (SEO) plug-ins: Free for basic features and unlock more with a yearly fee
Here are some top-rated marketing plug-ins and a rundown on how adding these features can affect your WooCommerce pricing:
1. WooCommerce Email Marketing
Price Range: Free to $20 per month and up
Email marketing is one of the most effective ways to share your products, promotions and sales-driving content with both existing and potential shoppers. Most top-rated email marketing services have plug-ins that connect their service seamlessly to your WordPress and WooCommerce setup. This allows you to collect email addresses and contact information via website sidebars, pop-ups and banners and from your WooCommerce orders too.
You can even use email marketing services to create automated remarketing for abandoned carts, conduct shopper surveys, send informational newsletters and much more.
Here are three popular email services that offer fully integrated plug-ins for WooCommerce:
Email Service

Plug-in Cost

Service Fees

MailChimp

Free

$0 for 2,000 contacts and 12,000 emails sent per month
$10 per month and up for unlimited plans

Drip

Free

$0 for 100 contacts and unlimited emails
$41 per month for 100+ contacts and unlimited emails

Constant Contact

$49

From $20/month
Learning how to use email marketing effectively helps drive the overall success of your WooCommerce store. Learn more about top-rated email marketing providers in our email marketing software buyer's guide, plus discover effective email marketing campaign strategies and tips from the email marketing pros.
2. Social Media Marketing for WooCommerce Stores
Price range: Free to $21 per year
Social media plug-ins connect WordPress site content and WooCommerce product pages to social media accounts, and they do this any number of ways. Some add social share buttons to your post and product pages. Others connect and list social media ratings and comments directly on product or content pages while others enable social media selling by listing products in a Facebook Shop or through Instagram shopping posts and buyable Pinterest pins.
There are a number of social media plug-ins you can explore as your business grows, but here are some to include in your initial WooCommerce pricing:
There are plenty of social media plug-in options out there and, as you grow, it pays to check out the new social media plug-ins hitting the market. However, the free and low-cost plug-ins listed above suit the needs of most startups and small sellers with little to no out-of-pocket costs.
3. Search Engine Optimization (SEO) Plug-ins for WooCommerce
Price Range: Free for basic features, unlock more with for annual fees of $89 and up
Neither WooCommerce nor WordPress offers much in the way of built-in SEO tools. Here again, plug-ins come to the rescue. SEO plug-ins provide several tools that help you improve your Google search rankings for desktop, mobile and even voice searches made using Apple's Siri and Google Home devices. Using SEO plug-in, you can craft better site content and product descriptions that target relevant keywords and import data from Google Analytics to help you understand shopper behaviors, identify popular products and content pages and much more.
Here are three popular SEO tools to add to your WooCommerce pricing plan:
| SEO Plugin | Plugin cost | Other fees |
| --- | --- | --- |
| | Free | $89 per year for premium features |
| | Free | $114 per year for power user features |
| | Free | $39 per year and up for advanced features |
The three plug-ins above provide a nice set of SEO and analytics review tools that any startup or small seller will appreciate. As you grow, you'll know which tool or tools are most beneficial to your operation, and you can expand those to paid plans if needed.
Total Cost for the WooCommerce Marketing Features:
To handle basic email, social media and SEO tasks on your WooCommerce website, you're looking at:
Startup costs: From $0 for starter and "lite" versions of email marketing, social media and SEO plug-ins
Ongoing costs: Include email marketing accounts, based on list size and volume and annual fees for premium versions of social and SEO plug-ins; this can tack $0 to $300 or more per year to your WooCommerce pricing
"I have lots of different plug-ins to make my store awesome. Anyone who is starting a WooCommerce site will need to buy plug-ins, but once you buy them, you are good to go. This whole process is cheaper than having a Shopify site. For example, I have a Facebook plug-in, a Shop my Instagram plug-in, a store credit plug-in and so on. Some plug-ins are free but others you need to pay for." — Giovanna Silvestre, Founder, Confused Girl in the City
WooCommerce Pricing: Adding Up the Essentials
The three sections above outline the essentials that every seller should consider when figuring up WooCommerce pricing. Let's see what it all comes to, out of the gate:
Essential Element

Startup Cost

Ongoing Cost

WordPress Foundation
$0 to $200 and up
Hosting: from $6.95 per month

Covers: WordPress/WooCommerce site hosting and domain, WordPress theme and logo

WooCommerce Basics
$0 to $79 and up
Payments: 2.9% + 30 cents per transaction
Shipping: varies per shipment for shipping fees and services used


Covers: WooCommerce plug-in and credit card processing and shipping service plug-ins

WooCommerce Marketing
$0
Premium options: $114 per year and up

Covers: Email marketing, social media connections and sales and SEO tools
So, realistic WooCommerce pricing for a bare-bones online store runs just:
$0 in startup costs
$6.95 per month for hosting
Credit card processing and shipping fees based on your sales
Alternatively, you can get a professional logo, purchase a theme, get the highest-tier hosting package and sign up for a few premium marketing and SEO plug-ins. Then, you're looking at:
$200 and up in startup costs
$12.95 per month for hosting
$100 to $200 or more per year for premium plug-ins
Credit card processing and shipping fees based on your sales
WooCommerce Pricing for Expanded Functionality
For small sellers and those looking to run an ecommerce business as a side gig, the essential features WooCommerce pricing covered above can get the job done. However, as you grow, you might need to add more functionality to your site. If so, WooCommerce plug-ins and extensions can fill in the gaps.
Like those covered above, some are free and some tack on added costs to your overall WooCommerce pricing. But, you can shop for the best deal among many plug-ins and pick just those needed to get the job done. Common extended features include:
POS integration: $0 and up; if you sell in-store as well as online, WooCommerce connects to many in-store point-of-sale systems; the free Square POS system also fully integrates for free
Store locator: Around $49 per year; from physical stores to mobile sellers to food trucks, store locator plug-ins help shoppers find you; try WooCommerce Store Locator for $49 per year
Special pricing rules & discounts: $0 and up — do you need to set volume discounts for your products or create buy-one-get-one specials? If so, you can with the free WooCommerce Discount Rules plug-in
Memberships & subscriptions: Around $149 per year; shop around for plug-ins that support memberships and subscriptions, but WooCommerce Memberships extension, for $149 per year, is developed by WooCommerce to integrate into your WooCommerce store seamlessly
To see even more WordPress and WooCommerce plug-ins and extensions, visit WooCommerce, WordPress.org and Envato Market.
"Overall, I think WooCommerce is a really good value. It offers the majority of the stuff a small business needs to get going for free such as integrations with MailChimp, Stripe, Square and PayPal. Starting with the bare-bones is fairly cheap — it's the costs of everything else that tends to add up like marketing, email campaigns, outreach, SEO and things like a membership plug-in, which costs us $149 per year." — Saj Devshi, Learn Dojo
The Bottom Line
The list of features that you can add to your WooCommerce store is virtually endless, and you can launch a fully-functioning store with Bluehost for just $6.95 per month. WooCommerce's free and low-cost plug-ins and extensions also let you enjoy a full selection of marketing, SEO, and product and order management tools on a shoestring budget.
Do you use WooCommerce as your online store platform? If so, what combination of hosting, theme, payment processing, shipping, marketing, and SEO tools work for you? Please share your input in the comments below.