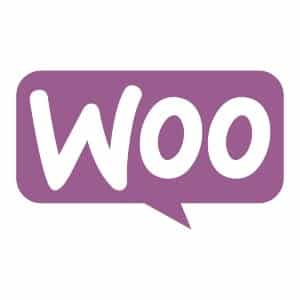 WooCommerce is a free ecommerce plugin for WordPress. It allows users to build an online store with its store templates and back-end management tools, as well as a variety of analytical tools for reports and taxes. It is best for those who manage WordPress sites and would like to incorporate ecommerce features.
What We Recommend WooCommerce For
WooCommerce is one of our top picks for free ecommerce platform, scoring a 4.01 out of 5 based on our evaluation. WooCommerce's extensive customization options, advanced selling tools, third-party integrations, and unlimited storage earned this software high marks. However, the need to pay for customer support and an SSL certificate, along with a complex user interface prevented it from earning a higher score.
We particularly recommend WooCommerce for:
Adding ecommerce functionality to WordPress websites: WooCommerce is a WordPress plugin so it makes perfect sense to develop your online store within WordPress if your existing website is already there. If you also have experience working with WordPress and its plugins, WooCommerce installation and setup will come easier for you.
Businesses that plan to hire a developer or want to develop their own store: WooCommerce is open source, so the sky's the limit when it comes to customization. Whatever you want your online store to have, there most likely will be a feature for it in WooCommerce. If there isn't, you can develop your own and upload it to its extension marketplace.
When WooCommerce Would Not Be a Good Fit
Looking for something different? Read our guide to the best free ecommerce platform for small businesses to find a service or software that's right for your business.
WooCommerce Overview
PROS

CONS

Most feature-packed free ecommerce platform
Steep learning curve—built with developers in mind and not for those looking for an easy-to-use, all-in-one solution
Ability to show customer product reviews and ratings
Hosting not included
Charge real-time USPS shipping rates
Lengthy setup time
Open source—limitless customization; extensive app marketplace and integrations
No free customer support
Expansive design control and variety
WooCommerce Pricing
WooCommerce is free to download from WordPress as a plugin or extension. WooCommerce provides a lot of compatible extensions for marketing, payments, store management, subscriptions, and shipping needs, among other functions, with prices that range from $0 to $300.
Since there is no installation cost, WooCommerce is easily one of the best free ecommerce platforms available today. Aside from being free, its bestselling point is the range of add-ons and extensions that you can purchase in WooCommerce's extension marketplace. While there are fees associated with some add-ons, they are worth it as they provide you with flexibility and customizable options for your WordPress site.
Remember that you still need a self-hosted WordPress site to run the plugin. This comes with associated fees, such as having your own domain name, web hosting provider, and WordPress theme. We also have a guide that outlines steps on how to sell on WordPress.
WooCommerce Features
WooCommerce offers plenty of ecommerce tools considering that it is a free plugin. Since it is open source, the sky's the limit when it comes to customization. You have access to hundreds of store themes and are provided store management tools, including a variety of analytical tools for reports and taxes. You can monitor customer feedback through comments and reviews. It can also support setup for affiliate sales and shipping management.
Below we'll cover some of WooCommerce's key features in detail:
Website Design
WooCommerce provides many themes that have built-in blogging systems, with Storefront being its free official theme. It is possible to install mobile-responsive templates or even develop your own. However, be aware that customizations may require technical know-how.
Product Management
WooCommerce lets you sell an unlimited number of physical and digital products and services in a number of ways, like one-time payments, subscriptions, and installment plans. You can offer unlimited variations such as color, size, fabric, and more. In short, you can sell anything with WooCommerce.
Order Management
This built-in feature provides an informative overview of the status of all your outstanding orders, as well as in-depth order details summarizing which products are sold, along with billing and shipping addresses and buyers' information.
Inventory Management
The following inventory tasks are available: set stock supply notifications, hide out-of-stock items from the storefront, and initiate stock holds. Note that if you plan on processing high-volume orders, you would need a more robust solution in the extension store.
Sales Channels
The WooCommerce plugin only allows you to sell through its online storefront. However, there are several extensions that provide selling on platforms like Facebook, eBay, Pinterest, and Amazon. Some are developed by WooCommerce and free to install and use, while others grant you access to multiple markets for a price.
Add-Ons and Integrations
WooCommerce's extension store provides almost any integration you need to run your business, such as social media accounts, payment processors, analytics, shipping, ecommerce CRM, and accounting. As of this writing, WooCommerce has over 400 official extensions or third-party integrations, from payments and shipping to accounting and marketing. If there is a tool you need to run your business, it is likely that you can find an extension for it.
Marketing and SEO
You can create discount and coupon codes and make them apply to only single or multiple products or by order. WooCommerce also has built-in product reviews that enable your customers to leave reviews on your site. You can even ensure those comments come only from verified customers.
WooCommerce is as good as it gets when it comes to SEO as it includes everything you need. However, you need external plugins for this such as Yoast or All-in-One SEO pack (which both offer free and paid versions).
WooCommerce Ease of Use
Email/Help Desk
Forum
FAQs
Knowledge base
Training: Documentation and videos
Since WooCommerce is an open source platform, getting support for its plugins can be tricky. It does not have phone support and only entertains emails through its help desk. The scope of support for customers is clearly outlined in its support policy.
WooCommerce users provide a great and supportive community, however, especially for developers. WooCommerce also has an extensive knowledge base where you can find answers for almost any question you may have and training in the form of video tutorials.
WooCommerce also has a list of acknowledged agencies and developers you can work with if ever you need to hire one. That being said, while WooCommerce's help forum is very detailed and supportive, it is not for those new to website development or inexperienced with WordPress, its plugins, and CSS coding.
Top WooCommerce Alternatives
| | | |
| --- | --- | --- |
| Best for: Small businesses and entrepreneurs offering in-person and local deliveries | Best for: Businesses that have existing websites (Wix, Squarespace, and Weebly) | Best for: Small businesses with ecommerce as their backbone |
| Offers a free plan? Yes | Offers a free plan? Yes | Offers a free plan? No |
| Paid plans from: $12 | Paid plans from: $15 | Paid plans from: $29 |
| | | |
If you're not sure WooCommerce is right for you, see how it compares with our top free ecommerce website platforms.
What Users Think About WooCommerce
A majority of WooCommerce user reviews online say that it is the perfect ecommerce plugin for WordPress. It is easy to install and provides updates often. Most negative feedback, however, centers around how setting it up can be challenging for those that do not know custom coding or building websites. Reviews also say that while WooCommerce is free, its plugins can get expensive.
At the time of publication, WooCommerce reviews earned the following scores on popular user review sites:
When reading through user reviews, I noticed some of these trends:
| Users Like | Users Don't Like |
| --- | --- |
| Easy to install | Some plugins are expensive |
| Works seamlessly with WordPress | Steep learning curve |
| Extensive third-party integrations | Platform can get clunky if too many integrations are installed |
Bottom Line
WordPress and WooCommerce are excellent partners. If you are more comfortable running a site on WordPress or have an existing one, setting up a store within your site is the most practical choice. Since it is native to WordPress, you are not confined to a handful of themes but all of the most popular WordPress themes available.
Most free ecommerce website builders do not include the ability to show product reviews and ratings, but WooCommerce does. This functionality is useful as online customers often look for reviews before making a purchase.
Since WooCommerce is open source, it has unlimited expandability with free and paid plugins. Developers can tweak it as much as they see fit. The downside to this is that WooCommerce is not a simple ecommerce website solution. It is built with developers in mind, so expect a learning curve. If you are not versed in building websites at all, this might not be the best option for you.
You May Also Like …