Live chat has become a vital sales and customer service tool and if you're not using it, you, your customers, and your bottom line are missing out. In fact, live chat reportedly leads to a near 50% increase in revenue per chat hour and a 40% increase in conversion rate. In other words, it might be costing you not to use live chat on your small business website.
So where do you begin? As always with WordPress: with a plugin. So to start, you need to find the right live chat plugin for you. And with so many available, this can quickly eat up a lot of your time. To make it easy, we found the best WordPress chat plugins for small businesses that are user-friendly and affordable.
Here are the seven best WordPress chat plugins on the market:
Let's take a deeper look into the seven best WordPress chat plugins available:
1. Freshchat: Best Overall WordPress Chat Plugin for Businesses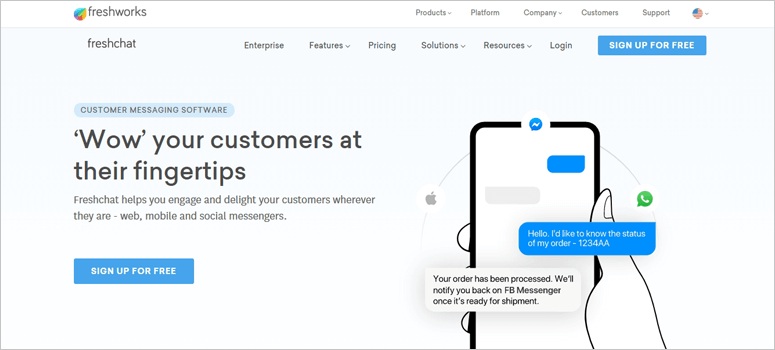 Freshchat is the best overall live chat plugin. It's an incredible value for the average business because it has a free plan for up to 100 agents and unlimited chats. Those who want additional features, such as omnichannel messaging, the ability to auto-assign chats (e.g., send a tech question to support or direct a presales question to sales), live chat dashboard, reporting, and set up canned responses can upgrade to a premium plan for $15 per agent, per month.

| Pros | Cons |
| --- | --- |
| Free plan for up to 100 agents | Canned responses can be slow to deliver |
| Robust premium plan features for teams | The paid version gets expensive for large teams |
| Free 21-day trial (no credit card required) | |
2. HubSpot: Best Free Live Chat Plugin With Built-in CRM

HubSpot offers a comprehensive live chat along with the ability to create chatbots over a shared team email inbox, meaning all of your teams and departments join forces in one central place to view and manage conversations. While this may not initially sound like something that would matter, it does. By keeping all teams on the same page, your staff can provide a better service, and in return, more efficiently converting leads to sales and keeping customers happy.

| Pros | Cons |
| --- | --- |
| Automatically saves chat transcripts for those in your database of contacts | Can be difficult to set up properly |
| Option to create live chat or bots with specific goals (e.g., qualify leads, book meetings, or provide support) | There's no automatic offline live chat message option (you must set it manually) |
| Mobile-optimized chat widget | Limited customizations (e.g., you cannot have different bots for different pages on your site) |
3. LiveChat: Best Live Chat for Providing Support

LiveChat is a leading live chat plugin that is widely regarded as one of the best WordPress chat plugins. It's best for small businesses, particularly those offering software as a service (SaaS), that want to provide customer support via live chat. This is because while it offers a range of live chat features, its most notable is its full-fledged support ticketing system. By eliminating the need for a live chat and a ticketing system, you can better provide support and retain more happy customers.

| Pros | Cons |
| --- | --- |
| Built-in support ticketing system | Does not offer a free version (costs $16/agent, per month with annual billing) |
| Wide range of live chat features | Some users have reported that it's buggy |
| Free 30-day trial | |
4. Olark: Best Live Chat Plugin for Strategic Sales Engagement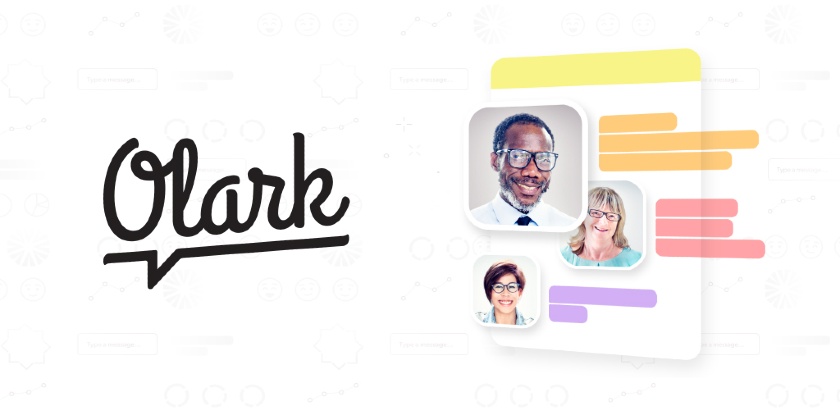 Olark is the best live chat provider for businesses looking to strategically tackle their sales process using live chat. This is because it comes with a lengthy list of sales-generating features, such as the ability to track pages that site visitors are viewing (giving you insight into what they're looking for), the ability to share files within the live chat, live chat translation for international businesses, create custom forms, assign chats, and use tons of integrations.

| Pros | Cons |
| --- | --- |
| Track which pages visitors are viewing | No free plan (costs $15 per agent, per month with annual billing) |
| Ability to share files within the chat | |
| Live chat translation | |
5. Chaport: Best Value for Unlimited Chats

Chaport is the best value for businesses that need live chat with unlimited chats per month. It's available for free for one chat operator, and the cost for each additional operator is $9.80 per month with annual billing or $14 per month with monthly billing. All plans come with unlimited chats per month, making it a great choice for businesses that have a small number of chat operators with a large number of chats.

| Pros | Cons |
| --- | --- |
| Free plan for one operator | The free version only saves chats for 30 days |
| Unlimited chats and websites | Must upgrade to get access to integrations |
| Web, desktop, and mobile apps | |
6. LiveAgent: Best Live Chat Plugin for Omnichannel Chatting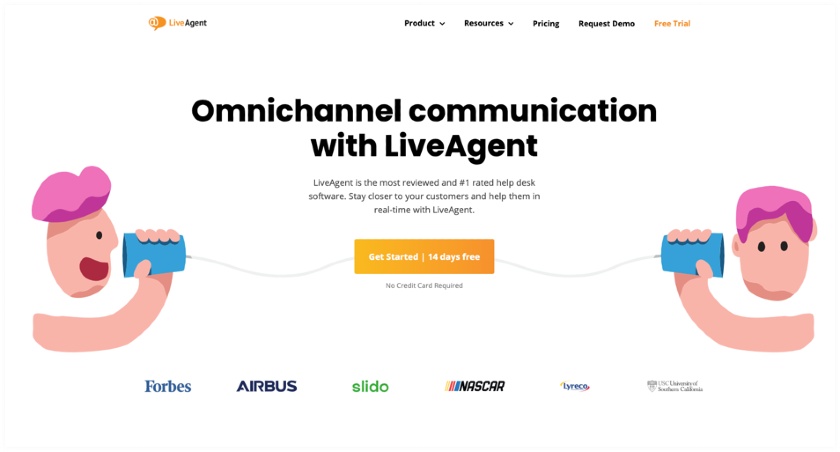 LiveAgent is the best live chat plugin for omnichannel chat management. In other words, it gives you one central inbox to manage your live chat, email, phone calls, and social media accounts.
It's a game-changer for those who use multiple communication platforms. It can help you and your staff communicate more efficiently with users and contacts, thus providing a better experience for your audience.
The basic version is available for free and premium versions range from $15 to $39 per user, per month. It also offers a free 14-day trial of its premium plans, so you can test out which is right for your needs before making any commitments or investments in it.

| Pros | Cons |
| --- | --- |
| It offers a free version | Expensive if you want live chat and ticketing |
| All-in-one communications platform | The free plan doesn't include social media |
| Reduce response time with easier communications management | The free plan only saves chat history for 7 days |
7. Botsify: Best AI-powered Chatbot & Live Chat in One

Botsify is the best live chat and chatbot plugin in one. While it's surely not the cheapest option on the list, with prices starting at $49 per month, it may save you the most time and money. So if you're paying staff to handle live chat, you'll reduce your costs because Botsify will first try to answer any chat questions and solve any problems using its AI-powered chatbot. If it's not able to, it then redirects to live chat. This way, you save a lot on staffing expenses for live chat queries that could easily be handled by a chatbot.

| Pros | Cons |
| --- | --- |
| Very easy to use | It's not the cheapest |
| It will save you money by first trying to help users with a chatbot | Users joke that once you use it, you can't go back to other live chats or chatbots |
| Create custom chatbots to use for different webpages or platforms | |
Other Top Live Chat Plugins We Considered
Surprised a live chat plugin you had heard of isn't on our list? Many of the best WordPress chat plugins didn't make the cut—and there's good reason for that. While some might offer free plans, a myriad of premium features, and are well-rated, that doesn't mean there's not a competing plugin that slightly outdid them. For more insight, check out our list below of some of the other top live chat plugins and why they weren't included.
Drift: Though it's a highly regarded live chat plugin, Drift is generally geared toward medium to large businesses. And while it offers a free plan, it does not offer transparent pricing, so if you start with the free plan and decide you need more features, the price may come at a surprise.
Formilla Live Chat: The free version is very limited and the premium plans are expensive.
ChatBot: It's a chatbot only and not a live chat plugin. It's also priced the same as Botsify at around $50 per month, but again, it's not actually live chat-enabled.
SnapEngage: This one is similar to LiveAgent in that it's an omnichannel live chat plugin. However, it's $1 more per month, at $16 per user, per month, and requires you to have a minimum of three user accounts.
Smartsupp: While generally considered to be a good live chat plugin, it's free version rivals Chaport but with a much shorter chat history (14 days compared to 30).
LivePerson: It could be a good WordPress live chat plugin, but it doesn't make the list as it doesn't offer transparent pricing. Instead, you're forced to get a custom quote, which is more of a process than most small businesses and startups care to bother with.
Sendinblue: It's only available as part of an email marketing software plan, which starts at $66 per month and includes up to 10 chat operators. However, if you're not looking for email marketing software, then it's not a great option and it's surely not a cheap live chat plugin.
Intercom: It's a marketing suite that includes live chat as a feature. Since it comes packed with loads of other features, it's priced relatively high if all you're looking for is live chat as it costs $87 per month. Granted, if you are in the market for a robust marketing suite, it may be a good option for you.
Frequently Asked Questions
What's the difference between live chat & chatbots?
Live chat and chatbots are often confused. And while some solutions are both live chat and chatbots in one, they are two different things. With live chat, a customer service agent is available to respond, similar to instant messaging, whereas chatbots are preprogrammed to intuitively answer questions with canned responses.
Can you add live chat to Squarespace?
Yes, you can add live chat to a website built on Squarespace. Since Squarespace doesn't currently have its own live chat functionality built-in, you will need to choose a third-party live chat provider, e.g., the leading LiveChat. To install LiveChat on Squarespace, log in to your Squarespace account, go to Settings > Advanced > Code Injection. There, you will paste your LiveChat snippet of code (for your LiveChat account) into the Code Editor. Learn more here.
Bottom Line: Best Live Chat Plugins for WordPress
Live chat is a very valuable tool for businesses that can help you provide better service to your customers, convert more prospective customers, and increase sales. Choosing the right WordPress chat plugin is key in helping your business leverage the power of live chat. Now that you've found the best chat plugin for WordPress, learn how to add live chat to WordPress.
Still on the fence about which is right for you? Try Freshchat. It's the best overall live chat plugin for WordPress. It's also free, packed with features, and easy to use.