WordPress is one of the top free website platforms and it works great for real estate. While you can't host your own website for free, you can get everything you need (including a domain, business email, and website hosting) for just $2.95/month using Bluehost.
In this guide, we'll show how to set everything up, whether you want a real estate website, single property website, or both. You won't need to do any programming, and it will only take about 30 minutes before you're adding listings. In particular, we'll be showing you how to:
Throughout this guide, I'll be building my own Bluehost real estate website as an example. To see the end result, check out the images below, or head to PrairieHomesIL.com.
Step 1: Choose a Domain
The first step is to choose the domain name of your real estate website. That's the "PraireHomesIL" part of www.PrairieHomesIL.com. To get started, click the button below to head to BlueHost.com:
First you'll need to choose an account plan. The "basic" account should be sufficient for most small businesses. You get 50 GB website storage, unlimited and up to 5 business email addresses, which we show you how to set up in this article. If you do need more than 5 email addresses, or want additional website space, consider the "plus" plan instead.
Next you'll need to choose the domain for your website. To start, I recommend checking the name of your business.
Generally speaking, you always want to go with a .COM. Consumers typically enter .COM when entering a web address, so choosing an alternate domain like .NET can cause you to lose customers who typed the .COM version instead. If your first choice isn't available as a .COM. it's worth brainstorming for more ideas. For inspiration, check out our guide How To Choose a Domain For a Real Estate Website.
I ended up choosing PrairieHomesIL.com, since my fictional real estate company will be based in Illinois. Adding a location in your domain name can be good for your search engine ranking. Not to mention, it helped me get a coveted .COM domain
Once you've settled on a domain, you'll move onto checkout. Bluehost will ask you to choose your account plan – either 12 months, 24 months, or 36 months – and select any add-ons.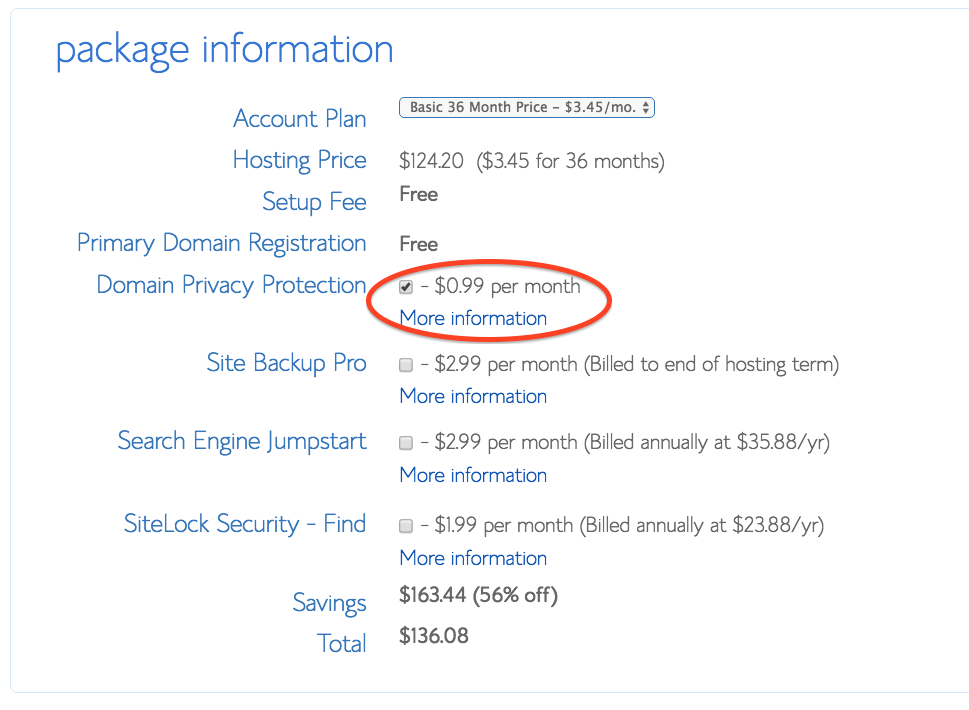 You'll notice the $2.95/month pricing is reserved for the 36-month plan. While this may sound like a long commitment, Bluehost does not actually lock you into a contract. They allow you to cancel, or switch between plans at any time and receive a prorated refund.
Further below, you'll notice a few add-ons. I recommend adding "Domain Privacy Protection" if you work in a home office. By law, your business' contact information has to be posted publicly after registering a domain. With "Domain Privacy Protection," however, Bluehost will hide your personal contact information and instead. This can save you from a lot of spam in your mailbox.
Next, Bluehost will prompt you to set password. This will have to be a combination of letters, numbers, and at least 1 special character. Once you're finished, voila, we can start building your real estate website.
Step 2: Install WordPress
Next you'll land on the Bluehost account homepage, which is like a control panel full of different menu options. If you want to get your business email address right away, we explain how to do that in this guide. Otherwise, we're going to jump right into building your website.
Scroll down to the "website" boxes on your dashboard.

First off, it's important to note that Bluehost does not give you tools to build a website directly. Rather, you can integrate a variety of website builders. The option we're going to explain in this guide is called WordPress, and it will come free with your account.
WordPress is the #1 content management system in the world. About 25% of all websites across the entire web use WordPress. This is, in part, because WordPress can do just about anything: With thousands of themes and plugins available, you can add almost any feature you like. For a real estate WordPress website, this includes IDX integration, listing pages, listing search tools, mortgage calculators, email marketing, and much more.
To get started with WordPress, click the option "Install WordPress" on the website menu. Then click "Install" at the top.

Next, you'll specify which domain you're installing WordPress on. As part of this decision, you'll need to choose whether you want to use your domain with or without www.
In my case, I prefer the look of http://prairiehomesil.com without the www, so I'll select this as my domain. Visitors who type www.prairiehomesil.com will still be able reach my website, and the same is true vice versa. (If you select a "www" domain, users who type it without the www should still reach your website.)
On the next menu, make sure you enter a new password.
After this, installation will begin. This can take up to a few minutes. Once it's complete, you'll see a button appear at the top "View Credentials here." Click this and you'll find your new website login details:

Further down the page you'll be asked to select a theme. Don't worry about this just yet. In the next step, we'll show you how to find a free theme after logging into your new website.
Step 3: Choose a WordPress Theme & IDX Provider
Congrats, you now have a blank real estate website! The next step is to choose a real estate theme and add a few important plugins.
Logging into WordPress will bring you into the control panel of your new website. This is where you'll make any changes to your website – whether it's the initial setup, or just adding a blogpost.
To start, we're going to install a WordPress theme. These are basically website templates that help you get started with a pre-formatted design. To add a theme to your website, scroll down and click "Appearance" on the left-hand toolbar. Then click "Upload."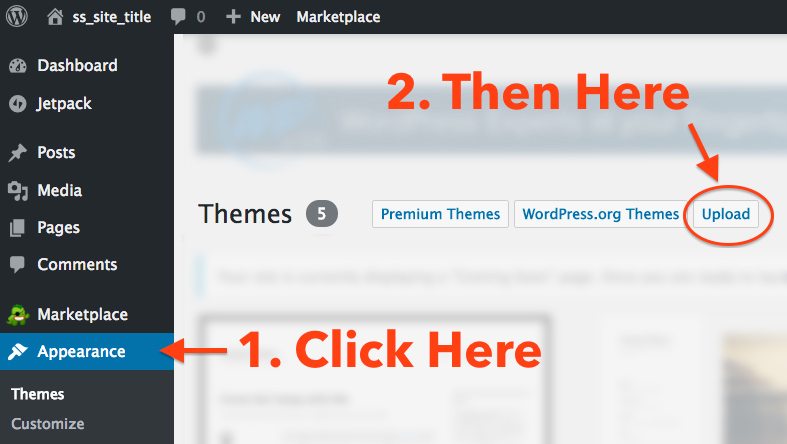 I recommend using Modern Estate. This is a free WordPress real estate theme that works nicely with the MLS/IDX tools we'll be using later on. It's a responsive theme, which means the content will automatically resize to fit any device, including smartphones. It also gives you lots of customization options, so you can easily tailor the website to your liking. Here's how a finished website may look using Modern Estate:
I'll be using this theme for the rest of the walkthrough. If you want to install a different one, just note that some of the steps (such as the customization menu) will differ from my example. For more real estate themes that will work with the IDX tool we'll be using in this guide, check out these paid themes from Agent Evolution. Or, check out even more themes from WPeka that will work with a range of IDX plugins.
To install a theme, simply select the option from the search results. Click "Install," and then, once complete, "Activate."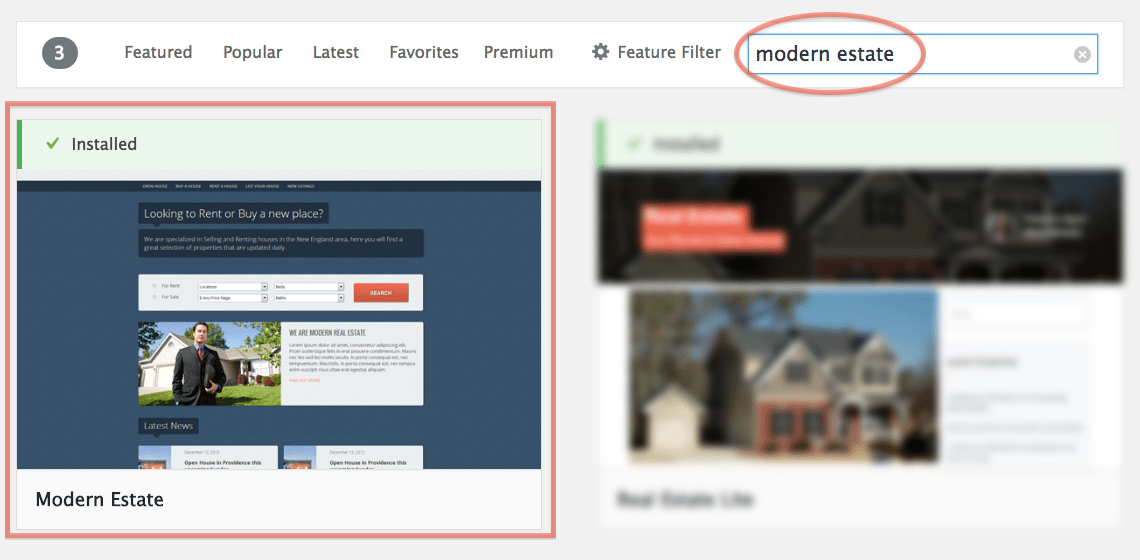 Next, you're going to need to set up an IDX provider on your site so your leads can search for properties, sign up for listing updates, check out neighborhoods, and save their favorite properties on your site.
Getting leads onto your website to look at listings is one thing, but if you want to actually keep them there long enough to get them to contact you, then you're going to need a fully featured IDX provider like Mapping IDX by Diverse Solutions. Mapping IDX shows your local MLS listings on a Google Map and provides walk scores, school district information, custom polygon search, and even has an integrated CRM. All these tools mean that instead of bouncing to a listing portal like Zillow that offers them advanced search features, they'll stay on your site.
Even better you can download a free trial to check out how much better Mapping IDX is compared to competitors.
A more affordable but far less effective option is setting up your site with the three plugins below. While we recommend everyone try Mapping IDX, here's a quick walkthrough of the alternative.
IMPress Listings – Allows you to create attractive property pages, with the option to make single-property websites.
IMPress for IDX Broker

– Allow visitors to search your local MLS for properties.

IMPress Agents – Create profiles for your agents to appear throughout your website.
Like themes, you can install plugins straight from your WordPress dashboard. Head to "Plugins," then click "Add New" on the left-hand menu bar. Enter "Impress Real Estate" into the search bar, and you should find these in the results:
To install plugins, simply click "Install" and "Activate." You should now see the following new menu options appear on your left-hand sidebar: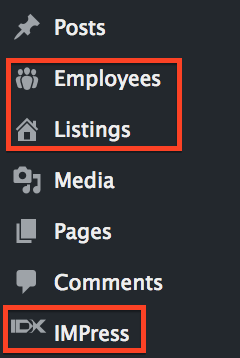 Step 4: Add Property Listings
Now we'll actually start filling in details on the website. We'll start by adding a few properties, since getting a few listings on your site will help you format your website later on.
To add a property, head to the "Listings" tab. Click "Add New" and you'll see a page like this: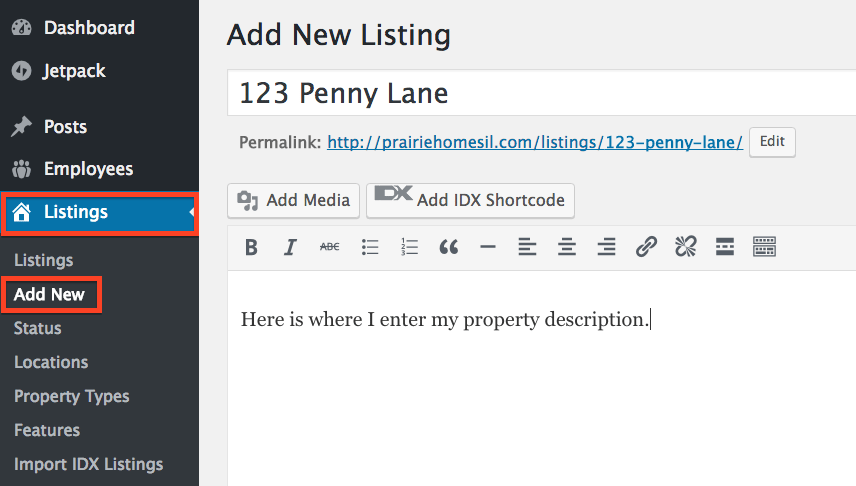 This tool allows you to manually post listings to your website. Each listing will have its own "profile" page complete with photos, a description, and an embedded Google Map.
If you don't feel like adding each listing manually, you can also import them automatically from your MLS. This is set up using the IMPress for IDX Broker plugin you installed in the previous step. It also requires a subscription to IDX Broker, which starts at $39/month. (We'll describe this more later)
For now, however, just try adding a few properties manually. Even if you import listings automatically, you'll need to use this same tool if you want to embellish your pages with additional information. So it's good to get the hang of it either way.
As you enter your property details, don't forget about the boxes on the right-hand side: "Status," "Locations," "Property Types," and "Features." These are the filtering options visitors will use to search for properties on your website. So it's important that each listing has these filled out.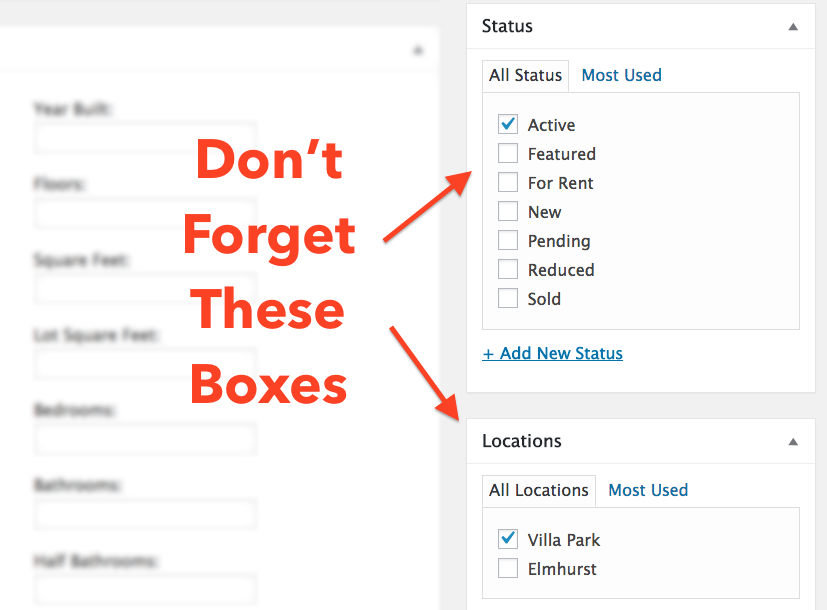 Also, note the "Featured Image" box on the right side. While you can upload as many photos as you like under "Gallery," the featured image is the one that will appear in search results. If you forget to enter one, your property will show up without an image.
Last but not least, enter your property's coordinates to add a Google Map. To find the coordinates, simply enter the address into Google Maps (or click near the property.) In the URL, note the coordinates that appear. Copy/paste these into WordPress.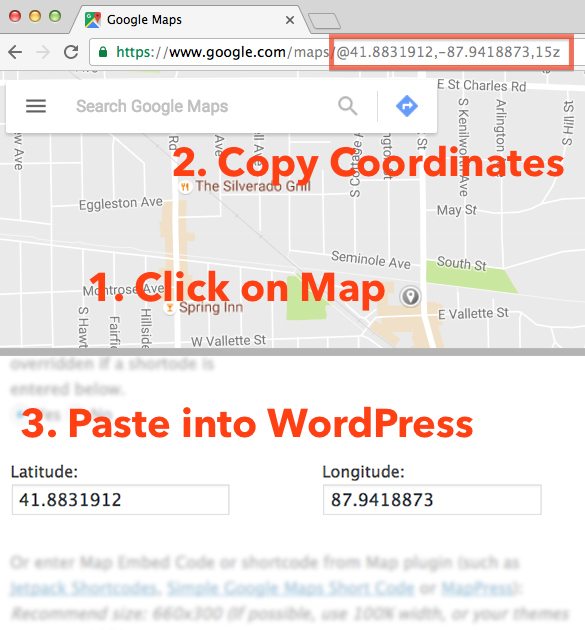 A little further down, you'll see options for a discussion box on your listing page. By default, this will be enabled. I chose to disable it for my website to prevent any clutter. If you want to do the same, simply uncheck "Allow comments."

When you finish adding a property listing, scroll back to the top and click "Publish." When you try to view the page for that property, however, you'll notice it isn't loading. This is because you need to make two quick adjustments first under "settings."
Set your sub-URL:

Under the "Listings" tab, find the option "Settings" on the left toolbar. Now scroll down until you find the option called "Listings slug." This is the sub-URL your website will use for listings. For example, my listing called

124 w Park Ave

would show up as:

prairiehomesil.com/

listings/124-w-park-ave/

. If you want to use a different slug, you can enter it in the box above.

Reset Permalinks:

Whether you change the slug or leave it as is, you also need to click "reset your permalinks" in order for your pages to go live. After you've done so, try loading your property page. You should now be able to see it on your website.
If you've followed everything so far, your property page should be looking good except for one issue: The Google map won't be loading. This is because you need to activate it by inputting an API key.

Head back to "Listings" > "Settings" and find the option called "Maps." Click on the link to generate a Google Maps API key. If you have a Google account already, this will just take a second. If you don't have one, you can sign up for free (you'll need one later on anyway if you want to advertise on Google.)
Once Google has supplied you with an API key, copy and paste the code back into WordPress under "Browser Key." You should now be able to see a Google Map in your real estate listings.
I recommend adding two more properties while you're on the Listings tab. Even if they're just temporary, it will help to have at least three properties saved when it comes to later steps (designing your featured listings page and search tool).
Step 5: Create Your Website Pages
Next we're going to add the rest of your website pages. This includes your About and Contact pages.
Head down to the "Pages" tab on the left toolbar. You may notice some sample pages, which were automatically created when you installed your theme. Delete these, then click "Add New" at the top.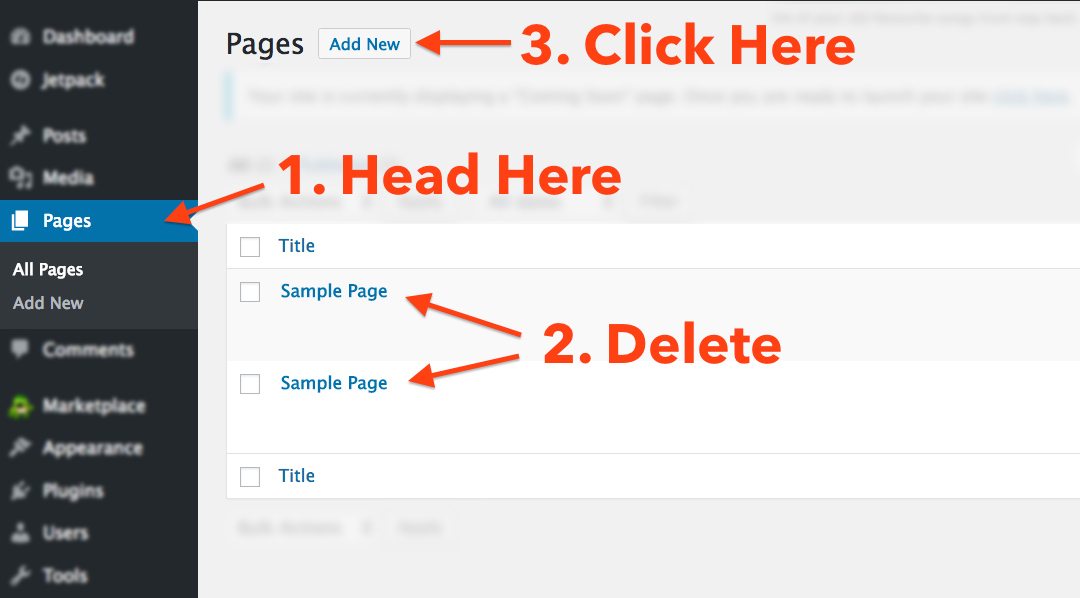 Here are the pages I created for my website. Don't worry about getting all the details in just yet, however. You can go back and edit them any time. For now, it's just important that you create each page:
About Us Page
This is where you introduce visitors to your business. Start with a quick 2-3 sentences about what makes your real estate agency or brokerage unique. Then write a brief backstory about yourself and any team members.
You might also want to use this space to embed a Google Map with your office location. This not only encourages drop-ins, but it can help establish credibility for your real estate business by showing your connection to the area/neighborhood. We'll show you how to add one of these later on.
Contact Us Page
A simple page that includes all of your key contact information – Phone, Email, and Office Address. You can also include a contact form.
Page to Get Seller Leads
Since most of your website so far is buyer-oriented, you should create a separate page if you hope to attract potential sellers. On this page, you should detail your experience as a selling agent and potentially include a contact form for sellers to reach you.
If your business has any other specialities, such as rentals or commercial properties, you should make pages for those as well.
Step 6: Design and Customize Your Real Estate Website
Now that you have a few listings and pages, it's time to pull everything together into a gorgeously-crafted real estate website.
In few moments, you'll begin customizing your layout, adding your logo, etc. If you have any social media pages for your real estate business, however (including YouTube, Vimeo, LinkedIn, Instagram, Facebook, etc.), I recommend one quick step first: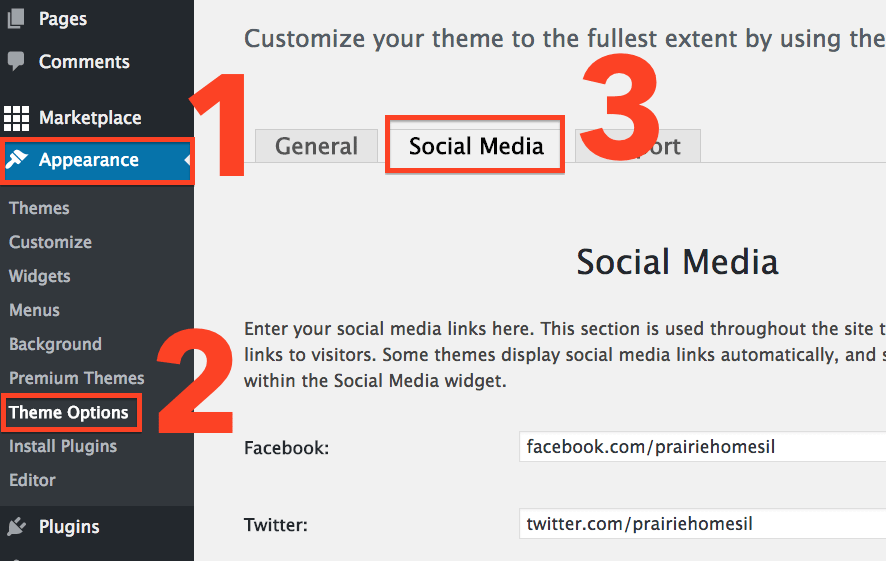 Head to "Appearance," then "Theme Options." Switch to the "Social Media" tab in the center. Here you can begin adding links to your social media pages. This way, when you go to actually design your website, you'll be able to add social media buttons throughout your pages.
Once complete, head to "Appearance," then "Customize." This is the menu where you'll personalize your website with your own branding, and adjust page layouts.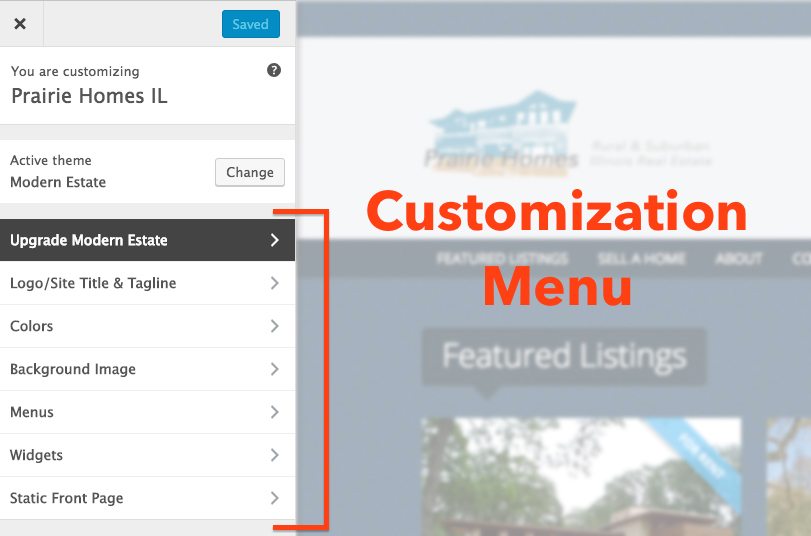 To the left, you'll see a series of options. These will vary depending on your WordPress theme. If you're using Modern Estate like me, it should look just like the one above.
Going through each menu option one-by-one, here's the adjustments I made to my website:
Logo/Site Title & Tagline
Modern Estate recommends a logo that's 300 pixels by 100 pixels. That means you want something fairly wide – almost like a banner image.

If you don't have anything like that, you can use your regular logo and add some text to the side – which is what I did with my logo (above.)
If you need some help editing your logo, I recommend contacting a graphic designer on Fiverr. You'll find many designers who can give you quick graphic design assistance for $5.
If you don't have a logo, or are looking to create a new one from scratch, we recommend 99designs. This is an online service that recruits dozens of designers to pitch ideas for your logo. You can pick your favorites, then work more closely with designers to refine them. At the end, you only pay for the logo you wind up using.
To learn more, check out out our guide How To Create a Logo, Flyer, or Menu with 99 Designs.
Colors & Background Image
On the next menu screen, you can adjust background color of your website. You can also change the "content color," which will alter the color of text on your pages and posts.
On the following menu option, you can also add a background image. If you want to go this route, be sure to choose a muted image – one that won't distract from your main website content. Blurring and lowering opacity can help. If you're tech savvy, you can make these edits using an online photo editor like Pixlr.
Primary Widgets
Widgets are features you can add to your website, such as search boxes, navigation menus, calls to action, and more. Because this is a real estate website, we also have a featured listings box and a listings search tool.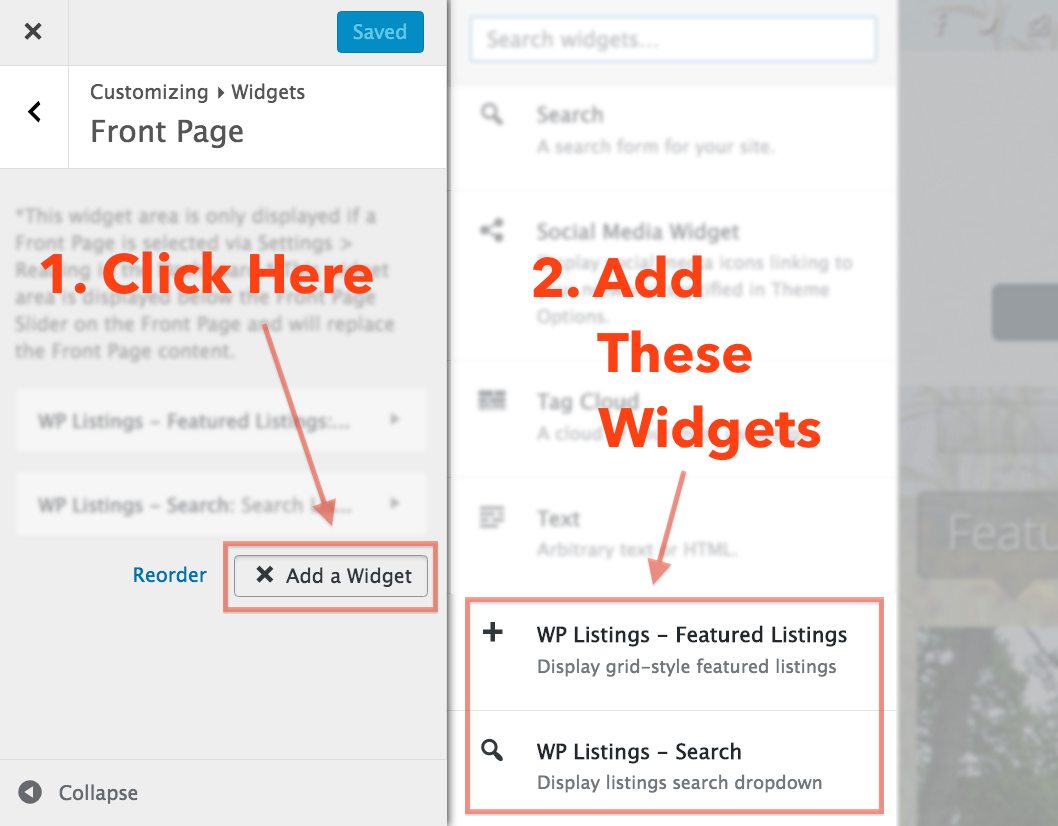 To start, click "Front Page." These are the widgets that will appear on the main area on your homepage. Click "Add a Widget," and scroll to the bottom of the new menu that appears to the right.
Click on WP Listings – Featured Listings and WP Listings – Search to add these to your homepage. Then, select each widget on the left-hand menu to make adjustments. For WP Listings – Featured Listings, you can change the number of featured listings, the number of columns, the size of the featured photo, and more.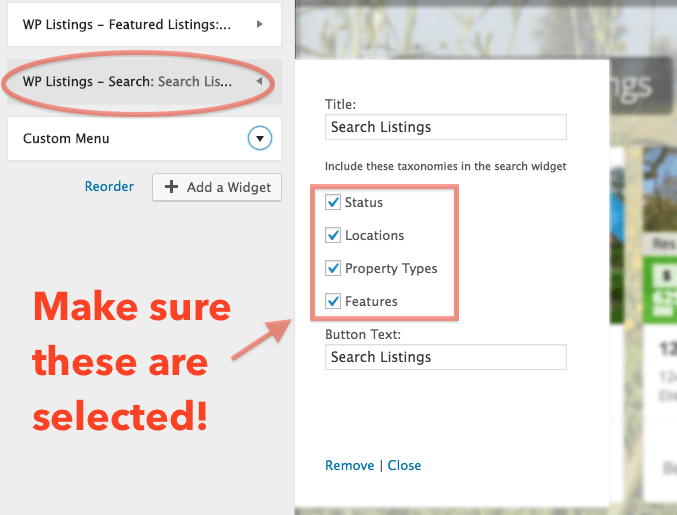 Under WP Listings – Search, be sure to check the box next to each taxonomy (i.e. "status," "locations, "property types") This will enable visitors to search using these options. If the boxes above aren't showing up, that means you forgot to add them in step 4.
Your homepage should now look similar to mine below:
Other Widgets
It doesn't end there – the Modern Estate theme allows you to add many more widgets to your frontpage, and to your website in general. Here's just some of the options that can be helpful for a real estate website:
Social Media Widget – This displays icons of your social media pages, along with text of your choosing (i.e. "Be the first to know about new listings. Follow us here.") I showed you how to add social media links at the start of Step 6.
Text Box

– I used this to add my company's phone number under "Header Call to Action.

Impress Agents

– This plugin can display agent profiles on the sidebar of your website. Or, have it randomly select 1

agent headshot

to display. To set this up, head to "Agents" on your main WordPress dashboard (make sure you've installed the "Impress Agents" plugin, as we mentioned in Step 3)
Blog menu

– Many realtors write blog posts to share buying/selling advice and to add SEO value to their website (as blogging can

improve your rank in Google

.) If you plan to add a blog, you can add widgets to show recent posts, commonly-used tags, or blog post categories.
Menus
Last but not least, head back to the main customization menu and select "Menus." This is where you'll create your main navigation menu bar – the one that's displayed at the top of your website.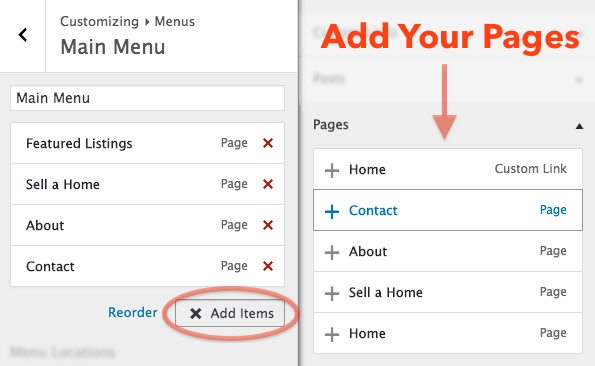 Click "Add a Menu" then "Add Items." Select the pages you created earlier in Step 5. For my website, I also changed the name of my home page to "Featured Listings."
With that, your new website should be (just about) complete!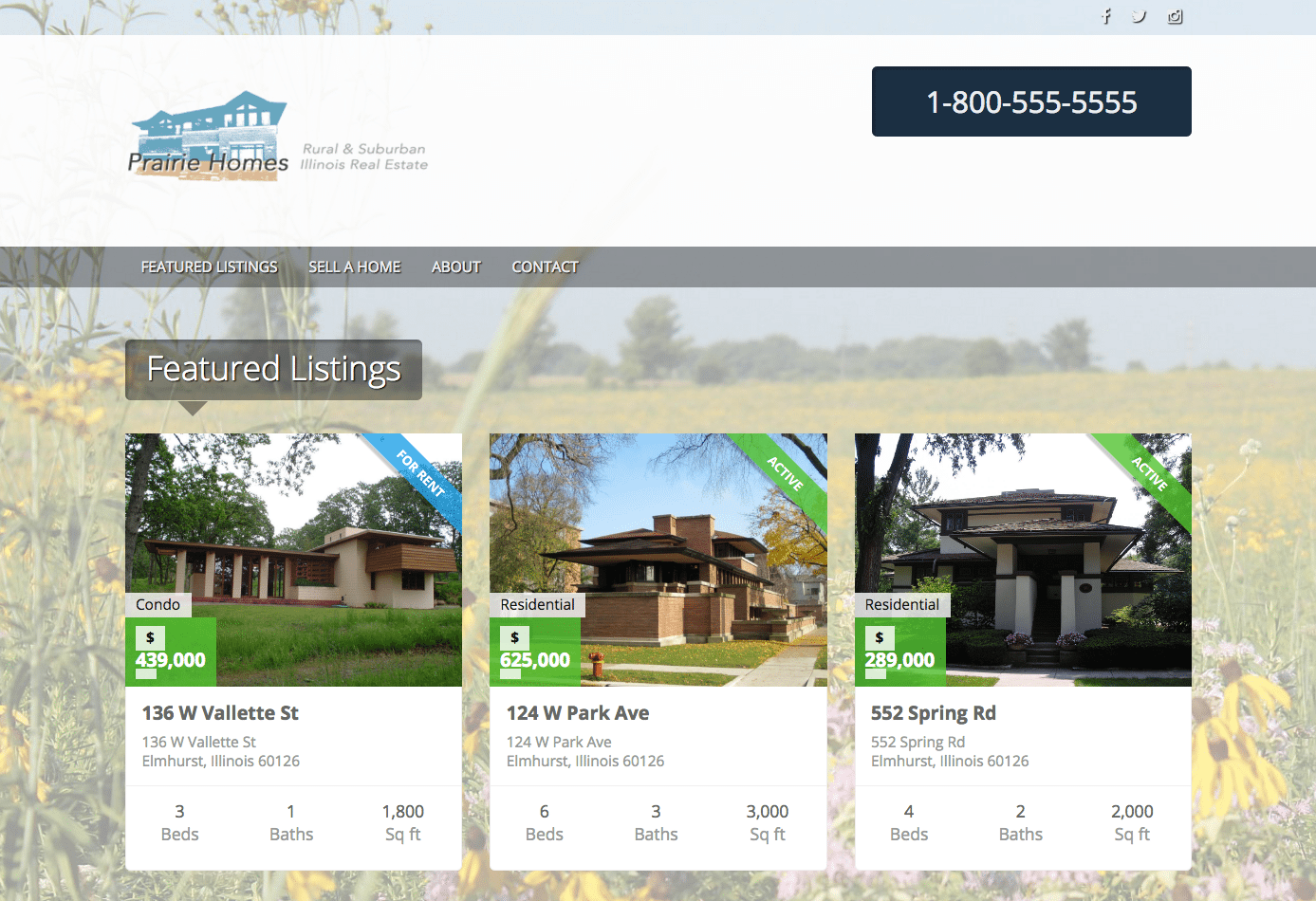 (Optional) Step 7: Integrate your MLS with IDX
By now, you have a full featured and well crafted real estate website. Visitors can browse through your properties and inquire about them by submitting a form.
If all you're looking to do is create high-quality webpages for your listings, then your job might be done. (Remember, you can even connect separate domains to your listings pages. So if you wanted to create single-property websites – i.e. 123pennylane.com – you can do this by registering extra domains on Bluehost.)
If you want to attract more buyer leads, however, you can go the next level and integrate your MLS.
The plugin you installed earlier called IMPress for IDX Broker can automatically pull listings from most MLSs around the United States. This means visitors to your website can not only search for YOUR properties, but all properties listed in your MLS.
The plugin also gives you additional search features – like a map search tool (pictured above) and a scrolling "featured listings" menu with properties pulled from your MLS.
To set this up, you'll have to register an account with IDX Broker. It costs $99 to setup, and $39/month ongoing. While this is no small expense, it is altogether much cheaper than just about any other website + IDX. Placester, for example, starts at $150/month for the equivalent service.
Everything we've shown you so far will be compatible with the Impress IDX tool, except you will need to add a separate search widget in order for visitors to search your MLS.
BONUS #1: Add a Google Map to Your About Page
As you've probably noticed already, WordPress is loaded with all kinds of features. By installing plugins, you can add or integrate just about any business tool – from email marketing to mortgage and loan calculators, social media feeds and more.
Since there's no way we can cover all of these tools, we're going to highlight just a couple more. At the end of this article, we'll list some resources that can get you started on other features, (including some essential website marketing tips, like SEO and search engine marketing.)
First off, many businesses like to add an embedded Google map on their "About" page. As I mentioned earlier, this not only encourages drop-ins to office, but it can help establish credibility for your real estate business by showing your connection to the neighborhood. (This is different from the Google Map embeds on your property listing pages, which should already be working.)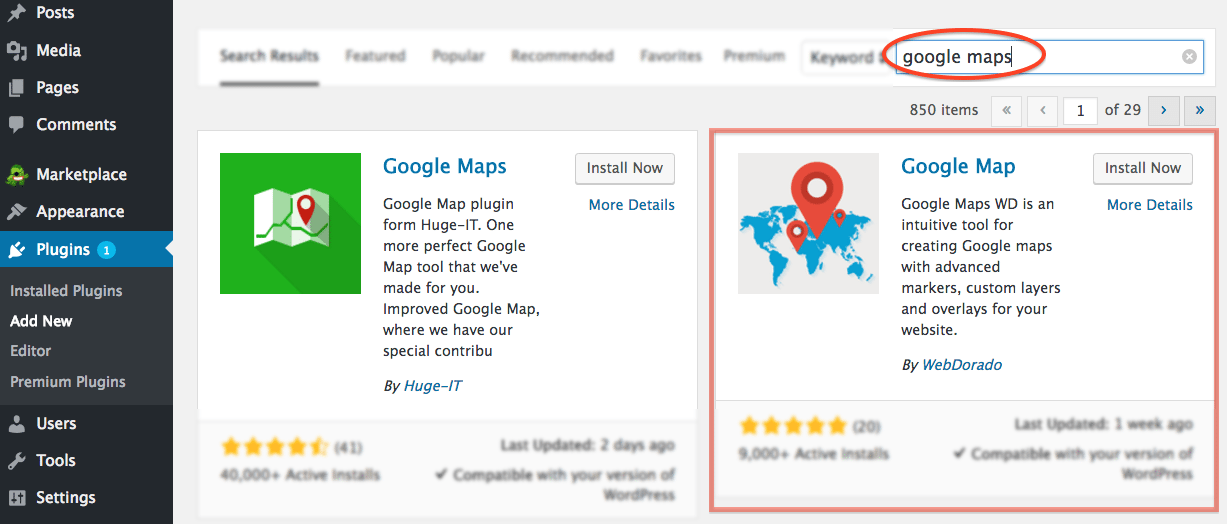 To add a Google Map, you have to first install a free plugin. Hover your mouse over the "Plugins" on the left toolbar, then click on "Add New."
Type Google Maps into the search bar, and look for a plugin WebDorado. This is the one that worked best in my experience. Once you've found it, click "Install Now," then "Activate."
You should now see a new menu option on your toolbar called "Google Maps WD." Click on it.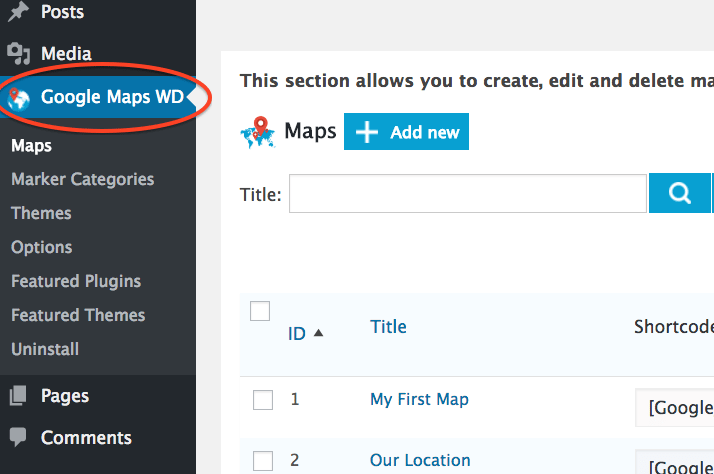 Right away you'll notice Google Maps isn't working. This is because you need to enter your API key before you can start building a map. Since you already entered this key into "Listings" earlier, you can just copy/paste from that page (If you don't know what I'm talking about, you can also just follow the instructions provided by Google Maps WD to find your API key).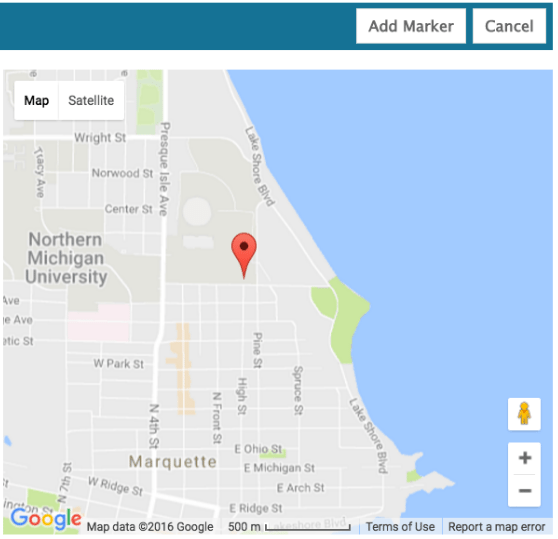 Once you have your key, you can start working on your map. Click "add new" and right away, click "settings" to set the center point and zoom of your map. To set a point, you can right-click anywhere on the map. Or, manually enter latitude and longitude.

Now head back to your About page and find that button that says "Insert Google Map WD." Just click this button, select your map and voila – you'll now have an embedded Google Map on your About page.
BONUS #2: Remove Branding
If you used the Modern Estate WordPress theme (or just about any free theme for that matter) you'll notice text on the footer that reads "Modern Estate by Slocum Studio."
If you want to remove this, there's a way to remove the entire footer by going into the theme's source code. Hover over the "Appearance" menu and select "Editor" at the bottom. In the right-hand toolbar, find the link that says "Theme Footer"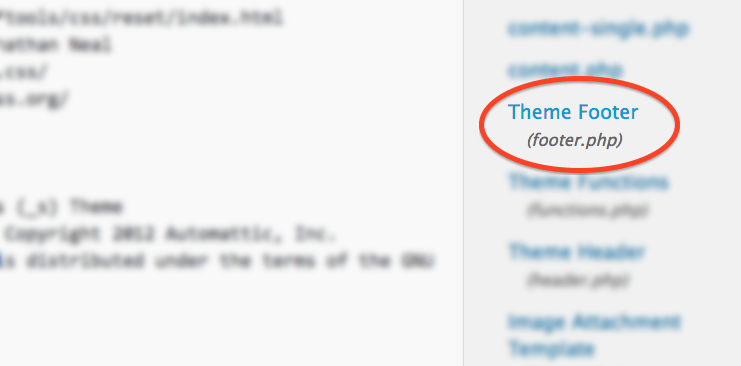 Now, in the Theme Footer code, click CTRL + F and locate these five lines of text. Once you've found them, highlight and delete them:
<section class="copyright">
<div class="in">
<?php sds_copyright('Modern Estate'); ?>
</div>
</section>
Note: this will remove the entire footer – including the Copyright message on the left side.
Then, click "Update File" at the bottom of your screen.
You should now find the branding is removed from the bottom of your website. Keep in mind, this text may return when your theme gets updated. But you can repeat this same process again, each time it gets updated.
The Bottom Line
There's plenty more you can do with WordPress, but where you take it from here all depends on what you're looking for. You can write real estate blog posts, add sign-up forms for a Mailchimp mailing list, add contact forms that link automatically with your CRM – and that's just to name a few.
If you haven't already, be sure to take advantage of the free business email accounts you also get through Bluehost. Once you get your site up and running, check out our guide How to get a free business email using Bluehost.
Also, be sure to check out our online marketing section, so you can start drawing traffic to your website right away. Be sure to take advantage of the $75 credit for Google Adwords and $50 free for Bing Ads, offered to all new customers.