How to Create a WordPress IDX Website for Real Estate
Creating an IDX (Internet Data Exchange) website on WordPress requires time and technical know-how. To build one, real estate agents need to get web hosting, register their domain, choose a website theme, add plugins, and manage customizations. Though it requires effort, WordPress is still one of the most robust tools for establishing a highly functional and customized website that includes real estate listings, marketing content, and lead generation capabilities.
Pro tip: Many real estate professionals think that the only way to create an IDX website is through WordPress. However, there are other reliable website builder alternatives to develop a customized real estate website without extensive design or technical skills, so WordPress is not your only option.
Other than WordPress, one of the top real estate website builders is Placester, which provides a wide variety of real estate website templates, customization options, IDX tools, and even a marketplace of professionals to get your tasks done more easily and efficiently. Try Placester free for 30 days.
Follow our simplified 10-step guide to learn how to create a real estate website using WordPress:
1. Consider What You Want in Your WordPress IDX Website
Before you start actively creating your website, start with a general plan. Consider your primary goals as well as the features necessary for lead generation and a seamless user experience. Don't try to include every single available feature on your website, because it will overwhelm your viewers and take additional time to finish.
Definition: The acronym IDX stands for Internet Data Exchange, and refers to an agreement between brokers that allows information about a listing, as well as photographs of that listing, to be shared across the internet. This is what allows you, or your clients, to search for properties meeting specific attributes. Learn more in our guide: What Is IDX in Real Estate?
An IDX website already has a map of active real estate listings, so it's important to prioritize what else is most needed. This could include customized searches as well as an uncluttered design, social media integrations, search engine optimization (SEO) tools, or contact forms.
Here are a few factors to consider as you plan your IDX website:
Focus on design elements: Almost every single real estate WordPress theme has gorgeous pictures of attractive homes that showcase listings. More than likely, you will want a website design that allows you to do the same thing—draw users in with attractive photos and property walk-throughs.
Make sure it's mobile-friendly: About 54% of all website visitors use a mobile device, so it's absolutely necessary to have a website optimized for smartphones. Confirm that your theme plugins, widgets, and sidebars are optimized for mobile devices before installing.
Don't be fooled by listing functions: A lot of themes offer attractive real estate widgets, but many are not IDX-compatible. For that reason, you should look specifically for themes that work with dsIDXpress, IDX Broker, and iHomefinder.
Check reviews: If you're considering a premium theme, always read through user reviews to get a better insight into how well the theme works for other users. This can save you a lot of time (and money) in the long run by helping you to choose the right theme the first time.
Consider compatibility: Not all WordPress themes are created equally, and so you need to check whether a theme is compatible with both the version of WordPress you're using and the plugins and tools you plan to use.
2. Get Web Hosting
The first step to building a website is to purchase a web hosting plan in order to be live on the internet. While it's possible to build a site before getting web hosting, it's generally more complex. It's recommended choosing a web hosting company before setting up your IDX website.
In fact, some hosting plans, like Bluehost, come with a free domain name (approximately $15 value), as well as time-saving tools like one-click WordPress installation. This makes it easy to connect your web hosting and domain to WordPress without any manual configuration or technical know-how.
Bluehost is extremely affordable at less than $3 per month, and includes a ton of extras, such as a free domain, free business email, and a free SSL certificate to protect your website, making it a great overall choice. Or you can check out the six best WordPress website builders for other options with fast, easy WordPress site design.
To get started, go to Bluehost.com and select a plan from the "WordPress" menu tab. The Basic plan should be sufficient for most real estate IDX websites. You get an unlimited number of websites and up to five business email addresses. For teams or brokers who need more than five email addresses or want additional website space, consider the Pro plan. Keep in mind you can always change plans at any time as your hosting needs change.
3. Register Your Domain Name
Once you select your hosting plan, you'll be prompted to choose a domain name. This will be your web address or URL (e.g., lakesiderealty.com). If you have an existing brand or agent name, choose a domain name that is as close to that real estate agent brand as possible. For agents without a brand, this is an ideal time to create a domain with strategic real estate words to make your agency easy to remember.
Here are a few tips to consider when choosing a domain name for your WordPress IDX website:
Use a ".com" domain: Buyers are familiar with .coms, and using one helps you appear more professional and legitimate. While it may be more challenging to find an available ".com," choosing an alternate domain like ".net" for your IDX website can cause potential leads to question your legitimacy. If your first choice isn't available as a ".com," it's worth brainstorming more ideas for IDX real estate domain names.
Avoid using symbols: Because symbols may not be easily pronounceable and are sometimes hard to type on mobile devices, you want to avoid using them. The only exception is if they become an integral and memorable part of your brand.
Include keywords or identifiers: When selecting a domain name, consider real estate keywords that your target audience would search for. This could be your specialty and your location (e.g., lakesideluxuryrealty.com or lakesiderealtymn.com). This can help your growing brand rank on Google and establish your authority in a specific city or neighborhood.
4. Connect to WordPress Using the One-click Installation Tool
Next, connect WordPress and your domain to your web host by using the one-click WordPress installation tool. If you purchased your domain through a Bluehost site builder and hosting plan, this step is already complete. Either way, you can continue to WordPress by accessing the WordPress installation tool from your web host's dashboard.
If you purchased your domain through a different provider, choose your host from the list below to get a step-by-step guide to easily install WordPress:
5. Choose a Real Estate Theme
When building a website on WordPress, choosing a theme is a necessary element that generates your website's overall design and format. Many WordPress themes are generic, but others have been built with real estate in mind and are IDX-enabled.
If you've purchased through Bluehost, they have built-in themes and templates to choose from, similar to many other website builders. If that's the case, you'll have no need to search for or purchase additional themes unless you choose to. Search for free themes that are included with WordPress or search in marketplaces like ThemeForest.
When you have chosen a website theme, proceed by clicking on the steps below:
Download Your Theme
As you browse WordPress theme stores, you should have a clear understanding of your ideal theme's functions and features. It's a good idea to look through other examples of real estate agent websites to gather ideas and take notes. Ideally, you'll find a feature-rich theme that requires minimal customization without the need to install a lot of third-party plugins.
With that in mind, browse the following WordPress theme sites and platforms:
Envato Market: Envato offers top-tier WordPress themes for a variety of professional websites. Costs range from $25 to $99, depending on features.
Template Monster: Second only to ThemeForest, Template Monster is one of the largest suppliers of WordPress themes; themes range from $69 to $98.
Elegant Themes: Elegant Themes offers a rich database of both WordPress themes and plugins. Yearly access costs $89, or get lifetime access for a one-time fee of $249.
When you find a theme that meets your expectations, add it to your shopping cart and go through the payment process. After payment, the template site will prompt you to download it as a ZIP (archived) file to your computer. It's recommended that you download your theme to your desktop for easy accessibility. Once you choose and purchase a theme that's suited to your needs, install it and import the demo content to get started.
---
Install Your Theme
To install your theme, pull up your WordPress website dashboard through your hosting account or by navigating to www.yourbusiness.com/wp-admin (replacing the dummy domain with your own domain). Log in using your WordPress credentials (username and password).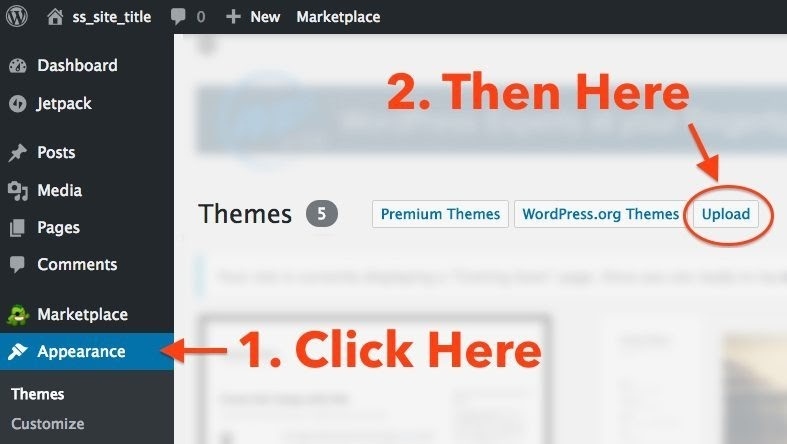 Once you access your WordPress dashboard, hover over "Appearance" in the main menu and then select "Themes." Next, click on "Upload" at the top of the screen and then "Upload Theme." Install your theme by navigating to the ZIP file of the theme you downloaded. Click "Install Now" and then click "Activate."
---
Import Demo Content (for Premium Themes)
---
6. How to Add IDX Plugin to Website
Shortcut: Dashboard > Plugins > Add New > Upload Plugin > Activate
Even with an IDX-enabled website, you may still need an IDX plugin to display MLS information on your site in real time. Some themes have this functionality built in, so review your theme's documentation to confirm whether a plugin is necessary. If IDX capabilities are not included, visit a plugin marketplace to find one that will display listing information on your site.
After you have found the IDX plugin that you want, download it. Then, to install it, go to "Plugins" from the left-hand menu in the WordPress dashboard and click "Add New." Next, click on "Upload Plugin," choose the file you just downloaded, and click "Install Now." Be sure to activate it on the plugin page as well.
Once you install your IDX plugin, you'll be able to access it from the WordPress dashboard. When you use the plugin for the first time, you may need to enter an activation key.
7. Add, Remove & Customize Pages
Shortcut: Pages > Add Pages
Even with an eye-catching theme and an IDX plugin, only you know what will be most effective for your potential clients. Your website can't serve your clients until you add and customize pages designed to attract leads and prove your expertise and authority.
To add a new page to your site, navigate to "Pages" from your WordPress dashboard and click on "Add Pages." Depending on how you want to lay out your site, you'll also be able to add IDX-enabled elements as widgets or in the text of posts and pages.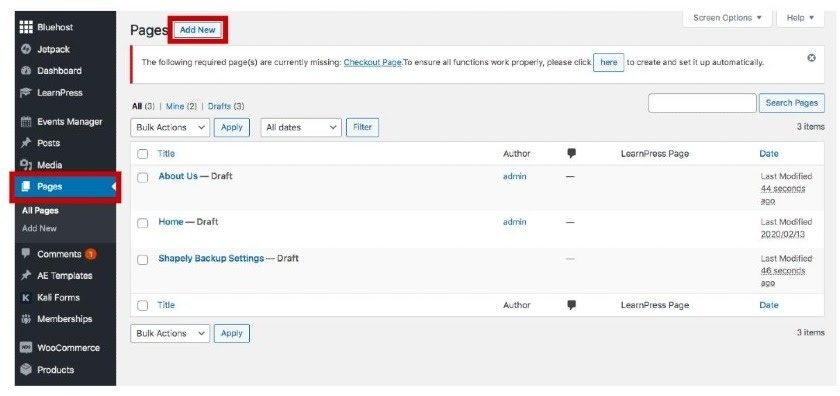 Don't forget to include real estate landing pages within your website plan. For ideas to make your landing pages unique and highly effective for your leads, look through these landing page examples.
If you prefer a drag-and-drop website editor, consider using Real Geeks instead of WordPress. Real Geeks is an all-in-one real estate tool that includes a mobile-friendly website with search engine optimization, A/B testing, and custom landing pages. Real Geeks also provides lead generation tools, advertising, and email and SMS marketing. Learn more about Real Geeks today.
8. Build Navigation & Menus
Shortcut: Appearance > Menus > Select Main Menu from drop-down > Select pages > Add to Menu > Save Menu
Once you have website pages being built, you need to establish a clear navigation bar to make the website user-friendly for your potential leads. This section is called your "top bar" and will be instrumental in helping buyers navigate to the content that is created for them. To build the menu in the top bar, go back to your dashboard and click on "Appearance" in the sidebar. Then, click on "Menus."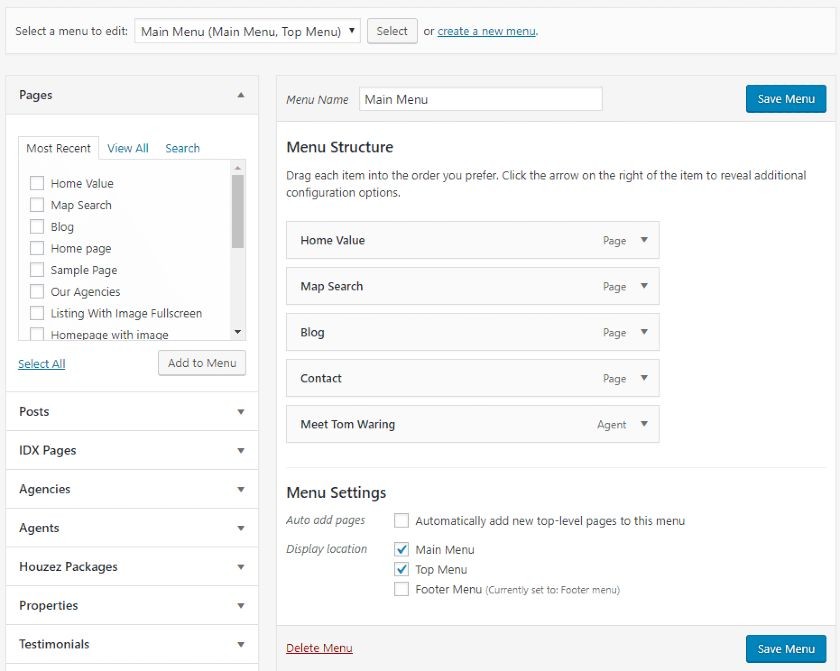 To build your top-level menu, select "Main Menu" from the drop-down box. Click "Select." On the left-hand side of the page is the "Pages" tab. This area shows all of the pages you've created for your website. To add a page to your main menu, select it by checking the box next to it, then click on "Add to Menu." You can drag and drop the pages within the menu to reorder and create subpages. When you're done, click "Save Menu."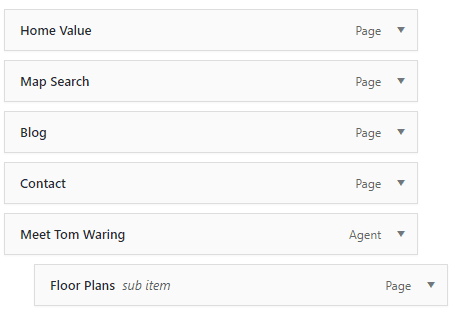 Edit Page Names (Optional)
WordPress will automatically use the page's name as the name that appears in your menu or navigation bars. However, there will be many cases where you need to adjust the name. To edit page names, click the drop-down arrow that corresponds to the page, and under "Navigation Label," type the name you want to display in your menu in the text box.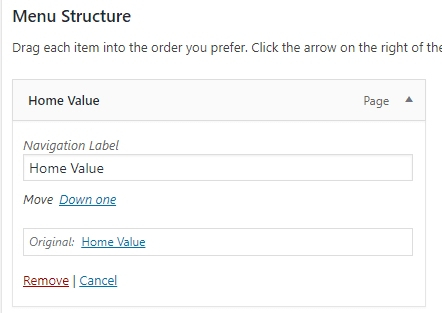 9. Customize Your Header & Footer
Shortcut: Appearance > Customize > Header
As your website starts coming together, be sure to customize the header and footer to reflect your real estate brand. This will keep your website looking cohesive on each page, and make it easy for viewers to navigate around your site. It's also common to include your contact information, social media pages, and any disclaimers in the footer, so they are available to users on every page.
Update your website's header by hovering over "Appearance" in your WordPress dashboard and then select "Customize" or "Header," if available. Keep in mind that this will vary depending on your chosen theme. If you're not able to find how to customize your header, check your theme's documentation.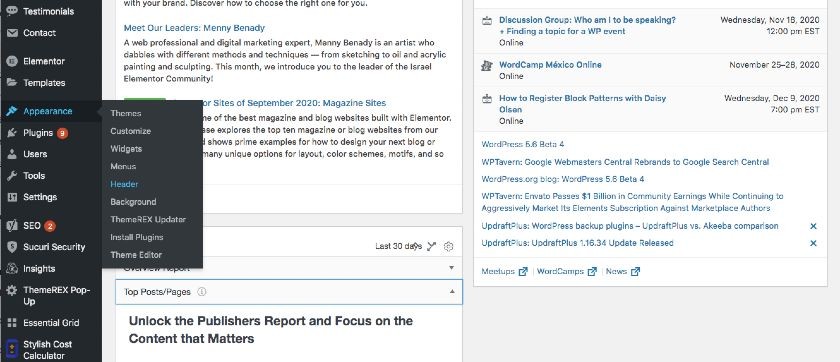 Next, edit your footer by hovering over "Appearance," and then clicking on "Widgets" in the sidebar. As you'll note, there is at least one tile named "Footer." If you have more than one, select the first one and expand it. If you have an available widget on the left-hand side called Contact, drag and drop it into the Footer tile, and then update with your contact information.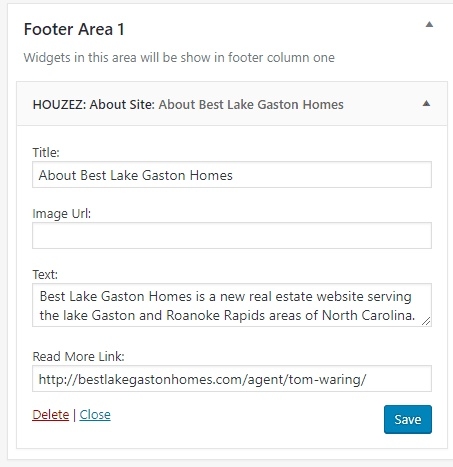 10. Prepare Your Site to Launch & Hit Publish
Shortcut: Pages > Publish
After you have made the final edits and tweaks to your new website, take some time to navigate around it as if you were an interested homebuyer or seller. Open a browser and type in your domain name. Explore the pages, the forms, and the listings to make sure everything is working properly. Try several different browsers to see if the site displays well on Chrome, Internet Explorer, Firefox, and Safari.
You should also review your site on a mobile device to make sure it's fully responsive and there are no design or functionality issues. Give your friends and family access to your test website before publishing, and ask them to browse your site and provide feedback about the copy, images, and usability.
When preparing your site for launch, take time to:
Proofread your website copy
Check every link to make sure none are broken
Confirm that your site is responsive (i.e., mobile-friendly)
Create a 404 redirect page
Use Yoast SEO to optimize your site for search engines
Get an SSL certificate to improve site security (this may be included with your web hosting)
When you're ready for your WordPress IDX website to go live, navigate to each of your site's pages and click "Publish." Unless you enter a future publication date (and instead hit "Schedule"), this will allow each individual page to go live immediately. If you're using a maintenance or coming soon plugin, like WP Maintenance Mode, you'll need to toggle it off before the website goes live. Once each page is published, enter your URL to make sure everything is visible and loading properly.
After your site has been launched, submit it to be indexed by the Google Search Console. This is also a good time to add your website to your social media profiles on Google My Business, Yelp, Instagram, Facebook, and any real estate-specific sites like Zillow or Realtor.com. You can also ensure potential clients actually see your site by using several website marketing strategies to start generating traffic.
Alternatives to Building an IDX Website With WordPress
While WordPress is arguably the most popular way to build a real estate website, it's not the only way to do so. In fact, the market for website builders is growing constantly, and you have a variety of choices to build your website on user-friendly or real estate-specific platforms.
Costs for other platforms range from about $6 to $80 per month, which is slightly more expensive than using WordPress for free with a hosting platform like Bluehost. Look through the options below to choose the most fitting website builder for your needs.
Here are four of the top real estate website builders:
Website Builders

Best For

Brokerages managing multiple domains

Teams and individuals wanting real estate-specific tools

Real estate professionals who want the highest level of customer support

Individuals or teams wanting a codeless builder with customizable templates

Key Features

Money-back guarantee
Custom email address
Hundreds of website templates

User-friendly, code-free interface
Real estate-specific templates
IDX listing display tools

Free website hosting and SSL certificate
Chat and email support
Unlimited storage

Connect any domain from other providers
Easy-to-use website builder
Search engine optimization (SEO)

Starting Price

$9.99 per month

$80 per month

$6 per month

$15 per month

Read More
Bottom Line
As a real estate agent, having an IDX website is a key marketing tool because it can pull current listings from your local MLS. This allows you to keep visitors on your website instead of sending them to a different real estate platform to look for listings. It also serves as a home base for generating new leads that may be ready to buy or sell a new home and providing updates about yourself and the real estate market.
For additional tips to enhance and grow your real estate business, check out 7 Ways to Become Successful in Real Estate.