WordPress widgets are blocks of content you can use to add extra features to areas of your site such as the sidebar, header, and footer. While they may sound technical to web design beginners, widgets make it very easy to customize a site's design without any coding skills. To find your widgets, go to "Appearance" from your WordPress dashboard, select "Customize," and click "Widgets." From there, you can drag-and-drop widgets and customize their contents.
Trying to figure out how to build a WordPress website, or if WordPress is even right for you? Get all the information you need to easily build your small business website.
WordPress Widgets vs Plugins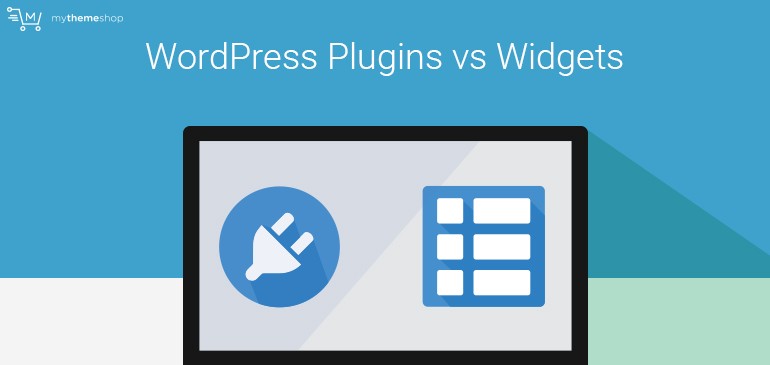 People new to WordPress often confuse widgets and plugins—and for good reason. Widgets are blocks of content that you can drag-and-drop within predefined areas of your site, such as the sidebar, header, and footer. Plugins, however, are pieces of software that are built to add a specific functionality to a WordPress website, like blocking malware, scanning for broken links, or recovering abandoned carts.
What's confusing is that some plugins come with widgets. For example, a plugin might be used to build and display an online course. Another plugin, such as a contact form plugin, may come with a widget so you can add easily a contact form (e.g., newsletter signup) to your site's footer. In both of these examples, the plugin added functionality while its widget displayed content in a specific area on your site.
Learn more about plugins, including the must-have WordPress plugins for every website.
WordPress Widget Examples
Widgets are a standard element in WordPress. However, every WordPress site will have a unique set of widgets because they're based on your chosen theme and plugins. You can view your available widgets by selecting "Widgets" under "Appearance." You'll see that your widgets reflect your theme and installed plugins. For example, a restaurant theme may include widgets so you can add a link to make a reservation online from your site's footer.
Here are a few of the most common WordPress widgets:
Image: Display a single image, such as a banner on a sidebar
Text: Add text to a sidebar, header, or footer
Gallery: Displays an image gallery
Navigation: Allows you to add a site menu to, for example, your footer
Custom HTML: Create custom features and content with HTML
Recent posts: A list of your site's most recent blog posts
Comments: Provides user-generated comments on blog posts
Search: A search bar for your website
Video: Displays a video from the media library, YouTube, or Vimeo
Products: Displays products for online stores
Cart: Displays a cart icon for ecommerce websites
Social: Add social media icons and links to your social profiles
Ultimately, the purpose of WordPress widgets is to make customizing your site easier, not more complicated. You're free to use as many, or as few, widgets as you see fit for your site, so be sure to only use those that really help your website and its audience find the information they're looking for.
Customizing Your Site Using WordPress Widgets
The widgets available to you will depend on your theme. To view and customize your available widgets, go to "Appearance" from the left-hand menu and select "Widgets." From there, you will see a menu of your available widgets as well as your available widget areas, which are predefined areas (such as your sidebar, footer, and top bar) that are coded into your theme and that allow the placement of widgets.
Here's how to use your WordPress widgets:
Log in to your WordPress dashboard
Navigate to "Appearance" from the left-hand vertical menu
Select "Widgets" from the menu
Drag and drop widgets to areas of your site
Not seeing "Widgets" as an option? This is not an error; rather, it means your current theme does not support any widget areas. If you want to use widgets, you will need to change themes on WordPress.
Next Step: Install a WordPress Widget
Shortcut: WordPress dashboard > Plugins > Add New > Install > Activate
Even if your theme comes with widgets, you still may want to get new ones. To get new widgets, you'll need to install new plugins. So start by finding the plugin you want. For example, a restaurant may use the Food and Drink Menu plugin to easily design food menus and easily add them to sections of the site. To install it, go to "Plugins" from WordPress and select "Add New." Then, find the plugin you want to add and click "Install" and then "Activate."
Here's how to install a plugin in three steps:
Click "Plugins" from the WordPress dashboard and select "Add New."
Find your desired plugin using the top-right search box.
Click "Install Now" on the plugin you want and then "Activate."
Need more help with building your website? Get detailed step-by-step instructions on how to make a WordPress website.
Frequently Asked Questions (FAQs)
Are premium themes worth it?
For many, premium themes are well worth the price tag. This is because premium themes include your desired design and functionalities out of the box, so all you have to do is simply customize the demo content. For example, a restaurant theme would likely come with menu pages and an online reservation system, whereas an ecommerce theme would include features such as product pages, a cart, and a payment gateway. Check out the best WordPress themes.
Is WordPress.org free?
Yes, it's free to use the wordpress.org content management system (CMS). However, there are costs involved, such as getting web hosting (around $3 to $12 per month), a domain name (around $12 per year or free through many of the best web hosting companies), and many opt for a premium theme ($30 to $80) as well as premium plugins. Of course, if you choose to hire a professional to build your site for you, then that will be a major expense. To learn more, get the full breakdown on how much WordPress costs.
What are the best real estate widgets?
There are a number of highly useful real estate widgets. From mortgage calculators and IDX listings, to online appointment booking tools to easily schedule more showings, and live chat widgets to quickly answer site visitors' questions, there tons of widgets that real estate agents should use to better turn their website into a marketing machine.