Workers' comp class codes are numeric codes that represent the risks occupations face. The insurance industry uses these codes to categorize businesses by how risky their operations are so that carriers can estimate the cost of insuring them more accurately. Most states use the classification system created by the National Council on Compensation Insurance (NCCI), but a handful have their own classification codes.
Few business owners spend much time thinking about their workers' compensation classification codes, but it's a good idea to at least understand the basics. A mistake can mean you're paying too much for your workers' compensation insurance.
How Do Class Codes Work?
Ratings bureaus that specialize in workers' compensation insurance collect data on workplace injuries and illnesses, and then use that data to categorize businesses by risk exposures. Each category receives a three- or four-digit classification code, depending on which rating bureau is doing the organizing. Every class code also has a base rate attached to it, typically an amount per $100 of payroll.
When a business applies for workers' compensation, the insurer evaluates the business' operations to determine its class code. Then, the insurer plugs the class code's base rate into a formula for figuring out the business' workers' compensation premium. These formulas are complicated and unique to each insurer, but the basic calculation is the class code rate multiplied by experience modifier multiplied by payroll per $100.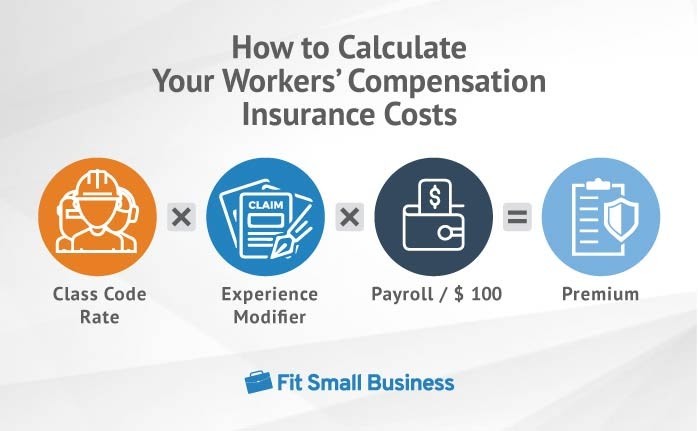 Governing Classification and Common Exceptions
In the states that work with the NCCI, businesses usually have a governing class code that's based on the business' main operations. For example, a plumbing company's governing class code should represent their plumbing operations even though it has a bookkeeper on staff.
There are four situations where businesses may have additional workers' comp class codes. The first and most common is for occupations that occur across so many industries that rating bureaus tend to treat them differently. These are called "standard exceptions" and often include positions like:
Clerical workers
Salespeople
Drivers
States that allow standard exceptions subtract these employees' payroll from the governing classification and apply it to the more appropriate class code. This can reduce the business' overall premium because standard exceptions are typically positions that face less risk than the other workers.
Some states also allow certain employees' payroll to be split between multiple workers' comp class code. This is called "interchange of labor" and is most common in high-risk industries like construction, where an employee might have some duties that are very dangerous, such as going up on a scaffolding, and others that are less so.
The next situation is called the "general exclusion." It's when a business has unexpected operations for the industry. Say, for example, a beauty supply store also offers Botox injections. This might be considered a general exclusion, so the insurer could list this class code separate from the governing class code on the retailer's workers' compensation policy and charge an additional premium.
Finally, there is the "multiple enterprise rule." This rule typically applies to a business that has uncommon operations that could exist as an entirely separate entity. For this rule to apply, each business has to have separate financial records, and they need to be literally physically separated—by a wall or partition or kept in a separate building.
Why Do Workers' Compensation Classification Codes Matter?
Workers' comp class codes are important because they're a key component in most insurers' workers' compensation calculations. Occupations are assigned class codes based on how much risk they face. Those that face more risk start with a higher base rate and typically pay higher premiums.
Workers' Compensation Class Code Example
Unfortunately, class codes are much more complicated than they first appear. The NCCI's Basic Manual defines nearly 800 separate classifications, each of which also contains a description of the codes "scope" like its actual intent. Plus, certain operations may appear in more than one class code description.
Let's say, for example, you run a business in Illinois that cleans heating systems. Your class code could be 5537 because it describes businesses that install service, or repair heating, ventilation, air-conditioning, and refrigeration systems. If that's correct, then your base rate is $6.09 per $100 of payroll.
However, your class code could also be 9401, which is used for furnace cleaning operations that use the vacuum method. This code's base rate is $3.62 per $100 of payroll. If your ratable payroll is $100,000, then you're talking a difference of $2,470 per year.
What If My Class Code Is Wrong?
A mistake in your workers' compensation classification code can cost hundreds of dollars—even if the error results in a class code with a lower base rate. This is because workers' comp policies are audited every year to ensure business owners are charged the correct premium. If your insurer discovers that your rate is based on the wrong classification, it will charge you for the premium it missed out on.
The best way to avoid that problem is to work with an insurance carrier that has experience with both workers' compensation policies and your particular industry. Its agents know what questions to ask and where the quirks are when it comes to rating your policy.
How to Correct a Workers' Comp Code Error
Most business owners don't realize they've been misclassified for workers' compensation insurance until they are audited. In that case, it's too late to make an adjustment. However, if you're suspicious that something is off, you should do the following:
Meet with your insurance agent: The agent who sold the policy is the person responsible for assigning the class code and should be able to show you the description and explain why they thought it is appropriate.
Contact your insurance carrier's underwriter: The underwriter is the person who reviews and accepts your insurance application. You may be able to persuade the underwriter that there's been a mistake if your agent does not agree that they misclassified your operations.
File an appeal with the state: Every state has an advisory organization, like the NCCI, that handles disputes. However, you may have to pay extra for an inspection.
Additionally, you may be able to avoid misclassification if this is your first workers' comp policy. Many insurance carriers send an inspector to review your operations. This can be an opportunity to ensure your class codes have been assigned correctly, so make yourself available to the inspector.
How Can I Find My Business' Workers' Comp Class Codes?
Businesses located in one of the 38 states that use the NCCI can access their workers' compensation classification for free on the NCCI website. You do need to contact the organization's customer service to get a username and password before you can launch the lookup tool. Businesses in other states should be able to get their workers' comp codes from the rating agencies in their state.
Bottom Line
Workers' comp class codes may not seem like something you need to keep tabs on, but ignoring them can cost you money. If you perform your due diligence when you first apply for coverage and, then again, every time you renew, you should be able to get properly classified.