Since our last update:
The National Council on Compensation Insurance (NCCI), the rating bureau that governs workers' compensation rates in most states, has decided that workers' comp claims stemming from COVID-19 will not impact a business' experience modification rate.
States that don't use the NCCI may have other rules. These include California, Delaware, Indiana, Massachusetts, Michigan, Minnesota, New Jersey, New York, North Carolina, North Dakota, Ohio, Pennsylvania, Texas, Washington, Wisconsin, Wyoming, and the District of Columbia. Business owners in these states should check with their state boards.
Determining workers' compensation costs requires complicated algorithms. However, the basic workers' comp calculations are fairly straightforward if you have the right information to plug into the formula. Doing this can give you a decent idea of what your premium should be so that you can include it when budgeting for new hires.
How Workers' Comp Costs Are Calculated
Workers' compensation insurance is governed at the state level, and each state has its own method for calculating rates. That said, most formulas share a few characteristics. For example, all workers' comp calculations use your business's risk, total payroll, and claims history to determine your premium.
Of these three pieces of information, payroll is the only number that isn't a rating. The other two—your class code rate and experience modifier—are created by ratings bureaus, the organizations that advise states on rating policies, to represent your business risk and claims history respectively, they can use them in the formula listed below.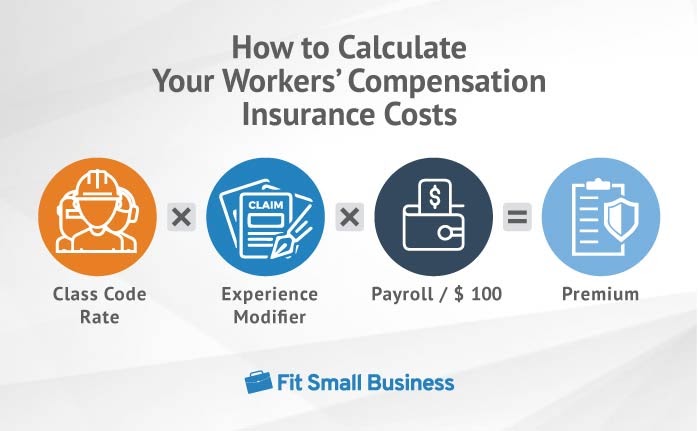 If you have all three numbers, you can use this calculator to get an estimate of your workers' compensation costs. However, the result is only an estimate because it does not consider several factors that your state may use to come to your total premium.
Workers' Compensation Insurance Cost Calculator
How Your Class Code Impacts Your Workers' Comp Rate
Class codes are three- or four-digit numbers that ratings bureaus use to represent the risk your employees face for suffering a workplace injury. Every occupation is given a code based on the types of tasks employees are required to perform. Each code is then assigned a base rate. Jobs with more risk, such as a tree surgeon, have a higher base rate than those with a lower chance of injury like an accountant.
Making a mistake on your class code can have a major impact on how much your workers' compensation insurance costs. Let's say, for example, you run a group home (class code 8842) in Wisconsin that accidentally gets coded as a retirement home (class code 8824). As a group home, your base rate should be $4.60, but you're charged $5.06. That's only a 46-cent difference, but remember your base rate is then multiplied by your payroll divided by 100 and potentially an experience modifier. As a result, you could end up overpaying by hundreds—even thousands—of dollars.
How Your Payroll Impacts Your Workers' Compensation Rate
Understanding how payroll impacts your workers' comp calculations is pretty easy. The more employees you have, the more your workers' comp insurance is going to cost. The tricky parts are figuring out which employees you're responsible for insuring and what counts as payroll.
For example, let's say you run a business in Colorado, and you want to hire an independent contractor. Assuming the worker meets the state's definition of an independent contractor, you're not responsible for his workers' compensation insurance because he is not an employee. You may, however, be responsible for the contractor's employees' coverage and their work-related injuries if the contractor does not carry his own workers' compensation insurance.
Once you determine which employees must be covered, you need to identify their remuneration. Gross pay is the starting point, but you must also factor in other compensation, such as:
Bonus
Overtime
Paid sick days, holidays, and vacation days
Lodging or meals included in pay
Employee contributions to 401(k)s and retirement plans
Commissions
Each state determines who is exempt from workers' comp requirements and what counts as remuneration. Working with an experienced agent can make navigating these rules easier.
In the News:
The NCCI announced that employers who have ceased operations due to COVID-19 can reclassify employees who are unable to work but are still being paid. Once reclassified, this portion of their payroll will be excluded from their workers' compensation premium.
How Your Experience Modification Rate (EMR) Impacts Your Workers' Comp Costs
The final number used in most workers' comp premium calculations is your EMR. It measures the difference between the business's past workers' comp claims and what other similar businesses have experienced. A business on par with others in its industry typically gets an EMR of one, so the modifier does not affect its premiums. Businesses with fewer claims receive an EMR below one while those with more claims have EMRs above one.
As with everything else about workers' compensation, how EMRs are applied depends on your state. Most states have some sort of eligibility threshold like Oregon, which only factors in an EMR if a business has paid $2,500 in premium for one year or $5,000 for two consecutive years.
Workers' Comp Calculation Example
Here's how the basic workers' compensation calculations work. Imagine you own a lawn care company in Illinois with two employees who earn a total of $80,000 per year. Your class code is 9102, which has a rate of $2.13. With just this information, your workers' compensation calculation looks like this:

| | |
| --- | --- |
| Lawn Service & Maintenance ($2.13 x $80,000 / $100) | $1,704.00 |
However, let's also assume your employees take safety very seriously, so you've filed fewer workers' comp claims than other three-person lawn care companies in your area. As a result, you're also given an EMR of just .75, which means your premium is calculated like this:

| | |
| --- | --- |
| Lawn Service & Maintenance ($11.13 x $80,000 / $100 x .75) | $1,278.00 |
Business is going well, so you decide to hire part-time office help. This raises your total payroll to $100,000. However, clerical workers (class code 8810) do not face as much risk as employees who take care of clients' lawns, so most states rate them separately. Consequently, your workers' comp calculations now look like this:

| | |
| --- | --- |
| Clerk ($0.07 x $20,000 / $100 x .75) | $10.50 |
| Lawn Service & Maintenance ($11.13 x $80,000 / $100 x .75) | $1,278.00 |
| Base workers' comp premium | $1,288.50 |
Other Factors That Impact Your Workers' Compensation Costs
As we said at the start, the actual workers' compensation algorithms are complicated, so using the basic formula only gives you a cost estimate. Moreover, every state factors in additional elements to determine premiums. We can't list all the possible factors in workers' comp calculations, but we can give you a few examples, including:
Disease load: An additional factor applied to some industries where exposures to specific occupational illnesses increase the risk for claims
Employers' liability limits factor: An additional charge for increasing employer's liability coverage, or part two of workers' compensation
Nonrated catastrophe load: An additional factor applied to some industries where there is a risk for catastrophic losses
State surcharges: Additional fees individual states may charge to fund various workers' comp programs like second injury funds or return-to-work initiatives
Expense constant: The additional fee charged by insurers to cover the administrative costs associated with any workers' comp policy
Bottom Line
The number of factors that go into your workers' compensation premium makes it difficult to estimate costs. However, you can use the basic formula to get a general ballpark figure for your business. This can help you budget for new hires as your business grows.
Another way to get an estimate for your workers' comp is to get a quote from an online broker, like CoverHound. Once you fill out a simple online application, CoverHound submits your information to multiple carriers so that you can compare premiums and policy terms.