Workers' compensation insurance is a policy protecting employers by paying the costs of workers injured on the job. Workers' compensation insurance costs vary widely by state local laws, industries, and the employers' claims history. Rates could be as low as 10 cents per $100 of payroll or exceed $29 per $100.
Typical Workers' Compensation Insurance Rates Per $100 in Payroll

Information sourced via multiple online carriers and quoting websites.
Workers' Compensation Insurance Cost by Industry Example Ranges
| Class Code | Low Rate | High Rate |
| --- | --- | --- |
| 8810 Clerical-NOC | $0.08 | $1.48 |
| 2121 Breweries - Craft Beer | $0.72 | $2.50 |
| 8742 Outside Sales | $0.18 | $1.75 |
| 5551 Roofing Contractors | $12.01 | $23.47 |
| 5140 Electrical Work | $2.01 | $8.37 |
| 8017 Retail Store | $1.02 | $10.19 |
| 8835 Home Health Care | $1.71 | $19.68 |
| 8829 Nursing Home and Assisted Living Facilities | $1.67 | $3.45 |
Ranges were taken from a sampling of states known to be higher in costs and those being lower in costs. This table should be used as a way to understand the wide variance of costs within specific job codes rather than an actual quotation tool.
State insurance requirements and internal risk are majors factor in pricing workers' compensation premium. Ranges also vary significantly within the same industry for a variety of reasons. These are not always a reflection of a business' actual internal claims history and industry factors. Workers' compensation for self-employed may vary from state to state as well.
Some reasons that workers' compensation insurance premiums vary widely include:
State-specific factors including higher natural risks
Per capita loss history within an insurance carrier's rating region
Lower risk class codes working in higher risk industries
Medical expense cost averages within the state
For example, a clerk working at an attorney's office in Beverly Hills has less risk than a clerk working in the office at the shipyard in San Pedro, California. On those same lines, the house framer in Barrow, Alaska, is more likely to get injured than the house framer in Virginia.
Workers' Compensation Insurance Cost Structure
Workers' compensation insurance rates may be significantly different from one state to the next, but all rates are computed using the same cost determination formula. The formula considers the work classification, payroll, and the company's experience. Even within a state, two similar businesses may have dramatically different rates. It's important to understand the formula and state and carrier-specific factors affecting workers' compensation insurance rates.
Workers' Comp Premium = Payroll (per $100) * Classification Code Rate * Experience Modification Rate
Looking at this formula might give the appearance that rates are standardized across the country. However, ask a plumber in San Diego if his rate is the same as his brother-in-law in New York, and you'll see they are vastly different.
Five Factors Affecting Workers' Compensation Insurance Costs
Workers' compensation costs are impacted by five factors including work classification, payroll amount, experience, state laws, and individual carrier ratings. This means that two businesses rarely will have the same workers' compensation premium because if any one of the five factors is different, the rate will be different.
The five factors affecting your workers' compensation insurance rates by state are:
1. Industry and Work Classification
Some jobs are riskier than others. The person working on a Texas oil rig has a much higher chance of getting injured and also a higher chance of suffering a serious injury compared to the Maryland office clerk. Every type of job is assigned a work classification called a class code, which is based on the risk of injury. These codes are defined by industry through the North American Industry Classification System (NAICS).
The industry is a two-digit code, and the job duties then further break that down into four-to-six digit codes. For example, the agriculture industry uses Code 11 with corn farming assigned Code 111150 and tobacco farming assigned Code 111910. This is dramatically different from the construction industry Code 23 that breaks down the sub-industry to residential, utility systems, and civil engineering classes, among others.
2. Payroll Per Classification
Every workers' compensation insurance rate uses "payroll per $100" as the basis of the costs. For example, if a small business has $100,000 in payroll costs, the basis for this variable becomes $100. However, the total payroll is rarely used as a straight multiplier in the equation, meaning it is broken down into the payroll costs based on job classifications.
Improperly assigning payroll costs is the most common mistake business owners (and insurance companies) make. A solar panel installation company doesn't only have employees installing the panels on rooftops; they also have customer service reps in the office and often outside sales reps. The latter are different classes from installers, both with lower work classification ratings.
3. Experience Modification Rate
The experience modification rate (EMR) is a multiplier that increases or decreases rates from the standard. The EMR is determined by the insurance company to determine how past claims history will affect potential future losses. The EMR will either increase or decrease the rate based on payroll and work class. The baseline EMR is one; more losses will increase this factor, while good claims history over time will reduce it below one and generate a discount.
Simply put, all other things being equal, a coffee shop that had four employees get burned by a malfunctioning machine will have a higher rate compared to a coffee shop just a mile away that had no claims.
4. State Insurance Factors
Workers' compensation insurance rates are different in every state because insurance is not nationally-mandated and is overseen by state insurance commissioners. Depending on the main industries within a state, the work classifications, population, and state-specific costs, ratings get adjusted.
For example, the clerk in Colorado might be rated as low as 13 cents per $100 of payroll while the same clerk in New York costs 18 cents and the Maryland clerk is 24 cents per $100. In very basic terms, internal state actuaries define rates using the work classification, total population, employees in that class, and state loss history.
5. Insurance Carrier and Provider
Once all the other factors are defined, every business owner needs to shop workers' compensation insurance rates among insurance providers. Some insurance companies have higher rates than others, but this isn't a standard rule. Every carrier has what is called a risk appetite. If an industry is in a carrier's appetite, the rates will be more favorable than a carrier that doesn't have an appetite for the risk.
Most states require the carrier to file base rates for approval with the state's department of insurance. States may dictate how carriers offer credits and debits in workers' compensation insurance policies.
Workers' Compensation Insurance Costs by State
Every state has its own laws regarding workers' compensation. The laws determine business requirements, exemptions, and penalties for not having workers' comp insurance. Work classification ratings and premiums also vary by state. Some states, such as Texas, are very inexpensive, and others, like Alaska, are very expensive.
Average Cost of Workers' Comp Insurance Per $100 In Payroll By State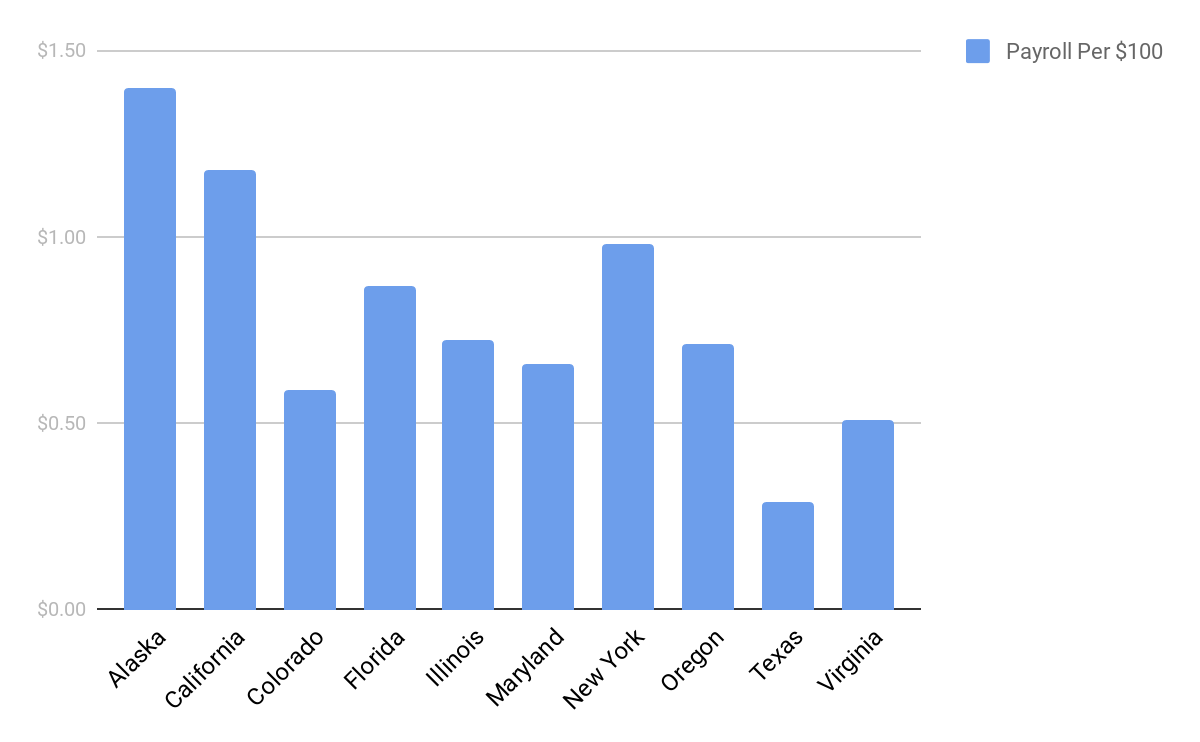 Source: Workers' Compensation: Benefits, Coverage, and Costs, 2016
These numbers reflect pure premium per the state insurance commissioner. Pure premium is the premium rates defined by all work classes, claim losses, and payroll data submitted by all insurance companies. The actual insurer's rates will add administrative and overhead costs. Some insurers will use actuary data to determine their own rates not specifically using the state pure premium d ata.
Cost Examples By State
In looking at the various state insurance costs, we see that states like California and Alaska are among the most expensive when it comes to workers' compensation premium. Other states like North Dakota and Virginia tend to be more cost-effective in most class codes. Let's look at a couple of examples to fully understand why.
Examples of Workers' Compensation Insurance Costs by State Industries
| State | NCCI Code | Local Industry | Low Rate | High Rate |
| --- | --- | --- | --- | --- |
| Alabama | 8832 | Medical Office | $0.27 | $0.73 |
| Alaska | 6217 | Excavation | $4.05 | $5.77 |
| Arizona | 8832 | Medical Office | $0.30 | $0.41 |
| Arkansas | 8832 | Medical Office | $0.11 | $0.22 |
| California | 0035 | Farm Planting and Harvesting | $4.82 | $15.04 |
| Colorado | 6217 | Excavation | $2.88 | $6.34 |
| Connecticut | 8723 | Insurance Companies | $4.80 | $7.97 |
| Delaware | 0953 | Clerical Financial | $0.16 | $0.23 |
| Florida | 8832 | Medical Office | $0.38 | $0.38 |
| Georgia | 5537 | Solar Energy Contractors | $3.47 | $15.29 |
| Hawaii | 9052 | Accommodation | $2.06 | $2.06 |
| Idaho | 0035 | Farms | $3.80 | $6.08 |
| Illinois | 8723 | Insurance Companies | $0.12 | $0.21 |
| Indiana | 8864 | Social Service Organization | $0.78 | $1.04 |
| Iowa | 8723 | Insurance Companies | $0.30 | $0.39 |
| Kansas | 0113 | Farms | $1.49 | $2.14 |
| Kentucky | 8832 | Medical Office | $0.18 | $0.18 |
| Louisiana | 2121 | Breweries- Craft Beers | $0.93 | $2.28 |
| Maine | 8842 | Nursing and Convalescent Homes | $2.26 | $4.07 |
| Maryland | 9084 | Bars-Taverns-Nightclubs | $0.83 | $0.83 |
| Massachusetts | 8829 | Nursing and Convalescent Homes | $1.95 | $1.95 |
| Michigan | 8829 | Nursing and Convalescent Homes | $1.38 | $2.26 |
| Minnesota | 8832 | Medical Office | $0.24 | $0.69 |
| Mississippi | 8832 | Medical Office | $0.21 | $0.48 |
| Missouri | 8829 | Nursing and Convalescent Homes | $1.82 | $4.00 |
| Montana | 8842 | Nursing and Convalescent Homes | $2.71 | $5.15 |
| Nebraska | 8723 | Insurance Companies | $0.12 | $0.12 |
| Nevada | 9052 | Accommodation | $1.62 | $2.62 |
| New Hampshire | 8723 | Insurance Companies | $0.11 | $17.00 |
| New Jersey | 8832 | Medical Office | $0.61 | $0.61 |
| New Mexico | 6217 | Excavation Grading Work | $3.47 | $9.29 |
| New York | 8810 | Clerical Financial | $0.18 | $0.35 |
| North Carolina | 8006 | Gas | $2.35 | $6.42 |
| North Dakota | 6217 | Excavation Grading Work | $2.25 | $2.25 |
| Ohio | 8380 | Automobiel Brake Repair | $2.27 | $2.27 |
| Oklahoma | 0042 | Landscaping | $5.54 | $12.19 |
| Oregon | 9516 | Electronic Repair and Service | $2.08 | $4.39 |
| Pennsylvania | 0963 | Religious Organization | $0.28 | $0.89 |
| Rhode Island | 8742 | Sales Professional | $0.27 | $0.51 |
| South Carolina | 8832 | Medical Office | $0.25 | $0.65 |
| South Dakota | 8742 | Sales Professional | $0.14 | $0.28 |
| Tennessee | 8832 | Ambulatory Health Care Services | $0.13 | $0.22 |
| Texas | 0042 | Landscaping | $2.29 | $7.67 |
| Utah | 8855 | Monetary Authorities | $0.08 | $0.17 |
| Vermont | 8832 | Medical Office | $0.33 | $0.47 |
| Virginia | 8832 | Medical Office | $0.22 | $0.31 |
| Washington | 4103 | Newspaper Publishing | $1.35 | $1.37 |
| West Virginia | 6217 | Excavation Grading Work | $1.56 | $2.57 |
| Wisconsin | 8742 | Sales Professional | $0.49 | $0.49 |
| Wyoming | 3111 | Mining | $3.53 | $3.53 |
Alaska Workers' Compensation Rates
Alaska is considered one of the most expensive workers' compensation states in the country. There are two significant reasons for this: medical costs and types of prominent industries. The remote location of Alaska makes acquiring good health care very expensive, costing more than 72 percent of employee benefits compared to the national average of just over 58 percent.
Not only are medical expenses costlier, the oil and gas industry is the state's biggest GDP provider. This means more workers are involved in high-risk occupations. Just being outdoors in Alaska puts you at risk of bear maulings, moose tramplings, avalanches, hypothermia, flash floods, and cold water shock. These risks all translate to higher rates throughout most Alaskan work classifications.
California Workers' Compensation Rates
While California workers' compensation rates have continued to drop since 2015, leveling at a benchmark of $1.63 per $100 of payroll as pure premium, the state continues to deal with high claims per capita. In 2016, California workers' comp policies paid more than $12 billion in claims benefits. This is more than doubt the $5.9 billion paid by the next largest benefits paying state, New York.
It is estimated that up to 2% of workers' compensation claims are fraudulent. This means California employers are potentially absorbing more than $2.4 billion in claims costs. Combine this with the work done on movie sets, agriculture, and manufacturing, and there is a lot of room for injury and risky work class codes.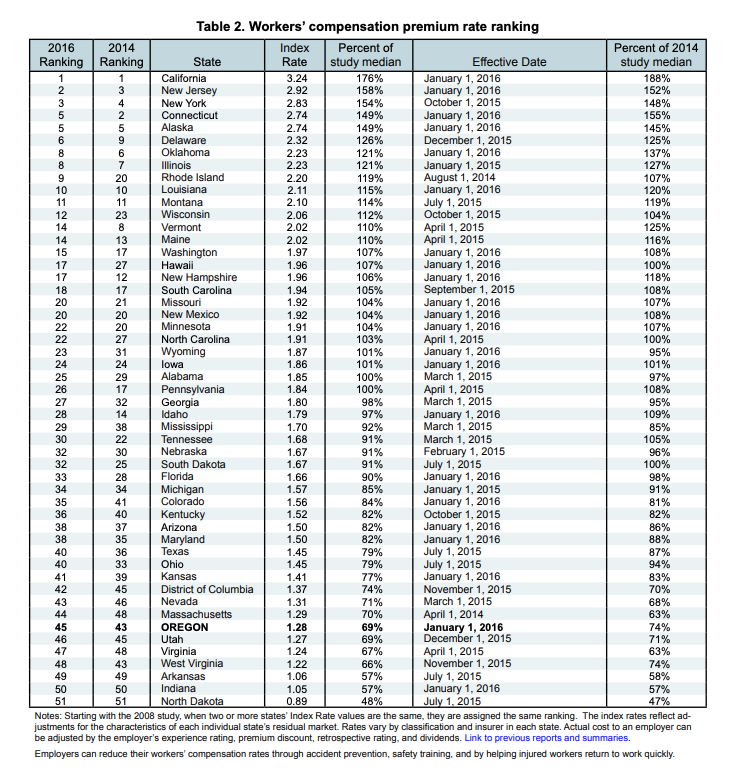 Source: Oregon Department of Consumer and Business Services
Workers' Compensation Audit Expectations
The workers' compensation audit reviews the exact payroll history for the policy period and reconciles the premium based on the results. If a policy was written based on $100,000 of payroll, but the actual payroll was $90,000, the business owner gets a refund of the overpayment. If the actual payroll is $110,000, the small business owner gets a bill for the underpayment.
"In New York, if a business doesn't pay the audit bill for the previous policy period, coverage will be canceled, which will cause the business to violate Section 50 of the Workers' Compensation Law, the provision that mandates coverage. Then, penalties will begin accumulating at a rate of $2,000.00 per day for every 10-day period the business is without coverage. Notably, it can be very difficult to find replacement coverage or have it effective immediately, especially after cancellation for non-payment of premiums. This means the business will likely have a huge cash outlay, just to get back in compliance. That cash outlay might include payments to an attorney like me."

– Nance L. Shick, Attorney, The Law Studio of Nance L. Schick
Every workers' compensation policy requires an annual audit from the carrier. This isn't a state regulation but is instead necessary for carriers to properly rate the risk. Because workers' compensation rates are based on payroll, they are estimates. There is no way for a business owner to know his exact payroll for the year; he may hire or fire someone or extend hours.

Pay-As-You-Go Workers' Compensation Options
Many insurance carriers understand the anxiety that small business owners go through when the audit comes around. It's natural since most business owners growing their business may not realize the new hires will create a very large bill as a result of audit reconciliation. Not paying the premium could result in state penalties for not having the proper insurance coverage. The solution to reducing audit surprises is an integrated payroll-insurance solution.
Pay-as-you-go workers' compensation options are linked to your payroll account. As the payroll adjusts, so does your premium. This automatic feature doesn't eliminate the audit to review work classification and loss history for the next premium period but does level off changes over time. AP Intego offers integrated payroll solutions with pay-as-you-go options to help business owners better manage cash flow.
Workers' Compensation State Funds
Workers' compensation insurance state funds help reduce costs for some companies that might not otherwise get insurance or couldn't afford it due to excessive claims or industry risk. There are 15 states that have a state fund that guarantees workers' compensation coverage to small business owners. Of the 15, four state funds are monopolistic meaning there are no private carriers allowed to sell workers' compensation insurance. The other 11 are called independent states, where private carriers compete with state workers' compensation insurance funds.
Monopolistic Workers' Compensation States
A monopolistic workers' compensation state requires all business owners to obtain workers' compensation insurance directly from the state-run insurance fund. This eliminates competition in these markets so business owners no longer need to shop for coverage. There are four monopolistic states: Washington, Wyoming, North Dakota, and Ohio.
While having a monopolistic state fund can seem straightforward, there are complications that arise from this system. If a small business conducts transactions or has employees within a monopolistic state, he will need to confer with his home-state carrier about his coverage gaps. Some carriers such as The Hartford offer Stop Gap coverage with no additional charge that provides coverage for employees injured in monopolistic states.
Tips on Getting Workers' Compensation Insurance
Here are three tips to help make the workers' compensation underwriting process easier:
1. Create Company Job Descriptions
Job descriptions are important to keep employees on track of expectations and performance. They also play an important role in workers' compensation premium ratings. The job description indicates the core job duties of everyone. This is how each employee's work classification is determined that is used in the workers' comp premium formula.
"Most states require employers to ensure they complete a list of duties before, during, and after workers' compensation claims. These duties include posting workers' compensation laws in plain sight in the place of work, reporting the injury to a workers' compensation board, and making a report of all incidents of injury in their staff. Strict penalties are implemented to protect employees from their employer should they choose to submit a workers' compensation claim.

Some situations, like a minor allergic reaction to food, would not be seen as grounds for workers' compensation. However, a reaction that labels the employee unable to work has the opportunity to be seen as a necessary workers' compensation claim."

– Matt Emanuel, Workers' Compensation Specialist, PolicyGenius
2. Use Integrated Payroll Solutions
Every insurance carrier will conduct a workers' compensation insurance premium audit at the end of every policy term. Reduce surprise bills for underpayment by working with a payroll provider that integrates payroll with the insurance carrier. Workers' compensation then gets paid-as-you-go to reduce the major premium billing because of payroll growth.
3. Go Over Payroll and Employee Classifications with the Underwriter
Premium mistakes are made when a business owner assumes the underwriter knows exactly what people in the organization do. Make an appointment to identify the exempt employees (business owners) in the payroll numbers and confirm that employees are properly classified. Don't be afraid to ask questions to get your workers' compensation premiums correct.
Workers' Compensation Insurance Rates by State Frequently Asked Questions (FAQs)
Workers' compensation insurance by state can be confusing due to state laws and carrier differences. Our mission is to provide you with the best answers to your questions.
What happens if I don't complete the audit or pay the balance?
A small business needs to complete the audit and pay any balance due in order to remain compliant with state workers' compensation laws. Failure to do so will result in existing policy cancellation, potential state violations and penalties, and difficulty in getting a new policy written with another carrier.
Does having employees in multiple states affect workers' comp rates?
A business with employees in multiple states must comply with all states' regulations and labor codes. Workers' compensation rates are defined by the insurance carrier often based on the risk classification broken down by state. This means two employees with the same job duties will have different rates based on the state they work in.
Are you able to get discounts on workers' compensation rates?
Every carrier is the ultimate decider for rates and can offer credits for an uneventful claim history. This is reflected in the experience modification rate (EMR) used by carriers to determine the premium. If the EMR is less than one, this is a reduction in the standard rate for that work classification.
Bottom Line
The bottom line when shopping for workers' compensation insurance rates by state or among multiple states is to understand that there are many factors affecting cost. Every state, every company, and every small business plays a role in defining the final rate and no two companies will have the same premium costs.
If you are looking for help to decipher exactly what your company needs and feel confident in pricing, visit The Hartford. Their workers' compensation experts are there to consider your specific industry and state to find the best solution for you. The application process is quick to complete online, giving you a quote in minutes.