Workers' Compensation Costs By State
The United States Bureau of Labor Statistics (BLS) says private industry employers pay 45 cents per hour worked for workers' compensation or approximately 1.3% of employers' total compensation costs. However, every state runs its program differently, and that causes variations in workers' compensation costs by state. Rates can be as low as 7 cents per $100 of payroll or exceed $80 per $100 of payroll depending on a business' industry, location, and claims history.
Cheapest and Most Expensive Workers' Compensation Rates
The map above shows the most recent data compiled by the National Academy of Social Insurance (NASI). Its report lists Washington, D.C., as having the lowest average workers' compensation rates at 51 cents per $100 of payroll, same as in the 2019 report. Alaska is still listed as the most expensive state at $2.25 per $100 of payroll, down 2 cents from the previous year.
5 Most Expensive Workers' Compensation Rates By State
Alaska: $2.25
Montana: $1.84
California: $1.70
Hawaii: $1.67
South Carolina: $1.66
5 Least Expensive Workers' Compensation Rates By State
Texas: 55 cents
Ohio: 64 cents
(tie) Arkansas, Indiana, and Michigan (tied): 70 cents
Notes: Although not a states, Washington, D.C., has the lowest rates in the country at 51 cents. Average premiums are listed as cost per $100 of payroll.
Biggest Increases and Decreases in Workers' Compensation Costs By State
Several states saw workers' comp rates fluctuate between 2019 and 2020, with Wyoming seeing the biggest difference with a 72 cent decrease. The state with the biggest rate hike was Kentucky, where rates increased from 91 cents to $1 per $100 of payroll. Rate increases may reflect an increase in overall risk or a greater number of catastrophic claims while decreases are often reflections of better work safety protocol and fewer claims.
States With the Biggest Increases
Kentucky: 9-cent increase
Kansas: 8-cent increase
Louisiana: 6-cent increase
Hawaii: 5-cent increase
Nevada: 4-cent increase
States With the Biggest Decreases
Wyoming: 72-cent decrease
Montana: 17-cent decrease
Missouri: 15-cent decrease
(tie) Iowa, Florida, and California: 13-cent decrease
Factors Impacting States' Workers' Compensation Costs
There are many reasons for the different workers' compensation rates by state. Probably the most significant factor is that each state governs workers' compensation insurance differently. For instance, some cover nearly every employee, such as Wisconsin, while others exclude large numbers of workers from coverage. One state―Texas―only requires employers to carry workers' comp when they have government contracts.
Each state also regulates how much an injured worker receives in benefits. Alaska covers 80% of a workers' wages if they suffer an injury that temporarily leaves them disabled. Most other states cap wage replacement at 66.67%. How long the benefits last impacts costs too. Massachusetts, for example, stops permanent disability payments after 156 weeks. In contrast, Wisconsin covers certain permanent disabilities for up to 400 weeks and others for a percentage of 1,000 weeks based on a doctor's estimate of the disability.
A state's top industries can also affect the overall workers' compensation costs, especially when the industries have several high-risk jobs. Every type of job is assigned a class code based on the risk of injury by either the National Council of Compensation Insurers (NCCI) or the state's workers' compensation rating board. Each class code is then given a base rate. Riskier jobs tend to have a higher base rate than less hazardous jobs.
Compare Washington, D.C.'s top industry, the federal government, to Alaska's top industry, oil and gas. While not all oil and gas workers have risky jobs, a number of them do, and that increases the likelihood that insurers will have to cover injuries. This often results in higher premiums across a state.
How Workers' Compensation Rates Are Calculated
Class codes and state rates are only part of figuring out how much workers' compensation insurance costs. The other two parts are your payroll and claims history. These three numbers make up the basic workers' compensation formula: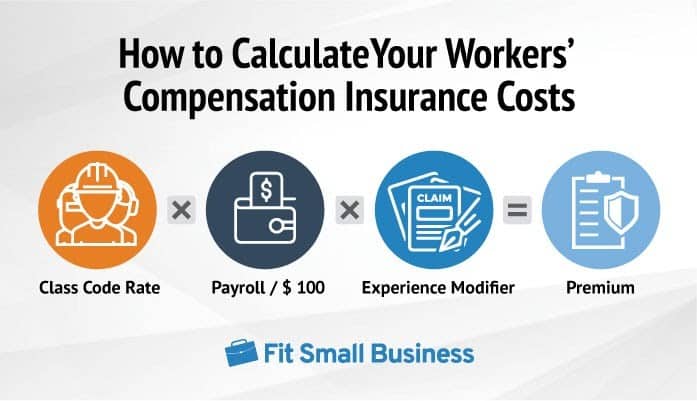 Your experience modification rate (EMR) is a number, created by the NCCI or state worker's compensation ratings bureaus, that represents your claims history. Depending on your state, this number is multiplied by either your business' or your individual employees' class codes to determine your workers' compensation costs. Improving your EMR is just one way to lower your workers' compensation premiums. Other tips include hiring the right people, getting quotes from multiple carriers, and asking for discounts.
Workers' Compensation Trends for 2021
According to the NASI report, there are several key trends to note regarding workers' compensation for 2021. Wages, for one, continue to rise, leading to higher payroll costs being factored into workers' compensation insurance premiums. So, while the overall average rate has gone down for workers' compensation, employer costs continue to rise.
Key data that illustrates these trends are:
3% growth in wages between 2016 and 2018
Covered wages grew 10% between 2016 and 2018
Total paid benefits declined 1.3% from 2016 to 2018
5.01% increase in workers' comp costs since 2014
It is important that employers pay attention to the growth in wages as it pertains to overall increases with expenses like workers' compensation.
Bottom Line
The bottom line when shopping for workers' compensation insurance rates by state or among multiple states is to understand that there are many factors affecting cost. Every state, company, and small business plays a role in defining the final rate. No two companies will have the same premium costs.