A wrongful termination, also known as a wrongful discharge or a wrongful dismissal, is a legal term that describes a situation where an employee was fired and the reason for the firing appears to be against the law. Specifically, wrongful termination usually involves a breach of the employment contract or breaks federal or state employment discrimination law. Wrongful termination and the lawsuits that could come from them are scary topics for small business owners.
Please note that this article contains general information, and we suggest consulting your own legal professional for any wrongful termination situations. In this article, we explain this intimidating issue, including:
Need help with firing an employee the right way to avoid wrongful termination? Gusto provides you with an HR consultation to help you avoid problems with termination and other HR issues. Click here for a free demo.
What a Wrongful Termination Is
Wrongful termination law provides the rules for determining whether the firing of an employee was proper, and the remedies available if it was not. In plain English, these cases focus on whether the employer was free to let the employee go, or if the termination violated a contract or was against the law. Most cases are based on federal labor laws that prohibit discrimination, like the Americans with Disabilities Act or others like it.
It's important to note that, while discrimination in the workplace based on sex, race, or other protected classes can certainly lead to wrongful termination, discrimination claims are usually classified as a separate legal topic known as Title VII law. This is because they are based on the discrimination issues covered by Title VII of the Civil Rights Act of 1964. However, there is a lot of crossover, as you will see throughout this article.
Wrongful termination claims are subject to a statute of limitations. This means that if an employee wants to file suit, they need to do so quickly or the issue can't be taken to court. Different kinds of claims and processes have different timelines (like a breach of contract versus a medical leave lawsuit), but in general, 2-3 years after termination is the longest statute.
State Laws & Wrongful Terminations
In general, state law bows to federal labor laws in wrongful termination suits. That said, some states are more stringent than others on what counts as "implied employment contracts," which can make you liable for wrongful termination if breached.
We recommend, regardless of your state, to be careful about the employment agreements or employment contracts you sign with any employee or contractor. While our article linked above has a great template, we recommend that you have your attorney look at any employment agreements or contracts you want signed prior to the other party signing them to make sure you are compliant and protected in your state.
Common Wrongful Termination Situations with Examples
Overall, there are 8 common wrongful termination situations. They are:
1. Discrimination
Federal anti-discrimination laws protect employees from being fired or disciplined with respect to employment on the basis of race, color, national origin, sex, religion, disability, pregnancy, and age. State laws may mirror these categories of protections and, in some instances, be tougher than the federal laws and include gender identity, sexual orientation, and financial status. Here's an example of a training outline to prevent discrimination.
Discrimination Example: James works at a large manufacturing plant that has fallen on hard times. The plant announces that of the 80 jobs in the factory, 20 of them will be laid off. James is laid off. James notices that of the 20 people laid off, 18 were African American and 2 were Caucasian. Among the remaining 60 employees, there are no African Americans left.
2. Breach of Contract
An employee who is given a contract of employment, either written or implied, and is fired or let go in violation of that contract, may be able to bring a claim for wrongful termination. This can also be known as breach of good faith and fair dealing, or breach of implied promises. This can happen when you do not have a clear employment agreement in place, which we talk about below.
Breach of Contract Example: Katie is a graphic design contractor for a business. She makes their logos and does some web design work on a freelance basis. Katie had put in her initial contract that all work would remain her property unless the company were to pay $25,000 at the end of the contract. Her contracted company terminated her contract and, when she asked for the fee or the electronic files for her artwork, the company refused to pay but kept the electronic files.
3. Fraud
Most commonly found in recruitment lawsuits, this is when an employer makes promises that they can't keep. Moreover, these promises of a job, job duties, or a promotion made the employee change their current job or situation in a way to accommodate them, only to have them taken away. This is like a "bait and switch" situation, but on a probably intentional level by the employer.
Fraud Example: Abigail is currently employed and looking for a new job as a Marketing Manager. She has been actively interviewing and receives a job offer from a company that she sees as a brighter future with more money and a better title. Abigail puts in her 2 weeks, then starts her new job. On her first day, Abigail is told her job was restructured and that she will now be a Marketing Coordinator and her pay will be less than the job she left.
4. Retaliation
If an employee is fired because they reported the employer to a governmental body for violation of a safety law, whistleblower law, or something of the like, an employer cannot fire them for reporting them, even if the report is not true. This would be called retaliation and is commonly thought of in sexual harassment cases in recent years.
Retaliation Example: Once when I was an HR Manager, an employee reported us to OSHA because we had a bedbug problem (gross, I know, but common in call centers). We had been taking every precaution to handle the measure from weekly sprayings at night to requiring all bags be off the floor while trying to avoid invading employees' personal space and their ability to work. If we had attempted found out who reported us and fired them, that would have been retaliation.
5. Illegal Acts
If an employee refuses an employer's order to perform an illegal act and is then fired, there maybe a wrongful termination suit.
Illegal Acts Example: Callie is an HR Manager at the manufacturing plant from example 1, (the discrimination example.) Her boss orders her to do the layoffs and she notices the same thing James does— an inordinate number of the layoffs are African Americans only. She asks her boss about it and he tells her to keep quiet and do her job or she will be fired. She refuses and is fired along with the layoffs.
6. Time Off Dismissal
An employee who is terminated for taking time off that's protected by law, like voting or military service (and in some states, even children's school conferences), can file a wrongful termination suit. In addition, the FMLA protects women on maternity leave.
Time Off Dismissal Example: Jack is in the Army Reserves and is called to a mandatory 3 day camp for a refresher course as part of his service. Jack tells his workplace about 2 months in advance about this time off. The week before he is set to go, his manager lets him go and says that the business is doing layoffs and since Jack needs so much time off, he is the one to go.
7. Not Following Policies Equally
An employer who has not followed specific disciplinary and termination policies that are in place can also face a wrongful-discharge suit. For example, if an employer has a handbook that states that employees are entitled to receive two written warnings for misconduct or poor performance before they are terminated, and an employee is terminated after receiving only one verbal warning, that employee may be able to successfully bring a wrongful discharge action.
Not Following Policies Equally Example: Joan runs a restaurant and her GM has called in sick, leaving her working with a team of waiters and waitresses she does not know well. Joan meets Toby and immediately does not like him. Joan overhears Toby swear at a cook, and she immediately pulls him into her office and fires him for being disrespectful and violating company policy. Toby tells her that 2 people, Tiffany and Jane, did the same thing last week and were only written up. Joan tells him he's still fired.
8. Constructive Discharge
If an employee quits, they can still sue you for wrongful termination if a court finds that they had no other option due to a drastic change in environment, job duties, or other reasons like a hostile environment. We talk more about this in the section below.
An Employee Can Quit and Still Sue For Wrongful Termination
According to the American Bar Association, employees can still sue a company even if they quit and even in at-will states (which is every state but Montana). Why? Because if the employer is found to have poked and provoked the person into quitting, then it can be interpreted as what's called a constructive discharge.
Let's take an example of a potential constructive discharge case:
Patty works as an Executive Assistant for ABC Consulting Firm. Patty assists the CEO and COO every day, and she believes she is doing a good job. She's never had a performance review, and they have given her a small raise most years that she's been there.

One day, she comes into work to find a new Executive Assistant, Grace, has joined the team. She is told to move her things to a new desk, and that she will now instead be working under Grace. 2 weeks into the new arrangement, Grace tells Patty that her title has now changed to Administrative Assistant and that she also has new, less important job duties than the Executive Assistant role. Patty tries to meet with the CEO and COO, but they tell her Grace is now in charge. 2 weeks later, Patty quits after feeling confused, frustrated, and unsure of if she is going to be fired at any moment.
Do you see why this could be interpreted as a constructive discharge? Patty felt like she had to quit. If elaborate that Patty and Grace are 2 separate races, or perhaps Patty is 30 years older than Grace, we could be looking at even a more complicated situation with EEOC violations of protected classes.
A good resource for more details on each type of discharge can be found on NOLO.
Most Common Wrongful Termination Charge? Retaliation
The most commonly reported employment discrimination charge in 2016 was retaliation, according to the EEOC. This is when an employee is wrongfully terminated in "retaliation" for submitting charges against an employer.
It should be noted that multiple violation types can be reported in a single charge. So retaliation is often reported alongside other violations, like age or race discrimination.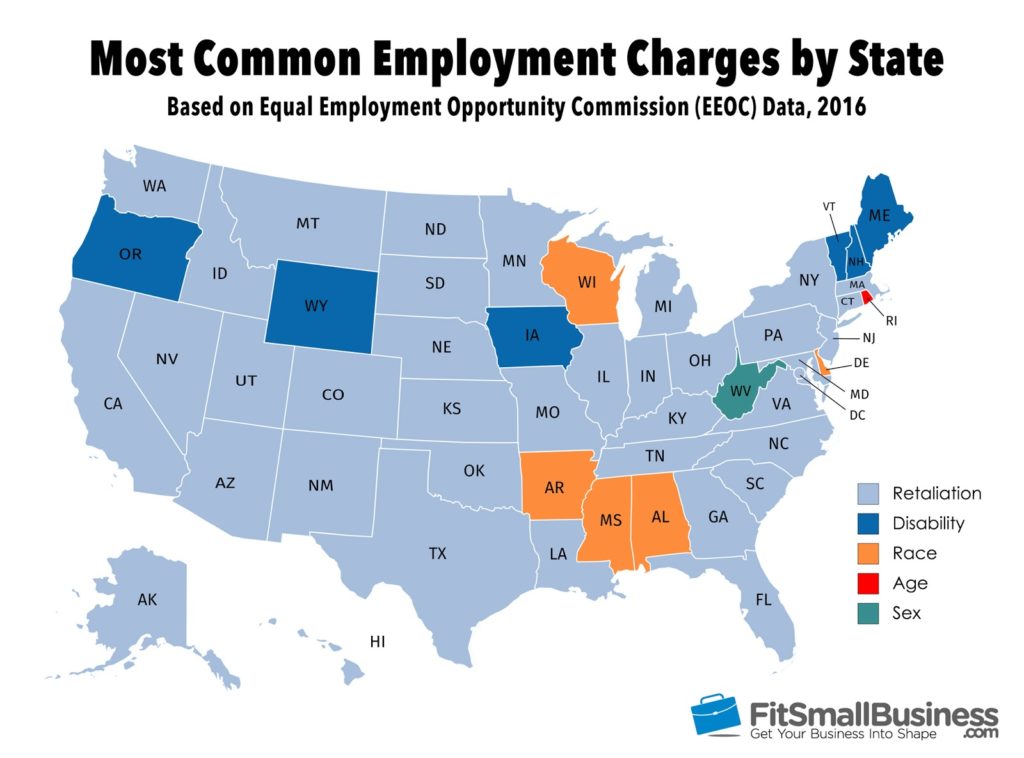 How to Fire Someone the Right Way
When an employee starts to underperform or violate company rules, their boss should be there, coaching and counseling them. If they continue failing, they should feel significant pressure to improve by way of performance reviews and employee write ups. There should be no mincing of words. Using direct, respectful, yet blunt language is advised.
On the day an employee is fired, they should never be surprised. If they are, you could be looking at a wrongful termination lawsuit, especially if there are hazy circumstances, questionable documentation… anything that would look weird, potentially odd, or questionable to an outside party (like an attorney).
We walk through how to fire an employee the right way in detail in this article. We also have resources for you regarding severance pay, termination letters, employee write up forms, and severance agreements.
Let's talk about how we can protect your small business from liability for wrongful termination in the first place.
Liability for Wrongful Termination & Your Small Business
There are some really simple things you can put into place in order to avoid a wrongful termination situation at your small business, and guess what? We have guides with free templates for all of them:
On top of all of these things, you can also protect your business with insurance meant for these kind of situations.
What's Employment Practices Liability Insurance (EPLI)?
Going to court over a wrongful termination suit is expensive, it's that simple.
XCELHR provides some additional data in its blog article on the topic:
The average cost of an out-of-court settlement for employment related cases is $40,000.
67% of employment cases result in a judgement for the plaintiff when taken to litigation.
6 out of 10 employers have faced an employee lawsuit within the last 5 years.
The average defense cost for an employment related lawsuit (through trial) is $45,000.
The median compensatory award for employment practices liability insurance cases is $218,000 (cases that went to court and the business lost).
This is where Employment Practices Liability Insurance (EPLI) can come into play. If you are concerned about your small business being liable for wrongful terminations, or just want to feel more protected, you might want to look into EPLI.
EPLI costs are hard to estimate because it varies by industry, company size, and location. You can try to get a few quotes from these providers to compare:
We saw a few unverified sources around the web implying that it costs $4,000/year for a small business, but it was hard to find the actual root of that estimate.
What to Do If You Are Sued for Wrongful Termination
If you are served papers for wrongful termination, you will want to immediately consult your attorney for advice. You will then, most likely, want to cooperate as much as possible with the investigating authority. Follow our 5 steps below if you are served with a wrongful termination suit:
5 Steps to Take If You Are Served With Wrongful Termination
1. Get an attorney
First and foremost, as soon as you find out about this, you will want to consult your attorney or find one. For this type of lawsuit, you will want an attorney who is specialized in representing small businesses and is an expert in employment law.
If you aren't sure where to find one, we recommend using Yelp, asking fellow business owners for a recommendation (without telling them why), or ask your accountant. Chances are that you can find one within your network very quickly. Call them as soon as possible and get on their calendar.
2. Collect documents/evidence as directed 
Then, collect and document the evidence required by the opposing attorney or government body as soon as possible, correctly and thoroughly. Make sure you have more than 1 copy of everything since you will likely want 1 copy for yourself and your legal team and 1 for the opposing side.
3. Cooperate with authorities 
Similar to when you get pulled over for speeding- just cooperate. Things will go much more smoothly if you stay in composure, stick to the facts, and cooperate fully with all the events as they unfold.
4. Keep it confidential
Regardless of the situation and how unbelievable it may be, this is a situation that you will want to keep completely confidential between yourself and your attorney. Do not spread gossip, tell other employees what is going on, or talk about it outside of the workplace. Even if you hear that the former employee is telling people about this issue— you will want to stay classy and quiet to preserve your personal and professional reputation.
5. Stay positive 
This is going to be a stressful time. Make sure that you take care of yourself and take time to relieve stress by exercising, sleeping well, or doing your favorite hobby. You will need to keep a positive attitude, and you still have a business to run after all— remember that this will pass!
This is when having organized personnel files and clear documentation on all events avoids any he said/she said and can save you a number of headaches if someone ever were to file a suit, be it frivolous or with merit.
The Bottom Line
Wrongful terminations lawsuits can be a scary topic for a small business owner, but you should be informed. We highly recommend that you implement a clear performance management system, an employee handbook, and have a proper employee onboarding process with employment agreements in place to mitigate any risk you have for wrongful terminations. If you still feel like you might be at risk, you can also consider purchasing employment practices liability insurance (EPLI).
And don't forget to check out Gusto for help with termination and other HR headaches. Click here for a free demo.