Wyoming workers' compensation is governed by the Department of Workforce Services, Division of Workers' Compensation. The state requires almost every employer to provide coverage for their employees, with only a few occupations specifically excluded from coverage. Employers can only purchase workers' comp insurance from the state, and they pay approximately $1.28 per $100 of payroll.
What Are Wyoming Workers' Compensation Requirements?
Wyoming is one of four monopolistic states, which means eligible Wyoming employers must purchase workers' compensation insurance from a state fund. Typically, they need to have a policy the moment they hire any employees, including full- and part-time staff, minors, and immigrants who are authorized—or who the employer reasonably believes to be authorized—to work in the United States.
Who Needs Workers' Compensation Insurance in Wyoming?
Wyoming law states that employers need workers' compensation when they're in extra-hazardous industries and occupations. However, the list of extra-hazardous occupations is so long that nearly all employers end up having to get coverage.
Ultimately, it's easier to list some of the occupations employers aren't required to cover:
Independent contractors
Casual laborers
An employer's spouse or dependent living in the employer's household
Most professional athletes
Domestic employees
Private duty nurses working for a private individual
Volunteers for certain organizations
Most adult and juvenile prisoners and probationers
Most elected officials
Day care providers and babysitters whose wages are subsidized by the Wyoming Department of Family Services
Additionally, business owners are generally exempt from workers' comp requirements in Wyoming. This includes sole proprietors, corporate officers, partners in a partnership, and limited liability company (LLC) members as well as spouses and dependents living in the business owner's household. Business owners can opt into workers' comp by calling the Wyoming Department of Workforce Services at 307-777-6763 and requesting the required written affidavit.
Where Can I Get Wyoming Workers' Compensation?
To get workers' compensation insurance in Wyoming, employers must first register their business with the state through the Department of Workforce Services' online portal. This sets up an account where business owners can apply for both workers' compensation and unemployment insurance. This application requires employers to provide information about:
Their business operations
Their products or services
The percentage of sales generated by each product or service
Their federal identification or Social Security number
The date they plan to hire workers
Their estimated Wyoming payroll
Out-of-state employers with Wyoming employees have to complete and mail in a similar paper application plus a separate questionnaire.
How Much Does Wyoming Workers' Compensation Insurance Cost?
According to the most recent data from the National Association of Social Insurance, employers pay about $1.28 per $100 of payroll for their workers' compensation insurance. Wyoming bases its premiums on a combination of the business' total payroll, job risk, and claims history.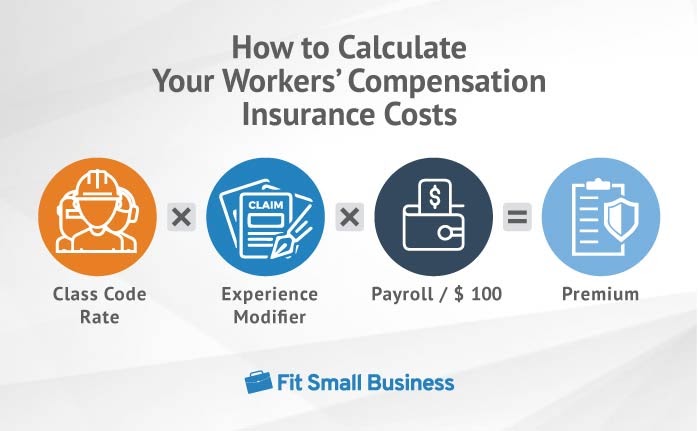 The state fund assigns a class code with a base rate to each business to represent its main industry and the corresponding risk. The base rate may be multiplied by an experience modifier, or e-mod, which shows how the business's claims history compares to other similar businesses. Typically, a Wyoming business can apply for an e-mod after three years.
Wyoming Workers' Compensation Cost Example
Wyoming businesses typically receive a class code that matches its primary operations. However, some occupations within a business may qualify for a separate class code. Two common examples are outside sales and clerical work. Let's look at how that impacts your workers' comp costs in Wyoming.
Let's say you're a food manufacturer (class code: 311000) with one office worker (class code: 000010) who earns $35,000 per year and one person in outside sales (class code: 000020) making $50,000 per year. The rest of your payroll is $85,000. When you look up your base rates, this is what you see:

| Class Code | Rate |
| --- | --- |
| 000010 Clerical-NOC | 35 cents |
| 000020 Outside Sales | $1.22 |
| 311000 Food & Beverage Manufacturing | $3.76 |
This means your workers' compensation premium looks like this:
| | |
| --- | --- |
| Clerk ($0.35 x $350) | $122.50 |
| Sales Rep ($1.22 x $500) | $610.00 |
| Plumber ($3.76 x $850) | $3,196.00 |
| Base workers' comp premium | $3,928.50 |
This is just your starting rate. It could go up or down depending on your experience modifier and any discounts applied to your coverage.
Wyoming Workers' Compensation Insurance Discount Programs
Wyoming offers workers' compensation discount programs to help business owners save on coverage. To be eligible, an employer must be registered and in good standing with both Wyoming Workers' Compensation, Unemployment Insurance, and the Wyoming Secretary of State. Discounts are applied to workers' compensation base rates.
Drug & Alcohol Discount: Employers can earn a 10% base rate discount per year for establishing a drug-free workplace.
Safety Discount: Wyoming offers discounts of 3.33% to 10% to employers that have a documented health and safety program and meet other criteria.
Health & Safety Consultation Discount: Working with a safety consultant can result in discounts of 3% to 10%.
Wyoming employers can also set up work safety contracts to help create safety programs. Employers can apply for funding of up to $10,000 per year. While not a discount, this money can go a long way toward reducing claims and workers' comp costs.
What Does Wyoming Workers' Compensation Cover?
Like most states, Wyoming provides workers' compensation benefits to employees who suffer a work-related injury or illness regardless of fault. These benefits include:
Medical benefits: Wyoming covers injured workers' medical expenses like hospital bills. However, Wyoming doesn't cover personal items like clothing, footwear, or vitamins.
Travel benefits: When injured workers have to travel more than 10 miles for treatment, they can be compensated for their travel. Requests must be filed within one year of travel.
Indemnity benefits: Employees who are disabled after a workplace injury receive a portion of their salary as compensation. How much they receive depends on the degree of their disability. For instance, an employee who is permanently and totally disabled receives either two-thirds of her actual monthly wage or the state's average monthly wage for 80 months.
Vocational rehabilitation: Workers with permanent, partial disabilities can get vocational rehabilitation through the Wyoming workers' comp system. This can include placement services, job training, and career counseling. Injured workers have to choose either permanent partial disability benefits or vocational rehabilitation, not both.
Death benefits: The spouse and dependent children of a Wyoming worker who dies from a work-related injury can apply for death benefits based on a percentage of the employee's wages at the time of death for 100 months.
Because Wyoming workers' comp is a no-fault system, employees who file claims and receive benefits typically cannot sue their employers for their injuries. There are some situations, however, where employees can sue. Unfortunately, Wyoming workers' compensation insurance does not include an employer's liability coverage.
What Are the Penalties for Not Having Workers' Compensation in Wyoming?
Wyoming employers who either fail to obtain workers' comp or who get coverage but then fail or refuse to pay the premium can be made to pay the state the amount awarded to an injured employee in workers' comp benefits. Additionally, an employer who fails to pay premiums by the due date can be charged 2% interest every month until the Division receives the original premium plus accrued interest. If premiums are not paid within 30 days of the due date, the Division can sue.
How to File a Workers' Compensation Claim
Once an employer is notified that a worker has been injured, the employer has 10 days to file a Wyoming Report of Injury form with the Wyoming Department of Workforce Services, Workers' Compensation Division. This form must have the injured employee's signature because that constitutes permission for the release of medical records.
Additionally, employers should:
Perform an internal investigation
Include information from the internal investigation with the Report of Injury form
Notify the claims analyst of any suspicions that the injury isn't work-related
Notify the Division if an injured employee will miss more than three days of work
Wyoming Workers' Comp Deadlines
Some important workers' comp deadlines in Wyoming are:
Workers have 72 hours after an injury becomes apparent to report it to their employers
Employers must submit a Report of Injury within 10 days of an injury becoming apparent
Claims must be filed within one year of the discovery of the injury
Claims for occupational disease must be filed within one year of the diagnosis or within three years of the last exposure, whichever is later
Wyoming Workers' Comp Resources
Contact information

Wyoming Department of Workforce Service
Workers' Compensation Division
P.O. Box 20207
Cheyenne, WY 82003
DWS-AskMeWC@wyo.gov
307-777-5476
Contact information for field offices also available online
Online portals

WYUI: Register your business with the state and apply for unemployment and workers' compensation insurance
The PIERS System: Access case and billing information

Key forms

Request for Certificate of Good Standing: Requests for a certificate demonstrating a business has both workers' comp and unemployment insurance must be made in writing
Employer's Notice of Change: Employers use this form to notify the state of a change of address, name, telephone number; addition or change of federal ID number; change of account status; sale of a portion or all of the business.
Wyoming Report of Injury: Employers have 10 days after becoming aware of an occupational injury or illness to submit this form to the state.
Bottom Line
By paying for medical bills and lost wages, Wyoming workers' compensation insurance protects both employees and employers. This coverage is only available for purchase directly from the Wyoming state fund.