It may not surprise you that YouTube is the king of video on the internet. What you may not realize, though, is the sheer scope of YouTube's influence today.
The YouTube stats below offer a compelling picture of why so many people, often called YouTubers, are drawn to post videos on the platform. It's simply one of the best ways to get noticed in a world that's eager to view great videos on thousands of topics, including entertainment, business, social issues, gaming, and how-to content.
1. There Are More than 2 Billion YouTube Users[1]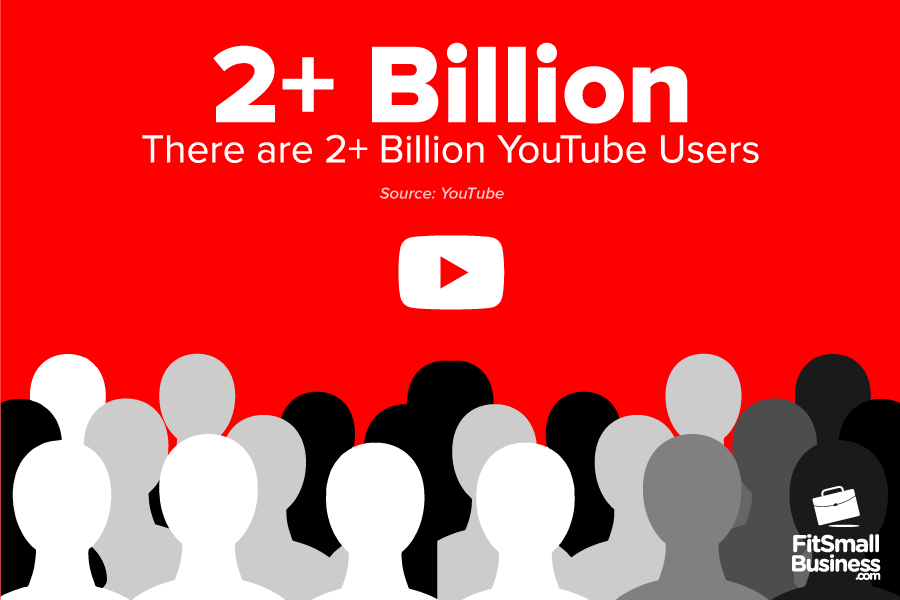 There are nearly 7.8 billion people on earth; 2+ billion are YouTube users. This means that more than 25% of people in the world have used or are using YouTube. If you want to get your message out via video, there's simply no other platform that even comes close to YouTube's reach.
2. Total YouTube Views: 1 Billion Hours Daily[1]
Every day, 1 billion hours of videos are watched on YouTube. Think about that. One billion hours—day in and day out. This YouTube statistic speaks to the ongoing popularity of this video-based social media platform.
According to Statista[2], there are two top reasons people visit YouTube. The first is to connect with brands, companies, and retailers. The second is to follow celebrities and prominent figures — including YouTubers, a rare few of whom have become multimillion-dollar-earning internet stars. Other popular reasons people visit YouTube is to access how-to videos, communicate with friends, and stay up-to-date about societal topics.
3. YouTube Is the Most Downloaded Smartphone App in the U.S.[3]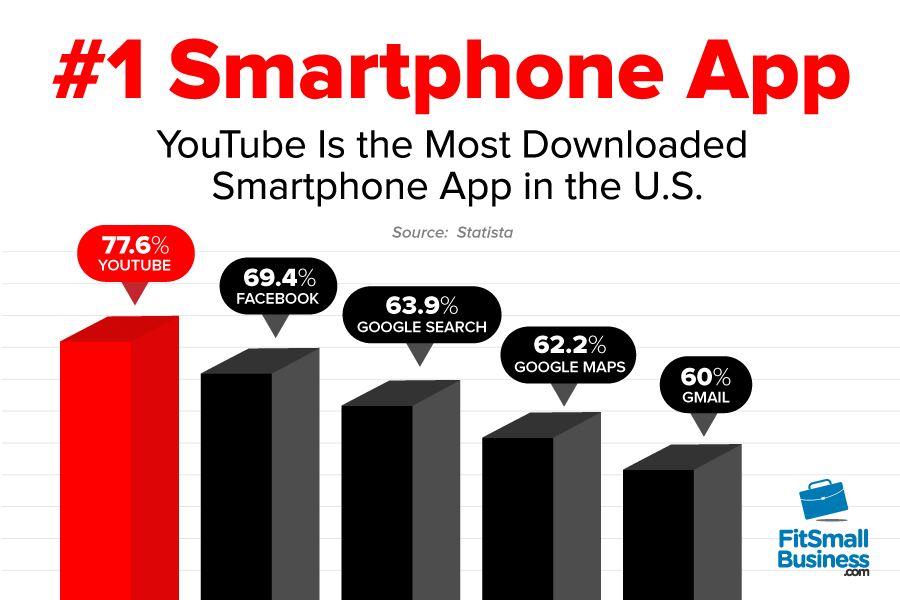 YouTube is the most downloaded smartphone app in the United States. In fact, 77.6% of iOS and Android users downloaded the YouTube app to their phones.
In case you're wondering, the second most downloaded app is Facebook and the third is Google Search, while Google Maps comes in at No. 4 and Gmail at No 5.[3]
4. More than 58% of All Internet Users Visit YouTube[4]
YouTube usage varies by age group. Internet users aged 56+ have the lowest YouTube usage rate at 58%. That means more than half of these internet users go to YouTube regularly.
The highest percentage of YouTube users are 15- to 25-year-olds; 81% of this group visit the site. Seventy-one percent of 26-to-35-year-olds visit YouTube, while 66%+ of internet users aged 36 to 55 use YouTube.
The good news for current and aspiring YouTubers is that no matter what age you'd like to reach, you'll likely find your audience already on YouTube. Those targeting younger viewers will find the most viewers already on YouTube.
5. Most — 70%+ — of YouTube Videos Are Watched on Mobile Devices[1]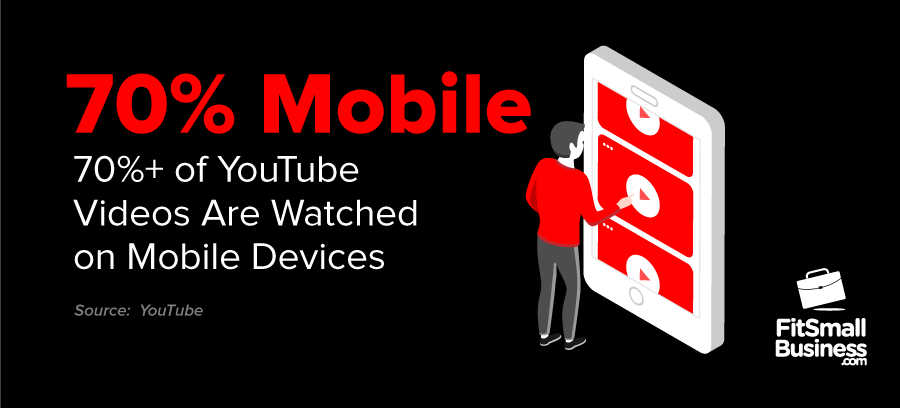 When you're a YouTuber creating videos, keep mobile foremost in mind. That's because more than 70% of all YouTube videos are watched on mobile devices. This YouTube stat matters because you need to think about the environments that people might be watching your videos.
Whether someone is viewing a how-to video or an entertaining video, they're likely not sitting at a desk with a big screen in front of them. Their viewing screen is likely no bigger than 3" by 6" That means you don't want to have a lot of small details in your YouTube videos, as they won't show up well.
6. The Highest Paid YouTuber Earned $26 Million in 2019[5]
Eight-year-old Ryan Kaji was the highest-paid YouTuber in 2019, raking in a cool $26 million. Ryan's videos began with him opening new toys and catching his hilarious reactions, though his video subjects have now expanded to include conducting science experiments. He also has a toy line, a clothing line, and a new show on Nickelodeon.
Ryan is the exception when it comes to what YouTubers earn. The truth is, some YouTubers don't get paid anything while a few elite YouTubers earn well into the millions from their work on the social media channel.
YouTube pays between 25 cents to $5 per 1,000 video views. The reason for the large disparity is that some videos offer a greater opportunity for YouTube to make money through advertising, and thus YouTube pays higher commissions to YouTubers for those video views.
According to research by Mathias Bärtl[6], YouTubers with 1.4 million views per month will net less than $17,000 a year from advertising revenues through YouTube. However, the more views a video receives, the more opportunity there is for making money not only through YouTube advertising, but also through sponsored posts and related endeavors such as creating product lines, courses, music, and books.
7. With 124 Million Subscribers, T-Series Is the Most Popular YouTube Channel[7]
The goal of many YouTubers is to create a large subscriber base, after all, lots of followers typically translates into significant success. T-Series, India's largest music label and movie studio, has 124 million subscribers, which makes it the channel with the most subscribers on YouTube. PewDiePie comes in second with 102 million subscribers. Cocomelon -Nursery Rhymes is third with 69.5 million subscribers and 5-Minute Crafts is fifth with 63.3 million subscribers.
If you want to make money as a YouTuber, then you'll want to create a YouTube channel. Basically, your YouTube channel functions as your homepage on the platform. You can add videos, playlists, community, other channels, and about information to your channel homepage. Anyone who sets up a YouTube account can set up a free personal or business channel on the network.
You want people to subscribe to your YouTube channel so that they'll see new videos as they are posted. Building a loyal follower base is key to achieving your business or financial goals on YouTube.
8. With 1.7 Billion in Monthly Traffic, YouTube Was the Most Visited Website in the U.S. in 2019[8]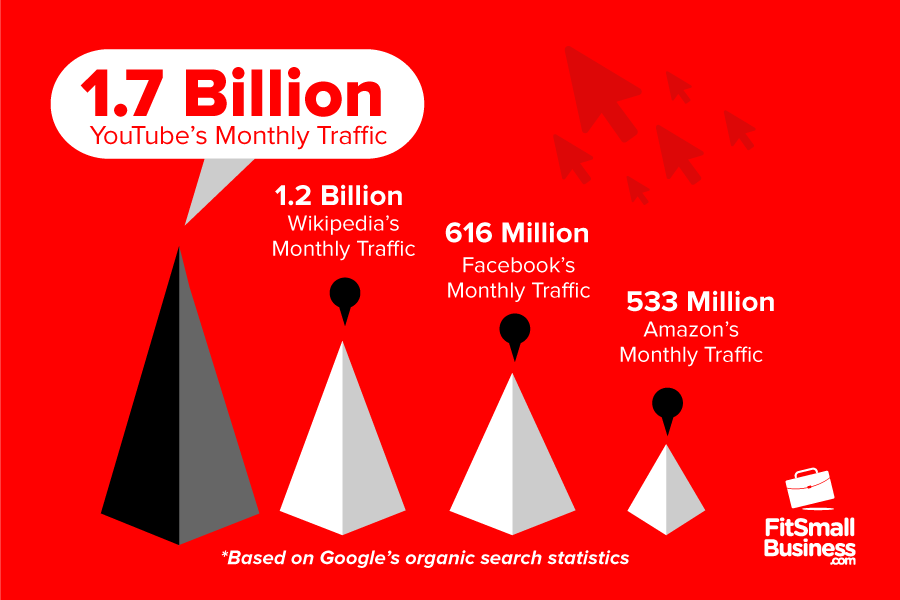 Ahrefs, a popular web traffic monitoring and search engine optimization (SEO) toolset company, studied the most visited sites as measured through Google's organic traffic. YouTube topped the list for the most visited website in the U.S. in 2019, averaging more than 1.7 billion in monthly search traffic. This is just one more YouTube stat that shows just how popular the social media giant is.
9. YouTube Is the #1 Social Media Platform in the U.S.[9]
A Pew Research Center survey found that YouTube was the most popular social media platform in the United States. Given the YouTube statistics we've already reviewed thus far, this probably doesn't come as a big surprise. Clearly, YouTube is not just a place for viewing and posting videos, it's also considered a social media powerhouse.
Most Popular Social Media Platforms in the U.S.
| | Rank | Platform | |
| --- | --- | --- | --- |
| | 1 | YouTube | |
| | 2 | Facebook | |
| | 3 | Instagram | |
| | 4 | Pinterest | |
| | 5 | LinkedIn | |
| | 6 | Snapchat | |
| | 7 | Twitter | |
10. Ten Percent of All YouTube Channels Create 70% of All Videos Posted on YouTube[10]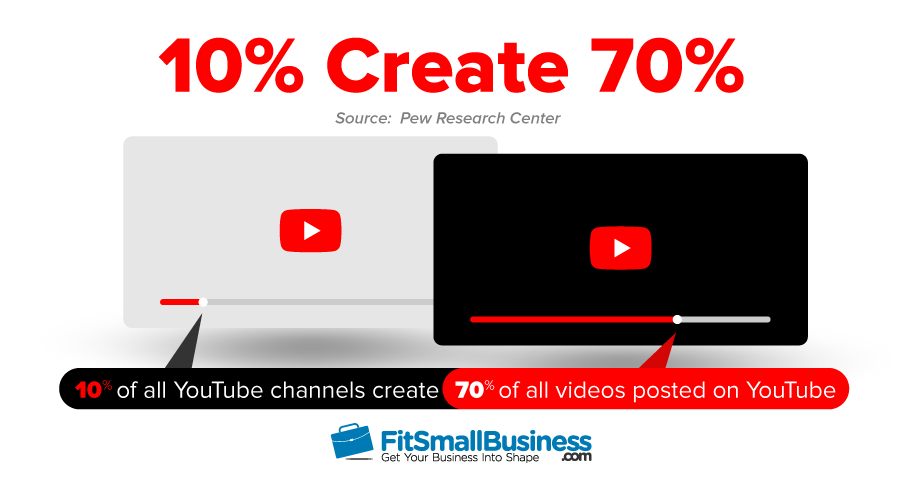 Posting videos regularly is one of the best ways to help ensure your videos are seen. It also helps you build your YouTube following, as people are more likely to follow channels with significant, compelling content. Some YouTube posters have already figured this out. In fact, 70% of videos on YouTube are posted by a relatively small share of YouTube Channels, 10% in fact.
11. There Are 43,000+ YouTube Channels with at Least 250,000 Subscribers[10]
Many YouTubers dream of building a massive subscriber base on YouTube. The good news for YouTubers is that building a large subscriber base is obviously possible; more than 43,000 channels already have at least 250,000 subscribers.
The bad news is that there's a lot of competition on YouTube already. That means if you hope to succeed as a YouTuber you'll need to create unique, compelling videos as well as find ways to market your YouTube videos so they're seen and not lost in the crowd.
12. 51% of YouTube Users Visit the Platform at Least Once a Day[9]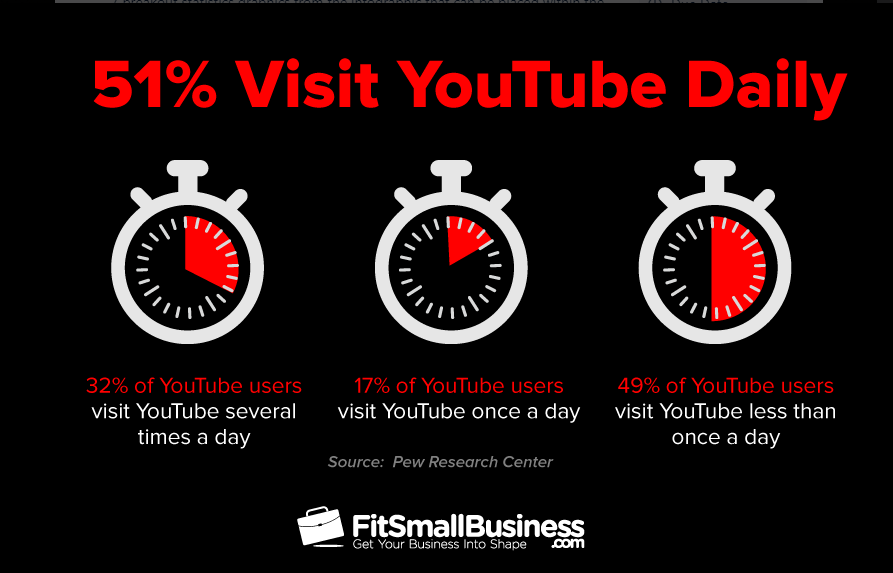 More than half of all YouTube users visit the site daily. Nineteen percent log onto YouTube once a day, and 32% watch YouTube videos multiple times a day. That's a lot of video viewing, which is more great news for YouTubers eager to get their videos in front of a highly engaged audience.
13. According to a Pew Research Study, 78% of Men and 68% of Women Are YouTube Users[9]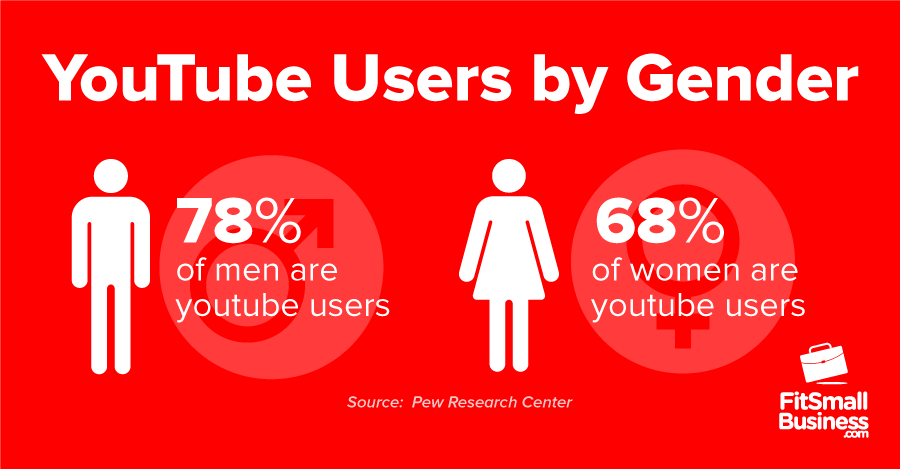 Anyone creating content for social media or video platforms needs to understand the type of audience they can reach through each platform. It turns out that men favor YouTube slightly more than women. This may give you a slight edge if you're creating content that tends to have more male fans.
Key Takeaways from These YouTube Statistics
If you're currently a YouTuber or hope to start posting videos to YouTube soon, these YouTube stats should prove encouraging. YouTube is the top social media platform and receives more organic search traffic from Google than any other site.
While YouTube is more popular with the younger crowds and slightly more popular with men, it still attracts audiences from every age group, both genders, and all walks of life. That means there are plenty of opportunities to create videos for the audience you're targeting.
What these YouTube stats also point out, though, is that YouTube has become an enormous platform where a relatively small minority of video posters command the lion's share of total video views. If you create stand-out videos packed with compelling content that people want, you can launch a YouTube channel that will help you accomplish your goals. Who knows, you may even become a rich and famous YouTuber, or at least earn some money or attention for your business, products, services, or talents.
Infographic

Share this Image On Your Site
YouTube Statistics Sources