How Buyers and Sellers Are Using Zillow in 2017
Every fall my father competes in a fishing tournament in Cabo San Lucas. Dozens of boats and hundreds of people compete for prizes that can reach five figures. You might think that a tournament like this is essentially a level playing field— that luck plays the biggest role in winning the prize. The reality is quite different. The same handful of boats win the grand prize every year. Why? These boats know where the fish are, and more importantly, they know how the fish behave so they can predict where they're going.
To generate more leads on Zillow, you need to think like a fishing boat captain. You need to not only know where your leads are, but predict where they're going and what they're doing there. That means taking the time to understand how consumers are using Zillow in 2017 is the first and most important step to getting more leads and closing more deals.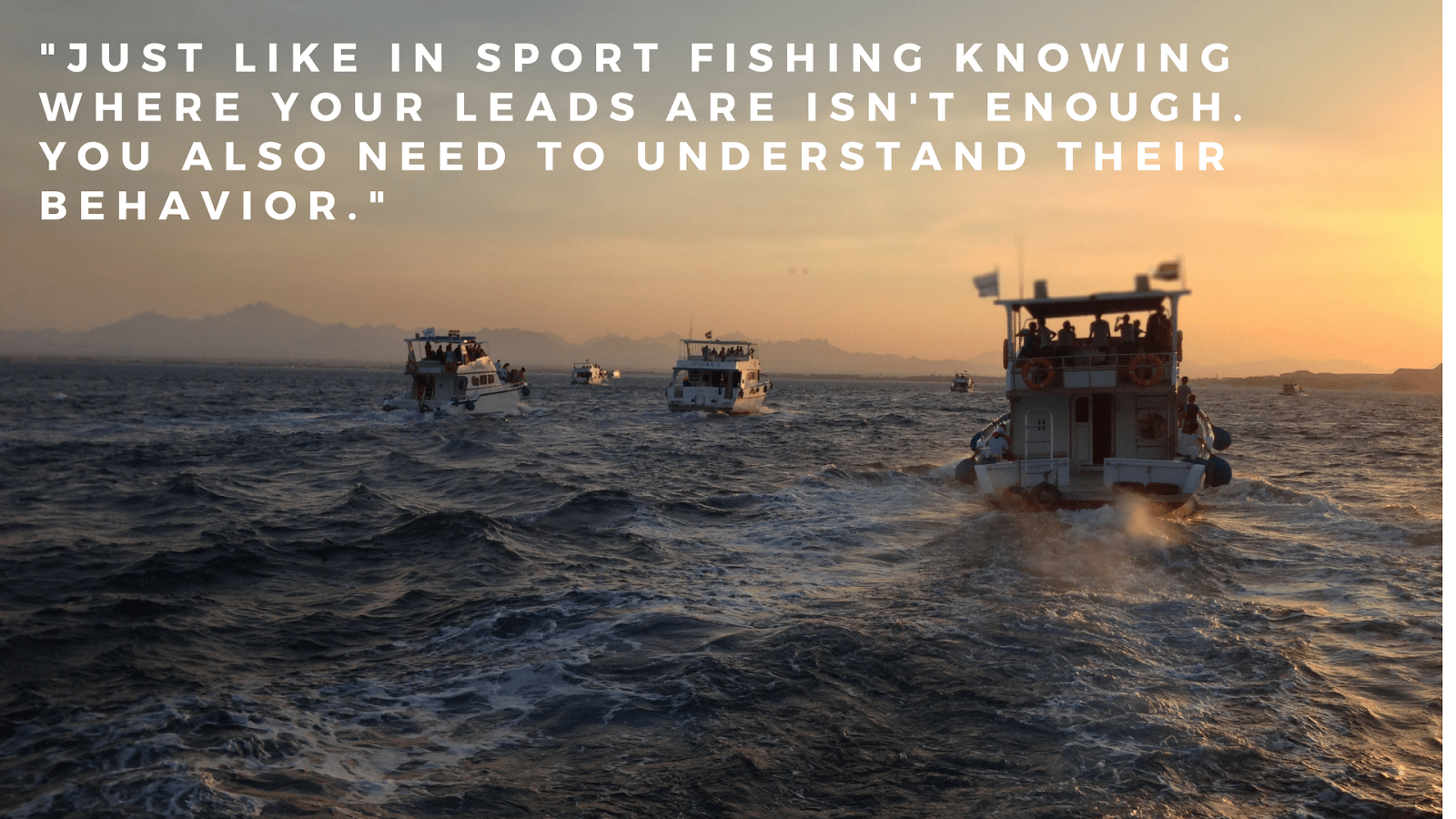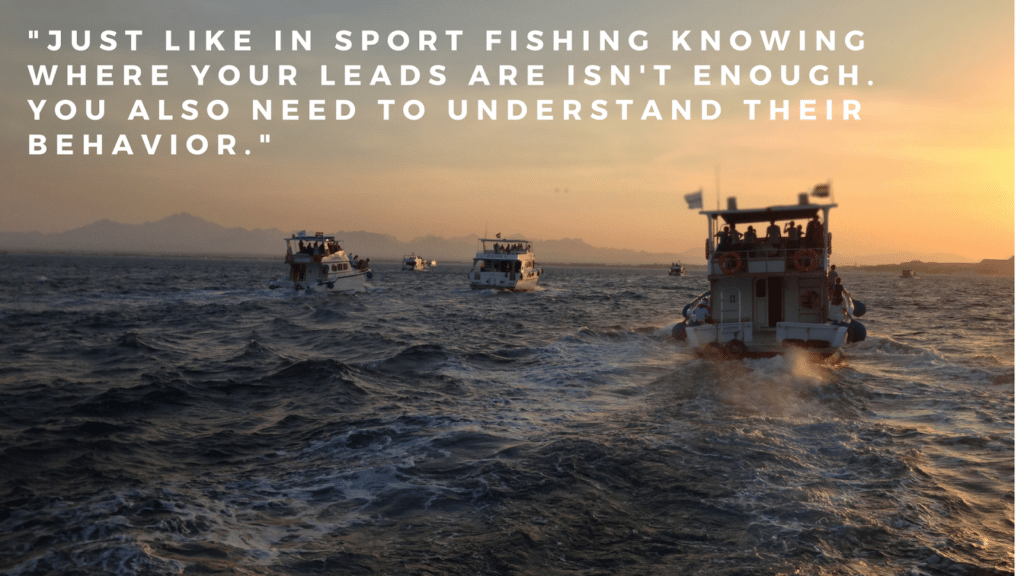 Here's what we'll cover in this first part of our 5-part Zillow guide:
Don't Worry, They Still Need You
Many agents fear the increasing market dominance of listing portals like Zillow. To the casual observer, it sure looks like Zillow is actively trying to destroy the real estate industry in the same way Uber destroyed the taxi industry. In fact, the opposite is true.
According to NAR statistics, in 2001, 69% of home buyers decided to work with a real estate agent to find and purchase a home. In 2016, 88% of home buyers used a real estate agent to buy a home. That means even with the rise of Zillow, consumers not only understand the value agents add to the buying process, but more are choosing to work with us every year. Instead of seeing Zillow as competition to beat, think of it as the perfect place to meet great clients.
How Buyers are Using Zillow in 2017 – Browsing Listings
The main reason home shoppers (and lunch break daydreamers) use sites like Zillow is that it allows them to browse homes for sale all over the country. Instead of hopping from site to site, someone looking for a home can just log into Zillow and see almost literally every home for sale in the country.
Like most big websites, Zillow has tweaked their search results page over the years in order to make the site more attractive and easier to use, as well as increase the amount of time people spend on the site. Before we break down what they're looking for, let's take a look at what a Zillow search results page looks like in 2017. What features do you notice first?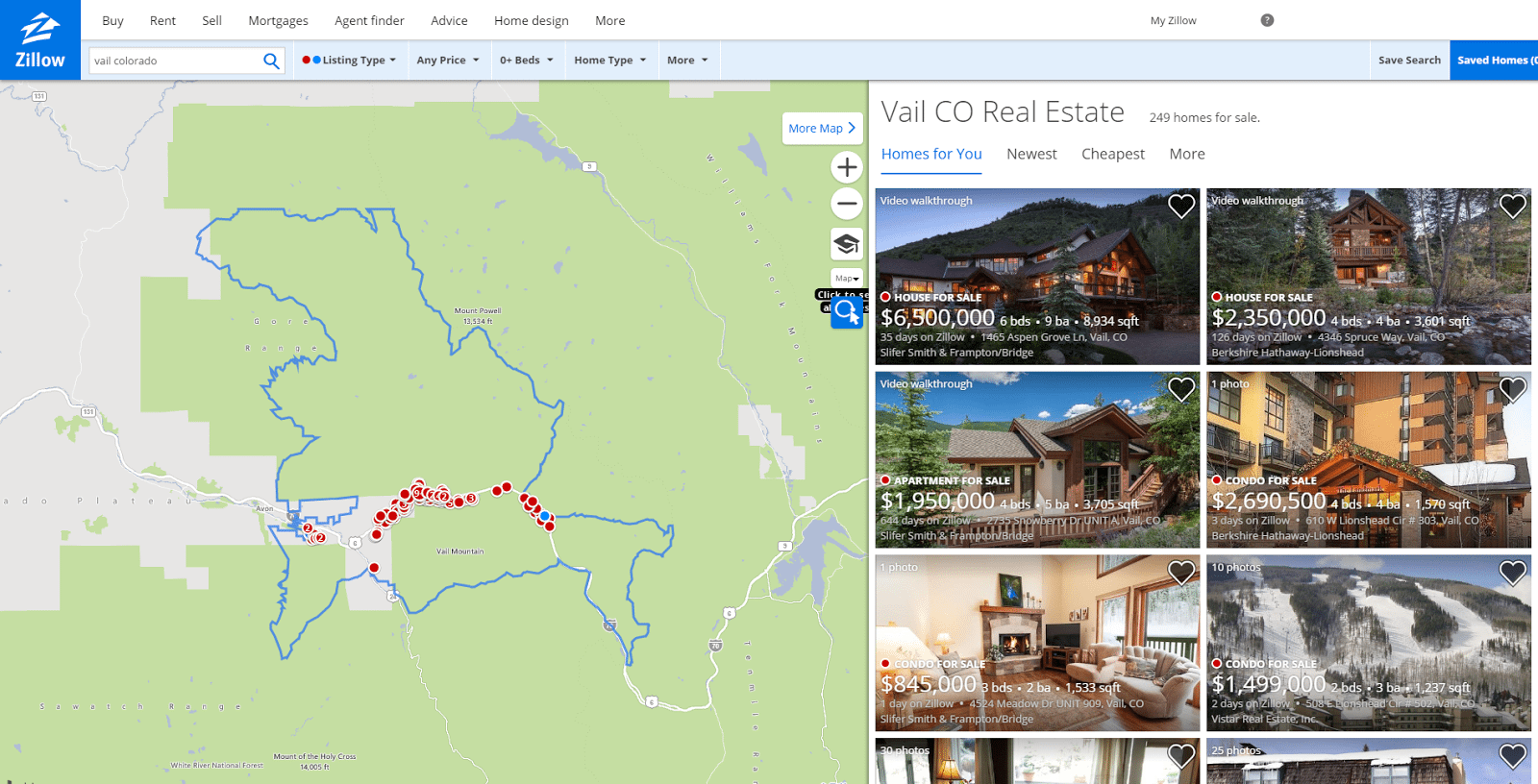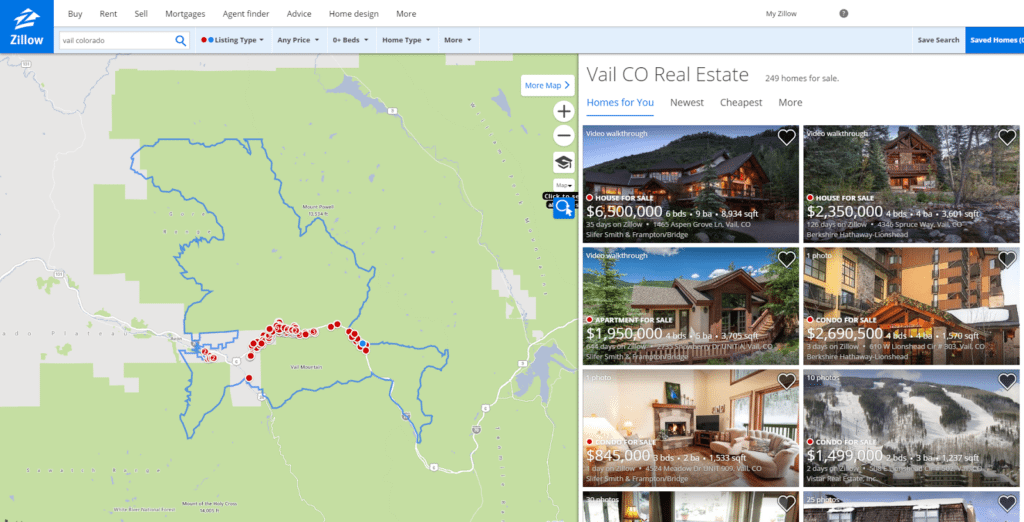 The map takes up almost two thirds of the space on the page. This is very useful for people who know exactly where they want to live, but for people who are just browsing casually or are relocating to the area, the bright, colorful listing pictures are probably much more enticing.
The Types of Buyer Leads Browsing Listings
Most buyer leads browsing listings are going to be in the early stages of their hunt and will still have a use for a buyer's agent. Why? Home buyers, especially millennials, want to get a sense of what's available on the market before making decisions about where to move or how far their money will go. They want to make sure they're educated enough to face a fast talking sales agent or avoid the risk of overpaying for a home they love.
Also, remember that once a buyer starts working directly with a buyer's agent, they will more than likely stop looking at Zillow altogether, or at least stop looking so frequently. After all, they picked an agent they trust to send them fresh listings that fit their criteria as soon as they come in.
This means that yes, the majority of the leads you generate from Zillow browsers are going to be very early in the buying process, or might not have even started taking it seriously yet. You need a system in place to nurture these leads until they're ready to buy. We'll cover this in Section 4 of this course, Using Zillow's Free and Paid Tools to Increase Leads & Conversions.
How Buyers are Contacting Buyer's Agents While Browsing Listings
The main way that most home browsers contact agents on Zillow is through requesting a showing of a specific listing. When on an individual property's listing page, buyers are given the choice of contacting just the listing agent, one of the Zillow Premier Agents listed below them, or everyone in the sidebar. Here's what that list looks like: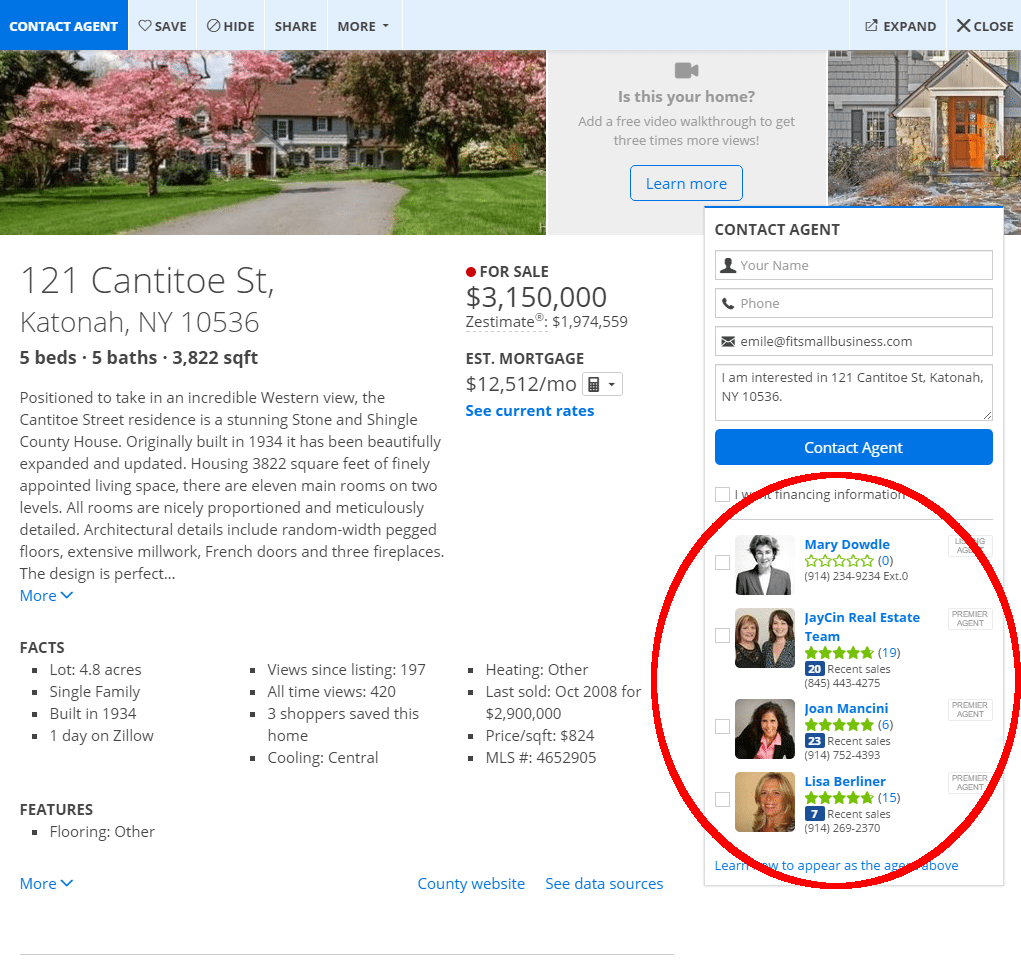 As you can see, the listing agent (in this case Mary Dowdle) comes first on the list of agents in the sidebar, followed by three Zillow Premier Agents. Zillow Premier Agent is Zillow's advertising program–learn more about Zillow Premier Agent here. The most prominent thing on the list are the number of recently sold listings (in the small blue square) and the number of reviews (the green stars). The text that says listing agent or buyer's agent is so small and faint it's almost illegible.
If they fill out the form and don't choose to include one of the agents in the list, they will get the following popup: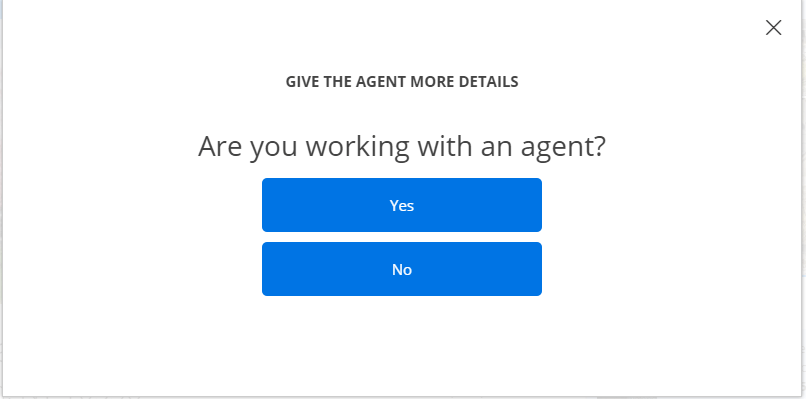 If they choose yes, the lead will go directly to the listing agent. If they choose no, they will get several more questions on when they're deciding to move, if they're prequalified, etc. Then, they are informed that their inquiry was sent to a single Zillow Premier Agent.
Alternatively. the buyer lead can click on each Premier Agent and view their profile page. Once there, they can fill out a form and contact the agent that way. As you may have imagined, this is why having a great Zillow Profile is vitally important and why we're devoting the entire next chapter to making your profile the perfect lead magnet.
How Buyers are Using Zillow in 2017 – Zillow Agent Finder
While site visitors contacting someone on a listing page may be just curious about a listing and not even close to being ready to move, most people who are actively looking for an agent will at least have a plan in motion. That's where Zillow's Agent Finder comes in. Zillow's Agent Finder presents site visitors with a list of local agents that they can sort by most active, most recent sales, best local reviews, or most listings.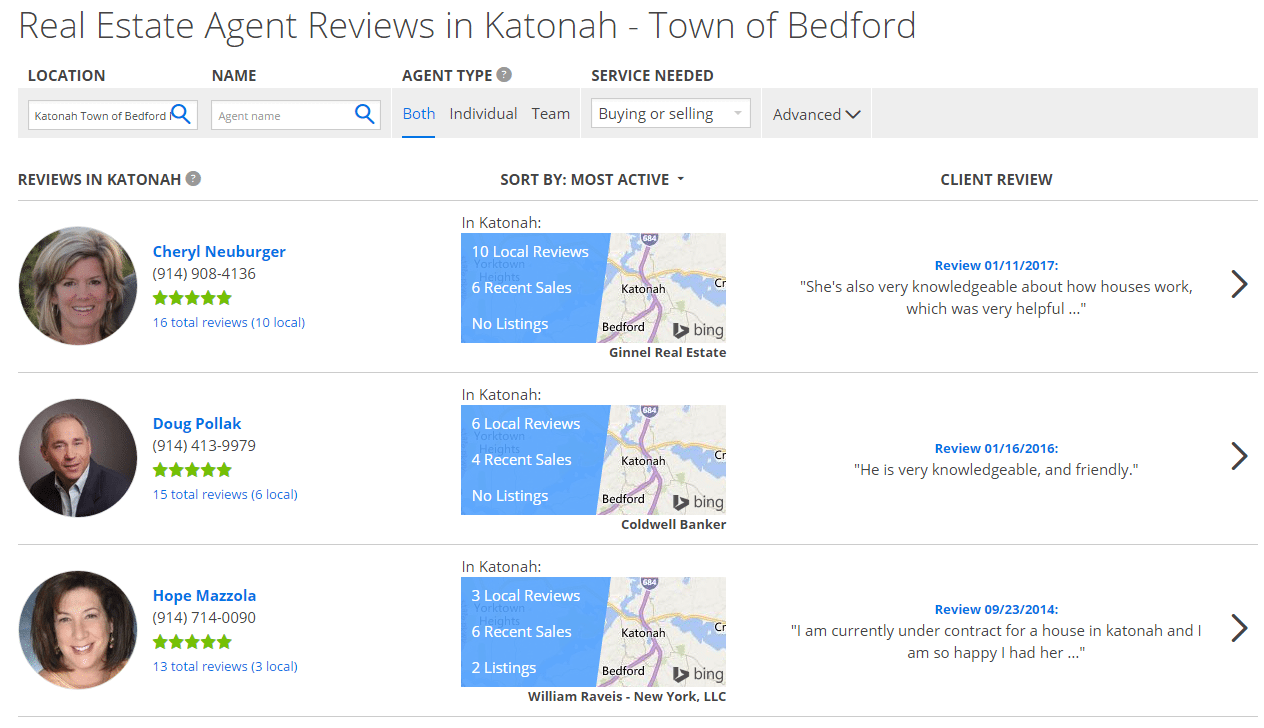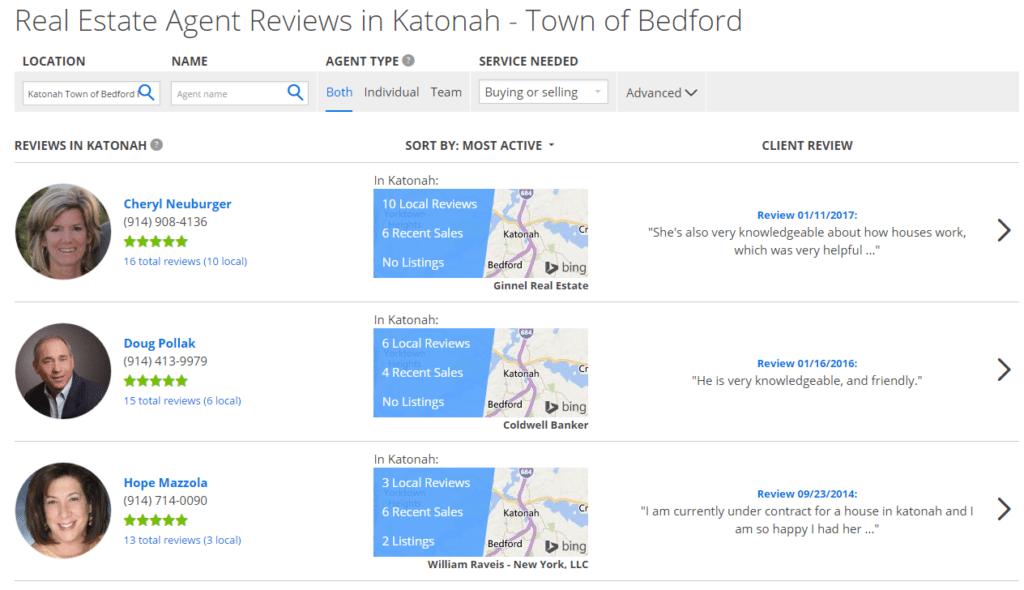 Buyers can get even more granular by clicking on the "advanced' tab. From there, they can specify the price and type of home they're looking for, what language they want their agent to speak, as well as what they specialize in. Zillow will then select agents who will be a great fit for the buyer's search criteria. For example, if the buyer is looking for an agent to help find a $100,000 ranch, a listing agent who has multiple eight figure listings is probably not even going to give them the time of day. More importantly, they probably don't know much about the available options in this price range.
Clicking through on each agent allows buyers to check out each agent's profile, video, listings, past sales, and reviews from other Zillow users.
As you can see, most of the ways that buyers contact agents on Zillow involve them reviewing their profile. This is why we're devoting the entire next chapter to turning your profile into an irresistible lead magnet.
Buyers Connect With Agents at All Stages of the Hunt
If you've been in the industry for a few years, you're probably shaking your head right now thinking of the clients that "got away" because you didn't take them seriously enough. Understanding this in theory is one thing, but if you need some more proof, studies have shown that buyers connect with agents at all stages of the hunt. For older agents this makes sense on an intuitive level, but did you know that different demographics decide to hire an agent at different stages in their search?
Millennials (18-34) and members of Generation X (35-54) are more likely than others to start out hunting on their own, and then contact an agent for help. Fewer people of each demographic wait until after touring homes on their own or when they're ready to make an offer. However, the largest number of people by far decide to hire an agent right away. That means by ignoring leads that are "too early" you're pushing away almost half of your potential deals.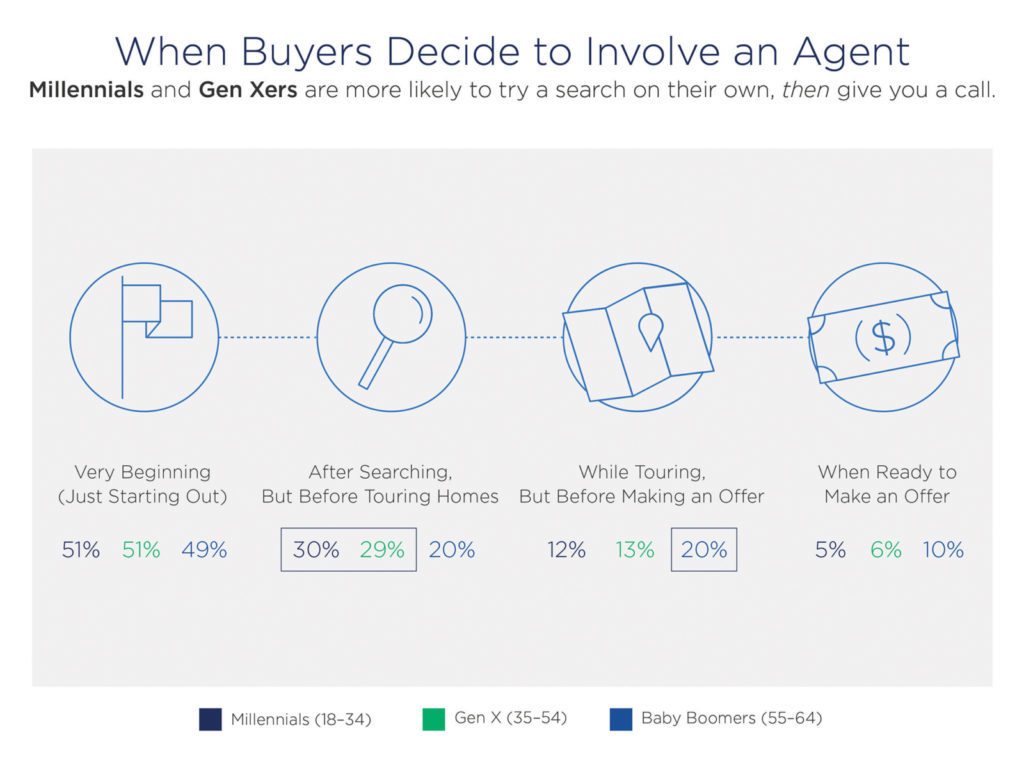 Nurture these leads that are early in the pipeline until they're ready to buy. We'll cover this in Section 4 of this course, Using Zillow's Free and Paid Tools to Increase Leads & Conversions.
How Seller Leads are Using Zillow in 2017: Claiming Listings
One of the first things people looking to sell their home online do is research the home's market value. At some point in this research (usually right at the start) they're going to find themselves on Zillow. Once there, they will be prompted to enter their address to "claim" their listings as well as look up the Zillow Zestimate, Zillow's estimate of their home's value.
From there, they are given the option to set up a For Sale By Owner (FSBO) listing on Zillow, create a "Make Me Move" listing , or submit their contact information to get the professional opinion of a real estate agent. Once they submit their contact information and describe their property, Zillow has multiple calls to action and a lead capture form encouraging them to reach out to a seller's agent. If you're signed up with Zillow Premier Agent, that could be you. We'll cover the ins and outs of Zillow Premier Agent in Chapter 4, Using Zillow's Free and Paid Tools to Increase Leads and Conversions.
How Seller Leads are Using Zillow in 2017: Zillow Agent Finder
Homeowners find sellers agents on Zillow by using the Zillow Agent Finder. They simply enter information about the property they want to sell and are then presented with a list of potential agents who are active in their neighborhood and sell similar homes.
The agent list is sorted via an algorithm that considers agent activity, local sales. reviews, and more. At the top of the page, however, there are three "Featured Agents" who are Zillow Premier Agents who pay a monthly fee in order to appear at the top of the list.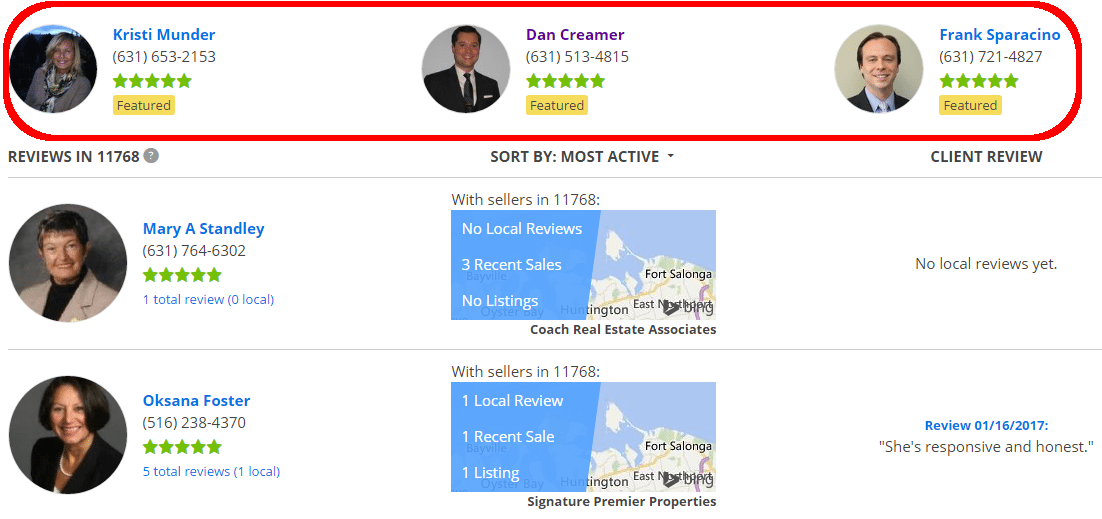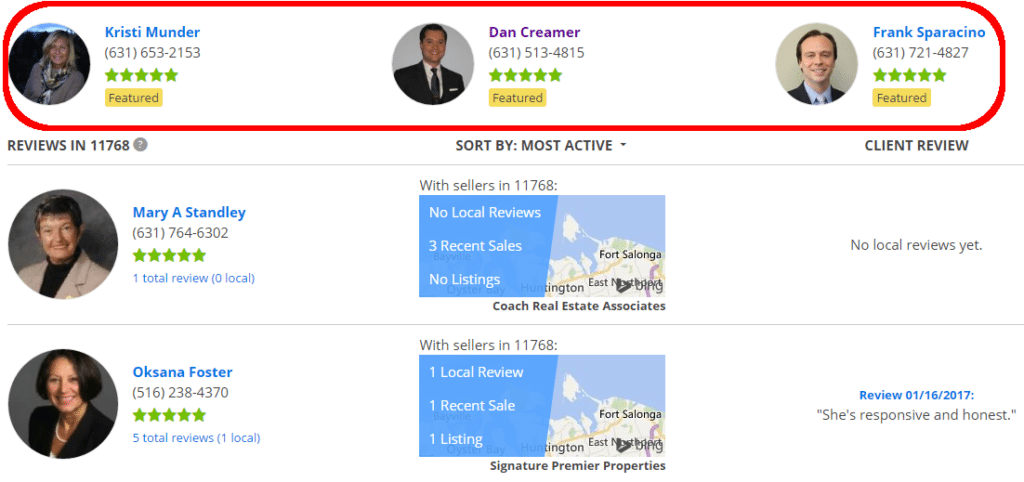 Key Takeaways
Understanding how buyers and sellers are using Zillow today is crucial to generating leads on the site. Buyers are contacting listing agents and Zillow Premier Agent on individual listings, and hunting for buyer's agents on Zillow's Agent Finder. Sellers are contacting Zillow Premier Agents via lead capture on unclaimed listing pages and also via Zillow's Agent Finder.
Coming Up Next: How to Build a Powerful Free Lead Magnet on Zillow
In the next chapter of the course, you'll learn how to build and grow a powerful free lead magnet on Zillow.