While a great profile can be a powerful (and free) lead magnet, there is another even more powerful way to generate leads on Zillow: your listings. After all, the entire reason Zillow exists is to allow homebuyers to browse homes for sale.
In this chapter, we'll go over how Zillow manages and presents listings to homebuyers in 2018, and how you can effectively leverage your listings to maximize lead generation.
Want to get your name on even more listings in your area? Zillow Premier Agent lets you to be the exclusive agent on Zillow listings where you're the seller's agent. You can also advertise on local listings provided by non-Zillow Premier Agents to generate more buyer leads.
Here's what you'll learn in this section of the course:
Are you a new agent and don't have listings just yet? Start with chapter 1 of our Zillow course, which covers how buyers and sellers are using Zillow to find agents.
How Listings are Presented on Zillow in 2017
Over the years, Zillow has slowly refined the way that they present listings to site visitors. What started as a simple list or map view of homes for sale has transformed into a much more personalized and functional interface for finding the right home. Here's a look at the Zillow interface: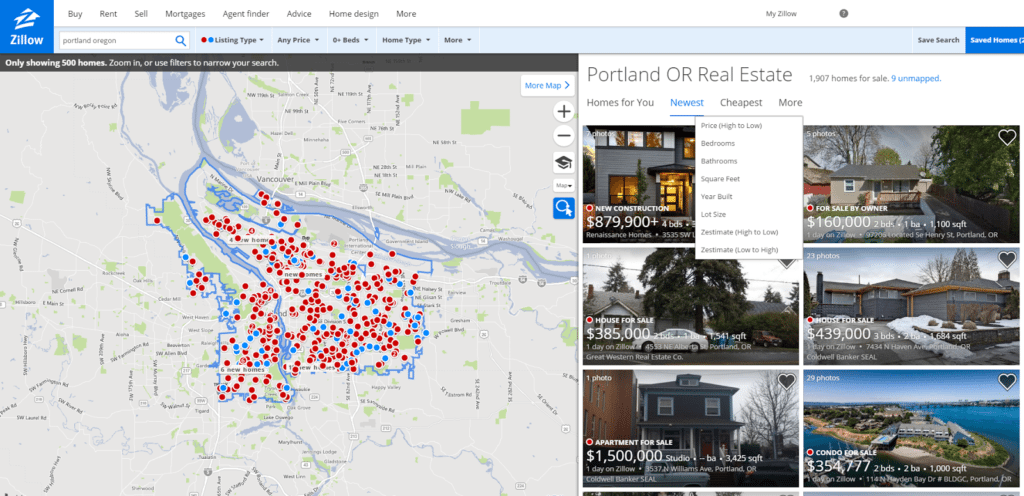 There are four ways that visitors can search for and sort through listings on Zillow:
How new the home is to the market (Default)
Cost of the home
Homes for you – Personalized search
More – Additional search criteria
Next, we'll go over how to take advantage of the way listings are sorted to get more views.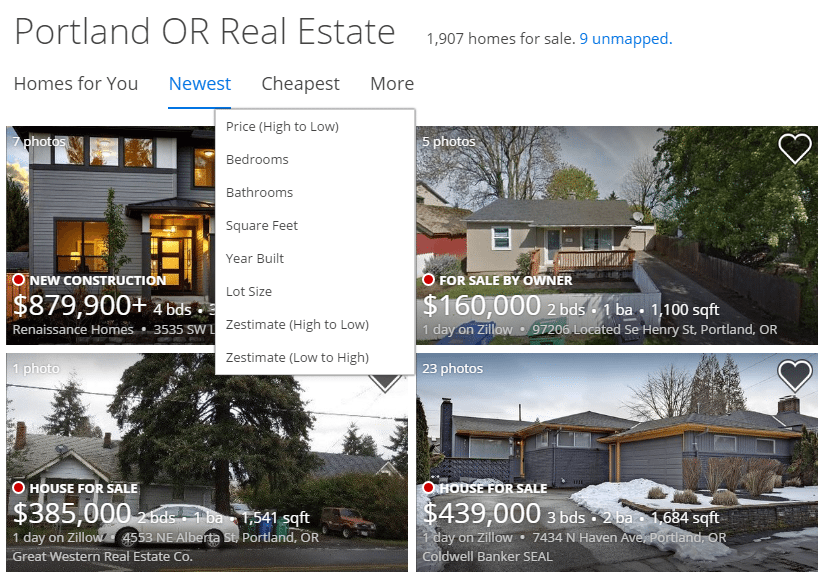 How to Take Advantage of Zillow's Listing Sorting to Get More Views
Since Zillow sorts listings by newness as a default, how can you make sure that your listing doesn't sink to the end of the search results after being listed for a few months? Simple. While a brand new listing will always rank higher than an older one, every time you change pricing or add an open house, your listing will rise higher in the search results. Even better, if the homebuyer is signed up for Zillow email alerts, they will get a notification email every time you drop the price or add an open house.
Lowering the Asking Price for More Views
While lowering your asking price once a week is probably not a great strategy, you can and should make incremental adjustments in pricing a few times over the length of your listings. If your listing has been on the market for a month, try dropping the price by something negligible like $99 to bump your listing back onto the first page of search results.
Leveraging Open Houses for More Views
While dropping the price too many times might make people question the value of your listing, holding regular open houses won't. In order to maximize exposure on Zillow, you need to remember to add your open houses to Zillow a few days before they're scheduled. For example, if you have a regular open house on Sunday, add the open house date to Zillow on Thursday as many home shoppers plan their weekend's viewings early. Adding an open house to a listing will help keep your listing high in the search results as well as notify homebuyers who are signed up for email notifications.
A Well Written Description & Home Features Increase Conversions
While the vast majority of homebuyers are jumping straight to the pictures when checking out a new listing, most will read your listing description at some point before calling you. That means taking the time to write a great listing description can help convert site visitors to calls, emails, or open house attendees. While a simple, concise listing description will work for 99% of listings on the market, here are a few tips to make sure yours converts.
Don't Just List Features
Many agents are guilty of just listing the features of a listing in bullet points. This is not only boring, but will do very little to get you more leads. Worse, those features will be far more useful elsewhere on your listing (in the home details section), as we'll talk about in a minute.
Write A Concise & Enticing Review of the Home's Highlights
Instead of a list of features, write a quick description of highlights of the home peppered with lots of superlatives. That means instead of "wood floors" write something like "warm hand scraped cherry wood flooring." Instead of "big master bedroom," write "Graciously proportioned master suite with room for sitting area".
While a bit long, notice how evocative this listing description is for 28 Laight Street in Manhattan: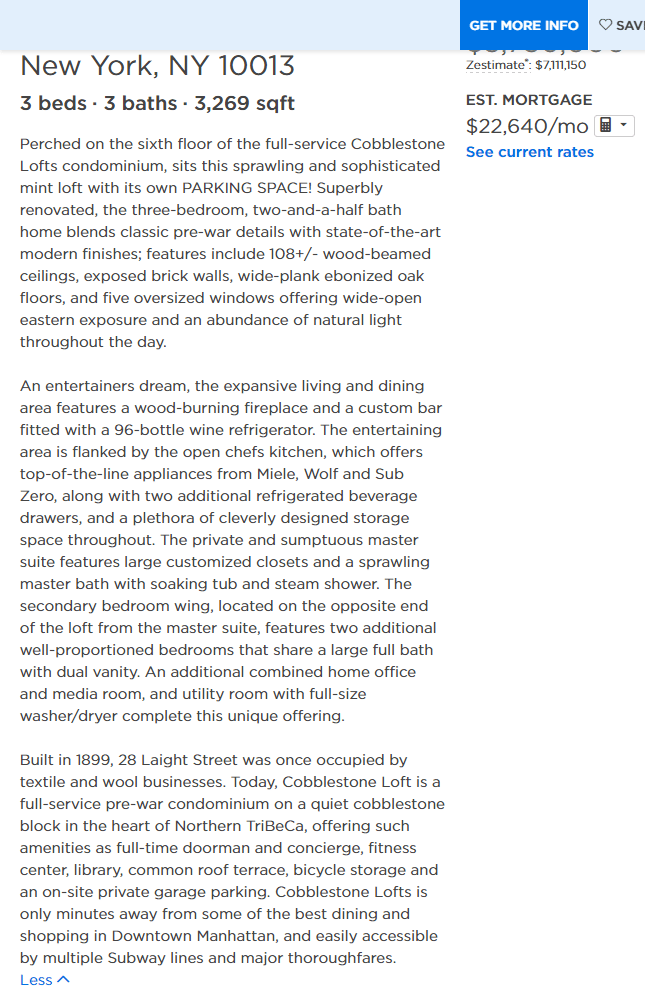 Remember to Add Home Details into Zillow
Instead of just listing home features in your listing description, Zillow has a dedicated place to enter them into their database. While adding home details on Zillow can be a bit of a chore, it's a chore that is well worth your time. Here's why. Listing descriptions are generally analyzed by Zillow's search algorithm. That means if you have, say, a tudor style home you're trying to sell and don't add that to the details section when adding your listing, Zillow might not pick up the text from your listing description. That means when people search for "tudor homes" or something similar on Zillow, yours might not show up. Instead, add every single detail possible into the Zillow home details section.
Adding more listing features can mean showing up for more searches. Here's what a full list of home features might look like: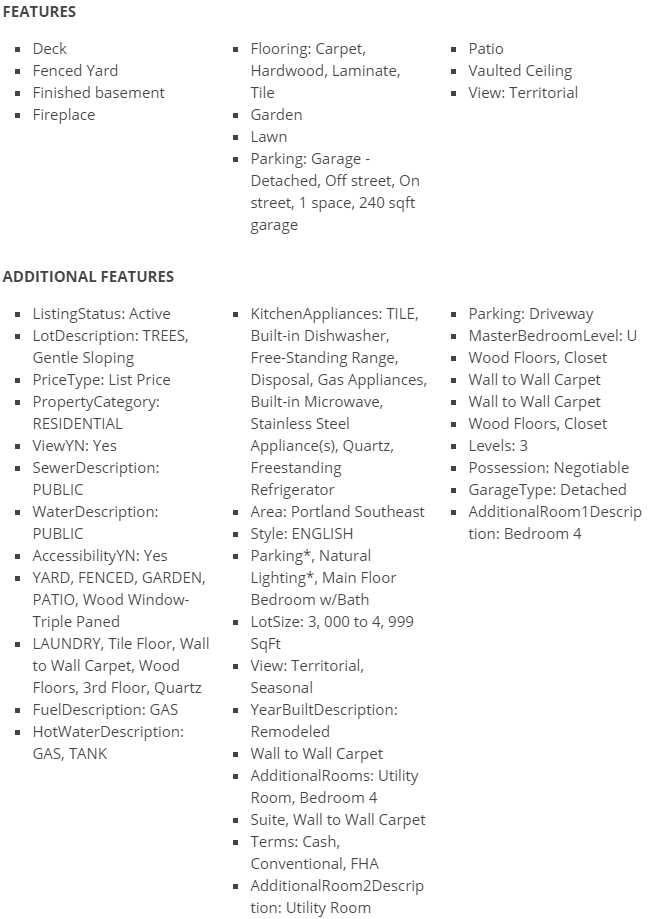 Another great reason to add home details to Zillow is that they now list popular home styles for each zip code at the bottom of the search results. For example, when you search for homes in Portland, Oregon, there are three buttons labeled "Craftsman Style," "Least Expensive," and "Lofts." This data is pulled from the home details section of your listing, NOT your description!

Show, Don't Tell: Your Most Important Lead Magnet on Zillow
Okay, a drastically underpriced listing in a hot area might get you more leads, but sadly most of the listings you get are not going to be immediate slam dunks. If they were, people would eventually stop hiring you as you wouldn't be getting top dollar for your clients.
Instead, for almost every listing you have, your listing pictures are going to be your stickiest lead magnet on Zillow. Here's how to leverage your listing pictures to maximize calls, emails, and open house attendance.
Hire a Professional
While many agents feel like they can get away with taking their own listing photos, unless you happen to be a professional photographer, there are exactly zero situations where this will save you money. Yes, you will need to spend $150-$350 out of your own pocket to hire a professional real estate photographer, but there are two VERY compelling reasons why this is one of the best investments you can make in your real estate career.
1. Listings shot by a professional photographer sell for more money
While pretty much any experienced agents will tell you the same thing, we now have actual data to back this up. According to a study done by Redfin, homes listed between $200,000 and $1 million sell for $3,400 to $11,200 more relative to their list prices when listing photos are taken with DSLR cameras. Across all price ranges, homes with professional photos sold faster. In the million dollar range, professionally photographed homes sold four days faster, and those in the $400,000 range sold three weeks faster than their counterparts with amateur photos.
2. You can use professionally shot listings to get more listings
Any good agent is going to talk about their marketing expertise when pitching homeowners or FSBO's. Most are also going to include case studies of previous listings to show how great they made their former client's home look. Are you seriously going to present a listing you shot with your phone?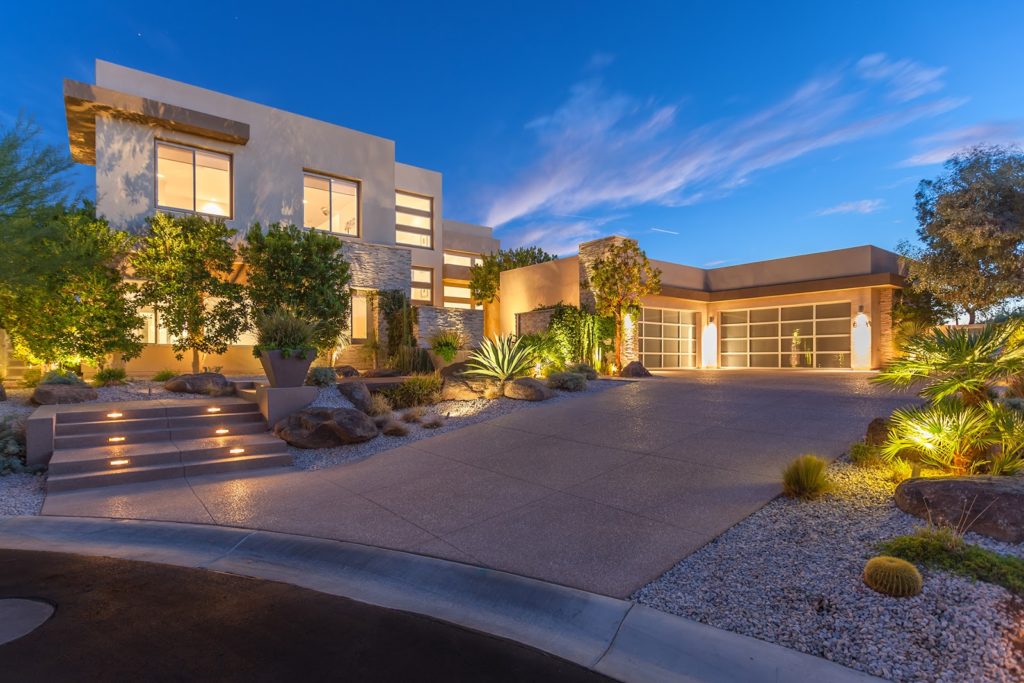 Uploading Pictures to Zillow: Best Practices
Since photos are the best lead magnet on Zillow, choosing the right pictures to add to your listing and knowing how they'll appear on the site is important. Here are a few tips to make sure your pictures get you as many leads as possible.
Don't Overdo It
Since agents are allowed to upload an unlimited number of pictures on Zillow, many agents assume more is better than less. In reality, nothing could be further from the truth. Uploading too many pictures, especially multiple shots of the same room, not only adds nothing to your listing, they make you listing look sloppy and unfocused.
Instead, include the following pictures:
One great shot for each room in the house
A "hero" shot of the exterior and backyard
A drone picture of the entire property if needed. For more on the do's and don'ts of using drones for real estate photography, check out our guide here.
If you have a historic or unique home, detail shots of woodwork, cornices, or other enticing features are a great addition.
Just remember to not overdo it. A typical 3,000 square foot home doesn't need 50 pictures on Zillow especially when ten of them are of the living room! 10-15 images are more than enough.
What Is & Isn't Allowed on Zillow
Okay, you now have 10 great shots of your listing ready to upload to Zillow. Now what? Before you start uploading them, you need to understand Zillow's rules for listing photography.
Brokerage or team watermarks are not allowed on listing pictures. The ONLY watermark allowed on Zillow is from your MLS
Name/phone numbers are not allowed on listing pictures
Descriptive text is not allowed on listing pictures
Size Matters: Make Sure the Pictures You Upload Are the Right Size.
This is a big one. We've all seen multi-million dollar listings with beautiful, professionally shot photos that are stretched out, pixelated, or blurry. I hate to say it, but in 2017, this is simply not acceptable. There is no excuse for bad listing photography!
When you get your listing pictures back from your photographer, ask for them in 960×629 pixels at 72 DPI or larger. These are the default dimensions that Zillow uses for all listing photos. If your images are larger, Zillow will automatically reduce them to fit these dimensions. This is generally not a problem. However if they're smaller that 960×629 at 72 DPI, Zillow will scale them up, leading to pixelated, blurry, and sometimes distorted images. Here's a quick rundown on how to resize images.
Take a look at the two listing pictures below. The first picture was uploaded at a size smaller than 960×629, while the second picture was uploaded at 960×629 or larger.
New for 2017: Video Walkthroughs Can Triple the Number of Views Your Listing Gets
A few months ago, Zillow introduced a new feature that many home shoppers and agents have been clamoring for: video walkthroughs for listings. According to Zillow, listings with video walkthroughs get 3 times as many views as listings with just pictures. Once you see how listings with walkthrough videos appear on Zillow, you'll understand why.
Below are two different listings on Zillow. The first has a video walkthrough, while the second doesn't. Notice how big and prominent that play button is on the first listing? It's just begging to be clicked! Now look at the second listing. There's a big missing space in the listing pictures. The copy says "Is this your home? Add a free walkthrough video to get three times more views!"
While a missing video is not going to be a deal breaker for most home buyers, it does look a little unprofessional. More importantly, when you send the listing to your homeowner client, they're going to wonder why you chose not to add a free video to get three times more views!
For more on using video in real estate listings, click here. While Zillow claims video walkthroughs will get you three times more views, there are a few drawbacks. Here's a quick rundown of the restrictions Zillow puts on walkthrough videos.
Zillow's Rules for Video Walkthroughs
While everyone seems to like this new feature, there are some important rules you need to know before getting started.
You cannot upload your own video walkthrough from your computer or any website.
The only way to create video walkthroughs for your listing is through the Zillow Premier Agent app.
You can only shoot walkthrough videos with your smartphone or tablet
Since you can only shoot walkthroughs with the app, you are limited to using your phone, tablet, or other android or IOS device.
Zillow walkthrough videos are silent
Yup. No smooth jazz, no folksy guitar music, no well rehearsed voiceover. Silence…
Zillow walkthrough videos are limited to 2 minutes or less
While this might be plenty of time to shoot that 2 bedroom cottage, a 20 room mansion is going to be much tougher.
For many agents who are used to hiring professionals to shoot Steven Spielberg quality walkthrough videos, these limitations are a deal breaker. If you scroll through listings on Zillow, even very high end listings, you'll find many agents are choosing to skip the walkthrough because the videos are DIY.
If you're not a control freak and want to get more views, here's a quick rundown on how to shoot walkthroughs to get more leads.
How to Use Zillow's Walkthrough Videos to Get More Leads
Now that you know some of the benefits and limitations of walkthrough videos, let's go over how you can use them to get more leads.
Upgrade Your Phone
If you've been looking for an excuse to upgrade your three year old phone for something newer, this would be it. The Google Pixel, iPhone 7 Plus, and Samsung Galaxy S7 have the best rated cameras on the market.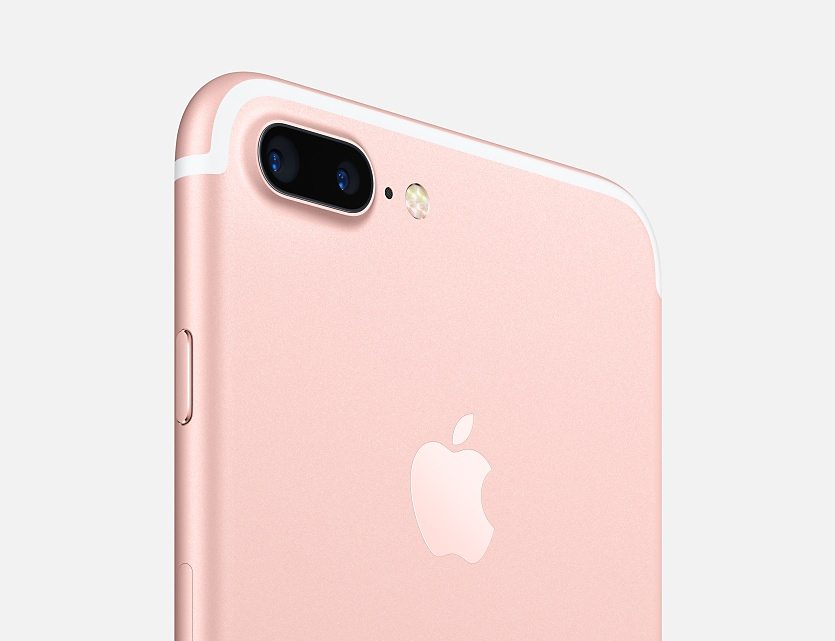 Use a Stabilizer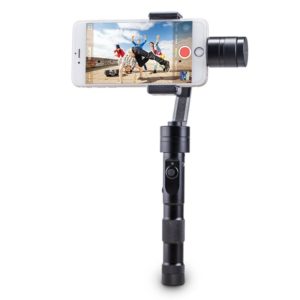 While image stabilization has gotten better on smartphones, shaky hands or quick movements will still lead to blurring in your videos. The solution is to buy a stabilizer for your phone. The Zhiyun Z1 Smooth C ($179) comes highly recommended from professional photographers.
Plan Your Shoot
Since you only have two minutes or less to make your listing look great, you need to plan out what you're going to shoot and for how long. Typically, a good walkthrough will start at the front door, then walk through the main rooms of the house— living room, kitchen, dining room, master bedroom, backyard.
If you have a very large listing (4+ bedrooms or 5,000+ square feet), then there is no way you're going to capture it all without having a rushed looking video. Instead, hit the same highlights you would with a smaller listing— living room, kitchen, dining room, master bedroom, and backyard. Or if there's something truly unique about the listing like a wine cellar, add that to your shot list.
Luckily, the Premier Agent App lets you shoot and save video, move to another room, and continue shooting. The app will stitch together the different videos into one. Instead of wasting video time walking down hallways, shoot one room, save the video, then move on to the next room. For smaller listings under 3,000 square feet, shooting one smooth walkthrough, hallways and all, might work better. For any video you shoot, always try and schedule your shoot for a nice sunny late afternoon.
What About Matterport Virtual Tours?
Unfortunately, Zillow no longer allows embedded Matterport Virtual Tours on listings, which is a big letdown for many agents. The good news is that you can still add a link to your Matterport or other virtual tour on your listing. The bad news is that the link for the virtual tour is almost hidden in the "Facts" section of the listing:


Personally, I think this is a rare step backward for such a tech focused company. That said, I can understand why they decided to take away support for virtual tours. They are often very large files and can take a very long time to load on mobile. Hopefully, either Zillow or Matterport will step up and address these problems soon.
Coming Soon Listings
If there's one truism in marketing, it's that people want what they can't have. Exclusive clubs, limited edition sneakers, sports cars, and rare antiques are all desirable largely due to the fact that few people have access to them.
Real estate is no different. Every agent secretly wishes they had a few pocket listings and every consumer wants access to listings before they hit the market. To help scratch this itch, Zillow allows Zillow Premier Agents to post "Coming Soon" listings.
The potential benefits here are obvious: dual agency (representing both the buyer and seller and collecting the entire commission) and increased views and leads because of exclusivity. However, there are also many drawbacks. You may run afoul of NAR regulations or even your state's real estate laws. If you're planning on posting a "Coming Soon" listing on Zillow, make sure you fully discuss the pros and cons with your managing broker or legal counsel.
Key Takeaways
Understanding how listings are sorted on Zillow can help you get more views and more leads. Well written listing descriptions, putting home features in the right section, professional photography, and video walkthroughs can also help get more views and more leads.
Get the full benefit of your efforts by being the only agent listed and preventing other agents from stealing your leads. Zillow Premier Agent allows you to be the exclusive agent on your Zillow listings so you can be the ONLY agent prospects see on your listings rather than just one of three.
Coming Up Next: Using Zillow's Free and Paid Tools to Increase Leads & Conversions
In the next chapter of the course, you'll learn how to take advantage of Zillow's free and paid tools to increase leads and conversions.