If you've completed our entire Zillow course, congratulations! You now have an insider's understanding of how Zillow's many consumer features and advertising tools work. At this point, you're probably ready to get started advertising on Zillow Premier Agent. Before you do, you need to understand the basics of making the most of Zillow's advertising programs. Here are some tips to increase leads and conversions for a great ROI on Zillow.
Zillow's Premier Agent Advertising Program lets you advertise on other agents' listings to generate buyer leads, and offers advertising on unclaimed listings and Facebook to generate both buyer and seller leads. When you sign up for Zillow Premier Agent, you'll need to pick a zip code (or zip codes) that you want to be featured in.
Pick the Right Zip Code
If you're already successfully working a farm area, then your choice of zip codes should be obvious. If not, you may be tempted to go all in and pick the closest zip code with the highest priced homes. Don't. Not only will you be paying a much higher price per lead than in other zip codes, you probably won't have the one thing all buyers and sellers want from a real estate professional: Local market knowledge.
Think Local
Instead, pick a zip code that you know like the back of your hand. If you're a new or newer agent, your local neighborhood or one very close to it will likely be your best bet. Here are two strategies you can use in your local area.
1. Stay Close to Home
First and foremost, you will probably already have an expert's insight to the neighborhood you live in. You know which restaurants, schools, and stores to recommend, and which blocks are nice and which aren't. You may also know something about local history as well as new trends or concerns about living there. Even better, since you live there, scheduling last minute showings is far easier than in neighborhoods that require a lengthy commute to get to.
2. Look for Bargains on the Outskirts of Desirable Neighborhoods
Since Zillow ads are priced by zip code, with expensive, desirable neighborhoods commanding rates as high as $100 or more per lead. you may not be able to afford to purchase ads in million dollar neighborhoods right away. One strategy to target at least some of the leads from expensive neighborhoods is to purchase much cheaper ads in nearby zip codes. Here's why:
When most home shoppers start their search, they generally have a "dream neighborhood", which may be a bit of a reach financially, as well as several "back up neighborhoods" where they might end up when they realize their money doesn't go very far in their first choice. While their budget may have been too low for their dream neighborhood, that same budget will give them plenty of options in their "back up neighborhood".
For example, here in New York City, Williamsburg Brooklyn is one of the most desirable neighborhoods in the city with prices to match. Many home buyers start out looking in Williamsburg, but end up looking in outlying neighborhoods as well when they realize how much farther their money goes there.
As you can imagine, Zillow ad rates in Williamsburg are extremely expensive. However, home prices and Zillow ads rates one neighborhood over in Bushwick are much more reasonable. Since many home shoppers are looking in both neighborhoods, you can effectively capture leads with Williamsburg budgets for Bushwick Zillow ad rates.
Your well qualified lead might want to live here, but may end up settling for another neighborhood.
Follow Up Instantly
Here's the hard truth about lead generation in real estate. The chances of you being the only agent your leads contact is slim to none. In order to increase your odds of building a relationship that can lead to a closed transaction, you need to follow up with your leads instantly. Keep your phone with you always and either take advantage of the push notifications offered to Premier Agent advertisers, use auto responders, or set your email app to push notifications.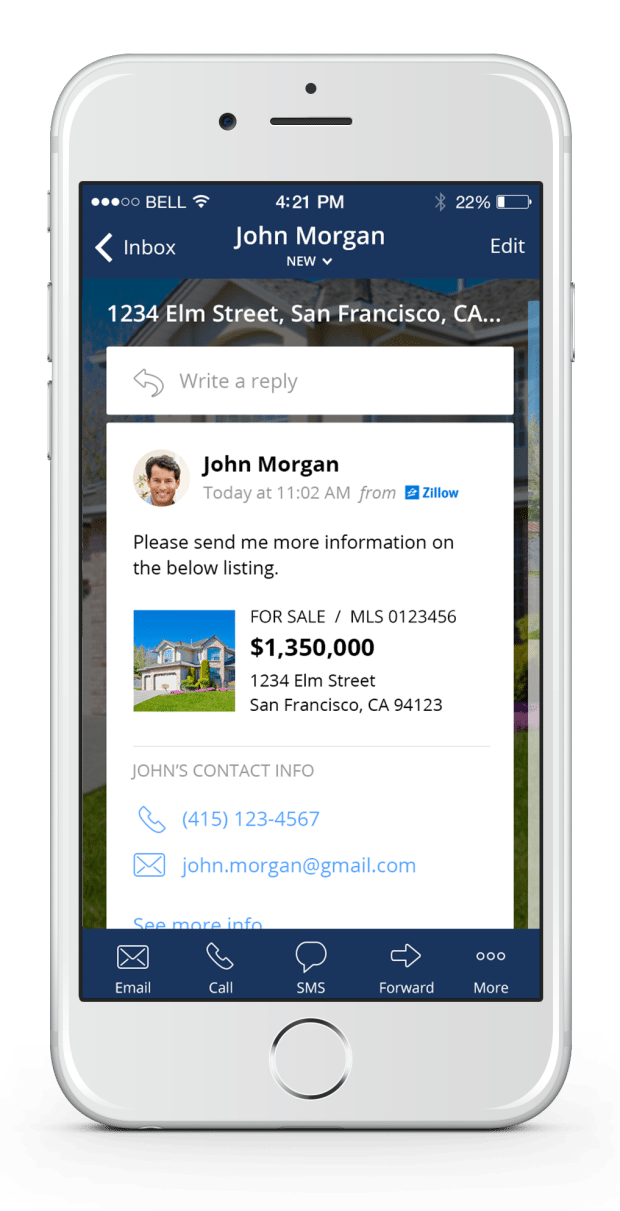 Work Hard to Get as Many Reviews as Possible
As you learned in chapter 2, having a large number of 5 star reviews will greatly increase your chances of getting leads. Make sure to reach out to former clients, current clients, or even clients you didn't close deals with.
Have a Great Headshot and Profile
A great headshot and profile will also increase your chances of getting leads. Use the tips in chapter 2 to make your profile work as a lead generation machine.
Create a Lead Nurturing Plan
Even if you have a great conversation with your leads on first contact, there is no guarantee that they will stick with you for the long haul. Since many leads may be 6 or more months away from completing a transaction, a good lead nurturing plan is essential to keep them engaged. Email drip campaigns are a great way to stay in touch, but try and work in some more personal touches as well. A quick 3 minute check in phone call can be more effective at maintaining a relationship than a dozen emails.
If you want to learn more about email marketing, check out our in-depth guide here.
Devote as Much of Your Marketing Budget to Lead Generation as You can Afford
Since lead generation is the lifeblood of any business, you need to make sure that you devote as much of your marketing budget to it as you can afford. If you follow the advice in this guide, and continuously work to improve your prospecting and closing skills, success is all but guaranteed.
Keep Up With New Products and Agent Tools Offered by Zillow
Over the years the real estate industry has been very slow to adopt new technology. In fact, up until very recently, you'd have been hard pressed to find individual agents with their own IDX websites, let alone running complicated retargeting campaigns on Facebook. Thankfully, we've made a 180 degree change.
Today, there are hundreds of brilliant developers and software engineers trying to both "disrupt" the real estate industry, as well as remove longstanding pain points for agents and brokerages. If you had any doubt this was the case, follow the money. This winter, Offerpad, an almost beat for beat clone of wholesaling website OpenDoor, was given a $260 million cash infusion from investors. Still not convinced? Run a google search for "real estate CRM" and you'll find dozens and dozens of options.
Since the competition (and cash) pouring into the real estate industry has seemingly quadrupled overnight. Industry leaders like Zillow need to stay one step ahead in order to avoid getting swept aside. That means Zillow is constantly testing and offering new ad products and tools for agents like virtual reality, chatbots, auction based pricing, and more. In order to take advantage of them, you need to stay informed.
Of course if you're a Zillow Premier Agent, you will likely be one of the first to know when a new product is being launched. If not, bookmark this site and check in often to see what's new in the world of real estate technology. FitSmallBusiness is and will always be 100% free.
Ready to take the plunge? Click the button below to see what Zillow advertising products are still available in your neighborhood.