Zillow Premier Agent Review: Overview, Features & Cost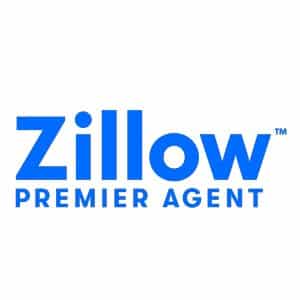 What We Recommend Zillow Premier Agent For
According to the National Association of Realtors (NAR), 97% of homebuyers use the internet to house hunt, so establishing a strong presence on Zillow could be the key to capturing these leads. Zillow Premier Agent is effective for real estate agents who represent and claim their sales listings on Zillow. For agents seeking buyer clients, ZPA provides buyer leads per location with different tiers of pricing for conversion opportunities.
Who Zillow Premier Agent Is Good For
Agents, teams, or brokerages that represent multiple sales listings: As a Premier Agent, when you claim your listings on Zillow, you are given top priority status on the listing. You will be the first agent on the listing, which draws more attention to your Zillow profile so clients can reach out for your services. That's one of the reasons it made our list of the 41 best real estate software and tools for top agents.
Real estate agents and teams seeking buyer leads: ZPA is a highly effective platform to strategically generate buyer leads vs helping agents get sales listings. Because so many active buyers frequent Zillow's listings during their home search, it offers a constant flow of buyer leads real estate agents can acquire and convert to buyer clients.
Real estate professionals who are effective in capturing and converting leads over the phone: When a lead is captured by Zillow Premier Agent, it's sent directly to an agent's phone to discuss preferences, finances, and other qualifications. Agents who are successful with phone communication will be most profitable with the ZPA system. For that reason, it's one of the best real estate lead generation websites for those who want to maximize online visibility and don't want to rely on traffic to their personal site.
Who Zillow Premier Agent Is Not a Good Fit For
Companies that need a robust CRM: While Zillow does provide a customer relationship manager (CRM), it only has basic functionality like task reminders, simple reports, and client insights. For more communication, pipeline management, and reporting capabilities, consider a CRM like Pipedrive or take a look at our best real estate CRMs.
Agents and brokerages who want to purchase exclusive leads: Although Zillow does produce a steady flow of leads, they are generally not exclusive. This makes it more difficult to convert them to clients because there is competition with other agents. Market Leader and other lead generation websites can provide exclusive leads—check out best places to buy real estate leads for more information.
Agents who want to create IDX websites and landing pages for their business: ZPA isn't the best option for agents and brokerages that want to increase exposure using a website and landing pages. Take a look at Placester's real estate website and landing page customization options or find other options in our guide on the best real estate lead generation companies.
Zillow Premier Agent Overview
PROS

CONS

Exclusive placement on your listings
Can be expensive depending on the location
More visibility on unclaimed listings
Can be competitive
CRM included
No guarantee leads will convert to clients
Most-used real estate listing site in the U.S.
Leads are not exclusive
Reviews and profile showcase your value
Limited seller leads
How Much Zillow Premier Agent Costs
Zillow is free to use for homebuyers and sellers, and even for real estate agents, to some extent. It offers basic free services and multiple listing services (MLS) for real estate agents and brokerages to post listings on the site and to claim Zillow listings.
There are two paid services real estate professionals can use on Zillow to generate leads. These services include a cost-per-lead method as well as a "success fee" that is paid out of escrow after the sale closes.
Cost of advertising with Zillow Premier Agent: Leads cost between $20 and $60, depending on ZIP code sales, competition, and ad spend.
Cost of Zillow Flex: At no upfront cost, Zillow will connect you with homebuyer leads. You nurture the lead and pay a percentage-based success fee when you close a transaction.
While Zillow does not specify its exact costs, you can evaluate which lead generation method fits your business the best. Flex could be especially advantageous for new agents who need sources of quality leads to attract clients and start building referrals. On the other hand, advertising with ZPA could have a higher return on investment (ROI) for agents who already have an established method of nurturing leads and maximizing conversions.
How to Manage Your Zillow Premier Agent Advertising Budget
Explore ZIP codes under the "My Ads" section of the Zillow Premier Agent dashboard. This data shows a ZIP code's average home value, the estimated connections you'll make each month, the estimated leads you'll receive based on your budget share and voice, estimated six-month ROI, and the monthly budget you'll be charged every month for each one. These items indicate how much you'll have to spend to successfully generate the amount of leads you want in your ZIP code.
Once you are satisfied with the statistics of your ZIP code, decide on your budget and share of voice in comparison to competing agents and finish your purchase. Change your preferences as often as needed to increase or decrease your budget and share of voice, or change your ZIP code entirely whenever you like. This type of advertising can be especially useful for agents who specialize in a niche or use real estate farming for lead generation.
Sample Zillow Advertising Costs for Different ZIP Codes*
ZIP Codes

Median Listing Price

Zillow Market Temperature

Average CPM
(Cost per 1,000 Ad Views)




19808 - Wilmington, DE

$281,024

Hot

$61

19806 - Wilmington, DE

$280,723

Warm

$32

19803 - Fairfax, DE

$377,250

Hot

$25

19707 - Hockessin, DE

$452,641

Warm

$62

19807 - Wilmington, DE

$765,413

Cold

$76

27870 - Roanoke Rapids, NC

$84,947

No data

$20

27850 - Littleton, NC

$279,087

$30

20878 - Gaithersburg, MD

$578,289

Hot

$43
*Disclaimer: The list above is only a sample to show how pricing works for Zillow Premier Agent. Data is from January 20, 2021. Contact the company to register and request up-to-date pricing.
Zillow Premier Agent Features
Zillow already provides many features free with your real estate agent account, including listing properties, adding photos and video, mobile apps, data reports, claiming your listings, and a client relationship manager (CRM). Zillow Premier Agent enhances Zillow's features by adding lead generation options, ad placement, more listing photos and videos, third-party lead integrations, and more.
These components enable individual agents, teams, or brokerages to streamline communication and track lead activity to maximize real estate lead generation. In addition, ZPA helps track your success rate and return on investment (ROI) for each lead.
Here is a closer look at Zillow Premier Agent's features:
General Features
Listing management
Lead generation
Contact and organization management
Forecasting and reporting
A major feature of Zillow Premier Agent's platform is listings management and lead generation. When an agent, team, or brokerage advertises listings on ZPA, they generate leads and gain exposure on the highest-viewed listing website, and also receive premium placement on Truila.com, StreetEasy, and HotPads. Organize your contacts and create customized reports based on the data collected by ZPA's far-reaching platform.
Ad Placement
Claim exclusive listings
Placement on non-exclusive listings
Maximum exposure on multiple platforms
As mentioned, Zillow Premier Agent guarantees placement on their site as well as partner sites like Trulia, HotPads, and StreetEasy. Exposure on all of these platforms can greatly increase your ability to generate leads and build brand recognition. When you post an exclusive listing as a Premier Agent and claim your listing, your picture, contact information, and reviews will appear in the first spot next to your listing.
Since 73% of homebuyers choose the first agent they interview, it is an advantage to be listed in the top position. Even if you don't have an exclusive listing, as a ZPA you are automatically added to unclaimed listings in your chosen ZIP code, giving you more opportunities to generate leads. This structure is especially beneficial for new agents who are just starting in the real estate industry.
To learn how to claim your listings on Zillow, read our guide How to Claim a Listing on Zillow in 3 Simple Steps.
---
Zillow Premier Agent CRM
Lead and pipeline management
Task management
Email marketing
Zillow Premier Agent's CRM provides insights on homebuyers by letting you see which homes clients view and which listings they save. It also gives you the ability to send personalized text messages to leads directly from the platform.
Customize your pipelines to automate task reminders and keep notes on each of your clients to guarantee your communication is up to date. Email marketing activities like templates, automated follow-up, and drip campaigns can also be created directly through the ZPA CRM. This saves you time and energy rather than recreating common emails and spending hours on lead follow-up tasks.
---
ROI Calculator
Understand your spend and return
Adjust your budget
Custom reports for your business
A
successful real estate professional
needs to know their return on investment (ROI) in order to manage their budget and determine the next moves for their business. While
Zillow Premier Agent
is likely to be a valuable investment, savvy agents will use the ROI calculator to confirm and quantify their investment in ZPA. The ROI calculator is designed to measure the following numbers:
Current commission income after splits
Overall return on your Zillow Premier Agent investment
Profit earned after splits and expenditures
How well your ZIP codes are performing
Use this information to determine whether you need to increase or decrease your spending or completely reevaluate your strategy on ZPA to improve your conversion rates. For example, if one ZIP code is consistently outperforming another, you may decide to devote all of your budget to the high-performing region and drop the other one from your ad spend.
---
Pipeline & Transaction Management
Up-to-date communication tracking
Accessible online and mobile app
Automate tasks and reminders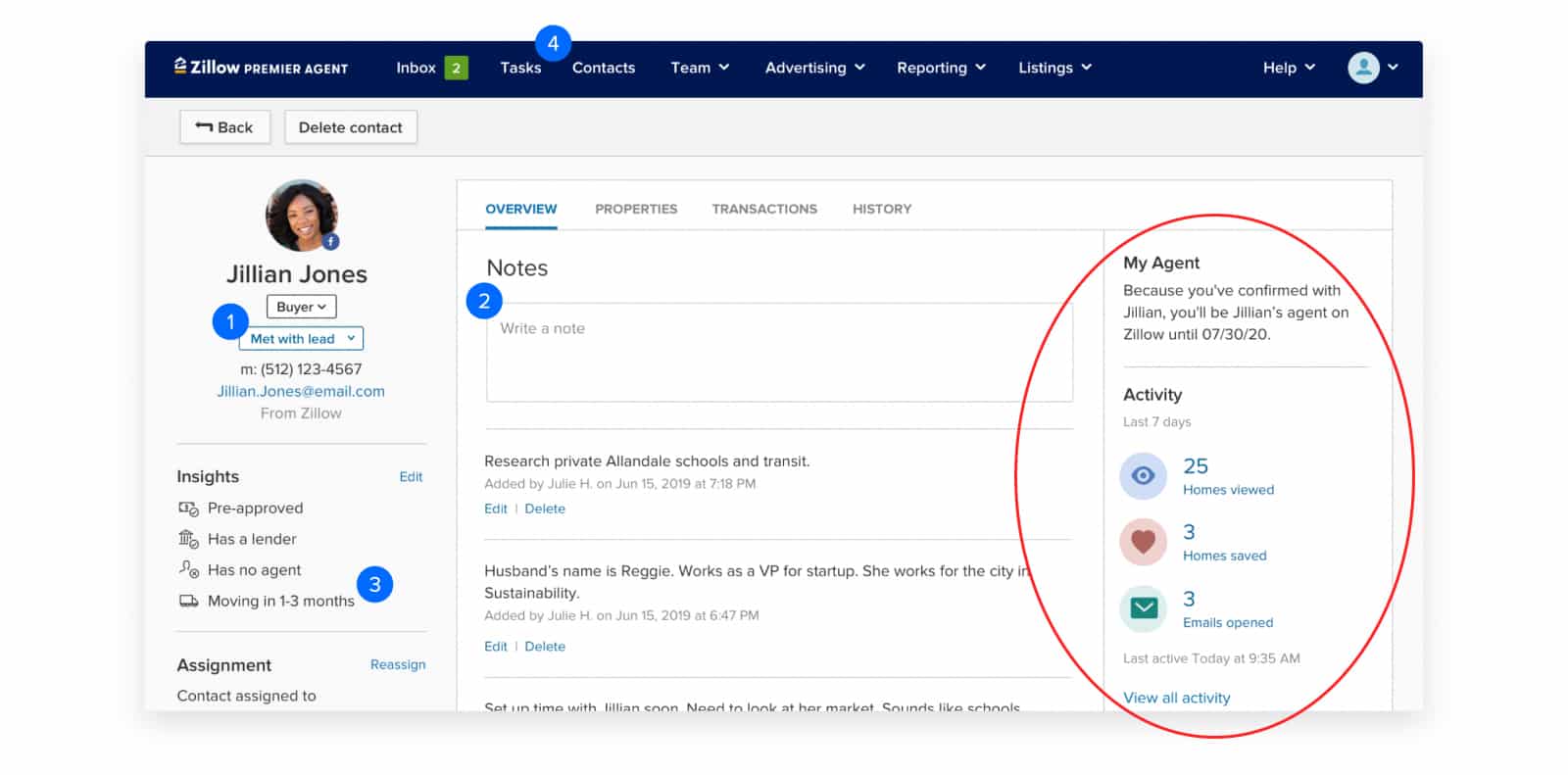 Manage transactions through your CRM by using the Zillow Premier Agent website or mobile app. Categorize your leads into different pipelines to determine appropriate communication strategies. This pipeline and transaction management system allows you to separate the short-term and long-term clients to set priorities and goals for your real estate business.
Zillow describes the key data points in the above image:
Status in the life cycle of your relationship: All leads are automatically set to "New" when they enter your system. Once you set up an initial conversation, update their status to "Appointment set" and continue updating the status as your relationship develops.
Notes: Add notes to your contact's profile about their search preferences, financial status, and even personal details you want to remember about them. When you re-engage the prospect, reference your notes to ensure a personalized conversation and connection.
Time frame to move: Record when your lead intends to move to better prioritize clients. Some will require immediate attention while other clients need less frequent check-ins but long-term nurturing.
Tasks: Create tasks and reminders to keep track of your communication as well as when you intend to communicate with your leads and clients again.
Also, make note of the right sidebar, which gives you insights into your client's activity of viewed and saved homes on Zillow. Track the status of your emails by viewing the open rate and the last time your client visited the Zillow platform.
---
Zillow 3D Homes
Add virtual tours to your listings
Share videos on multiple platforms
Video tours taken directly on mobile devices
In addition to including beautiful photography for your listings, Zillow Premier Agent allows you to include Zillow 3D Home to capture your listing in 3D video. According to Zillow, 3D home tour videos get 37% more views than homes without and sell 14% faster.
You can also share your video on your website, MLS, or social media for extra exposure to interested buyers. While you can use your phone's camera, consider purchasing the Ricoh Theta camera to enhance your 3D videos.
---
Mobile App
On-the-go communication
Update CRM instantly on the app
Notifications
Twenty-eight percent of agents spend most of their time at showings, on location with clients, or at other functions. This makes a mobile app an extremely valuable component of Zillow Premier Agent. Keep track of your leads with instant notifications and communicate with your clients via text, email, or phone call. Manage your tasks and update your statuses directly from the app for reminders on the go.
---
Third-party Lead Integrations
Leads in one centralized system
Organization of contacts
Communication management
Realtor.com®
Homes.com®
HomesConnect
Market Leader®
BoomTown®
BoldLeads®
First2Contact
HAR
Homebidz™
HomeLight®
HouseValueStore
iHomefinder
IDXBroker
Kunversion
TigerLead®
Zurple®
Landwatch
LeadRouter
ListingBooster
MLSFinder
RealtyStore
RealtyJuggler
Instapage
TeamLeads
USHUD
FollowUpBoss
CommissionsInc
800homehotline
PrivateCommunities
Offrs
RealEstatePipeline
LoopNet
LionDesk
PropertyPulse
Firepoint
VeteransUnited
BackAtYou
Not only does the Zillow Premier Agent CRM track leads from their platform, but it can also organize your leads from multiple third-party platforms in one place. Tech Connect is Zillow's application programming interface (API) that connects ZPA to other real estate lead generation websites. This makes it a one-stop shop for following up with leads rather than constantly switching between multiple platforms or losing track of valuable lead opportunities.
---
Solutions for Teams & Brokerages
Platform specific to teams and brokerages
Track performance
Training and support available
Team leaders and brokerage owners can use Zillow Premier Agent tools to benefit their agents as well as their business' bottom line. Generate leads to distribute to your team and track agent performance, lead count, and conversion percentages to foster growth and increase revenue for your real estate business. A ZPA consultant can also give expert recommendations on how to train and grow your team or brokerage.
Additional features include:
Lead routing: Designate certain leads to specific team members based on location, price, MLS number, and more
Team profiles: Write a group bio, aggregate reviews, and pool listings to show the experience and trustworthiness as a team to new leads
Phone lead broadcast: Prevent calls from leads from going to voicemail or being lost by routing their call to multiple agents
Brokerage branding: Through the Premier Broker program, you can have a custom-branded profile and access enhanced reporting capabilities
---
Ease of Use
Signing up for Zillow Premier Agent is easy through their website using your email address. Make sure you have your real estate license handy to verify your license number and expiration date. After signing up, you will receive a call and email from a ZPA support specialist to get you started on the platform.
Once you're officially on the site, you'll see menu options for posting listings, advertising on Zillow, using the CRM, and more. Plus, you can call or email support specialists for answers to specific questions and details regarding your account 24/7.
User Reviews of Zillow Premier Agent
Customers say they enjoy the Zillow Premier Agent platform interface and find it very user friendly and easy to navigate. They also believe that having the option to change advertising ZIP codes at the drop of a hat is impactful for generating leads in specific areas. This helps them control their budget and enables them to allocate money to more lucrative ZIP codes.
Many agents don't think the leads are high quality nor worth the high cost of receiving them. Some users find the concierge program an obstacle in converting leads and prefer to speak to leads on their own. Since Zillow leads aren't guaranteed and you'll be competing with multiple agents, consider Market Leader, where you are promised a certain number of (exclusive) buyer and seller leads each month.
Zillow Premier Agent Alternatives
Best For: Agents who want a more robust CRM for lead nurturing and communication

Best For: Agents and teams who want to purchase different types of leads

Best For: Real estate professionals who are looking for exclusive leads

Starting Monthly Price: Free plan

Starting Monthly Price: $89.99

Starting Monthly Price: $129

Key Features:

Email and document tracking
Facebook, Instagram, Google, and LinkedIn ads
Marketing automation

Key Features:

Variety of leads include foreclosure, expired, for sale by owner (FSBO), and more
Power dialer
Free CRM with subscription

Key Features:

Exclusive buyer and seller leads
Customizable websites
Automated social media posting
Bottom Line
As the most frequently viewed real estate listings site in the U.S., Zillow is an effective way to gain exposure for your real estate brand and listings. Enhancing its free features with the addition of the Zillow Premier Agent platform can be a lucrative source to generate buyer leads and build your real estate business. Although cost is dependent on your ZIP code, you can easily adjust your budget and calculate your return on investment (ROI) to see what works best to build a successful real estate business and pipeline of leads.