Zillow Rental Manager is a free online rental platform that helps landlords market vacant rental units, provide prospective tenants with rental applications and tenant background checks, and collect rent online. You can create an account and start adding properties and photos for free in minutes.
If you're looking for complete online property management software, look at Avail. Avail offers listing syndication on dozens of sites, including Zillow. Avail also provides maintenance tracking in addition to online rental applications, leases, and forms. Getting started takes only a few minutes, and the first unit is always free.
The six steps for how to post a rental on Zillow Rental Manager are to create a free account, enter property information, fill out listing details, activate listings, accept payments, and edit the listing.
1. Create a Free Account
You can open a free account on Zillow Rental Manager by entering your name and email or clicking to sign up with your Google or Facebook accounts. Once logged in, there's a pop-up box to enter information about the property. Unless you're ready to enter listing data, you can close the box and reaccess it by clicking "My Properties" on the top tab, then "Get Started" in the center of the photo.
Enter Name and Email

If you have questions as you're getting started posting your rental, Zillow has compiled a Resource section that has landlording tips, tools, and trends. Here, you'll find articles with issues landlords face today. Scroll a little, and you encounter tools, forms, and templates such as rent receipt templates, online lease agreements, and rental applications.
Click 'Get Started' to Enter Property Details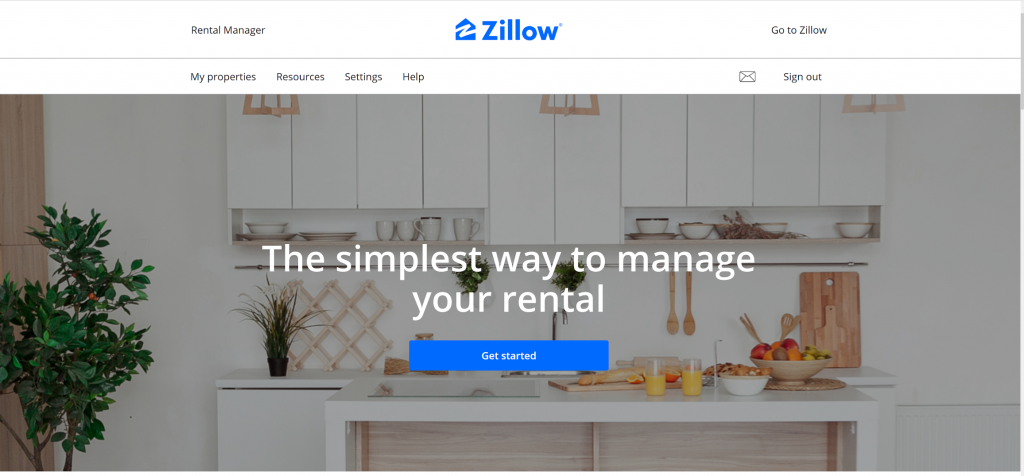 Some additional Zillow Rental Manager tools and resources include:
Move-in/move-out checklists
Tenant background checks
Comprehensive credit reports
Tools and Resources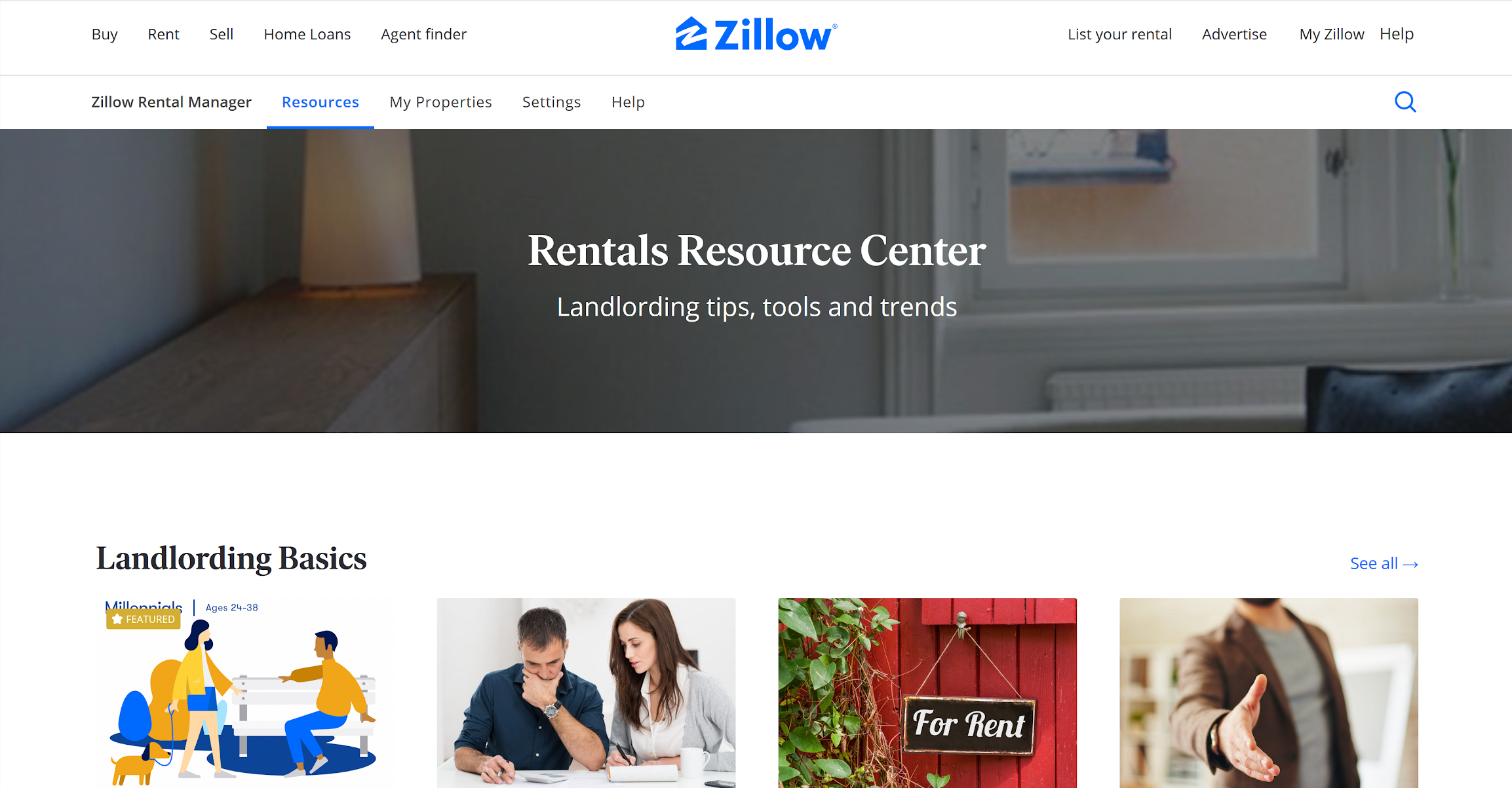 2. Enter Property Information
Once you've familiarized yourself with the site, you can post a new listing. Click on "My Properties" in the top menu bar. A box will pop up for you to enter your property's information. Put the full property address, including city, state, and ZIP code, unit number, and property type into the box and either click "Create my listing" or "Manage my property."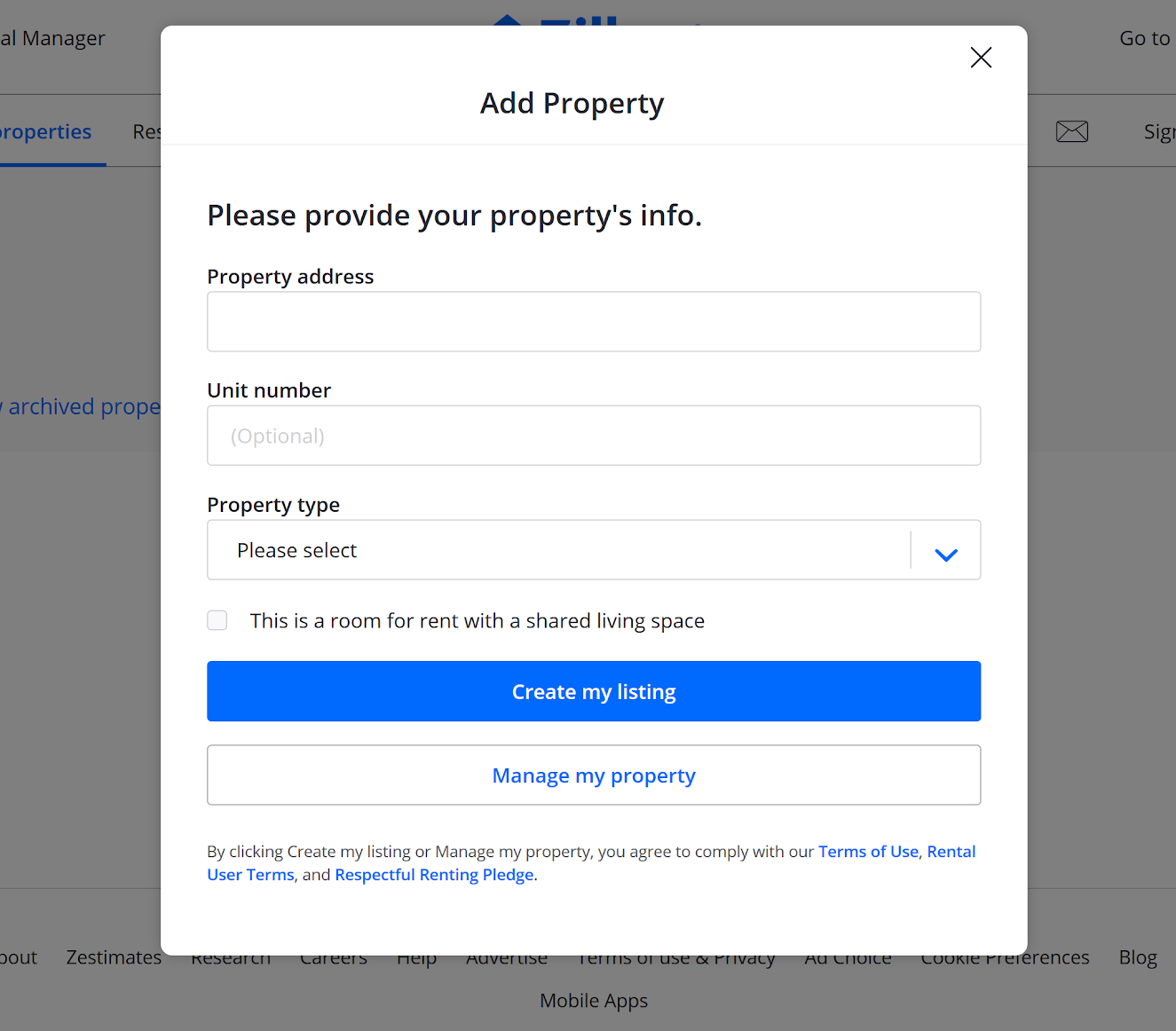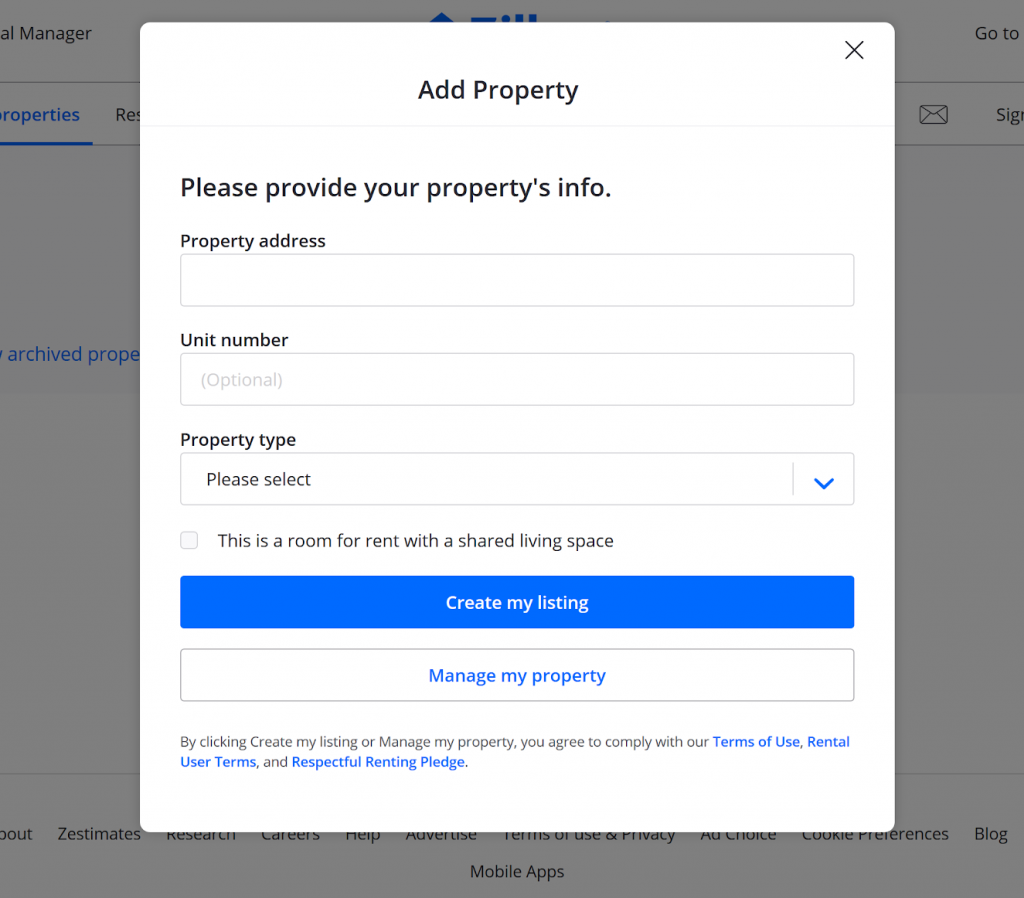 Whichever button you click, you will be directed to a page where you can enter your listing details. Before clicking and moving to the next step, notice the fine print at the bottom of the pop-up box.
If you need additional information about Zillow Rental Manager, by clicking the be sure to read Zillow's terms of use and the Respectful Renting Pledge. These are worth taking a look at since they contain valuable information about payments, account termination, and a list of dos and don'ts, including abiding by the Fair Housing Act.
3. Fill Out Listing Details
Moving forward, you can now enter your listing details. The details and description box include information tenants will need to determine if your rental is right for them. At the bottom of the details page, you have the option to hide the property address. Some landlords prefer not to provide the address to discourage people from showing up at the property unannounced.
Additional listing details and descriptions include:
Rent price
Security deposit amount
Dates available
Length of the lease
Number of beds and baths
Square footage of rental unit
Terms of the lease
Unit description
The terms of the lease and the unit description ask for a narrative. Here, you can include any amenities, pet and smoking policies, who pays for utilities, proximity to any major routes, shopping centers, or transportation, and any other pertinent details to help make your listing attractive to renters.
Rental Details & Description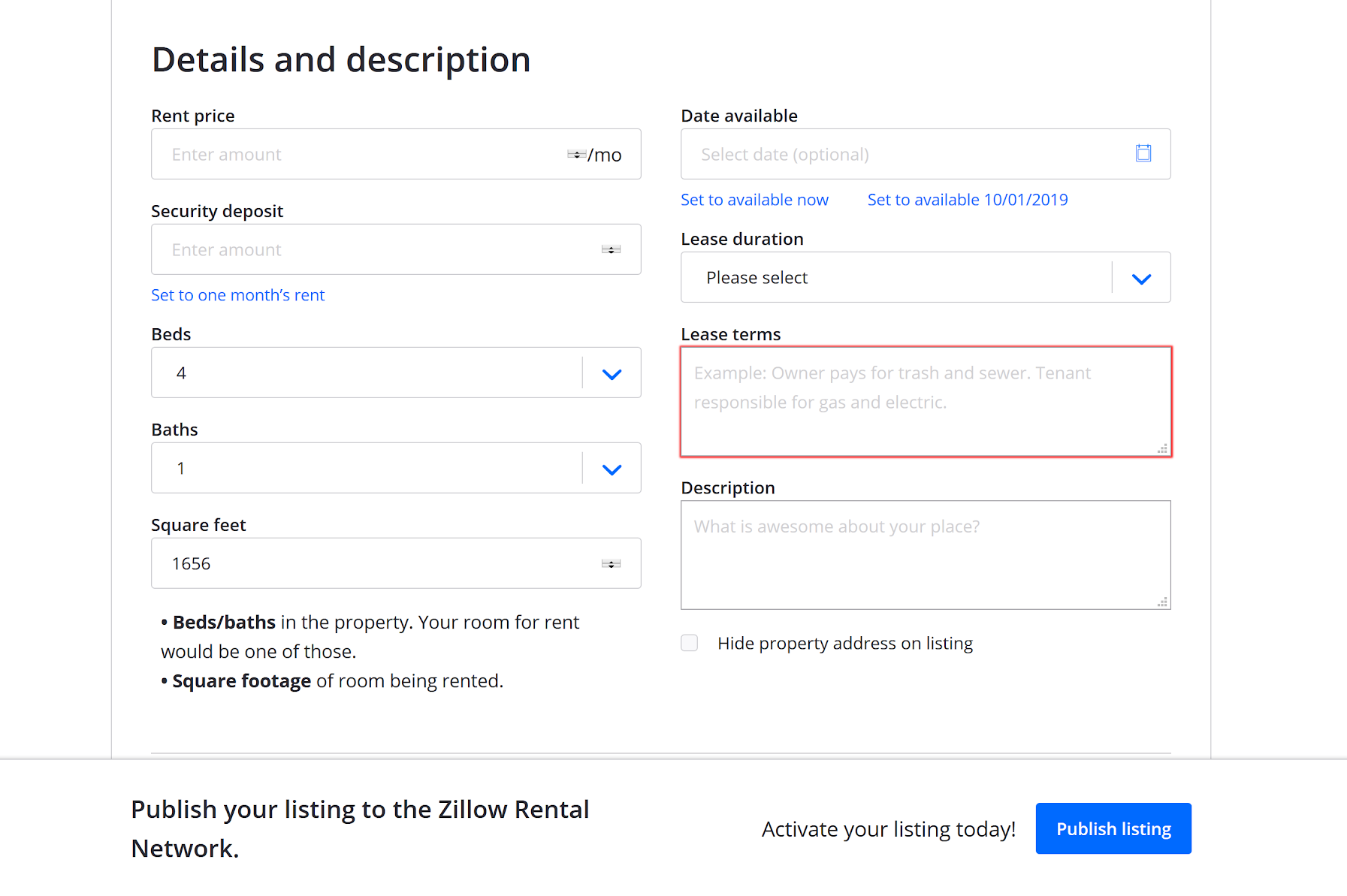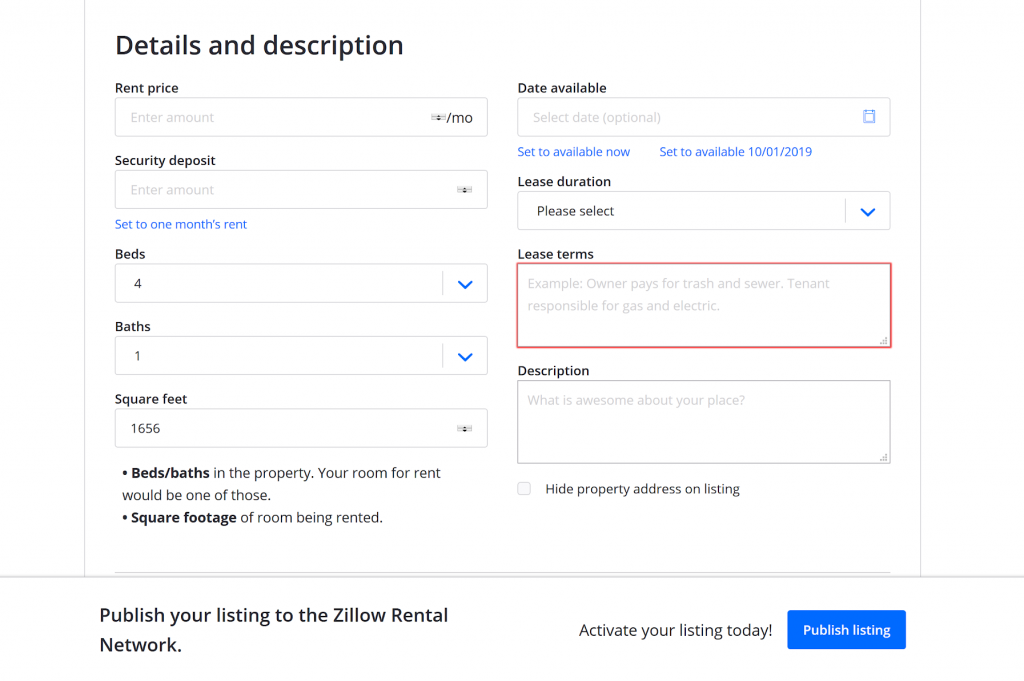 Further down on this page, you'll enter your name, email address, and phone number. To avoid getting calls at all hours, you can click the checkbox to hide your phone number from the listing. If you're self-managing your rental properties, you may want to create a separate email address from your personal email to keep your property management activities separate from your personal accounts.
Additional Details & Description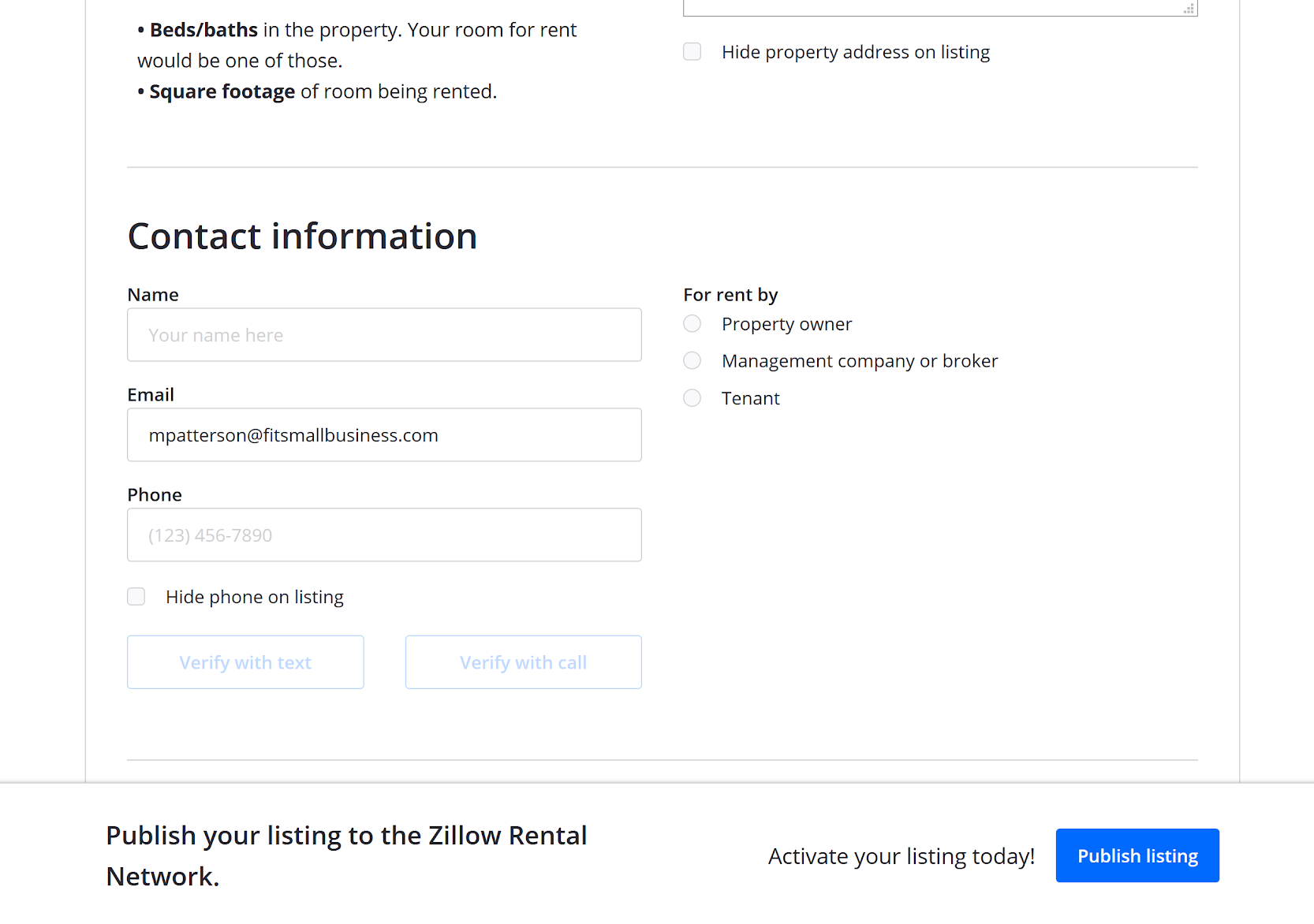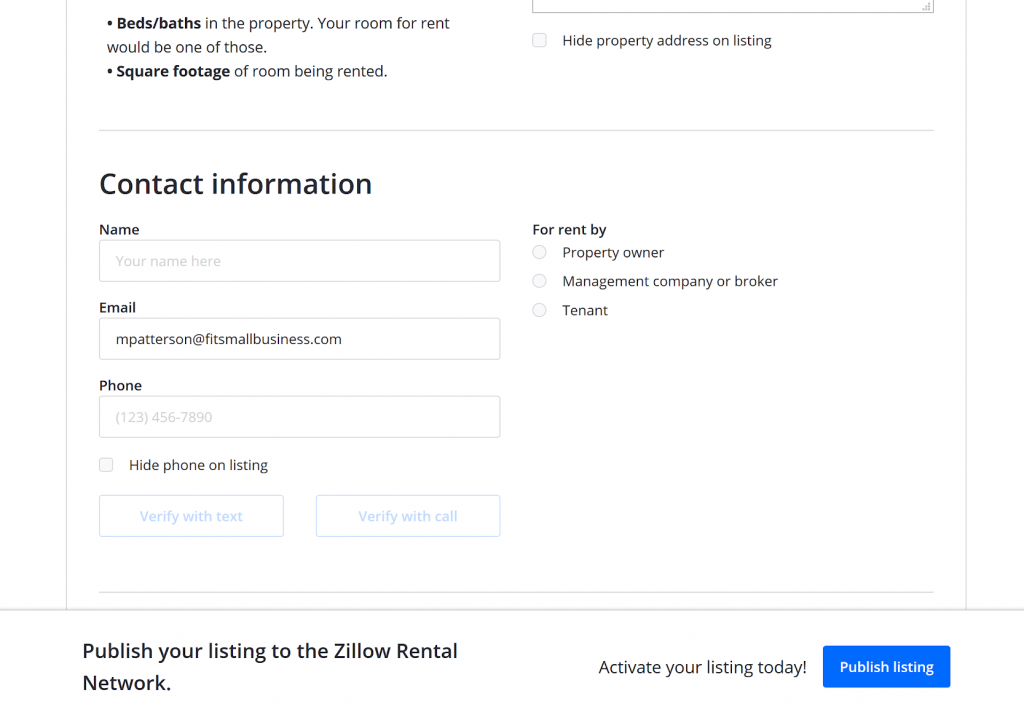 When completing your listing details, you can also indicate whether your property is being rented by a property owner, manager, real estate broker, or tenant. Next, check the applicable boxes next to the amenities and rules, including if the unit has air conditioning, hardwood floors, laundry, and whether pets are allowed, including large-breed dogs. There is also a box to include additional amenities not provided by the checkboxes.
This is a good reminder that when you create your rental agreement, you should be sure to include a subletting policy. Otherwise, tenants may list your rental themselves to tenants you haven't screened Subletting is when a tenant can rent a unit to another tenant, which is why Zillow includes the option. If you want to prohibit this, it must be clear within your lease.
Amenities & Rules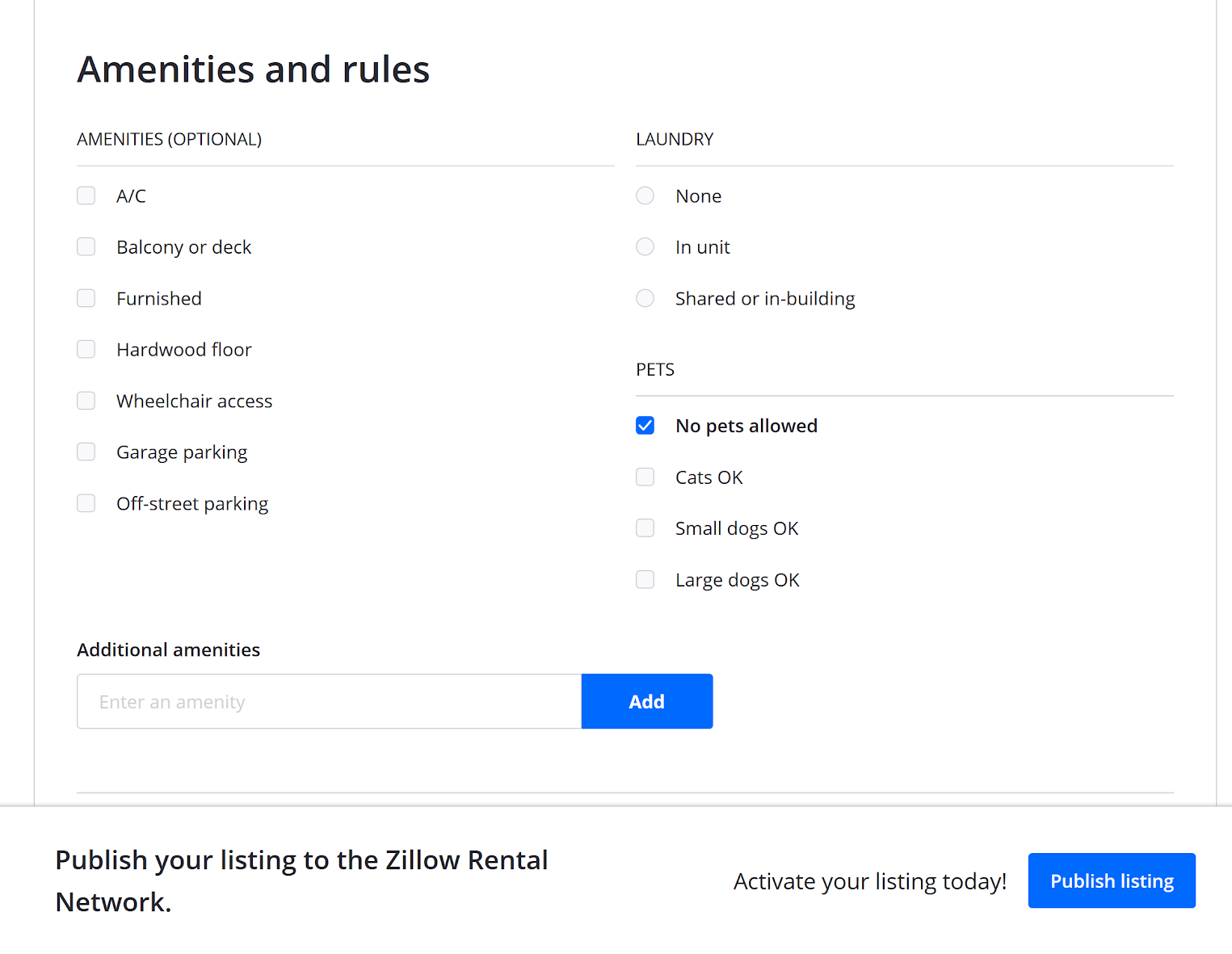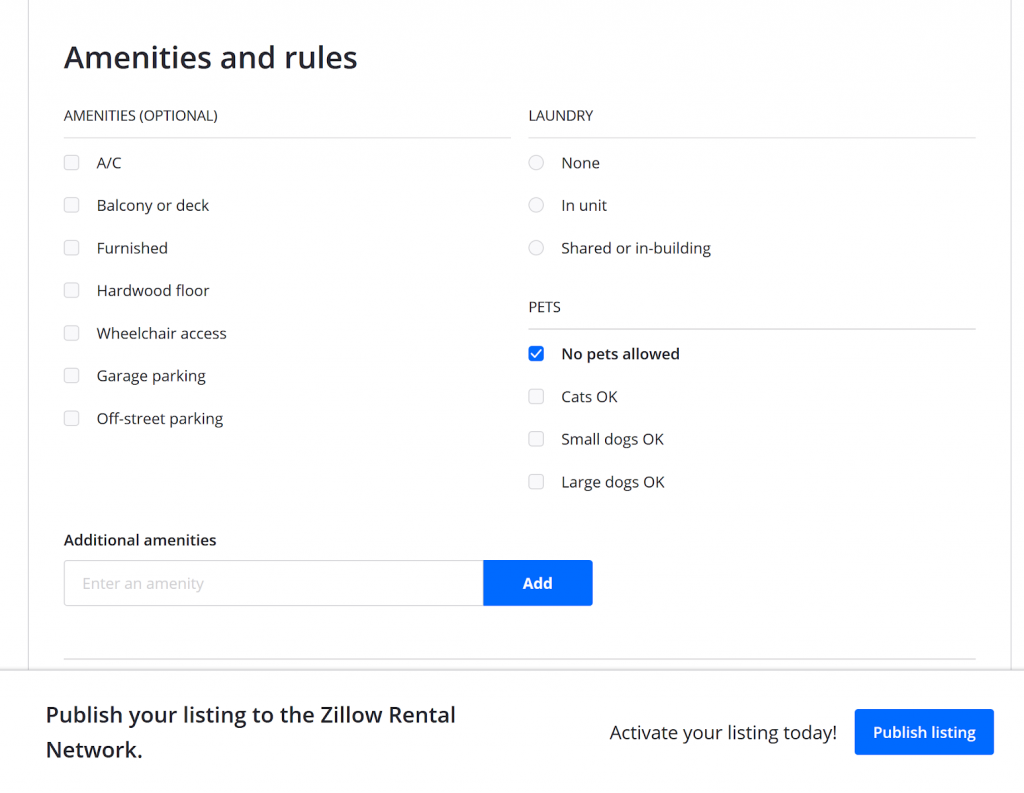 Once you've entered the amenities and pet information, you can upload photos you can use when marketing listings on Zillow. We couldn't determine how many photos Zillow allows users to upload, but studies show that listings with fewer than nine photos are more difficult to rent while listings with 20 to 27 photos got more traffic. Some listings include up to 40 photos.
Choose photos that are clear, attractive, and don't show things like outdoor trash bins, leftover paint cans from refreshing a unit, or tools left lying around. If the unit is currently rented, but you're anticipating an upcoming vacancy, ask tenants to tidy-up the unit for photos.
Additional photo criteria provided by Zillow Rental Manager are:
Photos must be in JPG, GIF, PNG, or TIF image format
Photo file size must be smaller than 50MB to 10MB for the best quality
Photo dimensions must be at least 330 pixels wide by 220 pixels high; 1536 pixels wide by 1152 pixels high for the best quality
Uploading Photos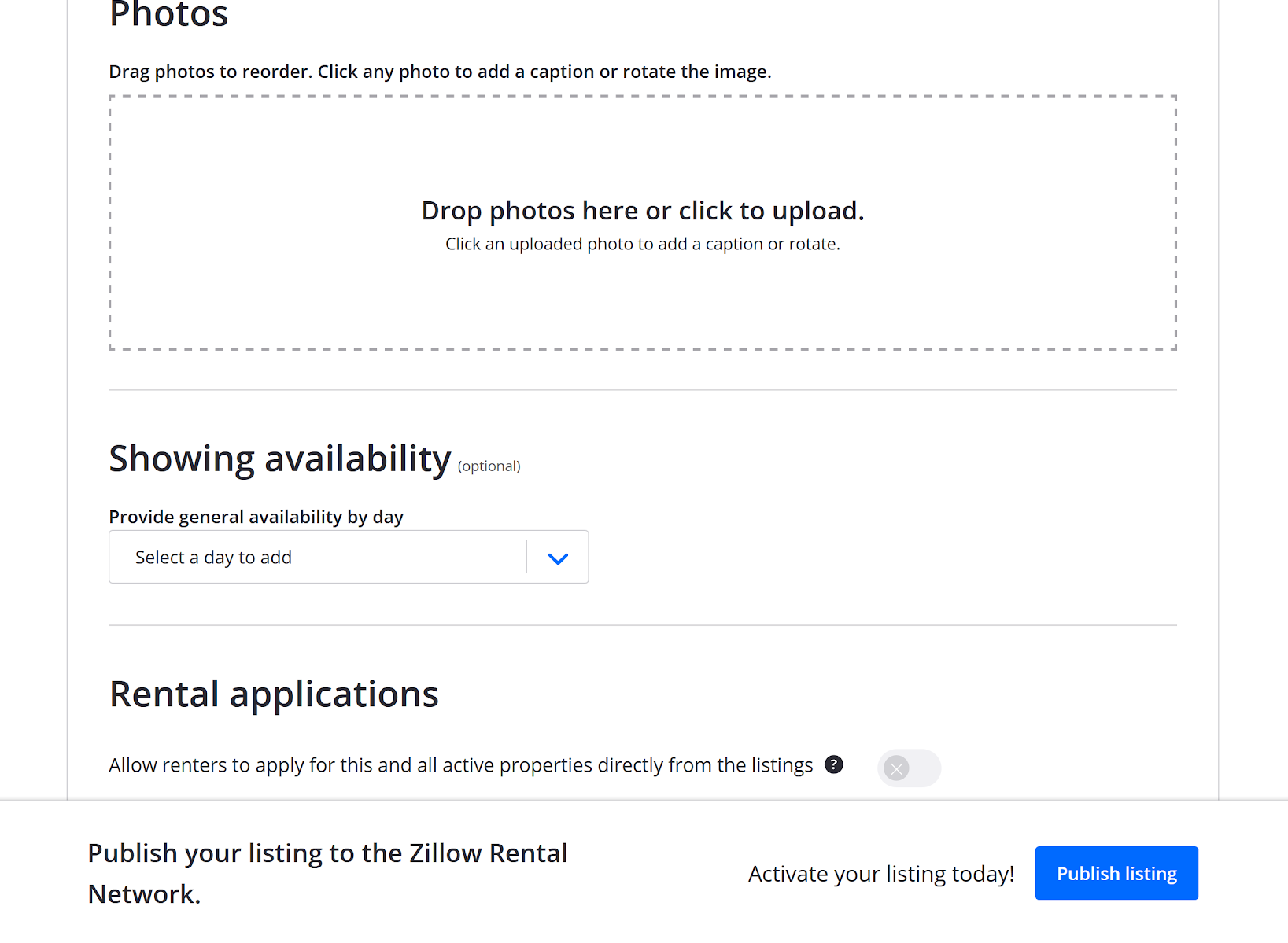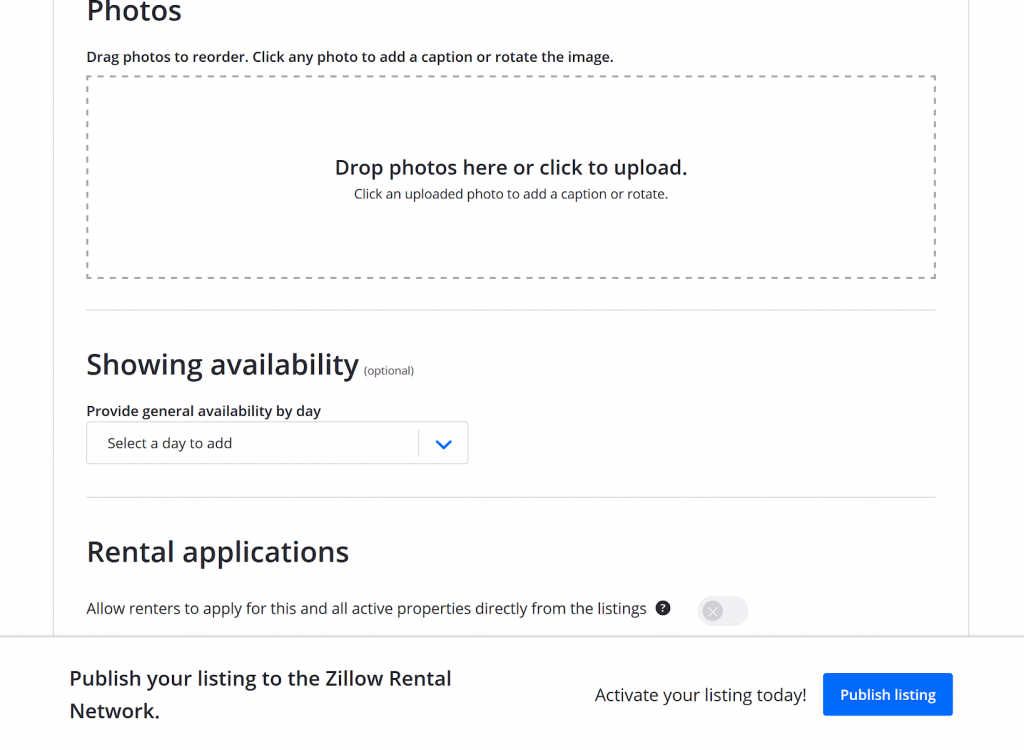 The last two actions to take on this form before publishing your listing are to provide general showing availability and to turn on the button to find renters and allow them to fill out rental applications directly on the Zillow site. Showing availability lets you choose the days of the week you intend to show the unit. Some landlords like to offer group showings to save time and travel.
Showing Availability & Rental Applications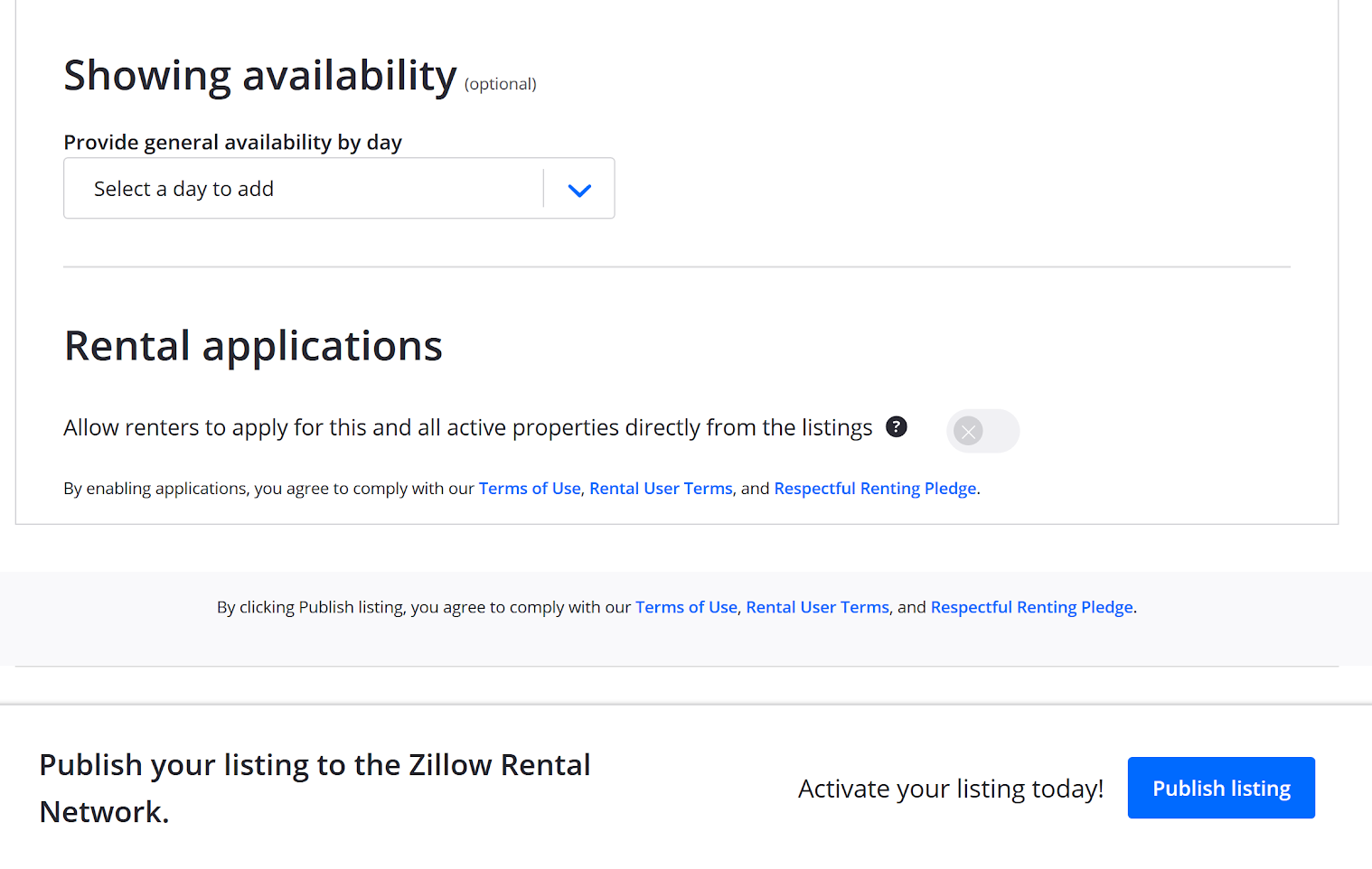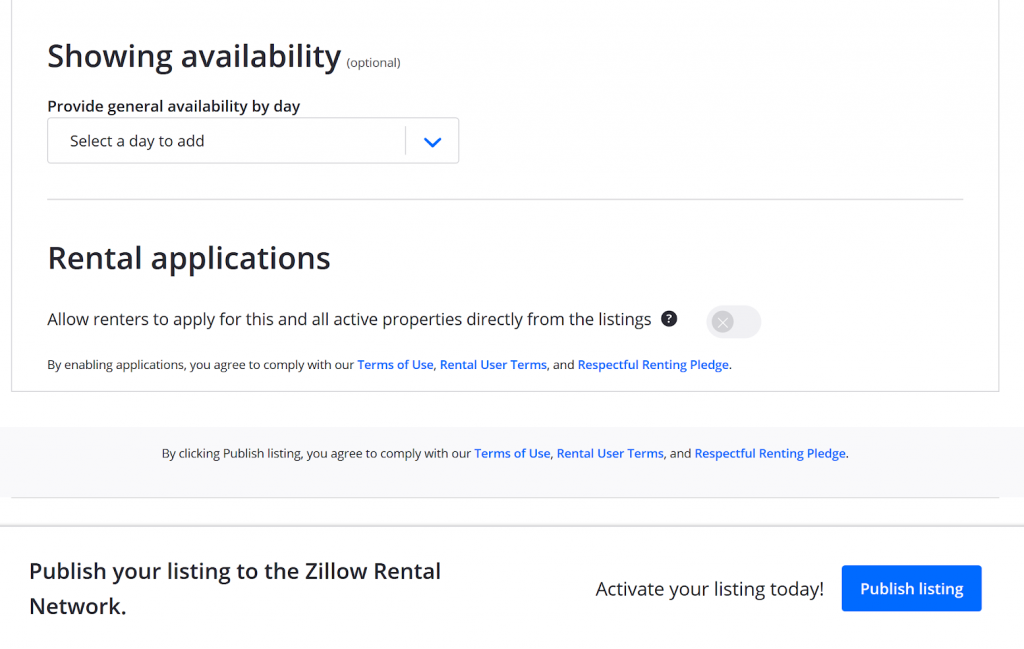 4. Activate Listings
With all your listing details, contact information, and photos uploaded, you can click the button on the bottom of the box to activate your listing. Your listing will go live in moments and appear on sites like Trulia and HotPads in addition to Zillow. If you didn't turn on the button to accept applications earlier in the process, you can click the blue button to enable rental applications.
If you enable rental applications, renters will see an "apply now" button and can apply directly from the listing. Applications and tenant background checks are free for landlords. Applicants pay $29 to cover third party screening services. With this one-time fee, applicants can submit applications to an unlimited number of participating landlords for 30 days. Credit and background check information is pulled each time the tenant uses the application, so information is always up-to-date.
Online Applications Setup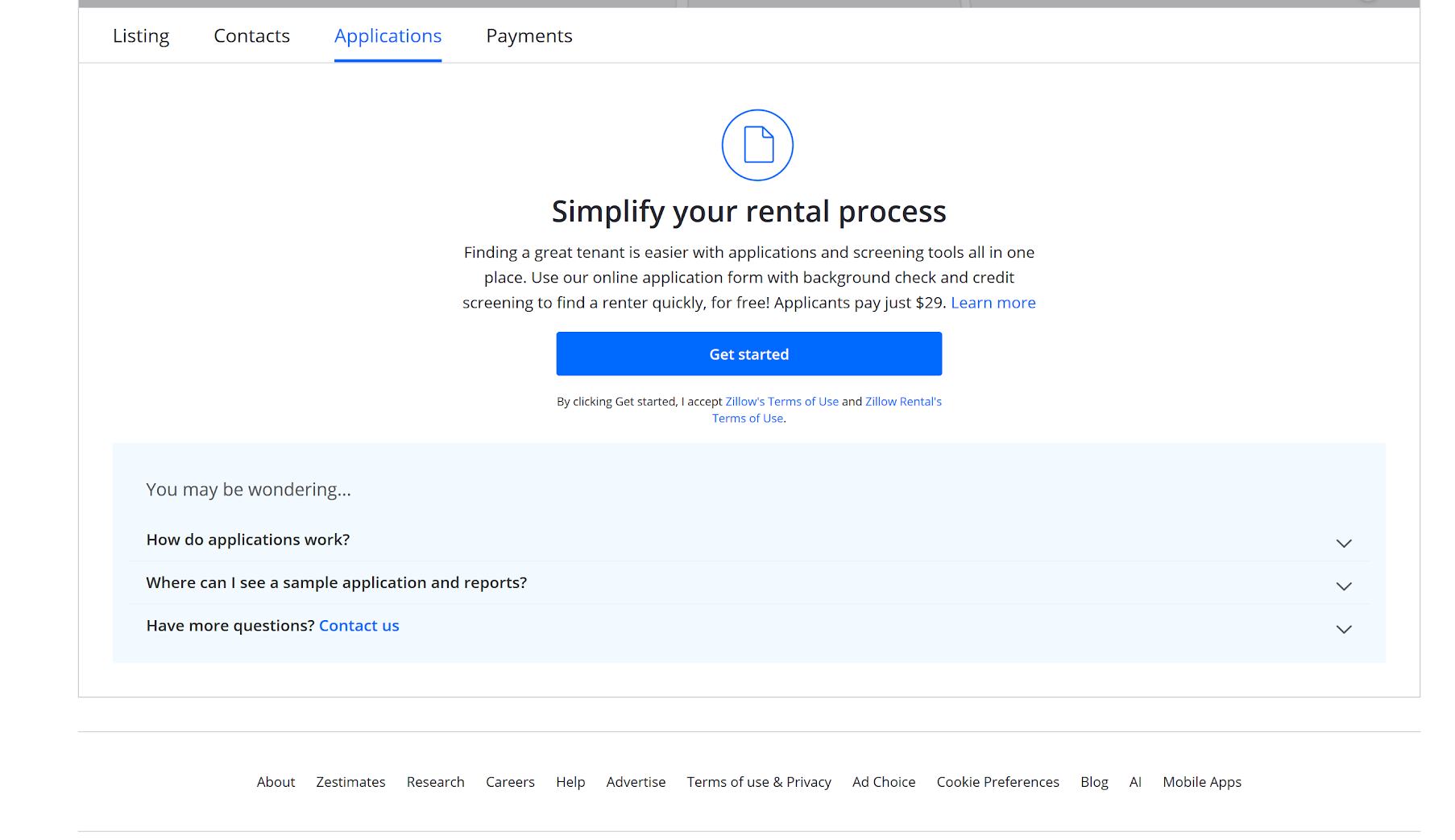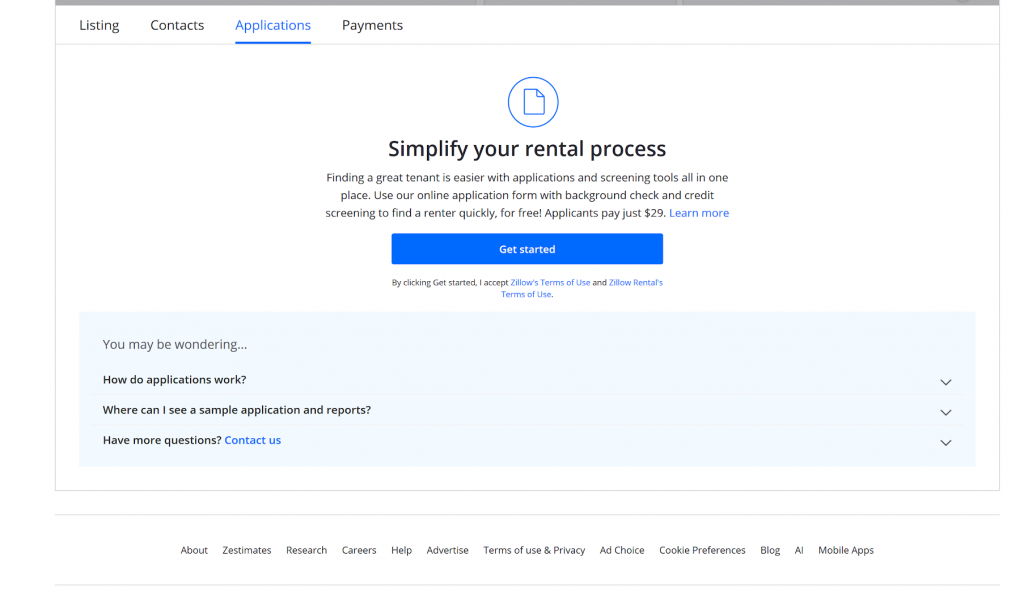 5. Accept Payments
If you click on "My Properties" in your landlord portal and click on one of your listings, you'll see tabs across the top for listings, contacts, applications, and payments. Click on the payments tab. Here you can connect your rental property bank account and receive rent payments right into your bank account.
The fine print at the bottom of this page contains Zillow Rental Manager's important information about your connected account agreement for processing payments and your bank authorization terms that you'll want to familiarize yourself with. Once you've read the terms, click the button to set up online rent collection. A box will appear with the information you need to proceed.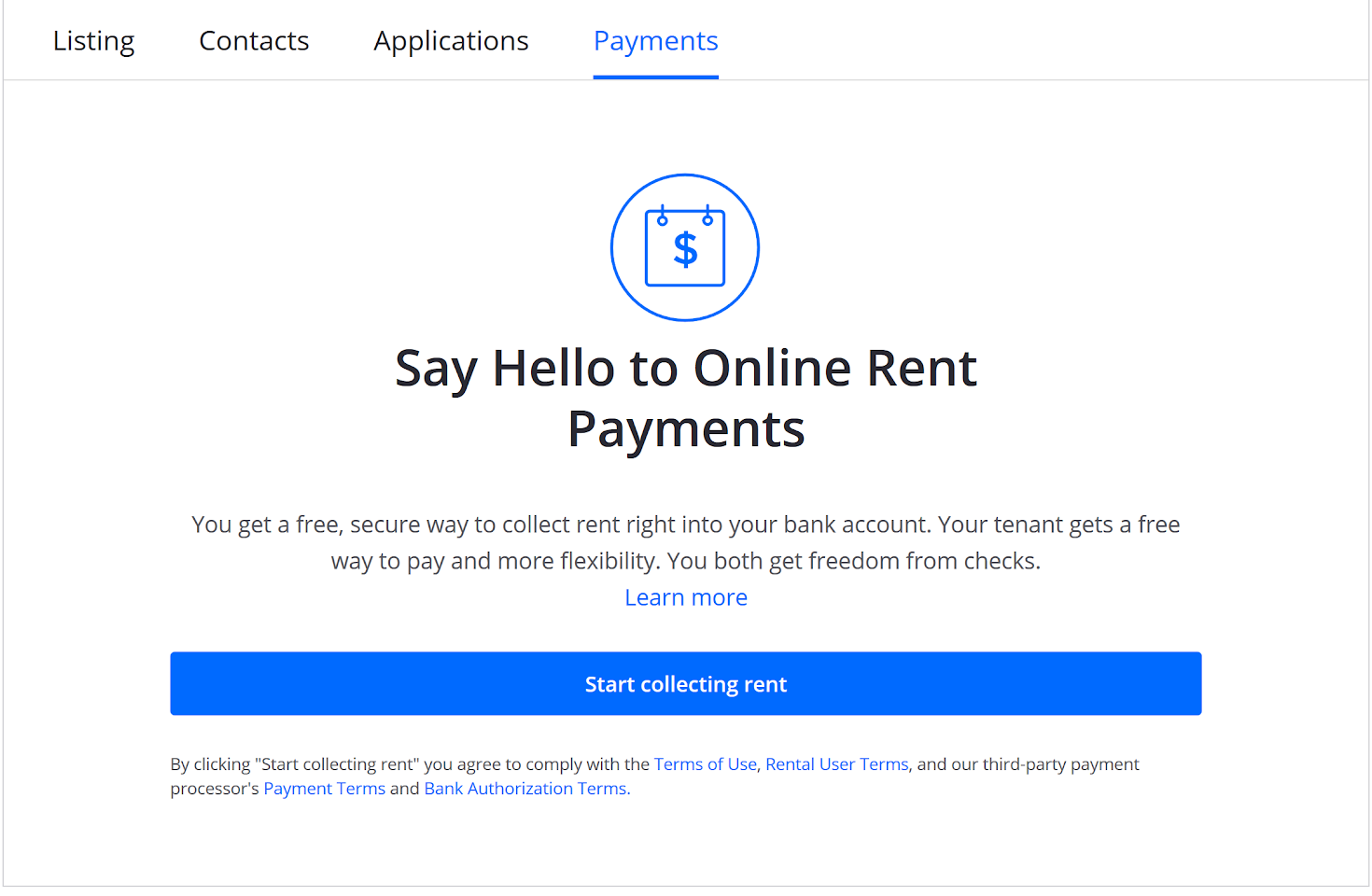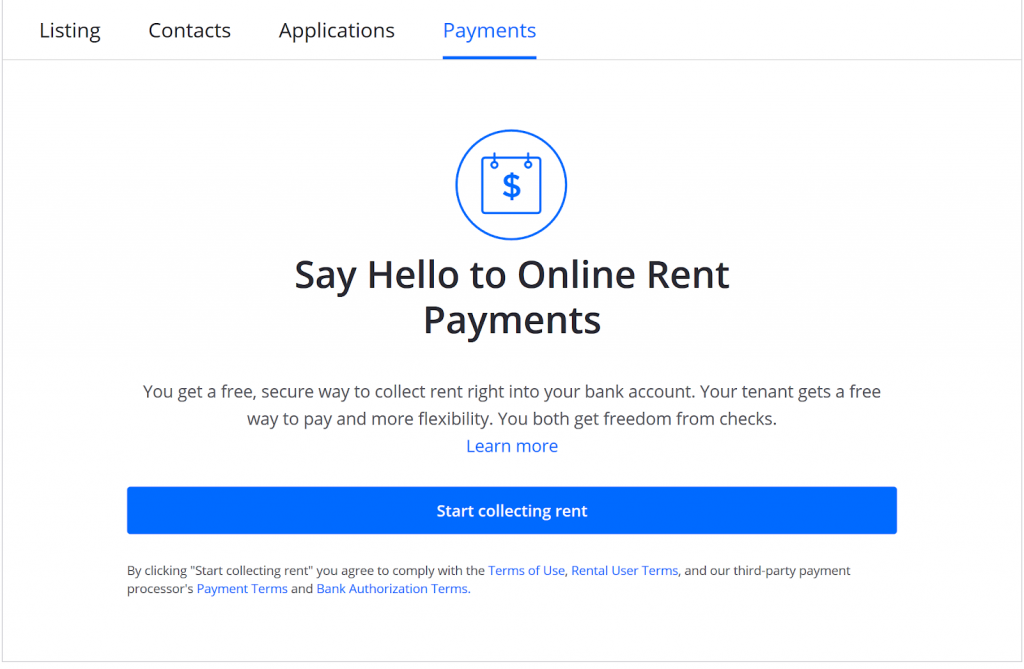 Here's what you need before continuing:
Bank account information for where you'd like to receive rent payments
Basic tenant details
Personal information to verify your identity
When you click on the button, it will give you the option to enter the rent amount. Each step of setting up your online rent collection offers a drop-down menu with frequently asked questions and how to contact Zillow for further answers.
Some additional information to include when setting up online payments:
Monthly payment date
Date of first full month's rent
Final payment date or check "no end date"
Link bank account automatically or manually enter
6. Edit a Listing
After you've added your listing to Zillow Rental Manager, set up tenant background screening and applications, and connected your bank account to start collecting rent, you can add more listings following the same six steps. If you need to make changes to your listing, such as details, photos, policies, or showings, you go back to My Properties, click on your listing, and change any details you want.
Deactivate a Listing
If you want to deactivate the listing, click on the listing and then "deactivate my listing" at the bottom of the page. Your listing will be deactivated from Zillow and all affiliated sites within 24 hours. You can reactivate it just as easily by clicking on the listing again and clicking the "activate my listing" button. Zillow Rental Manager stores the rental information in your account, so when there is tenant turnover, you just need to open the listing, make any updates, and reactivate it.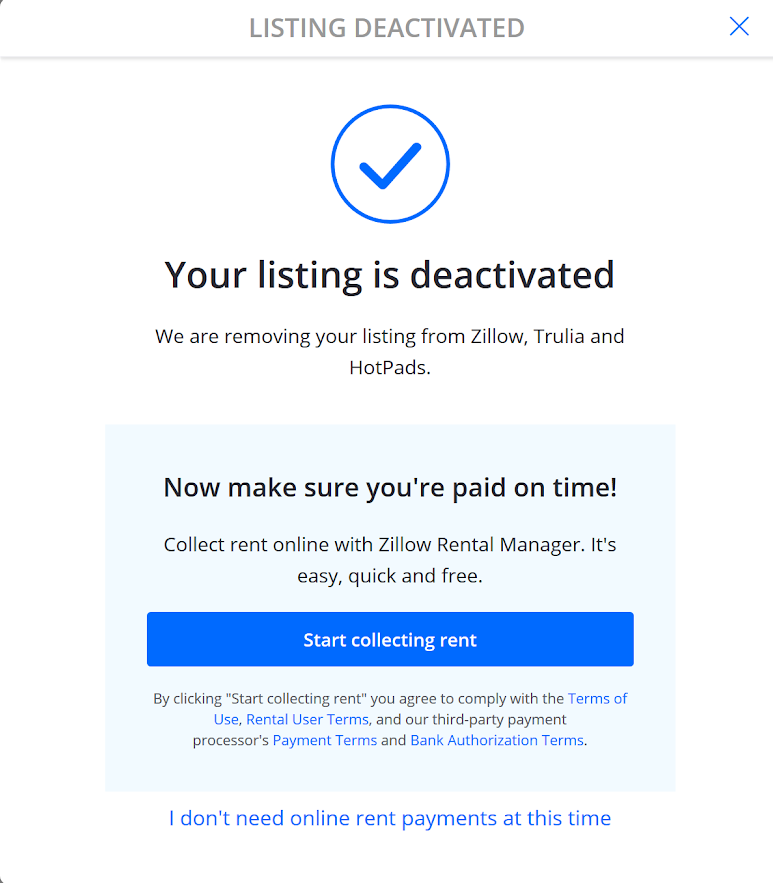 To archive a property, click on the listing, then click the little pencil next to the street address. Click the button that says, "archive property." You can unarchive it by following the same process. Deactivating a listing removes it from your active listings page without losing any of the listing details, so you can reactivate it easily when you're looking for a new tenant.
Why Zillow Rental Manager Is Important
Among Zillow's overall statistics, we found that 1.73 million renters use HotPads.com―another site owned by Zillow―every month. With 43.3 million renter-occupied housing units in the United States, landlords need to make their listings stand out and do what they can to get listings in front of renters, and this means using tools like Zillow Rental Manager.
In some cases, Zillow is just a start, and landlords should consider having their rentals listed on a number of sites. For example, a lot of online property management systems allow landlords to syndicate their listings with more than a dozen such rental listing sites. Additionally, collecting applications and background checks online allow landlords to fill vacancies quickly.
Zillow Online Support
From your Zillow Rental Manager homepage, you can get assistance by clicking on the word Help in your menu bar or at the bottom of the page. This redirects you to their online support page that covers everything from creating and managing listings to uploading photos and taking rental applications. If you're unable to find what you're looking for, you can click on the "submit a request" tab in the top right corner.
Here, you can submit a support ticket and upload files or photos of the issue, and a Zillow customer support specialist will get in touch within a few days.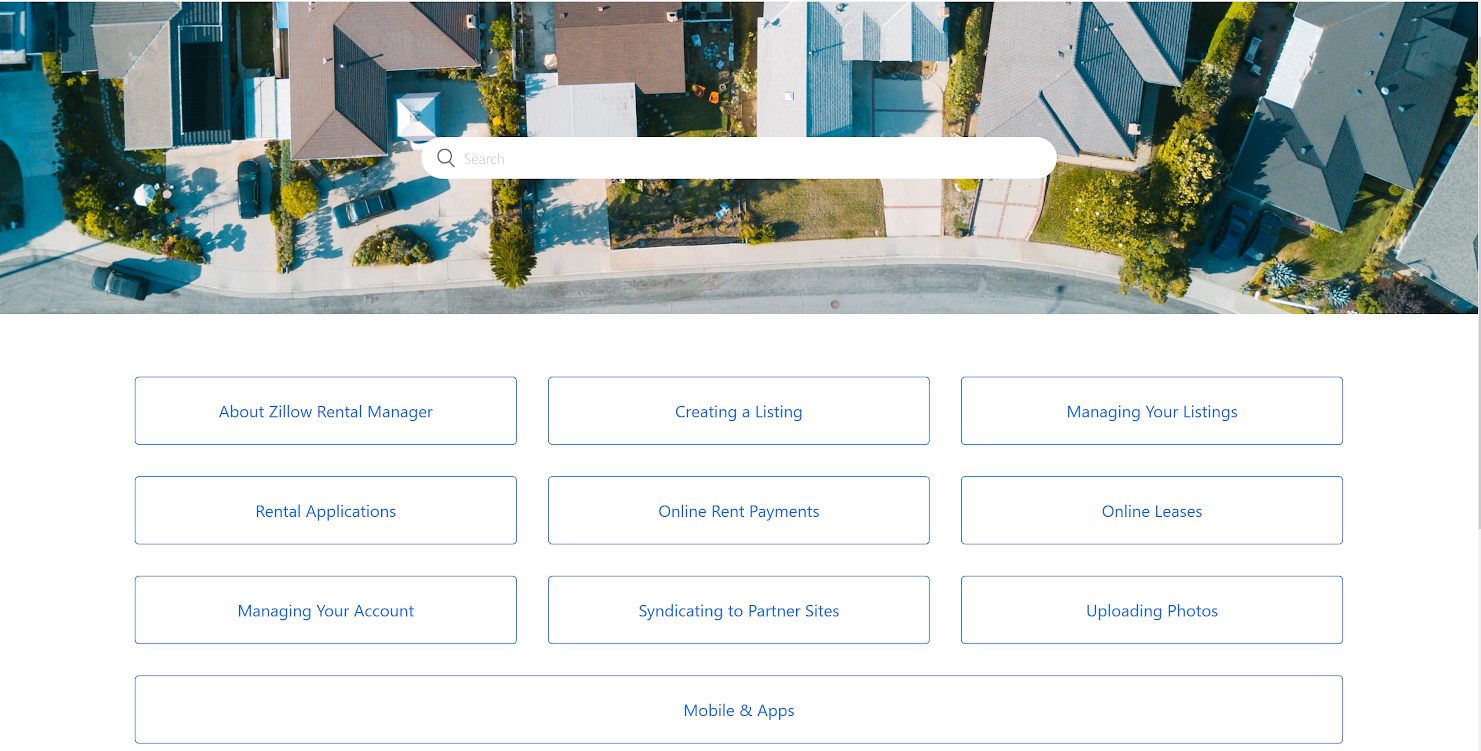 3 Zillow Rental Manager Mistakes to Avoid
1. Not Using Enough High-quality Photos
Posting high-quality photos to your Zillow Rental Manager listing will attract more renters. Photos should be high resolution and feature attractive aspects of the rental unit, such as hardwood floors, interesting architectural details, and sunny rooms. Make sure units are free of clutter and trash. Include 25 or more photos for the best results.
2. Not Including the Right Listing Details
Your listing on Zillow Rental Manager should include details that are important to renters, such as access to major routes, shopping, and the availability of Wi-Fi. Also, include which floor the unit is on, the amount of money the renter will need at lease signing, and typical monthly income to afford the unit.
3. Skipping the Online Application and E-lease
Zillow Rental Manager doesn't require landlords to use their online application with tenant background checks or e-leasing, but this can be a mistake to skip it. Make the application, background check, and leasing seamless for renters by using these tools, so that applicants don't bypass your rental for another. 73% of renters use these online resources to make renting easier.
Bottom Line
To learn more about how to post a rental on Zillow Rental Manager, review their frequently asked questions (FAQs). The most important things to remember when posting on Zillow Rental Manager are to include high-quality photos, enticing descriptions, and important details for renters such as proximity to local amenities. Set the account to accept online applications, background screening, and e-leases, and you're ready to fill vacancies.
If you'd like additional online property management tools, consider using Avail. Avail enables users to manage their properties, syndicate listings, view tenants' background history, sign leases, and collect the rent. Sign-up is quick and easy, and the first unit is always free.