Zippykind Review: Is It Right for Your Business?
This article is part of a larger series on POS Systems.
Zippykind is a cloud-based delivery management and driver dispatch software platform that enables small businesses to manage a team of in-house delivery drivers. It includes tools for route optimization, dispatching, location tracking, customer rewards, and more.
While it lacks prebuilt point-of-sale (POS) integrations for retail and restaurant users, Zippykind allows you to build your own integrations through Zapier or the software's open application programming interface (API).
This software operates on a pay-as-you-go model deducted from prepaid credit, and the entry-level subscription is free.

What We Like
Customizable settings support time-saving automation
Automated email and SMS messages keep drivers and customers informed
GPS-coordinated delivery notes assist with chargeback disputes
Real-time driver tracking
Schedule deliveries up to one month in advance
What's Missing
May be a more robust tool than small operations need
Limited customer support on free plans
Integrations available only through custom-built API or intermediary app plug-in
Subscriptions have ticket limitations
Deciding Factors:
Software pricing:

Free: $0 (up to 50 orders)
Paid plans: $0.19-$0.29 per order

Order entry options: Manual input, CSV upload, direct integration; Scheduled or on-demand
Direct integrations: WooCommerce, Shopify, Epos Now; Open API for custom integrations; dozens of pre-built integrations available through Zapier
Contract length: No long-term contract required
Customer support: 24/7 via email; 9 a.m.–5 p.m. Mountain time, Monday–Friday via phone
Standout Features:

Web-based dispatch module with streamlined driver app
Automated email and SMS messaging
Robust dispatch tools
Custom delivery zone creation
Sharable live order tracking
Heatmap feature
Robust calendar and scheduling function
Smart automation capabilities
Promo code compatibility
Reporting and analytics
When To Use Zippykind
Zippykind is a useful delivery management and dispatch solution for any small business that wants to look polished and professional to its customers. The streamlined Zippykind dashboard is easy to use, and the connected driver app lets you give your customers Uber-style service.
In particular, we recommend Zippykind for:
Independent retailers and restaurants that manage in-house drivers: Zippykind's dispatch tools are robust and affordable, making them a perfect fit for small shops and restaurants. Detailed delivery notes allow you to attach a comprehensive list of ordered items.
Small businesses that want professional-looking delivery: Zippykind's automated email and SMS messaging, live tracking links, and app-supported driver-to-customer communication help small businesses look as polished as a massive enterprise.
Service businesses that need affordable dispatch tools: Zippykind's delivery tickets can be repurposed to contain service call information for independent plumbing companies, gardening, cleaning, or property management services.
Independent retailers that want ecommerce integration: Zippykind doesn't integrate directly with our favorite POS systems, but—via an integration with the intermediary app Zapier—it can connect with WooCommerce and Shopify sites.
Medium-sized businesses that want delivery automation: Zippykind users can create delivery zones with related fees, driver zones, prescheduled deliveries, and automated driver and customer messages. This level of automation saves loads of administrative time.
When To Use an Alternative
Restaurants that want delivery management with POS integration: Restaurants that want delivery management that integrates with their restaurant POS system will likely spend less by using a POS-built system like Toast.
Small businesses that need free delivery management tools: Zippykind does have a free subscription, but it includes only 50 deliveries per month. Businesses that need more free deliveries can get 300 per month with Shipday.
Businesses that need delivery management with barcode scanning: If your delivery business uses barcode scans to manage your products and delivery tickets, try Tookan.
If you're looking for an all-in-one software, try one of our recommended POS systems. Several of them have delivery features and integrations.
Zippykind Pricing
Zippykind charges its subscribers based on the volume of monthly deliveries. There are no underlying subscription fees and no long-term contracts—you only pay for what you use. Zippykind's entry-level subscription is free to use for up to 50 deliveries per month.
To help small businesses find the best-fitting delivery management system, Zippykind offers three additional subscription levels: Meadow, Forest, and Orchard. The three paid tiers all offer the same functions; the only difference between them is the per-delivery price and the number of supported deliveries per month.
Additionally, each paid plan requires a different level of pre-payment at the beginning of every month. This deposit becomes available as Zippykind credit from which all of your tickets and add-on charges are drawn. Any remaining balance is rolled over into the following month.
Tickets per month

Free

Meadow

Forest

Orchard

Monthly prepayment

$0

$87

$360

$570

Price per ticket

(deducted from available credit)

$0

29 cents

24 cents

19 cents

Tickets per month

Up to 50

Up to 300

Up to 1,500

Up to 3,000

Customer support

Forum and tutorials only

Phone and email support

Phone and email support

Phone and email support

Customer email notifications

✔

✔

✔

✔

Driver app

✔

✔

✔

✔

Delivery scheduler

✔

✔

✔

✔

Heatmap

Not included

✔

✔

✔

Bulk .csv upload

Not included

✔

✔

✔
All Zippykind subscriptions are granted access to the Zippykind driver app. They all also send automated emails to customers and allow you to drag and drop deliveries to schedule. But if you want time-saving functions like the ability to bulk import orders and customer information, view delivery heatmap reports, and send push notifications to drivers, you'll need to opt for one of the three paid membership tiers.
Zippykind Features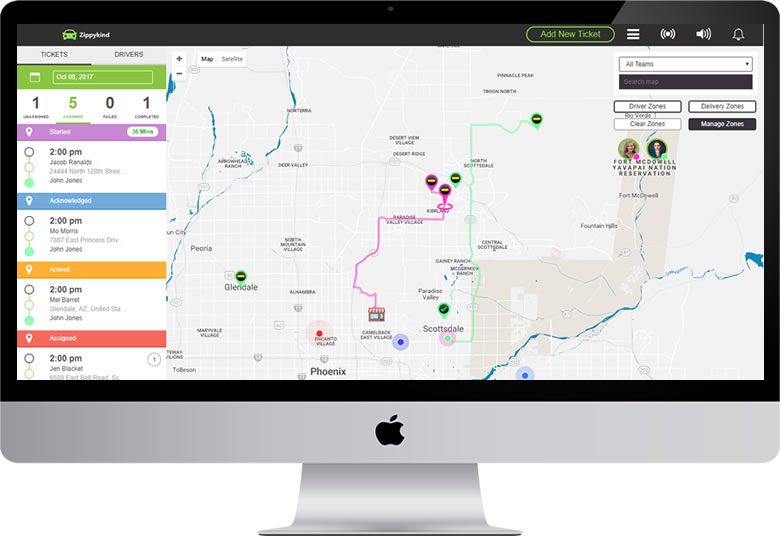 ---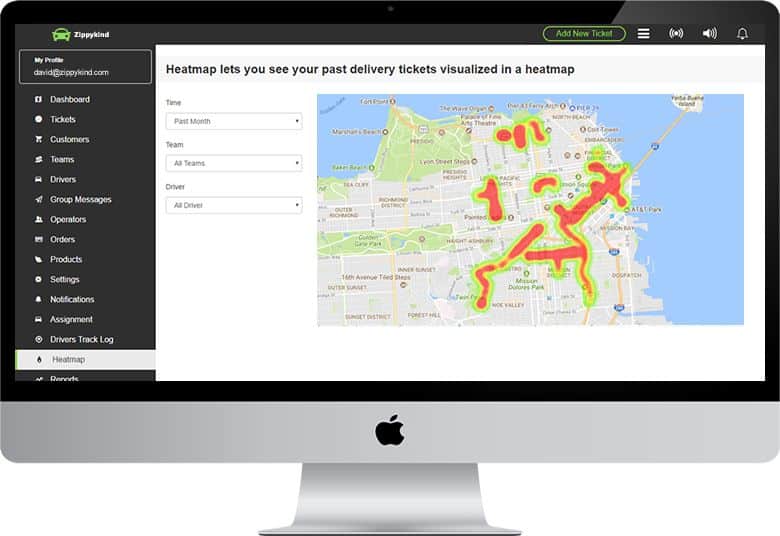 ---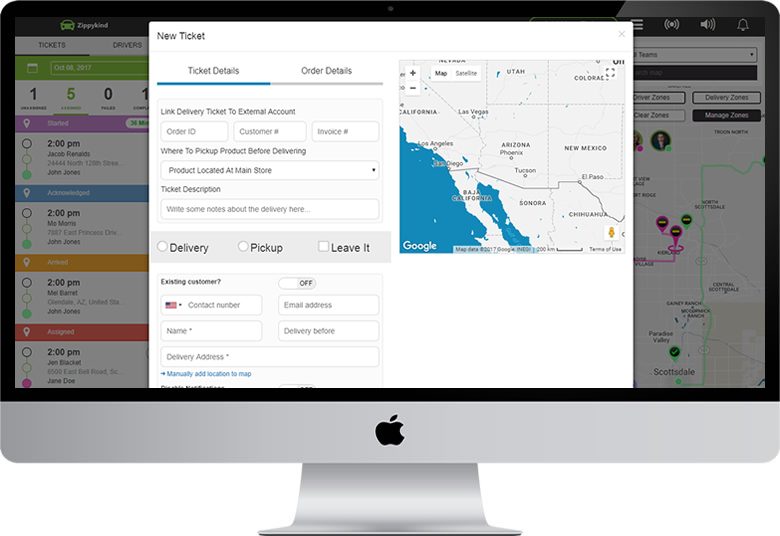 ---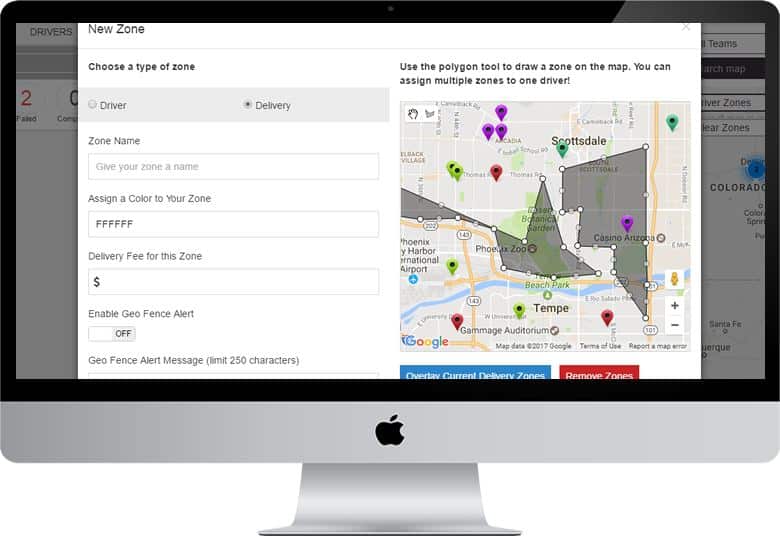 ---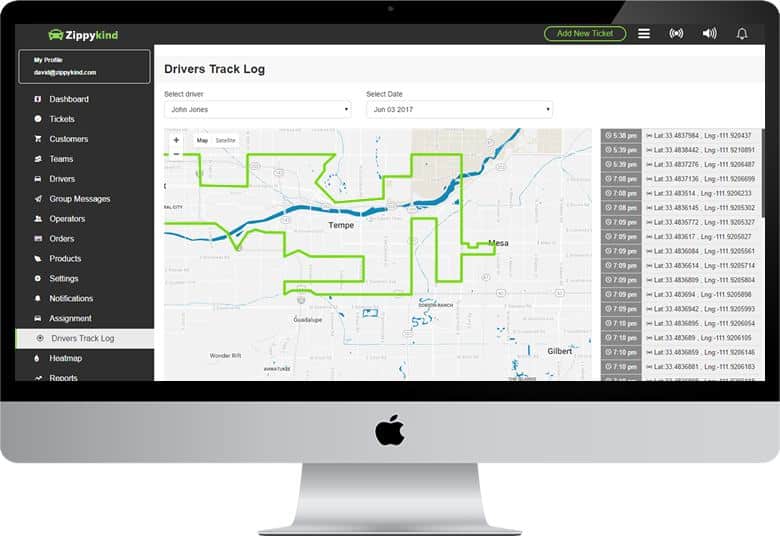 ---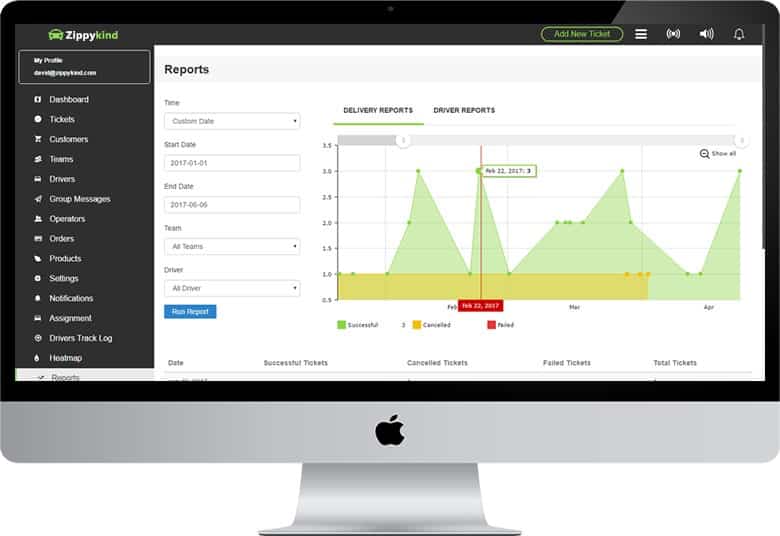 ---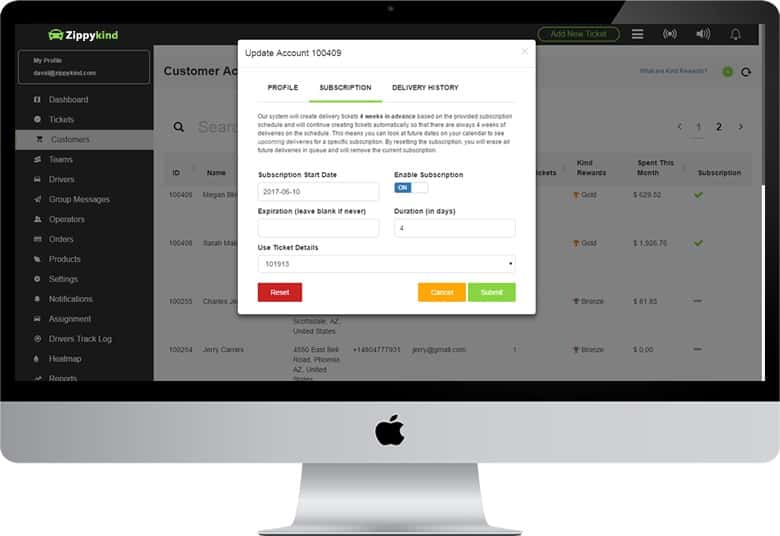 ---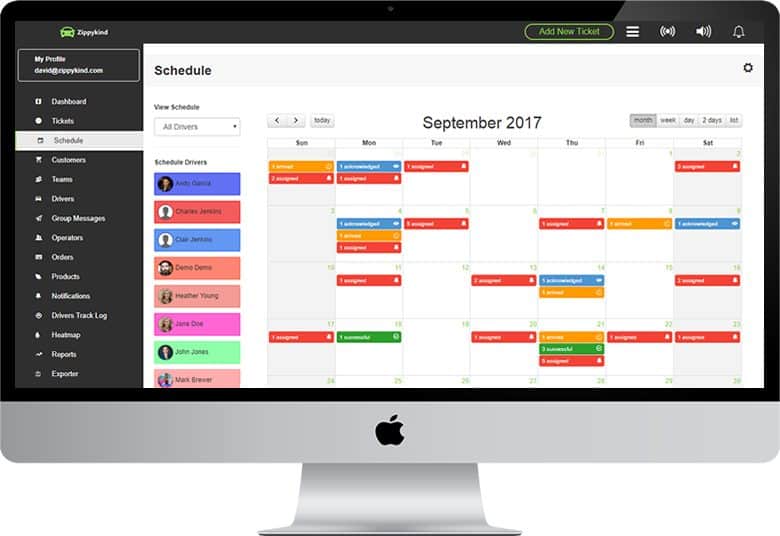 ---
Zippykind's delivery management and dispatch dashboard is browser-based, so you can operate it on any internet-enabled computer. The dispatch module syncs with the Zippykind Delivery Driver app to send delivery information to your drivers, provide driving directions, track your drivers' location, and confirm deliveries.
In addition to the delivery, driver, and customer management features (which we'll explore below), Zippykind includes some niche functions that are useful to all types of small businesses:
Customizable roles and permissions: You can create user roles with customizable permissions, so employees can access the information they need and nothing that they don't.
Reporting and analytics: Zippykind aggregates driver and delivery ticket data and converts it to scannable line and column charts, so you can quickly review past performance at a glance. You can customize date ranges to view trends like delivery time, failed and completed deliveries, and delivery volume by driver.
Heatmap: This function shows your busiest delivery areas, which can help you make staffing changes or identify prime areas for marketing efforts.
Bulk upload functions: Paid Zippykind subscribers can quickly update their customer database, product database, or add new deliveries by uploading information from a .csv file.
Product tracking: You can choose to add an itemized product list to your delivery tickets so that drivers know exactly what items to deliver, along with the quantity and the price. This feature also works for home service providers—like lawn care or plumbing— to communicate requested services and prices to technicians.
Promo codes: Add custom promo codes to your Zippykind dashboard to offer promotional discounts or reward regular customers.
Zippykind Delivery Management
Scannable ticket screen: Color-coding shows your delivery status at a glance.
Autofill delivery tickets: Auto-populate new order screens with existing customer information.
Automated delivery fees: Set delivery fees once, and Zippykind will apply them to new addresses.
Track and analyze: Log feature allows you to search previous deliveries and generate reports.
Subscription support: Schedule deliveries for repeat customers up to four weeks ahead.
Export tickets: You can export delivery tickets as PDF documents or physical print copies.
You can manually create new delivery tickets, upload them from a .csv file, or generate delivery tickets via an integration with an online ordering platform. Zippykind also allows you to accept deliveries on demand (as a restaurant might) or schedule deliveries up to a month in advance (like a flower shop or home service provider might). Its delivery scheduling screen lets you drag and drop not only delivery tickets into your calendar, but even drivers into the delivery schedule.
The Zippykind dashboard color codes your active and upcoming deliveries based on their delivery status. Your dispatchers can easily see what deliveries are unassigned, declined by drivers, en route, or completed. When creating a new delivery ticket for an existing customer, Zippykind automatically populates the customer's contact and delivery information. The system will also automatically apply any delivery fees you have configured, and if you work with set driver zones, it will assign the appropriate driver.
Businesses that offer subscription services—like meal kit deliveries or community-supported agriculture (CSA) businesses—can use Zippykind's recurring delivery scheduler to stay on track. You can set your system to automatically schedule recurrent deliveries up to four weeks ahead. Set the day and time for each delivery, along with the time between recurring deliveries. Zippykind will automatically schedule new orders until you cancel the subscription.
You can require that your couriers confirm delivery with a photograph or digital customer signature. All this information uploads to your central Zippykind dashboard. Additionally, you can export a full delivery ticket with all its affiliated details, from delivery confirmation photos and signatures to driver notes. So, if you need to send delivery details to customers who want a physical copy or if you need to dispute a credit card chargeback, you have all the documentation you need.
---
Zippykind Driver Management
Detailed driver profiles: Keep your drivers' vehicle details, contact information, and photo at your fingertips.
Team organization: Assign drivers to teams to streamline your workflow.
Push notifications: Send messages to drivers directly through the manager dashboard.
Smartphone driver app: The Zippykind Delivery Driver app is free for drivers.
Customizable navigation: Drivers choose their favorite mapping tool.
Live notes: Drivers can add notes to deliveries to keep your team and your customers on the same page.
When you add drivers to your dashboard, Zippykind prompts you to include all your drivers' vital details—including contact information, vehicle type, plate number, and even a profile photo. Your couriers can deliver via car, truck, scooter, bicycle, or even on foot.
You can organize driver teams however you want—by vehicle types, delivery area, or the time of day they work. Businesses can choose to assign set routes or delivery areas to drivers or assign deliveries in real time as they arrive.
Upon assigning delivery tickets to drivers, drivers receive them in the Zippykind Delivery Driver smartphone app. The app works on Android and IOS smartphones and is free to download. Drivers choose their preferred navigation tool in the driver app; Waze, Google Maps, HERE Maps, and VZ Navigator are all supported. On the road, your drivers can sort their deliveries by delivery time or by the most efficient route.
Also, you can choose to allow drivers to accept or decline new orders as you assign them, or set all assigned orders to be automatically accepted. Beyond assignment notifications, you can send one-on-one or group messages to your drivers. This is helpful if a customer's delivery needs have changed, or you need to alert drivers to bad weather or traffic. Paid Zippykind subscribers can also prompt driver ratings from customers and track their staff performance over time.
---
Zippykind Customer Management
Detailed customer profiles: Profiles include a customer photo, contact information, and detailed delivery instructions.
Searchable customer database: Find customers by name, delivery address, email, or phone number.
Built-in rewards: Reward your regular customers with priority service or discounts.
Real-time feedback: Accept customer ratings after each delivery and track feedback over time.
When you add a new customer to Zippykind, you can attach a photo. If you don't have one, the Zippykind platform will scan the internet to locate a photo connected to the customer's email address. This may sound creepy, but it lets your drivers know exactly who to look for when they arrive, which can increase courier safety.
Zippykind does a lot of things automatically. One of those things is tracking customer rewards. The system will classify your customers into bronze, silver, and gold reward levels based on their spending. From there, you decide what reward your customers receive. You can email promo codes and offers directly from the Zippykind system or expand email marketing campaigns by connecting your Zippykind system to Mailchimp via the Zapier integration.
Paid Zippykind subscribers can send a delivery tracking link to their customers via SMS or email. Through this link, Zippykind prompts customers to rate the driver and their overall satisfaction with the delivery, so you can catch problems in-house rather than play defense on public review sites.
---
Zippykind Integrations
Zippykind supports two types of integrations: custom-built API integrations and plug-in integrations via the intermediary app, Zapier.
The Zapier integration connects Zippykind to a lot of popular small business software—like Shopify, QuickBooks, and WooCommerce. Zapier integrates with hundreds of third-party applications. You can search the Zapier website to see if your current small business software systems are supported.
Retail integrations available via Zapier include:
WooCommerce
Shopify
Epos Now
Some general small business integrations available via Zapier are:
QuickBooks
WordPress
Stripe
Braintree
PayPal
Appointlet
Inbound Now
Jobber
Mailchimp
These integrations require a separate Zapier subscription, which is priced based on the number of tasks (or "zaps") you use each month. The bonus of this pricing model is that small businesses don't pay for tasks they don't use—but the downside is that it can be difficult to budget for in advance.
---
Zippykind Ease of Use
Automated settings: Configure delivery parameters and let the system schedule new deliveries and assign drivers.
Online resources: Learn basic Zippykind functions from written or video tutorials.
Accessible API codes: Easily locate API codes to build custom integrations.
Customer support: Reps are available by phone Monday through Friday, 9 a.m. to 5 p.m. Mountain time. After 5 p.m. and on weekends, support is available via email.
Zippykind has many features—from customizing delivery zones and driver routes to adding products and creating custom automated messages.
Customizing all of Zippykind's settings will definitely take some administrative time. But once you've put in that work, you can let the system run with little administrative oversight.
To further customize the system, Zippykind provides you with detailed API codes that you can use to build custom integrations. Most small business owners will still need to work with an IT specialist to ensure the coding is correct, though.
Zippykind's massive functionality may overwhelm smaller businesses that only need a few functions, but you can learn the ins and outs by watching Zippykind's video tutorials. Paid Zippykind subscribers can also reach out to customer support for one-on-one assistance.
Zippykind Alternatives
Looking for something else? Consider these alternatives to Zippykind.
| | Best For | Pricing | |
| --- | --- | --- | --- |
| | Small independent restaurants, farms, and retailers on a budget | Free basic subscription; Paid plans starting from $29/month (plus per-ticket charge once monthly limit is reached) | |
| | Restaurants that want built-in online ordering with payments and simple delivery | Monthly fees starting from $0 (plus processing fees); add-ons available | |
| | High-volume delivery and courier operations | Monthly fees starting from $39; add-ons available | |
| | Restaurants and retail shops that want barcode and cash tracking on delivery orders | Monthly fees starting from $29 (plus per-ticket charge once monthly limit is reached) | |
| | Retail stores and restaurants that use bike couriers | Fees starting at 29 cents per delivery; custom pricing available for enterprise-level clients | |
What Users Think of Zippykind
Small business users say they are "endlessly pleased" with the Zippykind software. Users especially note their customers' positive reactions to the live tracking links and delivery status updates. The phrase "Uber-like experience" pops up more than a few times.
Capterra: Zippykind earns a rating of 5 out of 5 based on 5+ user reviews.
Google Play: The Zippykind driver app earns a rating of 3.7 out of 5 based on 45+ user reviews.
Many users note that Zippykind's "responsive" support team answers their questions "almost immediately." Businesses that operate in off-hours (like restaurants) might prefer to see 24/7 customer support, but Zippykind users don't seem to mind the limited hours.
Drivers rate the driver app well, especially noting how easy it is to use. Some negative comments are that the system took time to learn. Some users suggest additional opportunities for automated messages, like an "arriving in five minutes" automated message.
Recent reviews of the Zippykind driver app mention bugs and frequent crashing. The company responded to one review explaining that the app was 'rebuilt' in early 2022, which caused a number of kinks that have since been resolved.
| Users Like | Users Don't Like |
| --- | --- |
| Shopify integration supports on-demand retail delivery | System can take time to learn |
| High-functioning user interface gives small businesses professional polish | Customer support is not available 24/7 for Free subscribers |
| Built-in rewards and heatmap reporting support marketing efforts | Frequent glitches in the driver app |
Bottom Line
Zippykind is a full-featured delivery management software system for small businesses. The streamlined customer interface gives small delivery businesses the look and feel of a much larger operation.
With an attached, high-functioning driver app, real-time driver tracking, and delivery confirmation, Zippykind gives you comprehensive control of your delivery chain.
You can use Zippykind for free for 50 deliveries per month or opt in to one of the competitively priced pay-as-you-go plans. To see if Zippykind is right for your business, visit the Zippykind website for a free demo.