Zoho Creator is a workflow management and app building platform. It offers flexible solutions for streamlining business processes, managing data, collaboration, and more. We compiled Zoho Creator reviews from around the web and found that Zoho Creator has mostly positive ratings. We also compared the most popular pricing options for small business owners.
Zoho Creator Customer Reviews
Overall Experience: Excellent
Ease of Use: Good
Customer Service: Good
Pricing: Good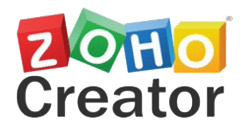 See All User Reviews
Summary of Zoho Creator Reviews
What Zoho Creator does well:
Users who gave Zoho Creator a positive review like its flexibility. They said that although the software is intimidating to use at first, it eventually becomes easy to use even for people who don't know how to code.
What Zoho Creator does not do well:
There weren't a lot of negative Zoho Creator reviews, but some users mentioned the slow loading of the mobile app, the sometimes confusing Deluge language the platform uses, and the time it takes to learn the software.
Most Helpful Positive User Review
A positive reviewer from the site G2 Crowd said that he liked its ease of use and flexibility. He said it's basically built for non-programmers. According to him, Zoho Creator equips non-programmers with tools for building applications. He just has to plan what he wants the application to do; then, he uses the drag-and-drop interface to accomplish his goals.
Most Helpful Negative User Review
A reviewer from Capterra said that it's not as simple as it seems. He said that the initial setup is actually a bit confusing and time consuming. He shared that he doesn't quite like the interface.
Other Zoho Creator Reviews From Users Around the Web
Here are a few other resources for finding helpful Zoho Creator reviews from customers. We rated the review sites on a scale from poor to excellent based on how trustworthy and useful the reviews seemed.
| Review Website | Average Rating | Number of Reviews | Quality of Reviews |
| --- | --- | --- | --- |
| Google Play Store | 4 out of 5 | 706 reviews | Good |
| G2 Crowd | 4.6 out of 5 | 57 reviews | Good |
| Capterra | 4 out of 5 | 50 reviews | Good |
*Average rating as of date article was written: Nov 27, 2017
Zoho Creator Pricing
Zoho Creator has a free plan and five paid subscription options. The first two plans are charged per user and the monthly pricing is $5 for the Basic plan and $15 for the Premium plan. The Express, Express Plus, and Ultimate plans come with unlimited users and prices range from $199 to $1,999+ per month.
The Free plan is limited to 1 custom app and 3 users only. Basic, Premium, and Express plans are limited to 3, 50, and 100 custom apps respectively. All paid plans go from a flexible number of users to unlimited, and file storage starts at 250MB and goes up to 2TB depending on the plan.
All plans include drag & drop development, mobile apps, sharing, themes, reports, pages, and exporting capabilities. Offline access via mobile app starts only at the Premium plan.
Its solutions aim to help with the following:
Build custom applications on the cloud
Gather the information you need
Save time with automation
Share your data securely
Turn data into meaningful information
Work away from your desk
Connect your business data
Expanded features include real-time collaboration, custom reports and charts, scheduling, script building, and more. Zoho Creator also integrates with Quickbooks, Paypal, Zoho Books and more as listed here.
Compare Zoho Creator Competitors
Not sure if Zoho Creator is the right workflow management software for your small business? Look through our workflow management software reviews for comparisons.