Zoho Docs is a cloud-based document management software that allows users to keep all types of files securely in a centralized storage and have access to them anywhere online. It is capable of handling bulk uploads and store large files. We compiled Zoho Docs user reviews from around the web and determined that they have generally positive ratings. We also compared the most popular pricing options for small business owners.
Zoho Docs Customer Reviews
Overall Experience: Good
Ease of Use: Good
Customer Service: Good
Pricing: Good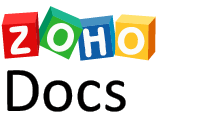 See All User Reviews
Summary of User Reviews
What Zoho Docs does well:
Users who left a positive review of Zoho Docs like the collaboration features of the software. They also find it convenient that it integrates with other Zoho products and with a lot of third-party apps like Adobe Sign, Google Drive, and Dropbox.
What Zoho Docs does not do well:
Users who gave Zoho Docs a critical feedback feel that the monthly per-user fees can be costly for multiple user accounts. Some users also reported syncing issues.
Most Helpful Positive User Review
A user who gave Zoho Docs a positive review on GetApp said that it is the best document management platform in his opinion. He likes that it allows him to collaborate with his colleagues and that user permissions can be set. He also finds it convenient that he doesn't need to download files that he needs because he can just sync them to his device and he'll be able to use them offline.
Most Helpful Negative User Review
One user who left a review of Zoho Docs on G2 Crowd said that they experience regular issues with files not being synced properly or not being synced at all. He said the updates they made on their local office devices don't always update in the cloud. He shared that their office is on a Mac platform, so he is uncertain if that might be a contributing factor.
Zoho Docs User Reviews from Around the Web
Here are a few other resources for finding helpful Zoho Docs customer reviews. We rated the review sites on a scale from poor to excellent based on how trustworthy and useful the reviews seemed.
| User Review Website | Average Rating | Number of Reviews | Quality of Reviews |
| --- | --- | --- | --- |
| G2 Crowd | 4 out of 5 | 14 Reviews | Excellent |
| GetApp | 4.27 out of 5 | 26 Reviews | Good |
| PC Mag | 4 out of 5 | Staff Review | Good |
*Average Rating as of December 15, 2017
Zoho Docs Pricing
Zoho Docs has a free plan and two paid plans which cost $5 to $8 per user per month. The differences between the plans are the storage size allocation, the level of security, and the admin control that come with each.
Plan

Price
($/User/Month)

Storage

Free

$0

5 GB/User

Standard

$5

100 GB/User

Premium

$8

1 TB/User
Its features include password protected links, group sharing, in-app chat, tasks and reminder, server failure recovery, two-factor authentication, encryption in transit, audit trail, user stats and reports, and more.
Zoho Docs offer a 15-day free trial for the paid plans to users who are interested in trying out the service first.
Compare Zoho Docs Competitors
Not sure if Zoho Docs is the right file sharing software for you? Check out our buyer's guide comparing three top file sharing providers.