Billboard ad costs are highly location-dependent, as you might expect. Typically, a full-size billboard will cost around $5k-$10k, though you can get as low as $1k in rural areas and can expect to pay $10k or more around cities and busy highways. You'll also have to pay for art and setup, which starts around $1k. We'll dive into more details and specifics below.
But before we go further, let's be clear: billboard advertising isn't cost effective for every business. It can help boost brand awareness or draw highway traffic to a nearby location, but for most small businesses, billboard advertising just isn't worth the money.
If you really want to reach local customers, online ads are going to be far more cost effective for most businesses. You can even make a Facebook ad for your business in under a minute with this tool from Waymark.
How Much Does Billboard Advertising Cost?
The most cost effective way to advertise on a billboard is to lease space through an ad agency. Rental cost varies greatly depending on the location, which we'll get into a little later. Below are the rates to rent standard 14' by 48' billboards for 4 weeks, as offered by Lamar Advertising:
Location

Albuquerque, NM

Indianapolis, IN

Atlanta, GA

Cost

(for standard
printed billboard)


$1,200 per billboard

(min. 4 billboards)


$3,100 per billboard

(min. 5 billboards)

$3,000 per billboard

(min. 16 billboards)

Adult Population

692,000

1,477,000

4,170,904

Impressions


(how many times
your message
will be seen)


1.4m
(340k per billboard)

3.4m
(680k per billboard)

34.1m
(2.1m per billboard)
Can I Save Money with a Digital Billboard?
Sometimes. With traditional "print" billboards, you may be required to purchase a minimum number of spots (or otherwise be charged an exorbitant rate for a single board). This makes the cost of entry fairly high, especially for businesses that are new to the concept.
Digital billboards, on the other hand, can usually be leased as single units. By rotating between several different ads, digital billboards are "shared" between multiple businesses. This can make the price much lower, especially in major cities like New York where a print billboard can cost as much as $50k – $200k for 4 weeks.
On the other hand, in cities like Indianapolis, IN and Atlanta, GA, digital billboards tend to be more expensive than print billboards, even if you're sharing it with 5 other businesses:
Location

Albuquerque, NM

Indianapolis, IN

Atlanta, GA

Cost

(for digital billboard)


$8,500 per billboard

(1 out of 6 spots)


$4,039 per billboard

(1 out of 6 spots)

$4,000 per billboard

(1 out of 6 spots)

Impressions

692,000

1,477,000

4,170,904

Impressions


(how many times
your message
will be seen)


572.9k

184.4k

559.8k
Despite the higher cost, there's a few key advantages to using a digital billboard instead of a traditional print billboard:
More Dynamic Ads:

You can display moving images on digital billboards, which can mean better engagement and longer retention of information.

More Targeted:

In some cases, you can specify the time of day you want your ad shown. (i.e. rush hour, nighttime, lunch)

Higher Traffic:

Digital billboards tend to be constructed in high-traffic areas. Despite the fact that your ad is only displayed 1/6th of the time, you tend to get about 1/3rd or 1/4th the impressions of a print billboard.
---
CLICK HERE To Get A Handy Printable PDF of This Guide
---
What Affects Billboard Costs?
The primary factors that affect the cost of billboard advertising are 1. the number of impressions, or views of your advertisement and 2. the demographics of the audience, such as their income level.
Together, these factors make up the Out-of-Home (OOH) ratings of a billboard, which is the standard set of measurements used by ad agencies. For more on these ratings, you can check out the Traffic Audit Bureau's (TAB) website. Here's the most important takeaways:
1. Circulation is not the same as Impressions
Circulation is the total number of pedestrians who pass by your ad, based on roadway, railway and pedestrian data. Impressions are the number of people who actually see the ad, based on the size of the billboard, visibility, the speed at which people are passing, etc.

Imagine you have two choices for your billboard's location: 1. next to train route where travelers pass at 40 mph, or 2. next a traffic-congested highway where cars halt during rush hour. The two spots may have the same circulation, but the latter will definitely get more impressions. For this reason, make sure you're discussing impressions when negotiating a deal and NOT circulation.
2. Demographics make all the difference
The OOH report not only includes the number of impressions, but it also knows who these travelers are: including where they live, where they are heading to (work, shopping, dining, etc.) and their demographics, such as age, gender, household income, race, and ethnicity.
This is important to note as it can not only affect the cost (higher-income traffic will be more expensive), but it also gives you the opportunity to optimize your audience and boost your ROI. For example, say you run a day spa: You could advertise on a road where there's a greater number of women aged 20 to 40 traveling for shopping and entertainment. This will stretch your dollars much farther than advertising on a typical commuter road.
What Additional Costs are Involved?
The production costs for making a billboard advertisement are relatively minimal. Vinyl is the standard material used for the ad itself because of its resistance to weather. Printing an advertisement on vinyl for a bulletin billboard (14' by 48', or almost 700 square feet of material) will cost around $500.
There will also be costs to designing the billboard. Budgeting $500 to $1,000 for billboard design would be wise. Where in most cases Fit Small Business recommends hiring a designer from a freelancer site, this is a case where you definitely want a designer with extensive experience creating billboard ads.
Will Billboard Advertising Work For My Business?
This is a common question we hear from readers. Let's start by pointing out the 2 most common reasons for putting up a billboard:
Advertising a location. Restaurants and shops often advertise next to the closest major highway. These ads are extremely actionable, since they're promoting something that is just minutes away. (For more tips, check out our guide to the top local marketing ideas.)
Boost brand awareness.

Think real estate agents, law firms, banks, plumbers and HVAC services. The goal here is not so much to convert buyers on the spot, but to boost general awareness of their brand.
If you don't fall under one of these two categories, you may want to think twice about billboard advertising. With the exception of restaurants and physical shops, billboards are typically not very actionable. This is OK if you just want to build name recognition and stir some buzz. However, if you want to generate more leads directly from an ad, you'll want to consider advertising online via Facebook or another platform.
To figure out if billboard advertising is right for your business, here's a few additional questions you should as:
Does my product pass the 8-second rule?

If you can't make your pitch in 8 seconds, then billboards are not for you. Also, if your pitch requires "personalizing" (i.e. "

we noticed you're using an outdated POS – let us replace your system

") then the stagnant nature of billboards will not work. Examples of products that should not be advertised on billboards are self-published books and some B2B services.

Is it relevant to a mass audience?

If your product is only relevant to 10% of the population, you'll be wasting a lot of money on "unnecessary" impressions. For example, let's say you're a distributor of vegan food products. Since only 7% of Americans identify as vegan (and an additional 6% as vegetarian), roughly 90% of your impressions are going to waste.
However, while the product may be relevant to only 10% of people on the street, it's probably relevant to 100% of people searching "vegan food" online, or who like a vegan recipe page on Facebook. Click here to make your Facebook ad in minutes via a free tool from Waymark.
---
CLICK HERE To Get A Handy Printable PDF of This Guide
---
There's a Billboard I Want – How Do I Rent It?
If there's a specific billboard you have in mind, check for the the advertising company name next time you pass the sign. The company name is usually listed below the billboard image on the structure itself: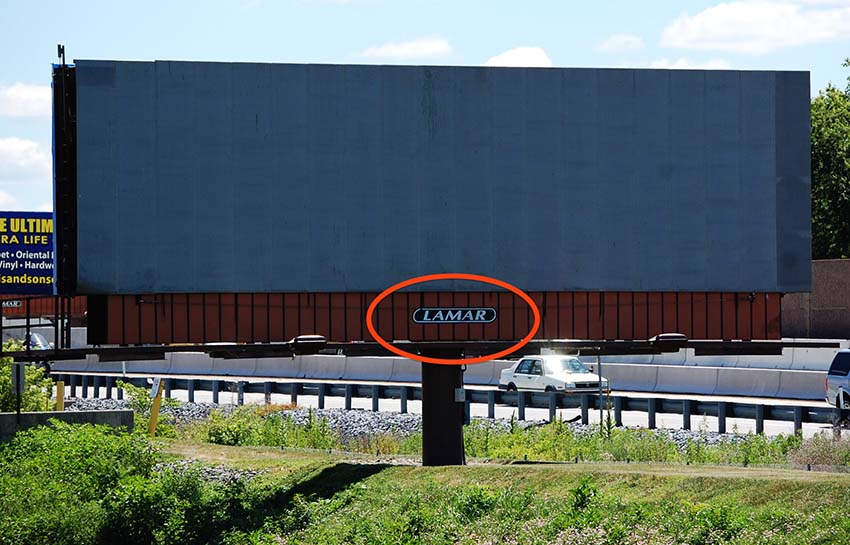 Some of the largest billboard companies in the US are Lamar, Clear Channel and CBS Outdoor, although there's also many local and regional providers. OutdoorBillboard.com has a state-by-state directory of billboard companies with contact information.
How Can I Install a Billboard on My Property?
If you're interested in installing a billboard to advertise your business or lease to other businesses, the first thing you should do is check local ordinances. Depending on where you live and how your property is zoned (commercial, residential, industrial, etc.) there may be different regulations. Try calling the office of your local city or county government.
If it's legal to build on your property, you have one of two options:
Install the billboard yourself

Lease your property to an advertising company.
If you go the latter route, the advertising company will handle everything – from construction to client acquisition, replacing the ad, etc. You can expect to earn around 15% to 20% of the net revenue yielded by the sign (or 30% to 35% in a major city). For more on billboard leasing, Frank Rolfe has an excellent guide on NuWire Investor.
Most billboard advertising companies actively seek new locations to lease (see Lamar Advertising and Lang Media).
Alternatively you can install and manage the billboard yourself. Factoring in all material and construction costs, a 14' x 48' billboard can range from around $15,000 – $20,000 for a wooden structure and $40,000 to $100,000+ for a steel structure. The exact cost depends on the height of the sign (distance from the ground) and whether it's double or single-sided. (Quotes are from North Carolina's 2015 Billboard Structures Valuation Guide)
---
CLICK HERE To Get A Handy Printable PDF of This Guide
---
The Bottom Line
For a restaurant, store or attraction that wants to attract more customers from the road, there's few better ways to advertise than with a nearby billboard. For all other businesses, billboard advertising can be a great way to boost name recognition and stir some buzz, but not a particularly great way to generate leads.
Are free Facebook ad coupons still available? Find out now and get started with local ads..