What Brand Presence Is & How to Build It
Whoever said, "If you build it, they will come" never tried to build a strong brand presence. Brand presence refers to the footprint of your brand, both online and off, as well as brand awareness with your audience—and growing it can feel overwhelming. Below, we break it down into four main components, each with actionable tips to help you establish and grow a strong brand presence for your business.
4 Main Strategies for Building Brand Presence
Brand presence (often used synonymously with "brand awareness") is the space your small business occupies in the market you want to tap into. This includes all your marketing materials, including your website, social media, print marketing materials, publicity, and any advertising you buy. Brand presence also includes certain aspects of your company's mission, logos and branding, and messaging.
In essence, there are four areas of brand awareness strategy: internal, online, offline (also sometimes referred to as display), and broadcast. How to increase brand presence for each of these is explored in more detail below, but here's a brief overview of the quadrants.
The Four Quadrants of Brand Presence
Internal: Your company's mission statement is just one component of internal branding. Other aspects include your logo, color scheme, font selections, and any messaging around the products and services you offer. All of these internal elements inform the other three quadrants.
Online: Your website is one of the components of online brand presence. Other parts include social media profiles, listings on sites like Google Business, search engine marketing, and online advertising avenues like banner ads and pay-per-click ads.
Offline advertising: Offline advertising, or display advertising, is a catch-all term for print, mobile, and billboard advertising. This includes newspapers and magazines, car wraps, roadside signs, and other outdoor advertising.
Broadcast: Television and radio advertising are still great ways to connect your brand with potential customers. Today, broadcast advertising also includes innovative new technologies, like streaming services and podcasts.
Next, we'll explore each of these components of brand presence, including specific strategies you can use to establish and grow brand awareness with your target audience.
1. Define Your Brand With Internal Marketing
Establishing a strong brand presence starts inside your small business. How you frame your company and your products informs everything else about how customers see your brand in the marketplace. That starts with defining your brand identity. This can be a challenging step, especially for startups. Creating an effective startup marketing strategy takes planning and time.
Write Your Mission Statement
You had a reason when you started your small business. Perhaps you have a new, innovative product you're bringing to market. Or maybe you saw a need for a particular service in your area. Whatever your reason for getting your company into being, that's your mission, and you need to be able to state it in a mission statement.
A mission statement is a brief statement explaining the why of your business. It will inform your brand identity, including your brand story and value proposition for products and services. If you're not quite clear on what to include, read our list of mission statement examples and find out what makes them effective.
Ready to get started? Follow along step by step with our guide to writing a mission statement.
Write Your Vision Statement
Just like how your mission statement is guided by why you set out, your vision statement says where you are going. It's a way to convey to your team and to potential customers that you have a plan, and you are piloting your business toward a goal. Maybe that goal is to be the best landscaper in your market. Or maybe it's to be the most fashion-forward boutique in your city.
Whatever your vision for your business is, it's important to write it down. Your vision statement should be concise and specific. For example, here is the vision statement of Kaldi's Coffee:
The vision is uplifting, but it's also specific. It wants to provide a day-making experience to customers and guests. Your vision statement should also be specific and state why you want to do what you're setting out to do. Check out more vision statement examples for inspiration.
Find out how to create a vision statement for your small business, including a template you can use to write your own.
Create a Core Values List for Your Business
You have a mission and a vision. What are the values that will take you there? Core values are an essential part of your brand's internal marketing. They're the guideposts for you and your employees. Examples include:
Foster diversity
Encourage personal growth
Deliver what we promise
Exceed expectations
Challenge mediocrity
Transparent
Authentic
Courageous
Creative
Sustainable
Passionate
Fun
Your core values can be internally focused or centered externally on how you treat your customers. Like values and mission statements, your core values should be specific and provide clear outcomes.
Like fingerprints, the mission, vision, and core values of your business are likely to be unique, since they explain what sets your company apart. For more help writing core values, see our list of core values examples for small businesses.
Tailor Your Brand's Visual Identity
Brand identity includes the visuals of your brand. Assets like logos, preferred fonts, images, mascots, and more can all be a part of brand identity. Even the website colors you pick for a color palette are part of your brand identity.
You can create a logo yourself using free online graphic design tools like Canva. Or you can contract affordable graphic designers to make your logo using a service like Fiverr Pro. Find the tools you need to create the perfect logo in our guide to the best sites for logo design.
If you're worried that you lack the skills or knowledge necessary to build a strong visual identity, you can hire a marketing agency to help. Marketing agencies specialize in helping clients craft a brand identity that visually connects with customers.
Develop Your Brand Story & Selling Proposition
If someone asked you why you went into business, could you tell them in a couple of sentences? What about in a couple of paragraphs? Telling your brand story in a compelling way allows you to connect with customers on a personal level.
Your brand story is also a part of your brand message. How did you get here? What led you to open your business?
When crafting your brand story, make the customer the hero of their story. You're guiding them through a problem, which your product or service is a tool for solving. You may be selling a lawn mower, but you're not the one using it to mow their lawn. They have to envision themselves using your product or service to solve their problem.
Similarly, you should be able to explain how the product or service you provide solves the customer's problem. This is the value proposition (aka selling proposition), and writing a unique selling proposition is a critical step in establishing a compelling brand identity.
Your USP, or unique selling proposition, should answer the question as to why a customer should choose your business vs your competitors. This equates to a brand positioning statement. Check out our list of brand positioning examples for more ideas and inspiration.
As you can see, internal marketing covers several critical components of building brand awareness. Taking the time to get it right before you embark on the rest of your brand presence efforts will save you time and wasted effort.
2. Establish & Grow Brand Presence Online
The digital footprint of your small business includes everything from your website to the latest social media post announcing a seasonal special. Increasing online brand awareness means building an effective website, defining a strategy for search engine optimization (SEO), and even using press releases to get the word out about developments within your company.
Establish Online Brand Presence With a Website
In terms of how to increase brand presence, your website is the anchor and hub for your brand online. It's the digital equivalent to your store or your office, where online customers come to engage in the business you're in.
Your website also supports other digital marketing strategies, such as online advertising, email marketing, and social media. To say a website is an important part of branding is an understatement. In fact, website statistics show that more than seven out of 10 small businesses have a website.
Like your brand identity, your website should be a unique and authentic reflection of your business in order to give site visitors reasons to choose your brand. For inspiration, check out examples of small business websites and find out what makes each one special.
Websites require planning and time, but they don't have to mean spending thousands of dollars to pay a web developer to build a site for you. Instead, you can build a small business website yourself.
For beginners, Wix and Weebly are two of the most popular website builders for small businesses. They make building a website easy by including key components like free domain names, SSL certificates, and domain privacy. Wix even offers an AI website builder to help you take the guesswork out of website design.
There are many digital marketing tips and tricks you can use to maximize your brand presence. Here are some of the basics to start with:
Publish blog articles regularly to keep customers coming back to your website
Share new posts, products, and content on social media
Hold contests to give away products, discounts, or prizes
Launch a digital loyalty program
Include sign-up forms for email newsletters and special offers
Building a website establishes your brand presence online. To help you grow it, here are dozens of effective website marketing strategies to deploy.
Did you know? Website statistics show businesses that blog get 67% more leads than those that don't.
Use SEO to Ensure Your Brand Gets Discovered Online
Search engine optimization (SEO) refers to strategies that make your website discoverable in online searches on search engines like Google and Bing. It includes on-page strategies like keyword research to optimize your site's content for search as well as following best practices for website design and ensuring your site is mobile-friendly.
You'll also need to think about off-page SEO as well. Off-page SEO includes creating a Google Business Profile, Yelp listing, and Bing Places for Business profile. Also, it includes publishing citable content to garner backlinks.
Social media and press releases can also be used to help you build your off-page SEO performance. The ultimate goal is to get Google to see that other sites are linking to your content, which improves your site's authority score and helps you rank higher.
Be sure your site is optimized for local search to capture customers nearby. In fact, according to website stats about Google, nearly half of all Google searches are for local businesses. Local search optimization means your site copy is targeting local search, that your address is clearly indicated, and you've completed profiles on Google, Bing, and other business directories.
Pro Tip: For most small businesses, local marketing will play a huge role in their success. Use our guide to local marketing with free template to get started.
Use Online Advertising to Engage Ready-to-buy Customers
Search engine marketing (SEM) refers mainly to paid advertising strategies that help build brand awareness with ready-to-buy customers. Combined with SEO content marketing, it offers a two-pronged approach for getting traffic from online search through ads and organic search results.
Marketing on Google and Bing taps not only into your site's SEO—it includes online web banner ads and other display advertising through advertising networks, as well as pay-per-click (PPC) advertising on search engines and social media.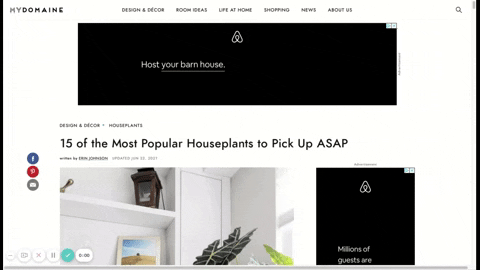 Before you set a budget for online ads, find out how much Google advertising costs. And remember that advertising on Google is just one step in creating an impactful online advertising plan. Your campaign should incorporate other search engines, ad networks, and social media as well.
Build Brand Awareness on Social Media
Social media gives your customers the chance to interact directly with your brand in ways that traditional advertising doesn't. For example, you might provide social media followers with a link to a hidden product special on your website so only your followers can access the special price.
An active and thriving social media presence is important for brand presence. Social media marketing is a way you can connect with your audience and build brand loyalty.
Keep in mind that marketing on Facebook, Twitter, or TikTok is about more than just buying ads. It's about building posts and Reels potential customers want to click and share. What it's not is just a random post here or there. Effective social media marketing requires developing a social media plan that you can execute as part of your overall marketing strategy.
Pro Tip: Take your social media game to the next level with one of our best free social media schedulers. You can map out your social media strategy and manage multiple accounts all from a single interface.
Grow Brand Affinity With Email Marketing
Email marketing can mean sending email blasts to existing customers announcing special pricing or new products. It can also be a regular newsletter you send out sharing tips and tricks about how to get the most from your products or services. Perhaps most importantly, email marketing is remarkably affordable and easily accessible to small businesses of any size.
Getting started with email marketing is simple, and many top email marketing software platforms offer free plans you can start with. For example, Mailchimp allows you to use nearly all of its tools for free until your contact list exceeds 500, and Sendinblue allows unlimited contacts, though you're limited to 300 email sends per day on the free plan.
Learn more about how to build an effective email marketing strategy for your business. At the same time, consider using audience segmentation to craft age-specific emails. Learn more with our how-to guide to generational marketing.
Engage with Your Customers via SMS Marketing
Text message, or SMS, marketing is one of the highest engagement mediums at your disposal. You can use SMS marketing to connect with customers while they're watching television, grabbing a quick lunch, or just chilling, all times when they are much more likely to be receptive to your message. Getting started with SMS messaging is easy, and it doesn't take a lot of resources to build an effective campaign. Find out more with our guide to SMS marketing, including the do's and don'ts of the medium.
Foster Your Brand's Reputation With Press Releases
One of the most often overlooked components of online marketing is the press release, which is a shame because a press release is one of the better ways to drive brand awareness. It's also affordable. For example, any business can write and publish a press release on its own, without spending a penny.
Too often, small businesses fail to recognize the value of a well-timed press release or neglect to send one because they don't know how. A good press release is a great way to get a story on the local news and garner media attention.
Learning how to send a press release is one way to attract tons of attention, and chances are that you have more opportunities to send them than you realize. Hiring a new manager, unveiling a seasonal promotion, or kicking off a new product line are all reasons to send a press release. So is launching that shiny new website. Here are some press release examples from businesses of all sizes to give you some inspiration.
Building brand presence online is one of the most important steps for growing your small business. In fact, 62% of customers will completely ignore a business that does not have an online presence.
With so much at stake and a potentially steep learning curve, many small businesses hire digital marketing agencies to handle multiple aspects of building their brand's online presence. This is important to keep in mind as your business grows, as outsourcing may be the most effective way to scale at first.
Improve Brand Reputation With Reviews & Ratings
When customers review the products and services you offer on your Google Business Profile or sites like Angi and Yelp, this helps bolster your reputation. The more positive reviews you garner, the better. According to Brand Rated, almost 90% of customers consult reviews before visiting a local business.
It's also worth the effort to become accredited through the BBB (aka Better Business Bureau), especially for a local business. Accreditation is an endorsement of your trustworthiness, and customers are more likely to do business with you if they feel they can trust you to deliver.
Whether visiting your website or searching the BBB database, how customers interact with your brand online is one of the most critical components of brand presence. With forethought and planning, you can make interacting with your brand online pleasurable and entertaining, as well as informative, thus driving brand engagement and brand loyalty at the same time.
3. Build Brand Awareness Through Offline Advertising Strategies
Offline advertising, sometimes called display ads, encompasses traditional advertising channels like newspapers and magazines. It also includes other advertising, like direct mail, billboards, and vehicle wraps. Offline advertising can be a vital part of your brand presence, especially if you rely on local advertising to build brand awareness and sell your products or services.
Place Newspaper & Print Advertising
Advertising in local newspapers and publications gives your brand presence in the local market. It can also boost brand awareness for large national brands. For small businesses, newspaper and print advertising can be an effective way to get the word out about specific products or special promotional pricing. However, print advertising can be expensive.
Any print advertising you do should be part of a well-considered strategy to get out a specific message and control costs. For more information about how much you might expect to pay, visit our guide to newspaper advertising costs.
Send Direct Mail to Potential Customers
Direct mail includes pamphlets, brochures, postcards, or booklets that you produce and send directly to potential customers using the mail. This includes campaigns you create and run independently, as well as coupon marketing programs, like Valpak.
An effective direct mail campaign is a great way to announce your business or get the word out about a new product. Unlike print advertising, though, you can target specific neighborhoods, ZIP codes, or even individual households that meet your criteria.
Working with a direct mail company, you'll purchase a mailing list and assist in creating your mailer. Once that's done, the direct mail company will produce your mailer and send it out to the specific addresses on your mailing list.
Ultimately, what you send is up to you. For some inspiration, read direct mail marketing ideas.
Buy Billboard Ads in High Traffic Areas
Billboards are popular ways to increase local brand exposure. Billboards used to be one of the more expensive forms of advertising. But thanks to digital billboards, the cost of billboard advertising has come down, and today, some billboard advertising ranks among the most affordable ways of establishing strong brand awareness in your local market.
Working with the billboard provider, you'll determine which routes will best target the audience you're looking for. The provider will also help you come up with a creative billboard design to capture the attention of motorists and get your message across.
Consider a Vehicle Wrap for Visibility
If you are operating a service-based business, one of the best advertising investments you can make is a vehicle wrap for your service car, truck, or van. A wrap is a highly visible brand awareness example where the advertising is applied to your work vehicle with an adhesive film.
With a good vehicle wrap, everywhere you go is advertising. Even when you're on the job, your vehicle is in the customer's driveway, advertising the work you're doing.
Local sign companies are usually good sources for vehicle wraps. In larger markets, you might find companies dedicated to producing vehicle wraps. Work with their designer to create the ideal wrap for your vehicle.
Get Brand Clout Networking & Referrals
Building brand clout in the marketplace requires you to network with businesses and individuals looking for the goods and services you're selling. Organizations like the Chamber of Commerce, professional associations, and the like provide you with customer clout because they show you're serious about your business.
At the same time, professional organizations also exist so potential customers can find providers. Put another way, joining industry associations and the Chamber are just one more way of getting referrals. Membership can serve as a de facto endorsement of your business, instilling trust in customers, just like reviews.
Even in the digital age, offline advertising is still a key part of how to increase brand presence. Local advertising in newspapers, magazines, and billboards is an effective method for improving your brand awareness and keeping your company in the minds of customers. With careful planning, you can secure local advertising you can afford and avoid costly mistakes and overspending.
4. Increase Brand Reach With Broadcast Ads
Broadcast ads, like TV and radio ads, are the final components of building brand awareness. For many small businesses, the cost may seem prohibitive. However, working with local broadcasters, cable advertising companies, as well as podcasters and streaming services can bring the cost of broadcast advertising down.
Cast a Wider Net With Television Advertising
As costs have increased, many small businesses decide to forego television advertising because they think it's too expensive. While it's true some advertising during major sporting events or the evening news can be cost-prohibitive, other ad spots are more affordable. Our guide tells you everything you need to know about TV advertising costs.
At the same time, working with local television stations and cable providers can secure advertising for your small business that is affordable and gets the message out. The best TV commercials work because they're memorable. Crafting a creative and informative commercial takes skill and talent. Your local broadcaster can help connect you with production professionals to execute that perfect 15- or 30-second spot.
Use Radio Ads to Connect With Your Target Audience
How much of your brand's message can you share in 30 seconds? What about 60? A minute of advertising on the radio is a long time, and with that minute, you can affordably get the word out about your small business.
Like television, you can work with local radio stations to craft compelling ads that run when you want them to. Plus, it's easier to target radio advertising to your target audience based on demographics, including location.
While the cost of advertising on radio can get expensive, it's still more affordable than television and print, and you can tell a compelling story to a captive audience. To learn more about getting the word out over the airwaves, visit our radio advertising guide.
Reach Your Ideal Customers via Ads on Podcasts & Streaming Services
With the advent of smartphones came the popularity of podcasts. Streaming services for television and music also upended the advertising market. If you're building a national or global brand, podcasts and streaming services could be economical ways to get the word out.
Consider, too, the cost of advertising on these media. Much of podcast and streaming advertising revenues are based on an affiliate marketing system. You provide a dedicated URL or coupon code, and whenever that ad produces a customer, you're charged a percentage of the sale or a flat fee. This can make podcast advertising much more effective than other forms of broadcast advertising.
Breaking into these advertising markets isn't particularly complex. Most podcast advertising is handled through production companies similar to television networks. Think about the podcasts you listen to. Then think about the company behind them. Maybe you hear "Pushkin" or "Radiotopia"? That's where you'd reach out to advertise.
Broadcast and streaming media remain relevant, despite what you might hear in some marketing circles. Remember: You're building brand presence and awareness about your small business, and that means reaching as many people as possible via as many advertising methods as you can afford.
Use Paid Social to Reach Your Target Audience
Compared to traditional outlets like TV, newspaper, and radio, social media advertising can cost far less while also helping you reach your precise target audience. Most social media platforms have advanced, multi-layer targeting options, allowing you to hone in on your target market by location, interests, profession, household income, and more.
We recommend that you start with the social channel that best represents your audience's interest. To help you find the right platform, read our guide on paid social ad platforms. It outlines the 10 most popular apps including audience demographics and what each is best for.
Frequently Asked Questions (FAQs)
Imagine your industry as a physical space. How much of that space your brand occupies is its brand presence or brand awareness. It is the sum total of all your small business marketing efforts, comprising internal brand identity, digital marketing, broadcast advertising, and offline ads like billboards and newspaper ads. Brand presence helps make sure your customer knows about you when they decide to buy a product or service you sell.
---
Building a strong brand is crucial because it helps you meet your customer in the moment of need—when they've decided they might want a product or service. Simply put, the stronger your brand presence, the more likely customers will find you when they're ready to buy.
---
Increasing brand awareness takes time and effort. You must make a plan to maximize your advertising. Also, you must build the resources customers will use to connect with your brand, such as a website, brochures, email newsletters, or radio ads. Use resources like television advertising, billboards, and press releases to spread the word about your products and services.
---
Bottom Line
Increasing brand awareness will help you both short term and in the long run. You'll develop deeper relationships with customers, improve sales, and grow your small business. Best of all, growing a brand presence doesn't have to be expensive. In fact, here are a few more small business marketing ideas you can execute for free or cheaply. With planning and purpose, you will position your brand at the front of the competition.