21 Must-see Billboard Design Ideas & Tips (Examples Included)
We've all seen countless numbers of billboards that we don't remember. While there seems to be no shortage of uninspired billboards, there remains a tremendous amount of opportunities for businesses to create compelling billboard designs. Of course, designing a billboard strategically is no easy feat when you have just seconds to capture someone's attention with an interesting—and memorable—ad.
To help you get ideas on how you can stand out from the noise and create a great ad that gets noticed, let's take a look at the best billboard designs for ideas and tips to use in 2021:
1. Make Your Message Clear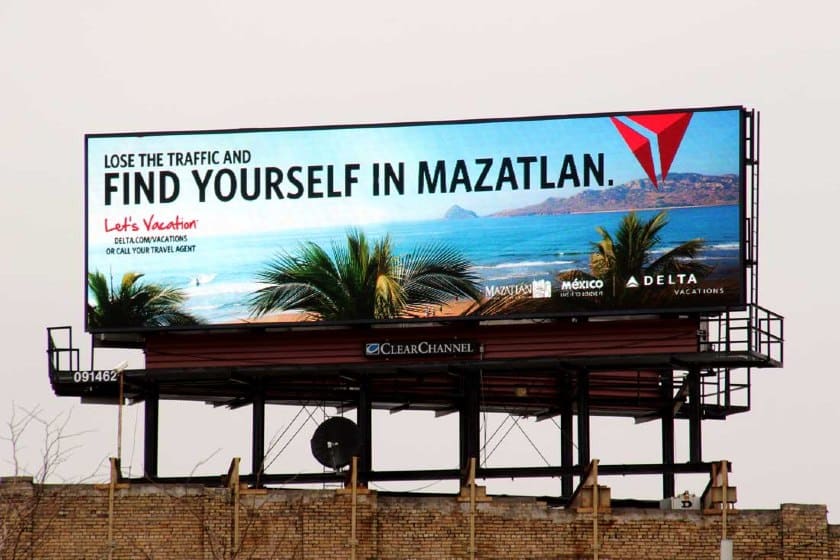 As simple as it sounds, you need to make sure that your billboard design consists of a clear message—both literally and figuratively. First off, your billboard needs to be legible. If people can't easily read it, then they probably won't read it at all. Second, your marketing message needs to make sense and be easily understood. While it can be fun to spark up a mysterious message, if people don't know what your point is, they might not bother to try to find out.
---
2. Show, Don't Tell

The less you say, the better. So much so that in some cases, the best billboard designs say nothing at all. Well, nothing in writing, anyway. A picture can say a lot more than words, so let your billboard speak for itself. In addition to being more effective, it's also safer compared to billboards along roads that take drivers eyes off the road too long as they consume a message.
The YMCA does a good job of using a creative, yet very simplistic (and text-free) billboard design by making the billboard a basketball hoop. Everyone recognizes the Y's logo, so while it doesn't inherently tell you to join the Y or that it's running some special promotion, it does serve to stay top of mind and remind people about the Y and the types of programs it offers.
---
3. Meet the Needs of Your Audience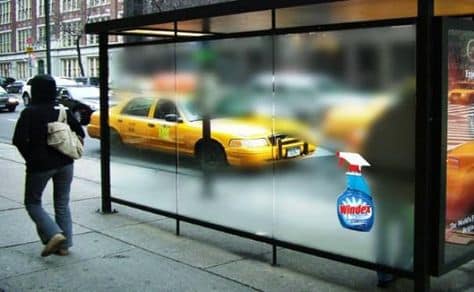 Compared to digital ads, it may seem as though outdoor advertisements lack audience targeting. And though there are far fewer targeting options, that doesn't mean you should overlook who you're reaching based on the location of your ad. For example, there's a reason you probably won't see a Porsche ad in a subway. Though research may reveal that many New Yorkers using the subway can afford it, there's a reason they're opting against driving (e.g., gridlocked roads during rush hour or a lack of parking in the city).
On the other hand, a product as universal as Windex is a great candidate for outdoor advertising—especially within bus stops. By reaching people when they're out and about (and oftentimes out doing chores), you remind them of a simple product that just about anyone could use, and yet one that would be easy to forget you need.
---
4. Use a Live Data Feed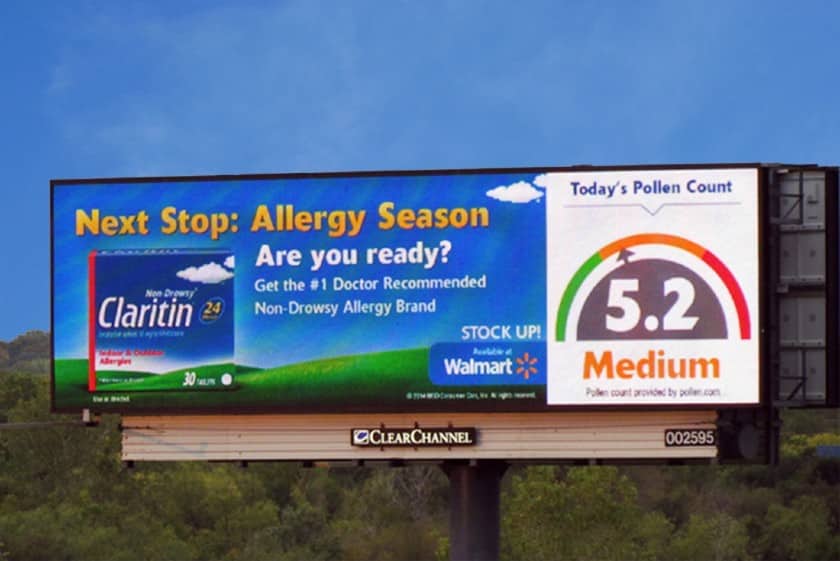 Add real-time data to make your billboard design more interesting—as well as more helpful—using a live data feed. There are a number of ways businesses can do this, from a countdown until a big event, current scores of a big game, or emergency room wait times to current air quality ratings or even the pollen count in the air. If there are simple numbers that are constantly changing related to your business and what you're advertising, a live data feed is worth considering.
---
5. Go Beyond the Billboard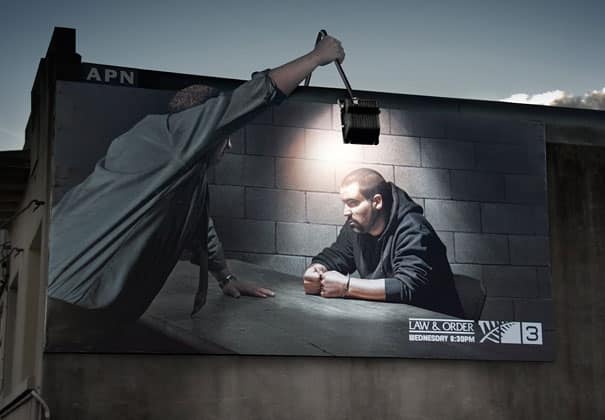 Don't limit your billboard design to the billboard space itself. Consider going outside the lines and incorporating additional elements. The example above shows a great billboard design promoting the television series "Law & Order." It incorporates a light to make the billboard evidently an interrogation. In return, this spotlight makes it noticeable at night as well as more attention-grabbing.
---
6. Reach Pedestrians With Billboards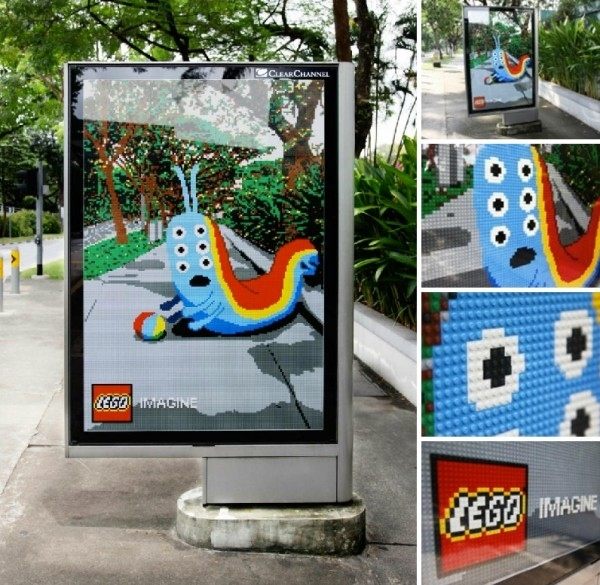 Not all billboards are along the side of the highway. You can also use outdoor advertising in a number of places, from bus stops and subway stations to the sides of walls or street lamps. Consider who you're trying to reach and how much time they're spending looking at your ad. For example, someone on a subway will have more time to sit and read your ad, whereas the cars driving 70 mph on the highway will only have a couple of seconds.
---
7. Stay Interesting & On-brand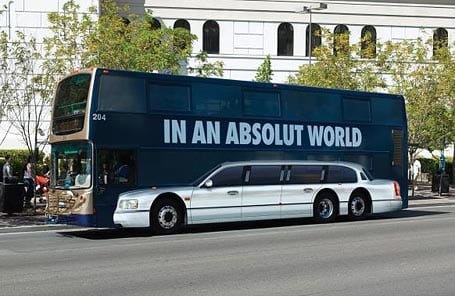 As with any form of advertising, you need to stay on brand and in an interesting way. The Swedish vodka brand, Absolut, transforms something as lowbrow and mundane as a bus into a high-end marketing message that illustrates its brand effectively. With a short play on words and an image to reinforce it, the outdoor ad makes the statement that if it were up to Absolut, you'd be riding in a limo, not a bus.
---
8. Incorporate the Natural Environment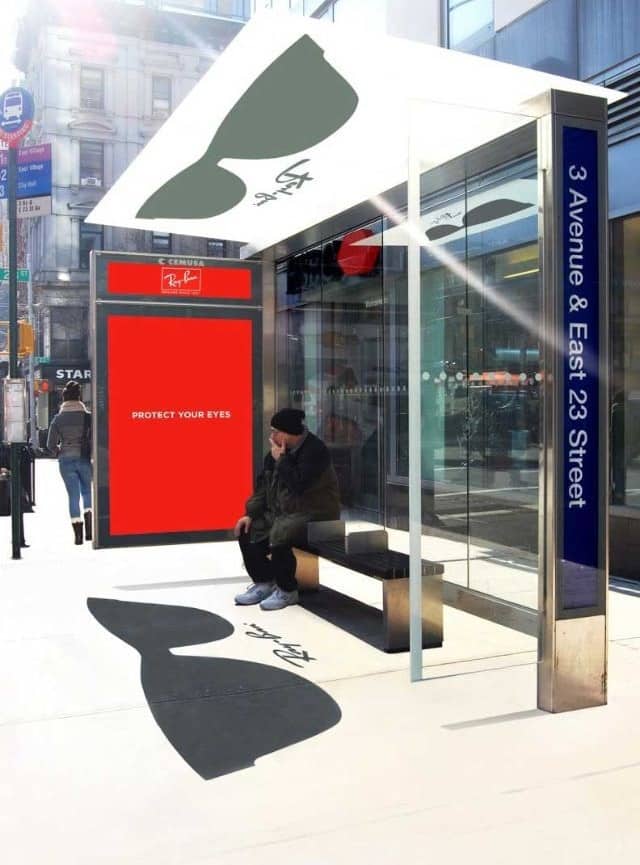 Tackle ad location strategically by not only looking at the design from the perspective of the ad space available, but how you can utilize the surrounding elements as well. This design example from Ray-Ban is not only eye-catching, but it actually adds advertising space by leveraging the sun to project its ad onto the ground. Pretty nifty.
---
9. Design for Different Perspectives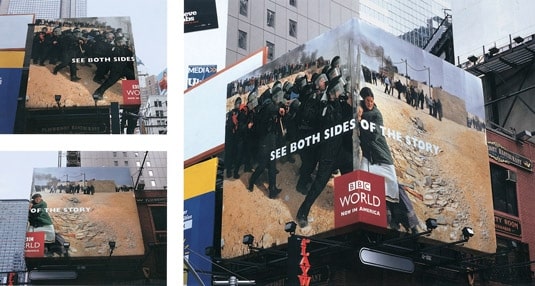 No matter which type of billboard or outdoor ad you choose, people are going to see it from varying angles, and thus, different perspectives. This gives you, as the advertiser, the opportunity to craft different stories from each vantage point. This can enable the billboard to evolve as people see it from different angles, and in return, tell a story. The above billboard design from BBC does a great job of creating a two-sided story to promote a single message.
---
10. Incorporate Both Form & Function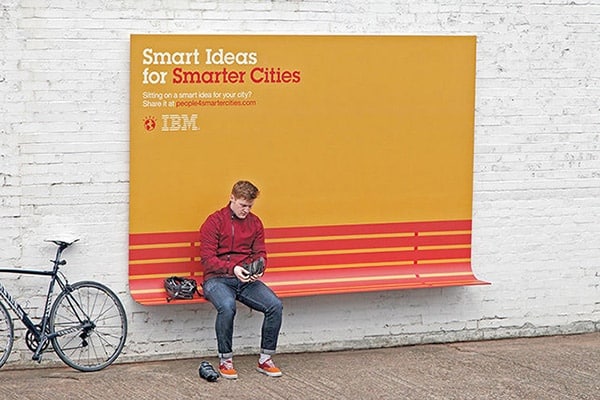 The best designs include both form and function. What if your billboard design actually served an additional purpose beyond sharing a marketing message? Perhaps your billboard can break through the noise by offering something of use to people—ideally, one in which reinforces your brand. For example, IBM created multifunctional billboard designs that put its marketing message to work to prove that the company isn't just saying it has smart ideas.
---
11. Make It Fun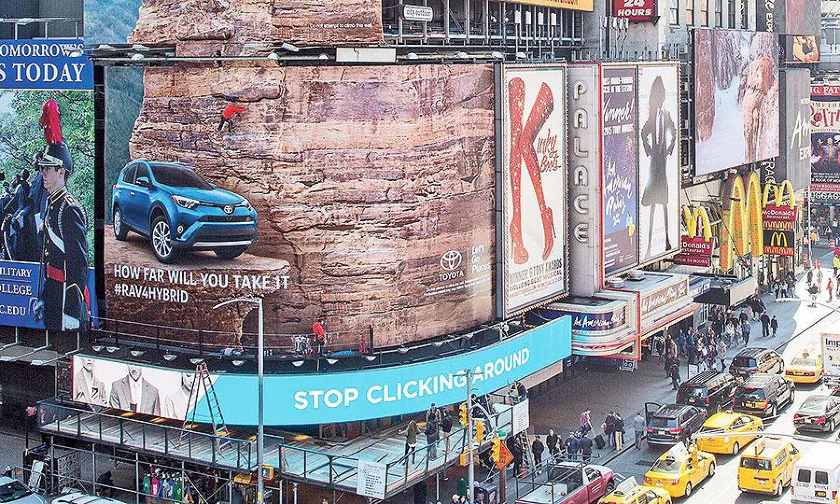 Taking form and function a step further (or higher), Toyota created this billboard design that didn't just look like a rock wall, but was actually a functional rock climbing wall. Climbers were invited to scale the New York City building wall, drawing attention to it and creating a newsworthy billboard design that captured the attention of busy New Yorkers.
---
12. Get Creative With Abstraction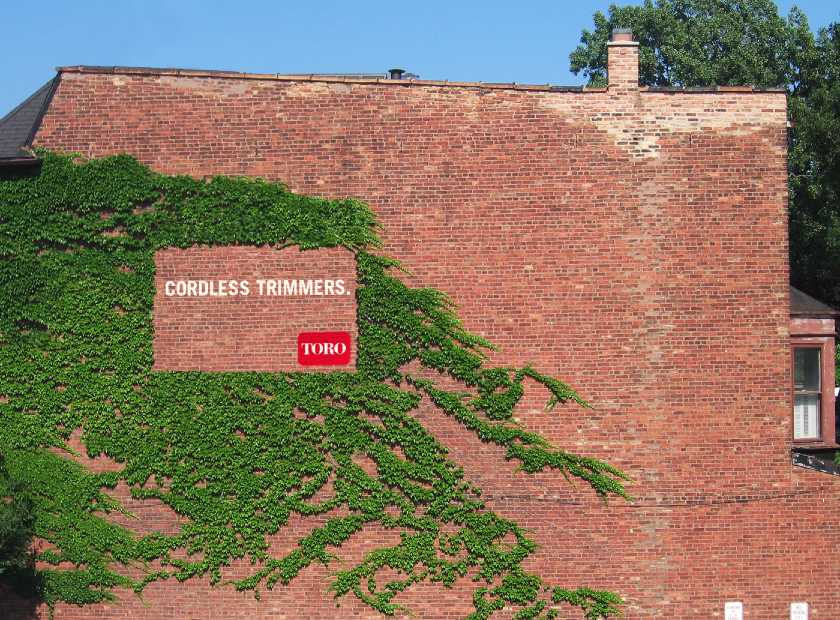 It's not always about what you say, but what you don't say. In some cases, billboard designs that are most effective are those that use the power of abstraction. In this example, the clipper company, Toro, deploys the art of abstraction in a very clever way to promote its products. It appears as though its product was put to use to trim what would otherwise be a difficult area to reach—if it weren't for cordless trimmers.
---
13. Create Appeal by Getting Artsy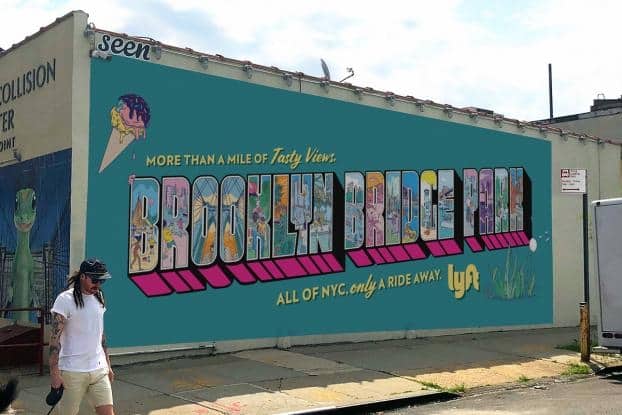 Billboard designs don't need to be limited to print or digital ads. One way that is becoming increasingly more popular is to create murals throughout a city as a form of advertising. Not only does it help brighten up a city, or beautify what could otherwise be an ugly block, it can even help create user-generated content if you manage to create Instagrammable paintings.
The ridesharing app Lyft does a good job of creating a relevant city mural ad design by giving locals a nearby destination that's just a short car ride away. By inspiring people to visit local—but unwalkable—spots, it gives someone an interesting day trip idea and an easy way to get there: Lyft.
---
14. Optimize Billboard Designs by Going Digital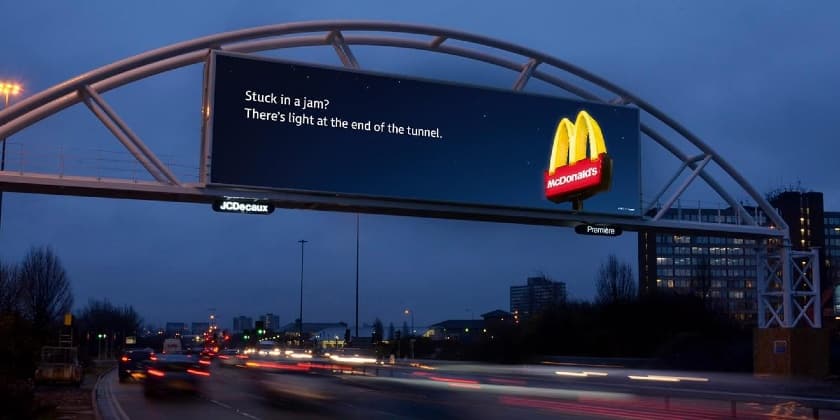 Many businesses use digital billboards as a form of modern, low-maintenance brand awareness. However, billboards traditionally have the (major) drawback of the inability to easily optimize. With digital billboard designs, your ads can be low-maintenance, low-cost, and easily changed and optimized. This way, your message and design can be optimized over time to better reach your audience.
One of the best providers of digital billboards is Blip Billboards. What's unique about it is that it offers self-serve digital billboard advertising with no minimum spend or contracts. Your billboard design will appear as a 7.5- to 10-second "blip" on a rotating digital billboard. Your budget determines the number of times your "blip" appears, making it a very affordable billboard advertising option.
---
15. Skip the Sales Pitch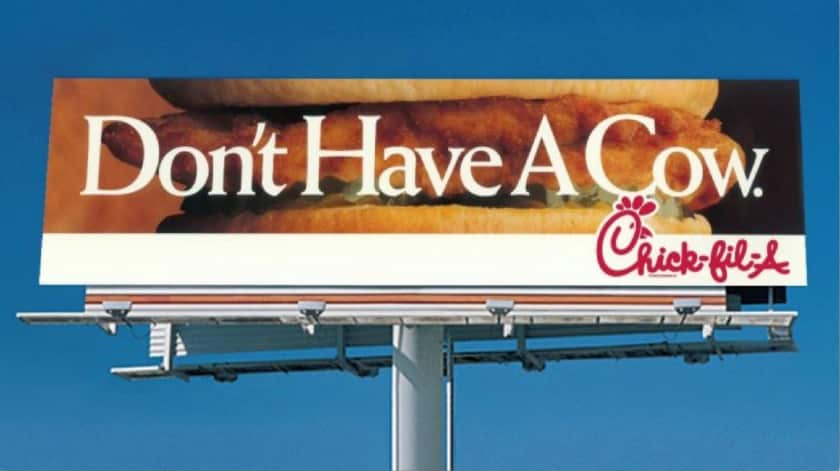 The best marketing messages don't just tell people what they want, but make people want what they offer. While that might sound like a tongue twister, the good news is that it's actually a fairly simple strategy. Best of all, it also helps your billboard sound less salesy, which psychologically might help people view your brand more positively.
For example, the fast food chicken chain, Chick-fil-A, could use a message like "eat chicken" to promote, well, eating chicken, but it makes its billboards more interesting by using the inverse of its message: "Don't have a cow."
---
16. Connect With Locals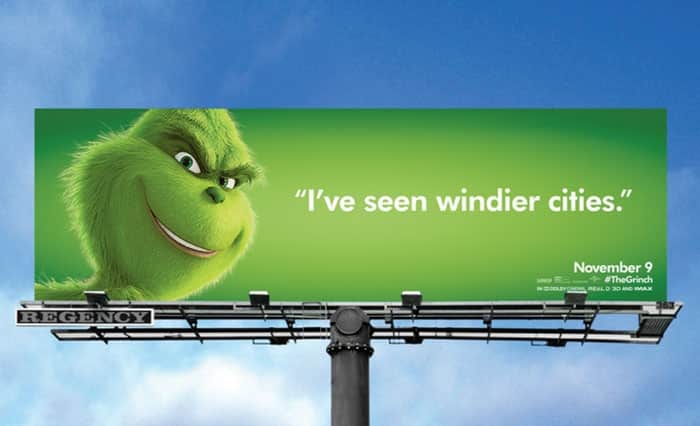 A great billboard design tip to keep in mind is to customize your billboards to their location. National companies may be inclined to create one or two billboard designs to place throughout the country. However, your message will resonate more if you tailor your designs to local areas. This way, you can more effectively connect with your audience, which in return, makes it more interesting, thereby helping your advertisement be more effective in reaching its goal.
---
17. Provide a Helpful Call to Action
Think about what people are doing as they're seeing your billboard. With that, you can get creative about offering a useful call to action that provides a real solution. This is commonly used to notify drivers of an upcoming exit. However, that doesn't mean your message needs to be as black and white as take the next exit.
For example, this billboard from the Florida Welcome Center is located along a busy highway, which is notorious for long-haul truckers and long-distance travelers (e.g., all of those snowbirds). Since it understands that many of those on the road have been on the road for a long time, it offers a helpful call to action, "stretch your legs," and tells you how many miles until you can.
---
18. Use a Vanity Number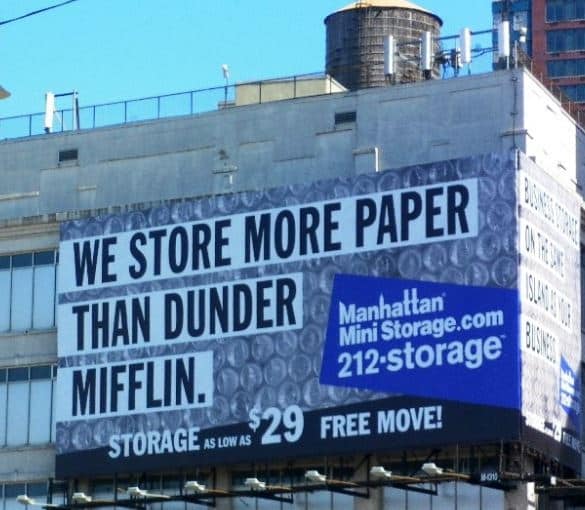 Don't make people try to work to remember your number. Instead, make it easy by using a vanity phone number (e.g., 1-800-NYPLUMBER). But what if your business already has a phone number? It doesn't matter. You can get a vanity number that directs to your standard business line.
An easy way to get one is to check out Grasshopper. What's cool about this service is that it has a tool which allows you to plug in your desired word and will give you a variety of options to choose from. Once you've found a number you like, you can purchase it directly from them.
---
19. Make a Joke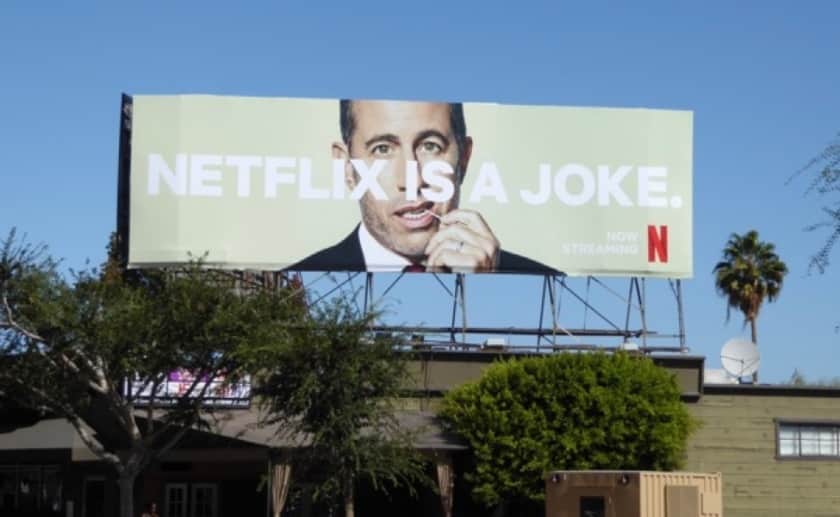 Netflix paid a pretty penny to put up billboards stating "Netflix Is a Joke." While a self-deprecating statement like this one works to catch attention, the play on words reminds passing motorists that Netflix has a number of streaming comedy specials. On top of that, using a joke or reverse psychology can be a good way to get people thinking, and the longer your billboard lingers in someone's mind—even long after they've driven past it—the more memorable it is.
In other words, it works. However, as a word to the wise, be sure to use self-deprecating messages or reverse psychology with caution. Bad press isn't always good press.
---
20. Select Your Billboard Location Wisely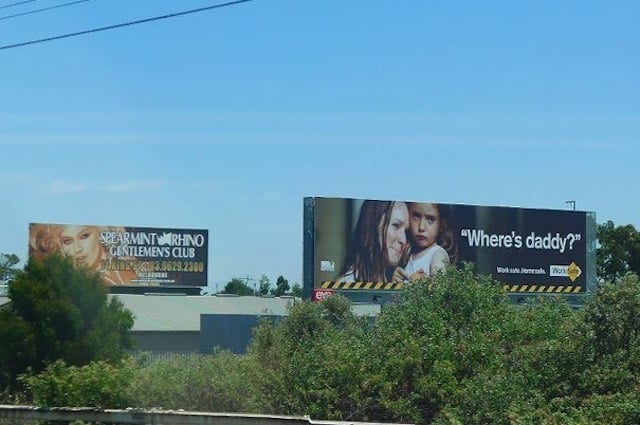 There are going to be elements outside of your control, but it's worth doing your due diligence when it comes to choosing the right billboard location and design. For example, the above billboard design, "Where's daddy?" appears to be answered by the billboard that follows it, a gentlemen's club. Though the second billboard may not have originally been there, it's something to think about when creating a billboard design: Can it interact with other billboards?
---
21. Look at Your Design From All Angles to Prevent Design Flaws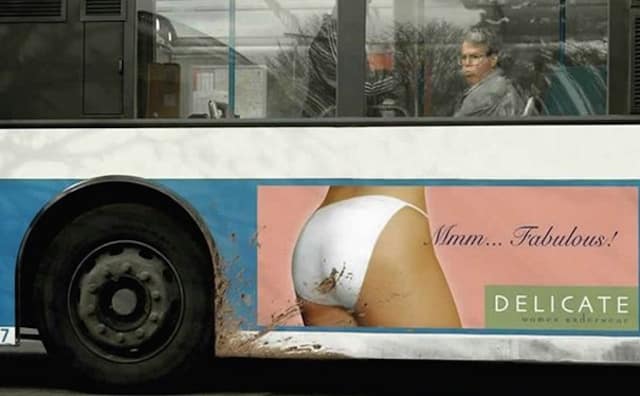 A seemingly flawless design can go down the drain rather quickly. Don't just look at your billboard design by itself, but consider the elements surrounding it and how those elements can affect its design. Starbucks became an infamous example of this when it plastered "Starbucks" on the outside of a delivery van. Seems legit, that is, until the sliding back door was opening, which transformed the work into "Sucks" with its classic logo beside it. Talk about design fail.
Another example is this underwear ad on a public bus. The design itself is innocent enough, but the designers did not put enough consideration into where the ad would be placed. Behind the wheel of a moving bus might sound OK, but in reality, the ad turns pretty awful when the bus hits a muddy pot hole.
---
Frequently Asked Questions (FAQs)
How much does billboard advertising cost?
While billboards are cheap compared to television ads, they're expensive compared to pay-per-click advertising. How much your billboard costs will depend on its size, location, and run time. However, as a guidepost, expect to pay around $1,500 to $3,000 per month. Keep in mind that the monthly cost to advertise is in addition to the cost of billboard design and construction. Check out the complete breakdown of billboard advertising costs.
Which is better: traditional or digital billboard ads?
Traditional and digital billboards each come with their own set of pros and cons. For example, with a traditional billboard, you're not sharing the board with other advertisers. However, this means it will cost more, in addition to the added expense of billboard construction. On the other hand, digital billboards cost less to set up, are ideal for optimizing ads, and can give advertisers the ability to display ads at specific times of day or days of the week, making them a better option for the budget-conscious or those just starting their business.
How do I find billboards that are available?
If you have your eye on a specific billboard, you can usually find the owner of it listed at the bottom-center of the billboard itself. If you're looking to browse available billboards, check out billboard providers such as Lamar, Outfront, and Blip to see billboard locations, availability, and pricing. Alternatively, you can always Google billboards in your desired location.
Bottom Line
As simple as billboard advertising might sound, those in advertising will tell you that it's no easy feat to come up with a truly great billboard design. Ultimately, the best billboards boil down to those with very strategic advertising strategies and finely tuned marketing messages. Of course, many of these aren't created in-house, but rather by ad experts and graphic design pros. If you're on a tight budget, consider at least getting an expertly crafted design from a Fiverr Pro.
You Might Also Like…