If you are a new small business, one of the first things you want to do is set up your business Facebook page. If you currently own a business and do not have a Facebook page, you should set one up as soon as possible. With over 1 billion people using Facebook today, if your small business isn't on Facebook, you are missing out on a great opportunity to connect with potential customers.
Want to learn more about how to market yourself on Facebook? This course from Lynda will help new Facebook advertisers effectively create and manage Facebook ads. Click here for a free 10 day trial with Lynda.
In this article we will cover:
The 3 Primary Benefits of Having a Business Facebook Page
There are three main advantages to having a business Facebook page:
Connecting with your customers –

When people like your page, you can tell them what's new with your business, share interesting articles you think they would enjoy, and respond to their posts on your page. This is a great platform for a local business that relies on local patrons to keep their business booming. By having a Facebook page, you are able to become part of the local community.

Marketing your business for free –

There is no cost to have a Facebook page for business. That means you are only hurting your business by

not

having one. You can offer discounts and promotions on your page and promote new products or services.

Bringing traffic to your website and store –

People that are interested in your Facebook page can easily link to your site or find your store from the information on your page. Having a business Facebook page only helps more people locate you when looking for your type of business.
So now that you are aware of why you need a Facebook page for your small business, we can get started on setting up a page for your business. Follow this step by step guide to have your page set up in no time.
How to Create a Facebook Business Page in 7 Steps
Step 1 – Create a Facebook account
If you do not have a personal Facebook account, you will need to set one up before you can create a page for your business, since Facebook pages are always associated with a personal account. If you are worried about mixing your business with your personal life, don't be. People that like your business page won't be able to see anything from your personal page and vice versa. You also don't have to worry about accidentally posting personal things to your business account. Since you have to be on your business page in order to post from it, you will be able to immediately tell if you are posting from your business page.
You will only need to fill in the information below to create your account.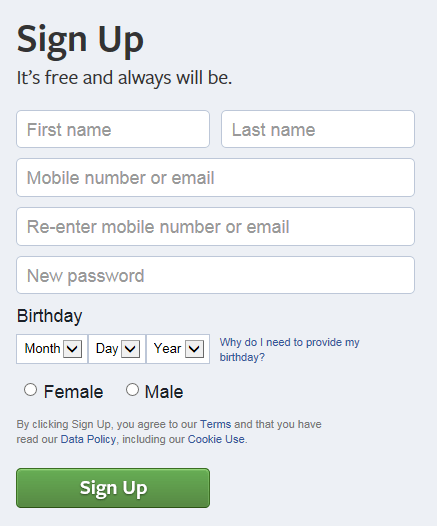 Step 2 – Create your Business Facebook Page
Once you have logged in to your Facebook account, you will be able to create a new business Facebook page. Make sure that you don't already have a page for your business. Later in the process, Facebook will inform you if there are existing pages that are similar to the one you are about to create, so you don't want to waste your time if you already have a page.
If you are sure that no page has been created for your business, you can start by navigating to the top right hand corner of your account. You will see an arrow that you can click on in order to create your page.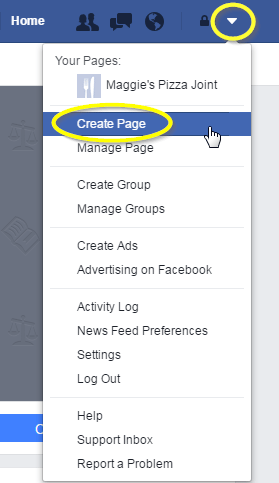 You will then be able to choose which category you fit into out of the following options:
Local Business or Place

Company, Organization, or Institution

Brand or Product

Artist, Band or Public Figure

Entertainment

Cause or Community
If you are a local business with a physical location, you will want to choose "Local Business or Place." Next, just enter your address and name of your business to get started.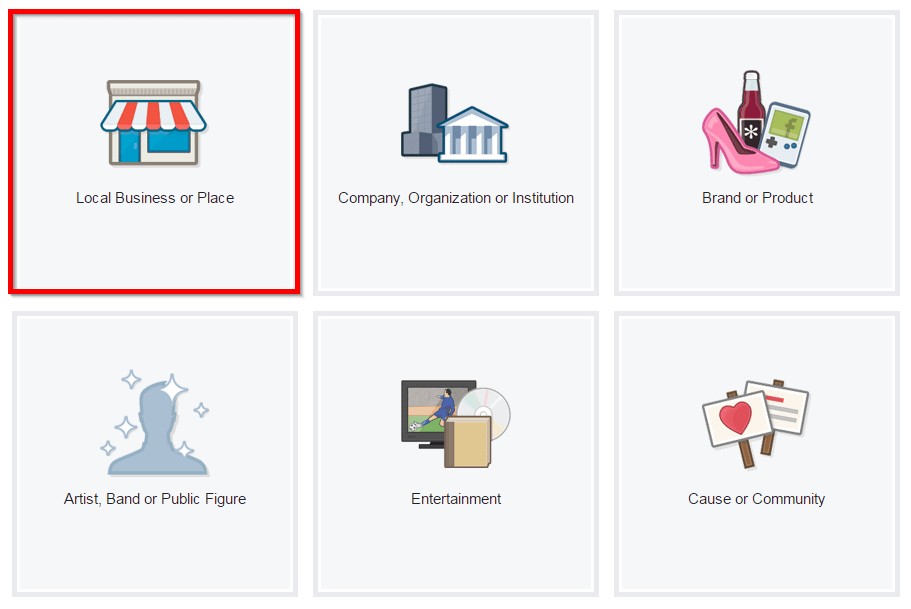 Step 3 – Enter your business information
To complete setup of your page you will need to enter some information about your business including:
Categories

– You will be able to choose three categories that are representative of your business.

Description

– You will need to describe your business in 155 characters, so make sure it is descriptive and to the point.

Website

– Include your website so people can go directly to your site from your Facebook page.
Lastly you will need to verify that you're a real establishment and that you are authorized to represent the business.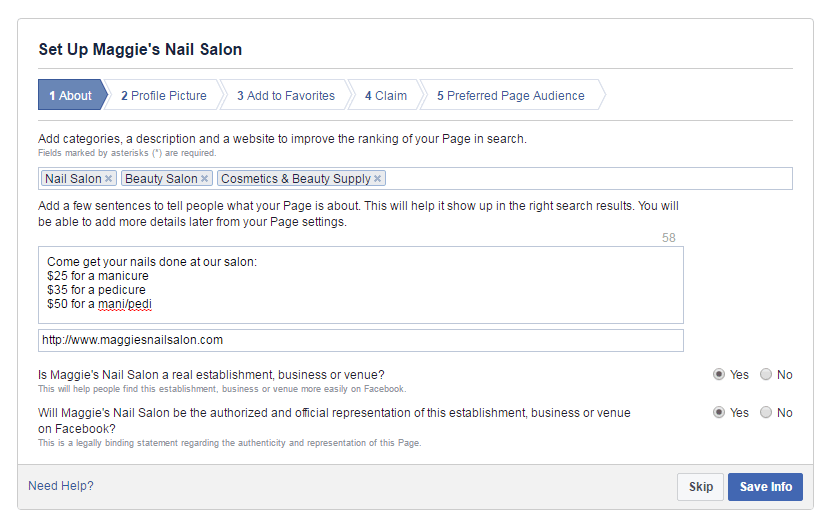 Step 4 – Upload your profile picture
Choose a profile picture that will draw people to your page. One idea is to use a picture of your product, whether that be a delicious looking menu item (restaurant), a gorgeous hair shot (beauty salon) or a nice looking smile (dentist). If your product isn't visually appealing you can use a picture of your logo or even a picture of you (as long as people relate you to your business).
The 3 things to keep in mind when choosing a picture are:
Choose a visually appealing picture

Make sure it is representative of you business

Make sure it's a high resolution shot with the dimensions of 180 x 180 px.
If you don't have this type of photo, you may want to pay for professional shots. You can find relatively cheap photographers on Craigslist, and you will want these types of pictures to put on your website any way. Here's a good example of a profile photo: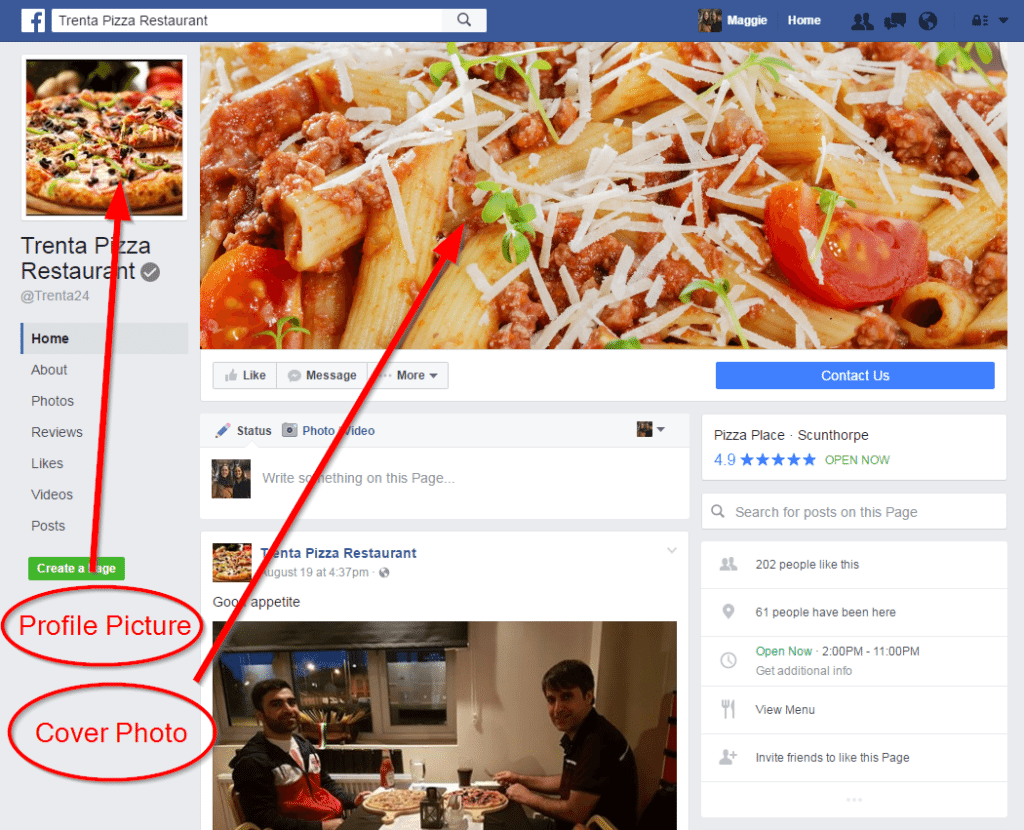 We'll talk a little later about your cover photo.
Step 4 ½ – Add your page to your favorites
This isn't really a step, but Facebook will prompt you to add your page to your favorites. You will want to do this so that the page will be easily accessible from your homepage.
Step 5 – See if you have any duplicate pages
Next Facebook will prompt you to claim any pages that seem similar to the page you are creating. The reason for this is that Facebook wants to make sure you don't create a duplicate page. Having two pages for the same business will confuse people and draw attention from your main page. If there is already an existing page for your business, you won't want to create a new one, especially if the existing page already has likes.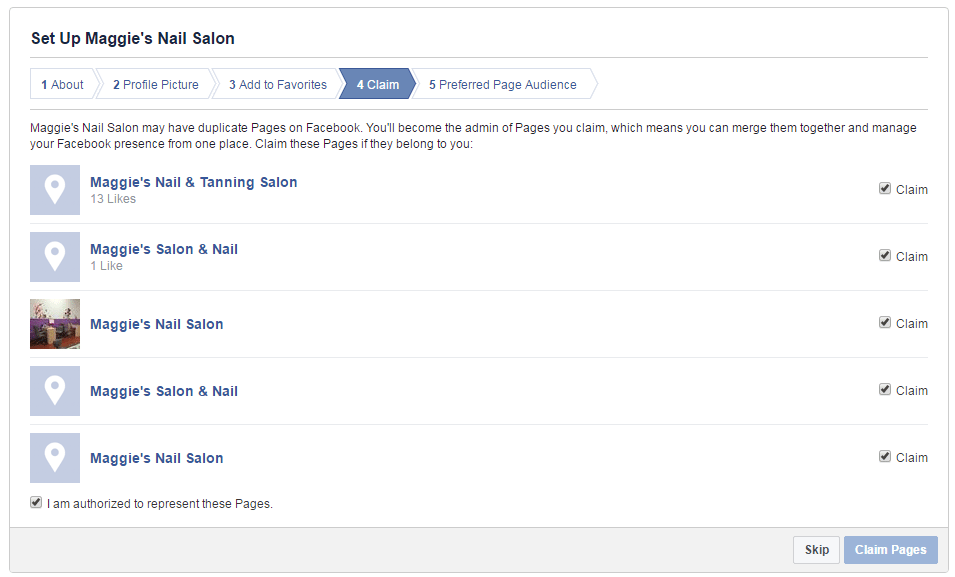 Step 6 – Choose your audience
Facebook allows you to target the type of people that it will show your page to. For example, if you own a nail salon in New York, you can choose to have your page audience be women ages 13-65+ that are located in New York. For other businesses, like a restaurant, you may only want to use the location filter. You can also target based on people's interests, but that will most likely decrease your pool too drastically since many people don't include all of their interests on their Facebook page.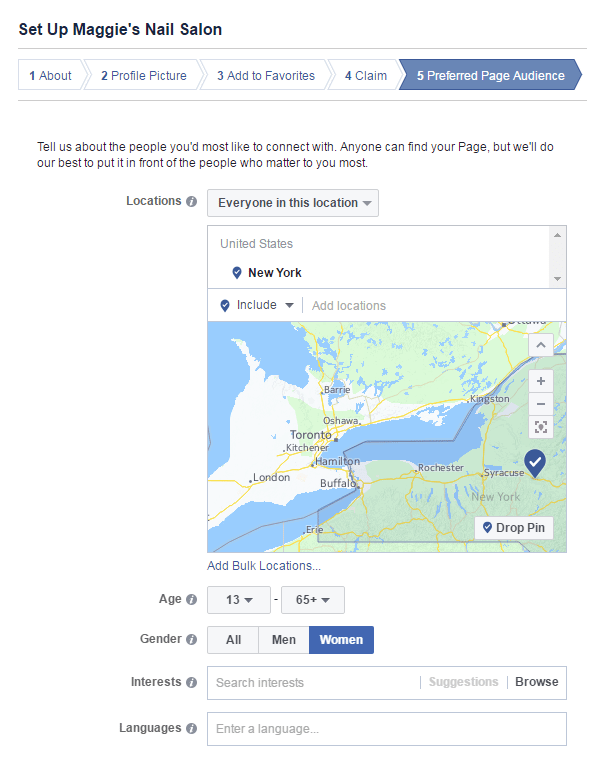 Step 7 – Apply the finishing touches
You have now created your page! However, you are not done yet. There are a few more key steps to make sure your business page is fully filled out.
Cover photo

– Just like with your profile picture, you want your cover photo to stand out and be appealing, but also be representative of your business. The cover photo below is a great one from sweetgreen, which serves simple, healthy food. Your cover photo should be 851 pixels by 315 pixels. If you are having trouble finding a cover image, you can create one for free using

Canva

.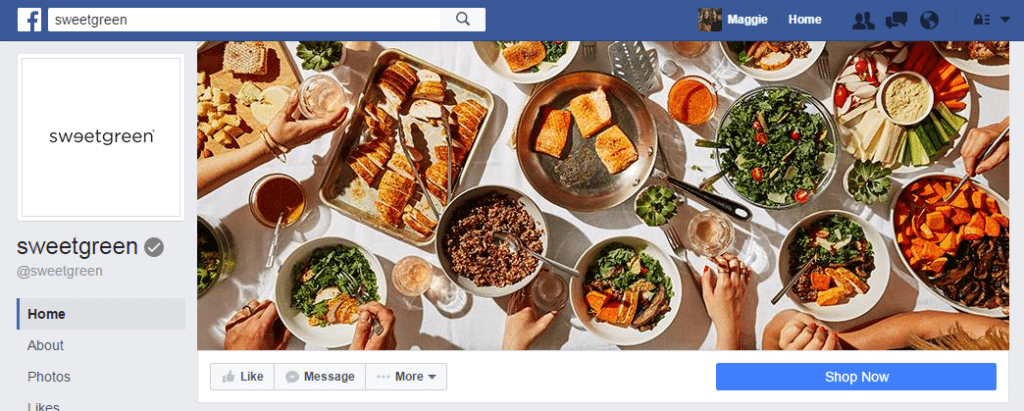 Hours

– Include your hours so people know when you're open.

Price range

– Facebook gives you the option to choose from 1-4 dollar signs

Services

– You can add the services you provide along with price, description and a photo

Create a button

– Choose a button to include on your page. Available button options include book now, call now, contact us, or send message. You can link this button to a specific page on your website to drive traffic to your site.
Next Steps After You Create Your Facebook Business Page
Now that you have created your Facebook business page, there are a few things that you should do:
Invite your friends to like your page –

Make sure you have some content posted first, but after that you should let people know that you have a page for your business. A page with no likes does not seem legitimate, so get your friends and family to like your page to help spread the word.

Advertise on Facebook –

Facebook advertising is appealing because you can target an extremely specific audience. Your ads are shown to precisely the people you need to reach – not just some vague demographic. We have an

awesome strategy

for advertising your small business on Facebook that you should read about now that your page is set up.
Get listed in Google's organic results – Ranking on the first page of Google can be difficult for small business websites. The good news is that having your business listed on Facebook increases your chance of your business having a spot on the first page. To learn more read our full guide on how to rank on Google. 
Market your business for free –

If done right, you can also see results from your Facebook page without having to pay a dime. We have an article on

how to get free Facebook likes

that will teach you what type of posts will get you more fans.  
The Bottom Line
Creating a Facebook page is free and easy to do, and therefore having a business Facebook page is a no-brainer. What you need to focus on now is what to do with your page now that it is created. View our follow-up Facebook articles to learn more. If you have any additional questions, leave a comment below.
Get More Facebook Likes For Your Facebook Page, Free!
Facebook Advertising: A How to Guide for Small Businesses
How Much Does Facebook Advertising Cost?
Top 25 Facebook Marketing Tips for Small Business Owners
And don't forget to check out this Lynda Facebook Marketing Course to learn more about the details of marketing yourself on Facebook. Click here to start your ten day free trial.