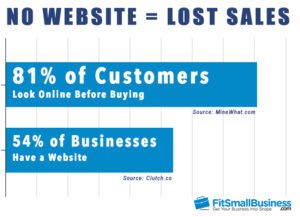 Although a vast majority of shoppers research online before making a purchase, almost half of small businesses still lack their own website.
The cost and effort of building a website are common reasons given for staying offline. While these may have been viable excuses in the past, today it's easier and cheaper than ever to create a professional business website.
In this guide, we'll walk you through the steps to create a small business website, including:
As for creating and hosting your website, we're going to show you two different options: Bluehost, which gives you a domain, professional WordPress website and business email for just $2.95/month, and Weebly, a slightly more expensive-yet-simpler option we recommend for beginners. Weebly does not include business email or domains (can purchase separately) but it is a bit faster and easier to set up than Bluehost.
Step 1: Choose and Register Your Small Business Website's Domain Name
The very first step is to decide what name you'll give your website – for example, www.YourBusiness.com.
First things first, you'll probably want to check and see if your business name is available. To find out, enter it into the domain search tool below:
If the .COM version of your business name is available, consider using this for your website. As we'll explain more below, there's just a few scenarios where you might consider adding a location at the end of your domain (i.e. SmithPlumbersNYC) to improve your visibility in search engines to people searching locally.
If your business name is not available, try different phrases before settling for an alternate suffix, like .NET or .INFO. Consumers overwhelmingly use .COM when entering a web address. So even if you promote your .NET website, you're likely to lose customers who typed in the .COM version instead.
Tips for Finding Business Website Domains
If your business name is taken, here are a few tips to keep in mind as you search for alternate names:
Domain names are important for search engines, like Google.

When possible they should include words that people are likely to use when searching for your business and/or the products and services you sell. "ProStar Lawncare" is probably better than "ProStar USA."

Domain names should be easy to pronounce and remember.

Keep your name as short as possible and avoid punctuation like dashes. As a simple rule of thumb, make sure somebody can find your domain if they hear it spoken out loud.

Use location to find a unique URL.

If all other options are taken, add your city/area name to the domain. For example, a company called Smith Plumbers based in Albany, NY, could try www.smithplumbersalbany.com. This, again, can

help your website appear in Google

since customers are likely to enter their city name when searching for a service.
If you still need help choosing a domain name, see our Top 25 Domain Name Tips From The Pros.
Registering a Domain
Once you have a domain selected, there's two options for registering a domain:
Purchase it through Bluehost. You can buy just the domain for around $12 per year, or you can get your domain, website hosting, and business email address for $2.95 per month. We show you how to create a professional WordPress website and business email with Bluehost for free in this step-by-step guide, making this the most cost effective option. 

Buy your domain through

Weebly

, or whichever other service that you decide to use to build your site.  
Even if you won't be building a website for a few more weeks, buying the domain ensures others won't be able to use it.
Step 2: Outline Your Website Content
Figuring out what to say on your website can be difficult, and one of the main reasons business owners put off creating one.
The good news is you don't have to say much at all. Business websites work best when they're simple, featuring minimal text and just a single "option" on each page – i.e. submission form, or "contact us" button.
Business websites also tend to follow a standard format, using these 4 essential pages. As you go through the list, don't worry about formatting each page yet – just think about the text, images, and content you'll include:
Homepage:

On the homepage, you should include the name of your business, where you're located, and a simplified pitch – a few lines about what makes you unique and/or why customers should chose your business.

Products and Services:

A page with details about the products you sell or services your provide. On the page which you detail products or services, spend one to five sentences describing each type you offer and give the pricing.

About Us:

Provide your company background and list organizational memberships like being part of the Better Business Bureau. Also include customer testimonials, unless you want to link this out on a separate page.

Contact Us:

Your address, email, phone number, the hours you are open for business, and links to any social media accounts such as Twitter and Facebook should appear on this page. You should also

Embed a Google map

of your location and include different ways of getting there (i.e. subway, train, car etc) if applicable.
In addition to a contact page, your phone and physical address (if applicable) information, along with any social media accounts such as Facebook and Twitter, should be prominently featured on every page of your site. For search engine purposes, make sure that your phone number and address are text and not part of an image.
Special Tools for Mobile Websites
These days, about half of customers browse from their smartphones instead of a computer. As a small business owner, this means it's imperative to get your website mobile-friendly.
The good news is most of the top web-builders, including Weebly, automatically create mobile-optimized websites for you. Known as "responsive" themes, these websites can detect the type of device you're browsing from and automatically shift the content to give you the optimal experience.
That said, even if your website responsive, it's usually a good idea to make some additional adjustments for your mobile site. In general, you want to remove any excessive details. Your mobile website should focus entirely on your call-to-action – whether that's getting users to call your business, fill-out a contact form, join a mailing list, or make an online order.
Click-to-call buttons are especially helpful if you want mobile visitors to dial your business. This is a button that – when clicked from a mobile phone – automatically populates your business' phone number into the visitor's dialpad. An embedded Google Maps widget is also key for customers who are browsing on-the-go, as they can quickly bring up navigation to your store.
Step 3: Decide on a Logo
Now, before you jump into a website builder like Weebly, make sure you have this one essential image already created: Your logo.

The colors, font, and style of your logo will affect the design of your website. This is because you want a consistent theme between your logo and web pages.
If you already have a logo that you are using in the offline world, then perfect. Find the digital file, or create a high resolution scan to use on your website. If you do not already have a logo already, or want to upgrade from your existing design, there are three key ways to create one.
Three Logo Design Options for Your Small Business Website
Do it Yourself

: There are a number of logo wizards out there that will allow you to create your own logo.  However, many of those advertised as being "free" are really not free because you have to pay to download the logo. One that does not charge you for most logos is

Graphic Springs

.

Use Fiverr.com: Fiverr.com

is a site that matches you with all kinds of service providers who are willing to do projects, including logos, for just $5. If you use the $5 option you will have to wait a couple of weeks to get your logo. For around $20, you can generally get it that same week. You wouldn't get the most creative or unique logo from Fiverr. However, if you find a designer with a portfolio you like, this is easily the best option for the money.

Use 99Designs.com: 99Designs.com

runs contests where multiple designers compete for your logo and other design business. This is a great option because you get to see many different professional and creative designs (

It's how we found our logo at Fit Small Business!

), yet only pay for the one you wind up choosing. The price ranges from $299 to $799 depending on how many designers you want competing and the quality of those designers.
If you're interested in obtaining a logo from 99Designs, check out our full guide How To Create a Logo, Flyer, or Menu with 99 Designs.
Step 4: Put Your Website Plan into Action
Once you have a logo and outline, you can officially exit the planning stage and start building your website.

From here, there's 2 different routes you can take:
DIY Web Builder

– Use an online tool to design your website. Similar to graphics editors like PowerPoint, you can select a template, then edit your website by dragging and dropping elements. No programming required. We recommend

Weebly

, which is one of the easiest builder's to use, and has great customer support.

Create a WordPress Website with Bluehost – WordPress is another DIY option that is a bit more advanced than Weebly. You don't need to know any programming, but there is a steeper learning curve to get the hang of WordPress's publishing system. On the plus side, it's less expensive, and can give you many more advanced tools/integrations compared to Weebly. We recommend using Bluehost to create a WordPress website.
Hire a Professional – Hand over your logo and website outline to a freelancer. Make sure they use a web builder or content management system like WordPress, so once they're done, you can easily log in and make edits.
Next we'll describe each option in more detail:
Option 1: Use a Website Builder like Weebly
In the last few years, website builders have really made some leaps and bounds. It's now very easy to create a professional business website with little-to-no coding or design experience.

You start by choosing a template, then customize it by adding your own pages, text, images, etc.
The editing process is very intuitive. If you've ever used Microsoft Word or PowerPoint, you'll easily grasp the tool. Add elements by dragging them from the sidebar. Adjust the size by dragging from a corner, and change text by double clicking within the text box.
It's also very easy to add interactive features to your website. Most website builders will have a click-to-add option for Google Maps, YouTube/Vimeo embeds, web forms, and more. This makes your customers more likely to share and spend more time on your website.
If you want to go the DIY route, we recommend using Weebly. You can read why in our website builder buyer's guide, or go ahead and check out our step-by-step instructions on how to create a website using Weebly.
Option 2: Create a WordPress Website
Here's the scenarios where WordPress is a good option:
You want a less-expensive option than Weebly.

You want a more advanced website than Weebly.
It may sound contradictory, but it's true that WordPress is both a more economical, and more feature-rich option. Through Bluehost, you can create WordPress website (with a domain and business email account included) for just $2.95/month. We provide instructions on how to set this up here.
As one of the original and most popular website engines, WordPress has countless plugins for additional features. You should consider WordPress if you want to start a blog with lots of entries (it's what we use here at Fit Small Business) or allow visitors to register user accounts – such as, for an online forum.
While Weebly does offer blogging and visitor accounts, WordPress is better at managing a large number of pages and users. Also, if you decide you need a special feature, like scalable tables, a mortgage calculator, unbranded video players, calendars and more, WordPress is almost guaranteed to have a plugin for it.
Getting Started with WordPress
Just bear in mind: WordPress is an intermediate website builder. You won't need any programming knowledge per se, but you will need to familiarize yourself with their backend menu. Unlike Weebly, which lets you edit the website just by dragging and dropping elements, WordPress has more traditional edit menu.
That said, we've written a few guides and recorded a video that explains how to create a WordPress website using Bluehost from start to finish. If you follow one of our guides and use the same theme, you should get most of the work done in less than an hour.
Check out our WordPress guides below. For each of these, we use Bluehost, which gives you a WordPress website, domain and business email for just $2.95/month:
Option 3: Hire a Professional to Build Your Website
If you simply don't have time to create a website, there's a few different ways to hire an expert.
First off, if you're just looking for a simple website (text, photos, videos, email capture forms, online store, etc.) you should find somebody to design it with a web builder, like Weebly or Wix. On websites like UpWork you can find freelancers who will design your Weebly site for around $10 – $20 per hour.
This is much less expensive and easier than the other options. Also, it will be easy for you to make changes once they're finished. You can simply log into your account and use Weebly's simple editing tools.
Hire a Professional Designer with 99Designs
If you want to create an advanced website on WordPress and aren't happy with any of the templates available, or don't have the skills to customize one, hiring a designer is another option.
Just as you can get a logo designed by 99Designs.com, you can also have your full website designed through this site. The concept is the same: You submit a brief on what you are looking for and get back anywhere from 20 to 60 designs. You only pay for the design you choose, and the price ranges from $599 to $1,599, depending on which package you go with. We used 99designs here at FitSmallBusiness.com for our own website – so if you want to see an example of a 99designs website, you're looking at one!
If you go this route, keep in mind that you will still need to have the site created in HTML. A designer will only create a visual template. You'll need a programmer to convert it to HTML, which may cost you an additional $1,000 or so.
The Bottom Line
To create a small business website, the least-expensive and most versatile option, by far, is to use Bluehost. You can get a domain, professional WordPress website and business email accounts for just $2.95/month.
That said, those looking for a simpler and faster solution should consider Weebly. At still a very good price of $12/month (domain and email not included), Weebly gives you fantastic user-friendly system to design a website AND attentive customer support.
If you're ready to dive in, check out our article how to build a small business website using Weebly.