Facebook Business Page templates are preset layouts for your Facebook Page. Facebook has 10 different templates available for various industries, so it's important that you choose the right template based on your type of business and what you're trying to achieve with your Page.
Facebook Page templates are free and relatively easy to set up. However, the best-performing Facebook business pages are often created by social media consultants. Luckily, you can hire a social media consultant to choose the right template, create images, and write your Page copy using Fiverr, a platform that connects you with consultants for social media tasks starting at $5.
10 Facebook Page Templates
| Facebook Page Template | What it's Best For |
| --- | --- |
| | Sharing general business details, building a following, and growing brand awareness. |
| | Establishing your business' credibility, encouraging engagement, and posting job openings at your business. |
| | Showcasing your venue's upcoming events, hours, and location. |
| | Advertising showtimes for your audience and highlighting related events. |
| | Explaining your cause and encouraging people to fundraise and donate. |
| | Reaching supporters, communicating your message, and encouraging them to vote. |
| | Defining your services, building credibility, and providing contact information. |
| | Sharing your menu, hours, and location, as well as photos of your food and drink. |
| | Displaying products and making it easy for people to shop online. |
| | Showcasing video content to increase views and awareness. |
---
1. Standard Facebook Page Template
The Standard template is the default template and will work if you want to provide just some basic information on your Page. The Standard template is right for businesses that simply want to share content, rather than run special offers or post job openings.
As a one-size-fits-all template, the Standard template works well for most small businesses. If you are an online business that does not sell a specific product or service, the Standard Template might be the perfect fit for you. You can use its Facebook marketing features to boost brand awareness while keeping your information simple. The template includes buttons to encourage visitors to Like, Follow, Share, and Save your Page.
Additionally, you'll have these general tabs:
Home: Directs visitors to the main landing area of your Facebook Page
Posts: Displays all posts, including videos and images
Videos: Shows all videos you've shared
Photos: Shows all images you've uploaded to your Page
About: Provides an overview of your business or Page
Community: Shows what other people are posting about your Page
Info and Ads: Displays ads currently running from your Page
Standard Template Example
Here at Fit Small Business, we opted for the Standard template. We have all the Standard tabs, plus a custom tab that we added, "Business Articles," to make it easier for Facebook users to see our articles.
We chose the Standard template because we wanted to focus on sharing our articles and driving traffic to our website. As a content-driven website, our Facebook Page is meant to showcase our recent articles and pique interest so that Facebook users will Like our Page and routinely read our content. The Standard template includes everything we need for our objective.
---
2. Business Facebook Page Template
The Business template is designed to include a little more business information than the Standard template, including reviews, special offers, and job openings. The buttons included are the same as the Standard template (Like, Follow, Share, and Save).
The Business template is a good fit for businesses that want their Page to be a hub for everything from customer reviews to promotional offers to job postings and hiring updates. Choose the Business template over the Standard template if you'd like to boost credibility with reviews and encourage more interaction directly through your Page. The Business template works well for businesses that want to boost awareness of their products and services.
The Business template has all the same tabs as the Standard template plus these three tabs:
Reviews: Shows reviews that users have posted to your page
Offers: Lists special offers that your business is running
Jobs: Lists job openings at your business
Business Template Example
For example, Danish Country Antiques uses the Business template and includes the Reviews section to show their five-star reviews and positive customer experiences. This provides a great first impression for any prospects that land on their Facebook Page. They've chosen to leave off the Jobs and Offers section, which you could also do if your business is not hiring or running any online deals.
---
3. Venues Facebook Page Template
The Venue template is designed to make it easy for guests to see your venue's upcoming events, hours, and location. It has all the same tabs as the Business template, plus an Events tab where you can list upcoming events and encourage users to RSVP or buy tickets through Facebook.
Choose the Venues template if your business hosts regular events and wants to drive attendance. The Venues template will make it very easy for Facebook users to view all your upcoming events, express their interest, and even buy tickets. This template should be a perfect fit for music and theater venues. However, if you have a movie theater, the Movies template will probably be a better fit for sharing showtimes.
Venue Template Example
Fremont Abbey Arts Center makes use of the Events tab to display all upcoming events and drive ticket sales. They also include an Email Signup tab so Facebook users can learn about upcoming events via email. By collecting contact information from Facebook users, the venue can follow up and remind people to buy tickets before their events.
---
4. Movies Facebook Page Template
The Movies template is very similar to the Venues template, but it makes it even easier to show off multiple showtimes for the same movie. The tabs and buttons are the same as the Venue template, with the added ability to add your movies and showtimes. This template makes it easy for Facebook users to express their interest and buy tickets.
The Movies template is right for movie theaters that want to promote their upcoming movies and showings. You can easily display your showtimes so that guests can plan when they want to buy tickets and visit your theater. While this template is very similar to the Venue template, if your business primarily shows movies, this template will help you reach more moviegoers.
Movies Template Example
Somerville Theatre uses the Movies template to display showtimes for each movie and encourages guests to RSVP and share events. This makes it easier for moviegoers to see what's playing and increases the chances that the theater has a full house for their showings.
---
5. Nonprofit Facebook Page Template
The Nonprofit template makes it easy to share information about your cause and upcoming fundraisers, and drive donations for your organizations. The buttons and tabs are the same as the typical Business template. However, you can add a Fundraisers or Donate tab to raise money directly from your Facebook Page.
The Nonprofit Facebook Page template is right for cause-focused organizations that want to primarily get the word out about their mission. Examples include animal shelters, mentoring organizations, and nature conservancies. The main benefit of this template is that it's built to make it easy for people to support your cause with a donation. Users can also raise awareness and money for you by running their own fundraisers through Facebook.
Nonprofit Template Example
The Gifford Cat Shelter uses the Fundraisers tab to showcase users who have created a fundraiser in honor of their shelter. Users can view the active and past fundraisers in the Fundraisers tab, and even create their own fundraiser to raise money for their organization. Additionally, Gifford customized their template's cover photo with a promotional image for their upcoming 5K fundraiser.
---
6. Politicians Facebook Page Template
The Politicians template is designed to make it easy for politicians to communicate their message, reach supporters, and encourage voting. The template's primary button is "Send Message," to make it easy for supporters or voters to get in touch. The template has all the same tabs as a typical Business template, with the exception that the Reviews section is replaced with a Notes section for miscellaneous information.
The Politician's template is right for any politician, from local government officials to congressional candidates to national party leaders. With the Politicians template, you can add the Issues tab and use it as a platform to spread awareness for your viewpoints on party issues. You can also use the Events tab to promote upcoming events, rallies, debates, or voting deadlines.
Politicians Template Example
If you want to communicate your political message on Facebook, you can use the Notes section or customize the tab to display your thoughts on political issues. Politician Alexandria Ocasio-Cortez uses the Issues tab on Facebook to display her thoughts on issues, including civil rights and the economy.
---
7. Services Facebook Page Template
Service-based businesses need to make it easy for clients to find their services and get in touch, which is exactly what the Services template aims to do. In addition to the normal Business template tabs, the Service template has a Services tab where you can highlight your services and a Shop tab where clients can make purchases.
The Services template is right for any service-based business, from landscaping businesses to marketing consultancies. The template makes it easy for businesses to provide an overview of the services they provide so that prospects can review your offerings, make purchases, or get in touch to learn more.
Services Template Example
BJC Branding lists all the digital marketing services they provide within the Services tab. Since their prices vary from client to client, they don't include the Shop tab, but they do make it easy for prospective clients to get in touch via Send Message button.
"I like Facebook's Services page template because it promotes our agency's web design, email marketing, and additional digital marketing services to visitors of our Facebook page. Today, it's so important to provide potential clients with as much information as possible, and this template helps us do so."

-Bryan Caplan, CEO of Bryan Caplan Agency
---
8. Restaurant & Cafes Facebook Page Template
Restaurants and cafes can use this template to display their menu, hours, and location. If you choose this template, the default button will be "Get Directions" to make it easy for guests to visit your establishment. The tabs are similar to the general Business template options, but you can add in a Menu tab to show your menu.
The biggest benefit of the Restaurants and Cafes template is being able to show off your menu and provide photos of your delicious food and drink offerings, and may also be useful for bars. The template lets prospective new customers scope out what you have to offer so that they can see if they want to make a visit. Choose the Restaurant and Cafe template if your primary business offering is food or drink.
Restaurant & Cafe Template Example
Stone Way Cafe makes it easy for Facebook users to peruse their menu before visiting the cafe. Additionally, they changed the button to "Call Now" so that users can call with questions or place an order.
---
9. Shopping Facebook Page Template
The Shopping template is meant to make it easy for Facebook users to see your products and make purchases online. The tabs and buttons are the same as the general Business template, with the addition of a Shop tab where users can view and purchase products directly through Facebook.
If you have an ecommerce business or want to sell more products online, this template is right for you. The Shopping template allows Facebook users to view your products and make purchases easily. By reaching this larger audience, you can increase your online sales.
Shopping Template Example
The retail store No Rest for Bridget uses the Shopping tab to showcase products. They organize products into categories like New Arrivals, Handbags, and Dresses and include product details and pricing. They've also updated their call to action button to Shop Now to link to their website with their full product line.
---
10. Video Facebook Page Template
The Video template makes it easy for you to display video content on your Page. It has the Standard template buttons and tabs, as well as a Video tab where you can show the videos you've uploaded onto your Page. If your business is primarily focused on creating videos, choose the Video template.
If creating and sharing videos is the primary goal of your business, this template is right for you. The video template will increase the exposure for your videos and drive more views. Users can easily navigate to your Videos tab to see a full library of your videos in one place.
Video Template Example
America's Funniest Home Videos uses the Video tab to make playlists of their videos. This is a great way to increase views and shares of your video content. You can see which content generates the most engagement and get a better feel for what your audience finds engaging.
---
How to Choose and Customize Your Facebook Page Template
Hopefully, you have a pretty good idea which template to choose based on your industry and goals. The good thing is that you can try out different templates as much as you want to see which one feels right for your business.
There's also a good amount of customization available with each, so you can tweak your template with the tabs and buttons that work best for you. Facebook allows you to hide certain tabs, like turning off job postings when your business isn't hiring, or adjust call to action buttons.
Here are the steps to take to update your template:
Click Settings at the top right of your Facebook Page
Click Edit Page on the left-hand column
On the right side, under Edit Page and Templates, click the Edit button
Click View Details on any template you want to review
Once you see a template you want to try, click Apply Template
Review the changes that will be made and click OK
Your template will be updated and you can review the changes to see if you like the template. If you decide to switch back or try a new template, take the same steps as above.
---
Setting Up Your Facebook Page
Once you have a template, it's time to start adding your business information, images, and copy. You can use our guide to create your Facebook Business Page in seven steps. If you need an image creation tool, check out Canva, which has templates to create properly-sized profile and cover photos.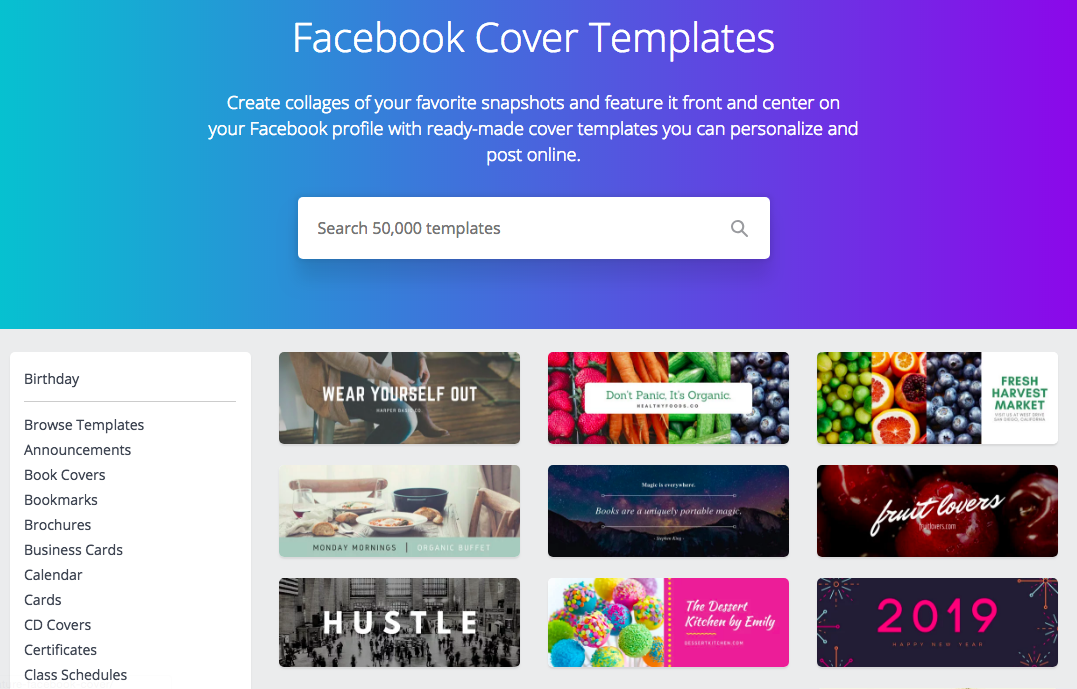 Once set up, you can also use a tool like Likealyzer to analyze your page and see where you can make improvements. You can learn about other ways to maximize your Facebook marketing efforts in our article on the Best Facebook Marketing Tools.
---
Bottom Line
Setting up your Facebook Page correctly starts with choosing the right template. Find the template that's right for your business and fill out all buttons and tabs with helpful information and links for Facebook users.
If you are looking for a social media consultant to outsource your Facebook Page setup too, Fiverr has hundreds of social media specialists to choose from. Jobs on Fiverr start at $5, making it a great low-cost option. You can find a consultant who specializes in Facebook Page setup by visiting Fiverr today.