9 Best Free Facebook Page Templates & Elements (+ Examples)
This article is part of a larger series on Facebook.
There are several free Facebook page templates for businesses. Which one you choose determines the extent to which you can customize tabs and call-to-action (CTA) buttons to help page visitors engage with your business profile. Learn more about Facebook's business page templates, tabs, and CTA buttons to choose the best template to set up your business profile.
Here are the top business Facebook page templates based on functionality:
Standard: Best for online marketing beginners and new businesses
Shopping: Designed specifically for online stores and retailers
Business: Recommended for business service providers and companies with job openings
Venues: Top option for event-related or location-based businesses
Nonprofit: Great option for spreading cause awareness and showcasing fundraisers
Services: Best choice for getting business leads and inquiries, and customer reviews
Public Figure: Best for individual brands, like journalists and celebrities
Restaurants: Top template for highlighting menus and ongoing promotions
Video: Ideal to spotlight content, portfolios, and other creations
Just starting with Facebook for business? Check out the details on how to create a Facebook Business page.
Let's dive into some of the best Facebook templates for small businesses:
1. Standard Facebook Page Template
Tabs: Home, Videos, Photos, About, Community, Offers, Jobs, Events, Services, Shop, Groups, Live, Reviews, Guides
When you first create a Facebook business page, it will have the standard template by default. The standard template includes the Home button, Videos, Photos, About, and Community tabs. It's a good template for almost any business. Plus, it lets you customize your page with optional tabs, such as Reviews and Offers, and add your business' contact information.
Best Standard Template Examples
The standard Facebook page template is beginner-friendly and has all the general tabs and buttons most businesses need to grow a brand presence on the platform. You'll see from the examples how the standard template provides important business information, such as the About Us section that introduces your business to page visitors.
Pages should also have eye-catching cover images, a profile picture, and photos for seasonal sales or holiday festivities. If you need a free resource to create a Facebook cover photo, Canva has lots of templates you can customize for Facebook (and all your social media marketing profiles). Here are some examples of business pages that use the standard template.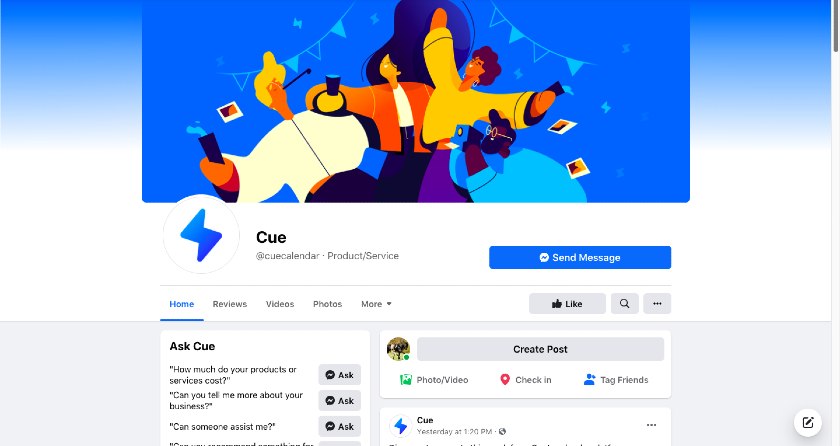 ---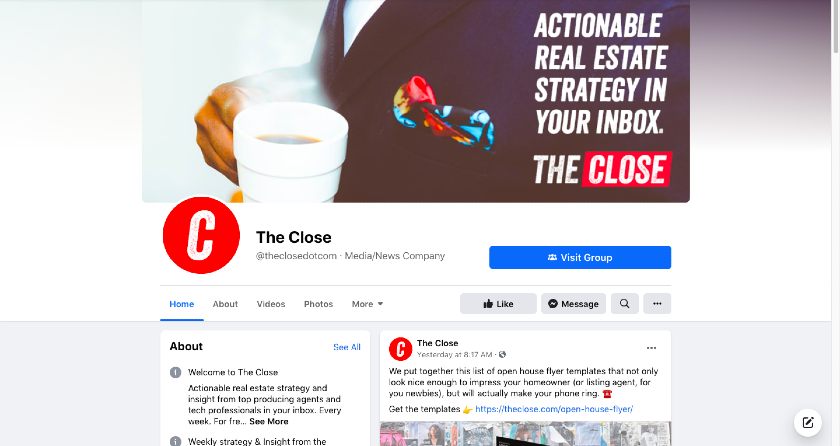 ---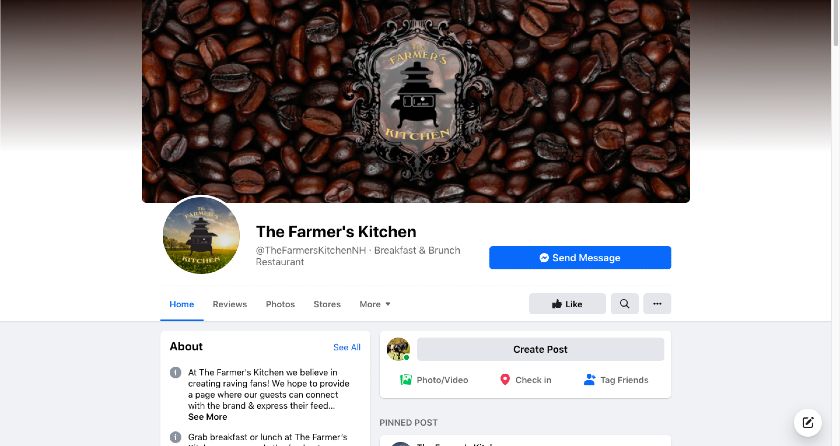 ---
2. Shopping Template
Tabs: Home, Videos, Photos, About, Pins, Iconosquare, Pinterest, Twitter, YouTube, Stores, Community, Events, Groups
The shopping Facebook template is made for online stores, retailers, ecommerce businesses, and dropshippers. If you sell a physical or digital product, it's the ideal template to choose. All the tabs from the standard template are available on the shopping template. The main difference focuses on the presentation of the available tabs based on a retailer using Facebook, such as the Shop Now CTA and the store link underneath.
To make the most of your Facebook shopping page, keep the Shop tab as the primary tab. This way, visitors will see it on the main menu rather than the drop-down ("More") menu.
To supercharge your sales, learn more about how to sell online with a Facebook Shop.
Best Shopping Template Examples
The best shopping Facebook pages highlight ongoing events or sales promotions while showing off their products for sale. You can also add the messenger greeting feature as a great way to welcome and engage with your page visitors. Below are some examples of how to use the shopping business page template.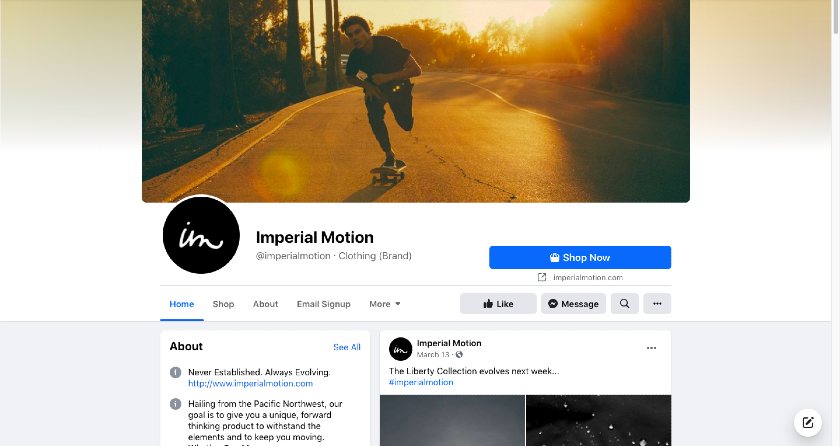 ---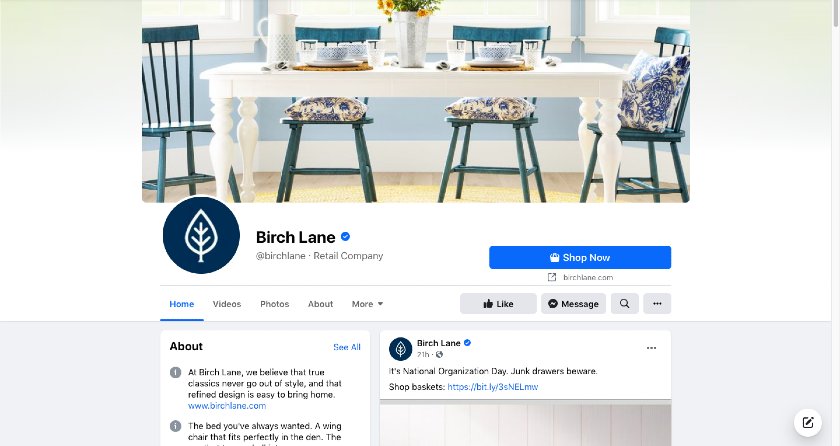 ---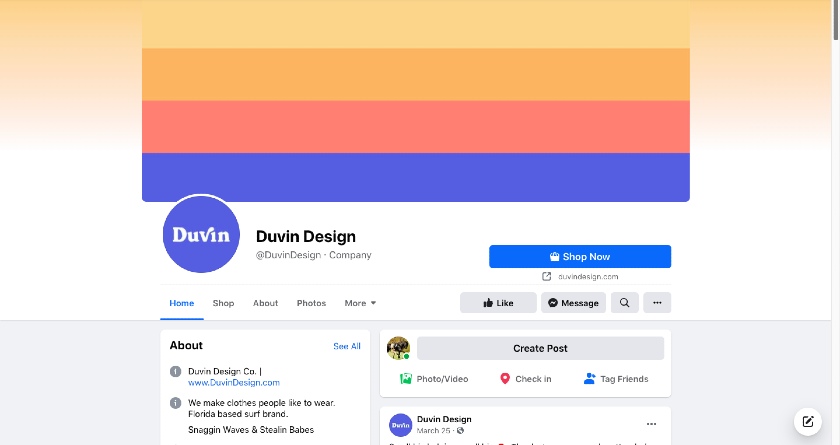 ---
3. Business Template
Tabs: Home, Videos, Photos, About, Community, Offers, Jobs, Events, Services, Shop, Groups, Live, Reviews, Guides
If you want a solid Facebook page template to show off your business, post job openings, and extend time-sensitive offers, use the Business template. It is recommended for local businesses and professionals. These include retail stores, fitness centers, medical offices, tax accountants, financial advisers, and other brick-and-mortar-based operations needing to share location, hours, and jobs.
The tabs available on the Business template are the same as the standard and shopping templates—the difference is the way the buttons are arranged. The order of tabs on the business template page prioritizes the videos or photos of the business available to any page visitor. However, you can reorder most of the tabs—only the home tab cannot be moved.
Best Business Template Examples
As the examples below show, using the Business Template makes it easy for social media users to locate your company or quickly learn what it's about. Users can easily navigate through business information such as operating hours, contact details, about us descriptions, and a local business address.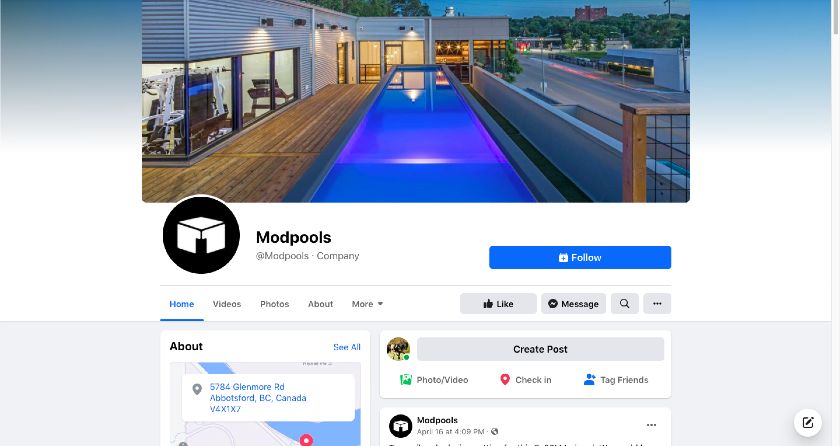 ---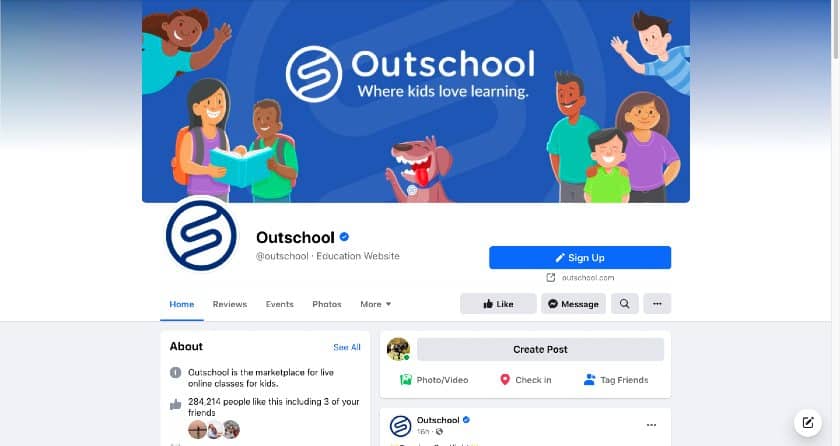 ---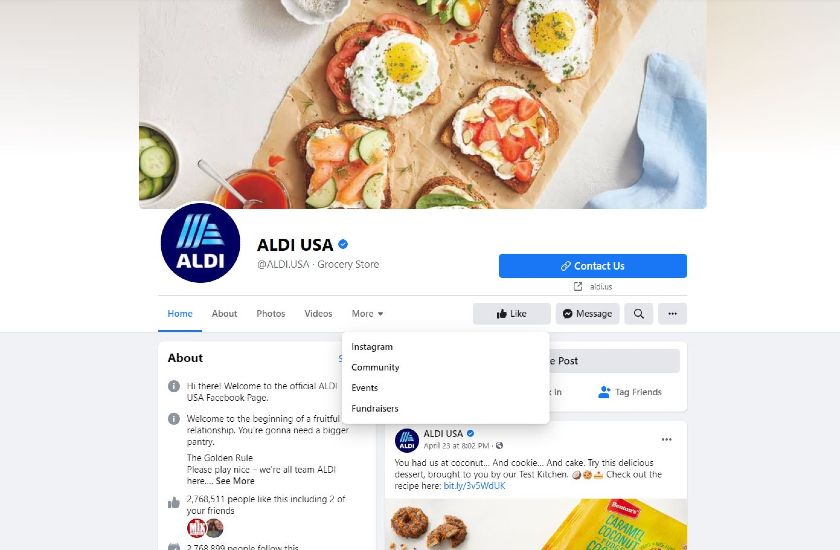 ---
4. Venues Template
Tabs: Home, Events, Reviews, About, Videos, Community, Join our Mailing List, Livestream, Reserve Table
The Venues Facebook page template is ideal for theaters, music venues, clubs, and other event-based businesses. You'll see all the same tabs as the standard, business, and shop templates. However, choosing it makes some optional tabs available that make the most sense for a venue, including Reviews, Jobs, and Offers.
The events tab isn't available until you create an event, so the first thing you want to do when you create a venue Facebook Page is to add an event for the tab to show up. You can also use the videos tab to advertise your venue for booking purposes or show off videos from past events.
Best Venues Template Examples
In using the Venues Template, the business location is a must-have to help page visitors see if your location is fit for them. Photos of the venue are also essential to brief potential customers on what they can expect regarding the design or layout of the place. A custom "Book Now" button is advisable to help with reservations. Here are some event-based business page examples to show you how.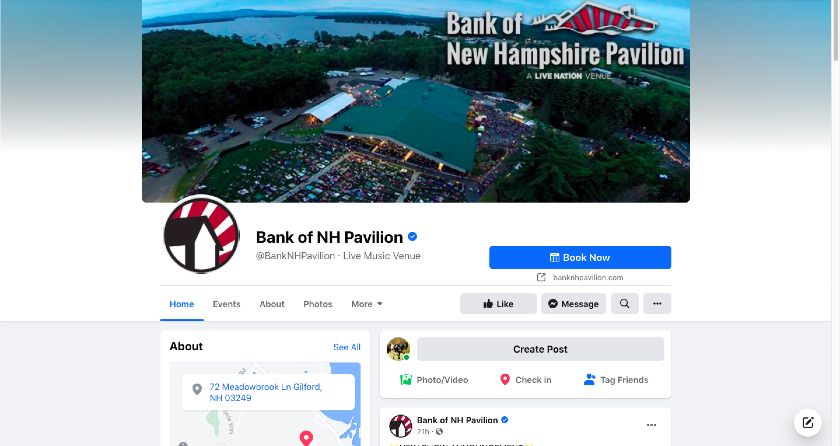 ---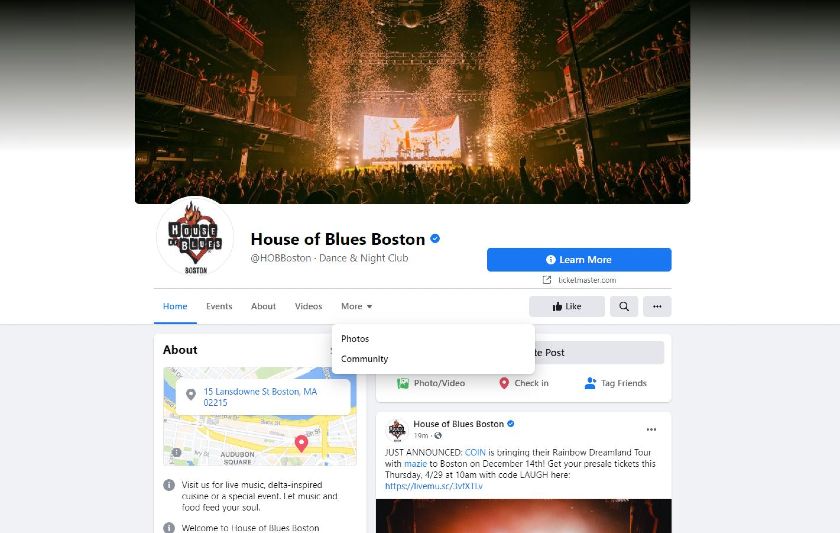 ---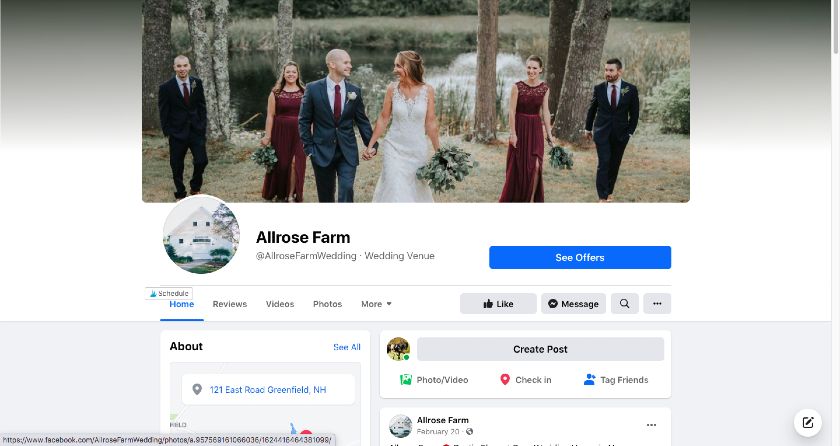 ---
5. Nonprofit Facebook Page Template
Tabs: Home, Videos, Photos, About, Community, Groups, Contact Info, Posting Guidelines, FAQs, Events, Services, Jobs, Shop
The Nonprofit template has many of the same tabs as the pages above, but Facebook arranges these tabs to highlight your advocacies and cause in the About section right after the Home button. You can also schedule an event so you can add the Events tab and move it up whenever you have a fundraising event.
Best Nonprofit Template Examples
Follow the examples of some of the best nonprofit pages by adding a custom tab (made through the Facebook developer tools) to showcase ongoing fundraising events or donation drives. If you're interested but unsure about how to create one, you can hire a Facebook developer on Fiverr and get your custom tab for your Facebook Business Page to increase donations.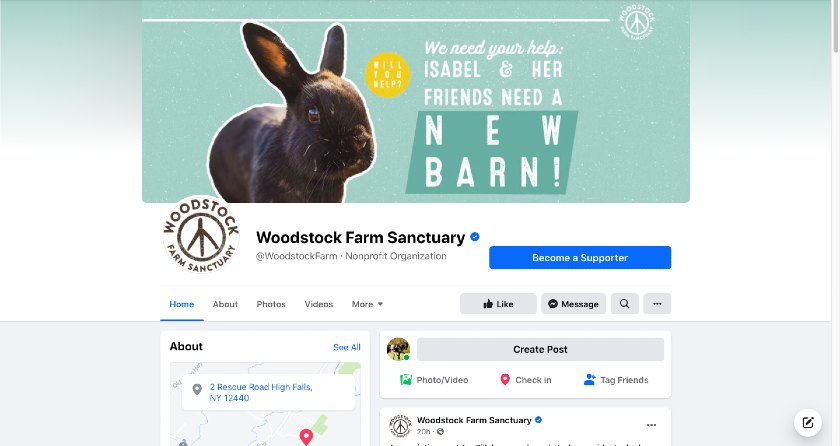 ---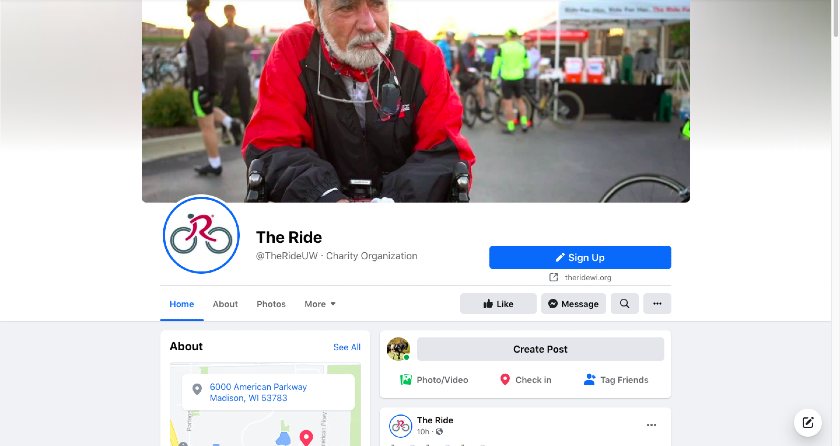 ---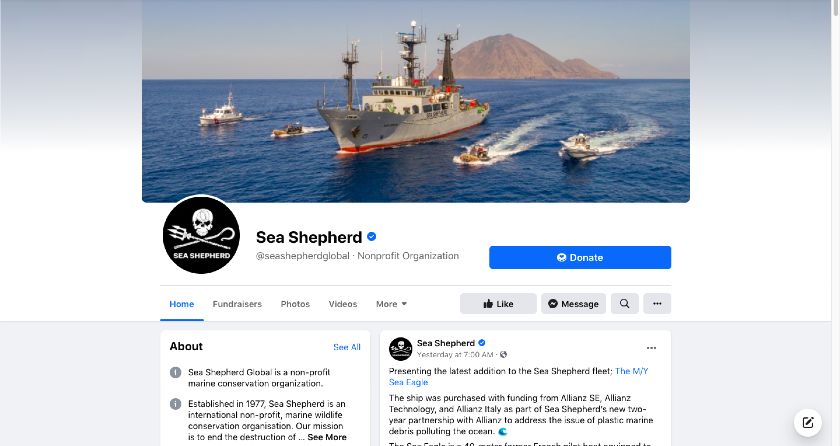 ---
6. Services Template
Tabs: Home, About, Photos, Shop, Events, Videos, Community
When you choose the Services Facebook page template, you'll notice that the Services tab moves next to the Home button. In fact, a lot of the optional tabs move to the front of the line, and Facebook moves the slider setting to "on" for you.
This template is perfect for any business that sells services, such as a nail salon, graphic designer, growth marketer, or consultant. Page visitors can easily locate your offered services with this Facebook business page design compared to other templates.
The most useful tabs for services are obvious: Services and Reviews. Depending on the type of services you offer, other good tabs to highlight could be Photos, Videos, or Live Videos. To effectively spread the word about your services, consider Facebook advertising. The ads can target your specific audience, giving you the best engagement and interest in your business.
Best Services Template Examples
As the examples below demonstrate, photos are a big deal for Facebook service-based business pages. It's also common for business pages using the Service Template to include customer reviews and a button where users can quickly contact the business for any inquiries.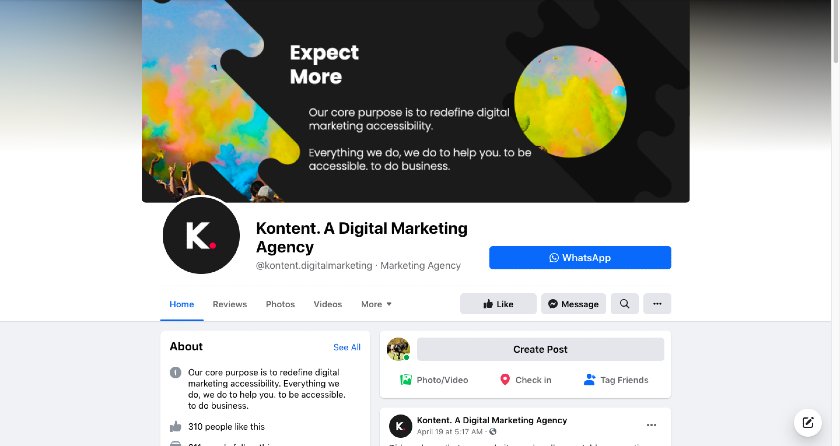 ---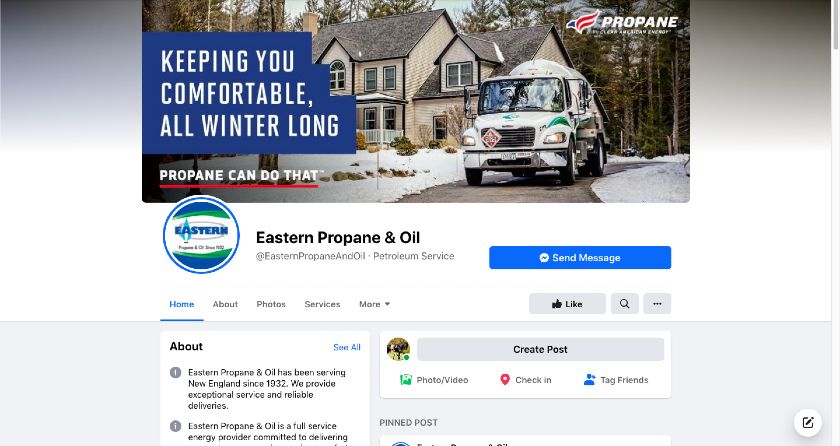 ---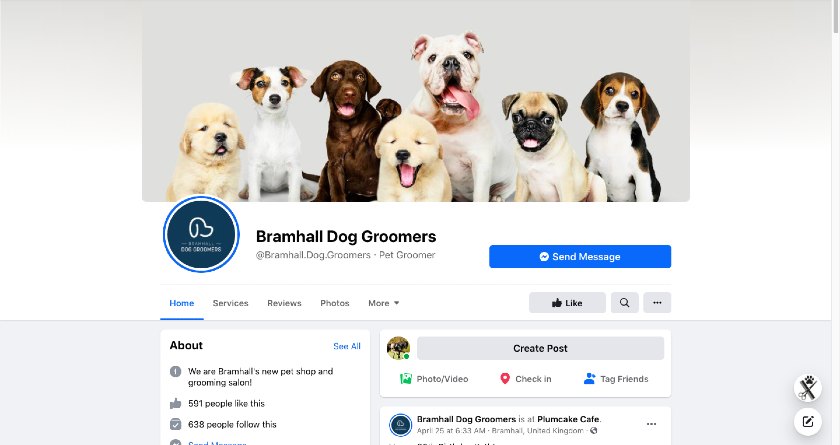 ---
7. Public Figures Template
Tabs: Home, Videos, Photos, About, Community, Groups
The Public Figures template is a good choice for journalists, public relations professionals, authors, artists, actors, musicians, bloggers, and influencers. It's a bit of a blank canvas with tabs similar to those on other templates, so this template will be what you make it.
For example, many artists hire Facebook developers to create custom tabs. This allows them to showcase more than photos and videos by creating tabs for books, movies, TV shows, and so on. Alternatively, you could use the Shop tab and sell products directly to those who follow you or add a button that takes visitors to your official website.
Best Public Figures Template Examples
With the Public Figures template, at a glance, you're introduced to the details of the person whose page you are visiting. Visitors should easily know and understand who the public figure is and what he or she does. They also have dedicated buttons that redirect you to their merchandise, sign-ups for support, or a follow for updates. Below are some examples.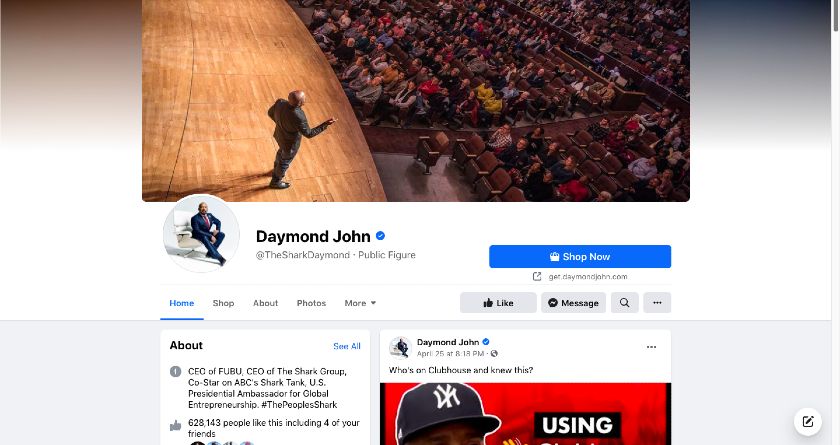 ---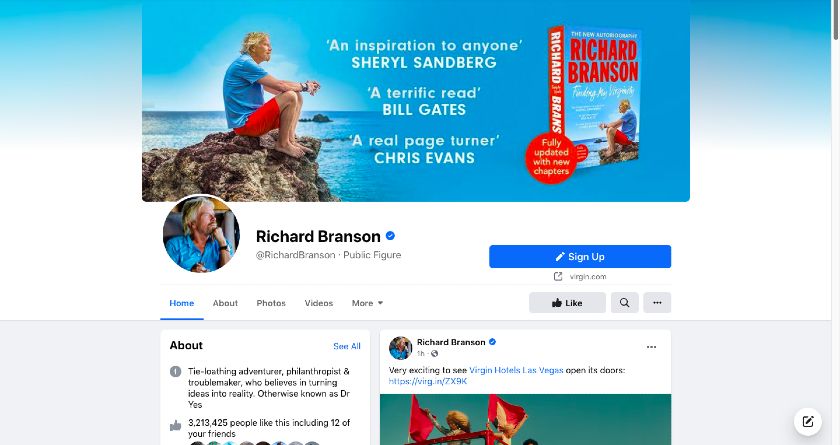 ---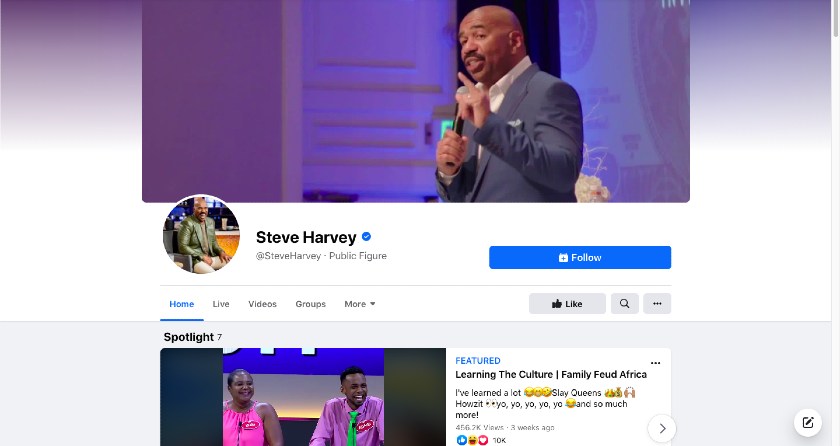 ---
8. Restaurants & Cafes Template
Tabs: Home, Menu, Reviews, Photos, About, Community
Anyone who owns a restaurant, cafe, coffeehouse, bar, food truck, or bakery knows the importance of making a menu available to the public. Most Facebook templates have the same tabs, but in a different order based on the type of template. This one for the food industry is the only one offering the Menu tab, arguably the most important one for restaurants.
At the very least, it's labeled as visitors would expect and improves user experience (UX) by making it easy for users to see your offers. However, the feature is similar to the photos tab. You can take a picture of your physical menu and add it here or set up albums based on starters, salads, entrees, etc.
Best Restaurants & Cafes Template Examples
As the examples below show, the best restaurant pages on Facebook make good use of the cover photo and the photos tab to show off gorgeous photos of their food. Many restaurants utilize the reviews tab to show what previous customers say about their service. They also usually have videos or photos of their menu for easy reference for customers.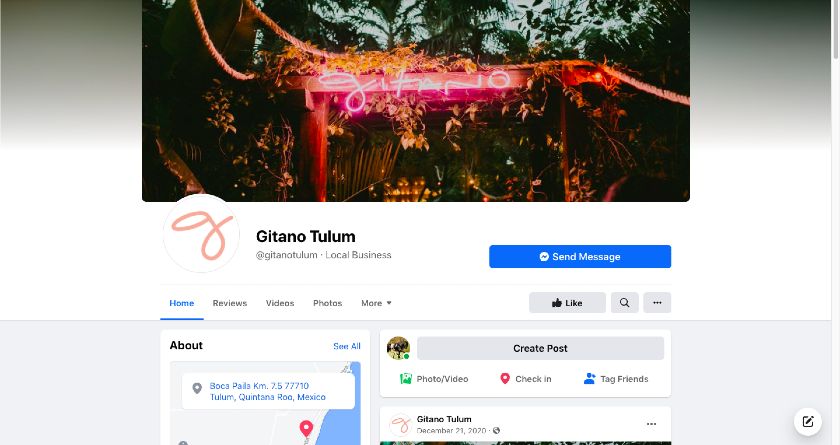 ---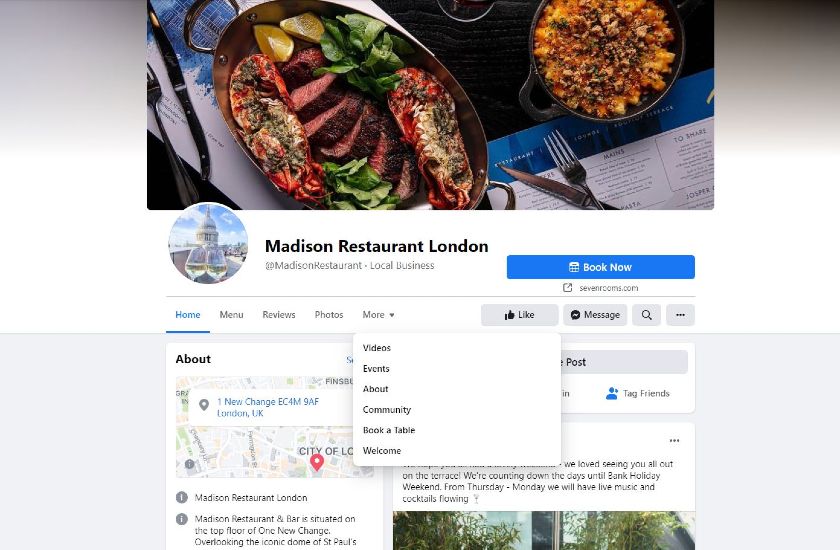 ---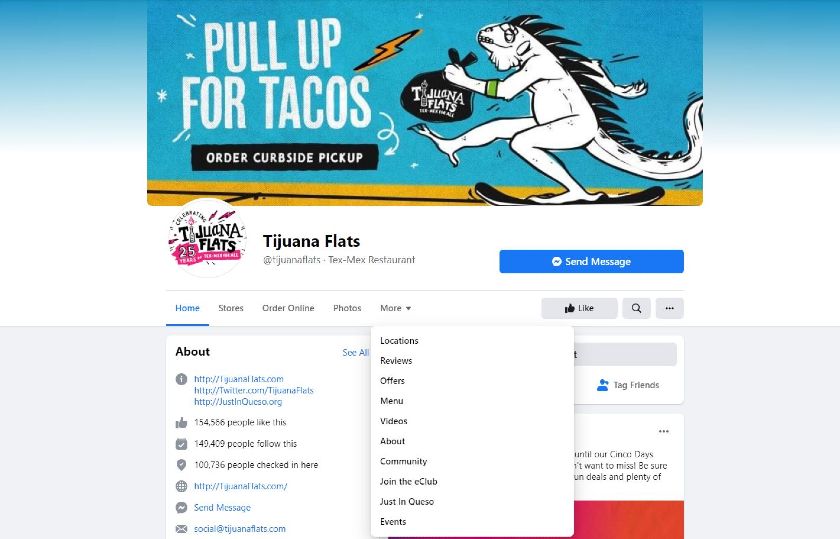 ---
9. Video Template
Tabs: Home, Live, Videos, Groups, Events, Shop, About, Community, Photos
Using the Video Template for your Facebook profile goes beyond the Video tab you'll find on other Facebook page templates. In addition, you can use the spotlight section to show off featured videos. This is a fantastic feature for a media or news company that creates a lot of video content.
Tabs on the video page Facebook template are limited and include only Home, Videos, Live, Shop, About, Community, Photos, and Events. The only way to add other tabs to a video page on Facebook is to create custom tabs yourself (or hire someone from Fiverr to do it).
To ensure that your page stands out and delivers what your followers expect, make sure to utilize the video spotlight panel. The section is featured at the top of your page (below your menu, above your posts).
Best Video Page Template Examples
The examples below show how to maximize how you use the Video Page Template by using the "Spotlight" option to highlight recent videos or the most engaging video on your page. You can also utilize the cover photos to give a brief overview of what your content is about.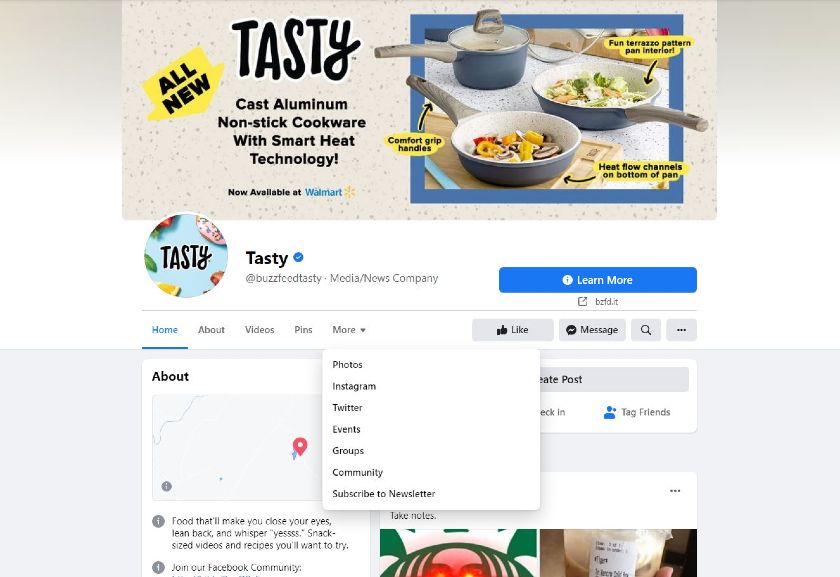 ---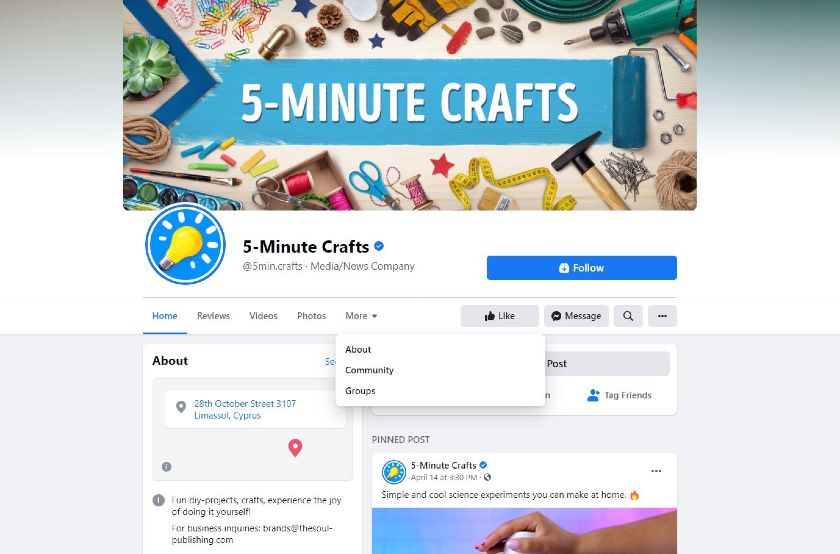 ---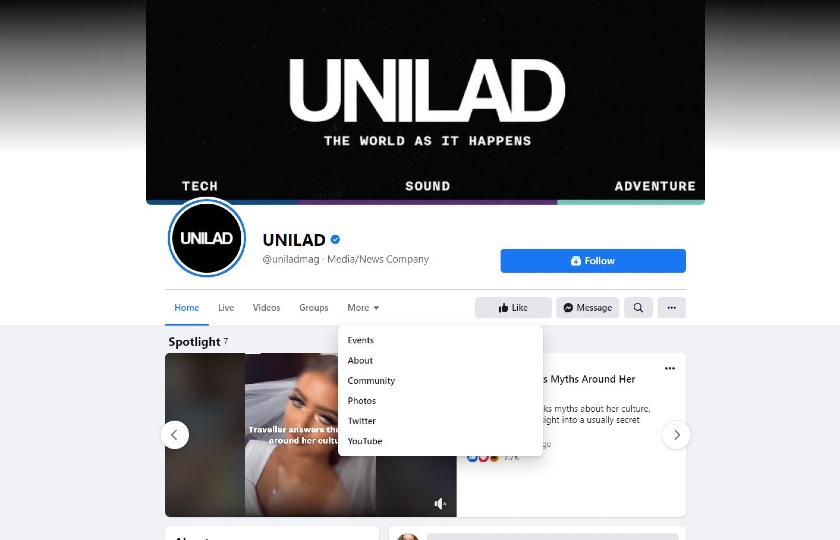 ---
How to Change Your Facebook Template
You can change your Facebook template even after your business page is set up. To do that, you just need to go to either the "Templates and Tabs" setting on desktop or "Tabs and Buttons" on mobile. Here's how to find these settings:
Log in to your Facebook account.
Click your page on the left side menu of your feed.
On the left menu tab, scroll down to the bottom to find "Settings."
Choose the Templates and Tabs button.
Under the Templates section, click on the "Edit" button to change your Facebook template.
---
Log into your Facebook account and go to your profile page.
Click on the drop-down arrow at the top of the page, next to your name.
Choose your business page to switch to that profile.
On your Facebook business profile page, choose the menu icon (…).
Tap "Edit Page" and choose the "Edit" button beside the current template.
Once finished, tap "Apply Template."
---
Overview of Facebook Page Template Tabs
You can customize Facebook templates by adding, moving, and removing any of the available tabs. In a Facebook page template, tabs are used to organize and showcase various business or brand profile elements, such as Reviews, Videos, Photos, Events, Menus, and more.
To access the tabs settings, from your News Feed, click Pages in the left side menu. Select the Page of your choice and then click Settings on your Page. You'll see the Templates and Tabs in the left menu; click that to access the tab settings.
You can also modify your Facebook page template to better serve your audience by adding and removing tabs depending on your business needs. For example, a salon would likely have services, reviews, and perhaps offers, whereas a bookstore might use shop and events tabs.
Available Facebook Tabs at a Glance
Standard

(All Templates)

Template-specific

(Certain Templates)

Home

Reviews

Videos

Offers

Photos

Services

About

Shop

Community

Jobs

Live

Events*
*The Events tab only becomes available once you add an event to your page.
Facebook Business Page Call-to-action Buttons
Every Facebook template comes with different sets of call-to-action (CTA) buttons that you can add to further customize your page. These CTA buttons are great for businesses seeking more from Facebook marketing than simply providing basic business information.
The settings to add these buttons appear below your cover photo and to the right of your Facebook Business Page name. The functions of these buttons range from placing an order to giving visitors directions to your business.
Available Call-to-action Buttons
| CTA Button | What It Does |
| --- | --- |
| Apply Now | Enables visitors to apply for something (e.g., an open position, membership, scholarship, and so on) |
| Book Now | Opens a booking calendar |
| Buy Tickets | Allows visitors to purchase event tickets |
| Call Now | Serves as a click-to-call button that automatically dials your phone number |
| Contact Us | Opens a contact form |
| Donate Now | Enables visitors to input payment information and make a donation |
| Download | Allows visitors to download content |
| Get Directions | Provides directions from a user's location |
| Get Offer | Facebook's version of clipping a coupon |
| Get Showtimes | Opens a calendar of events and schedule |
| Install Now | Redirects visitors to get an app |
| Learn More | Provides additional information |
| Like Page | Helps generate more likes on a page |
| Listen Now | Starts the media player |
| Open Link | Similar to download, but for view-only content |
| Order Now | Place an order, such as takeout |
| Play Game | Begin a game |
| Request Time | Similar to "Book Now" but without confirming an appointment |
| Save | Enables visitors to save items or services to a private list (similar to a wishlist in ecommerce) |
| See Menu | For restaurants to share their menu via Facebook |
| Send Message | Opens Facebook Messenger |
| Send WhatsApp Message | Opens WhatsApp message to the business |
| Shop Now | Redirects visitors to your product listings |
| Sign Up | Enables businesses to generate leads by collecting contact information |
| Subscribe | Much like subscribing to a channel on YouTube, this enables visitors to see your content in their newsfeed |
| Use App | Similar to "Install Now" but for active users |
| View Event | Get more information about an upcoming event |
| Watch More | Continue watching a video |
Frequently Asked Questions (FAQs)
Most of Facebook's business profile templates are similar as far as standard tabs and the ability to reorder them. Any template could work well for your needs, with a couple of exceptions. Food service businesses should use the Restaurants & Cafes template for the menu tab. Event-based companies will need the Events page template. Lastly, video content creators would do well to choose the Video page template.
---
Creating a page for Facebook business marketing is easy, but you do have to create a personal account to set one up. After that, it's just a matter of creating a page, adding your business info and a profile and cover photo, choosing the best template for your type of business, and customizing it.
---
To change a Facebook page template, from the news feed select the "Pages" located in the left menu. Visit the page of your choice and click on Settings. Click on the "Templates & Tabs" in the left menu and press "Edit" located at the right of "Current Template." Click on the template you want to apply and save your changes.
---
Bottom Line
Any small business that hasn't set up a free Facebook business profile should do so. Even if you don't plan to advertise on Facebook, a business page can help you rank in search and increase your visibility online. Choosing the right template mainly comes down to choosing one with the tabs you need. From there, the customization is up to you.
A valuable resource for creating Facebook page content is Canva. Not only does it come with thousands of premade templates, you can use it for free without any background in graphic design.