If you have at least $50,000 in a personal 401(k) or other tax-deferred retirement account, and need money to finance a small business, this article is for you. We'll show you how to set up a ROBS (Rollover for Business Startups) with Guidant Financial, the leading provider of ROBS financing for small business owners.
Whether you're just starting out, interested in buying a business, or want to capitalize a business you already own, a ROBS can be a great solution. A ROBS allows you to invest your retirement money in your own business, without paying income taxes or early withdrawal penalties.
Read our article to learn the following:
This article is specifically about how to set up a ROBS with Guidant. If you're unfamiliar with ROBS, read our Ultimate Guide to ROBS and come back to this article.
Why Guidant?
Since 2003, more than 11,000 small businesses have trusted Guidant to do a ROBS, totaling over $3 billion in funding.
In addition to the fact that they have so much experience helping small business owners set up a ROBS, there are 3 main advantages to using Guidant:
Excellent Customer Service

– You will work one-on-one with a Guidant consultant during the ROBS set up process. Many Guidant consultants have banking

experience, have worked for a small business, or owned a small business in the past, so they are well-equipped to answer questions and simplify the process for you.

Higher Odds of Business Success

– A Guidant study showed that 81 % of small business owners that did a Guidant ROBS were successful after 4 years, compared to 39 % of businesses that used other methods of financing. Why? Since a ROBS isn't a loan, there's no debt or interest that to pay back. As a result, small businesses that use ROBS can conserve more of their revenues.

Access to Independent Counsel During the Set up Process (at no additional cost) –

Guidant is the only ROBS provider we know of which provides access to independent outside counsel, at no additional cost, during ROBS set up. Independent counsel can help you objectively evaluate the legal and tax risks of a ROBS and determine if it's a good choice for your business.
To learn more about why we recommend Guidant and how they compare to other ROBS providers, check out our guide on the Best ROBS Providers.
How to Set Up a ROBS With Guidant
A ROBS lets you invest your retirement funds in your business, without paying the income taxes or early withdrawal penalty (if under age 59 ½) you would normally have to pay if you withdrew money from your 401(k) or other tax-advantaged retirement account.
ROBS financing can be used to start a new business or franchise, buy an existing business or franchise, or recapitalize an existing business or franchise. If you're planning to do the latter, your business should already be generating some revenues and have a clear path to profitability.
Here's a step-by-step preview of how to set up a ROBS with Guidant. While some of these steps look complicated, rest assured that the tough stuff is taken care of by the professionals at Guidant. However, it does help to understand the process, so we've given you an outline of how it works.
1. Determine if You're a Good Fit For Guidant
You primarily need the following three things to be eligible for a ROBS with Guidant:
A qualifying retirement account.

Guidant works with a wide range of retirement accounts, including the following:

401(k)

403(b)

SEP

TSP

Keogh

Traditional IRAs (Roth IRAs are not eligible)

At least $50,000 in your retirement account. Guidant recommends that you have at least $50,000 to rollover, given the upfront fees and ongoing monthly fees.
Retirement account cannot be from a current employer.

Most employers prohibit you from rolling over a retirement account while you still work for them. If you're planning on keeping your day job while running a business, you will most likely not be permitted to rollover a retirement account sponsored by that employer. You can, however, use a retirement account from a previous employer.
The good news about a ROBS is that you don't have to meet traditional underwriting criteria.  There aren't any credit checks for example, and you don't have to worry about collateral. Almost all industries are eligible to do a ROBS with Guidant, with the exception of law firms and medical practices that are structured as professional corporations.
2. Request a Free Guidant Consultation
You can request a free consultation with Guidant by clicking here.
3. Speak to a Guidant Consultant
A Guidant financing consultant will call you within one business day to make sure you're a good fit for ROBS. If you qualify, the consultant will then arrange a time for a longer 45-minute call. If you'd like to move forward after this call, you will be asked to provide information on your retirement plan and business. This is basic information–no heavy documentation required, as the screenshots below show.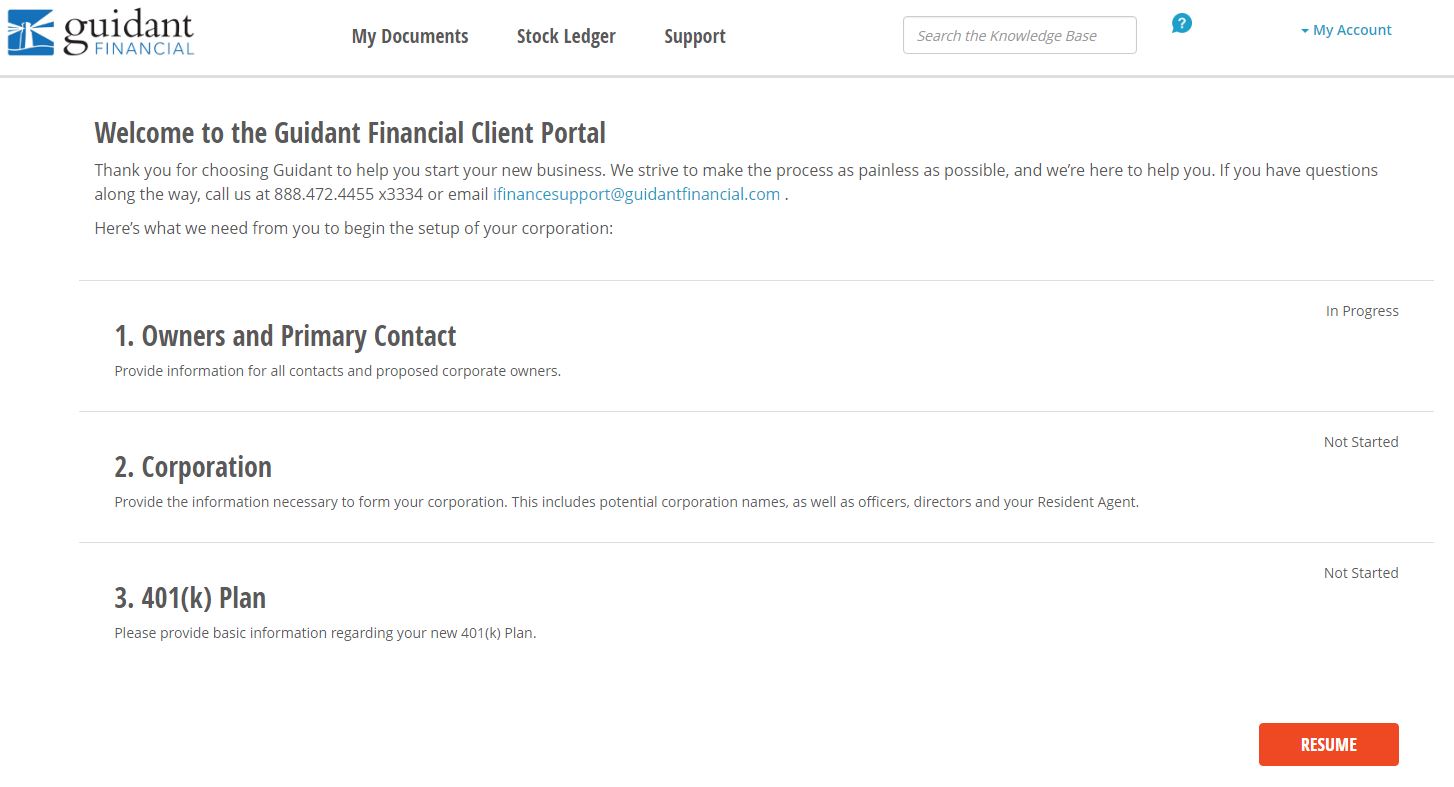 4. Pay ROBS Fees
Payment is due at this stage. You are required to pay the $4,995 set up fee and the first month's fee of $119. If you later decide that ROBS isn't for you, Guidant does offer a generous money back guarantee. You will refunded except for hard costs, such as attorney time and corporate filing fees, which will be deducted from the refund should you choose to back out. Robert Newcomer-Dyer, Sales Manager at Guidant, says about 20 % of the total fees are typically deducted if the customer requests a refund.
5. Guidant Sets up a C Corporation and Files IRS Paperwork for You
In order to do a ROBS, your business has to be set up as a C Corporation because the rollover involves a sale of stock. Guidant will submit the required filings with your state in order to set your business up as a C Corp (if it's not already structured as a C Corp). They will also file required paperwork with the IRS.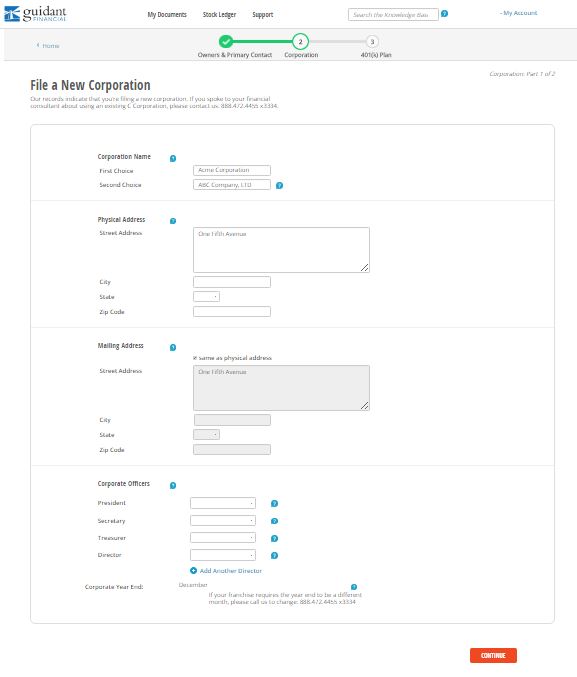 6. Get Questions Answered By Two Independent ERISA Attorneys
Guidant is the only ROBS provider that we know of which provides you with access to independent counsel during ROBS set up, which gives you an opportunity to ask questions and evaluate if a ROBS is a good fit for you. You'll have two ½ hour consultations with independent ERISA attorneys, at no additional cost to you. ERISA, or Employee Retirement Income Security Act, is the law that regulates ROBS. Some questions to ask the lawyers include:
Do I face an increased audit risk if I do a ROBS?

What happens in the event of an audit?

How much salary do I have to pay myself if I'm doing a ROBS?

How many hours do I have to work if I'm doing a ROBS?

Will my employees be able to purchase stock in the business?

Will my company need to be appraised before stock can be issued?

What will happen to the company retirement account if the business fails?
On rare occasions, the independent counsel will discover something about your business or retirement account that invalidates the deal. In that case, you would get a full refund, says Dyer.
7. A New Retirement Plan is Created for the Corporation
When you do a ROBS, a new 401(k) or profit sharing retirement plan is created under the C Corporation. Guidant staff will help you design the company retirement plan. It must be open to all eligible employees. The plan will be held by a third party firm like Merrill Lynch or TD Ameritrade.
8. Guidant Oversees Rollover and Stock Purchase, and You Get Funding for Your Small Business
The final step of ROBS is the rollover of funds. Your personal retirements are transferred into the company retirement plan. Your company retirement plan then purchases shares of stock in the Corporation. From the proceeds of the stock purchase, you can start a new business, buy a business, or recapitalize an existing business.
How Much Does It Cost to Set Up a ROBS With Guidant?
There are two main fees for setting up a ROBS with Guidant:
Upfront Set up Fees of $4,995
Ongoing Monitoring Fees of $119/month

(covers 10 employees–$3.33/month for each additional employee after 10)
While these fees may seem high, setting up a Rollover for Business Startups with Guidant can actually be much more economical than getting a small business loan. Business loans are debt that you have to pay back, along with interest, bit by bit each month. Debt servicing, as this is called, can take a huge chunk out of your business revenues. In contrast, a ROBS isn't a loan. There's no debt or interest to pay back, so your small business retains more earnings.
Below is a comparison that Guidant did that looked at the cost of ROBS versus other types of financing for $125K in business capital. As you can see, the monthly payment for a Guidant rollover is just $119 for a company of 10 people. That's less than 1/10th of the monthly payment on an SBA loan!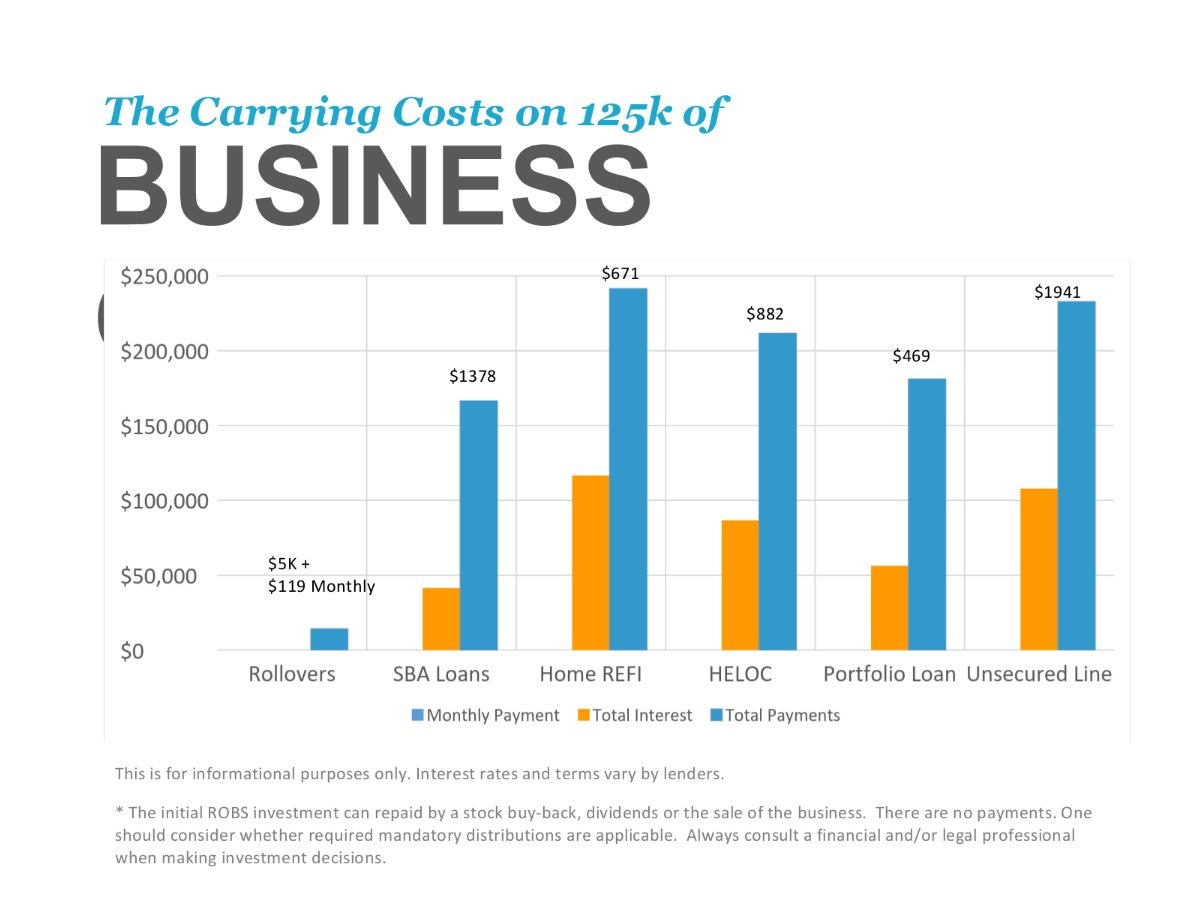 There's no debt or interest to pay back, and if your business grows, the stock that's in your company sponsored retirement account will also grow. That translates to more retirement savings for you.
So is it too good to be true? Well, just like any other business financing option, ROBS has its own share of pros and cons, which we cover in detail in the next section.
Weighing the Pros & Cons of a ROBS
Whether you choose Guidant or another firm to help you set up a ROBS, the risks are similar. The biggest risk, of course, is the loss of your retirement funds if the business fails. This is a scary "what if," but the thing that many people forget is that the risk of entrepreneurship exists no matter how you finance your business. For example, if you get a business loan, you typically have to sign a personal guarantee. If the business fails, you could lose your home and other personal assets.
As with any other type of business financing, we recommend balancing the pros and cons of ROBS before deciding whether it's the right choice for you. Take a look at our Ultimate Guide to ROBS for a more in-depth discussion of the pros and cons of ROBS.
Pros of a ROBS
:
No income taxes or early withdrawal penalties.
Business is more cash-rich.

 A ROBS is not a loan, so you do not incur debt and do not have to pay interest. This means the business retains more earnings.

Better business success rates.

Based on data from Guidant, companies funded by ROBS have an 81 % survival rate after 4 years, compared to 39 % for most companies, in part because more business income can be reinvested in the business rather than being used to pay off debt.

No credit checks/personal guarantee.

– When you do a ROBS, there's no credit check and no

personal guarantee

. If the business fails, you'll lose what you invested, but there won't be any impact to your personal credit score or other personal assets.

Retirement funds can grow in a tax-advantaged account.

If your business does well, the stock owned by the company retirement account will grow. Those funds can be used at retirement.
Cons of a ROBS:
Possibility of business failure and loss of retirement funds.

If the business fails, then you could lose all the money you invested.

Increased risk of audit.

The IRS or Department of Labor is more likely to audit businesses that have used ROBS. The risk is very small (only about 0.25 % of Guidant plans face an audit), but if you violated any rules, you may have to pay penalties. Fortunately, Guidant  will try to make sure that you're in compliance with everything. They also offer the most generous audit protection in the industry and will pay for your audit costs.

Must administer a retirement plan.

When you do a ROBS, you become the administrator of a company-provided retirement plan. You will need to market the plan to employees and tell them how to enroll, which can take time away from your business. Guidant will help you with plan administration however.

Must operate as a C Corporation

. ROBS requires creation of a C Corporation. Many small businesses prefer the simplicity and tax advantages of an

LLC or partnership

instead of a Corporation.
The best way to determine if a ROBS is the right choice for you is to talk to a professional ROBS firm like Guidant. Their financing consultants are small business experts, and you get access to independent counsel who can discuss the risks of a ROBS with you in detail.
For Richard Hoad and his wife Jo-Anne, owners of the The Parsonage Inn in Cape Cod, Massachusetts, the risks were worth it. The Hoads did a ROBS with Guidant in 2012 to achieve their dream of owning a bed & breakfast.
Richard said, "My wife and I were relatively confident because the inn was already being run as a business. It was underperforming, but Jo-Anne's family had run a B&B in the past, so we knew what was involved and how we could make it successful. We put all our eggs in one basket, but the economy was starting to grow, we got the inn for a good price, and we knew what we could do to be successful." Four years later, the Hoads have nearly doubled the Inn's revenues.
Richard had some words of advice to offer for other small business owners who may be considering a ROBS: "Look at your business plan, make it realistic, see what you want to do with the business, and make sure you can achieve it. If the fundamentals of the business are strong and you're confident in what you can do to add value, that's what's important." Richard also recommends business owners use the services of a professional firm like Guidant that will walk them through the process. "Guidant was very professional and helped us accomplish our goals, and they continue to do so to this day."
Bottom Line
If you've been having difficulty finding financing for a small business, doing a ROBS with Guidant could be just the solution. A ROBS can actually increase your odds of business success, and we recommend Guidant for their excellent customer service and access to independent counsel. All in all, Guidant simplifies what can be a pretty complicated process. Head over to Guidant today to set up a ROBS, so you can focus on what matters most: running your small business.