There are three ways you can use 401(k) business financing to start or buy a business. You can cash out funds, borrow against them, or use a rollover for business startups (ROBS). The only option that does not result in penalties, taxes, or interest charges is a ROBS, making it ideal for most situations.
If you are considering using retirement funds to start a business, a ROBS allows you to use savings in your 401(k) or IRA with no penalties or immediate tax obligations. If you have at least $50,000 in your retirement accounts, you can get a free ROBS consultation with the best ROBS provider, Guidant.
3 Ways of Using a 401(k) to Start a Business
| Funding Option | Best For |
| --- | --- |
| | Rolling your 401(k) into new business funding without penalties |
| | Borrowing without fees for 60 days |
| | Last resort 401(k) funding |
The three options for using a 401(k) to start a business are:
1. Use a Rollover for Business Startups (ROBS)
A rollover for business startups (ROBS) lets you invest retirement funds in a new business without paying taxes or early withdrawal penalties. A ROBS is not a loan or withdrawal; instead, it allows you to tap your retirement funds early. There are no monthly payments and no repayment is required, even if your business fails.
2. Borrow From a 401(k) or IRA to Start a Business
Those who have a 401(k) can borrow up to $50,000 or half of the vested plan, whichever is less. Loan terms on 401(k) loans are five years with interest paid to your retirement account. You can withdraw funds from your 401(k) for up to 60 days without penalty, provided you fully repay the funds.
You are allowed to borrow money against your 401(k), and even though there are monthly interest payments (around 8%), the interest is repaid in the form of increased contributions to your retirement account. This is a good option if you need less than $50,000; if you need more, a ROBS becomes a much more cost-effective choice.
3. Cash Out a 401(k) or IRA to Start a Business
Cashing out your 401(k) is when you take a full or partial distribution to start or invest in a business. However, if you are under retirement age (59½), any non-qualifying distributions are assessed income tax and a 10% penalty. Qualifying distributions include things such as buying your first house or going back to school.
For this reason, cashing out your 401(k) or IRA to start a business should be your last option. Cashing out a 401(k) or IRA to start a business is only good if you are over age 59½ or will have plenty of other retirement savings left over. This is because your new business may not work out, but you may still need to pay taxes and penalties on the money you take from your retirement account.
3 Ways to Fund Your Business With a 401(k) or IRA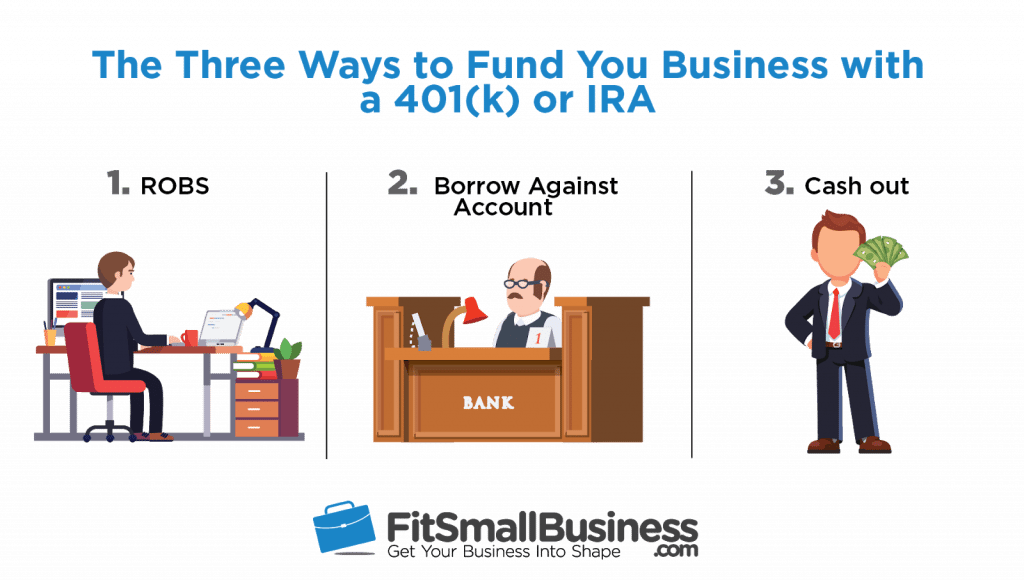 Using Retirement Funds With Startup Loans
While the current average 401(k) balance has never been higher, according to Fidelity, it is only $103,700. This average amount may not be enough to start or buy the business you want. You may need additional financing to pay for your business.
You can combine your retirement savings with additional financing in two ways:
As a down payment to qualify for other financing: If you are looking to get traditional financing, then you may be forced to put 10% to 20% down at closing. You may use your retirement funds as your down payment so you can get approved for the full financing to purchase your business.
In combination with other financing: If you have a significant amount of money in your retirement account, but it is not enough to start your business, then you may want to use your retirement funds in combination with other financing. This can lower your total debt and monthly payments, which could give your business a higher chance to succeed than if you financed the full amount through other sources.
Just because you have money in an IRA or 401(k) does not mean that you cannot use those resources to help you start or buy a business. There are ways that you can use those funds to help fund your venture, but it is important to follow these rules to avoid paying undue taxes or penalties.
Bottom Line
Whether using your 401(k) to start or buy a business is a good option depends on your situation. Cashing out your IRA could work for your startup if you are in the lowest tax bracket. Borrowing against your retirement account could also work if you can repay the funds in 60 days.