An angel investor is a wealthy individual that invests money in startups. Founders that are past the idea stage with a product and some early traction are best suited for angel funding. The availability of angel investment is a key advantage for startups, while the cost of equity is its largest drawback.
Most angel investors won't require over 20% equity in the startups they invest in. However, a typical investment is in the form of convertible debt, which is a great way to fund a startup. Convertible debt is repaid when a startup receives additional funding or is acquired. This gives entrepreneurs increased flexibility and reduces their debt burden.
Common Pros and Cons of Angel Investors
| Pros of Angel Investors | Cons of Angel Investors |
| --- | --- |
| Startups are no problem | Availability is based on who you know |
| Business can be located anywhere in the U.S. | Terms can be ambiguous |
| All industries are eligible for funding | Funding can be slow |
| Paperwork is minimal | Average amounts are less than venture capital |
| Monthly payments are not required | An option for the investor to convert debt to equity Is required |
| High-risk ventures are accepted | Rapid growth is expected |
| Guidance and support is included | Founder control is reduced |
| Networking opportunities are provided | Angel investor support and guidance may be limited |
| Assistance with future funding is available | Angel investors may be overextended |
| Help with building strategic partnerships is available | Founder and angel investor roles may be unclear |
×
FREE Ebook: How To Start Your Business
×
FREE Ebook: How To Start Your Business
10 Pros of Angel Investors
Angel investors are comfortable taking a risk on startup businesses. This gives founders a great opportunity to raise capital when other funding sources may be unwilling to extend credit. They are also available nationwide and in every industry and require no regular debt payments that can slow down growth.
The 10 key pros of using funding from angel investors are:
1. Startups Are No Problem
Angel investors specialize in investing in startups, filling a gap left by traditional lenders. Traditional loans, like SBA loans for startups, require profitability, collateral, and a familiar business model. Whereas angel investors only require that startups demonstrate traction and a good plan for growth. This makes angel investment the most accessible form of funding for startups after friends and family.
2. Business Can Be Located Anywhere in the U.S.
New York, Boston, and San Francisco are all known for startups that come out of those cities. Some business founders assume they need to be in those regions to get angel investor funding. This is not the case. Not only are angel investors well distributed across the United States, but according to a 2017 Angel Capital Association study, 63% of them are investing outside those cities.
The distribution of angel investor activity by region is:
Angel Investor Activity by Region in the United States
Region
Portion of Nationwide Activity
Region
Portion of Nationwide Activity
Northwest
5%
Southeast
15%
California
17%
Great Lakes
16%
Southwest
4%
New England
13%
Great Plains
7%
New York
8%
Texas
4%
Mid-Atlantic
11%
Source: The American Angel report, Angel Capital Association
3. All Industries Are Eligible For Funding
Most angel investors invest in the industry in which they are most knowledgeable and well connected to guide startups on the path to success. Although angel investors predominantly come from a technology background, other industries such as financial services, health care, and consumer goods are catching up.
The industries angel investors are active in are:
Angel Investor Activity by Industry
Industry
Portion of Startups with Angel Funding
Industry
Portion of Startups with Angel Funding
Technology
51
Education
18
Financial Services
39
Government
13
Health Care
31
Energy
13
Consumer Goods or Services
22
Retail
1
Source: The American Angel report, Angel Capital Association
4. Paperwork Is Minimal
Completing paperwork for traditional financing can take valuable time away from running your company. Instead, most investors are comfortable using the Simple Agreement for Future Equity, or SAFE, introduced by Y Combinator, a seed accelerator for startups. They'll also often request certain documents to complete their due diligence, like financial statements and team bios.
A SAFE is a simple agreement between investors and founders for funding. It specifies the funding amount and terms clearly. This is valuable when working with multiple angel investors needing the same terms. It also saves founders and investors the cost of working with an attorney to draft an agreement. Y Combinator prepared it with both startups and investors in mind and published a detailed SAFE user guide.
5. Monthly Payments Are Not Required
Once you've received funding from an angel investor, there are no monthly payments. This can be huge for your business. Instead of using valuable cash flow to repay a loan, you can instead use the money to fund your business operations. Angel investors are repaid eventually; however, this happens at a liquidity event like an acquisition or when new funding is raised by the startup.
6. High-Risk Ventures Are Accepted
Startups are risky and more than 20% fail in the first year. Innovation requires risk, but some startups take on too much, even for angel investors. Although your friends and family may not be willing to back an idea they consider too risky, angel investors may do so. Typically, you should expect to give up 20% or less of your equity, which is fair to compensate the angel investors for their risk.
Angel investors can take on more risk, due to the higher returns they can expect from investing in startups. Although some startups will fail, those that are successful often generate enough returns to make up for the losses. Angel investors also implement controls, set performance goals, and help founders navigate around common pitfalls to manage risks.
7. Guidance and Support Is Included
Guidance and support is an understated benefit of angel investment. When your company takes on angel investment, you can pick the investor's brain when faced with difficult decisions. Not only does that reduce the uncertainty for a founder, but it also leads to more successful companies. For this reason, angel investors often look for coachability in the founders in which they invest.
8. Networking Opportunities Are Provided
The adage "it's not what you know, it's who you know" is often true in business, and especially true for startups. A timely introduction from an angel investor can change your probability of success and this isn't only limited to getting more funding. Angel investors often introduce founders to potential clients, other founders, and future members of the team.
9. Assistance With Future Funding Is Available
Angel investors are incentivized to get your company to the next round of funding, which is when they get repaid. Knowing someone can handle making introductions when it's time to raise more money allows you to focus on growing the company, instead of spending your time looking for investors.
"An angel investor with a strong network can get a round funded. Most major investment ecosystems have a few 'superangels' that can really make a huge impact. You can usually find out via word-of-mouth or through local angel networks."

—Dennis Joyce, Investor and Member of the Alliance of Angels
10. Help With Building Strategic Partnerships Is Available
Many angel investors specialize in specific industries and invest in startups with the potential to help each other out in their growth. They often introduce these startups to share information and resources. Additionally, angel investors can sometimes introduce you to companies willing to make a strategic investment in your startup, with a path toward future acquisition.
However, active angel investor with Band of Angels and member of the Executive Council of the Harvard School of Public Health, Etienne Deffarges notes:
"Forming strategic partnerships is challenging, and requires a wealth of industry contacts and expertise. So it does not happen all the time, far from it. In my own angel portfolio, we have helped early-stage companies find strategic investors in 20% of the cases."
Angel investors can create opportunities for startups beyond capital. They help build strategic partnerships and make valuable introductions. They can also help secure future rounds of funding with venture capitalists. This allows founders to focus on managing and growing their startups.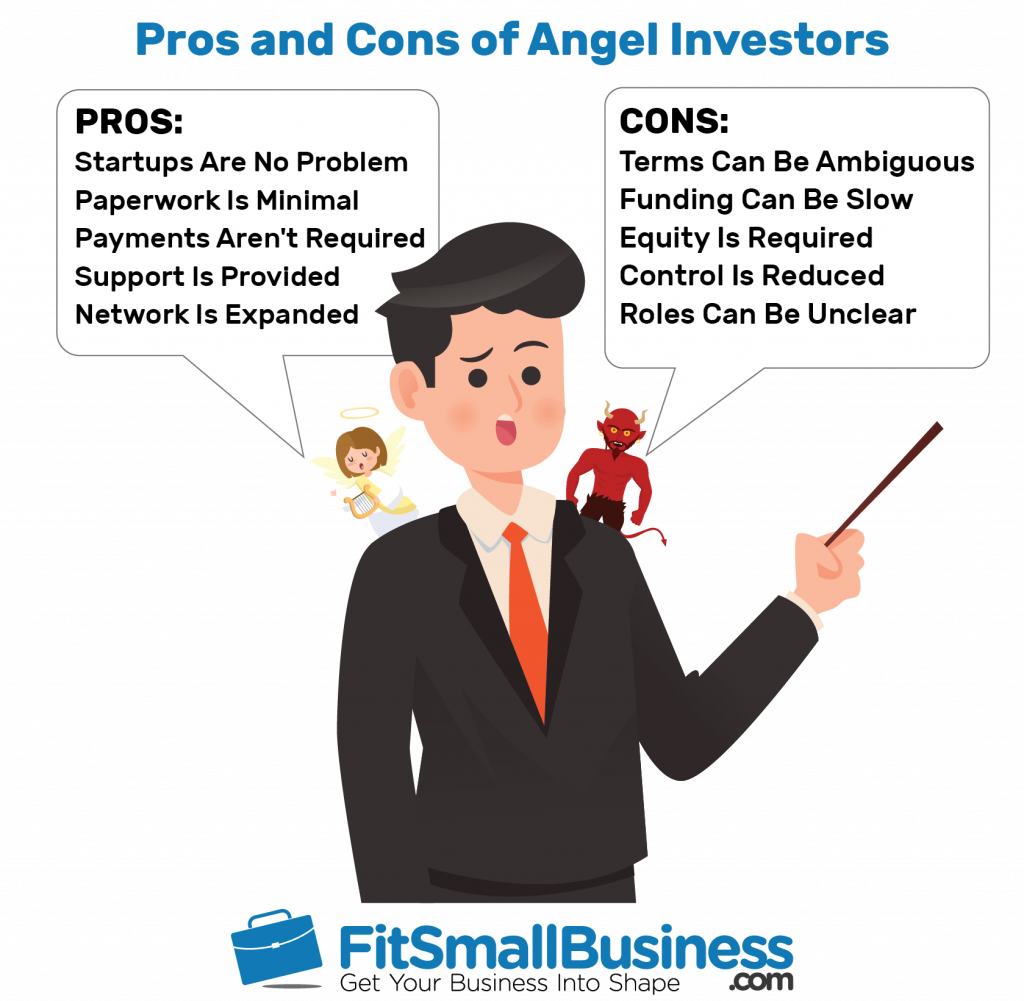 10 Cons of Angel Investors
Although the number of angel investors is increasing, it can still be difficult for first-time founders to secure capital. It takes a long time to get funding and there is often ambiguity when discussing terms. Even when entrepreneurs raise capital, sometimes angel investors are less involved or have a different vision than the founder expects.
The 10 key cons of using funding from angel investors are:
1. Availability Is Based On Who You Know
According to a report from the University of New Hampshire Center for Venture Research, there were 288,380 active angel investors in the United States in 2017. But, only 61,560 startups received angel funding that year. This can be a con for founders with access to few angel investors in their network that may decide not to invest in a given year.
2. Terms Can Be Ambiguous
Like any negotiation, neither party wants to commit until they feel comfortable with the deal. This process results in unclear verbal agreements that don't lead to funding. To mitigate this, it's important to get your agreement in writing, outlining the terms of the investment. The best way to do this is by drafting something informal during a meeting and reviewing the details together.
3. Funding Can Be Slow
Angel investor funding times will vary but expect it to take one to nine months. The initial process of finding angel investors can take several months. If your network is small or you need several investors for a large round of funding, it can take even longer. To expedite the process, search for an angel investor before you need funding. Work on building a relationship early to get funding more quickly in the future.
4. Average Amounts Are Less Than Venture Capital
In 2017, the average deal size for rounds of funding with angel investors was $388,860, which includes deals that involved multiple investors. Angel investors can invest any amount, but individual checks averaged $37,000 nationwide in 2017. If this is an insufficient amount of funding, then your company may be ready to raise a venture capital round.
5. An Option for the Investor to Convert Debt to Equity Is Required
Angel investors typically want convertible debt, with a premium of 20%. This gives them the option of converting it into equity at the next valuation, at a 20% premium. In 2017, this was an average of 12.2% equity when converted. Investors that own equity have input into your business and when founders dilute their position each time they raise funds, they may end up with a minority holding in the company.
Philipp Wolf, Founder & CEO of Custify recommends:
"Founders should have enough equity left in order to still hold the majority shares after a Series A, so potentially you want to give away a maximum of 20% for the angel round."
6. Rapid Growth Is Expected
Angel investors expect startups to grow quickly over three to five years. This is because the return they receive on their investment depends on that growth. The pressure to grow the company can go against the founders' plans, especially if founders are more interested in building a smaller business. This is a con for founders that want a microbusiness and don't plan to scale their company.
7. Founder Control Is Reduced
Some startups discover a problem that requires a change in the direction of their business. Before any form of funding, this can be done with agreement from the founding team. However, after receiving funds from angel investors, they will want to be consulted on this decision. Although this is inconvenient, it leads to better decisions and increases the chances of success. This is a con for founders that secured angel investment too soon.
8. Angel Investor Support and Guidance May Be Limited
Angel investors are typically involved in startups and can assist with any problems founders encounter. However, this isn't formalized and will vary from one angel investor to another. It should be discussed with the angel investor to ensure that they are willing to offer the necessary support. This can be a con to founders that need extensive guidance in their business.
9. Angel Investors May Be Overextended
Most angel investors advise multiple startups, besides other work and time commitments. This can sometimes lead to less attention being paid to their investments than startup founders expected. Founders should discuss the expected time an investor can devote to them and also gauge whether the investor may be overextended. This is a con for founders that need the additional guidance offered by angel investors to succeed.
10. Founder and Angel Investor Roles May Be Unclear
Angel investors and founders can sometimes disagree over their role in the business. This may happen because investors are too demanding, inexperienced, or assume greater control. To mitigate this problem, founders should consult other companies the angel investor is involved with to determine their investment style. This con is most common with inexperienced founders and investors that don't make individual roles clear.
Who Angel Investors Are Right For
Both seasoned and first-time entrepreneurs benefit from raising angel investor capital. But, capital is not the only benefit that angel investors offer. They can also help entrepreneurs bring products to market, hire teams, and scale their operations. Angel investors are also the right choice for startups that have found their market and are ready to grow.
Funding from angel investors is right for:
First-time founders: First-time founders tend to have less starting capital than seasoned entrepreneurs. They can also benefit most from the advice and introductions that seasoned angel investors bring to the table.
Experienced founders in a new industry: When moving into a new industry, some fundamental lessons always apply. However, entrepreneurs can rely on their angel investors to help them get the introductions they need to grow the business and succeed.
Startups with a minimum viable product (MVP) going to market: After some initial market testing, launching a product can be very capital intensive. Angel investors can make introductions to suppliers and help build distribution channels in addition to supplying capital.
Startups that need to grow their team: Regardless of the company's stage, hiring can be expensive. But, hiring the best people is often difficult for newer companies. Introducing the right people, providing capital, and designing structure are all major benefits of working with angel investors.
Startups needing capital to grow and meet customer demand: Scaling a company is difficult for both seasoned and first-time entrepreneurs. Here angel investors can supply the necessary expertise and capital to help make the process smoother and allow founders to focus their efforts on growth.
Angel investors are right for early-stage startups. They won't typically invest in ideas, but if a startup has established traction with customers, angel investors can make great partners. They can assist both financially and by lending their expertise to solve challenges.

×
FREE Ebook: How To Start Your Business
×
FREE Ebook: How To Start Your Business
Alternatives to Angel Investors
Although angel investment is available to startups, it isn't the only source of capital for new businesses. There are some options like a Rollover for Business Startups (ROBS) that doesn't require monthly payments, SBA startup loans for low interest rates, or venture capital funding for startups needing more than the funding capabilities of angel investors.
The best alternatives to raising funding from angel investors are:
Startup SBA Loan
If you are unwilling to give up equity in your startup and don't have enough personal assets to fund the business, consider an SBA loan for startups. You must have a good credit history and some of your own money invested in the business to qualify. But, unlike traditional financing options, SBA loans are backed by the SBA and offer longer terms up to seven years and lower rates from 7% to 11%.
Rollover for Business Startups
A ROBS allows you to use your personal retirement savings to invest in a new business. Unlike most withdrawals from your IRA or 401(k), there are no fees or penalties associated with the transaction, but it can be complex. That's why we recommend working with a top ROBS provider to help you in setting up and maintaining it.
Frequently Asked Questions (FAQs) About Angel Investors
Do you have to pay back angel investors?
If an angel investor has equity in the business, they have already been paid for their investment. If however, they have convertible debt, they'll be repaid from the proceeds of future funding or when the business is sold. They have the option to choose repayment in the form of cash or equity at that point.
What percentage does an angel investor get?
Angel investors that receive an equity stake typically get 20% or less. This depends on the valuation that the founder and angel investor agree on and the amount of funding. With convertible debt, angel investors receive a premium on the funds they invested, and they can receive that in cash or equity.
Do you have to pay back angel investors if the startup fails?
If a startup fails, angel investors that have equity in the startup do not get paid back. But, if funding was provided in the form of convertible debt, they receive any proceeds when the business liquidates. Of course, these debts are often repaid after any commercial debt, like business loans and credit cards.
Bottom Line – Pros and Cons of Angel Investors
Although getting angel investors to fund your startup is valuable, founders should weigh the pros and cons of angel investors carefully. Angel investors provide capital, advice, and access to their networks. These are all tools that help startups grow. However, raising funds from angel investors can take a long time and comes at the cost of equity in the company.