Angel funding means raising money from nonprofessional investors who invest their personal money in exchange for part ownership in your business. Generally speaking, angel funding is less formal and takes less effort than raising money from professional investors such as venture capitalists. Knowing how to raise angel funding increases your chances of securing financing.
What Is Angel Funding?
Generally, as a company progresses, there is a life cycle for raising money. Many start with friends and family, then raise money from angel investors and then move on to professional investors such as venture capitalists or to startup business loans. More mature companies may seek money from private equity firms or make a public offering of stock.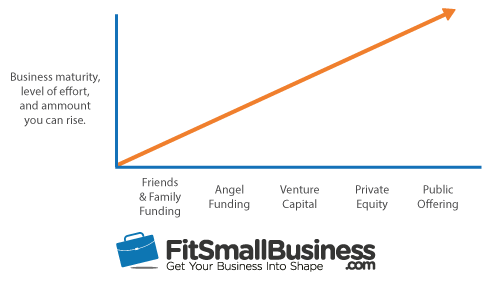 Angel funding is typically an investment from nonprofessional, individual investors who are not your family or close friends. Angel investors often invest as a hobby based on personal interest. They tend to take more risk and do not get as involved as professional investors.
Angel funding is money raised from individual investors who invest their personal funds in startup businesses. Angel investors often invest in businesses based on their personal interests. In exchange for funding, investors receive an equity stake in your business or convertible debt. Upon reaching a specified liquidation event, angel funding is repaid to the investor.
Generally, angel funding is used as seed money to accelerate the growth of startup businesses, with the median funding amount being roughly $200,000. Angel investors are most interested in businesses that have a solid and innovative product or service that has the potential to scale quickly. They also seek businesses run by savvy entrepreneurs that they trust to run the startup successfully.
Angel funding is less formal than raising money from professional investors. Professional investors like venture capitalists require more formal structure in their investments. Many only invest in C corporations, require a board seat, or have requirements regarding buying company shares or having an employee option pool.

How to Get Angel Funding in 8 Steps
Getting investment funding isn't as simple as applying for a loan and waiting for approval. You need to find an investor, determine what information to present, then prepare and deliver your pitch. Once an investor is interested, you need to discuss terms, agree on a funding structure, and follow up with the investor until you receive funding.
1. Network & Find Angel Investors
You may already have connections to angel investors that you aren't aware of. The best way to find out is to network with people you already know. Your current business and personal connections may be able to introduce you to potential investors.
Some potential ways to find angel investors include:
Get feedback on your product from experts: These people can provide meaningful feedback, and also might be angel investors themselves or be able to help you network your way to the right investors.
Inquire with friends, family, and your business network: Spend some time on LinkedIn and AngelList to find angel investors with whom you already share a connection.
Connect with other business owners: Talk to other founders about angels who have invested in their companies.
Canvas professionals around the space: For example, lawyers and accountants often deal with startup businesses, and may know of potential investors, or can be angel investors themselves.
What to Look for in an Angel Investor
When trying to find angel investors, it's essential to know what you are looking for and where to find those people. You must find someone willing to invest in your business, and the most likely candidates will be those that are familiar with your industry and those that are geographically close to you.
The three main criteria you should focus on are:
Individuals looking to invest: Angel investors are people looking for an investment opportunity for their personal funds. These individuals may be accountants, lawyers, or other professionals in your area.
Target industry: Angel investors tend to invest in areas that interest them. These angels could have invested in your industry before, currently be running companies in your industry, or be involved academically in the industry.
Geographic location: Investors like to see their company founders in person. They often invest in businesses within a geographic region close to them. Of course, exceptions may be made for the right deal.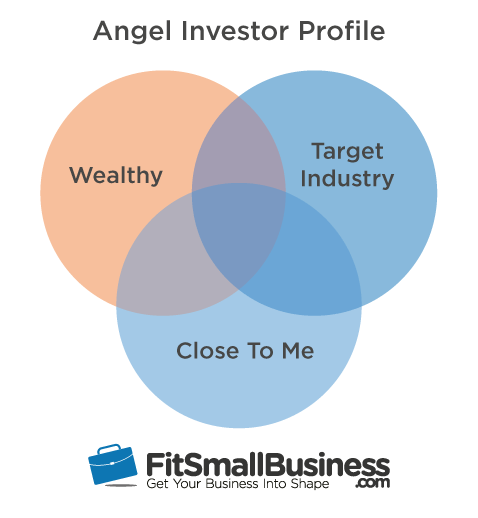 Directories Listing Angel Investors
To assist you with your search for the right angel investor, several websites provide directories of angels looking for new investment opportunities. These directories may be a good starting point as you begin your networking journey.
Some prominent angel investor directories include:
Since geography is often important, your best bet may be to focus on local angels and organizations. The Angel Capital Association allows you to search for angels by region.
Participate in Competitions or Startup Incubators
Other options for finding angel investors include to enter a business plan competition or startup competition or taking part in a startup incubator. Many angels follow these competitions and incubators in search of interesting investment opportunities. Many incubators will invest directly and have a strong network of angels and other investors who they can introduce you to.
Have a Prepared Elevator Pitch
If you had 30 to 60 seconds to sell someone on your product, what would you say? Developing a standardized and streamlined description or your business and product will assist you when contacting or meeting potential investors. Whether by phone, in person, or by email, presenting a cohesive elevator pitch will ensure that you hit all of the critical factors when introducing your business.
2. Have a Preliminary Meeting
Once you have identified a potential investor, have a preliminary discussion with them. This conversation may not be in the form of a formal meeting but could be a phone call or email exchange. The point of this conversation is to give your elevator pitch and to find out what aspects of your business are most important to the investors. Once you know the areas of interest to the investor, be certain to address those specifics in your pitch deck.
3. Prepare Your Pitch Deck
Your pitch deck is often the first introduction potential investors will get to your business and should be tailored to the specific investors to which you are presenting. Having a well put together and professional-looking pitch deck can be crucial to securing funding. The average pitch deck is roughly 19 pages or slides and covers numerous details about your proposal, including the problem your product is solving, the competitive market, and the financial needs of the project.
Your pitch deck for angel funding should address the following:
What problem your product or service is solving: By explaining the problem, you will set the stage for how your business is aimed at filling a gap in the market. The problem should address a common pain point that is relatable to the investors.
How your product or service is the solution: Explain how your product solves the problem, why the timing is right, and give examples of how your business as a solution to the problem is scalable.
What the market looks like: Define your audience and show investors the market potential that your product/service has. Include information on the current market, and the potential growth of the market.
What your product is: Share data highlighting the key components that make your product unique and answer the problem. Include quotes or testimonials from those that have tried your product to help prove its value.
How your product or service is performing and traction for further growth: If your product is currently on the market, you must show investors how it's performing in a month-to-month breakdown. For products that are still in development, you will want to show a projected growth trend for your business.
Who is on your team: One of the most important slides in your pitch deck is the one that tells investors who you are. List members of your team, what their educational and experience background is, and what they bring to the team. Investors want to know who the people are they are backing.
Who and what is your competition: You'll need to identify who your competitors are in the market, and what sets you apart from them. You want to show the investors what makes your company unique to those already in existence.
Projected financials: Ideally, you will present three years' worth of financial projections. Try to remain realistic yet conservative in your projections. You don't want to overpromise and underdeliver financials.
Amount of funds needed: When presenting the amount of funding you are requesting state the amount as a range rather than a fixed amount. Many investment groups have a limit to the amount they will provide to one investment opportunity. If your stated amount is higher than what they can offer, it may rule your business out as an investment.
Some angel investors may also want to view your business plan. If you haven't already put together a comprehensive business plan, it is a good idea to complete one before seeking investors.
4. Present Your Pitch
With your pitch deck complete and your product ready to be debuted, it's time to present your business to the world of investors. Using your pitch deck as a guide, you will need to present your proposal to investors, and highlight to them what makes your business and product unique and innovative. A solid and well-rehearsed presentation is imperative to the success of your investor pitch.
5. Discuss Terms
Once you have presented the pitch, and the angel investor has expressed interest in your startup, you will discuss the terms that would be associated with accepting angel funding. These terms are negotiable and require both parties to agree to move forward.
Terms that will be negotiated include:
The amount of the investor's equity stake
The investor's involvement in the business
How the funding will be structured
6. Agree on Funding Structure
Of all the terms that you will negotiate concerning receiving angel funding, the funding structure will likely be the most confusing. However, you must understand the terms you agree to, including when and how the angel funding will be repaid.
The Agreement
The most common kind of financial agreement used in angel funding is a convertible note. This is an agreement whereby the investor loans you a certain amount of money that provides for interest payments and then converts to equity ownership when the company reaches a certain valuation, determined by future investors or buyers.
Collateral
There are two types of notes, secured and unsecured. While most angel funding is unsecured, the note may require corporate or personal assets as a guarantee of repayment.
Discount
Usually, the valuation at which the loan principal converts to equity is determined by a subsequent fundraising round with professional investors, often a venture capital round. For taking an early risk, angel investors are rewarded by converting their loan into equity at a discount to whatever valuation is agreed to in the professional investment round. The discount is typically 20%.
Valuation Cap
Since the valuation in a subsequent funding round is unknown, angel investors typically like to have a maximum valuation at which their loan will convert to equity. For example, if a venture capital firm invests at a valuation of $50 million, a valuation cap of $10 million in the convertible note means that the angel investment would convert into equity at a $10 million valuation, not $50 million. This protects angel investors from their ownership being too small due to a very high valuation in subsequent fundraising.
7. Follow Up Regularly
It can take some time between pitching your business to an investor, working out the details of the deal, and receiving funding. Follow up regularly with the investor to answer questions they may have, and to determine expected timelines for funding. Open and continuous communication with the investor will be important as you become business partners, and establishing this rapport early sets the stage for future discussions.
8. Court Multiple Investors
Due to the uncertainty of receiving funding from any single angel investor, it's wise to court multiple investors simultaneously. Even if you think an investor will give you funding, having additional options lined up can save time if the investor backs out for any reason.
Who Angel Investment Funding Is Right For
As with most methods of small business financing, angel funding is better suited for some businesses than it is for others. Small businesses that have an innovative product or concept, and the potential to scale quickly are often the best suited for this type of funding. However, as a small business owner, you will also need to be comfortable taking on a business partner.
1. Startup Businesses Comfortable Taking on a Business Partner
Entrepreneurs often start their businesses by themselves or with a small team. Raising angel funding means you'll be taking on a business partner. Sometimes, angel investors are entrepreneurs themselves and may want to leverage your business to boost their own, such as reselling products or licensing technology. As another owner in your business, the angel investor will bring their own opinions and expect you to consider their guidance.
2. Businesses With the Potential to Scale Quickly
Investors expect to not only get paid back for the funding they provide but to also make a healthy profit on the investment. Most angel investors seek a 9x return on their investment as a goal, although most end up receiving 5x or less at exit. To meet these investor expectations, your business must be able to grow rapidly in value.
3. Businesses With an Innovative Product or Concept
Angel funding largely relies on your ability to tell a good story and get someone else excited about your company. Building excitement around your company is easier when you have an innovative product or concept to sell. Investors are looking for the opportunity to invest in the next big thing. If you can convince them that your business is destined for greatness, you will have a better chance of securing funding.
Pros & Cons of Angel Funding
Involving angel investors in funding a startup brings business owners the advantages of capital with no monthly payments, access to the investor's network, and an opportunity to seek advice in critical business situations. However, founder ownership is diluted in the process. It can also take a long time to get funding, and the business or investor match may not be a good fit.
Pros of Angel Funding
Some advantages of raising funds from angel investors are:
No monthly payments: Debt can leave startups with monthly payments that harm cash flow. However, angel funding is not a loan, but rather a pledge of capital to be repaid upon the occurrence of a specific future event.
A network of other investors and founders: Angel investors can provide you with an established network of strategic partners, future investors, and potential customers. These connections can be highly valuable to your business.
Advice on business decisions: Many angel investors are established entrepreneurs themselves. Their business acumen can be just as valuable to your startup as the funds they provide.
Cons of Angel Funding
Some disadvantages of raising funds from angel investors are:
Reduced ownership equity: Angel funding is often given in exchange for an ownership stake in the business. In small amounts, this won't affect the initial owner's control of the company provided they maintain the majority, but investors will want to be consulted on major decisions.
May not be a good long-term match: Clear and direct communication when deciding whether to accept angel funding is critical to a good long-term relationship with the investor. A rushed deal could result in conflicting perspectives on the company and what roles everyone plays in its development.
Can take a long time to get funding: The process of securing angel investment funding typically takes a month or more. With larger networks, funds, and multiple investors, it can take as long as nine months before your startup is funded.
Alternatives to Angel Funding
Angel investment funding is not a guaranteed source of funding. As such, it is wise to investigate alternative funding options as well. Being aware of the types of startup financing available to you outside of angel funding will allow you to make educated decisions in the event you are unable to raise angel funding, or if the amount is inadequate.
Additionally, not all small business owners are comfortable seeking angel funding, and not all small businesses will pique the interest of investors. If raising angel funding isn't an option that you want to pursue, there are other alternative financing sources available to startups, such as a rollover for business startups, Small Business Administration (SBA) loan, or a personal loan for business.
Rollover for Business Startups
If you have retirement savings in a 401(k) or IRA, a rollover for business startups (ROBS) allows you to use retirement funds to provide funding for your small business. A ROBS is not a business loan, so there's no debt to repay or interest payments to make. You can use a rollover for business startups without paying any early withdrawal penalties or taxes on the funds used from your retirement account.
SBA Loans for Startups
SBA loans are an excellent choice for business funding for growth as they offer fixed monthly payments and longer repayment terms. SBA loans can be used for working capital, to purchase inventory and supplies, to finance fixtures and equipment, or to purchase real estate. As your business grows and scales, an SBA startup loan can provide a low-cost financing option.
Personal Loans for Business
A personal loan for business allows you to borrow funds based on your personal financial condition and creditworthiness, which makes them a good fit for startups. Personal business loans can include unsecured loans, home equity loans, and credit cards. Some of the best personal business loans offer reasonable interest rates and repayment terms of up to 12 years.

Angel Funding Frequently Asked Questions (FAQs)
Why do angel investors invest in startups?
Angel investors invest in startups because early-stage investments have the potential to achieve high gains quickly. Investing in a startup business that can grow and scale quickly can provide investors with a significant profit in a short amount of time.
What is the difference between an angel investor and a venture capitalist?
Angel investors and venture capitalists provide funding to businesses at different stages of development. Angel investors invest smaller amounts of their personal funds earlier in the business life cycle and have fewer requirements; whereas venture capitalists provide larger amounts of funding from outside investors later in the business life cycle and have more structured requirements.
What percentage do angel investors want?
Typically angel investors want to have a 20% to 50% stake in the companies they invest in. The exact amount of the equity stake is negotiable. However, investors often base the percentage on the amount of funds they are investing in relation to the valuation of the company.
Bottom Line
Angel investors invest their personal funds into startup businesses but securing angel funding isn't a simple process. Locating an angel investor, in itself, can be a challenge. Beyond that, your success in obtaining funding lies heavily on your ability to convince the investor that your business has the potential to scale quickly and generate a favorable return.
However, not all businesses are suited for angel funding, nor are all business owners willing to release ownership stake in their business. However, startup funding can be obtained from other sources. If you have $50,000 or more in your traditional IRA or 401(k), you may be able to utilize a rollover for business startups (ROBS) to get your business moving forward. Guidant offers free consultations to help you decide whether or not a ROBS may be right for you.