Invoice factoring is a type of financing that converts outstanding invoices due in 30, 60, or 90 days into immediate cash for your small business. The factoring company will typically pay you in two installments for your invoice: an advance of roughly 80% of your invoice and the remaining 20% (minus factoring fees) after the invoice is paid. This article covers:
Before we dive in, our thanks to Fundbox for sponsoring this article. Fundbox offers seamless invoice financing. If you're looking an affordable cash flow solution, Fundbox offers fast, low-rate invoice financing of up to $100K. Creating an account with Fundbox is free. 
What is Invoice Factoring?
Invoice factoring (aka debt factoring and accounts receivable financing) is a form of financing available to businesses that provide goods or services to other businesses (B2B) or government agencies (B2G). These businesses can sell invoices that are due in the future to a factor, who pays them roughly 80% of the invoice's value upfront and the remaining 20% (minus fees) once the invoice is paid.
The invoice that is factored represents your customer's promise to pay for the goods or services you've already delivered. Factors are willing to lend money on these invoices because they have determined it is very likely that your customers will pay the invoice rather than skip out on the bill.
Invoice factoring is typically a solution to short-term cash flow issues. Giving your customers the option to pay for goods and services at a later date by extending net-terms to them and issuing an invoice is a great way to increase sales and customer loyalty and gain an edge on your competition. However, doing so can also squeeze your cash flow. Invoice factoring offers a solution by advancing you money now on invoices that are due in the next 30-90 days.
Working with an invoice financing company, like Fundbox, allows small businesses to have access to a tool that works a lot like a line of credit. Small business owners pick which invoices to clear and when, gaining access to the exact funding they need. 
How Does Invoice Factoring Work?
There are four steps to invoice factoring:
Step 1: You Submit an Invoice to a Factor 
When you submit an invoice to a factor a few things will happen. First, the factor will determine if you meet eligibility criteria to receive financing. They will also conduct due diligence on the customers you're invoicing to see if they are good credit risks. If the factor decides to approve your business based on that research, you and the factor will sign a financing agreement. The agreement will set an initial maximum dollar amount that you can borrow. It will specify which invoices/clients you want to factor. More invoices/clients can be added later.
Step 2: The Factor Gives You an Advance
The factor gives you an initial advance called an advance rate. The advance rate is generally anywhere from 70-98% of the value of the factored invoice. The amount of your advance depends on the size of your transaction, your industry, and other risk parameters.
At this point, the factor may also send out a "notice of assignment" to the clients you have chosen to factor. The notice of assignment states that your company has assigned the factor as the entity to receive future payments for ALL invoices. If the factor receives payment on an invoice that you haven't factored, they will pass the payment along to you.
Invoice financing companies, like Fundbox, do things differently. They don't make you go through the hassle of assigning invoices. Instead, they simply connect to your accounting or bookkeeping software and give you an advance on your unpaid invoicing. 
Step 3: Your Client Pays the Factor
Your client will pay the factor in 30, 60, or 90 days according to the terms of the invoice. 
Step 4: The Factor Gives You the Remaining Balance Minus Fees
After receiving payment from your client, the factor will give you the remaining balance of the invoice, called the reserve amount, minus their fees.
Invoice Factoring at a Glance
Can I Qualify?

B2B or Business- to-Government (B2G) business with creditworthy customers.

Invoices that are due and payable in 90 days or less.

No serious legal or tax problems.

Other requirements vary by provider.

Pros of Invoice Factoring

Flexible (use it only when you need it).

Quick way to get money.

Cheaper than

alternative lenders

and

merchant cash advances

.

Easier to qualify for than other business loans.

Personal credit score may not be required.

Can borrow up to $150K

Cons of Invoice Factoring

Some providers require monthly minimum $ amount of invoices.

Potential for "hidden" fees.

Some providers contact your clients to collect payment.

Cost

Typically 28-60 % APR
If your small business is looking for a fast, affordable financing solution and is invoicing B2B or B2G customers, Fundbox can help.  You choose which invoices to clear, and when to clear them. Pay a fixed fee over 12 or 24 weeks. If you repay the advance early, they'll wave the remaining fees. Open an account for free and qualify for up to $100k in financing.
Recourse vs. Non-Recourse Factoring
One of the most important concepts to understand when considering invoice factoring is recourse factoring vs. non-recourse factoring. This tells you what happens if your customers don't pay the invoice on time.
Recourse factoring means that the factor has the right to collect payment from you if your customer doesn't pay the invoice within a reasonable time after its due date. This can be a big problem if you have already spent the money you received from the factor and don't have additional revenue coming in to settle the debt. This is why you should only factor invoices to customers who reliably pay on time. Fees are continue to accrue until the factor is paid, often creating a new cash flow problem.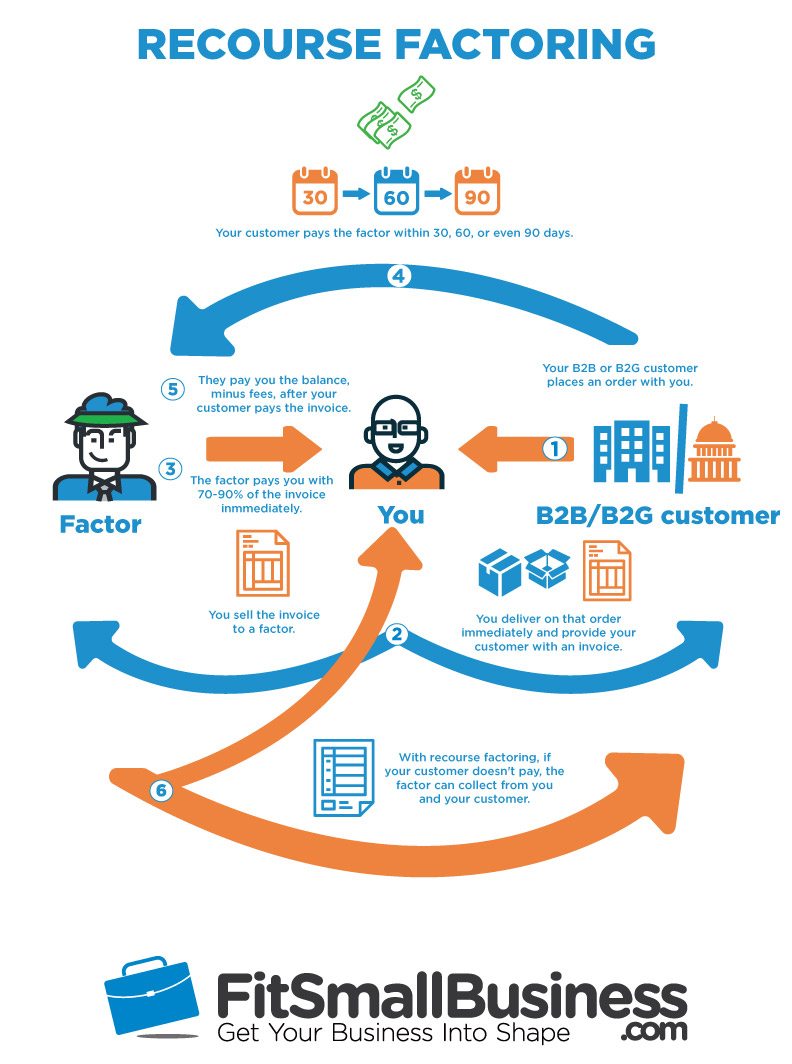 Non-recourse factoring is when the factor accepts the risk that the customer won't pay. In this case, even if your customer doesn't pay the invoice on time, your business won't be on the hook for it. Some firms advertise "non-recourse" factoring, but on the contract, they list several reasons why an invoice can be exempt from no recourse. Other factors will offer partial-recourse agreements. Small businesses should be tread cautiously and carefully read their entire contract to make sure what they will and won't be responsible for if their clients don't pay the invoice or pay the invoice late.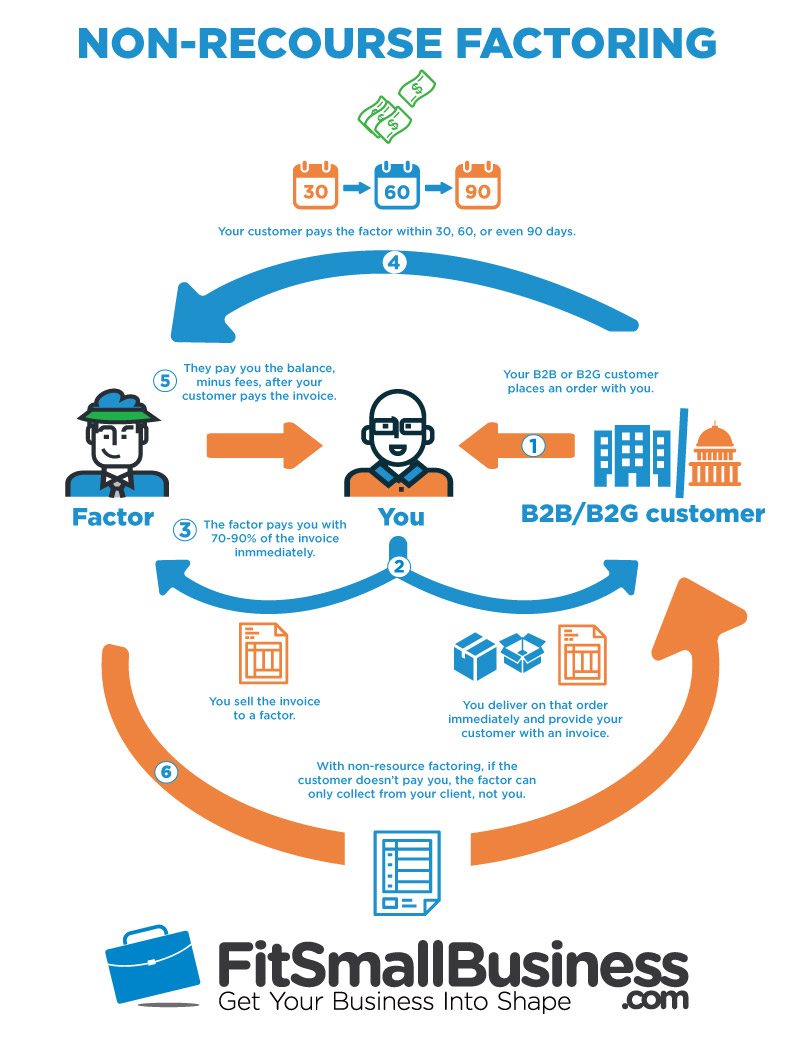 How Much Invoice Factoring Costs and How Payments Work
The cost of an invoice factor depends on two things:
1. Discount Rate – The discount rate (aka discount fee) is the primary cost of borrowing money from the factor and is typically charged on a weekly or monthly basis. The industry average is 1.5 % – 5 % of the invoice value per month. Businesses with larger invoice volume and that have built up a history with the factor can often qualify for better rates.
2. Length of Factoring Period (time it takes your customer to pay) – Discount rates are charged at regular intervals (usually weekly or monthly), so the length of time it takes for the customer to pay your invoice will determine your cost.
Discount rates are "rounded up" when calculating the fee. 
Example of Invoice Factoring Costs
Let's illustrate the terms above with an example. Suppose you factor a $10,000 invoice at an advance rate of 85% and a discount rate of 3% per month. In this case, you would receive $8,500 upfront. If your client makes full payment on the invoice in 30 days, the factor will pay you the remaining $1,200 you are due, bringing the total amount you receive to $9,700. The remaining $300 is kept by the factor as their fee.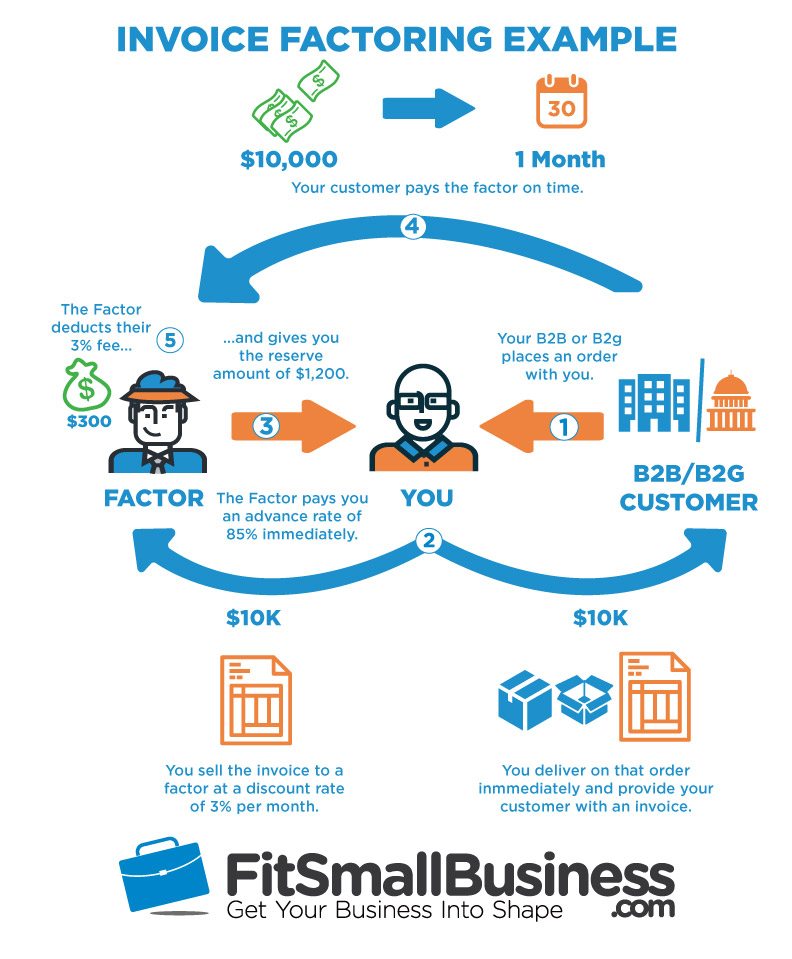 APR and Factoring:
Invoice factoring is very short term borrowing and has less stringent credit requirements than most other loans. For this reason, comparing the effective APR (the amount of interest on your total loan amount that you'll pay annually) of a 1-2% weekly discount rate to the APRs of more traditional loans can be slightly misleading. It's a little bit of apples and oranges.
Keeping that in mind, the effective APR for invoice factoring is around 28-60%. There may also be additional fees beyond the discount rate which we'll get to in a moment. Make sure you understand how these fees impact your total cost.
Other Fees with Invoice Factoring
Some factors charge additional fees beyond the discount rate. Some "hidden fees" to watch out for:
Factor fee or processing fee per invoice

Application fees

Overdue fees if your client is past due on an invoice

Credit check fees for yourself and your client

Mailing fees if the factor contacts your client
Because of the potential for these kinds of additional fees, it's important to do two things. First, carefully review your factoring contract, with the assistance of an attorney if needed. Second, compare different factoring proposals before signing on the dotted line. For example, factoring companies that offer you the same discount rate of .05% per week might seem equal. But if one offers a larger advance rate, they have the better deal. All things equal, you get access to a larger portion of your invoice for the same cost.
Invoice financing companies, like Fundbox, have simple, transparent pricing with no hidden fees. They set a fixed fee that you repay, along with your advance, over 12 – 24 weeks. 
Is Invoice Factoring a Good Option for Your Business?
Many businesses use invoice factoring to finance short-term cash flow shortfalls.
One of the best things about invoice factoring is its flexibility. A company can factor specific invoices which match their working capital needs in terms of both dollars and timing. For example, if you need money to cover three weeks of expenses, you can pick an invoice to factor which gives you the cash to cover your next three weeks' worth of business expenses.
Factoring can be fast. In many cases, you can get approved for factoring and have your money in about 3-4 business days, especially if you have a preexisting relationship with both the factor and your client. Some invoice financing companies, like Fundbox, are even faster since they've made the entire application and approval process electronic. With more traditional factors you can expect more paperwork, which slows things down.
Another aspect of invoice factoring that can be a huge benefit to small business owners is that you're relying on your customer's creditworthiness, not your own. So if your business has incurred some credit card debt during a slow season (and saw your credit score decline as a result) but is billing on a big contract now, invoice factoring is a way to avoid the usual credit requirements for more traditional loans.
Lastly, so long as your customer pays the invoice, there are no ongoing payments as there are with traditional loans. There aren't monthly payments hanging over your head.
When is Invoice Factoring Not Right for Your Business?
Invoice factoring won't be the right financial tool for every situation. There are three primary reasons invoice factoring might not be the best fit for your business:
1. Your business needs more funding.
If your business is planning a significant expansion or the purchase of equipment or real estate, your invoices may not be able to secure sufficient funding. Here are some alternatives to try in that case:
2. Your business needs a longer repayment period.
Invoice factoring is very short term financing. For purposes that would benefit from a longer repayment period, such as the refinance of existing debt or marketing campaigns, you would want to look into alternative such as:
3. Your business doesn't invoice customers or is not a B2B or B2G business.
In that case, you will want to look into more traditional loans. Lending will be based on more traditional requirements, such as credit score, annual revenue, and profitability. (those with poor credit may qualify for a merchant cash advance or MCA, which involves the purchase of future credit card transactions).
Invoice Factoring Solves the Problem of Growing to Death
Even profitable businesses can run into cash-flow problems. That's especially true for small businesses that offer net-terms to their customers.
If a small business is growing and taking on more work, their payroll and overhead are typically growing, too. If this business offers their customers net-terms, they might not see a corresponding rise in revenue for 30, 60, or even 90 days. That delay can cause a significant strain on the business's cash-flow. Despite the business's growth, it seems harder to make ends meet.
Such a cash-flow crunch can also impact a business's ability to qualify for more traditional bank loans or even alternative loans. That's because short-term cash flow issues commonly result in lower than normal bank account balances and higher than normal credit utilization. Even though the business is profitable and growing, traditional lenders may view you as a risky business.
Invoice factoring can solve the cash flow problem by advancing funds based on work already completed and billed for. And because the factor is more concerned with the customer's ability to pay, the business's short-term finances fewer less red flags. With invoice financing, the business's short-term capital needs are met quickly at reasonable cost and no long-term debt has been added to their balance sheet.
An invoice financing company, like Fundbox, can be a valuable partner for fast growing small businesses. Create an account with Fundbox for free and see which of your outstanding invoices qualify for financing. Get started with them here.
How to Qualify for Invoice Factoring
Now that you know whether invoice factoring is a good option for your business, let's look at how to qualify for invoice factoring. Fortunately, it's relatively easy to qualify for accounts receivable factoring. While credit scores and annual revenues and profitability can be significant hurdles for other types of financing, that's not the case with most invoice factoring. Most factors care about three things:
You must invoice business (B2B) or government (B2G) customers, your customers must have good credit scores, and they must be established businesses (not brand new).

The invoices must be due and payable within 90 days and unencumbered by other loans. (For example, you cannot have another short term loan outstanding where the same invoice is pledged as collateral.)

Your business should not have a history of serious tax or legal problems.
Some factors will have other requirements for your business, such as a minimum credit score or minimum time in business, but these requirements are usually far less stringent than other lenders. Learn more in our invoice factor buyer's guide about the requirements of leading invoice factoring companies.
How to Choose the Right Invoice Factoring Company
There are over 725 factoring companies in the United States. There is tremendous variety in the services they offer, how they conduct their business, and what they charge. Do your research carefully so that you don't end up with unintended costs or consequences. Here are the things to consider when shopping around
Spot Factoring vs. Contract Factoring:
Most invoice factoring companies are friendly to small businesses because they offer "spot factoring." Spot factoring gives you control over which invoices you factor. You choose when to factor and invoice and when not to. On the other hand, contract factoring will require a minimum monthly volume be factored with them, or that every invoice to a specific customer be factored.  
In general, we're not fans of the long-term commitments required by contract factoring. Many small businesses often have a variety of customers who pay on different terms, and their financing needs may change, making the flexibility of spot factoring a better option. Fundbox lets you choose which invoices to clear and when to clear them. This gives your small business a high degree of flexibility. You get affordable financing when you need it, but are stuck paying for financing when you don't
Customer Contact with the Factor:
One aspect of invoice factoring that turns away a lot of businesses is the level of contact between the factor and your customers.
This worry stems from the fact that your customer will have to pay the factor, not you. Some small business owners imagine this will result in their hard-earned customer being repeatedly contacted by a company they've never heard of being told to pay up. These concerns aren't completely unfounded, but they are exaggerated.
In reality, some factors will want direct communication with your customer to verify invoices, verify the assignment of the invoice, and make payment arrangements. However, this is more common in industries where factoring in general is more common and preserving relationships is a top priority. When a factor is directly communicating with your customer in this way it is commonly referred to as notification factoring.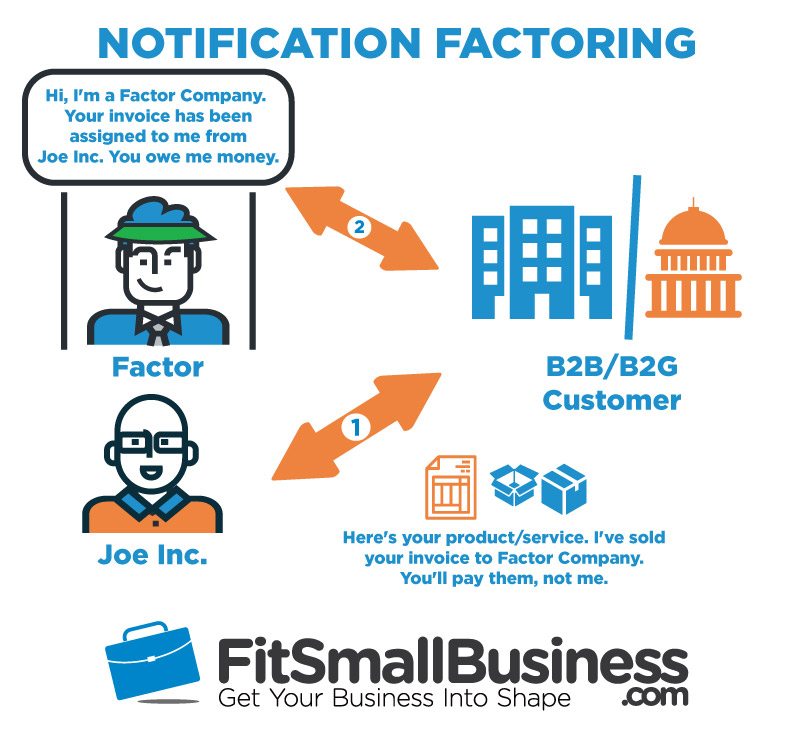 Non-notification factoring describes an arrangement where the factor has far less (and in some cases, zero) direct communication with your customer. In some case this is done by opening a new bank account which the factor controls but which is listed in your business's name, and you notify your customer of the new account information. Other times the factor will simply present themselves as your billing department.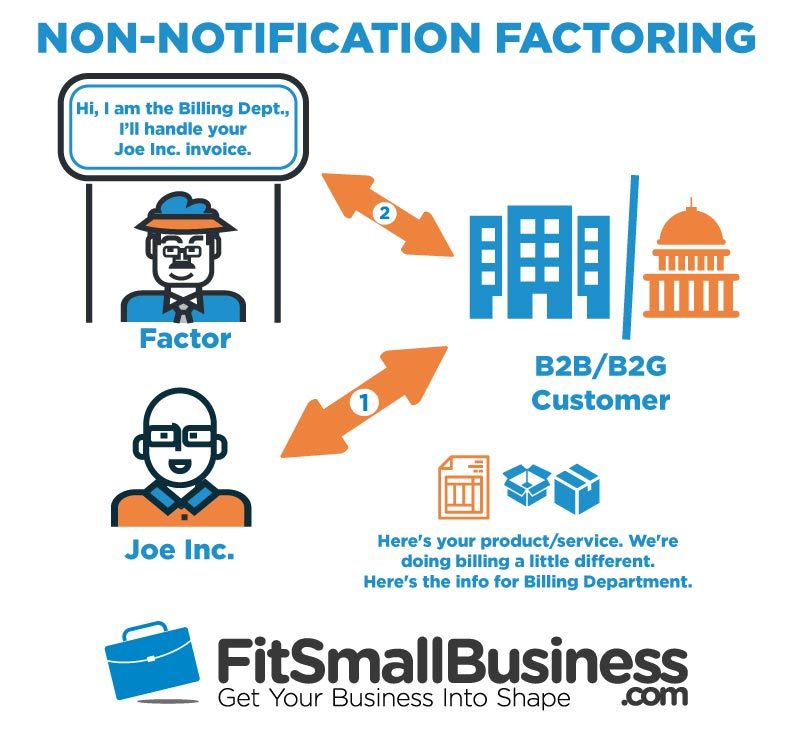 Fundbox is does not notify your customers of your invoice financing. They will assign you a remittance address and bank account number in your business' name, so your customers are none the wiser that you are factoring their invoices.
Time to Get Funding:
The speed of getting money may matter to you more than anything else if you're depending on it to make payroll or buy something essential for your business. There are many ways to get fast business loans, but factoring can be one of the most affordable and quickest ways to get working capital.
Some invoice financing companies, like Fundbox, require no paperwork and have made their application and approval processes completely electronic. They can approve you and get you funding in as little as 1 business day.
More traditional factors will require more paperwork, such as accounts receivable reports and customer lists. Their application systems are more traditional and require manual review.
Industry Familiarity:
Factoring is an area in which industry matters. The industry you and your customers are in can affect your terms and cost.
Some factors specialize in providing financing to specific industries. Conversely, some factors won't provide financing to certain types of industries. 
Do your research, and find a factor that understands the needs and norms of your industry.
Bottom Line
Factoring can seem a little more complicated than getting a loan from a bank. However, what makes factoring complicated is also what makes it appealing. You can borrow money based on your unpaid customer invoices to meet your immediate cash flow needs. As long as your clients pay in a timely manner, the cost of factoring is more affordable than many other fast business loan alternatives. 
If your small business is looking for a fast, affordable financing solution and is invoicing B2B or B2G customers, Fundbox can help.  You choose which invoices to clear, and when to clear them. Pay a fixed fee over 12 or 24 weeks. If you repay your advance early, they'll wave the remaining fees. Open an account for free and qualify for up to $100k in financing.