When you apply for a small business loan, numbers can mean everything. For example, the lender will want to know your income, your credit score, and your Debt Service Coverage Ratio (or DSCR).
Debt Service Coverage Ratio (DSCR) measures your business's ability to repay debt by dividing your net operating income by your total debt and interest payments. It is one of the main ways in which a lender evaluates the financial health of your business. Your DSCR can affect whether you get approved for a business loan, how much you qualify for, and the loan terms.
This article explains:
What is Debt Service Coverage Ratio, and Why Does it Matter?
Debt Service Coverage Ratio is used to test your business' capacity to repay debt. When lenders are considering giving your business a loan, they want to make sure that the business is generating or will generate sufficient income to pay its debt. They want to know that your business can afford the monthly loan payments, even if there is some variance in your business' cash flow.
By calculating the Debt Service Coverage Ratio, a lender can find out how much cash a business has available to make payments on loan principal, interest, and fees (they may also use it for lease payments). You should find out your DSCR before approaching lenders so you can improve it if necessary. Ideally, your DSCR should be 1.25 or higher, but every lender has a different minimum DSCR that they will accept.
Providers of SBA loans, banks, commercial real estate lenders, and some alternative lenders will want to know your Debt Service Coverage Ratio when you apply for a small business loan with them.
How to Calculate Your Debt Service Coverage Ratio
Although the phrase "Debt Service Coverage Ratio" sounds intimidating, it's actually pretty easy to calculate.
Here is the formula for calculating DSCR and 3 steps breaking down the formula:
Debt Service Coverage Ratio =
Business Annual Net Operating Income /
Current Year's Debt Obligations

Step 1
Calculate your
business annual net
operating income
Net operating income is business revenues minus operating expenses, except taxes, interest payments, depreciation, and amortization (similar to EBITDA). Those should be added back in when calculating income, along with the owner's salary and one-time expenses that are not likely to recur.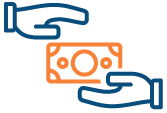 Step 2
Calculate your
business debt
obligations for the
current year
Add up the current year's payments of loan principal, loan interest, loan fees, and, if applicable, lease payments. Include payments on all business loans that you currently have and the loan you're applying for. If you're refinancing a loan, don't use the old loan payment to calculate DSCR; use the estimated new payment.
Divide the first figure (net operating income) by the second figure (current debt service). This gives you the Debt Service Coverage Ratio.
Example: Let's say you have a business whose annual net operating income is $100,000. After adding principal, interest, and fees for the loan that you're applying for and any loans you already have, your business' annual debt obligations are $40,000. The business has a DSCR of $100,000/$40,000 = 2.50.
Some lenders have variations on the approach above. For example, Steve Freshour, VP of Operations at online business lender Dealstruck, says, "Some lenders will use a business owner's personal income to calculate DSCR, and others will not. If personal income is used, then the personal debt of that business owner will be included as well.  This method of calculating DSCR is more commonly used by lenders underwriting smaller businesses seeking loans below $500,000."
If you already have an established business or are buying an established business, then you should calculate your DSCR for the last three years. This is important because it gives the lender an idea of how your business has progressed over the last few years.
If you're starting a new business and haven't begun to generate revenue yet, then you should estimate your DSCR for the next three years and show those projections to lenders. Use industry averages and comparable businesses to make your projections. This should be part of the financial portion of your business plan. For tips on creating a business plan as well as recommendations of business plan software that can do some of the math for you, click here.
What DSCR Do I Need to Qualify for a Business Loan?
All lenders have their own criteria for evaluating Debt Service Coverage Ratio, but in general, you stand the best chance of qualifying for a business loan if your DSCR is greater than 1.25. All else being equal, the higher your DSCR is above 1.25, the greater the chance that you will be approved for the loan and the better terms you'll get.
Here's what your Debt Service Coverage Ratio tells about your business: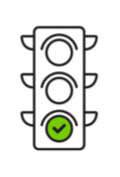 DSCR above 1 – Your business has enough income to pay its debts, and there's a "cushion" even if there is some variance in the business' cash flow. For example, a DSCR of 1.25 means that your business makes 25 % more income than it needs to cover its debts.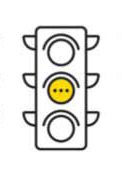 DSCR equal to 1 – All of your business' net income is going to paying debts. While this is better than having a negative cash flow, your business is still vulnerable to even the smallest drop in earnings.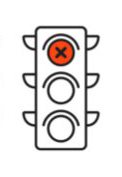 DSCR below 1 – Your business is not generating enough income to pay its debts. For example, if your DSCR is .95, you have enough income to pay only 95 % of your debts. In order to pay the rest, you would have to use personal sources of income, and this is not something that a lender would be comfortable with. A thriving business should be able to sustain itself without resort to personal income.

Remember that your lender may be willing to overlook a slightly lower DSCR if other aspects of your application, such as business revenue and credit score, are very strong.

×
FREE Ebook: How To Get a Business Loan
×
FREE Ebook: How To Get a Business Loan
How Do I Improve My Debt Service Coverage Ratio?
If you need a higher DSCR to qualify for a business loan, you can either increase your business revenues, lower your business expenses, or lower the amount of outstanding debt that you have. Doing all of these things together has the highest impact.
To bump up your business revenues, you might try selling more products or services or increasing prices. Freshour suggests bringing on a co-owner with high income and low debt if the lender you're working with considers personal income when calculating DSCR. This can improve the overall DSCR of the business.
Another suggestion is to reduce your business' operating costs. Charles N. Persing, a CPA and Partner at Bederson LLP, says there is a long list of things a small business owner can do to make a business more efficient and profitable! For example, you can ask your suppliers for better deals or put off big capital expenditures unless absolutely necessary. Automating as many things as you can also reduces costs. DirectCapital has put together a great list of 28 Ways to Cut Business Operating Expenses.
You should also focus on reducing your debt as much as you can. If you have existing business loans, pay them down before seeking a new loan. Freshour says you might also want to consider reducing the loan amount that you're seeking. "If the new loan is pushing your DSCR below 1, then a smaller loan amount may help get your DSCR where it needs to be for approval."
Keeping Your Debt Service Coverage Ratio High
Having a good DSCR can certainly help you get approved for a loan, but it doesn't stop there. As part of your loan agreement, lenders may require you to keep your debt service coverage ratio at a certain level year over year. If your DSCR declines below that level, the lender may call the balance due. Calling the balance due means you have a very short amount of time (90-120 days) to pay off the full balance. If you don't, you'll be considered delinquent, and the lender can initiate collection proceedings.
For obvious reasons, you don't want to be in this position. Make sure that you keep an eye on your business' operating expenses, incoming revenues, and overall debt level each month so that you're in compliance with the loan agreement at year end.
Despite your best efforts, if your DSCR keeps declining, Persing says small business owners can consider refinancing the loan. Restructuring the loan so that there are lower monthly payments can get your Debt Service Coverage back in the clear.
Bottom Line
Debt Service Coverage Ratio is an important financial yardstick that lenders use to decide if you qualify for a business loan. Make sure you calculate it before approaching lenders, take steps to improve it if necessary, and monitor it on an ongoing basis. This will help ensure that you can get financing you need to grow your small business.
Need some money for your business? Click here to get our FREE Guide:
How to Get a Small Business Loan.