Accounts receivable financing (AR financing) can help your business overcome cash flow gaps by advancing you money based on your unpaid invoices. AR financing works like a credit line and is faster and easier than traditional invoice factoring because it doesn't require you to sell and assign your invoices. Plus, invoice financing is often cheaper than short term business loans and merchant cash advances. In this article we're going to discuss:
Because invoice financing and invoice factoring are terms that are often used interchangeably, we will also briefly highlight the differences between the two.
Fundbox, our recommended accounts receivable financing company, offers AR financing between $1K – $100K. They do not require any credit check, making them one of the few small business loan options that have no minimum credit score requirement. Prequalify online in minutes and funded in 1-3 business days.
What is Accounts Receivable Financing?
Accounts receivable financing allows small businesses to establish a credit line based on the value of their unpaid receivables. AR financing turns B2B, B2G, and B2C invoices owed within 30-90 days into short-term working capital. Rates typically range from 0.5% per week – 5% per month, and you can borrow between $1,000 – $500,000.
The AR financing application process is very easy. In general, you create an account online with a provider and sync your accounting or invoicing software so they can review your business's recent activity. This takes just a few minutes. You can then pick the invoices you want to finance and get funded within 1 – 3 days. Nothing changes about your invoices or who your clients pay, and you continue to operate your business normally.
AR financing is more flexible than traditional invoice factoring, which we'll discuss below. You can pick and choose which invoices you want to finance at any time, and pick your repayment term from options your provider gives you. AR financing doesn't require the sale or assignment of your invoices to your provider, like invoice factoring does. This means that you get to maintain control of all communications to your customers with AR funding.
4 Steps of Accounts Receivable Financing
There are four main steps to getting funded for your invoices through accounts receivable financing.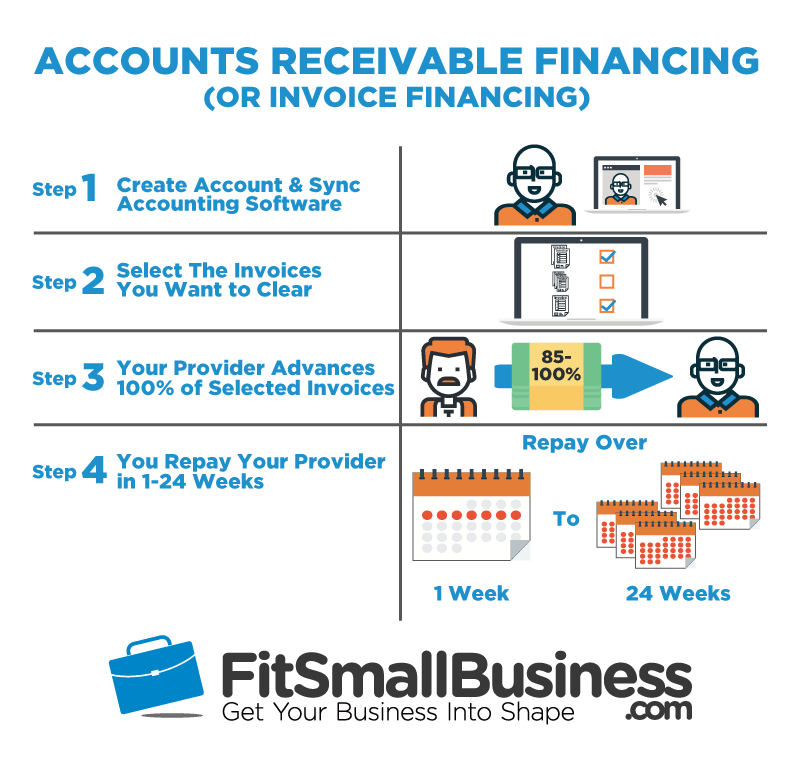 Step 1: Create an Account & Sync Your Accounting Software
The first step to getting financing based on your invoices is to create an account with an AR financing provider like Fundbox. Setting up an account is typically free and takes just a few minutes. Once you have your account set up, the provider will require you to sync your accounting or invoicing software. Almost all providers work with Quickbooks and most work with other popular providers like Xero and Freshbooks. (Fundbox is compatible with the most invoicing and accounting software)
Step 2: Select Approved Invoices You Want to Finance
When your account is set up with your AR financing provider then you're ready to choose which of your outstanding invoices you want to finance. With the dollar amount of financing you need in mind, you select which invoices you want to clear to meet that need and start the funding process.
Step 3: Provider Advances You Up To 100% of the Selected Invoices
As soon as you choose the invoices you want to finance, your provider begins to process payment of your funds. Every provider advances a different percentage of your unpaid invoice. For example, Fundbox advances you 100% of the invoice's value while their competitor, BlueVine, advances 85-90% of the invoice's value. You will typically receive the funds in your bank account in 1 – 3 business days.
Step 4: You Repay Your Provider With Weekly Payments
After you receive your funds then you enter the repayment phase, which requires weekly payments that include the principal amount and a small fee that varies by provider. Fundbox charges 0.5% – 0.7% per week, and BlueVine charges 2% – 5% per month. They allow you to choose to payback your invoices in either 12 weeks or 24 weeks.
Fundbox is easy to setup and they sync with the largest number of accounting and invoicing software providers. Fundbox advances you 100% of your invoice's value and have rates as low as 0.5% per week. You can borrow up to $100,000, and be funded in as soon as 1 day.
Accounts Receivable Financing Costs & Qualifications
Accounts receivable financing can be a good working capital solution for your business, and it is typically easy to qualify for with a very straightforward fee structure. Your fees are usually comprised of a small percentage of the invoices you have chosen to finance.
Let's look at a comparison of the costs and qualifications of AR financing providers we've reviewed in the table below.
Accounts Receivable Financing Providers, Costs, & Qualifications

Fundbox

BlueVine
Funding Amounts
$1,000 - $100,000
$20,000 - $2,000,000
Time to Qualify
1 Business day
1 Business day
Time to Funding
1-3 Days
1-3 Days
Repayment Time
12 or 24 Weeks
1 - 12 Weeks
Repayment Frequency
Weekly
Weekly
Discount Rate
0.5% - 0.7% of each invoice per week
2.5% - 5% per month
Other Fees
None
None
Advance Rate
100%
85% - 90%
Invoice Qualifications
Due in 30, 60, or 90 days
Due in 30, 60, or 90 days
Credit Score
No Requirement
530+
Required Accounting / Invoice Software

QuickBooks
Xero
FreshBooks
Zoho Books
Clio
InvoiceASAP
Sage One
Kashoo
Jobber Invoicing
Harvest

Visit Fundbox
Visit BlueVine
Who Accounts Receivable Financing is Right For
AR financing is an excellent short term cash flow solution. This makes it great for things like making rent, payroll, or to purchase seasonal inventory. These are the same expenses that small businesses might cover with a small business line of credit, but those can be much harder to qualify for. If you're struggling to get approved for more traditional working capital products from a bank, you may have an easier time with AR funding.
AR financing is a great solution to streamline your working capital management by giving you a line of credit based on your receivables. Based on your outstanding invoices, you can borrow exactly what you need, when you need it, so you're not paying interest on funding you don't need.
It's ideal for borrowing up to 90 days because it's often the most affordable financing option and can get you funded quickly. Also, unlike short term business loans, you don't have to reapply for every time you need cash. Instead, you just select the qualified invoices you'd like to have advanced and the funds will hit your bank account in a day or two.
AR financing is not a good financing choice for long term investments, such as commercial real estate, equipment financing, consolidating high interest business debts, or for startup funding.
AR Financing Qualifications
Typical lending qualifications like credit score are less important when using AR financing because the financing is based on your outstanding invoices. While there are much fewer minimum requirements, the health of your business is still very important to whether you'll be approved and how much you'll be approved for.
The main qualification is that you have outstanding invoices that show a consistent cash flow and a good likelihood of repayment. Your provider will have data that shows them how your business profile is expected to perform in the future, which will greatly impact your approval chances. For example, if your provider has seen businesses in your industry fail to repay the money they are advanced, then your qualification requirements may increase. If your industry is naturally riskier than others, you should expect to be stronger than past borrowers in order to be approved.
While providers don't disclose all their qualification requirements, there are some things you can focus on that will help, including:
Business Annual Revenue: If your revenue is trending up for 6+ months, then you will likely be considered a stronger borrower and increase your approval chances.
Accounting History: The more accounting history that your provider has to look at, the better your profile may look. This is especially important for businesses that operate in industries that traditional lenders find risky.
Late Payments: Since this is often used as a working capital solution, it should be noted that your best chances of being approved come before you're late on your own current payments.
AR Financing Costs
One of the biggest advantages of accounts receivable financing is the straightforward costs. Other financing options may charge you origination fees, processing fees, and other hidden fees. But AR financing shines with its easy cost structure. All you pay is a single fee on each invoice you finance, which you pay as a part of each weekly payment.
AR Financing Costs Example
You may need AR financing to help you finance your busy season, or you may need it to help you through a month with tight cash flow. Many small business owners look at short term loans or merchant cash advances when solving their cash flow problems.
However, if you're only needing money for a very short time (30-90 days) then AR financing is generally a much cheaper option. For comparison, the table below shows the cost of both alternative loans compared to the total cost of AR financing.
AR Financing Costs vs Other Short Term Financing
| | AR Financing | Short Term Loans | Merchant Cash Advance |
| --- | --- | --- | --- |
| Loan Amount | $100,000 | $100,000 | $100,000 |
| Cost | Discount Rate of 0.5% | APR of 40% | APR of 80% |
| Term Length | 12 Weeks | 90 Days | 90 Days |
| Frequency of Payments | Weekly | Weekly or Daily | Daily |
| Total Cost of Capital | $6,000 | $6,739 | $13,619 |
Fundbox offers rates from 0.5% – 0.7% per week with repayment terms of 12 or 24 weeks. This allows you to solve cash flow issues affordably. With an online application that takes just a couple minutes, Fundbox can qualify you for up to $100,000.As you can see the total cost of other short term financing is more expensive than what you will typically pay with AR financing if you plan on repaying your funds in 3 months or less. Smaller financing amounts also work much better with AR financing if you are looking to save costs compared to other financing options.
Benefits of Accounts Receivable Financing
AR financing is a popular option for small businesses that operate lean structures, and for large businesses that struggle with obtaining financing from a traditional bank. Having such a large range of businesses that might find AR financing helpful points to the many benefits that this option may be able to bring your business's working capital management. These benefits include:
Fast Funding: You can be approved in hours and funded as fast as 1 business day.
Easy Application Process: Traditional bank loans can be time consuming processes that require lots of paperwork. AR financing requires no paperwork, and only takes a few minutes for you to fill out an application and connect your accounting software to your provider.
Easy to Qualify: If you have outstanding invoices and have a 3-6 month accounting history, then AR financing is typically easier to qualify for than traditional financing. If you've been turned down by banks but meet these standards then this may be the financing solution you need.
Flexibility: You get to pick and choose which invoices you want to finance. There is never a requirement on which customer invoices you must include.
Fundbox is fast and flexible. With Fundbox, you can get a credit line of up to $100,000 with rates between 0.5% – 0.7% per week. You can apply online in a few minutes, be approved within hours, and funded as soon as 1 business day.
AR Financing vs Invoice Factoring
If accounts receivable financing is not right for you but you still are looking to get an advance on your invoices then you may want to consider invoice factoring. It works a lot like AR financing with a few differences, such as having a more extensive application process. The other main differences include:
Requires You To Sell & Assign Invoices: This is a big difference that some business owners don't like. Factors will buy your invoices and own all the rights to collect on those invoices. This means that your customers will know that they must pay your factor instead of you.
Factors Can Contact Your Customers: Every factor does it differently, but each reserve the right to collect on invoices and contact your customer to do so. Some will operate as a collections arm of your company, but all will require a communication from either them or you telling your customer who to pay going forward (the factor).
All or Nothing: Invoice factoring requires you to sell all of your qualifying invoices to the factor. Invoice financing let's you pick and choose.
No B2C Invoices: Traditional invoice factoring will not fund your B2C invoices, but all invoices could qualify with AR financing.
No Weekly Payments: While AR funding requires weekly payments, invoice factoring typically requires no payments until your customer pays off the invoice. This means that you can keep the upfront funds and not worry about your cash flow to make payments, as long as your customer pays their invoice on time.
Larger Funding Amounts: Invoice factoring typically gives you access to larger funding amounts than invoice financing does. This might be a good benefit if you are wanting to fund a larger purchase or have a sizable season related cash flow need. But there is also typically a minimum of $10,000 or more that you must factor every month. This can be a lot to sustain all year long and can mean big interest costs.
Bottom Line
Accounts receivable financing is a good option to solve short term (30-90 day) cash flow gaps. It is generally cheaper than other short term loan options, and is faster and easier than traditional invoice factoring. If you invoice your customers then you could get funded for the invoices you have outstanding as quick as 1 day. If you're looking for more than $100,000 in funding, then you should take a look at BlueVine. If you don't need quite that much, then Fundbox is the best solution we've reviewed.
Fundbox offers the fastest accounts receivable financing solution we've reviewed. With Fundbox you can get a credit line of up to $100,000 based on the value of your invoices. You will pay between 0.5% – 0.7% of your financed invoices weekly. You can apply online in a few minutes, be approved within hours, and funded as soon as 1 business day. You repay the invoice with weekly payments in either 12 or 24 weeks.