Between purchasing furniture, and setting up internet and phones, setting up an office can seem like an intimidating task. In this guide, we share the advice of many experts – as well as our first-hand experience – on how to set up an office as painlessly and as cost-effectively as possible.
You can't design an office without a space, of course. Check out Liquidspace to find flexible office space that works for you, for just as long as you need it. Whether it be a few hours, months, or years, Liquidspace is sure to have a listing that meets your needs.
Step 1: Make a List of Everything You Need for Your Office
To start, here are some of the most common items most offices will need:
Common Small Business Office Needs
In addition, you might need some of these optional items:
Optional Small Business Office Needs
| Optional Items | More Information |
| --- | --- |
| Alarm Systems | You can go with a DIY or professionally-installed system. Check out the pros and cons of each here. |
| Office Insurance | A CGL policy can cover accidents, like a slip and fall in your office. To cover office property damage, however, you'll need commercial property insurance. |
| Answering Service or Virtual Receptionist | If you want a live agent answering your phone, but can't afford a full-time receptionist, or if you want somebody to answer after hours, check out our full guide to answering services. |
| Water Dispenser, Coffee, and Kitchen Supplies | Again, you can find just about all of these accessories with free shipping on Amazon. |
Step 2: How to Design an Office Floor Plan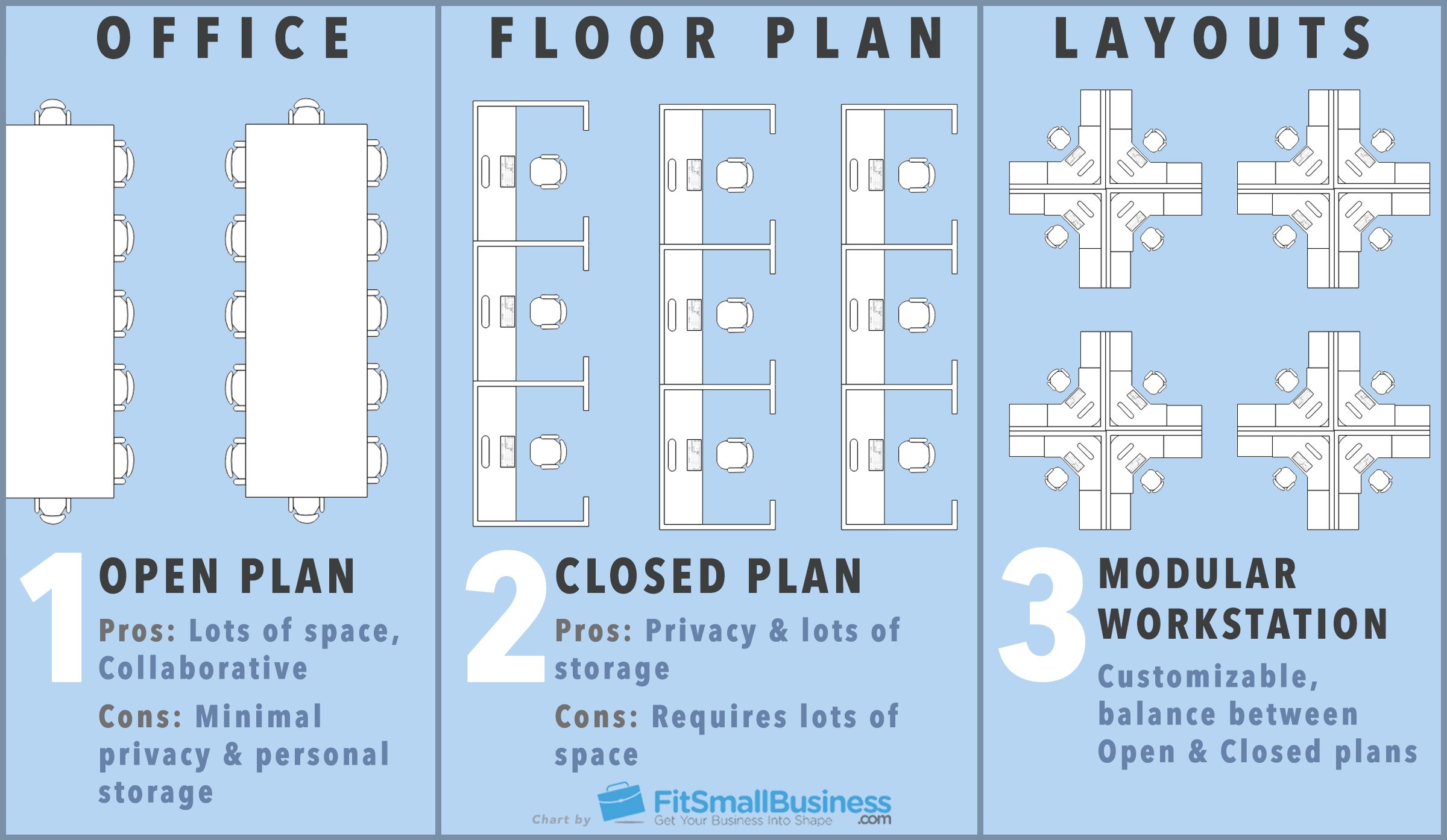 The next step is to create your office layout. This will help you determine exactly what type of furniture to buy.
While much of your layout will depend on the space you have chosen, you should start by choosing a layout type. An Open Plan makes the most of space, but at the expense of privacy and personal storage. A Closed Plan offers more personal space, but is less collaborative and won't fit as many seats.
A Modular Workstation Plan (or Cluster Workstation) is a compromise between these two setups. With desks grouped in small clusters, employees get more privacy, yet can still collaborate amongst their group. Workstations also tend to be larger than those of an open plan and offer more storage.
To draw your own layout, you can use simple blueprint software like Edraw (desktop) or SmartDraw (cloud) – both offer free trials. To design the space, simply drag and drop furniture and other detail.
Step 3: Find The Best Furniture And Computers
Next, we'll cover some of the specific options out there for furniture and computers.
Office Desks
More than anything, the types of desks you buy will depend on your office layout. With an open design, you'll want simple, rectangular tables you can group together. At Fit Small Business, we started out using simple folding tables, like this one. This gave us a quick, inexpensive, and flexible solution, considering we can easily rearrange them into any pattern.
The downside to folding tables is they don't allow any room for storage – nor are they the most stylish. For a little more money, you can buy glass, metal, or faux wood tables that offer more nooks and crannies. We compare several options, including L-shaped corner tables in our Best Office Desks Guide. L-shaped tables, in particular, are great for setting up modular workstations.
Don't Skimp on Office Chairs
If there is one thing you don't want to go cheap with, it's the chairs your employees will be sitting on most of the day. Good chairs not only promote a happy work environment, but a healthy one too – a few of us at Fit Small Business have experienced great improvements in back pain after upgrading our office chairs.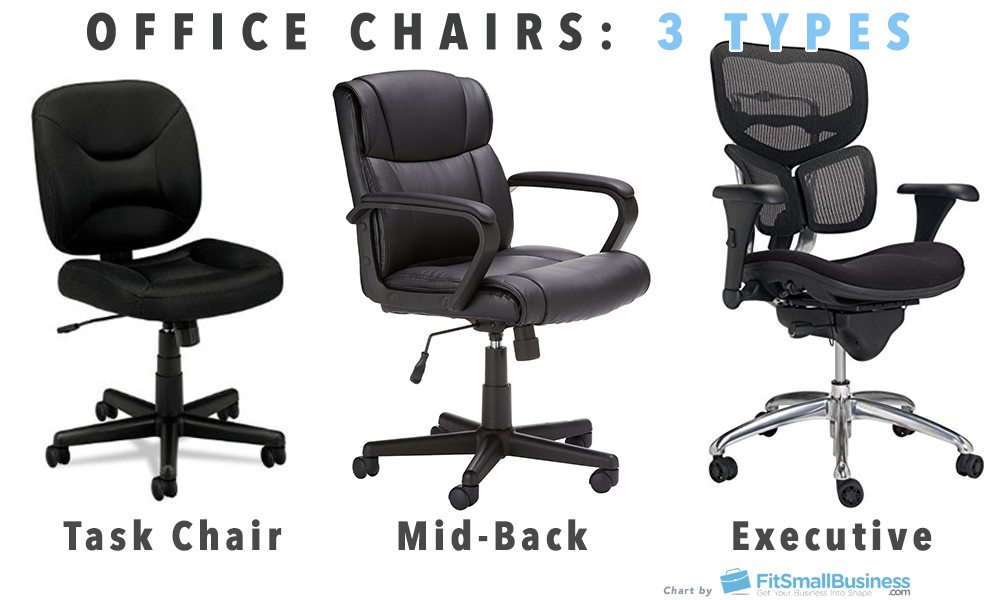 There are three general types of office chairs you can choose from: armless and space saving task chairs, more supportive mid-back chairs, and executive chairs, which are typically the most ergonomic.
Most offices will seek mid-back or executive chairs, as these offer the best support for sitting at your computer. Task chairs come in handy if employees need to alternate frequently between their computer and other tasks. Some, like the basyx by HON (pictured above), are also very supportive and ergonomic, so you aren't necessarily skimping on comfort by choosing a task chair.
For help deciding, check out our guide on the Best Office Chairs where we compare several Task, Mid-Back, and Executive models head-to-head. I personally recommend the Alera Elusion, which I'm sitting in right now as I write this, and have been very happy with for over a year!
Office Computers: Mac, PC, or Chromebook?
The first decision to make is what type of computer you need:
Macs

– Ideal for graphics, video, and audio editing

Chromebooks

– An inexpensive option if you only need web-based tools (Email, CRM, Google Docs, etc.) Check out our

Best Chromebooks for Business

guide for our recommendations.

PCs

– The best and most economical option for all other scenarios
So in other words, unless you specifically need the software available on a Mac, or want the simplicity of a Chromebook, your best bet is to purchase PCs. This gives you the most speed, performance, and functionality (including online and desktop software) for the best price.
The second key decision is whether you want laptops or desktops for your office. You can find either one for as little as $300. With a desktop, however, you tend to get a little more bang for your buck. There's typically more storage and/or a faster processor compared to an equally-priced laptop. If you want to encourage employees to work remotely, however, then laptops might be your preferred choice.
Check out our guides to the Best Business Laptops and to the Best Business Desktops + Monitors for more information and recommendations.
Step 4: Set Up Internet
Although we're listing Internet as the 4th step, this should be something you think about from the very beginning. Before signing your office lease, make sure the location is serviceable by a high speed internet provider. You can confirm this by searching the FCC's National Broadband Map.
For more tips on using this map, and for advice on setting up internet in general, check out our full guide How to Set Up Internet For Your Business.
Once you've found a few providers, it's time to compare their plans, pricing, and contracts. Choosing the right plan depends entirely on how fast of a connection you need. Generally speaking, a small office with 3 to 5 simultaneous internet users should pick a high speed connection with at least 15 Mbps Down and 5 Mbps Up. To learn more about what these terms mean and for more speed estimates, check out our full guide to setting up internet.
Small Business Internet Contracts
The next key consideration is the contract you'll have to sign. The majority of internet service providers (ISPs) require a long term commitment of 1 to 3 years. Should you cancel service before the contract is up (if, for example, you move to an unsupported location or go out of business), you can get hit with a pricey cancellation fee.
In our guide The Best Business Internet Provider in Every US Market, we compare the contract terms of many top business ISPs. Here's a small snippet from that guide which shows how some of the top ISPs compare:
Contract Lengths and Cancellation Fees by Internet Provider
Provider
Contract Length
Cancellation Fee
Time Warner Business
Typically 36 months

Month-to-month available at higher cost
100% of remaining balance (source)
Comcast Business
Typically 2 years

Minimum 12 months
75% of remaining balance (source)

Verizon FiOS Business
Typically 2 years

Month-to-month available at higher cost
30-day money back guarantee

Afterwards, 35% of the remaining balance
AT&T Business
Typically 12 months

Month-to-month available at higher cost (but not publicly advertised)
30-day money back guarantee

Afterwards, $20 for each remaining month
To learn about more providers, including Charter, Frontier, CenturyLink, and Cox, be sure to check out our full guide. We also compare internet service providers by price, speed, and customer service.
Step 5: Set Up a Phone System
There are a few different options out there for small business phone service. If you want a full-on phone system with handsets for each employee, we recommend Nextiva. In addition to providing business phones with transfer and hold functionality, you can set up an auto-attendant and phone tree, which greets callers and helps them self-direct their call.
Nextiva is a VoIP phone provider. If you're not familiar, VoIP stands for Voice Over IP – and it means the phone system uses the internet rather than traditional landlines.
This helps you save a ton of money – about $1,200 per phone line over 2 years, as we found in a head-to-head comparison. It also makes setup much easier. You can manage everything online – from setting up your phone tree to managing extensions. Employees can also check their voicemail online and even get messages forwarded to their email automatically.
If you want an option that's faster and less expensive than Nextiva, you can also go with an auto-attendant like Phone.com or Grasshopper. This allows you to link everybody's cell phone into an interconnected business system. In other words, a caller dials your business and reaches an automated menu and phone tree where they can connect to the right employee. Your employees won't give out their personal number, but they will use their own cell minutes.
To learn more about Nextiva and other top business phone providers, check out our guide: Best Small Business Phone System: Which Provider is Best for Your Business?
The Bottom Line
Setting up an office requires a lot of decisions. While you may be tempted to move quickly, taking your time now when it comes to decisions like internet can pay off tremendously in the long run. Poor connections and inflexible internet contracts is a major source of headaches for small business owners.

If you do need to act quickly, there are good temporary options – like using folding tables for desks and a simple auto-attendant/phone tree in place of a full business phone system. Just be sure to adapt as your business evolves. Our Starting a Business section is loaded with reviews, buyer's guides, and helpful tips, for setting up your office and beyond.
If you're still shopping for the perfect office location, don't forget to visit the experts at Liquidspace and let their concierge service find the perfect location for you!