6 Best Virtual Office Companies for 2023
A virtual office offers the benefit of having a physical address and the perks attached to it without the expense of a lease and administrative staff. If you're in the market looking for the best virtual office, consider these top factors: excellent location, phone number and live receptionist inclusions, on-demand access to physical workspaces, and flexible membership terms and payments. In this article, we evaluated the best virtual office companies and determined how each of them fits specific business needs.
Who are virtual offices best for? Virtual offices are ideal for startups aiming to reduce costs, small to medium-sized organizations exploring a new location, and companies wanting to secure a prestigious address.
Best Virtual Office Companies at a Glance
Best Virtual Office Companies

Monthly Starting Price

Locations

Office-related Services

$29

California, Delaware, Florida, Idaho, Illinois, Montana, New York, Texas, Washington, and Wyoming

Same-day digital scanning, physical mail forwarding, and phone services

Visit Northwest Registered Agent

$49 in New York
(Use code FSB99, which takes $99 off the setup fee)

United States (46 states), Mexico, United Arab Emirates, Netherlands, United Kingdom, and 38 more countries

Mail receipt, pick-up, and forwarding, VoIP phone system, and live receptionist

Visit Alliance Virtual Offices - Use Promo Code FSB99 for $99 off

$14.99

None, purely online

Sococo map, virtual meeting rooms, and collaboration tools, such as chat and screen share

Visit Sococo

$49

United Kingdom, Germany, Hong Kong, Japan, Mexico, Netherlands, United States (all 50 states), and 105 more countries

Mail receipt and forwarding, internet and presentation tools in meeting rooms, and meeting catering services

Visit Davinci Virtual Office Solutions

$79.20

Australia, China, Singapore, Japan, France, Turkey, and United States (New York, Chicago, Washington D.C., Houston), and 14 more countries

Business phone number, access to coworking spaces for three hours, and reliable video conferencing in meeting rooms

Visit Servcorp

$129 in New York

Australia, Canada, England, France, New Zealand, Singapore, United States (46 states), and 110 more countries

Mail forwarding, regional or national business phone number and professional call answering, and access to offices or coworking spaces

Visit Regus
Northwest Registered Agent: Best Overall Virtual Office Company
What We Like
Straightforward fees and affordable monthly plan
Free credit card processing consultation
Business phone number included in the basic plan
What's Missing
Limited location options
Fees for conference room rentals not clear
Lacks coworking spaces and private offices
Northwest Registered Agent Pricing
Virtual office: $29 a month for a professional business address, mail forwarding, and business phone number
Registered agent: $125 a year for local document scanning, free limited mail forwarding, access to prefilled state forms, and annual report compliance instructions and reminders
Add-on: $9 for each additional phone number
Free trial: 60 days for business phone service
Northwest Registered Agent is the best overall virtual office as it has comprehensive, affordable services. Its monthly plan only costs $29 a month, covering phone services, same-day digital scanning, physical forwarding, and a unique suite number for a professional business address. It's significantly cheaper than Regus and almost all other providers in this guide.
Its voice-over-internet-protocol (VoIP) service offers call forwarding, enabling businesses to pick up all incoming calls from clients and colleagues. The phone system has a voicemail box and transcription capability, making it easy to remember details and action points from calls. Since the provider offers registered agent services, it also helps businesses in the new company filing and registration of existing companies in other states.
While Northwest Registered Agent has excellent, cheap virtual office services, it operates only in select locations. If you want to set up an office in locations not covered by Northwest Registered Agent, you'll likely find it in Regus, as it has a vast geographical footprint.
Northwest Registered Agent Services
Free credit card processing consultation: Let Northwest Registered Agent find the best and cheapest options for collecting payments. With their low rates and prenegotiated contract terms, you'll be able to introduce hassle-free payment platforms for your clients and customers.
Registered agent: Worry no more about compliance requirements like Federal Motor Carrier Safety Administration (FMCSA BOC-3) trucking filing. With the provider's registered agent's services, you'll also ensure that your business receives all legal documents from local law enforcement agencies.
Mail forwarding: Receive a scanned copy of your mail the day the virtual office company receives it. Rest assured that they are kept private in a secure online account. Northwest Registered Agent also provides physical mail forwarding.
Alliance Virtual Offices: Best for Its Flexible Live Receptionist Plans
What We Like
On-demand access to meeting rooms and office spaces
Use of onsite amenities, such as photocopier and printer
No setup fee for live receptionist plans
What's Missing
Setup fee is required to get started on the virtual office
Additional cost for virtual phone and business number
Frequent mail forwarding is not included in its entry-level plan
Alliance Virtual Offices Monthly Pricing*
Platinum: Starts at $49 for a professional business address in New York, mail receipt and forwarding, and usage on the business license in the United States (U.S.), bank account, website, and business cards
Platinum with Live Receptionist: Starts at $145 for 50 live answering minutes a month and a dedicated phone number
Platinum Plus: Starts at $399 for access to meeting rooms or private office for up to 16 hours
Platinum Plus with Live Receptionist: Starts at $499 for phone services and access to meeting rooms or a private office for up to 16 hours
Add-ons

Mail forwarding: $10 plus postage costs for mails delivered every month, $20 plus postage for every two weeks, $30 plus postage for once a week, and $70 for daily
Virtual phone number: $30 for a local or toll-free number, VoIP system, auto-attendant, and local and long-distance calling minutes
*The contract is for a six-month term, and new clients are charged a one-time fee of $150.
Alliance Virtual Offices is the best virtual office for small businesses that prioritize having a live receptionist—offering dedicated plans for this service. The features included in the plans are personalized live call answering from Monday to Saturday and real-time appointment scheduling through an app.
The live receptionist uses an advanced VoIP phone system that allows them to screen calls. Meanwhile, your dedicated phone number has unlimited extension numbers and calling minutes.
The drawback in choosing Alliance Virtual Services is that you need to settle the setup fee to get started. If you don't want to spend more, go for Northwest Registered Agent, as its virtual office plan costs only $29 monthly.
Alliance Virtual Offices Services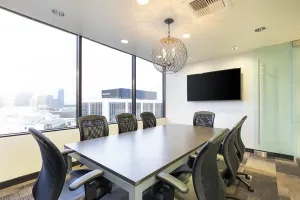 ---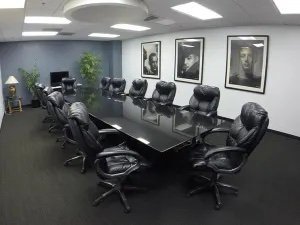 Office spaces: Book meeting rooms and coworking spaces as needed. The Platinum Plus plan offers the use of meeting rooms for up to 16 hours. The starting price for the coworking spaces is $150 a month.
Valuable amenities: Visit the business center when you need to print important documents. Other amenities offered in Alliance Virtual Offices include coffee and snack stations.
Business phone number: Choose between local and toll-free numbers, depending on your business needs. Use the phone system provided and maximize the 50-plus advanced call management features, including call screening, call recording, call waiting, caller ID, call blocking, after-hours greetings, and conferencing.
Sococo: Best for Those Who Want to Mimic a Real-life Workplace
What We Like
Online collaboration tools that mimic real-life collaboration
Generous conferencing minutes per month
Integrations with conferencing platforms, namely Zoom, Webex, and Google Meet
What's Missing
No physical business address since it operates purely online
Lacks mail receipt and forwarding services
Interface may be confusing to some users
Sococo Monthly Pricing
Sococo: $14.99* per seat for a minimum of 10 seats and 500 conferencing minutes per seat
Sococo Unlimited: $24.99** per seat for a minimum of 100 seats and unlimited conferencing minutes per seat
Free trial: 14 days for a maximum of 25 users
*Pricing is for a monthly billing cycle. Annual billing is available, which costs $13.49 per month.
**Pricing is exclusively for annual billing.
Sococo is among the top virtual office services providers most suitable for permanently remote teams that don't require a physical workspace but want to feel connected all the same. It simulates a real-life office, with the Sococo map offering a layout view of the entire workplace, offices and meeting rooms included, so you know where your team members are.
The typical actions in a physical office are mimicked as well. There's an option to "get" a teammate and pull them into a real-time virtual discussion or "knock" on a meeting room to join the conference. Live audio and HD video conferencing tools are available, as well as team chat and file and screen sharing. Sococo has an iOS and Android app, making it easily accessible for mobile teams.
As you would expect, the drawback in choosing an exclusively virtual office solution like Sococo is that it doesn't have a physical business address. There's no administrative staff receiving and forwarding emails to your workplace. If your team needs to meet every now and then and receives mail on a daily basis, it's better to choose the overall best virtual offices provider Northwest Registered Agent, as its subscription plan already covers mail forwarding.
Sococo Services
Get User: Ask team members to go to specific huddle spaces within your virtual workspace. It's as simple as right-clicking the avatar of the user you want to invite and selecting the option "Get User."
Integrations with conferencing platforms: Connect your Sococo virtual workspace to conferencing platforms Zoom and Google Meet and to unified communications tools Webex and Microsoft Teams. Slack also integrates with the platform.
Floor plans and office decor: Create different floor plans and make room for different departments in your team. Include decor like lamps, tables, chairs, and cabinets to make the virtual office more like a real office.
Davinci Virtual Office Solutions: Best Virtual Office for Expanding Operations Overseas
What We Like
Wide range of locations locally and overseas
Availability of 20,000 meeting spaces
Registered agent services
What's Missing
Fee for the virtual office setup
Additional cost for mail receipt and forwarding
More expensive live receptionist services
Davinci Virtual Office Solutions Pricing
Virtual office: Starts at $49* a month (depending on the location) for a professional business address, lobby greeter and directory listing, and access to business support center
Add-ons: Meeting rooms start at $10 per hour, depending on the location; live receptionist services start at $129 a month for 50 live answering minutes, and live web chat starts at $79 a month for 25 chat sessions per month
*A setup fee is required, which starts at $150.
Davinci Virtual Office Solutions is among the ideal virtual office providers for those wanting to expand their business internationally without incurring huge costs. The provider operates in over 100 countries, including Australia, Colombia, Denmark, India, Indonesia, Panama, Spain, South Korea, and the United Kingdom. By choosing a virtual office over a traditional workspace, you won't have to spend a lot on rent and administrative staff when venturing into a new location.
One notable feature of this provider is the automated, digital registered agent platform, which monitors and secures Service of Process (SOP), official notifications, and compliance deadlines. This streamlined registered agent service is highly beneficial for businesses branching out in a new location, as it will make legal requirements easier to manage.
However, take note that when you choose Davinci Virtual Office Solutions, you'll be paying a setup fee of $150 for your virtual office. Other providers like Northwest Registered Agent don't charge for the setup.
Curious about the other types of workspaces in Davinci Virtual? Read this comprehensive Davinci Virtual review.
Davinci Virtual Office Solutions Services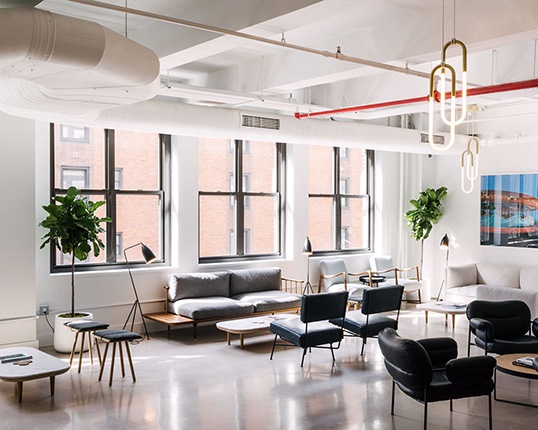 ---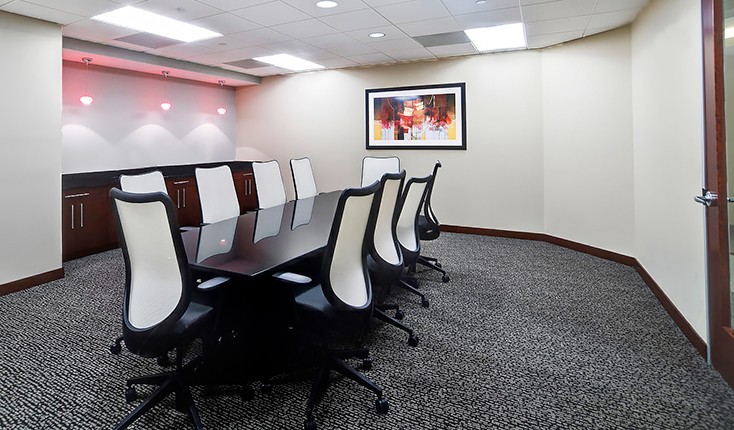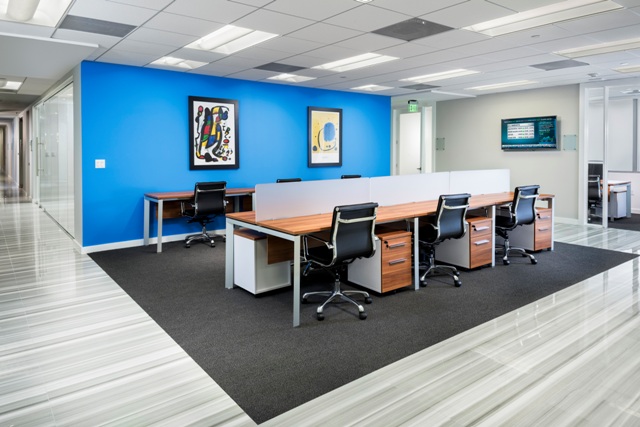 Business support center: Have important business documents ready using the center's copying, color printing, and faxing services. Office supplies are likewise available.
Lobby directory listing: Establish credibility and professionalism by having your company's name posted in the official lobby directory.
Offices for different needs: Aside from virtual offices, this provider has permanent offices, meeting rooms, coworking spaces, and event venues. Businesses are able to book right from the provider's website.
Servcorp: Best for Teams Occasionally Needing a Physical Office
What We Like
Free first month of virtual office subscription
Free use of coworking spaces worldwide (up to 3 hours per day)
Broad range of location options
What's Missing
More expensive entry-level plan compared to other virtual office providers
Dedicated phone number comes with additional cost
U.S. offices are limited to four cities only: New York, Chicago, Washington D.C., and Houston
Servcorp Monthly Pricing
Address package: $79.20 for a business address, mail and courier management services, and worldwide complimentary access to coworking space for up to an hour per day
Communications package: $79.20 for a local business number, dedicated receptionist, live call answering, forwarding messages, and interactive voicemail
Virtual office: Starts at $134.40 for a professional business address, mail management, local phone number, and dedicated receptionist
Servcorp is the ideal small business virtual office if you need physical workspaces every now and then, such as when team members need a reliable internet connection or attend learning sessions. The provider's package includes a range of perks you can use to work and meet with colleagues in other types of offices. For one, it includes free access to coworking spaces worldwide for up to three hours.
Similarly, you have complimentary use of a private office or meeting room at your home location for a maximum of eight hours a month. There's also a one-day complimentary use of a private office in any location outside of your home city. Take advantage of this perk if you're planning to switch to a permanent workplace and set up a physical office.
Servcorp's virtual office solution is highly flexible. There's a plan for those who need a professional business address only, and then there's an option for those who only require a dedicated phone number.
Before subscribing to Servcorp's virtual office solutions, note that it only operates in four U.S. cities: New York, Chicago, Washington D.C., and Houston. If your target location is not included in their portfolio, choose Regus or Davinci Virtual Office Solutions instead, both of which have a more extensive geographical footprint than Servcorp.
Servcorp Services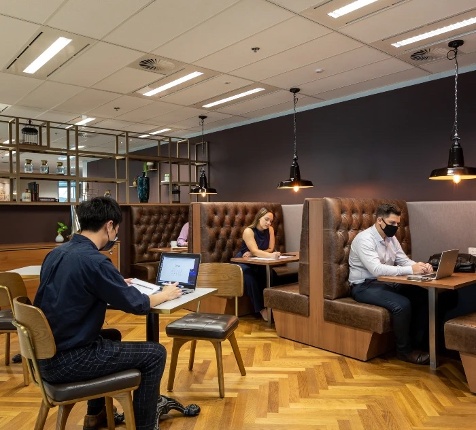 ---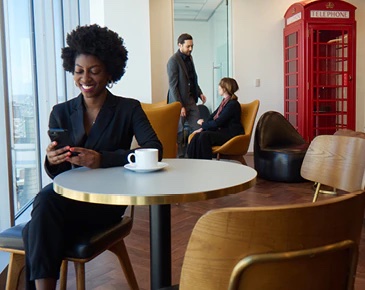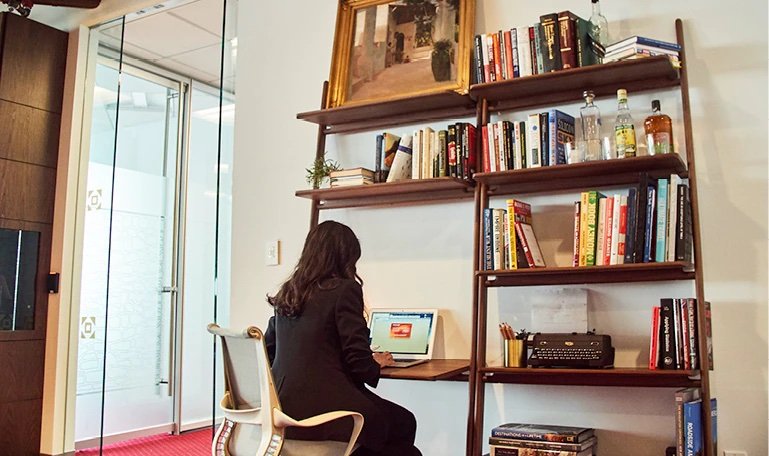 Secretary and receptionist: The virtual receptionist picks up and redirects incoming calls to appropriate channels, ensuring that you get all the important messages from clients. The virtual secretary, on the other hand, handles all the administrative tasks, including email and fax requirements.
Mail forwarding: Even if you're a highly mobile team, you'll be able to get the packages and mails you need wherever you are. Servcorp has flexible mail forwarding options.
VoIP app: Use Servcorp Onefone to make and receive calls on your phone number from anywhere in the world. There are no international call or cellular global roaming charges.
Regus: Best Virtual Office for On-the-go Small Businesses
What We Like
Mail handling is available at the entry-level plan
Availability of other flexible workspaces, namely meeting and conference rooms, coworking spaces, day offices, and private offices
Extensive geographical footprint extends overseas
What's Missing
More expensive plans compared to other providers
Poor customer service, according to some businesses
Workspace access only available in the high-tier plans
Regus Monthly Pricing*
Business address: Starts at $129 for a business address in New York and mail handling
Virtual Office: Starts at $275 for a local phone number, live receptionist, unlimited business lounge access, and two-day office use
Virtual Office Plus: Starts at $415 for extended workspace access (five-day office use)
*Fees change based on location.
Regus is an excellent virtual office choice for on-the-go teams, as it offers services that support mobile operations. Its active presence in several locations worldwide offers several options for the best virtual address for business.
The provider's Virtual Office Plan covers a two-day use of a physical office at your chosen center. This feature is especially beneficial if you're still exploring the feasibility of certain locations for your business. Reserving workspaces is easy even while traveling since you can do it via the app. With Regus Express, you get complimentary access to business lounges around the world.
The only drawback in choosing this provider is its high virtual office prices. Its business address package starts at $129 for a location in New York. If you're looking for an affordable virtual office, Northwest Registered Agent is your best bet, as it only costs $29 a month.
Regus Services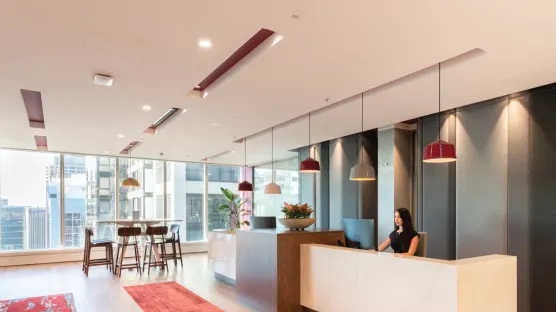 ---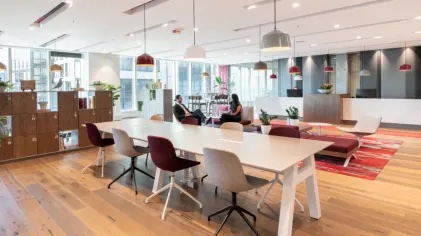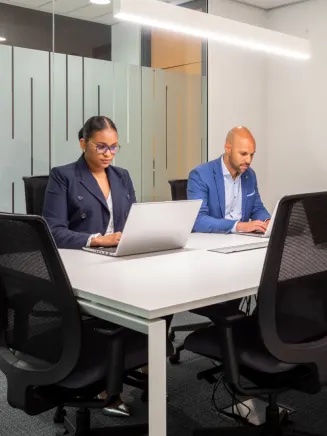 Airport lounge access: If you're constantly traveling for work, you'll benefit from Regus hubs in airport terminals. Here, you get access to Wi-Fi, enabling you to squeeze in work between flights.
Community networking: On days when you're meeting the team physically at a Regus office, you have the opportunity to meet other professionals and entrepreneurs in the events organized for the community.
Professional receptionist: Maintain a professional image when clients and partners go to your virtual office to drop off packages or meet you face to face. The highly trained receptionist will welcome your guests.
How We Evaluated Virtual Office Companies
The market is teeming with various agencies offering flexible workspaces modern businesses need. To determine the best among the top virtual office companies, we looked at these criteria points:
Pricing
We considered the monthly cost of virtual office packages of each provider. Those that offer discounts for annual billing or perks like a free first-month subscription got more points.
---
Business Address
We looked at the locations offered by the virtual office service providers and favored those with a vast geographical footprint, especially those that have offices overseas.
---
Phone Numbers
We gave more points to providers that offer local and toll-free in their entry-level plans. Those that have free trials on their phone service earned more points.
---
Receptionist
We considered the cost of live receptionists if this service is available in the basic plans. We gave higher scores to providers that have generous live call answering minutes.
---
Physical Space to Use
We looked into virtual office plans offering workspace access. Companies that provide complimentary use of private offices and meeting rooms earned an advantage.
---
Extra Services
We looked at the networking events the virtual office provider promotes. We also considered the services they offer to make remote work easier for businesses, including registered agent solutions, same-day digital scanning of mail, and VoIP services.
---
Bottom Line
A virtual office is an excellent solution for small businesses that want to secure a professional address in a top-notch location with fewer costs. Based on our evaluation, Northwest Registered Agent is the top choice in the list of best virtual office services because its affordable plan covers the basics businesses look for: sought-after address, business phone number, and mail forwarding. Get started with Northwest Registered Agent for only $29 a month.