31 Best Office Gadgets for Better Productivity in 2023
Arming your team with the best office gadgets enhances productivity, allowing you to work more efficiently. This list includes a wide range of highly recommended options—from computer accessories, peripherals, and productivity tools to ergonomic products like standing desks and monitor stands. Aside from improving the overall office environment, they also impact physical and mental well-being, enabling team members to focus on delivering maximum results.
If you're looking for helpful equipment, read through our recommended 31 of the best gadgets for a home office that won't break the bank.
Computer Accessory & Communication Office Gadgets
Computers are essential tools used in every aspect of business operations, and having the right accessories will help improve work efficiency. Whether you're using a laptop or desktop, get the most out of your computer by investing in these gadgets.
1. Office Gadget for Business Communications: VoIP Phone System
Using voice-over-internet-protocol (VoIP) phone systems lowers expenses by capitalizing on your existing internet connection rather than using a separate landline phone system. VoIP hardware carries with it all the expanded features of a VoIP system with the hardware profile of a standard telephone. Most VoIP phones have screens with either touch or button interfaces and are compatible with most VoIP service providers.
Check out the Yealink T57W IP Phone and other devices, like Unify CP600, Cisco 8851, and Polycom VVX 450, which are also compatible with Nextiva and RingCentral. VoIP phones are one of the best gadgets for the office for small businesses and cost from $40 to $200. VoIP services start at around $20 to $30 per month.
Not sure where to start with a VoIP provider? Here's a quick rundown of three of the best as featured in our business phone systems guide:

This provider is one of the best for both traditional VoIP as well as for expanded unified communications. This is due to the fact that it has hundreds of integrations with third-party app providers, like Salesforce and Zendesk, and because it also highly embraces team collaboration. RingCentral also has a very reasonable pricing structure, with both volume and annual discounts. We take a look at this provider in more detail in our RingCentral review.

Nextiva serves as an excellent solution for businesses in need of toll-free minutes. At their max level, you get up to 12,500 of these minutes per month. Also, like RingCentral, Nextiva has a strong team collaboration structure with its Cospace app and also has both volume and annual discounts. Check out our Nextiva review for a deep-dive look at this provider.

One of the first VoIP providers, Vonage also has a dedicated business phone system that has unified communications features. Subscribers receive more than 50 business phone features across all plans, and there are several potential models of VoIP phones that are compatible with the service. Like the other two providers, Vonage also has strong service reliability with a service level agreement (SLA) that guarantees 99.999% uptime. Read more in our Vonage review.
In addition to their hardware compatibility, all three of these VoIP solutions are portable and offer additional features, such as video conferencing and call analytics. With advanced features, your employees are better able to communicate with customers, collaborate, and stay connected when mobile.
For a look at some other effective VoIP phone models, check out our guide on the best VoIP phones for small businesses.
2. Portable Audio Conferencing Device
Instead of having multiple bulky microphones cluttering your conference table, use portable conference speakers with a built-in microphone and one-touch controls. Quickly mute and unmute the device with a touch of a button and experience impressive sound quality.
We recommend the portable Jabra Speak 510 Wireless Bluetooth Speaker, which costs $139. It connects via Bluetooth or USB (universal serial bus) and features a 360-degree microphone that picks up sounds from all angles. Other brands with one-touch functionality range between $60 and $200.
3. USB Docking Station
If you don't like having multiple wires and dongles attached to your computer, a USB (universal serial bus) 3.0 docking station is a must-have office gadget. The Plugable USB 3.0 Universal Laptop Docking Station supports dual monitors and connects all your peripherals through a single cable to your computer. This eliminates cluttered cords and tables, making it one of our highly recommended gadgets.
This accessory gives you an additional 11 ports and costs a little more than $100. This laptop docking station is universally compatible and easily connects with later versions of Windows and macOS.
4. Hardware-encrypted Portable Drives
Encrypting your hard disk drives (HDDs) and solid-state drives (SSDs) provides next-level data security ideal for businesses that handle and transport sensitive information. When considering an HDD or an SSD, note that HDDs hold more data, but SSDs are considered more durable.
Apricorn 1TB Aegis Padlock Portable External Hard Drive uses military-grade Federal Information Processing Standards (FIPS) with a self-destruct feature. The 1TB model featuring a security key starts at about $225. Encrypted HDDs and SSDs can run from $50 to the hundreds, depending on the capacity and features you need.
5. Portable Laptop Monitor
Increase your screen space and simplify multitasking by adding screens to your computer or laptop. Portable laptop monitors are simple desk gadgets for work that drastically improve your computer workflow through easy side-by-side document review and application switching. Different sizes and resolutions are available, and these monitors are designed to be compatible with most laptop brands and operating software.
The SideTrak Swivel monitor costs $349 and swivels and rotates for easy screen adjustment.
6. Analog Telephone Adapters
Many people still use landline phones, but this doesn't mean that you won't be able to use VoIP as a calling solution. Fortunately, there are analog telephone adapters (ATAs) available that allow you to use your old phones over the internet. This opens up the option to dial more cheaply for both domestic and international calls.
Some VoIP providers, like Ooma, even have their own versions of ATAs that go with their service. This allows you to quickly convert your calling without the extra steps of finding a phone designed exclusively for VoIP. In addition, Ooma's home-based plan is free with the purchase of their Telo device. Find out more about Ooma in our dedicated Ooma review.
7. Screen Mirroring Device
Screen mirroring allows you to share a screen from one device to another, making collaboration and information sharing quick and easy. Mirroring devices are particularly useful for office collaboration, training, and external presentations. Depending on the device, wireless screencasting is generally compatible with all devices, like phones, tablets, and computers.
Google Chromecast is one of the most popular and flexible mirroring platforms that works well on Android, Samsung, Google, and Microsoft devices. Chromecast works on Apple devices if the specific app supports Chromecast. Apple users may use the Google Home app to link their streaming devices and cast video and audio to their TVs. Google Chromecast devices cost about $40.
8. Color 3D Printer
You'd be surprised at how affordable 3D printers have become. While the technology is still developing, prices have decreased, and sizes have become more compact, making them much easier to set up and operate. If you're in the market for low-cost 3D printers, try the XYZPrinting Da Vinci Mini. It's great for businesses that need on-demand printing and rapid prototyping.
The Da Vinci Mini prints over a USB or wireless connection and has a 6x6x6-inch aluminum print bed, allowing you to print an array of bigger objects. Starting at about $180, it's perfect for making a tiny product prototype or creating a 3D version of your logo to toss around the office.
9. Wireless Keyboard & Mouse
If you're a fan of minimalist workstations, a wireless keyboard with a mouse is a great way to keep your desk neat. Wireless devices also offer excellent mobility, and if you get a paired set, you'll only need one USB slot for both devices to work.
Check out the Logitech MK270 Wireless Keyboard and Mouse Combo that comes with a full keyboard with a number pad, eight media controls, and a mouse with an ambidextrous design. Prices start at $23.
10. Wireless Charging Desk Pad
A charging pad serves many purposes: a smooth mouse pad, a computer surface, and a charger for Qi-compatible devices, such as phones, tablets, and wireless earbuds. Try the Officity Wireless Charging Mouse Pad, which eliminates phone charging cord clutter, priced at about $32.
This cool office gadget serves as a drop zone for your things. Consider placing one at your reception desk or your company break room so staff members or clients can charge their mobile devices when needed.
Productivity Tools & Other Office Gadgets
Based on our research and experiences with these gadgets, here are our recommended budget-friendly productivity tools that are best for small businesses. Don't worry—these tools are compatible with most devices and operating systems.
11. Universal Travel Adapter
This is perfect for people who travel for work or for free-spirited solopreneurs and freelancers who work online anywhere they can get service. The Apple World Travel Adapter Kit is best for Apple users at $29.00. At the same time, the EPICKA Universal Travel Adapter is a highly recommended all-in-one, world multi-function travel adapter priced at about $25. The adapter is a luggage essential that equips you with international power adapters for all your devices.
Enjoy the convenience of plugging any electronic device into any outlet while traveling. Users also avoid overloading with helpful safety features, such as 8A overload dual fuse and safety shutters.
12. Label Writers
Small businesses and solopreneurs who want to streamline label printing will love the Brady M210 Portable Label Printer. This is one of the best gadgets for small teams needing a heavy-duty printer with smart automatic formatting. It features auto-format labels with 11 preloaded application design guides for rapid and accurate label creation. Use this nifty office gadget to print shipping labels, warehouse labels, and barcodes with ease.
The M210 multi-line printer costs about $120, but other brands and models are available that cost between $30 and $60.
13. Outlet Tower
Using a vertical outlet tower with multiple plug outlets and USB ports allows you to power more devices safely, conveniently, and neatly. If you have a centralized station for printers and scanners, a power tower ensures you have enough accessible outlets for the space. If you have a waiting area for clients, this is an excellent way to add a personal touch your customers will surely appreciate.
The BESTEK Power Strip has a built-in wireless charger and intelligently detects your devices to deliver its safest maximum charge speed of up to 2.4A per port. Opt for power strip towers with a surge protector feature that prevents power spikes from damaging your electronics. Prices for these similar office tech gadgets start at $40.
14. Digital Notebook
Paper tablets are some of the coolest home office gadgets because of their functionality. Sketching and writing on these devices are as close to the feel of paper as it gets. Digital notebooks are great for note-taking during meetings and jotting down ideas. These are eco-friendly and versatile alternatives to paper. Easily share your sketches and notes with colleagues and clients via email.
Send your notes to popular cloud services like Google Drive, Dropbox, OneNote, Slack, and iCloud using the free Rocketbook application for iOS and Android. It comes in two sizes, both priced at under $40.
15. Screen Highlighter & Scanner
Combing through documents and creating summaries will be easier with digital highlighters that scan lines of print using optical character recognition (OCR) technology. This is useful for entering text and figures in data administration software or scanning excerpts from books or printed material to use in reports.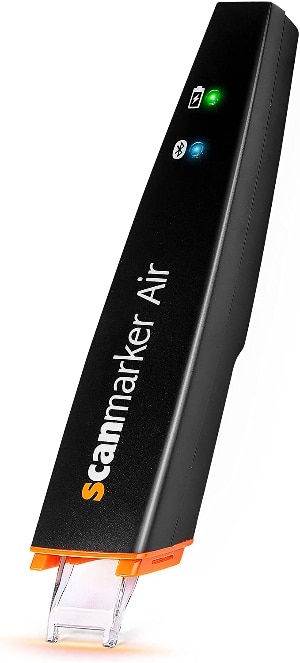 Check out the Scanmarker Air Pen Scanner that scans 3,000 characters per minute and translates over 40 languages. Scanmarker apps will read the text to you in real time while scanning. This is definitely one of the coolest desk gadgets out there, and you can buy this screen highlighter for $149.
16. Control Deck
Customize hotkeys of everyday actions and transform this streaming tool into one of your top office gadgets. Control decks give you access to your desired tasks with a button push. In an office setting, use this to quickly pull up Zoom and open a set of browser tabs. Use the control deck to initiate a shortcut to any app. These are highly customizable, boost productivity, and take up little desk space.
The Elgato Stream Deck Mini pricing starts at about $72 for six macro keys and around $250 for a set with 32 keys.
Office Environment Gadgets
We've rounded up the best office gadgets you must have to ensure your office space is comfortable, safe, and operating efficiently. From stable internet connections to automated coffee machines, here are great electronic tools to improve everyone's office experience.
17. Wi-Fi Extender
If you're suffering from internet dead zones in the office or around your home workstation, a Wi-Fi extender is a low-cost, effective fix.
An extender works by re-broadcasting your wireless signal to cover more areas. NETGEAR's WiFi Mesh Range Extender EX8000 is an excellent choice for offices as it covers up to 2,500 square feet and accommodates up to 50 devices. This model costs $299, but lower-cost options are priced from $20 to $70.
Note that the efficiency of a Wi-Fi extender depends on the device placement and the reliability of your internet connection.
18. Smart Video Doorbell
Due to budget constraints, small businesses may opt for smaller spaces without building security or working out of a home office. This is one of our top office gadget picks because it allows real-time remote viewing and increases office security. Ring Video Doorbell is a safety gadget that lets you see who's at the door, allowing you to either grant or deny access through your phone app.
Ring Video Doorbell costs $99.99 and could be worth every penny for the connectivity and robust support that this product provides. It has a 1080p camera with a motion sensor and night vision to help you quickly recognize and even take a picture of who's trying to enter your office.
19. Portable Power Station
Small power ports are great, but sometimes you need to be able to plug in something bigger than a USB drive. Enter the portable power station. These cool gadgets let you take your mobile office wherever you want to work—at a coffee shop, the park, or the mechanic's waiting room while changing your oil.
The MARBERO Portable Power Station, priced at just under $100, is small and lightweight, making it easy to carry around.
20. Ring Light
The ring light is, in our opinion, one of the coolest office gadgets that is excellent for video conferencing. It provides even and flattering lighting, effectively reducing the shadows on your face. As it diffuses light around the room and the subject, it minimizes blemishes while illuminating the eyes. Several design options are available online, ranging in price from $20 to $35.
21. Keyless Smart Door Lock
Say goodbye to locked offices because someone forgot to bring the keys. Install a keyless electronic door lock to your office controlled via a mobile app, keypad, or cloud key credential, depending on the model. These are great because they increase access without compromising security and easily keep unauthorized persons out.
The Yale Assure Lock Touchscreen costs $270.50 and connects to your preferred voice assistant or smart home system, such as Amazon Alexa, Apple HomeKit, and Hey Google. Use your phone or Apple watch on this futuristic office gadget to open the door, while the Yale Access app lets you remotely lock and unlock the door.
22. Smart Coffee Maker
If you're a coffee person, you have just found the best desk gadget. Smart coffee machines allow you to schedule and automate coffee brewing. Depending on your chosen device, easily create daily or weekly schedules and operate your device using your smartphone or voice commands.
The Atomi Smart WiFi Coffee Maker can fill 12 cups of coffee in a single brew, making it great for small offices. It works with Google Home or Alexa, includes a reusable filter, and features a spill-free sensor. This device costs $90, but if you need a more advanced machine, check out the Philips 3200 Series Fully Automatic Espresso Machine.
23. Noise-canceling Headphones
Noise-canceling headphones are essential to your office toolkit since you can't always control the noise around you. Whether in the office or at home, these help you zone out and focus on your work distraction-free.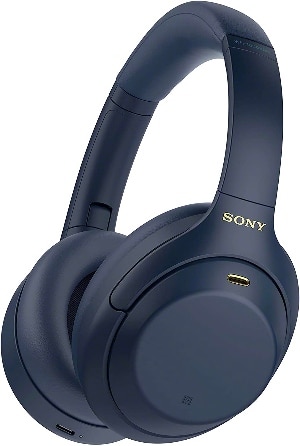 These Sony headphones have high ratings for sound quality and active noise canceling. It enables you to hear your music or phone calls clearly, no matter how loud the environmental noise is. They include a microphone for phone calls, a 30-hour battery life, and a wearing detection feature that automatically pauses playback when the headphones are removed. This pair of headphones cost about $350.
For more headset options, check out our guide on the best VoIP headsets and find the one that's best for your small business needs.
24. UV-C Germicidal Bar
Keep your station clean, safe, and sanitized with a portable UV-C (ultraviolet-C) sanitizer that kills germs and bacteria in seconds. This is one of the best gadgets for the office desk that you can use for your mobile phone, conference table, incoming packages, and sofas.
Check out The Germ Reaper, which sanitizes work areas and removes odor-causing bacteria in 10 seconds. Get one light for $36 and a pack of two for $60.
25. Mini Air Purifier
This top-rated, compact KOIOS H13 HEPA Air Purifier uses HEPA (high-efficiency particulate absorbing) filtration to keep you breathing easier in your home office or office cubicle. It has a one-touch auto mode with a built-in smart sensor, a three-stage filtration, and a three-year warranty. Breathing cleaner air means fewer days of team members calling in sick.
At $75.99, this air purifier has an attractive, sleek design and improves the overall health of office workers.
Ergonomic Products
Work can get stressful, but ergonomic gadgets for the office help transform your workstation into a comfortable area. Ergonomic chairs and anti-blue light glasses serve as very cool office gadgets and help reduce back pain and eye strain, making work hours fly by.
26. Adjustable Standing Desk
An adjustable standing desk allows you to switch between standing and sitting when you are working. Oversitting can cause back pain and various health issues, and many users report that these problems go away after they stand more while at work. A standing desk is definitely a useful office gadget that makes a great addition to your office workspace or home office setup.
Standing desks range in price from under $100 to nearly $1,000.
27. Ergonomic Office Chair
This is one of the top office gadgets worth the investment if your job requires sitting at a desk for long periods. When planning how to set up an office, ensure you have allotted enough space for your workstation and ergonomic chair.
For the budget-conscious solopreneur or small business owner, the NOBLEWELL Office Chair Ergonomic Office Chair is a top-rated option made of premium mesh material. Priced at under $150, it features lumbar, head, back, arm support, and an ergonomic s-shaped back.
28. Under Desk Elliptical Machine
Completing your step goal while working is possible with a cool desk gadget like the Under Desk Elliptical machine. It helps keep you active during the workday, even in front of your computer. The Cubii JR1 Under Desk Elliptical is about $250 and comes with a built-in LCD (liquid-crystal display) and mobile app, allowing you to track your progress.
29. Monitor Stand
When you're working from a desk and looking at your screen for prolonged periods, it's essential to set your monitor to a comfortable height. A monitor stand allows you to adjust your screen position so it's at the correct monitor level, which is five to seven cm below the user's eye level. Monitor stands minimize the possibility of your screen getting knocked because it's securely clamped over your desk. By mounting your screen, you also free up desk space.
Check out the VIVO Heavy Duty Dual Monitor Desk Mount that fits two screens and is fully adjustable. It clamps to your table, giving you more surface space, and comes with a three-year manufacturer's warranty. With a price of about $30 per stand, these office desk gadgets are a steal.
30. Blue Light Blocking Glasses
These glasses are on our list of practical but cool office tech gadgets because they are a great tool that reduces eye strain and damage. Minimize eye fatigue symptoms, like headaches and blurred vision, by using special glasses to filter blue light from digital screens. Prices for these glasses start at about $15.
31. Ergonomic Footrests
Ergonomic footrests help users stretch and relax by aligning posture, which reduces fatigue and discomfort in the ankle, knees, and feet. For those experiencing back pain or sore hips, using a footrest reduces the pressure and weight on those body parts. This gadget for the office lets you elevate your feet to a comfortable height.
If you're looking for one, the Everlasting Comfort Office Foot Rest is an Amazon bestseller and costs $37.99. As an alternative, try portable foot hammocks, which are great for those who travel since they are compact and can be used on airplanes or trains. These cost anywhere from $10 to $25.
Frequently Asked Questions (FAQs)
Not only will good ergonomics promote better overall joint health and reduce muscle pain, but it also reduces the amount of stress during the workday. With the right back, wrist, and joint support, even productivity can increase.
---
True noise cancellation devices, like some headphones, provide what's called an antiphase to sounds in your environment. The antiphase is a generated sound that cancels out sounds being emitted by your local environmental factors. As a result, the incoming sound is virtually canceled out so that you can concentrate.
---
Some key benefits include the reduction of the symptoms of asthma, neutralizing office odors, and the reduction of airborne disease and contaminants. Overall, these devices increase the overall air quality.
---
Bottom Line
There you have it—our 31 best gadgets that will boost your office's morale, productivity, and enthusiasm. Some of these gadgets save time, while others help make your office an even better place to work. There are so many unique gadgets available in the market, and the choice of which tools to use comes down to your budget and priorities.