Geek Squad Prices, Rates, Services & Alternatives in 2023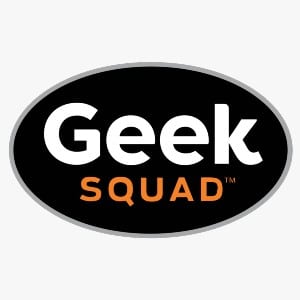 Who Should Consider Geek Squad?
Geek Squad works with businesses of all sizes—from small, local companies to large corporations. It handles huge projects as well as single repairs for a small business. For instance, Voip.com uses Geek Squad services for its customer support, and some hotels hire them to install new televisions in their facilities. You may wonder about the Geek Squad cost per hour—note that Best Buy charges strictly by the visit. There's currently no Geek Squad hourly rate for IT services.
Who May Not Need Geek Squad?
If your technical needs are light, you have an IT team, or you are a small business with tech-savvy employees, then Geek Squad may not be your best answer. In the few cases when you cannot solve an issue on your own, you may find a local computer repair shop to be quicker and more cost-effective. Be sure to check out our list of top Geek Squad alternatives below.
Geek Squad Top Alternatives
Before we get into dedicated features, it's essential to understand that Geek Squad is not the only business IT support service. Here are four of the most reputable services that provide remote and onsite computer support:
| | | | | |
| --- | --- | --- | --- | --- |
| Best For | | Small but frequent tech support tasks, including equipment and account setup, and online and onsite support | Remote computer assistance for infrequent needs | Infrequent and miscellaneous tasks not covered by standard support services |
| Service Pricing | Starts at $5 per remote assistance request | $29 to $129, depending on service (non-membership pricing) | $8 to $100 per hour | $8 to $100 per hour |
| Plan Pricing | Free or $24 per month | $19.99 per month, unlimited devices; $69 per visit for onsite support | Ranges from $0-$49.95 per month | $25, one-time registration fee |
| Learn More | | | | |
Per-service vs Monthly Plan Pricing & How to Choose
How much does Geek Squad charge? The IT service provider charges $300 per onsite service visit for business locations. If it's a one-time need, you may be able to order individual Best Buy Geek Squad services from the homeowner menu or take your device into the store instead.
Monthly plans incur a setup fee of $99.99 and a monthly fee of $24.99 or $49.99 per user, depending on the plan you choose. Since it's a subscription, you pay this fee even if you don't use the service that month, but it saves you money if you have a big problem or need frequent IT support. Geek Squad's business service pricing is not easy to find online, so we recommend reaching out to customer support and asking questions based on your business needs.
Geek Squad In-store Services
Geek Squad offers in-store services that can be booked online through the Best Buy website. You can schedule a repair, tune-up, troubleshooting, or consultation. Once you have an appointment time, you can go into the store and drop off your device for repair or meet for your consultation or troubleshooting. You can also stop into Geek Squad without a reservation, but it's not recommended as you may experience long wait times.
In-store Service Pricing
Geek Squad's prices for in-store services vary by the type of device, the status of the device, and by the specific service. If you want to know how much does Geek Squad cost for in-store visits and for those thinking of taking their IT needs into their local Best Buy, check out the breakdown below:
| Services | Prices |
| --- | --- |
| Setup for Computers & Tablets | $39.99 |
| Setup for New Devices | $39.99 |
| Hard Disk Drive to Solid State Drive Upgrade |  $139.98 |
| Geek Squad Diagnostic/Repair Fee |  $149.99 |
| Physical Damage Repair | $84.95 + parts |
| Virus & Spyware Removal | $149.99 |
| Data Recovery, Level 1 (Deleted Files, Reformatted Drive) | $200 |
| Data Recovery, Level 2 (Corrupted Files, Drive Imaging) | $450 |
| Data Recovery, Level 2 Advanced (Needs Advanced Firmware or Hardware) | $550 |
Geek Squad In-home Services
Geek Squad has in-home services pricing but also charges businesses a $300 minimum per onsite visit. Best Buy Geek Squad prices increase depending on the work needed. If you work from home, it's more cost-effective to use the "in-home" service, depending on the repair needs.
To use the Geek Squad home service, call your local Best Buy or schedule the service online. When you schedule online, you pay at the time of scheduling. Keep in mind that many diagnostic and repair services can be accomplished remotely for a cheaper price, so consider that option first, depending on the repair or service you need.
In-home Service Appointment Pricing
Take a look at the rates below to determine if Geek Squad is within your budget and if it offers the services you need at your current work-from-home setup.
| Services | Prices |
| --- | --- |
| Printer Setup or Troubleshooting | $99.99 |
| Modem Setup | $99.99 |
| Device Diagnostic & Repair | $149.99 |
| Virus & Spyware Removal | $149.99 |
| Wi-Fi Setup or Troubleshooting | $99.99 |
| Wireless Camera Installation (Two Cameras) | $99.99 |
| Wired Camera Installation (Two Cameras) | $199.99 |
Need help getting your office set up? Consider our guide on how to set up an office. It walks you through the entire process in five easy steps and includes a free checklist so that you can do it right.
Geek Squad Business Services & Onsite Pricing
For businesses, onsite visits start at $300 per visit, and the Geek Squad price may increase from there, depending on the work needed. This is an ideal service for locations that need ongoing IT support. Call your assigned business adviser to book service appointments. They provide remote and onsite Geek Squad service.
Some of the services Geek Squad provides businesses include the following:
Network installation
Add a device to an existing network
Software installation/service
Hardware installation/service
Data backup/transfer*

Network added storage configuration
OS installation
Device diagnostics and repair
PC setup and configuration
VPN installation
*This service is available for up to 1TB transfers between two devices.
Geek Squad Prices for Remote Service
Not every problem requires the physical presence of a Geek Squad agent. Many times, with your permission, they access your computer remotely to accomplish tasks or walk you through the physical actions of setup while handling the software side. This is usually the faster and cheaper route, even though Geek Squad isn't free for any service. The Geek Squad price list and the specific remote services include the following:
| Service | Price |
| --- | --- |
| OS Tune Up/Upgrade | $39.99 |
| Network Setup & Support | $149.99 |
| Software Setup & Support | $39.99 |
| Operating System Repair & Protect | $149.99 |
| Device Diagnostic & Repair | $149.99 |
| Email Troubleshooting | $99.99 |
| Software Troubleshooting | $99.99 |
| Add Device to an Existing Network | $39.99 |
| Windows 10 Tutorial | $19.99 |
| Software Setup & Support | $39.99 |
| Printer Setup | $39.99 |
| Virus & Spyware Removal | $149.99 |
Geek Squad TotalTech Plan: Another Option for Small Businesses
Best Buy TotalTech Support is promoted for homes but is recommended for small businesses as well as those dependent on IT needs. It costs $199.99 per year for six devices. A device could be a computer, a printer, or an A/V setup, for example. The plan includes the following:
Unlimited support on all tech and appliances
Virus removal and antivirus setup
Remote PC tune-up
Remote services, including software troubleshooting and repair, software installs, diagnostics, and data transfers and backup
In-store support for software installs, tablet setups, and car electronics
24/7 online support
$49.99 for standard onsite services like home Wi-Fi setup or services that could be done remotely
20% off repairs and advanced services
20% off Geek Squad Protection and AppleCare products, including five-year warranties on products
Geek Squad Protection
Geek Squad also has protection plans for several devices that you might purchase from Best Buy. For example, phone protection starts at about $15.99 per year based on the price of the device purchased. At the top end, you can expect to pay about $99.99 per year for protection, which amounts to repair or full replacement should the device fail as a result of day-to-day usage and normal wear and tear.
For devices with screens, Geek Squad will repair things like dead pixels to ensure optimized viewability. The range of devices is also extensive; Geek Squad repairs and replaces everything from personal shavers to appliances that might be used in your kitchenette.
Choosing the Geek Squad Service That Fits Your Needs
With Geek Squad, as you can see from what we've covered thus far, you have options when it comes to service. Click on each service below and decide which works best for your specific tech needs and requirements.
Geek Squad has two monthly office plans. Both plans require a setup fee of $99.99 and can be purchased in monthly, six-month, or 12-month packages.
The monthly plan is optimal for busy offices that don't have an IT expert or department. Monthly plans get you more than on-call help. Geek Squad also provides tune-ups and network support. For example, if you're setting up and maintaining a unified communications system, this could be a worthwhile investment.
If you have IT needs that are recurring but not regular, then Geek Squad might be a more cost-effective option than hiring a full-time employee. You'll have an on-call team you can rely on for tech needs or issues. Here's a breakdown of the pricing structure for monthly plans:
Standard

Advanced

Monthly Pricing

$24.99 per user 

$49.99 per user

Unlimited Remote Service

Computer Setup (Remote)

✓

✓

Printer Setup (Remote)

✓

✓

Software & OS Installation & Support (Remote)

✓

✓

Computer Tune-ups (Remote)

✓

✓

Diagnostics & Repair (Remote)

✓

✓

Data Backups & Transfers (Remote)

✓

✓

Virus & Spyware Removal (Remote)

✓

✓

Add Devices to a Network (Remote)

✓

✓

Firewall Support (Remote)

✓

✓

Onsite Service

N/A

✓

Server Administration

N/A

✓

Server Tune-ups

N/A

✓

Server Repair

N/A

✓
---
If you are a very small operation and have the patience, time, and skill for everyday computer tasks, you may find it more cost-effective to pay the higher per-service fees on the few occasions you need more expert help, such as for repairs or more difficult problems. This pricing varies by the task.
---
This is your least expensive and easiest option. It's best for tasks that can be done remotely, such as troubleshooting, software installation, antivirus protection, or problems with a program. It might also work for simple things like printer connectivity, where the technician walks you through the process of physical as well as software troubleshooting. Remote support is also good for scheduled software maintenance like updates and security sweeps.
---
If your hardware is portable and needs physical repair—such as a laptop with a damaged screen—this is your best choice. Also, consider it when the problem is too complex for remote troubleshooting, or you've already made a good effort to troubleshoot yourself.
---
Onsite repairs are best when multiple devices are involved, when it involves a large device like a server or copier, or when you don't have the time or manpower to spare. It's the most expensive option, but it may, in the long run, save you time, especially if they fix the problem without having to send the device out for repairs.
---
Frequently Asked Questions (FAQs)
No. Geek Squad agents are trained to only interact with the files that are important to the job being done on your devices. If the data isn't intrinsic to the job, then it will not be accessed, which is useful for businesses with confidential data. For devices being traded in or replaced through the service, the data will be wiped.
---
Yes. To improve airflow, Geek Squad will zip-tie any loose cables in your device configuration. This is part of their services to optimize and clean your computer/device setup. Geek Squad can also upgrade any poorly performing cables in your device configuration in order to improve your system's overall performance.
---
In recent years, cybercriminals have been pretending to be Geek Squad with emails stating things like, "We got your payment" or "Transaction Confirmation." These emails are not from Geek Squad and usually have a non-official-sounding email address associated with them.
These emails sometimes have a listed number where scammers ask for details about the scam recipient in an attempt to rob them of information or payment information.
It's important to understand that Geek Squad only sends emails from official addresses associated with either Best Buy or Geek Squad, and any misspelling or generic email addresses are important indicators of cybercrime.
---
Bottom Line
Geek Squad is a nationally recognized name for home IT, but it handles businesses of all sizes too. However, Geek Squad installation prices are inexpensive compared to building an internal IT organization.
The TotalTech support plan works for very small businesses and runs $199.99 per year. It offers setup, training, and diagnostic services, plus discounts on more costly repairs. If your needs are greater, purchase monthly business plans as well. You can also get onsite visits or purchase from an a la carte menu of services. Contact Geek Squad to learn more.