The best temporary office rental space providers offer a range of property solutions, including virtual offices, meeting rooms, coworking spaces, private offices, and event centers—catering to different business needs. They have a vast geographic footprint, present in various locations and business districts all over the U.S. and the world. These offices have a dedicated information technology (IT) team assisting in setting up and troubleshooting equipment.
Based on our research, these are the top temporary office rental providers:
Best Temporary Office Space Providers at a Glance
Best Temporary Office Space Providers

Starting Price (Coworking Spaces)

Coworking Space Inclusions

Other Office Space Solutions & Services

$150

Access to meeting rooms
Invitation to networking events
Coffee and snacks

Virtual office
Meeting room
Live receptionist

$149

Access to phone booths and meeting rooms
Cleaning services
Booking credits for private offices

Private office
Full-floor office
Unique amenities, such as wellness rooms and food halls

$269

Live receptionist services
Access to Wi-Fi and printers
Lounge access

Virtual office
Meeting rooms
Private office

$107.20

IT assistance
Access to Wi-Fi and printers
Unlimited self-serve beverage

Virtual office
Dedicated desk
Private office

$149

Access to Wi-Fi and printers
Extended hours, from 6:00 a.m. to midnight
Free beverage

Virtual office
Training room and meeting room
Private office

Pricing upon request

Access to Wi-Fi and printers
Mail and packaging
National mentor network

Flex membership
Reserved desk
Private suite

Pricing upon request

Access to Wi-Fi and printers
Unlimited coffee
24-hour access

Virtual office
Meeting room
Private office
Alliance Virtual Offices: Best Overall for Supporting Solopreneur Operations

What We Liked
Allows coworking spaces access on weekends and evenings upon prior arrangement with the management
Features access control and lockable storage to increase security within the facility
Offers various plans for live receptionist services, accommodating different business needs
Where It Falls Behind
Lacks modern facilities, like wellness rooms and cafes
Mail management issues
Difficulties in service cancellation, resulting in higher fees
Alliance Virtual Offices Pricing*
Meeting Room: $20 to $55 per hour for the use of a writing wall, board, and video conferencing system, coffee and light refreshments, and food delivery options
Virtual Office: $49 to $135 per month for a recognized business address, mail processing and pickup, front lobby receptionist, and business center services
Coworking Space: $150 to $550 per month for hot desking or open seating options, access to the meeting space and private offices, use of Wi-Fi, and an invitation to networking events
*The exact fee depends on the location.
Alliance Virtual Offices is the best temporary office rental provider because it ticks off businesses' considerations for workspaces: vast location coverage with 1,400 offices, reasonable pricing, and a vibrant coworking community. It's especially ideal for solopreneurs, as it packs robust virtual office plan offerings.
It has locations in all 50 states in the country. Solopreneurs easily secure a professional business address in key business districts of their locale without the hassle of maintaining a traditional, long-term office lease.
When you sign up for the Virtual Office plans, you're able to delegate routine yet important tasks to professionally trained receptionists. These include receiving and forwarding mail, welcoming clients, and directing them to meeting rooms. With these to-do's handled, you get to focus on more important matters, like expanding operations and finding excellent talents.
One disadvantage of choosing Alliance Virtual Offices is that it lacks modern facilities like wellness rooms and entertainment spaces. In contrast, temporary office space provider WeWork has these amenities, allowing professionals to get restful breaks from tasks.
Alliance Virtual Offices Features
Meeting room: Meet with clients and partners privately and keep information safe and confidential. The meeting rooms are equipped with a phone system, presentation display, and writing walls and boards for more efficient collaboration and discussion sessions. Your booking comes with food delivery options, light refreshments, and coffee.
Mail management and forwarding: Let professionally trained receptionists organize business mail so you'll be able to attend to more important tasks. Choose among the provider's mail forwarding frequency options: once a month, bi-weekly, weekly, or daily.
Networking events: Join community activities to expand your connections and meet prospective clients or partners. These events present opportunities for building brand awareness.
WeWork: Best for Cultivating Work-Life Balance

What We Liked
Wide range of office locations worldwide
Organizes regular professional events, such as networking and lunch-and-learns
Provides pay-as-you-go office lease solutions for solopreneurs and freelancers
Where It Falls Behind
Layouts in some coworking space locations are cramped
Lacks transparency in the pricing of other office space solutions
Changing office space reservations may be difficult
WeWork Monthly Pricing for Coworking Spaces
WeWork All Access Basic: $149 for access to 180-plus locations, one coworking space booking a day, two booking credits for meeting rooms and private offices a month, and printing of 60 black-and-white sheets and 10 colored sheets a month
WeWork All Access Plus: $299 for access to 500-plus locations, one coworking space booking a day, five booking credits for meeting rooms and private offices a month, and printing of 120 black-and-white sheets and 20 colored sheets a month
WeWork is the best temporary office space provider for cultivating work-life balance because its facilities are equipped with various modern amenities. Aside from the typical facilities like community kitchens, shared lounges, and phone booths, it features unique spaces, including wellness rooms, recreational game areas, espresso bars, and outdoor terraces.
Some WeWork buildings located overseas have a rock-climbing wall, a swimming pool, a ping pong area, and an exercise room. All these promote leisure and rapport-building among tenants and members. The coworking and private offices reflect modern aesthetics, incorporating greenery, natural light, and open areas.
Although this temporary office space rental provider offers excellent design and amenities, changing reservations is sometimes difficult, according to some clients. Regus has a more robust mobile app that makes it easy for businesses to edit the details of bookings.
WeWork Features
Business-class printing: With each floor in WeWork buildings having a business-class printer, printing documents is faster and less hassle. Along with printers, office supplies and paper shredders are available.
Full floor office: As your team grows, consider renting an entire floor for your office. The space will be furnished and customized according to your brand image. WeWork's full-floor office is suitable for 50 or more team members.
HoloPresence: Aside from actual event spaces equipped for different company activities, WeWork supports live hologram technology to enhance the hybrid event experience. Consider using this feature when organizing conferences that feature team members from all over the world.
Regus: Best for Accommodating Globally Distributed Teams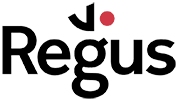 What We Liked
Office spaces look modern and stylish
Lets customers book spaces conveniently through the app
Offers workplace recovery solutions
Where It Falls Behind
On-site management takes too long to resolve issues
More expensive lease compared to other providers
Billing issues and hidden charges
Regus Monthly Pricing*
Lounge: From $109 for access to any Regus lounge, Wi-Fi access, use of printer, scanner, copier, and meeting rooms, and live receptionist services
Coworking: From $269 for coworking access
Office: From $549 for private office access and professional cleaning and maintenance
*Coworking and office plans have specific rates for five-day and 10-day use of spaces.
If you want to support employees who travel frequently for work, Regus is the ideal pick among the best temporary office rentals listed here. It has the largest number of overseas locations at 4,000, covering almost 120 countries, including Australia, China, Japan, and the United Kingdom. In the United States, Regus is present in nearly all 50 states.
Through its mobile app, you'll conveniently book and set up an office anywhere in the world, regardless of where you are. Regus also has Express Hubs, which are offices located in major transportation terminals like airports and train stations. In between flights or trips, employees are able to connect to a strong Wi-Fi connection and work. When you arrive at the country destination, choose a dedicated desk in a coworking area or a private small office rental space.
One disadvantage of choosing Regus is its expensive coworking fees. If affordability is your priority, Servcorp is a better option, at only $107.20 for membership.
Regus Features
Training rooms: These are specifically designed to encourage participation among trainees, featuring breakout areas where team members are able to gather in smaller groups for better collaboration. Regus offers catering services for learning events.
Custom offices: Design your own office in a Regus building, reflecting your company's uniqueness. The facility offers the top essentials for a comfortable, productive workspace: different storage options and collaboration spaces.
Workplace recovery: Ready-to-use workplaces are available at Regus when your business is affected by a disaster. You'll get access to Wi-Fi, a direct business phone line, meeting rooms, and professional cleaning services right at your temporary workspace.
Servcorp: Best for Reliable Communications Technology

What We Liked
Offers a free trial for virtual office solutions
Office space plan lets businesses make free international calls
Offers 99.99% internet uptime across Servcorp's global IT network
Where It Falls Behind
Limited range of U.S. locations: New York City, Chicago, Washington, D.C., and Houston
Starting price of meeting rooms is more expensive than other providers
Cancellation problems, resulting in unnecessary charges
Servcorp Pricing
Meeting Rooms: From $50 per hour for the use of meeting rooms, conference rooms, and board rooms, high-speed internet access, flexible meeting duration, and communications and presentation technology
Virtual Office: From $79.20 per month for a business address, mail management, local phone number, and dedicated receptionist
Coworking: From $107.20 per month for a monthly membership, password-protected Wi-Fi connection, access to lockers, phone booths, and printers, and vouchers for visitor access
Office Spaces: From $1,000 per month for a business address, five free booking credits for other office locations, a local phone number with a dedicated receptionist, internet protocol (IP) phones with free domestic, international, and mobile calls, and networking opportunities
If your business prioritizes reliable communications technology to support rapport-building efforts with clients and partners, Servcorp is the ideal workspace solution. It has its own fiber-based tier-1 managed internet service in every location, guaranteeing 99.99% uptime.
Moreover, it has a Cisco end-to-end voice network that features robust voice-over-internet protocol (VoIP) capabilities, including conferencing, number porting, and find me-follow me. It allows free inter-company calls and international calls at a discounted rate.
Moreover, you'll be able to use unified communications features, such as email and internet fax. The best thing about Servcorp is its cheap month-to-month office rental fee, which is more affordable than the other agencies listed here.
While the provider is your best choice for excellent communications tech, it only has a limited range of overseas locations, covering 20 countries. If you have scattered team members abroad who need coworking spaces for better productivity, choose Regus. With its 4,000 global locations in over 100 territories, it likely has an office in your employees' respective countries. However, note that its monthly office rental fee is higher than the typical rate.
Servcorp Features
Call routing technology: Servcorp routes phone calls efficiently, sending calls to your home, office, and mobile and ensuring you don't miss any important queries from customers or partners. Aside from the call routing technology, it offers a local phone number.
Dedicated desk: Have your own desk in a shared office whenever you come to the coworking space. With a private work area, you're more comfortable joining online meetings and making calls using the dedicated phones available on your desk.
Seminar rooms: Host training sessions for up to 60 people. The meeting area is equipped with video conferencing systems and touchscreen displays.
Expansive: Best for Improving Team Members' Health & Wellness

What We Liked
Discounts on conference room rentals for coworking members
Access Pass offers access to Expansive lounges throughout the country
Offers customizable, tech-enabled private offices
Where It Falls Behind
Location is limited to the U.S.
Requires 60-day cancellation notice
Crowded coworking area because of too many members
Expansive Pricing
Lounge: $30 per day for the use of printer, copier, and phone booths, Wi-Fi access, and free refreshments
Huddle Room: $30 for Expansive clients and $40 per hour for non-Expansive clients, a maximum of four seats, and use of conference phone, television with wireless screen sharing, and dry-erase board
Virtual Office: Starts at $79 for use of business address and mail receipt services (with a one-time setup fee of $99)
Coworking: $149 for the use of Wi-Fi, phone booths, community lounge, and kitchen, Access Pass for all Expansive locations, and extended operating hours
Expansive is the ideal short-term office rentals provider for health-conscious teams, as its facilities are designed and maintained to promote wellness among tenants and coworking members. A number of their locations have outdoor spaces, such as roof decks, street-level patios, balconies, and interior courtyards, allowing professionals to soak up the sun and breathe fresh air.
As a result of the pandemic, outdoor spaces have become the go-to work and play areas, facilitating better ventilation and physical distancing than indoor spaces. Aside from a conducive environment for better health, Expansive has introduced wellness campaigns, encouraging people to take the stairs, bike to work, and choose healthy snacks sold in their lounge.
Note that when you choose this short-term office provider, you must give written notice at least 60 days before the cancellation of your coworking membership. Most providers only require 30 days, but in the case of WeWork, you only need a five-day notice. Choose this provider if your current work setup is highly mobile and location assignments are unpredictable.
Expansive Features
Expansive Lounge: The shared community lounge lets you interact with other coworking members and talk about your products and services in informal conversations. This is where you'll find printers, copiers, and scanners as well.
Expansive Access Pass: On-the-go team members or digital nomads benefit from Access Passes, which offer five or 10 days of private office reservations monthly. The provider is present in different key locations, namely Chicago, Dallas, Miami, and Washington, D.C.
Mother's rooms: Enjoy a private space for breastfeeding or milk pumping. A comfortable chair and necessary equipment are available to help mom professionals be at ease.
Galvanize: Best for Expanding Network Opportunities in Tech

What We Liked
Offers dog-friendly workspaces and policies
Provides access to a national mentor network
Has an in-house cafe
Where It Falls Behind
Provides four locations only: Boulder, Denver, Phoenix, and San Francisco
Has a very niche audience and might not be ideal for non-tech businesses
Lacks transparency in coworking pricing
Galvanize Pricing
Galvanize monthly pricing is available upon request. Based on reports, the office in Denver offers open seats and dedicated desks for $325 and $450 monthly, respectively. Rates for other locations will vary.
Galvanize is the best temporary office solution for tech companies because it primarily provides software engineer courses and boot camps. While providing a coworking space for tech professionals, it allows members to sign up for reskilling or upskilling programs. In addition, the classes enable students to connect with fellow tech professionals for passion projects and business ventures.
On top of the excellent software engineering curriculum and networking opportunities, Galvanize has a national mentor network where you link up with seasoned professionals who will help you grow your career. As mentioned, Galvanize has a very niche audience. If you're a non-tech business, you may benefit more from office space providers that welcome different business industries and help expand your network further. WeWork and Regus are excellent options for these goals, as they are highly popular among professionals.
Galvanize Features
Bike storage: Bike to your coworking space without worrying about your equipment's security. Cycling to work improves overall health and helps reduce carbon emissions.
Dog-friendly facilities: Galvanize has dog-friendly facilities and policies, allowing pets to provide social support for professionals. They make the space homier while encouraging conversations between coworking members.
On-site showers: If you have the habit of walking or running before starting the workday, there's no need to go home to freshen up. Go straight to the coworking space and wash up in the facility's on-site showers.
Alliance Business Centers: Best for Strengthening Local Presence

What We Liked
Has more than 650 locations in 40 countries
Virtual office plan includes 16 hours of conference room use
Provides local phone numbers to businesses getting the serviced office solutions
Where It Falls Behind
Lacks transparency in the cost of some coworking locations
Clunky interface for searching available office spaces
Some workspaces look outdated
Alliance Business Centers Pricing*
Virtual Offices: Starts from $95 a month for a professional business address, mail handling, and access to meeting rooms
Meeting Rooms: Starts from $35 per hour for the use of audio-visual equipment, Wi-Fi, writing wall, phone system, light refreshments, and parking
*Exact pricing depends on the location. The cost of coworking solutions is available upon request.
Alliance Business Centers is the best office space solution for companies venturing into new markets, as local, independent operators run the facilities. This means the management knows the ins and outs of the area, providing valuable insights for entrepreneurs to reach and connect with locals.
Its day office solutions greatly help business owners from different cities or countries scope out the area and learn more about the market without committing to a long-term office lease before launching. Its virtual office offerings are an excellent solution for starting out and establishing a local presence.
Unfortunately, unlike other providers, Alliance Business Centers doesn't publish the cost of its coworking solutions. Moreover, it has a clunky interface for searching for available offices. If you want a rental solution that offers a more convenient way of booking workspaces and meeting rooms, Regus is a great alternative, as it features a user-friendly mobile app.
Alliance Business Centers Features
Day offices: Highly mobile professionals traveling from one location to another benefit from the provider's workspaces that can be booked for a day or two. Reserve your office through the provider's website.
Receptionists: Let professional receptionists greet you and your clients when you come to the office. They'll also handle answering phone calls for your business.
Local phone numbers: The serviced office plan comes with local phone numbers, which help establish a strong local presence in your target business area. Customers are more likely to contact a familiar phone number.
How We Evaluated the Best Temporary Office Space Providers
To assess the top temporary office solution providers, we considered their affordability, range of amenities, geographic footprint, and technology and support. We added our expert opinion on its value for money and popularity in the evaluation.
Learn how we assessed the best providers by checking our criteria points below:
Pricing: To evaluate affordability, we considered the base-level cost of different office space solutions and compared it to the prevailing fee in the market. We checked if providers offer regular discounts for coworking members and tenants.
Amenities: We assessed the range of facilities offered as part of the lease agreements. We favored providers with unique amenities, such as wellness rooms, sports centers, and entertainment spaces, as they promote leisure and facilitate greater productivity among coworking members and tenants.
Geographic footprint: We considered the number of U.S. locations where providers operate, favoring those with branches in top business districts. We also included in our assessment the range of global locations that accommodate highly mobile professionals.
Technology and support: We checked if the providers allow tenants and coworking members to use audio-visual equipment, phone systems, printers, scanners, and copiers. We favored those with an in-house IT team offering assistance to businesses for extended periods.
Expert score: We included value for money, ease of booking rental spaces, and customer service in our evaluation. Providers with plenty of positive reviews on third-party websites were among our top recommendations.
Frequently Asked Questions (FAQs)
A temporary office is a workspace rented on shorter or more flexible terms than a traditional lease. A standard contract typically lasts for a year.
---
The average employee requires 150 to 175 square feet of office space, according to Zippia. Ideally, there should be an additional 10% to 20% of square footage to support expansion.
---
Consider the following factors when looking for office space:
Pricing: The right workspace suits your budget requirements. Compare quotes from different providers, taking into account not only the actual cost but also the inclusions, to ensure you're getting more value for your money.
Flexibility: A good temporary office allows businesses to start using the office space right away and terminate the lease quickly when needed. It also gives companies various workspace options for different needs: virtual offices for those looking for an affordable way to secure a professional business address, meeting rooms for discussing important matters, and private offices for hosting bigger teams.
Community: if you're after a coworking space, check out the kind of community you're joining. Ask the management which business industries are represented and how regular group events are.
Location: Your business location must be easily accessible by different modes of transportation. If possible, choose an office within a central business district.
---
Bottom Line
A temporary office allows businesses to cut down costs on leases and quickly scale up and down as the operations and demands change over time. It offers networking opportunities for solopreneurs and freelancers, helping them connect with like-minded individuals and potential clients.
Among the solutions we reviewed, our top recommendation is Alliance Virtual Offices, as it has a wide range of workspace solutions and affordable plans. Its virtual offices cover over 40 countries and all 50 states. Moreover, its meeting rooms and coworking spaces are equipped with essential amenities, such as phone systems and television screens.