Between a voice-over-internet-protocol (VoIP) phone system and a traditional landline, it seems like picking a business phone solution should be an easy choice. In our heavily technology-reliant world, most businesses opt for VoIP technology. However, there are some companies that still choose a landline system for their business needs.
When to choose a VoIP service: Businesses with strong internet connections and reliable power can—and should—take advantage of VoIP's lower cost and more robust feature set.
When to choose a landline service: Businesses located in rural or storm-prone areas with poor internet reception or frequent outages will do better with a more reliable landline service.
VoIP vs Landline: Differences at a Glance
| Feature | Landline | VoIP |
| --- | --- | --- |
| Hold Music | N/A | ✔ |
| Virtual Receptionist | N/A | ✔ |
| Mobile Functionality | N/A | ✔ |
| Texting/SMS Messages | N/A | ✔ |
| Business Integrations | N/A | ✔ |
| Voicemail | ✔ | ✔ |
| Toll-free Telephone Number | Requires an additional fee | Included with some services |
| Domestic Call Rates | Additional fees may apply | Unlimited |
| Setup Fee | Fees may apply | N/A |
Takeaway: When stacked one against the other, it's clear to see that VoIP service offers more features and saves you money by not having to pay for add-on fees like setup and toll-free calling. It might appear that VoIP is always the best choice for all small businesses, but certain circumstances might dictate otherwise. For companies located in areas that don't have a strong internet connection, VoIP is simply not an option, making a landline the better alternative between the two.
What's the Difference Between VoIP & Landline Technology
The term "landline" is used to describe traditional telephone networks that use copper wire to connect calls. Voice-over-internet-protocol (VoIP) is a technology also used to connect callers; however, it does so by converting voice data into a digital signal which then can be transmitted over the internet. If you would like to learn more about VoIP technology, check out our What Is VoIP article.
When to Use VoIP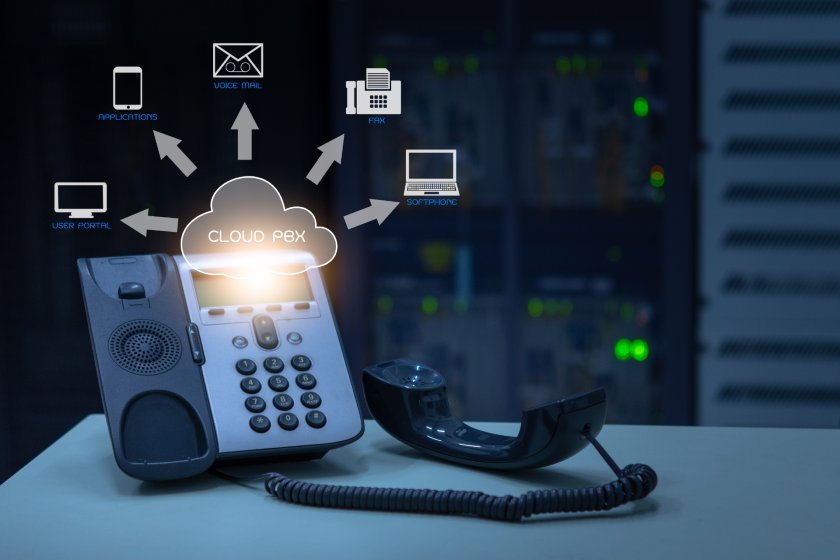 If you can take advantage of VoIP services, then we strongly recommend that you do so. Not only are you saving money by paying one fixed monthly rate, but you are also given access to many different call handling options and business features that landlines are lacking.
VoIP Pros & Cons
| VoIP Pros | VoIP Cons |
| --- | --- |
| More standard features | Requires a reliable internet connection |
| Works on mobile devices | Power outages can impact your ability to place and receive calls |
| Can integrate with other business tools like CRMs | Not all VoIP services offer E911 (enhanced 911—instant tracking of caller's number and location), so emergency calls can be a problem |
| Less expensive than landline systems | |
VoIP Costs
The cost of VoIP service will vary depending on the individual provider, but you can get a general idea of what to expect by familiarizing yourself with the plans offered by leading business phone system RingCentral. This service, like most VoIP providers, offers a range of pricing packages from an entry-level tier, best for smaller teams that don't need more robust features, to professional-grade or enterprise-level plans with more advanced functionality.
The cost of VoIP service is also typically dependent on the number of required users. For example, RingCentral's cheapest tier starts at $19.99 per user, per month with very basic features, while its most expensive plan tops out at $49.99 per user, per month. However, many providers offer a discount with an annual agreement.
VoIP Providers
There are a number of VoIP providers to choose from, and while service cost should definitely be a consideration, you should also keep in mind other factors like what features you want, reliability, and more. We've evaluated the best small business VoIP systems on the market. If you're looking for help in deciding the best system for you, check out our guide on the subject.
RingCentral earned our top pick for small businesses, not only for the flexibility of its four different service tiers, but also because each tier comes with a fantastic set of stock features, like call flip (which lets you switch between your mobile phone and desk phone without interrupting a call in progress) and its robust auto-attendant. If you'd like to learn more about RingCentral and its features and pricing, visit our RingCentral reviews page.
When to Use a Landline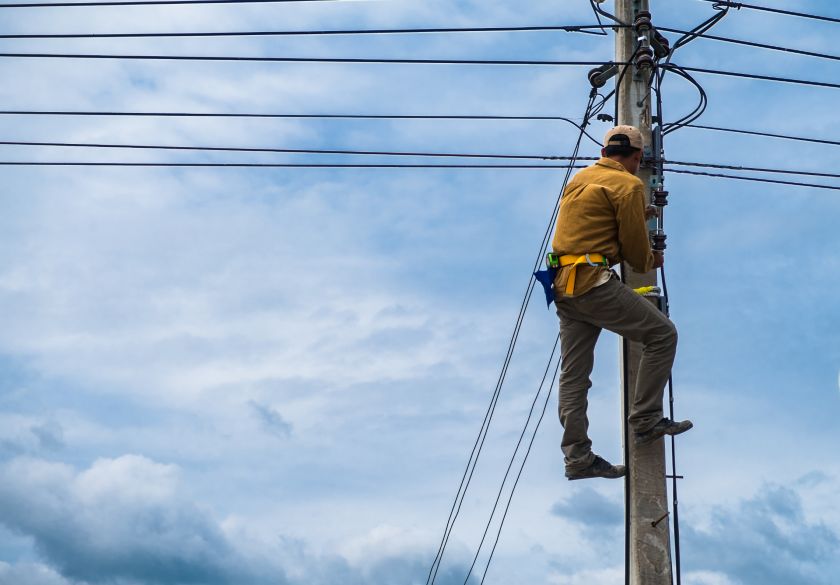 There are some locations that do not have stable internet connectivity or are prone to frequent power outages thanks to storms or other natural disasters. In these cases, it's a better idea to opt for a landline so that your phone system is not impacted by poor internet service. This is because landlines provide a constantly stable phone connection thanks to their hardwiring.
Landline: Pros & Cons
| Landline Pros | Landline Cons |
| --- | --- |
| Not impacted by power outages | You will need a professional to come and install fiber-optic wires if you don't have a setup already |
| No learning curve | Equipment, like desk phones, can appear outdated |
| Does not require an internet connection | Lacking in features aside from the basics like making 3-way calls and having access to voicemail |
Landline Costs
Like VoIP services, your plan will vary in price based on your individual provider. However, the catch with landline systems is that you probably only have one or two different providers in your local area. This is because landline service is dependent on expensive copper wire infrastructure.
That said, as a general example, Verizon offers pricing packages starting at around $59 per line, per month, making it significantly more expensive than many VoIP services' entry-level plans. It is also worth noting that you will have to pay for long-distance domestic calls with most landline services, which is another way in which landline and VoIP services differ.
Landline Providers
While there are many landline providers available, you will probably only have access to one or two services based on where you live. Many vendors operate in their region as utility providers and have somewhat of a monopoly on their markets. To get more information on landline providers and why they might be a good idea for businesses, read our landline buyer's guide.
If you're in the market for quality landline service, Verizon's landline packages for business start at $59.99 per month. You can check out our business landline buyer's guide to learn more about how we selected our choices for the top providers.
When to Use an Alternative: Virtual Phone Service
If you are looking for the more robust call handling functionality of a VoIP system but prefer using a landline phone, another option is a virtual phone service like Grasshopper. Grasshopper can be set to forward calls to any number and includes features like automated greetings and business text messaging, and can even serve as a virtual fax number for as little as $26 per month.
Frequently Asked Questions (FAQs)
How do international calling rates compare between VoIP & landlines?
A Verizon landline charges 8 cents per minute for international calls, while international calls to mobile devices cost 29 cents per minute.
With RingCentral, you can easily place calls directly from the mobile app and be charged per country. You will be charged per minute based on RingCentral's international calling rates, which vary anywhere from 8 cents per minute to $1.24 and up.
Can I receive texts on my landline?
Interestingly, yes, some providers do allow this. Verizon gives you the option to receive text messages on your landline in the form of a voicemail. You can receive texts and they are read to you in an automated voice.
Bottom Line: Landline vs VoIP
Although your weather conditions and physical location might dictate which service you use, there are pros and cons to both VoIP and landline phones. While VoIP lets you enjoy many features and provides crystal-clear voice calling, a landline will also give you dependable phone service in case of a power or internet failure.
Overall, VoIP technology is a much better service for small businesses. It gives you features that a landline can't compare to, your monthly bill is never a surprise, and you can control and configure your settings directly from your mobile or desktop app. Visit RingCentral to find out which tier works best for your business.