You've probably jumped on a Zoom call or instant messaged a co-worker online. There's a good chance you've attempted to do both at once by opening different applications or tabs in your web browser. Unified communications (UC) puts all conversations into one spot for easy access from anywhere.
What Is Unified Communications?
Unified communication is a strategy that incorporates cloud services, software, and equipment into operational processes to improve workflows. It typically includes channels for both video conferencing and text-based communications. When you deploy UC technology, you use one platform to communicate and collaborate with staff and customers.
Instead of opening individual email and social media programs to connect with your customers, you open your UC dashboard. The same goes for internal collaboration. Rather than teams opening various file-sharing programs, you open the dashboard and work together from a shared screen.
Types of Communication That Can Be Unified
In relation to small companies, the UC meaning is using one app to communicate and collaborate across multiple channels.
Types of UC include:
Text (SMS) messaging
Video calling
Business phone audio calls
File and document sharing
Collaboration via screen sharing
Online faxing
Social media messaging
Video conferencing
Email
Live chat
Communication vs Collaboration
While often used interchangeably, communication is any conversation with people inside and outside of your company. Collaboration fits into your workflow as the actions you take while working with others. For example, platforms like Microsoft Teams and its many alternatives allow team members to work together via the services communication features. In the case of Teams, the collaboration features are taken a step further via the ability for colleagues to work on the same Word documents and Excel spreadsheets together in real time.
Internal communication and collaboration may include chatting in the break room or brainstorming in the conference room, whereas virtual teams may send a message through email, then meet up during a video conference to exchange documents or ideas in real time.
Many companies develop a communications strategy defining methods, protocols, and goals of internal and external conversations. Your plan may include internal processes for managing projects, solving problems, or workshopping ideas.
A unified communications platform corrals communication and collaboration activities and places them in one location for access from anywhere with an internet connection.
Why Businesses Need Unified Communications Services
Your company may use cloud computing solutions like QuickBooks Online, G Suite, or Microsoft 365. And you rely on a landline or voice-over-internet-protocol (VoIP) business phone system. However, these tools don't necessarily provide an all-in-one solution for communication and collaboration.
With a cloud-based unified communications as a service (UCaaS) platform, you use one dashboard to access multiple channels, like text messaging, email, and voicemails. Your UC solution may also integrate with your customer relationship management (CRM) systems, like Salesforce or HubSpot.
This centralized platform can also create a more positive experience for your customers. For example, if you're messaging with a customer, but need to escalate the problem to a video or voice call, you can do so without leaving the platform or risking a dropped call. Depending on what industry you work in, you may want specialized features not found in some systems. For example, those who work in healthcare fields will want to ensure that they have a HIPAA-compliant conferencing platform to protect themselves from any legal liabilities. Others may simply want to make sure that their service has features they strongly desire, such as online file storage or the ability to schedule meetings from platforms like Slack.
UC Small Business Benefits
Unified communications solutions allow your small business to leverage enterprise-level capabilities and compete globally. While UC platforms, from Nextiva to RingCentral, differ, all give your company an advantage over businesses without cloud capabilities.
Improves Customer Experiences
Customers expect a seamless omnichannel experience, meaning they can flow from one communication platform to the next seamlessly. For example, a client messages you through Facebook. After chatting, you decide to escalate the conversation to a voice call. With unified communications, you do this right from your app. UC helps you delight customers by:
Putting all client information in one spot
Transferring customers without losing data from conversations
Providing faster responses right from the UC app
Reducing wait times by correctly routing calls
Furthermore, all staff members can deliver the right response to clients and resolve problems quickly using the team messaging feature to get the supervisor's answers.
Increases Productivity
One key to productivity is focusing on one thing at a time. However, many entrepreneurs stop what they're doing to check multiple platforms for incoming staff or customer messages. Without UC, one message may require you to open several tools to get information about your client, order history, and previous conversations.
However, with unified communications, you open one application. You don't need special hardware or have to be at your desk. You can move spaces and continue working on any device with an internet connection.
Supports Online Collaboration
The best UC systems enable you to collaborate with teams remotely. Virtual workforces rely on whiteboarding sessions or group meetings to brainstorm ideas or work together on projects.
A UC app lets your team jump on a one-on-one meeting to talk, then shift to screen sharing or document sharing for real-time collaboration.
Bolsters Business Continuity
UC reduces business disruption and allows you to shift to different communication and collaboration methods as needed. For instance, if your workplace closes unexpectedly, you can immediately connect to your teams and customers using a unified communications platform. Along with business continuity, UC supports:
Agile work environments: Employees work from various in-office and remote locations and aren't constrained to one desk or device.
Flexibility: As your work situation changes, you can find UC solutions to fit your current or projected needs.
Business resilience: Ensuring access to critical applications and processes is vital to business continuity.
Enhances Employee Experiences
There's no doubt that an engaged workforce is happier, productive, and more likely to remain at your company. However, many small businesses struggle to recreate their culture while using a piecemeal approach to digital communications.
Your UC platform simplifies workflows and gives employees more ways to connect. Teams download one application to their favorite devices and can reach out at any time. With advanced meeting and event features, you can offer better experiences to employees who wouldn't usually attend long-distance conferences in person.
Reduces Costs While Increasing Revenue
Unified communications technology helps you improve sales processes and customer experiences, which increases your revenue. Meanwhile, UC may decrease your IT spending and save on travel costs.
According to Nemertes, 34.3% of companies that use unified communications as a service (UCaaS) apps "reduced IT spend by an average of $161,000 a year via elimination of redundant apps and shifting to cloud-based services."
Examples of Unified Communications Platforms
Many services offer some form of unified communications. However, there is a distinct difference between using a virtual phone number provider or VoIP platform and UC technology. Even defunct platforms, like Skype for Business, still have many users (although we strongly recommend using an alternative these days).
Virtual phone services provide voice or video calls but don't offer the full collaboration possible with unified communications platforms. The top three UC providers offer a robust digital experience while incorporating VoIP, virtual communication, and remote collaboration.
Nextiva
Nextiva is a business VoIP service provider offering UC capabilities on some plans, which charge a per-user monthly or annual fee. For instance, a month-to-month Basic plan doesn't include the Nextiva app or text messaging. You'll need to purchase the Pro or Enterprise versions for UC features like unlimited conference calls or online faxing.
8×8
8×8 offers a small business phone system, 8×8 Express, and UC platforms. The company's all-in-one platform is a unified communications solution with three plans. You pay a monthly fee per license, and all versions come with screen sharing, team messaging, and file sharing. While the small business package doesn't include integrations or analytics, you can use their All-In-One plan for advanced analytics and a company summary dashboard.
RingCentral
As a business phone service provider, RingCentral offers four plans with varying features. You pay a per user, per month fee. The Essential package provides a phone system with text messaging, team messaging, and document sharing. Upgrade to the Standard plan to get integrations with G Suite and Slack. With the Premium package, you'll get CRM integrations with Zendesk or Salesforce, plus hot-desking capabilities.
UC Features That Support Small Company Communication
When picking the best unified communications platform for your small business, it's essential to know what you want from your service. Many UC systems offer many features, but your functionality increases with higher-cost packages. For instance, a basic plan may limit your time for video meetings, whereas premium packages allow unlimited time.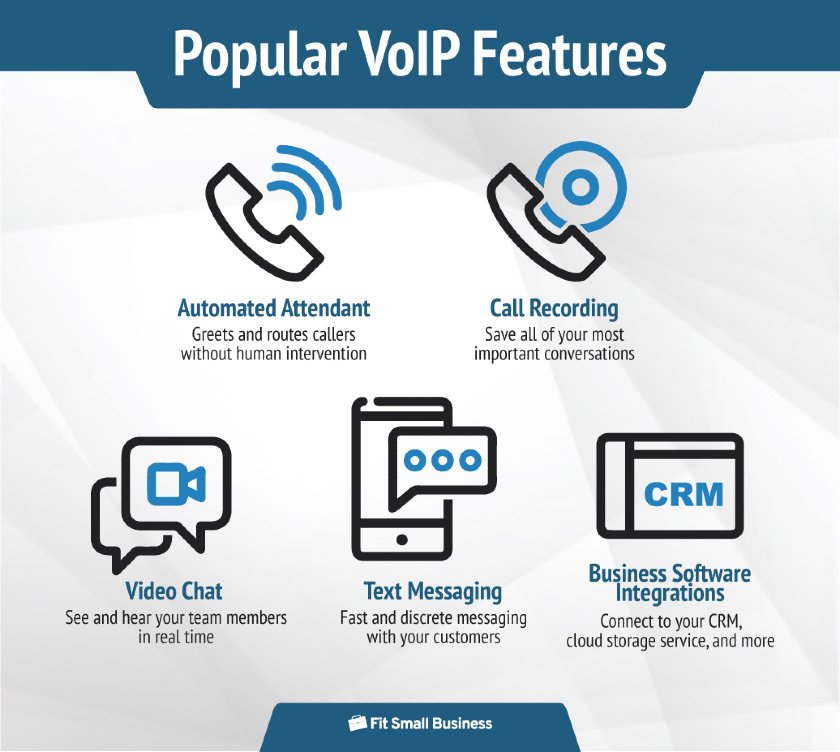 Integrations
Interoperability is critical for the successful implementation of UC systems. Your cloud software must integrate with existing small business phone systems and services, like Zoho or Marketo, and a range of devices. Without integration, you can't appreciate or optimize the full range of unified communications.
Mobility
Your employees and customers want the freedom to communicate anytime, anywhere, and on any device. UC technology provides this access by offering apps and software for iOS, Android, Windows, and Mac.
Moreover, many unified communications platforms don't require special equipment, like business cell phones. Your team can bring their own device (BYOD). Look for services that work well on all devices to ensure a great user experience while supporting a mobile workforce.
Video Conferencing
Video calls and conferences are replacing in-person sales calls and meetings. This feature helps business owners reach out and collaborate with people worldwide. Since "video conferencing has increased by 800% over the last four years," according to Logitech, this is a must-have tool for small businesses.
Auto-attendant
Auto-attendant is a feature found on virtual phone solutions and VoIP systems. It provides a greeting to all incoming calls, and you can apply different options for routing to various extensions or giving your caller access to an employee directory. An automated attendant helps you answer every call quickly and get callers to the right person.
Team Messaging
With a team messaging feature, your employees can collaborate in real time, meaning they can talk, message, or share documents all from one platform. This tool eliminates the need to open multiple apps on your screen during a project, like a messenger app, screen sharing, and video call.
Business SMS
An EZ Texting report finds, "69% of consumers want to be able to contact a business via text." If your business phone service doesn't accept incoming texts, then you may be missing out on connecting with customers. With this feature, incoming text messages show up alongside other forms of communications in your UC app so that you can respond from your cell phone or desktop computer.
Screen Sharing
It's common to see screen sharing capabilities in VoIP phone systems that offer video conferencing. But, with unified communications, it goes a step further. Users can share their screens while collaborating in messaging apps, the UC dashboard, or video meetings.
Going Forward: UC Small Business Trends
Even if you're back in the office, the desire for mobility and access is here to stay. A Nemertes survey of global companies finds "roughly 34% were now using Unified Communications-as-a-Service, up from 19.2% in 2019."
Plus, Gartner says, "by 2024, in-person meetings will account for just 25% of enterprise meetings, a drop from 60% prior to the pandemic, driven by remote work and changing workforce demographics."
As consumer and employee behavior adjusts, stay competitive by updating your business communications systems.
How to Pick the Best Unified Communications Platforms
Before selecting a UCaaS, think about how you'll use the tools to improve workflows, productivity, and experiences. Involve department leaders and employees to get a clear understanding of how UC fits into or changes existing workflows. Identify your solution by:
Defining your UC users and tasks, including where they'll access it and on what devices.
Examining workflows to see critical software needs and identify integrations necessary for UC implementation.
Review existing equipment to decide if you need extra hardware, like desktop softphones or headsets.
Decide if you need call center capabilities now, as not all VoIP providers give you options to scale contact center services.
Once you've determined your requirements, then it's vital to create an implementation strategy. You want your staff onboard 100%, meaning they embrace your solution and feel confident using it.
Glossary
Although you probably already use cloud services, like Dropbox, G Suite, or an online accounting program, some of these terms may be unfamiliar. Here's a quick run-down of what each word or phrase means when it comes to small business unified communications:
Digital transformation: A strategy for moving various operations and systems to cloud-based technologies or software. The transition involves your business processes, culture, and customer experiences.
Cloud computing: Any type of work done where you store data outside of your physical work environment. For instance, saving a file to Google Drive instead of your hard drive is cloud computing.
UCC: This acronym means unified communications and collaboration. It's often used to denote platforms that provide ways to communicate and work together remotely.
Web conferencing: While audio and video conferencing software enable communication via voice or video, web conferencing includes audio, video, and web sharing tools, like working in an application together or sharing a screen.
UCaaS: This acronym means unified communications as a service. When you pay a subscription to access UC capabilities online (versus hosting a system on internal servers and hard drives), you're buying UCaaS, or cloud software.
PBX: Private branch exchange, or PBX, is a business phone system that allows you to direct calls to various extensions while connecting employees, so you don't need extra phone lines.
IVR: Interactive voice response is also called an automated attendant or auto-attendant. This takes the place of an operator or receptionist answering the phone and directing the call. It may include options like a call directory or allow you to set different messages for after-hours calls.
VoIP: Voice-over-internet-protocol, also called IP or internet telephony, transmits calls over your internet connection instead of a conventional landline.
BYOD: The term BYOD stands for bring your own device and refers to the equipment you and employees use to communicate with each other and customers.
Bottom Line
Whether it's a weather disaster or global pandemic, adapting to disruption and squeezing out a profit during trying times is critical to success. But, it's only possible with a business continuity plan that makes data accessible outside of your workplace. By incorporating unified communications into your strategy, you improve employee and customer experiences while increasing revenue.